Φίλοι μου!
– Φτάσαμε στο τέλος! Όλα έχουν αρχή και τέλος στην ζωή!

Αν το Φθινόπωρο είμαστε υγιείς και βρούμε νέους συνεργάτες

, τότε θα τα ξαναπούμε! Αν όχι, θα μείνετε με το υπάρχον τώρα περιεχόμενο του "
σάϊτ

" μας, το οποίο να "τραβήξετε" και να το μελετάτε!.. (Τα υπεσχημένα… χρωστούμενα "περί Κομμουνισμού" θέματα, και κανένα "2 άλλα", θα τα δείτε το Φθινόπωρο, διότι έχουμε μάθει "να έχουμε λόγο")!..
– Εύχομαι να διαψευστούμε σε ό,τι άσχημο και κακό εκτιμήσαμε ότι θα συμβεί στην περιοχή μας και στην γλυκειά Πατρίδα μας και να επαληθευτούμε σε ό,τι καλό!..
– Σας ενημερώνω ότι

μας διάβαζαν απ' όλον τον κόσμο

και απλό "κοινό" και κυρίως ΜΥ!.. Βοήθησε σ' αυτό, η πίστη μας στο ότι «η καλύτερη ασφάλεια σήμερα είναι η "μη ασφάλεια" των χρησιμοποιούμενων "Ηλεκτρονικών Μέσων"», όταν βεβαίως προσέχεις και ξέρεις τί ακριβώς γράφεις / αναρτάς, σε "σάϊτ", όπως της δικής μας μορφής!..
– Πριν σας αφήσω, "πάρτε" παρακάτω ένα… ξεχασμένο κείμενο!..
THE LEFT'S IMMIGRATION CON GAME
Breaking through the lies about Ellis Island and more

.

July 11, 2018

"Who controls the past controls the future. Who controls the present controls the past."

With that famous quote George Orwell warned decades ago against history revisionists and that which has come to be referred to as "fake news."

On July 4, 2018, the New York Post headline read, "Statue of Liberty Climber Identified as Immigrant Activist."

The Post and other news outlets have identified this "immigrant activist" as Therese Patricia Okoumou — a 44-year-old originally from the Democratic Republic of the Congo.

How better to celebrate the birth of our nation than stage a dangerous illegal protest against the enforcement of America's immigration laws at the Statue of Liberty?  Okoumou's actions threatened to severely damage a precious national landmark and endangered the lives of hundreds of tourists — who had patiently waited in line, then paid a steep admission fee to ferry to Liberty Island — only to be evacuated because of her illegal hijinks.

Officers of the NYPD were also endangered by Okoumou's stupid trick, when they had to neutralize her threat to the public and to the Statue of Liberty when they took her into custody.

According to various reports about Okoumou, she is quite comfortable with both law-breaking and initiating lawsuits against businesses for alleged "racism."

Ludicrously, it appears she was admitted into the United States lawfully by the very same immigration authorities she is now fighting against.

While she was not alone at the protest demanding an end to ICE, of all the members of the group she reportedly belongs to, "Rise and Resist", she was the only one to climb the iconic "Lady in the Harbor."

There is an irresistible irony here.  Last year I wrote an article, "Aliens Trespassing," in which I discussed the proposed legislation by —  none other than — New York's Senior Senator Chuck Schumer, who sought to make trespassing on national landmarks a federal crime with a maximum penalty of five years in prison for a conviction.

Schumer's own press release included a reference to "trespassers from overseas" — in other words, "aliens."

Yet Schumer, eager to see the demise of ICE along with his fellow travelers of the Democratic Party, apparently could not care less about aliens who trespass on America.

For decades, immigration anarchists have exploited Ellis Island, the Statue of Liberty and Emma Lazarus' poem, The New Colossus, falsely portraying the history of immigration and romanticizing the way that America supposedly embraced all new-comers a century ago and lamenting the demise of Ellis Island.

In so doing they have rewritten history, turning the immigration debate into a war of words where slogans based on lies are repeated as frequently as possible.  This is an example of the principle of "The Big Lie" used with great effectiveness by the Third Reich.

An extraordinary film, Forgotten Ellis Island, is a must-see documentary that tells the true story about Ellis Island, and the story is not particularly pretty or romantic.

To begin with, Ellis Island was not a natural island but was constructed on rocks and debris removed during the construction of the massive New York City subway system.  By situating this federal facility on this artificial island, no aliens could come ashore and abscond the way that today aliens exploit the lunacy known as "catch & release" — a policy that incidentally does not only occur along the borders of the United States but,  similarly plagues the integrity of the immigration system from within the interior of the United States.

The only way for aliens to get from Ellis Island to New York City, and hence the U.S. mainland, was by a government-operated ferry.

According to the documentary, Ellis Island included a massive hospital complex that consisted of 22 buildings.

One hundred years ago, Public Health officials worked with immigration inspectors to process the arriving immigrants.  Back then, the most significant concerns with admission decisions centered on health-related issues.

There were two reasons for this: genuine concerns about illnesses being transported into the U.S. and that antibiotics were, then, non-existent.  Epidemics could be devastating.

Aside from public health, the second issue of great concern about immigration then — but one that is never discussed today by immigration anarchists — is whether the arriving immigrants were too weak, mentally ill or otherwise unable to work and support themselves.

Aliens who were ill or deemed too weak or mentally incapable of working were deported, even if it meant that they would be permanently separated from their families.  Families that were determined to remain together had but one alternative: return to their native countries.

Back then, Eastern Europeans, Italians, Jews and others were openly discriminated against and frequently barred from entering the United States.

Today, under the guise of being politically correct, globalists beginning withJimmy Carter, started modifying the language of the immigration debate to alter the public's understanding of the issues.

The term "alien" was expunged from the vernacular of INS (Immigration and Naturalization Service) employees by Carter when describing foreign nationals present in the United States who demanded that henceforth illegal aliens be referred to as "undocumented immigrants,"  or simply immigrants.

This was not done to be polite or politically correct, but to remove the distinction between lawful immigrants and illegal aliens.

We must stop referring to propaganda as examples of "political correctness" and call it what it indeed is: Orwellian Newspeak.

Incredibly, the dreaded term "alien" was incorporated in the acronym DREAM Act (Development, Relief, and Education for Alien Minors Act).

Today, the media rarely reports that the DREAM Act was an acronym; instead, they link it to the "American Dream," where illegal aliens are "DREAMERs."  That "dream," however, has become increasingly elusive for Americans and lawful immigrants.

As for the DREAMers, the media incessantly describes them as young "immigrants" brought to the United States illegally as children when they had no control over their circumstances.  Thus, they claim, it would be unfair to punish children for the crimes of their parents and, accordingly, it is only reasonable and compassionate to provide them with permanent lawful status and, perhaps, pathways to U.S.citizenship.

Today these "young" aliens could conceivably be in their mid-thirties to qualify as DREAMERs, provided they claim to have been brought to the U.S. before their 16th birthday.

However, no record of entry is created when aliens first enter the United States without inspection.  Routine interviews are impossible, as are field investigations needed to determine the legitimacy of claims because of the significant number of aliens who could jam the existing system to participate in this massive amnesty program.   This boondoggle will serve as an open invitation for epic levels of immigration fraud wherein potentially millions of illegal aliens, some of whom are middle-aged, could successfully game and overwhelm our system, making a further mockery of the U.S. immigration system.

Now immigration anarchists demand the destruction of ICE.

Foreign criminals, drug cartels, and terrorists would love free access to America. Human traffickers would go un-investigated and unpunished.

Greedy employers who fire Americans and hire illegal aliens would have nothing to fear.

Illegal alien parents who endanger their children by smuggling them into the United States would face no consequences for their crimes.

Famed playwright George Bernard Shaw lamented that "We learn from history that we learn nothing from history." Learning from history requires access to unbiased and factual accounts of the news and of history. Liars and their lies must be exposed and rejected.
"ΓΕΙΑ ΚΑΙ ΧΑΡΑ ΣΑΣ"!
"ΕΛΛΗΝΑΣ"
"ΤΕΛΟΣ"!..
και να θυμάστε
"εχθροί + φίλοι",
πως
"Η ΕΛΛΑΔΑ ΠΟΤΕ ΔΕΝ ΠΕΘΑΙΝΕΙ"!..
-/-
ΥΓ.
1. Πείτε μας ρε πολιτικοί ξεφτίλες, πόσοι είναι οι αγνοούμενοι και πόσοι οι νοσηλευόμενοι σε διάφορα νοσοκομεία; Ούτε αυτό δεν μπορείτε;
2.
ΠΟΛΛΑ ΦΙΛΑΚΙΑ Κε ΤΣΙΠΡΑ!
3. Γράφουν οι Τούρκοι! Διαβάστε παρακάτω, όσοι ασχολείστε!
Türkiye'yi tehdit eden Trump'ın amacı belli oldu
ABD Başkanı Donald Trump ve Kongrenin Türkiye'ye yönelik tehditkar söylemleri, başkent Washington'daki Türkiye uzmanları tarafından "ABD iç siyasetine yönelik bir hamle" olarak değerlendirildi.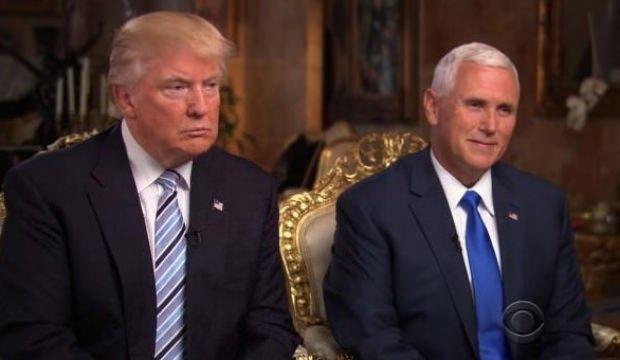 Siyaset, Ekonomi ve Toplum Araştırmaları Vakfı Washington Ofisi (SETA  DC) uzmanları, terör örgütleri FETÖ ve PKK adına suç işlediği, casusluk yaptığı  iddialarıyla yargılanan papaz Andrew Craig Brunson'ı gerekçe göstererek 
Trump
'ın Türkiye'yi tehdit etmesini ve Senato Dış İlişkiler Komitesinin Türkiye'ye  uluslararası finansal yaptırımlar çağrısında bulunduğu tasarıyı onaylamasını  yorumladı.
SETA DC Direktörü Dr. Kadir Üstün ve SETA DC Araştırma Direktörü Dr.  Kılıç Buğra Kanat, AA muhabirine yaptıkları açıklamalarda, Washington'daki  Türkiye karşıtı retoriğe ve bu söylemlerin iç siyasetteki karşılığına dikkati  çekti.
"Kongre ve yönetim yaptırımla tehdit ederek Türkiye'ye baskı kurmaya  çalışırken iç siyasi hesaplar yapıyor." 
diyen Üstün, bu yaklaşımın Türkiye-
ABD
  ilişkilerinin onarılması bakımından ciddi bir sorun olduğunu vurgu yaptı. Üstün,  bu durumun bölgesel sorunların çözümüne engel olabileceği uyarısında bulundu.
Başkan Trump ve Başkan Yardımcısı Mike Pence'in konuyla ilgili  açıklamalarında kullandığı söylemi "çözümün önüne geçen ve iki ülke arasında  kaydedilmiş ilerlemeyi durdurabilme ihtimaline sahip" ifadesiyle tanımlayan  Üstün, "Münbiç'te iki ülkenin belli noktalarda da olsa anlaşmaya varmasının  akabinde Brunson meselesi ikili ilişkiler için yeni bir gerginlik haline  dönüştü." diye konuştu.
"TAMİRİ ÇOK UZUN YILLAR ALABİLİR"
Kılıç Buğra Kanat da kasım ayında ABD'de gerçekleştirilecek Kongre  seçimlerine vurgu yaptı.
Kanat, "Seçimler öncesinde özellikle Brunson konusunda baskıyı  artırmak gibi bir niyet olduğu görülüyor. ABD Kongresindeki birçok temsilci ve  yönetim, Evanjeliklerin isteklerini yerine getirmeyi kendi siyasi çıkarları için  önemli görüyor." değerlendirmesinde bulundu.
Muhtemel bir yaptırım kararının iki ülke arasındaki ilişkileri uzun  yıllar etkileyebileceğine değinen Kanat, "Kongre, Türkiye'ye yaptırım uygulama  tutumunu devam ettirir ve Trump yönetimi de bunu gerçekten uygularsa 1970  olaylarında olduğu gibi tamiri çok uzun yıllar alabilir."ifadesini kullandı.
EVANJELİKLERİN ABD SİYASETİNE ETKİSİ ÖNEMLİ
ABD'de 2016 yılında başkanlığa Donald Trump'ın seçilmesinde de  bilhassa Evanjelik Hristiyanların sanıldığından çok daha fazla etkisi olduğu ülke  basınında sıkça gündeme getiriliyor.
Amerika Hristiyanları arasında etki ve nüfus olarak önemli bir yere  sahip olan Evanjelikler, "Siyonist Hristiyanlar" olarak da isimlendiriliyor.  Trump'ın Evanjelik Hristiyanların yaklaşık yüzde 80'inin desteğini aldığı ve  yardımcısı Mike Pence'in de bu grubun bir parçası olduğu biliniyor.
Başkan Trump geçen şubat ayında hayatını kaybeden Evanjeliklerin  önemli vaizlerinden Billy Graham'ın cenaze törenine katılarak bu gruba olan  desteğini göstermişti.
WASHİNGTON'DAN YAPTIRIM TEHDİTLERİ
Donald Trump, Türkiye'ye tehdit savuran Twitter mesajında, "ABD, büyük  bir Hristiyan, aile babası ve muhteşem bir insan olan papaz Andrew Brunson'ın  uzun süreli tutukluğu nedeniyle Türkiye'ye geniş yaptırımlar uygulayacak. Bu  masum inanç adamı derhal serbest bırakılmalı!" ifadelerine yer vermişti.
ABD Başkan Yardımcı Mike Pence de Dışişleri Bakanlığında katıldığı bir  programda, "Türkiye, papaz Andrew Brunson'ı derhal serbest bırakmaz ve  Amerika'daki evine göndermezse ABD bu masum inanç insanı serbest kalana kadar  Türkiye'ye önemli yaptırımlar uygulayacak." diye konuşmuştu.
Ayrıca aynı gün ABD Senatosu Dış İlişkiler Komitesi, Türkiye'de terör  örgütleri FETÖ ve PKK'dan yargılanan ABD'li ve Türk asıllı ABD vatandaşlarının  tutukluluk hallerini gerekçe göstererek hazırladığı ve Türkiye'nin uluslararası  kuruluşlardan kredi almasını kısıtlayan tasarıyı kabul etmişti.
Dışişleri Bakanı Mevlüt Çavuşoğlu, ABD Başkanı Donald Trump'ın,  papaz Brunson'ın serbest bırakılmaması halinde Türkiye'ye yaptırım uygulayacağı  yönündeki tehdidine yanıt vererek, "Kimse Türkiye'ye dayatmada bulunamaz."  demişti.
İzmir'de, terör örgütleri FETÖ ve PKK adına suç işlediği, casusluk  yaptığı iddiasıyla hakkında 35 yıl hapis cezası istenen papaz Andrew Craig  Brunson'ın tutukluğu "sağlık sorunları" dikkate alınarak ev hapsine çevrilmişti.
4. Και μερικές φωτογραφίες από το καμμένο ΜΑΤΙ (από δορυφόρο), που τράβηξαν οι Τούρκοι, "που δεν ήξεραν και που δεν ξέρουν τίποτα για τον φόνο", όπως λέμε!..
-/-