1. 
IDF destroys Hamas leader's office, secret terror headquarters
Hamas leader Ismail Haniyeh. (AP/Khalil Hamra)
Israel struck targets across the Gaza Strip, including the offices of arch-terrorist Ismail Haniyeh, following a rocket attack launched by Hamas targeting Israeli civilians

.
By World Israel News Staff and AP
Israeli forces on Monday struck targets across the Gaza Strip, including the offices of Hamas' supreme leader, in response to a surprise rocket attack from the Palestinian territory, as the military bolstered its troops and rocket-defense systems in anticipation of a new round of heavy fighting with the Islamic terror group.
Israel opened public bomb shelters in most major cities and civil defense authorities canceled sports events and public transportation in southern Israel. The Israeli army said air raid sirens wailed in southern Israel late Monday night, with one rocket fired into the country, but it provided no further details.
"Israel will not tolerate this. I will not tolerate this," Prime Minister Benjamin Netanyahu declared during a White House meeting with President Donald Trump.
"Israel is responding forcefully to this wanton aggression," he said. "We will do whatever we must do to defend our people and defend our state."
Ahead of the Israeli airstrikes, Hamas' leadership went into hiding.
Several airstrikes rocked Gaza, including an explosion that destroyed the office of Hamas leader Ismail Haniyeh. An earlier blast destroyed a multistory building in Gaza City identified as a Hamas secret military intelligence headquarters.
There were no immediate reports of casualties. In both blasts, Israel fired warning shots to evacuate the buildings.
Pressure to strike Hamas mounts
In Washington to celebrate the U.S. recognition of Israel's sovereignty over the Golan Heights, Netanyahu was forced to cut short his trip under heavy pressure to strike back at Hamas.
Earlier, Haniyeh issued a statement warning Israel against heavy retaliation.
Witnesses reported seeing Hamas evacuating personnel from government premises. Hamas also announced that its Gaza chief, Yehiya Sinwar, had canceled a public speech. Other leaders turned off their mobile phones, while Hamas police were seen evacuating their stations. Hamas even released some prisoners it was holding, in another sign of anxiety.
In Beirut, the Iranian-backed Lebanese terror group Hezbollah said its leader, Hassan Nasrallah, met Monday with a Hamas delegation led by top official Saleh Arouri. Hezbollah said they discussed the Gaza situation.
Hamas is facing perhaps its toughest domestic test since seizing control of Gaza in a bloody coup from the rival Palestinian Authority 12 years ago.
An Israel-Egyptian blockade, imposed to weaken Hamas, combined with sanctions by the Palestinian Authority and the Hamas government's single-minded focus on building up its terror infrastructure, at the expense of Gazans' basic needs, have all fueled an economic crisis that has left Gaza with an unemployment rate above 50 percent.
Hamas has also been leading weekly violent riots along the Israeli border for the past year to launch covert attacks on Israel, using human shields to attempt infiltrations and airborne incendiary devices to mount a massive terror arson campaign destroying thousands of acres of Israeli fields.
Last week, hundreds of Gazans protested the dire conditions, a rare expression of public discontent against the Hamas' authoritarian government. Hamas responded with a violent crackdown, beating and arresting dozens of demonstrators and drawing public criticism.
The rocket attack may have been an attempt by Hamas to divert attention from its growing domestic woes.
Netanyahu faces the difficult task of delivering a tough blow to Hamas while avoiding protracted fighting that could work against him on election day.
Yaakov Amidror, a former national security adviser to Netanyahu, said a mild response was not an option.
"It will be something on a bigger scale," he said.
"He doesn't want a war before elections, but they put him in a corner," he added. "After three missiles reaching the heart of Israel, the chance of a big escalation including a ground offensive, is very high."
Attacks on central Israel
Monday's attack came 10 days after rockets were fired from Gaza toward Israel's densely populated commercial capital of Tel Aviv, and the Israeli military struck back. Gaza's Hamas leaders said the rocket was fired accidentally and the fighting quickly subsided.
The sounds of air raid sirens jolted residents of the Sharon area, northeast of Tel Aviv, shortly after 5 a.m. Monday, sending them scurrying to bomb shelters. The sound of a strong explosion followed.
The Magen David Adom rescue service said it treated seven people, including two women who were moderately wounded. The others, including two children and an infant, had minor injuries.
The Israeli military said Hamas militants fired the rocket from southern Gaza. It said its Iron Dome rocket-defense system was not activated because the attack in central Israel had not been anticipated. The army added it was reinforcing its missile defense batteries in preparation for an escalation.
Maj. Mika Lifshitz, a military spokeswoman, said it was a self-manufactured rocket with a range of 120 kilometers (75 miles), making it one of the deepest rocket strikes ever carried out by Hamas.
Lifshitz added that two armor and infantry brigades were being mobilized to the Gaza front and that a limited drafting of reserves was also taking place.
The cities of Tel Aviv and Beersheba opened public bomb shelters. Civil defense officials canceled sporting matches and train service in southern Israel. Schools were ordered to hold classes in bomb shelters, and large public gatherings were banned.
The family home in Mishmeret was left in ruins, with tiles, broken furniture and debris scattered about. A shattered baby's crib lay among the rubble and two family dogs died in the explosion.
"I nearly lost my family," said Robert Wolf, grandfather of the injured residents. "If we hadn't gotten to the bomb shelter in time, I would now be burying all my family."
2. 
IDF on high alert as Hamas calls for million man march on anniversary of riots
Palestinian terrorists prepare explosive devices. (Flash90/Abed Rahim Khatib)
By Aryeh Savir, TPS
Friday will mark exactly one year since Hamas began its weekly Gaza border riots and attacks, the so-called "March of Return."
On Wednesday, Hamas leader Ismail Haniyeh called for a million-person march on Israel's border and the IDF is now on high alert, streaming heavy re-enforcements to the border, including an armored division and artillery, preparing for what could be a violent few days.
"I urge our Palestinian people in Gaza, the occupied West Bank and abroad to march on Palestinian Land Day and take part in One-Million Demonstration of Land and Return next week," Haniyeh said in a press release.
According to public statements by the Hamas terror organization and the IDF's intelligence and operational analysis, these events are part of Hamas' ongoing armed conflict and active hostilities against Israel.
In fact, a review of the statistics and security-related data from the past year reveals a significant increase in Hamas aggression and violence against the Jewish state.
Since the organized cross-border violence began last March,  some 2,200 terror-related incidents have been recorded, including 1,233 rocket and mortar attacks, the latest of which occurred earlier this week.
The violence also included 18 incidents of gunfire from the Gaza Strip and 94 Improvised Explosive Device (IED) incidents, during which one or several explosive devices were hurled across the security barrier, and 600 Molotov cocktail attacks.
November 2018 saw the biggest surge in the number of rocket launches from Gaza with 460 confirmed attacks. While over 100 of the projectiles were intercepted by the IDF Iron Dome air defense system, the rocket fire killed one Israeli and severely wounded three others while 123 suffered light-to-moderate injuries.
In addition to these, since January, activities near the Gaza border have been occurring on an almost nightly basis. These include planting explosives in the border area, burning tires and launching projectiles at IDF forces.
These violent attacks on the border have claimed the life of an IDF soldier whereas four were severely wounded and 12 suffered light-to-moderate injuries.
Beyond the attacks on the border fence, arson balloons and kites launched from the Gaza Strip have also caused some 2,000 fires, at times as many as 30 in a single day.
These blazes have caused extensive damage in an area of approximately 35 square kilometers, including 13 sq. km. of nature reserves and 11 sq. km. of forests. The combined damages incurred by Israelis due to rocket fire and arson balloons from Gaza are estimated at NIS 35 million (approximately $10 million).
Gazans claim that more than 250 civilians have been killed and tens of thousands wounded during the last year of border violence. The IDF has proved — and the Hamas leadership has admitted — that the majority of those who have been killed on the border have been terrorists.
3.
NATO Confirms Plans For $260 Million U.S. Storage Site In Poland
March 24, 2019
NATO has confirmed that it plans to establish a storage facility in Poland for U.S. military equipment, including armored vehicles, ammunition, and weapons to arm a full brigade.
A NATO official on March 23 told AFP that a report earlier by The Wall Street Journal that said the $260 million facility would be located in Powidz, some 200 kilometers west of Warsaw, was accurate.
The WSJ quoted NATO chief Jens Stoltenberg as saying work on the site will begin this summer and take two years to complete.
Since Russia's annexation of Ukraine's Crimean Peninsula in 2014, Poland, the Baltic states of Latvia, Lithuania, and Estonia as well as other Eastern European states have expressed concerns about their security.
The United States has deployed and rotated troops in the region since the Ukraine crisis began in an effort to deter Russia. NATO has also increased its presence near Russia's borders.
Stoltenberg told the WSJ that the storage facility would help "underpin the increased U.S. presence in Poland."
Poland has been calling for more U.S. military personnel to be deployed on its territory, with Warsaw suggesting to U.S. President Donald Trump recently that he create a permanent base under the name "Fort Trump."
The NATO chief said the alliance will complete some 250 other infrastructure projects across Europe designed to increase the capacity of airports, harbors, railways, and roads to handle heavy equipment by 2021, the WSJ said.
Based on reporting by The Wall Street Journal and AFP
Source: https://www.rferl.org/a/nato-confirms-plans- for-260-million-u-s-storage-site- in-poland/29839005.html
Copyright (c) 2019. RFE/RL, Inc. Reprinted with the permission of Radio Free Europe/Radio Liberty, 1201 Connecticut Ave., N.W. Washington DC 20036.
4.
UK's secret war: British commandos wounded in Yemen
Iran Press TV
Sun Mar 24, 2019
A number of elite British commandos have sustained injuries in direct gunfights with Yemeni forces as part of what appears to be a secretive UK military campaign in Yemen, a new report says, adding a major twist to London's involvement in Saudi Arabia's deadly war against its impoverished southern neighbor.
The Mail on Sunday said it can reveal that at least five members of the UK's Special Boat Service (SBS) troops had suffered gunshot injuries in fierce clashes with members of the Houthi Ansarullah movement, who have been repelling the Saudi-led military invasion since March 2015.
The SBS personnel received treatment for leg and arm wounds in Yemen's northern Sa'ada province, where the report said around 30 elite British forces had been based.
The injured soldiers had been taken back to the UK to recover, the report added.
"The guys are fighting in inhospitable desert and mountainous terrain against highly committed and well-equipped Houthi rebels. The SBS's role is mainly training and mentoring but on occasions they have found themselves in firefights and some British troops have been shot," an SBS source told the Mail.
"In a contact a few weeks ago, a SBS guy was shot in the hand and another guy was shot in the leg. Their injuries were a reminder that this is a very dangerous assignment. Obviously nothing about the mission will be confirmed publicly by the Ministry of Defense unless a UK soldier is killed – they'd have to announce that."
The SBS teams deployed to Yemen include medics, translators and Forward Air Controllers (FACs), who are tasked with directing Saudi air support.
The SBS, a 200-strong force based at Poole in the British town of Dorset, is a maritime Special Forces unit that mainly recruits the Royal Marines. The force has been known for its operations in Iraq, Afghanistan and most recently in Syria.
The revelation that British forces are fighting in Yemen came after Armed Forces Minister Mark Lancaster admitted that London had long been servicing UK-made fighter jets Saudi Arabia was using to indiscriminately bomb Yemeni people.
Lancaster told the parliament last Monday that Britain's Royal Air Force (RAF) was providing "engineering support" and "generic training" to Saudi Arabian military.
'UK engineers nearly died in Yemeni drone attack'
According to the new report, British engineers stationed at the King Khalid Air Base in the southwestern parts of the kingdom narrowly escaped a Yemeni drone attack.
The attack, carried out by a "suicide drone" that exploded on the runway, destroyed at least two of the Royal Saudi Air Force (RSAF)'s UK-made Tornado fighter jets which were kept at the base for maintenance purposes.
The new report is expected to spark angry criticism from British politicians and activist groups that have long criticized London's support for Saudis over the course of what has been referred to by the UN as the world's biggest humanitarian crisis.
Andrew Mitchell, a British Member of Parliament the former secretary of state for international development, said the UK was "shamefully complicit" in Saudi Arabia's atrocities in Yemen.
He also urged the government of Prime Minister Theresa May to brief Parliament about the role of the British troops in the conflict.
This puts British soldiers on the same side as Saudi-funded Yemeni militias and foreign soldiers who have been recruited by Riyadh to fight the war on behalf of the Saudi military.
A former British serviceman who had returned from Yemen earlier this year said the Saudi-led coalition – which includes repressive regional regimes like Bahrain and the United Arab Emirates – was paying money to recruit children as young as 13 as mercenaries.
"The tribal leaders accept payments from the Saudis and the UAE in return for youths aged 13 and 14 to bolster the front line. They are poorly armed and have no body armor," he said.
He said Riyadh was hiring mercenaries because Saudi soldiers didn't want to leave their air-conditioned shelters.
"They (the Saudi forces) don't want to be in Yemen at all," the former serviceman told the Mail.
Saudi Arabia began its deadly aggression against Yemen with a declared goal of destroying the Houthis and reinstating fugitive former president Abd Rabbuh Mansur Hadi, a staunch Riyadh ally.
The UK, along with the US, seized on the opportunity and signed major arms deals with the oil-rich kingdom, while also providing it with target intelligence and personnel training throughout the conflict.
The UK has licensed over £4.7 billion worth of arms exports, including missiles and fighter jets, to Riyadh since the deadly conflict began in 2015. May has so far faced down calls for a ban on the weapons sales despite the growing humanitarian disaster.
To this day, despite international outrage, the UK continues to sell fighter jets, missile and smart bombs to Saudi Arabia as part of an ongoing plan to maintain military ties with repressive Arab regimes, which London counts on as a main source of income after leaving the European Union.
5. 
India successfully conducts anti-satellite missile test
Mar 27, 2019
Defence Research and Development Organisation, DRDO, on Wednesday successfully conducted an Anti-Satellite (A-SAT) missile test, under Mission Shakti from Dr A P J Abdul Kalam Island in Odisha.
A DRDO-developed Ballistic Missile, Defence Interceptor Missile successfully engaged an Indian orbiting target satellite in Low Earth Orbit (LEO) in a Hit to Kill mode.
An official release said, the interceptor missile was a three-stage missile with two solid rocket boosters. Tracking data from range sensors has confirmed that the mission met all its objectives.
In his address to the nation, Prime Minister Narendra Modi announced that India has demonstrated anti-satellite missile capability by shooting down a live satellite on a Low Earth Orbit.
Mr Modi said, an Anti-Satellite Missile (A-SAT) destroyed the live satellite within three minutes. He said, with this, India has registered herself as a space power and till now only the US, Russia and China have achieved this.
Congratulating all DRDO scientists for achieving this unparallel feat, Mr Modi said, today's Mission Shakti is aimed at strengthening India's overall security.
He assured the international community that India's capability will not be used against anyone but is purely a defence initiative for its security.
Speaking to the scientists via video conference, the Prime Minister said, the entire nation is proud of them for achieving the feat.
He said, in line with the "Make in India" initiative, the scientists have given a message to the world that we are less than none.
President Ram Nath Kovind and Vice President M Venkaiah Naidu have congratulated Indian space scientists for Mission Shakti. Mr Kovind said, Mission Shakti represents a watershed moment for the country.
Vice President Naidu said, with the successful launch of an anti-satellite missile, the country has emerged as a space superpower in the world.
Congratulating DRDO, Congress President Rahul Gandhi said, the country is extremely proud of their work.
BJP President Amit Shah said the country's proficient scientists always had the talent and capability and all that needed was the go-ahead from the government.
Briefing media in New Delhi, senior BJP leader Arun Jaitley said, it was a long time ago that the Indian scientists had a desire and the capability to launch Mission Shakti, but the then government did not allow them.
Congress leader Ahmed Patel claimed that the UPA government had initiated the ASAT programme which has reached fruition today. Mr Patel congratulated space scientists and the visionary leadership of Dr Manmohan Singh.
6. 
North Korea Spanish Embassy Raid Mystery Deepens
By Steve Miller March 27, 2019
Spain is seeking the extradition of as many as 10 people from the United States who burst into the North Korean embassy in Madrid last month and tried to pass stolen information to the FBI.
A Spanish judge said he believes all 10 fled to the United States after the February 22 raid. He called them members of a criminal organization and accuses them of trespassing, burglary, assault, and threats. If extradited and convicted, those found guilty could face nearly 30 years in prison.
The suspects call themselves Cheollima Civil Defense and describe the group as a human rights movement working to liberate North Korea. On its website, the organization classified its Madrid action as a response to an "urgent situation."
"We were invited into the embassy, and contrary to reports, no one was gagged or beaten. Out of respect for the host nation of Spain, no weapons were used. All occupants in the embassy were treated with dignity and necessary caution," the group said without providing evidence.
The group's origin remains largely a mystery, but first came to prominence following the death of Kim Jong Un's half brother, Kim Jong Nam. Cheollima posted a video of a young man claiming to be Kim Jong Nam's son, Kim Han Sol.
Whatever information was collected, the group allegedly then turned it over to the U.S. Federal Bureau of Investigation (FBI).
"This information was shared voluntarily and on their request, not our own," the Cheollima statement read.
An FBI statement neither confirmed nor denied the existence of an investigation in the matter, but noted it had a good working relationship with Spanish law enforcement.
On Tuesday, the State Department's deputy spokesperson said Washington was not involved with the incident and "would always call for the protection of embassies belonging to any diplomatic mission throughout the world."
As stories of the raid began appearing in media outlets across the globe, speculation arose over who may have coordinated the raid and if a foreign government played any role.
According to Cheollima, "There were no other governments involved with or aware of our activity until after the event."
Seoul's unification ministry said it had no information on the incident and could not confirm or provide any details about the February 22 event.
A goal for a free North Korea
On March 1, the 100th anniversary of the Korean independence movement, Cheollima Civil Defense released a statement on its website, declaring itself "Free Joseon."
"WE DECLARE ON THIS DAY the establishment of Free Joseon, a provisional government preparing the foundations for a future nation built upon respect for principles of human rights and humanitarianism, holding sacred a manifest dignity for every woman, man, and child," the website read.
The statement went on to add, "We declare this entity the sole legitimate representative of the Korean people of the north."
"We rise against the criminal incumbents of the north, who have perpetuated vast crimes against humanity for decades. We dedicate ourselves completely to the abolition of this great evil, a stain on the very soul of humanity," the organizations' website said.
In its declaration, Cheollima called on like-minded individuals to "join our revolution" and those in North Korea to "defy your oppressors."
It also offered a warning to those engaging with Pyongyang, "To those who would continue to legitimize and empower this regime: History will remember where you stood when you were offered this choice."
Shrouded in mystery
After Cheollima posted the video of Kim Han Sol, there's been significant interest in determining who the group's members are. Domestic and international journalists have repeatedly made inquiries, but they have gone unanswered.
The group explains, "Even beyond its borders, it (North Korea) will use assassinations, terrorism, and even weapons of mass destruction, to destroy any who might oppose or challenge their monopoly on power. We respectfully and sincerely ask that you do not enable or make it easier for the regime's death squads, who have already committed and continue to commit countless crimes against humanity, to threaten or harm our members and their families," the group said in a statement on its website.
The statement added, "The identification of even a single member could lead to the identities of others. Several of us have already escaped their attempts on our lives and that of our families. Many of our compatriots and their relatives have not been as fortunate. And any left surviving in concentration camps would surely face execution if the identities of their family members as dissidents were made known."
While the group is distancing itself from the media at this juncture, it also says it wants to have a "positive partnership with the media" and will do so when it feels safe.
7. 
Skyborg program seeks industry input for artificial intelligence initiative
By Bryan Ripple , 88th Air Base Wing Public Affairs / Published March 27, 2019
WRIGHT-PATTERSON AIR FORCE BASE, Ohio (AFNS) — The Air Force office of Strategic Development Planning and Experimentation at the Air Force Research Laboratory is working on fielding a prototype Autonomous, Unmanned Combat Air Vehicle as an Early Operational Capability as early as 2023.
The program, known as Skyborg, and the SDPE office issued a request for information to industry March 15 to conduct market research and concept of operations analysis to learn what is commercially available now as high technology readiness level capabilities which can meet the requirements and timeline of the Skyborg program.
Skyborg officially stood up as a fiscal year 2019 funded pathfinder program through SDPE in October 2018, according to Ben Tran, Skyborg program manager.
"There was a lot of analysis that determined what was put into the CRFI," Tran said. "We've been given the overall objective to have an early operational capability prototype fielded by the end of calendar year 2023, so this is our first step in determining what the current state of the art is from a technology perspective and from a systems engineering perspective to provide that EOC capability in 2023."
Low cost, attritable, unmanned air vehicles are one way to bring mass to the fight when it comes to addressing potential near-peer engagements in the future, according to Tran.
"We also know there is heavy investment by our near-peer adversaries in artificial intelligence and autonomy in general. We know that when you couple autonomy and AI with systems like low-cost attritables, that can increase capability significantly and be a force multiplier for our Air Force and so the 2023 goal line is our attempt at bringing something to bear in a relatively quick time frame to show that we can bring that kind of capability to the fight."
Matt Duquette, an AFRL Aerospace Systems Directorate engineer, brings a background in UAV control, autonomy, and modeling and simulation of UAVs, especially teams of UAVs to the effort while assisting the Skyborg program with formulating its approach to the autonomy system and some of the behaviors that the UAVs will have.
"Skyborg is a vessel for AI technologies that could range from rather simple algorithms to fly the aircraft and control them in airspace to the introduction of more complicated levels of AI to accomplish certain tasks or subtasks of the mission," Duquette said.
This builds on much of the AFRL foundational work with AI shown with programs such as Have Raider and the Auto Ground and Air Collision Avoidance systems, which prove that levels of autonomy in high performance aircraft are not only possible, but also practical.
"Part of our autonomy development is building assurance into the system. You can either build assurance by using formal methods or approaches where at design time, as you develop these autonomous capabilities, you guarantee certain behaviors, or a more practical approach is to assess the capabilities of these behaviors at run time, meaning while they're running on the aircraft. So, those are the capabilities that we're interested in looking at from the experimentation level to see what type of assurance you need in the system so you can mix high and low criticality."
"We're looking at a range of vehicle performance parameters – mission analysis will help us determine what the final outcome is and the responses from the CRFI will help us understand what the performance is of currently available systems and whether those will meet the needs or not. Everything from keeping up with combat platforms to slower platforms for sensing. There will be a range of possibilities there," said Patrick Berry, from AFRL's Sensors Directorate, who is supporting the Skyborg program by conducting modeling, simulation and analysis.
Although Skyborg is not scheduled for any particular type of aircraft platform at this time, Tran said the CRFI emphasizes the importance of an open systems architecture, having modularity in the system, not only from a sensing capabilities standpoint, but overall mission systems, as well as the autonomy associated with the mission capability for the platform.
"We've partnered with the 412th Test Wing at Edwards Air Force Base, California, and specifically an organization called the Emerging Technologies Combined Test Force and we're working with them beginning with small, fast-moving UAVs to test the current state of the art in AI and autonomy in those airplanes and the ability for them to autonomously team and collaborate in flight," Tran said.
Machine learning has progressed greatly over the last few years and we're very inspired by those results and excited by things that are going on in the gaming industry for instance," said Maj. Ryan Carr, from AFRL's Aerospace Systems Directorate.
"We expect that technology will continue to mature fairly rapidly. What we really need to understand is, 'How do you take that and do something like bring it to the real world and fly with it for example?' The thing we're trying to get at early on is how to do that safely. We're talking about run-time assurance, working hand-in-hand with the flight test community who have a very long record of safe flight testing. That's really what we want to focus our attention on in this early period," Carr said.
"We want to do this in a way that builds trust in the system as you go along so that when you get to that EOC, you will have established a baseline of trust so that operational youth will believe what the system will do or believe it's safe. It's not just that end-state capability, it's the trust as you go along," he added.
Before operational AI innovation can occur, the Air Force must field an autonomous system that meets an immediate operational need and can serve as an iterative platform to facilitate complex AI development, prototyping, experimentation and fielding, and that system is Skyborg, the CRFI says.
8. 
U.S. President Donald Trump Tells Russia To 'Get Out' Of Venezuela
March 27, 2019
U.S. President Donald Trump has called on Russia to withdraw its troops from Venezuela and warned that "all options" were open to achieve that.
"Russia has to get out," Trump told reporters on March 27 in the Oval Office, where he met with Fabiana Rosales, the wife of Venezuelan opposition leader Juan Guaido, recognized by the United States and more than 50 other countries as the South American country's interim president.
Two Russian military planes landed outside Venezuela's capital, Caracas, on March 23, carrying nearly 100 Russian military personnel.
The U.S. government believes the troops include special forces and cybersecurity experts.
Asked how he would make Russian forces leave, Trump said: "We'll see. All options are open."
Trump and Vice President Mike Pence met with Rosales to voice support for Guaido, who invoked the constitution to assume the interim presidency in January, saying President Nicolas Maduro's re-election was fraudulent.
"The United States views Russia's arrival of military planes this weekend as an unwelcome provocation," Pence told reporters.
"We call on Russia today to cease all support of the Maduro regime and stand with Juan Guaido and stand with nations across this hemisphere and across the world until freedom is restored," Pence said.
Russia has made billions in investments in Venezuela and has remained a staunch ally of Maduro.
Based on reporting by Reuters, AP, and AFP
Source: https://www.rferl.org/a/u-s-president- donald-trump-tells-russia-to-get-out -of-venezuela/29845699.html
Copyright (c) 2019. RFE/RL, Inc. Reprinted with the permission of Radio Free Europe/Radio Liberty, 1201 Connecticut Ave., N.W. Washington DC 20036.
9. 
Ο ναύαρχος Kasatonov αξιολόγησε τα σχέδια του ΝΑΤΟ για να εγγυηθεί τη διέλευση της Ουκρανίας μέσω των στενών του Kerch
3 Απριλίου 2019 

Φωτογραφία: Σβετλάνα Ιωαβούκου / Interpress / TASS 

Κείμενο: Αλέξανδρος Κολπακόφ

  •
"Η σύγκρουση εδώ αποκλείεται. Το Στενό του Κερτς είναι μια ζώνη της συντριπτικής κυριαρχίας του ρωσικού στόλου της Μαύρης Θάλασσας, τον οποίο έσωσα μαζί με το στρατιωτικό συμβούλιο του στόλου το 1992 ", δήλωσε ο ναύαρχος Ιγκόρ Κασατόνοφ στην εφημερίδα VIEW, σχολιάζοντας την υπόσχεση του ΝΑΤΟ να« εγγυηθεί τη διέλευση »ουκρανικών πλοίων στο στενό του Κερτς. Οι ειδικοί δεν αποκλείουν τις προκλήσεις των μελών του ΝΑΤΟ.
"Δεν θα παρέχουν Ουκρανούς ναυτικούς. Αυτά δεν είναι παρά πολιτικές δηλώσεις. Εδώ είναι απαραίτητο να ανταποκριθούμε επαρκώς πολιτικά και αυτό αρκεί ", πιστεύει ο Ναύαρχος Ιγκόρ Κασατόνοφ, διοικητής του Στόλου της Μαύρης Θάλασσας το 1991-1992.
Νωρίτερα, ο Μόνιμος Αντιπρόσωπος των ΗΠΑ στο ΝΑΤΟ, Kay Bailey Hutchison,  ανακοίνωσε ποια μέτρα πρόκειται να λάβει η συμμαχία ως μέρος της "δέσμης μέτρων" κατά της Ρωσίας στη Μαύρη Θάλασσα. Ειδικότερα, σχεδιάζεται "να ενισχυθεί η αναγνώριση και η αεροπορική αναγνώριση", καθώς και το να στείλουμε περισσότερα πλοία των χωρών του ΝΑΤΟ στη Μαύρη Θάλασσα, για να "εγγυηθούμε την ασφαλή διέλευση των ουκρανικών πλοίων μέσω των στενών του Κερτς, της Αζοφικής θάλασσας".
"Πρώτον, υπάρχει  η Σύμβαση του Μοντρέ  για τα Στενά της Μαύρης Θάλασσας, του 1936, και πρέπει να εφαρμοστεί από όλους. Όπως ήρθαν, έτσι, μετά από 21 ημέρες, και θα φύγουν, ανεξάρτητα από πόσα, πολλά ή λίγα, όλα θα φύγουν. Υπάρχουν επίσης κανονισμοί για ταυτόχρονη διέλευση – το πόσα μπορούν ταυτόχρονα να περάσουν", τόνισε ο ναύαρχος.
Δεύτερον, οι Αμερικανοί και οι σύμμαχοί τους – ακόμη και χωρίς να αναγνωρίζουν "de jure" ολόκληρο το στενό του Κερτς, ως τα εσωτερικά χωρικά ύδατα της Ρωσίας – δεν μπορούν παρά να υπολογίζουν στο γεγονός ότι αυτή είναι μια ζώνη της συντριπτικής κυριαρχίας του Στόλου της Μαύρης Θάλασσας της Ρωσίας, τόνισε η πηγή.
"Το στενό του Kerch είναι τα εσωτερικά χωρικά ύδατα της Ρωσίας. Επομένως, μπορείτε να παρακολουθείτε από απόσταση από ένα αεροπλάνο που κρέμεται πάνω από την Ανατολική ακτή, μπορείτε να εξετάσετε τα ονόματα των ναυτικών στα μπουφάν από τον δορυφόρο, καθώς και τους αριθμούς των πλοίων των συνοριακών σκαφών, αλλά αυτά είναι εσωτερικά νερά. Δεν θα πάνε λοιπόν εκεί", πρόσθεσε ο Kasatonov.
Σύμφωνα με τον Ναύαρχο, δεν πρέπει να φοβόμαστε τις αμερικανικές απειλές για «ενίσχυση της νοημοσύνης». "Ναι, για χάρη του Θεού, μπορούν να ξοδέψουν τις δυνάμεις και τα μέσα. Αυτό που έχουμε είναι το πεδίο ραντάρ που αποκαλύπτουν, ότι ανοίγουμε το πεδίο τους – αυτές είναι οι κανονικές στιγμές εργασίας κάθε κυρίαρχου κράτους. Αφήστε τους να εργάζονται σύμφωνα με το σχέδιο και να δαπανήσουν τους πόρους, σύμφωνα με το σχέδιο, σύγκρουση αποκλείεται εδώ ", δήλωσε ο Καστονόφ.
10. 
Israel's mighty 'Roar': IDF introduces new non-lethal crowd control device
The Roar works on radio waves and is said to be effective. (IDF Spokesperson's Office)
By World Israel News Staff
The IDF has introduced a new form of crowd control, the Sha'aga (or "Roar"), according to the Arutz7 news site.
The device, which looks like a giant bullhorn, uses radio waves to disperse rioters in a non-lethal manner, and was developed in Israel.
Walla! News reporter Amir Bohbut tweeted, "The Americans opposed selling the IDF a non-lethal system against protests based on radio waves. Given that, the [Israel] defense industries developed a technological answer."
"The soldiers who used the system during the violent demonstrations said that it was very effective," Arutz7 reports.
On Saturday, tens of thousands of Palestinians rioted near the Israeli border to mark the first anniversary of weekly violent disturbances in the Gaza Strip, with Israeli troops weathering a steady rain of explosives and rocks hurled by rioters. The IDF  also blocked a number of infiltration attempts.
11. 
Global survey: Arabs want closer ties with Israel, world losing interest in Palestinians
Tunisians walk in a market of Tunis. A global survey finds a surprising number of the general population in Muslim states want better relations with Israel. (AP/Salah Ben Mohamed)
A global survey found that Muslim states want closer ties with Israel. Among all countries surveyed, over half showed little interest in the Palestinian conflict

.
By David Isaac, World Israel News
A global survey commissioned by Israel's Foreign Ministry to discern attitudes throughout the world about the Jewish State have revealed surprising results where Muslim countries are concerned – that in many cases the populations want closer ties with Israel, even in Iran.
Daily paper Israel Hayom, which reported the results last Wednesday, said that 75 percent of those queried thought that relations with Israel would be good for their countries.
The Israeli Foreign Ministry highlighted in particular the results from Muslim countries, which found that large segments of the general population wanted better relations with Israel.
Percentage of population interested in ties with Israel:
Iraqis – 43%
Emiratis – 42%
Moroccans – 41%
Iranians -34%
Tunisians – 32%
Saudis – 23%
Algerians – 21%
The surveys were taken without the knowledge of the participants that the polls had been commissioned by Israel, Israel Hayom reports.
An additional question in the survey asked whether the Palestinian Authority was the main obstacle on the road to peace in the Middle East.
The poll found that over half of those  polled on averagedidn't have a position on the issue.
According to a senior official in the Israeli Foreign Ministry, quoted by Israel Hayom, "In connection to the Palestinians, the meaningful figure is just how uninterested the global public is in the conflict."
"In contrast, Israel is seen as a country with which it's worth having relations. It's a positive trend because people see Israel's strengths," the official said.
Also encouraging for Israel, the polls found that a significant majority of Latin American countries supported moving their embassies to Jerusalem, Israel Hayom reports.
In the global survey, participants were also asked about Iran. In every region of the world, more people didn't believe than believed that Iran had ceased its nuclear weapons development. The region where the population believed it the least was the Middle East.
Q: Do you believe that Iran has ceased developing nuclear weapons?
Region                         Believe            Don't Believe
North America            18%                 33%
Western Europe          18%                34%
Middle East                 15%                 43%
Africa                            22%                37%
12. 
13. 
No US F-35 equipment shipment to Turkey over Russia's S-400: Report
Iran Press TV
Mon Apr 1, 2019
The United States has stopped shipment of equipment for F-35 equipment to Turkey over the country's defensive cooperation with Russia, a report says.
Reuters cited two unnamed sources in a report Monday, suggesting that the Turkish officials had been notified about the matter by their American counterparts "in recent days."
"The next shipment of training equipment, and all subsequent shipments of F-35 related material, have been canceled," read the report citing sources speaking on condition of anonymity.
Turkey has said the S-400 Triumph air defense system will be delivered by Russia despite the US pressure on the NATO member.
"The contract with Russia on S-400s remains in force and these defensive systems will be delivered to Turkey. Now talks on this issue are underway," Turkish Foreign Minister Mevlut Cavusoglu said, according to Russian media.
According to multiple reports, the production has been estimated to be completed in May for subsequent delivery to Turkey in July.
"We are not going to sell S-400s to third countries. We do not need this as we are acquiring them for our own needs," Cavusoglu reportedly said.
Turkish foreign minister is scheduled to take part in a summit for the North Atlantic Treaty Organization in the US this week.
The row over the F-35 and the S-400 is the latest in a series of diplomatic disputes between Ankara and Washington.
14. 
HOLD HILLARY ACCOUNTABLE FOR RUSSIAGATE HOAX
Once again, Hillary Clinton got away with it.
April 1, 2019
Daniel Greenfield, a Shillman Journalism Fellow at the Freedom Center, is an investigative journalist and writer focusing on the radical Left and Islamic terrorism.
After the Mueller report plopped with a wet thud on the media, everyone is blaming everyone else.
MSNBC and CNN are blaming the fake experts they invited on and interviewed night after night, urging them to make outlandish predictions that Mueller would soon have Trump locked up for treason. Like Inspector Renault, they're shocked that the baseless claims they had been repeating were nonsense. And a few of the experts who turned it up to 11 will no longer be invited into media green rooms.
Meanwhile the politicians are blaming the media, even though Rep. Adam Schiff, Rep. Maxine Waters, Rep. Jerry Nadler, Rep Ted Lieu, and many other political reps were every bit as bad as the 'experts'. Some, like Schiff, are doubling down and will go on investigating Russian collusion until the media stops inviting them on morning shows to discuss the nothing that they found last week and the week before.
Oddly, no one is blaming the political arsonist who started the dumpster fire that is Russiagate.
The Russian conspiracy theory was invented by the Clinton campaign. It was used as a pretext for spying on Trump associates. And then became an argument for invalidating the results of the 2016 election.
And while the Republicans and Democrats tore each other apart over Russiagate, Hillary Clinton sipped her chardonnays and spent the evenings cackling madly at the TV while watching Washington D.C. burn.
The Russiagate conspiracy theory had multiple purposes. The most cynical one was exempting Hillary and her Clintonworlders from any of the blame for the election defeat. Invoking Russia was also an effort to create an election issue that Clinton, a former Secretary of State, could claim expertise on. It would also neatly counter Trump's focus on Islamic terrorists and on China with a Cold War boogeyman.
Russia split lefties along interventionist lines. Hard core anti-war types became Russia skeptics. Most of the rest went along because they hated Trump more than they cared about foreign policy. That's why, aside from Israel, foreign policy has mostly been absent from the 2020 battles even as the radical primaries push Democrat candidates further leftward on a wide variety of domestic issues.
That's strikingly different from the 2016 primaries where Hillary's opponents repeatedly attacked her over the Iraq War. This time around, Rep. Tulsi Gabbard is the only candidate to run on a leftist foreign policy platform. And has next to nothing to show for it. Even Senator Bernie Sanders, a Castro and Soviet sympathizer, is carefully steering clear of foreign policy except for the ritualistic bashing of Israel.
Why is foreign policy out of bounds? One reason is a surplus of inexperienced candidates who have spent hardly any time in national office, some who never did, squatting in the 2020 clown car. But a big part of the reason is that Hillary Clinton's domestic positions are seen as fair game for lefty critics, but, due to Russiagate, her foreign policy people and her international positions are viewed as off-limits.
2020 candidates have a choice between endorsing Hillary Clinton's interventionism, "We came, we saw, he died", which would earn them the ire of grass-roots leftists, or avoiding the subject altogether. The clowns in the 2020 clownmobile car don't want to step on Russiagate trip wires or offend the lefties.
That's why the only safe subject to tilt leftward on is Israel.
After the Mueller report fell, they may be a little bit more willing to question interventionism, but the base remains passionately convinced that Russia plotted to put President Trump in the White House.
The post-Mueller poll by Reuters shows 84% of Democrats still believe in collusion. 57% strongly agree.
Hillary Clinton may not be a 2020 honored guest, but her legacy is safe. 2020 Dems will be cautious about criticizing her, not only because she still has a fan base, but because she never really lost. The election was stolen by a bunch of Russian bots on Facebook. And no lessons, except for the need to censor social media, have been learned from her defeat. Once again, Hillary Clinton got away with it.
The media deserves plenty of the blame. But MSNBC, CNN, the New York Times and the Washington Post, not to mention the outlets more explicitly tied to the Steele report, were acting as Hillary's greedy ideological catspaws. They got rich off the hoax, but they didn't invent it. Hillary Clinton's people did.
Any real reckoning should begin with the mother of all the hoaxes.
But that too is very risky. Hillary Clinton tied in Obama's people into the conspiracy. Any reckoning of Hillary's role in Russiagate would rebound and take down sizable chunks of the Obama administration.
Once again, Hillary Clinton used complicity, tying multiple interests into mainstreaming her hoax, that her lie had become too big to fail. Like the banking system, it would take too much down with it. The media is a safer target. Its only collateral damage is its non-existent credibility. Obama's people however committed actual crimes. Eavesdropping on the political opposition is redolent of Watergate.
And while the Dems no longer need Hillary, they very much need Obama. Especially if the top of the 2020 ticket ends up being a white New Englander with as much appeal to black people as mayonnaise.
Take down Hillary over Russiagate, and Obama goes with her. It's safer to just leave her alone.
Any meaningful reckoning of the Russiagate hoax won't end with the media. It will follow it through Fusion GPS, the DNC, and Clinton associates who hoped to swing the election with one last dirty trick. It will trace the passage of the Clinton conspiracy theory through the DOJ and the FBI. It will measure the institutional damage inflicted on the government, not just the permanent tainting of the 2016 election.
Nobody complicit in Russiagate is about to allow that to happen. And so everyone, from the media on down, is willing to be Hillary's fall guys instead. The Clintons have never had a shortage of those.
Hillary Clinton's political career is over. But despite the odds, she's managed to evade blame not only for her crimes, but for her terrible political instincts and failures. And she is able to sit back and watch Democrats and Republicans still fighting it out over a game that she set into motion years ago.
It's hard not to believe that she doesn't feel glee at the damage she is continuing to inflict on America.
Russiagate was not a media failure. The media these days is just a Democrat messaging operation. Its broadcasts and articles exist to promote the partisan agendas of its political faction. Holding the media accountable for spreading smears, lies and conspiracy theories is like blaming the dog, instead of the owner, when it makes a mess on your lawn. The media makes messes, but it doesn't originate them.
MSNBC, CNN and the Washington Post can't and won't clean up the Russiagate mess. The only one who can is a retired politician dictating books, doing speaking tours and watching TV in her home in Chappaqua, New York. She is also the only person to have escaped a Russiagate reckoning.
Unlike her fellow Democrats, she has nothing at stake in this post-Clinton political order and is happy to watch the country burn, and her party with it, to slake the frustrated anger of her final defeat.
Russiagate is Hillary Clinton's revenge on everyone. On Trump, on Republicans, and on her own party. If she can't have the White House, she can still set the agenda by watching her big lie take over the national conversation, hounding Trump and forcing the Dems to fight her war using her last dirty trick.
The only way to stop the damage that the last two years have inflicted on our country is to hold Hillary, Obama, their associates and officials accountable for the catastrophic dirty trick known as Russiagate.
* * *
15. 
Can the Mullahs outlast Trump?
April 2, 2019
Turns out, maybe, Hamas was just following orders when they started the latest assault against Israelis. Iranian orders. It's one of three versions Hamas leaders and spokesmen have trotted out, ranging from technical error to sheer accident. The most interesting is "the Iranians ordered it." Why? To play electoral politics; to turn Israeli voters against Prime Minister Benjamin Netanyahu.
This interests me because it fits with the Iranians' increasingly frantic search for some kind of solution to their great national unraveling. Electoral politics is central to what national security and foreign policy writer Adam Kredo calls Iran's new long-term strategy versus the United States. Supreme Leader Ali Khamenei [pictured above] has decided, Kredo says, to hang on to power until 2020, when he hopes President Trump will be voted out of office and friendlier Democrats will take over.
This bespeaks a failure by the regime to design a winning strategy, and you can see this failure across the board, beginning with the financial straits in which Hezbollah is now suffering. Hezbollah is looking for a way to make its evil ends meet. In March, its chief Hassan Nasrallah made an unprecedented appeal for donations. Hezbollah isn't paying salaries to a goodly number of its fighters, which means Iran isn't fulfilling its promises to them. A London-based Sunni magazine, Majalla, spells it out with evident pleasure:
Hezbollah has brought many of its fighters from Syria back home, mainly those who are on a contractual basis and are no longer needed. Hezbollah does not feel obligated to pay them now that they are back home. In addition, employees of Hezbollah's media, education, medical, and military systems have complained of deep pay cuts. But more significantly, fighters and their families are beginning to complain about lost wages as well—a largely unprecedented development. Married fighters are reportedly receiving only half of their salaries (which normally range from $600 to $1,200 per month), and single fighters are receiving only $200 per month.
Previously, Hezbollah money came from Khamenei and the Iranian regime, but not so much now. This is part of a wide sweeping failure by the regime. The once-admired president, Hassan Rouhani, was totally missing when massive floods swept across northern Iran; he thought it was a good time for him to take a vacation. Yet, as Amir Tahiri tweeted, "Islamic Red Crescent reports current floods affected 18.5 million people in 304 towns and cities across Iran, driving 1.2 million out of their homes. It says it has managed to provide shelter for only 29,030. Not a great performance but no surprise."
This is no doubt due in part to the US sanctions, but I insist that you don't need sanctions for the Khamenei regime to fail; they can wreck the Islamic Republic all by themselves, as they demonstrate daily. It's a system that depends on foreign assistance, and when Barack Obama was president he either gave it, or encouraged it. Aid, or investment, came from the Europeans, the Russians, and the Chinese, and there was active cooperation from the North Koreans, but a lot of that is drying up as foreign leaders have to choose between doing business with the booming American economy and the ruin of the Islamic Republic.
Trade with China is down. Bloomberg reports:
While Europe has made 
extraordinary efforts
 to both assert its economic sovereignty and preserve the nuclear deal, even going so far as to establish a new state-owned trade financial intermediary, China has taken no commensurate effort to shield its own trade from the long arm of American law.
This is a serious and unexpected setback for Tehran. The crowd around Khamenei thought the Chinese, as they had last time around, would help Iran beat the sanctions, but that is not happening today. This is a general pattern. Even German trade is dropping. Meanwhile, Emmanuel Macron's French government is cracking down on radical Shi'ite organizations, limiting Iran's ability to wreak havoc on opposition exiles, and stage violent reprisals. As we hear from Iranian human rights activist Banafsheh Zand Bonazzi:
The French Interior Ministry has called on the Council of Ministers to suspend the activities of four Shiite centers close to the Iranian regime for their support of Hamas, the Lebanese Hezbollah's military wing and the Islamic Jihad, as well as anti-Semitic propaganda. French President Emmanuel Macron has declared these Shiite centers to be illegal.
So it's hard times for the mullahs. Unable to cope with the ruin of the country, they seem to be hoping they can outlast Trump. My colleague Saeed Ghasseminejad sums it up, saying "Tehran's plan is to wait and see what will happen in the 2020 election…The clerical regime hopes that a less aggressive candidate will defeat Trump and the U.S. will return to the JCPOA," the acronym used to refer to the nuclear deal. It follows, he says, that Trump needs to press hard to "force Tehran to collapse over the next two years," but this requires a much more aggressive policy than we have managed to date. Above all, the United States needs to support the many millions of Iranian dissidents.
Alas, thus far, we're relying on sanctions and speeches. That won't do it.
* * *
16. 
PRINCE CHARLES SNUBS PRESIDENT TRUMP
But proudly poses with Che Guevara backdrop in Cuba.
April 3, 2019
"Royal family snub President Trump during UK visit: Prince Charles and Prince William were unwilling to meet Donald Trump on his visit to Britain, leaving the Queen to greet the US president alone." (London Times, July 18, 2018.)
Well, what could be more fitting than British royals snubbing the upstart leader of an upstart former British colony—and one who was elected by "deplorables" to boot?
On the other hand, Prince Charles and Duchess Camilla, not only rank as the first British Royals to grace Bolshevik Cuba with a visit—but this week (mirroring president Obama three years ago)– posed for a photo in front of the image of mass-murderer and faithful Bolshevik protégé Che Guevara.
The phrase "faithful Bolshevik protégé" is not flippant. The Bolsheviks, lest we forget, sadistically murdered an entire family of Prince Charles' royal relatives (the Romanovs,) in cold-blood, including the women and children, as they screamed in terror and pleaded for mercy.
In case Prince Charles somehow "forgot" that terrifying historical datum, perhaps a famous song by a famous subject of Prince Charles (Mick Jagger) can remind him of the famous atrocity:
"I stuck around St. Petersburg, when I saw it was a time for a change, killed the czar and his ministers, Anastasia screamed in vain." (Sympathy for the Devil, 1968.)
Nonetheless, according to Britain's ambassador to Cuba Anthony Stokes, the royal visit to Bolshevik Cuba was a jolly-good show: "I think it's been a wonderful visit and the first official royal visit to Cuba – I think that's highly significant."
"The solution to the world's problems lie behind the Iron Curtain," wrote Che Guevara who often signed his correspondence "Stalin II!" In fact, so fanatical was Prince Charles and Duchess Camilla's photo prop's devotion to the Bolsheviks that he even applauded the Soviet slaughter of Hungarian freedom-fighters in 1957. All through the horrifying Soviet massacre, Che dutifully parroted the Soviet script that the workers, peasants and college kids battling Russian tanks in Budapest with small arms and Molotov cocktails were all "Fascists and CIA agents!" who all deserved prompt execution.
Throughout the royal visit Duchess Camilla, a world-renown "women's rights activist," seemed enchanted to be photographed graciously meeting the KGB-trained apparatchiks and admiring the handiwork of a regime which ranks as the Western Hemisphere's top jailer, torturer and murderer of (genuine) women's rights activists.
In fact, the regime that so enchanted Duchess Camilla jailed and tortured 35,150 Cuban women (and girls) for political crimes. This ranks as a totalitarian horror utterly unknown—not only in Cuba, under those unspeakable "right-wing dictators!" you always hear about in the Fake News Media–—but in the Western Hemisphere. Some of these Cuban ladies suffered twice as long in Castro's Gulag as Alexander Solzhenitsyn suffered in Stalin's.
"Chirri was just a kid," recalled one former Cuban prisoner named Ana Lazaro Rodriguez about one of her cellmates, "barely 18. Tiny blonde and beautiful, she should be have been going to high school dances. Instead because her father had been involved in a plot against Castro, she was squatting in a dark filthy cell, wallowing in menstrual blood and excrement."
Jailing, torturing and murdering people (particularly females) for the crime of being related to "enemies of the Revolution," by the way, comes straight from the Bolshevik playbook. The practice was started by the Soviet Cheka and greatly expanded upon by Stalin during the Great Terror. Naturally the Castros and Che Guevara adopted the practice with their own brand of gusto.
Not that at 18 Chirri was among the youngest female victims of Prince Charles and Duchess Camilla's gracious hosts. "Mommy—MOMMY?—HAY!—NO!"  Ana Rodriguez recalls the shrieks of pain and horror coming from a nearby torture chamber.
The victim had been a thirteen year old girl raised in a Havana Catholic orphanage founded in 1705. Castroite commisars, perfectly mimicking their Bolshevik mentors, had taken over the orphanage and began hectoring the girls on how the nuns who had raised them were actually witches preparing to sell them into prostitution. Many of the barely pubescent girls broke a blackboard and some desks in protest against the Bolshevik insults against the only home and mothers they'd ever known.
So the Soviet -mentored Castroite police yanked the little girls from the orphanage, hauled them down to the women's prison and threw them into the cells with common prisoners.
Can someone out there puh-leeze inform all those tourists to Cuba and all those visiting dignitaries– from Obama to Prince Charles and Duchess Camilla— that the building with Che the mass-murderer's mural they love to pose with as a backdrop is the headquarters for Cuba's KGB-founded and mentored ministry of the interior (i.e. secret police?)
"Always interrogate your prisoners at night," Che Guevara ordered his torturers during the early days of the revolution, "a man's resistance is always lower at night." That today the world's largest Che mural adorns Cuba's Ministry of the Interior, the headquarters for Cuba's KGB- and STASI-trained secret police strikes many of us as perfectly fitting.
The prisoners in these KGB-designed chambers of horrors considered "waterboarding" a rest period, compared to the other tortures they were put through by the gracious hosts of the perpetually smiling Prince Charles and Duchess Camilla.
17. 
JOE BIDEN AND PROGRESSIVE HYPOCRISY
Why the allegations against him aren't about predatory masculinity.
Bruce Thornton is a Shillman Journalism Fellow at the David Horowitz Freedom Center.
One of the more interesting fronts in the Democrat internecine struggle between the rich, old People of Pallor and the "woke," young People of Color centers on Joe Biden and his penchant for inappropriately touching women. Biden's bad habit of invading the personal space of women and girls in sexually suggestive ways has long been known and dismissed as a personal quirk of his regular-guy persona.
But with Biden making noises about entering the 2020 presidential race, many Dems on the left are suddenly having epiphanies about Uncle Joe's sexist sins. With a dozen candidates vying for the nomination, Biden's long-forgiven antics are now coming back as "woke" political karma.
Once more, for Democrats, claims of alleged identity-politics principle come down to questions of whose political ox is being gored.
Take Lucy Flores, a former Nevada assemblywoman, who claims that five years ago at a political event Biden stood close behind her and kissed her hair, leaving her feeling "uneasy, gross, and confused. She made no bones about her political motivations, telling CNN, "The reason why we're having these conversations about Vice President Joe Biden is because he's considering running for president." Flores supported Bernie Sanders in 2016, and has attended a campaign rally for "Beto" O'Rourke, the Irish gringo with a culturally appropriated nickname.
Now we have another woman piling on. Amy Lappos says that during a 2009 fund-raiser, Biden grabbed her: "It wasn't sexual, but he did grab me by the head. He put his hand around my neck and pulled me in to rub noses with me. When he was pulling me in, I thought he was going to kiss me on the mouth." Lappos made her political motives clear as well: "If Biden truly supports women and gender equality he would step aside and support one of the many talented and qualified women running. The same goes for the other men who have thrown their hat in the ring. . .  After 45 male presidents it is time we elect a woman." Don't be surprised if this is the start of a conga-line of accusations chipping away at Biden's current lead in the polls. Lucy Flores could be just the beginning of a feminist deconstruction of Biden if he announces he's running.
The old guard, however, still has friends. The Washington Post, protecting an apparatchik of the status quo, ran a preposterous defense of Uncle Joe that doesn't even pass the laugh test: "This affectionate and sometimes intimate physical style is one of the former vice president's trademarks, a defining feature of the warm and upbeat persona he has built during more than four decades in the national spotlight." As for the copious footage of Biden's handling females, "they were often framed in past news accounts as harmless and sometimes entertaining." Even a couple of former objects of his "intimate physical style" and "upbeat personality" are now defending Biden, claiming the stills from video footage misrepresent what he's doing. Just Biden being Biden, as the exculpatory cliché goes.
Let's see that explanation getting past the woke commissars, or even anybody with common sense. Apart from Handmaid cultists, most grown-ups understand that physical affection between the sexes isn't always a prelude to rape or an announcement of patriarchal hegemony. With a friend or even acquaintance who is familiar, a pat on the shoulder or a chaste hug is not a problem. Human beings communicate through touch, and such gestures can signal encouragement or sympathy or just the simple pleasure of being friends.
What Biden has done, however, is nothing like that. For one thing, such innocent gestures usually are suitable for either sex––a good rule for those uncertain whether a gesture is appropriate. The objects of Biden's physical "affection," however, are all women and, making it even more creepy, young girls. Then there's the ambush factor: he usually walks up behind a woman and puts his hands on her shoulders, something a man usually does not do to another man without squeezing the hell out of the guy, or following up with a playful shake or a punch.
Next comes the sniffing or kissing the hair. Hair is a secondary sex characteristic, which is why male-dominated cultures and religions require women to cover their heads. Until the end of the 20th century, respectable women in the West wore their hair bound up, again to minimize its sexually suggestive meaning. This custom led to expressions like "let your hair down," which suggests shedding inhibitions and enjoying some transgressive behavior. How many old movies have we seen where the woman's unbinding of her hair is a signal for sexual availability? Sorry Joe, whatever you thought you were doing, kissing the hair of a woman you barely know is not innocent "physical affection." Neither is whispering in her ear, another cliché denoting sexual interest; watch this creepy version from Key Largo.
There's nothing "upbeat" or "entertaining" about such behavior. It does raise, however, legitimate questions about Biden's judgment.
The larger issue, though, is why hasn't Biden been called on this juvenile behavior before now, even after last year's "me too" movement that revoked the tacit free pass earlier Democrat sexual predators got for sexual improprieties and assaults. Bill Clinton, of course, is the textbook example of the so-called feminist progressive's double standard. Every feminist law was broken by Slick Willy: his targets had less social power than he; he used physical force, including alleged rape, on some; and with the help of Hillary and the Clinton goons, "slut-shamed" and "silenced" them.
But the feminist establishment and most of the Democrat Party defended him, one feminist magazine editor publicly professing her eagerness to fellate the president for defending abortion. And to this day, Bill's adventures on the statutory-rape themed  Lolita Express raise a collective shrug from the Democrat media and feminist Javerts, even when candidate Hillary campaigning on her feminist bona fides. Bill's political value outweighs his offenses, the same reason why Virginia Democrat Lt. Governor Justin Fairfax is still in office despite claims of sexual assault, one harrowing, from two women whom we are supposed to hear and believe without question.
But political utility can change. When the cascade of sexual assault revelations about high-placed progressives like movie mogul Harvey Weinstein––his predations long an open secret–– and Senator Al Franken were unfolding in 2017, even Bill found himself in the crosshairs. New York Senator Kirsten Gillibrand, then already bruited as a 2020 candidate for the presidency, broke protocol and criticized Clinton for the Lewinsky scandal, suggesting he should have resigned.
Why this rectitude 20 years later? Democrats defending Clinton had the correct answer: One anonymous Democratic strategist told The Hill, "All this [criticism] reeks of is political opportunism and that's what defines Kirsten Gillibrand's career." Gillibrand made a political calculation that the sexual scandals embarrassing the Democrats would make a hard stand on sexual misdeeds politically valuable. Now that Gillibrand has announced her candidacy, we'll have an opportunity to see during the primary debates if she calculated correctly, or whether the outlandish overreach of the Kavanaugh hearings––during which she took a visible role, excoriating the Republicans in speeches from the Senate floor–– has changed the political landscape.
The current controversy over Joe Biden is not about predatory males or the patriarchy or "cisgendered" male privilege. It's about politics. From its beginnings, modern feminism has been about identity politics, the leveraging of grievance for political and social power. Progressive feminists today care more for the mythic claim that females earn only 77% of what men do, than they care about the plight of their "sisters" across the globe. They allow themselves to be bullied by two female Muslim House Representatives, and never question them about the sex slaves in the Muslim Middle East, or female genital mutilation, or the illiberal, misogynist sharia laws that put overwhelming power, often lethal, into the hands of fathers, brothers, or husbands. Of course,  oppressed Muslim women don't vote in U.S. elections, or hire women in U.S. corporations, law firms, or universities.
Progressivism feminism is about power, not principle. If Biden continues to be wounded with more allegations and criticisms, it won't be because people are now "woke" to his long record of groping women. It will be because he's now in the way of progressive feminists vying for the same job.
18.
Lithuania's genocide studies center engages in Holocaust denial, local Jews say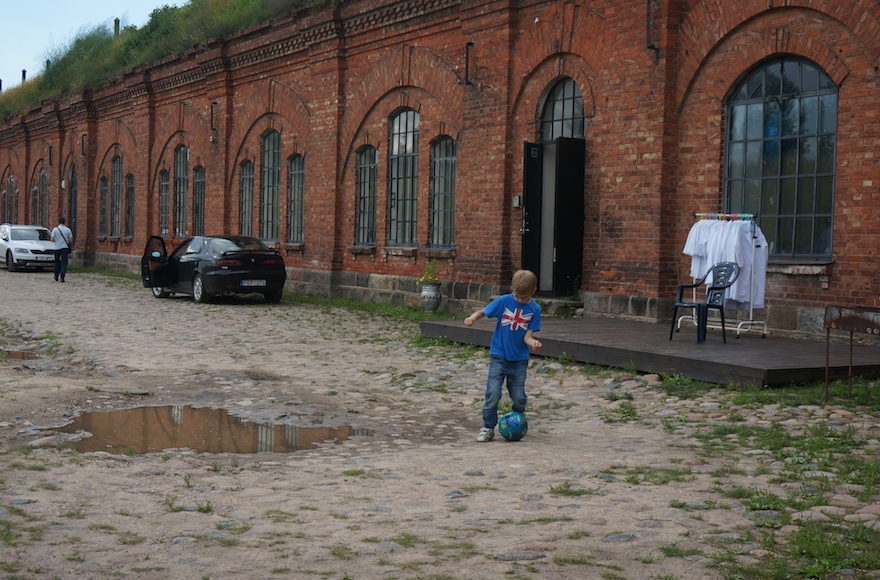 (JTA) — Lithuania's state body for preserving the memory of the Holocaust broke the country's laws against denying that genocide, local Jews said.
The controversy surrounding the Center for the Study of the Genocide and Resistance of Residents of Lithuania is the latest in a series of actions that the country's critics say is a government-sponsored campaign to exculpate its people from its substantial complicity in the murder of 85 percent of the country's 170,000 Jews.
The Center published last month a text claiming that "the Lithuanians operated against the will of the Germans" during World War II and that "the residents of occupied Lithuania in 1941 didn't understand ghettos as part of the Holocaust."
On March 28, the Jewish Community of Lithuania published on its website a harsh condemnation of the Center's claims, threatening to take legal action unless it is retracted.
The text, the community said, "contains features which are crimes under the Lithuanian criminal code, namely, denial or gross belittlement of the Holocaust."
The Center's text was a defense of Jonas Noreika, the wartime governor of the Lithuanian Šiauliai district under the Nazis. Many historians believe he oversaw and profited personally from the dispossession and murder of that district's Jews.
Last month, a Lithuanian judge dismissed as "ill-based" an American Jew's lawsuit against the center, demanding it take down a plaque commemorating Noreika.
"Noreika belonged to the anti-Nazi underground of Šiauliai which rescued Jews, Noreika helped those who rescued Jews," the Center's text also said.
19. 
HEZBOLLAH ESTABLISHED NEW MISSILE FACTORY IN BEIRUT- REPORT
Israeli intelligence allegedly shared the new information with US Secretary of State Mike Pompeo, who warned Lebanese Prime Minister Saad Hariri of the secret facility on his state visit in March

.

APRIL 2, 2019
Map of Hezbollah infrastructure in the region, 2019.
(photo credit: IDF SPOKESPERSON'S OFFICE)
Hezbollah has built a new missile factory in Beirut with the help of Iran, a Channel 13 report revealed on Monday night.
Israeli intelligence reportedly shared the new information with US Secretary of State Mike Pompeo, who warned Lebanese Prime Minister Saad Hariri of the secret facility on his state visit to Lebanon in March and expressed his concern about the threat the terrorist organization poses to the country.
The missile factory could include the capability of manufacturing precision-guided missiles, according to an anonymous American source quoted by the report.
"We have made it clear to the Lebanese government that Hezbollah is doing something inside Lebanon and that the danger of an escalation with Israel as a result is real," the source said, adding that "we made sure that all the information we have in this context is also in the hands of the Lebanese government."
In his address to the UN General Assembly in September, Prime Minister Benjamin Netanyahu accused Hezbollah of shielding its massive missile stockpiles behind civilian buildings, including Beirut's main airport.
Hezbollah had been trying to build infrastructure to convert ground-to-ground missiles to precision missiles in the Ouzai neighborhood of the Lebanese capital, near the airport. Hezbollah officials reportedly made a conscious decision to transfer the center of gravity of this precision missile project – which they have been dealing with for some time – to that civilian space in the heart of the Lebanese capital, Netanyahu said.
One of the sites, according to Netanyahu, was inside a football stadium belonging to the Lebanese terrorist group. A second site was near Rafic Hariri International Airport and a third sits some 500 meters from the airport's landing strip, in the heart of the Ma'aganah residential neighborhood, full of residential buildings.
Hezbollah's effort to build accurate and precise missiles – facilitated by Iranian expertise, funding and guidance – has been targeted by Israel on numerous occasions in Syria.
20. 
21. Και τώρα ώρα για… "ΞΕΛΑΜΠΙΚΑΖ" !..