1.
US stops accepting new Turkish pilots to train on F-35 fighter jets
Iran Press TV
 Jun 7, 2019
The United States says it has no plans for the time being to accept any additional Turkish pilots to train on F-35 fighter jets as part of a planned program between the two countries.
Two unnamed US officials told Reuters on Friday that Washington has decided not to accept any new Turkish pilots.
They, however, added that the decision could be reversed if Ankara ditches its plans to purchase Russia's S-400 air defense system as no final and formal decision has been made yet.
The US has threatened Turkey that it would end the program if it refuses to halt its 2017-finalized deal with Moscow for the advanced missile system.
Currently, four Turkish pilots are receiving training on F-35 fighter jets at Luke Air Force Base in Arizona and two more are working as instructors at the base. An additional 20 Turkish aircraft maintainers are also participating in the program, according to the US military.
The sources said the decision so far only applied to upcoming rounds of Turkish pilots and maintenance crews who would have normally come to the United States.
On April 1, Washington directly announced that it would be suspending all "deliveries and activities" related to Turkey's procurement of F-35 stealth fighter jets over Ankara's plans to purchase the S-400s.
The US claims that the Russian equipment is not "compatible" with the hardware and network lying under the control of the Western military alliance of NATO, which is dominated by Washington and has Turkey as a member.
President Tayyip Erdogan said on Tuesday it was "out of the question" for Turkey to back away from its deal with Moscow.
He added that the US had not "given us an offer as good as the S-400s."
The Pentagon has declined to comment on the decision, but it has reportedly said talks are underway with Ankara on the potential sale of Patriot missile defenses to Turkey.
Turkish Foreign Minister Mevlut Cavusoglu said on Thursday that the S-400s purchase is a "done deal" and cannot be cancelled.
Cavusoglu highlighted that the United States could not guarantee it would be able to sell the Patriot systems to Ankara due to an impasse in US Congress.
The S-400 is an advanced Russian missile system designed to detect, track, and destroy planes, drones, or missiles as far as over 400 kilometers away. It has previously been sold only to China and India.
Ankara is striving to boost its air defense, particularly after Washington decided in 2015 to withdraw its Patriot surface-to-air missile system from Turkish border with Syria, a move that weakened Turkey's air defense.
Ankara has been critical of Washington for supporting Kurdish groups in Syria that he says are responsible for terror attacks inside Turkey, among other issues.
2.
Russia to Start Supplying Turkey with S-400 Air Defenсe Systems in 2 Months – Rostec CEO
07.06.2019
ST. PETERSBURG (Sputnik) – Russia will begin deliveries of advanced S-400 air defence systems to Turkey in two months, Sergey Chemezov, CEO of Rostec state corporation, said.
"Everything is in order. I think, we will start deliveries in two months. Advance payments have been made, a loan has been drawn up. (ΑΓΟΡΑ ΜΕ ΡΩΣΙΚΑ ΔΑΝΕΙΚΑ ΛΕΦΤΑ, ΠΟΥ ΗΔΗ "ΤΑ ΕΦΑΓΑΝ" ΟΙ ΡΩΣΟΙ)!.. Loan money has been spent, the equipment has been manufactured. Plus, we have already completed the training [of Turkish personnel]", Chemezov said in an interview with NTV television on the sidelines of the "St. Petersburg International Economic Forum" (SPIEF).
The statement comes after Acting US Defence Secretary Patrick Shanahan has formally informed Turkey that it will not be allowed to buy F-35 fighter jets if it goes ahead with plans to purchase Russian S-400 air defence systems.
"While we seek to maintain our valued relationship, Turkey will not receive the F-35 if Turkey takes delivery of the S-400", Shanahan wrote in a letter to his Turkish counterpart Defence Minister Hulusi Akar, as quoted by the Wall Street Journal.
Shanahan has also reportedly given his Ankara counterpart Hulusi Akar an ultimatum that all Turkish pilots currently training in the United States to fly the F-35 jet must leave the country by 31 July. He has shut down training on the F-35 for all new Turkish students, Foreign Policy magazine said, citing as its source a senior US defence official speaking on condition of anonymity.
This week, top US diplomats and military officials have stepped up their warnings that if Turkey goes ahead with buying the Russian S-400 air defence system, they will cancel the sale of the F-35 Joint Strike Fighter to Ankara. The first S-400s are due to arrive in Turkey this month.("ΚΑΛΑ ΚΡΑΣΙΑ"! Ο,ΤΙ ΣΑΣ ΕΧΟΥΜΕ ΓΡΑΨΕΙ ΘΑ ΓΙΝΕΙ)!
Also on Friday, NATO Supreme Allied Commander Europe Gen. Tod Wolters said the S-400 system was not interoperable with NATO systems and may attempt to exploit F-35 capabilities.
In December 2017, Moscow and Ankara signed a loan agreement for the delivery of the S-400 air defence systems to Turkey. The first shipments of the S-400 are expected in June. In spite of the US threats to impose sanctions against Ankara, Turkish officials have said that purchasing of military equipment is a sovereign right and ruled out the possibility of abandoning plans to acquire the S-400 systems.
© Sputnik
3.
Treasury Sanctions Iran's Largest Petrochemical Holding Group and Vast Network of Subsidiaries and Sales Agents
The U.S. Department of the Treasury's Office of Foreign Assets Control (OFAC) took action against Iran's largest and most profitable petrochemical holding group, Persian Gulf Petrochemical Industries Company (PGPIC), for providing financial support to Khatam al-Anbiya Construction Headquarters (Khatam al-Anbiya), the engineering conglomerate of the Islamic Revolutionary Guard Corps (IRGC). In addition to PGPIC, OFAC is designating PGPIC's vast network …
4.
Secretary General praises Albania's commitment to NATO, calls for political dialogue

.
"Through hard work and dedication, Albania is setting an example in promoting peace and stability in the Western Balkans," he said. The Secretary General hailed the European Commission's recent recommendation to open EU accession talks with Albania and North Macedonia stressing: "it is important that this progress continues". He called on all political actors to "resolve differences through dialogue and established political processes, and to show the political consensus necessary for continued Euro-Atlantic integration."
ΓΓ/ΝΑΤΟ + ΥΠΑΜ ΑΛΒΑΝΙΑΣ Όλτα Χάτσκα
5. 
Secretary General in North Macedonia: We are ready to welcome you into the NATO family
Mr. Stoltenberg praised the courage and determination shown by both Skopje and Athens to resolve the country's name issue through the historic Prespa Agreement. He said he looked forward to welcoming North Macedonia as the thirtieth member of the Alliance: "Throughout NATO's history, our open door policy has been a success, strengthening our Alliance and contributing to Euro-Atlantic security. You will soon be part of that success." He urged the country to continue reforms, including on rule of law, security and intelligence, and in the defence sector, saying "Continuing the pace of reforms is important, as you prepare for full membership. We will continue to support you on this path."
The Secretary General arrived in Skopje on Sunday with the North Atlantic Council, NATO's decision making body, which includes the ambassadors of all 29 Allies. This is the first ever visit to North Macedonia by the Council, which held a joint meeting with members of the government to discuss progress in accession preparations, reforms, as well as the situation in the region.
While in Skopje, Mr. Stoltenberg is meeting with President Stevo Pendarovski, Prime Minister Zaev and the President of the Assembly Talat Xhaferi.
6.
IDF USING NEW "INTELLIGENCE SYSTEM" TO DECREASE SURPRISE ATTACKS ON TROOPS
Over 1,000 Palestinians arrested by IDF troops in the West Bank in the first half of 2019

.

 

JUNE 3, 2019
Undercover Israeli security personnel arrest a Palestinian protester in the West Bank. (photo credit: GORAN TOMASEVIC/REUTERS)
The IDF has begun to use a new system to alert troops to suspicious movements by Palestinians in the West Bank, in an attempt to decrease the chance of troops being caught by surprise.
The system includes analytics and visual intelligence, which are all connected to one main system in an operations room. It was established as part of the project the military hopes will assist in foiling attacks in real time, and prevent manhunts of terrorists who get away following an attack.
The military has understood that many soldiers are slow to respond to surprise attacks, and that troops must decrease the time it takes them to act. Therefore, in the coming months troops stationed in the West Bank will receive smartwatches that will alert them to approaching threats in an attempt to decrease surprise attacks.
The Judea and Samaria division of the IDF has also formulated a new operational concept to define the range of operational actions and norms aimed at increasing its ability to deal with attacks.
The concept, which relates to all stages of troop training, aims to ensure that every combat soldier is able to make correct decisions under pressure and in a short period of time, such as overpowering an attacker at a maximum speed.
The IDF has also begun a new combat training program at the Lachish Training Center that includes programs that are in accordance with the sector and operational missions, as well as familiarity with the regional history and the operational challenges.
The military has also improved training infrastructure for troops, adding in programs based on virtual reality that allows soldiers to experience real-world incidents including stabbing and shooting attacks, as well as Krav Maga and shooting courses.
With terrorist attacks continuing in the West Bank, the IDF arrested more than a thousand Palestinians this year, and confiscated 270 illegal weapons.
Security forces, including the IDF, police and Shin Bet (Israel Security Agency), carry out near-nightly raids in the West Bank to arrest Palestinians suspected of violence against Israelis.
The numbers released by the military, while slightly lower than the previous year of 3,000 arrests, is significantly lower than numbers released in December by the Palestine Prisoners Center, which said that 5,700 Palestinians were arrested by troops in 2018, including 980 children.
An April report by the Palestine Liberation Organization's Department of Public Diplomacy and Policy stated that 1,600 Palestinians, including 230 children and 40 women, had been arrested since the start of 2019.
Troops also confiscated NIS 500,000 in terrorist funds since the beginning of the year, compared with the NIS 2m. seized in 2018.
Security forces have also increased their efforts to shut down underground weapons workshops and confiscate arms, greatly reducing the number of illegal explosive devices and other weapons that could end up in the hands of potential attackers.
According to figures released by the military, the weapons seized by the IDF is an increase from the 400 weapons taken by troops in 2018. In the two previous years, 445 illegal weapons were seized, a significant increase from the 170 illegal weapons confiscated in 2015.
Security forces believe that most of the shooting attacks that have occurred in the West Bank and inside Israel were carried out with weapons manufactured in the West Bank, most commonly the Karl Gustav recoilless rifle.
The crackdown on illegal weapons in the West Bank has led to an increase of prices of the arms, with an M-16 costing NIS 60,000 and a Karl Gustav costing between NIS 3,000 and NIS 4,000.
While there were several deadly shooting attacks over the past year that claimed the lives of 16 Israeli civilians and soldiers, the IDF was able to thwart other deadly attacks, some of which could have dragged Israel into a large-scale military operation.
Thousands of other small-scale attacks were also thwarted by troops due to intelligence gathering, including an increased monitoring of social media activity, and arresting individuals who express a desire to set out on attacks, or attempt to inspire others to do so on social networks like Facebook.
Since October 2015, Palestinian youth have stabbed, run over and shot IDF soldiers and civilians, including some tourists, in a wave of violence in the West Bank and Israel. The violence has since decreased since its peak in the winter of 2016, when there were almost daily attacks.
7. ΦΤΟΥ ΣΑΣ ΡΕ ΞΕΦΤΙΛΙΣΜΕΝΟΙ! ΚΑΤΑΝΤΗΣΑΤΕ ΤΗΝ ΕΛΛΑΔΑ ΕΝΑ ΑΠΕΡΑΝΤΟ ΧΡΕΟΚΟΠΗΜΕΝΟ "ΚΟΛΟΧΑΝΕΙΟ" ("ΚΟΛΟΧΑΝΕΙΟ" = ΒΡΩΜΙΚΟΣ ΛΑΘΡΟ – ΚΑΜΠΙΝΕΣ + ΑΝΑΡΧΟ ΠΟΛΥ-ΠΟΡΝΕΙΟ)! 
Όπως ο Τσίπρας νταντεύει σαν μπαμπάς τους αλλοδαπούς για να κερδίσει τις ψήφους τους, έτσι και όλοι οι πολιτικοί αρχηγοί αντιμετωπίζουν το "gay pride" που θα διεξαχθεί το βράδυ του Σαββάτου στο Σύνταγμα σαν ένα ιστορικό γεγονός. Όλοι έχουν στήσει περίπτερα, κάνουν δηλώσεις στήριξης σε μια εκδήλωση που είναι αφιερωμένη στον Ζακ Κωστόπουλο που ηρωοποιήθηκε απλά και μόνο επειδή ήταν ΛΟΑΤΚΙ και

ΣΥΡΙΖΑ

!..
Στις "φωτό" που δημοσιεύει η Eurokinissi παίρνετε μια γεύση για τις εικόνες που θα αντικρύσουμε όσο βραδιάζει στο κέντρο της Αθήνας. (ΤΙΣ ΑΝΤΙΚΡΥΣΑΜΕ ΗΔΗ)! Είναι το νέο «συνηθισμένο». Είναι το «απαραίτητο» γιατί οι ψήφοι είναι σημαντικοί. Μάλιστα και η Βουλή των Ελλήνων, «με την ευκαιρία των εκδηλώσεων του Φεστιβάλ Υπερηφάνειας Αθήνας 2019, αναδεικνύει το μήνυμα του σεβασμού του δικαιώματος κάθε ανθρώπου στον αυτοπροσδιορισμό της έμφυλης ταυτότητάς του, με τη συμβολική φωταγώγηση της πρόσοψής της στα χρώματα του ουράνιου τόξου, απόψε, από τις 21:00 έως τις 23:30».  Δεν λέμε άλλα γιατί αν δεν επικροτούμε, είμαστε φασίστες…. Μην ξεχνιόμαστε!..
Τώρα όμως, αφού παρελαύνουν κάθε χρόνο οι "ΛΟΑΤΚΙ", κλπ, θα πρέπει να βγουν και να… παρελάσουν σ' όλη την

Ελλάδα,

με την δικιά τους… υπερηφάνεια και διεκδικώντας τα δικά τους… ανθρώπινα, καταπιεσμένα έως σήμερα, δικαιώματα, ο παράνομος "Ανδρικός Σύλλογος Γαμιάδων, ο ΜΠΑΡΚΟΥΛΗΣ", ο παράνομος "Σύλλογος Κτηνοβατών, ο ΤΣΕΛΙΓΚΑΣ", ο παράνομος "Σύλλογος Παρτουζόβιων, ο ΠΟΛΥΠΟΔΑΣ", ο παράνομος γυναικείος σαδομαζοχιστικός σύλλογος "οι ΠΑΡΘΕΝΕΣ", ο παράνομος σύλλογος παιδεραστών "οι Φίλοι των Παιδεραστών, ο Τούρκος", κλπ, κλπ, κλπ!.. 

"

ΦΤΟΥ ΣΑΣ ΡΕ ΞΕΦΤΙΛΙΣΜΕΝΟΙ"! ΓΙ' ΑΥΤΟ "ΠΑΤΩΣΕ" Η

ΕΛΛΑΔΙΤΣΑ

ΚΟΠΡΙΤΕΣ!.. ΤΑ ΣΟΔΟΜΑ ΚΑΙ ΤΑ ΓΟΜΟΡΑ ΦΑΝΤΑΖΟΥΝ Γ' ΕΘΝΙΚΗ, ΜΠΡΟΣΤΑ ΣΤΑ ΣΗΜΕΡΙΝΑ ΑΙΣΧΗ ΣΑΣ, ΒΡΩΜΕΡΟΙ… ΠΡΟΟΔΕΥΤΙΚΟΙ ΤΑΧΑ ΜΟΥ ΠΟΛΙΤΙΚΟΙ!.. ΟΥΣΤ – ΟΥΣΤ – ΟΥΣΤ !.. 

ΠΟΣΟ ΠΡΟΟΔΟΣ ΔΗΛΑΔΗ ΜΠΟΡΕΙ ΝΑ ΕΙΝΑΙ Η ΑΠΟΣΤΑΣΗ ΑΠΟ ΤΟ ΦΙΛΙ ΣΤΟ ΔΡΟΜΟ, ΠΟΥ ΑΠΟΤΕΛΟΥΣΕ ΚΑΠΟΤΕ ΠΡΟΣΒΟΛΗ ΤΗΣ ΔΗΜΟΣΙΑΣ ΑΙΔΟΥΣ, ΜΑΖΙ ΜΕ ΑΛΛΕΣ ΣΥΝΑΦΕΙΣ ΤΟΤΕ ΚΑΙ ΑΘΩΕΣ ΜΑΛΙΣΤΑ ΠΡΑΞΕΙΣ, ΑΠΟ ΤΟ ΣΗΜΕΡΙΝΟ ΠΑΡΑΚΑΤΩ (ΦΩΤΟΓΡΑΦΙΚΟ) ΚΑΤΑΝΤΗΜΑ ΤΗΣ ΠΡΟΟΔΕΥΤΙΚΗΣ ΚΟΙΝΩΝΙΑΣ ΣΑΣ, ΓΙΑ ΤΟ ΟΠΟΙΟ ΠΑΝΗΓΥΡΙΖΕΙ ΜΕΧΡΙ ΚΑΙ Η ΒΟΥΛΗ, ΠΟΥ ΤΗΝ ΦΩΤΑΓΩΓΕΙ Ο… "ΤΑΒΕΡΝΙΑΡΗΣ" ή "ΓΚΑΡΣΙΑ"! 
ΑΝΘΕΛΛΗΝΕΣ – ΜΙΣΕΛΛΗΝΕΣ – ΤΟΥΡΚΟΠΡΑΚΤΟΡΕΣ – ΑΘΕΟΙ και ΑΝΘΡΩΠΟΜΟΡΦΑ ΛΕΣΙΑ! (ΜΕ "ΛΟΑΤΚΙ"… ΨΥΧΕΣ)!
ΓΕΙΑ ΣΑΣ ΔΙΕΘΝΙΣΤΙΚΑ "ΣΟΡΟΣ – ΠΟΥΛΑ / ΠΛΟΥΣΙΟ – ΚΟΛΟΠΑΙΔΑ"!
ΕΜΕΤΟΟΟΟΟΟΟΟΟΟΟΟΟΟΟΟΟΟΟΟΟΟΟΟΟΟΟΟΟΟΟΟΟΟΟΟΟΟΟΟΟΟΟΟΟΟΟΟΣ!..
ΚΑΙ ΤΑ ΣΚΥΛΙΑ ΣΤΑ ΚΡΥΦΑ ΤΟ ΚΑΝΟΥΝΕ ΡΕΕΕΕΕΕΕΕΕΕΕΕΕΕΕΕΕΕΕΕΕΕΕΕΕΕΕΕ!..
ΕΙΝΑΙ… ΠΑΡΘΕΝΑ ΤΟΥ ΕΛΛΗΝΙΑΔΗ Η ΧΤΕΝΑ!..
ΠΗΓΑΙΝΕ ΜΩΡΗ ΣΤΟΥ "ΠΡΙΝΟΥ" ή ΣΤΟΥ ΣΚΟΥΡΑ ΝΑ ΣΟΥ ΜΑΖΕΨΟΥΝ ΤΑ ΛΙΠΗ ΚΑΙ ΤΑ ΞΙΓΚΙΑ!
"ΑΣΤΥΝΟΜΙΑ ΕΛΕΓΧΟΥ ΕΜΦΑΝΙΣΙΑΚΗΣ ΞΕΦΤΙΛΑΣ" ΔΕΝ ΕΧΕΤΕ ΕΚΕΙ ΣΤΟΥΣ "ΛΟΑΤΚΙ";  
ΑΥΤΟΣ στην παραπάνω "φωτό" ΠΟΥΣΤΕΨΕ ΑΠΟ ΤΥΨΕΙΣ, ΜΕΤΑ ΠΟΥ ΣΚΟΤΩΣΕ ΤΟΝ ΔΕΚΑΤΟ ΤΑΥΡΟ ΣΤΗΝ ΑΡΕΝΑ ΤΗΣ ΠΑΜΠΛΟΝΑ!
ΠΗΓΑΝ ΓΥΜΝΟΙ ΜΕΛΗ ΤΩΝ "ΛΟΑΤΚΙ" ΚΑΙ ΜΕ ΕΛΛΗΝΙΚΕΣ ΣΗΜΑΙΕΣ ΜΠΡΟΣΤΑ ΑΠΟ ΤΟ ΚΕΝΟΤΑΦΙΟ ΤΟΥ ΣΥΝΤΑΓΜΑΤΟΣ (08-06-2019)!……………
ΤΟ ΑΓΑΠΗΜΕΝΟ ΤΟΥ ΤΣΙΠΡΑ "ΣΥΡΙΖΟΠΟΥΛΟ""ΤΟ ΤΖΕΪΣΟΝ – ΑΝΤΙΓΟΝΗ" ΠΟΥ ΗΤΑΝ, ΔΕΝ ΤΟΝ ΕΙΔΑΜΕ ΠΟΥΘΕΝΑ!..
ΥΠΑΡΧΕΙ ΘΕΟΣ ΤΣΙΠΡΑ! ΥΠΑΡΧΕΙ ΘΕΟΣ ΒΟΥΤΣΗ! ΥΠΑΡΧΕΙ ΘΕΟΣ ΑΝΤΙ-ΧΡΙΣΤΟΙ ΘΕΟΜΠΑΙΧΤΕΣ!
ΘΑ ΜΕ ΘΥΜΗΘΕΙΤΕ ΛΙΓΟ ΠΡΙΝ ή ΜΕ ΤΗΝ ΦΥΓΗ ΣΑΣ ΑΠ' ΑΥΤΗΝ ΤΗΝ ΖΩΗ!
ΜΑΚΑΡΙ ΟΜΩΣ ΝΑ ΜΕΤΑΝΟΗΣΕΤΕ ΤΩΡΑ(!!!), ΡΕ "ΕΠΑΝΑΣΤΑΤΕΣ" ΤΗΣ… ΕΚΑΛΗΣ, ΤΗΣ ΚΗΦΙΣΙΑΣ ΚΑΙ ΤΟΥ ΔΙΟΝΥΣΟΥ!..
ΕΣΕΙΣ ΟΛΟΙ ΚΑΝΑΤΕ ΜΑΓΚΑ ΤΟΝ… ΧΑΛΟΥΛΑΚΟ (ΚΑΙ ΤΟΥΣ ΟΜΟΙΟΥΣ ΤΟΥ), ΩΣΤΕ ΑΥΤΟΣ ΝΑ ΤΡΑΓΟΥΔΑΕΙ ΤΟ "ΝΑ ΜΟΥΝΑ ΣΥΝΤΑΓΜΑΤΑΡΧΗΣ"!..
ΑΚΟΥΣΤΕ ΤΟ ΡΕ ΠΡΟΣΕΚΤΙΚΑ ΤΟ ΤΡΑΓΟΥΔΙ ΑΥΤΟ, (ΟΣΟΙ ΦΥΣΙΚΑ ΕΧΕΤΕ ΑΚΟΜΑ ΕΛΛΑΔΑ ΣΤΗΝ ΚΑΡΔΙΑ ΣΑΣ), ΩΣΤΕ ΝΑ ΔΕΙΤΕ ΠΟΥ ΦΕΡΑΤΕ ΤΟΝ ΚΟΣΜΑΚΗ, ΕΝΑΝ ΚΟΣΜΑΚΗ ΠΟΥ ΕΚΜΕΤΑΛΛΕΥΤΗΚΑΝ ΑΡΙΣΤΑ (ΜΑΖΙ ΜΕ ΕΣΑΣ ΦΥΣΙΚΑ) ΤΑ ΝΟΘΑ ΑΔΕΛΦΙΑ ΣΑΣ, ΟΙ "ΧΡΥΣΑΥΓΗΤΟΝΑΖΗΔΕΣ"!.. 
8.
Η "ΜΙΤ" ΕΦΑΡΜΟΣΕ ΤΗΝ ΠΑΡΑΚΑΤΩ ΜΕΘΟΔΟ, ΠΕΡΥΣΙ ΣΤΗΝ ΕΛΛΑΔΑ ΑΡΙΣΤΑ(!..), ΧΩΡΙΣ ΝΑ… "ΔΑΠΑΝΗΣΕΙ" / ΝΑ ΧΑΛΑΛΗΣΕΙ ΟΥΤΕ ΕΝΑΝ ΔΙΚΟ ΤΗΣ ΤΟΥΡΚΟ ΠΡΑΚΤΟΡΑ!.. ("ΣΑΡΚΑ ΕΚ ΤΗΣ ΣΑΡΚΟΣ ΤΗΣ")
FROM GAZA TO IRAQ: FIRE IS A NEW WEAPON OF ISIS, HAMAS AND OTHERS
More than 2,000 fires have been set in southern Israel and 8,700 acres burned between May 2018 and May 2019.
JUNE 9, 2019
A fire burns in scrubland on the Israeli side of the border between Israel and the Gaza Strip, near kibbutz Gevaram. (photo credit: AMIR COHEN/REUTERS)
ΚΑΛΑ ΕΚΕΙ ΣΤΟΝ Ο.Η.Ε. ΔΕΝ ΕΧΟΥΝ ΔΕΙ ΤΙ ΕΧΟΥΝ ΤΡΑΒΗΞΕΙ ΑΥΤΟΙ ΟΙ ΚΑΚΟΜΟΙΡΟΙ ΚΟΥΡΔΟΙ "ΓΕΖΙΝΤΙ", ΩΣΤΕ ΝΑ ΣΤΕΙΛΟΥΝ ΚΑΙ Σ' ΑΥΤΟΥΣ ΤΗΝ… ΜΠΕΛΟΥΤΣΙ; Α ΡΕ ΞΕΦΤΙΛΕΣ ΚΑΙ ΣΕΙΣ

!..
9.  
Türkiye'den çıkan gemi İsrail açıklarında alev aldı
İsrail basını, Mersin'den çıkan ve Hayfa Limanı'na gitmekte olan bir geminin İsrail açıklarında alev aldığını yazdı.
09 Haziran 2019 
MSC Canberra isimli geminin Türkiye'den çıktığı ve Hayfa Limanı'na girmek üzere olduğu, Hayfa'nın birkaç kilometre ilerisinde ise alev aldığı duyuruldu.
Yayın yasağı getirildiği iddia edildi
İsrail basını, gemide kaç kişi bulunduğuna dair net bir bilgin olmadığını, kazada zarar gören olup olmadığının bilinmediğini, yangında bir terör ya da saldırı şüphesi olduğunu belirtti. İsrail ordusunun yayın yasağı getirdiği ifade edildi.
Olayın ve yangının kontrol altına alındığı belirtildi.
10.
ΜΟΝΟΝ ΥΠΕΡΗΦΑΝΕΙΑ ΓΙ 'ΑΥΤΗΝ ΤΗΝ ΟΜΑΔΑΡΑ, ΔΙΧΩΣ ΚΟΛΥΜΒΗΤΗΡΙΟ!
ΣΤΑ 4 ΤΕΛΕΥΤΑΙΑ ΧΡΟΝΙΑ, 3 ΤΕΛΙΚΟΙ "CHAMPIONS LEAQUE", 1 ΚΥΠΕΛΛΟ!
ΘΡΥΛΟΣ 2019
Θρύλε μου, το μεγαλείο σου τελειωμό δεν έχει…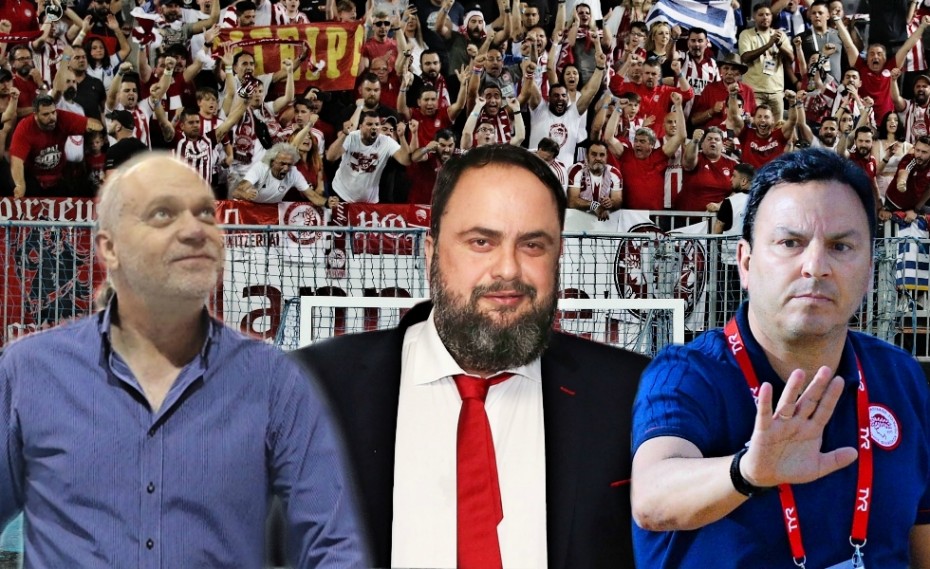 Ο Ολυμπιακός διαφήμισε για άλλη μία φορά με τον καλύτερο τρόπο τον ελληνικό αθλητισμό στο εξωτερικό. Και αυτό, διότι έπαιξε σε έναν ακόμα ευρωπαϊκό τελικό. Με την ομάδα πόλο Ανδρών του Θρύλου να πραγματοποιεί φανταστική πορεία, αλλά να χάνει στη «ρώσικη ρουλέτα» την κούπα του LEN Champions League.
Μία ακόμα σπουδαία επιτυχία για τον «ερυθρόλευκο» Ερασιτέχνη. Τον κορυφαίο Ερασιτέχνη στον πλανήτη τα τελευταία χρόνια. Και, συγκεκριμένα, την τελευταία εννιαετία!
Από το 2010 και ειδικότερα, από την εποχή του Βαγγέλη Μαρινάκη και του Μιχάλη Κουντούρη, ο Ερασιτέχνης Ολυμπιακός ανέβηκε επίπεδο. Γιγαντώθηκε! Τα βλέπετε τα αποτελέσματα.
Οι ομάδες του Θρύλου κατακτούν τη μία κούπα μετά την… άλλη. Σε Ελλάδα και Ευρώπη! Τη φετινή σεζόν, ο Ερασιτέχνης τα πήρε όλα εντός συνόρων και έδωσε το «παρών» σε δύο ευρωπαϊκούς τελικούς! Ενώ γενικότερα, πραγματοποίησε εξαιρετικές πορείες στις ευρωπαϊκές διοργανώσεις που συμμετείχε.
Τα όσα ζει ο κόσμος του Θρύλου καθημερινά είναι μυθικά. Είναι όνειρο για άλλους συλλόγους παγκοσμίως! Ο Ολυμπιακός έχει κάνει συνήθεια και καθημερινότητα το ασύλληπτο. Και αυτό τα… λέει όλα. Ο Ερασιτέχνης Ολυμπιακός έχει «ξεφύγει» από τα ελληνικά δεδομένα.
Ο Ολυμπιακός έγινε ο κορυφαίος πολυαθλητικός σύλλογος του πλανήτη χάρη στο τρίπτυχο Μαρινάκης-Κουντούρης-κόσμος! Χάρη στην τεράστια και αδιάκοπη στήριξη του Βαγγέλη Μαρινάκη, δηλαδή, την σπουδαία διοίκηση του Μιχάλη Κουντούρη και, φυσικά, την μεγάλη συνεισφορά των ΓΑΥΡΩΝ, με την Κάρτα Μέλους και την Κάρτα Φιλάθλου.
Και ένα είναι το σίγουρο. Ότι οι επιτυχίες θα συνεχιστούν. Οι άνθρωποι του Θρύλου δεν επαναπαύονται! Στοχεύουν σε ακόμη περισσότερα τρόπαια. Με το ίδιο πλάνο. Με την ίδια «συνταγή». Με το ίδιο… μυστικό.
11. 
U.S. AMBASSADOR TO ISRAEL: ISRAEL HAS RIGHT TO ANNEX PART OF WEST BANK
JUNE 9, 2019
U.S. Ambassador in Israel David Melech Friedman . (photo credit: TOVAH LAZAROFF)
U.S. Ambassador to Israel David Friedman said that Israel has the right to annex some but "unlikely all" of the West Bank in an interview with The New York Times on Friday.
This comes after Prime Minister Benjamin Netanyahu promised to begin annexing settlements in the West Bank, a move that would put a dent in any attempts at a two-state solution in the area.
"Under certain circumstances, I think Israel has the right to retain some, but unlikely all, of the West Bank," Friedman said.
Following Friedman's interview, an administration official reacted Saturday, saying: "Our policy has not changed," The Jerusalem Post's Omri Nahmias reports.
The comment by Friedman stirred plenty of controversy, since much of the world views Israeli settlements in the West Bank as illegal.
Friedman further clarified that the "Deal of the Century" was aimed at improving life for Palestinians, but without any "permanent resolution to the conflict."
However, the United Nations resolution in 2016 allowed by the Obama administration which condemned the Israeli settlements in the West Bank was heavily criticized by Friedman, who said that "Israel's entitled to retain some portion of it."
"David Friedman has once again made clear that he is acting not as the US ambassador to Israel but as the settlement movement's ambassador to the United States," said Jeremy Ben-Ami, president of the pro-Israel liberal nonprofit J Street, which encourages American leadership to end the Arab-Israeli conflict. "By essentially giving the Netanyahu government a green light to begin unilaterally annexing Palestinian territory in the West Bank, the Trump administration is endorsing a flagrant violation of international law."
12. 
Son ankette Yıldırım önde
ORC araştırma şirketi, 23 Haziran'da yapılacak seçimlerle ilgili yaptığı son ankette AK Parti adayı Binali Yıldırım'ın yüzde 47 ile CHP adayı Ekrem İmamoğlu'nun 0,3 puan önünde olduğunu ortaya koydu.
ΓΙΑ ΝΑ ΔΟΥΜΕ ΦΙΛΟΙ, ΘΑ ΠΑΕΙ ΦΥΛΑΚΗ Ο ΙΜΑΜΟΓΛΟΥ; Αχαχαχαχαχαχαχαχα
ΗΔΗ, ΑΠΟ ΠΡΟΧΘΕΣ (07-06-2019), ΔΙΩΚΕΤΑΙ!
-/-
13.
"ΣΥΡΙΖΑ + ΑΞΙΟΚΡΑΤΙΑ"
(ΕΝΔΕΙΚΤΙΚΩΣ)
ΔΙΑΒΑΣΤΕ:
Αλέξης Τσίπρας (ή "ΡΟΝΤΥ" ή "ΙΝΤΕΓΙΕ" ή "99ΧΡΟΝΟΣ" ή "ΑΞΙΟΚΡΑΤΗΣ" ή "ΑΛΗΘΙΝΟΣ" ή "Ο ΝΟΜΠΕΛΙΣΤΑΣ" ή "ΣΟΡΟΣ-ΠΑΙΔΟ" ή "Η ΧΑΡΑ ΤΟΥ ΣΥΝΞΤΑΞΙΟΥΧΟΥ", κλπ, κλπ, κλπ):
– Η γυναίκα του Περιστέρα Μπαζιάνα από δασκάλα πληροφορικής, στο Εθνικό Μετσόβιο Πολυτεχνείο.
– Ο ξάδερφός του Γιώργος Τσίπρας διορίστηκε αρχικά γραμματέας Διεθνών Οικονομικών Σχέσεων και Αναπτυξιακής Συνεργασίας στο Υπουργείο Εξωτερικών και ακολούθως προϊστάμενος του Οικονομικού Γραφείου της Γενικής Γραμματείας Πρωθυπουργού.
Η νύφη του Αλέξη Τσίπρα (σύζυγος του αδερφού του) κατέχει θέση παράλληλης άσκησης καθηκόντων και στο Δημόσιο, αλλά και στο γραφείο του υφυπουργού Κοινωνικής Ασφάλισης, Τάσου Πετρόπουλου, ως μετακλητή (και όχι αποσπασμένη) υπάλληλος.
Η σύζυγος του ξαδέρφου κ. Γιώργου Τσίπρα, προσελήφθη με σύμβαση μετακλητής υπαλλήλου, στο γραφείο του κ. Σπίρτζη.
Νίκος Παππάς: (Αυτός τουλάχιστον εργάστηκε σε έναν πολύ κρίσιμο τομέα και πλήρωσε τα γαμησιάτικα του πατέρα του! Τί να έκανε δηλαδή; Οι γεροντοέρωτες είναι οι χειρότεροι)!..
Ο πατέρας του Νίκου Παππά, Στέλιος, ανέλαβε διοικητής του ΟΑΣΘ, μάλλον λόγω καψούρας, με την μαμά της Κας Νοτοπούλου!..
Ρένα Δούρου: (Η "ΜΑΣΑΩ ΤΑ ΧΕΙΛΙΑ ΜΟΥ" ή "Η ΣΥΚΟΦΑΝΤΗΜΕΝΗ")
Ο σύντροφός της διορίστηκε στην ΕΥΔΑΠ.
Ο αδερφός της Ρένας Δούρου, Παναγιώτης Δούρος ανέλαβε καθήκοντα μετακλητού δημοσίου υπαλλήλου στο Πολιτικό Γραφείο του Υπουργού Πολιτισμού και Αθλητισμού (ήταν ήδη υπάλληλος στο Ελληνικό Φεστιβάλ Α.Ε)
Πρώην Γραμματέας Νεολαίας ΣΥΡΙΖΑ:
Ο Ιάσονας Σχοινάς-Παπαδόπουλος διόρισε στο δημόσιο τον αδερφό του Ορέστη και τη μητέρα του Ξανθή Παπαδοπούλου.
Σε θέση ειδικού συνεργάτη Υπουργού διορίστηκε και η φίλη του Χρύσα Πάντου, η οποία ήταν στέλεχος της Νεολαίας ΣΥΡΙΖΑ και υποψήφια Βουλευτής.
Παναγιώτης Κουρουμπλής: (Ο "ΤΥΦΛΟΣ ΕΠΙΘΕΩΡΗΤΗΣ ΤΗΣ ΡΥΠΑΝΣΗΣ ΤΟΥ ΣΑΡΩΝΙΚΟΥ")
Όλο του το σόι στο δημόσιο έχει διορίσει ο Υπουργός Ναυτιλίας Παναγιώτης Κουρουμπλής. Την γυναίκα του και 5 ανίψια! Αχαχαχαχαχαχαχαχαχαχαχαχαχαχαχα!..
Νίκος Βούτσης: (Ο "ΤΑΒΕΡΝΙΑΡΗΣ" ή Ο "ΓΚΑΡΣΙΑ")
Απέσπασε στο γραφείο του τη σύζυγό του.
Εκτός αυτού, τα ανίψια του Νίκου Βούτση, Βαγγέλης και Νίκος Καλπαδάκης κατέλαβαν θέσεις ευθύνης.
Ο Βαγγέλης Καλπαδάκης, ανιψιός του προέδρου της Βουλής Νίκου Βούτση και υπάλληλος του διπλωματικού κλάδου του υπουργείου Εξωτερικών, με βαθμό Γραμματέως Πρεσβείας Α', ύστερα από απόφαση του πρωθυπουργού αποσπάστηκε στη θέση του προϊσταμένου του διπλωματικού γραφείου της Γραμματείας του Πρωθυπουργού.
Ο Γιώργος Καλπαδάκης, που είναι διευθυντής του πολιτικού γραφείου του αντιπροέδρου της κυβέρνησης Γιάννη Δραγασάκη, ορίστηκε και ως μέλος του ΔΣ της «Enterpise Greece»
Δημήτρης Βίτσας: ("Ο ΠΑΚΙΣΤΑΝΟΣ" ή "Ο ΜΠΑΣΤΕ ΣΚΥΛΟΙ ΑΛΕΣΤΕ")
Η σύζυγός του Πέτη Πέρκα διορίστηκε επικεφαλής της Γενικής Γραμματείας Δημόσιας Περιουσίας του υπουργείου Οικονομικών. (ΑΜΑΝ ΤΟ… ΥΠΕΡΤΑΜΕΙΟ)!..
Νίκος Παρασκευόπουλος: ("Ο ΤΡΥΠΙΟΣ ΔΕΣΜΟΦΥΛΑΚΑΣ")
Η σύντροφός του τοποθετήθηκε πρόεδρος στο "Εθνικό Κέντρο Δημόσιας Διοίκησης", από τον Γιώργο Κατρούγκαλο.
Δημήτρης Παπαγγελόπουλος : (Ο "ΡΑΣΠΟΥΤΙΝ" ή Ο "ΑΛΑΙΜΗΣ" ή Ο "ΚΑΜΠΟΥΡΗΣ" ή Η "ΣΧΟΛΗ ΚΑΡΑΜΑΝΛΗ" ή  "Ο ΑΔΕΛΦΟΣ ΤΗΣ ΠΑΠΑΚΩΣΤΑ")
Διορίστηκε ο γιος του στα ΕΛΠΕ, με μισθό 56.000 ευρώ ετησίως.
Σάκης Παπαδόπουλος: (Η "ΠΑΡΘΕΝΑ").
Η κόρη του Έλενα Παπαδοπούλου ανέλαβε γενική γραμματέας Οικονομικής Πολιτικής, στο υπουργείο Οικονομικών.
Κώστας Αρβανίτης: ("Ο ΕΡΧΟΜΑΙ ΝΑΣ ΔΕΙΡΩ" ή "Ο ΚΤΙΣΤΗΣ ΤΩΝ ΣΟΒΙΕΤ" ή "Ο ΕΡΤ-ΟΒΙΟΣ")
Ο Κώστας Αρβανίτης, διετέλεσε διευθυντής στο ραδιόφωνο του ΣΥΡΙΖΑ και στενός φίλος του πρωθυπουργού.
Η σύζυγός του διορίστηκε στον υφυπουργό Εργασίας Πετρόπουλο και η κόρη στον υπουργό Σπίρτζη.
Ο ίδιος απάντησε ότι η σύζυγος του που είναι συνταξιούχος διέκοψε τη σύνταξη της για να βοηθήσει σε θέση μετακλητής υπαλλήλου, χωρίς δηλαδή να έχει διοριστεί. Για την κόρη της συζύγου του σημειώνει ότι δεν εργάζεται σε κανένα υπουργείο, αλλά δούλεψε σε συγκεκριμένη δουλειά για ένα δίμηνο που πλέον έχει παρέλθει.
Τα δύο υπουργικά ανδρόγυνα. Θοδωρής Δρίτσας – Τασία Χριστοδουλοπούλου (ΤΟ ΔΙΔΥΜΟ ΑΥΤΟ ΛΕΓΕΤΑΙ "ΣΑΣ ΜΙΣΟΥΜΕ ΚΑΙ ΣΑΣ ΦΤΥΝΟΥΜΕ") και Δημήτρης Παπαδημητρίου – Ράνια Αντωνοπούλου ("ΟΙ ΓΙΑΝΗΔΕΣ ΑΓΙΑΝΝΗΔΕΣ… ΤΗΣ ΝΕΑΣ ΥΟΡΚΗΣ" ή "ΟΙ ΤΕΛΕΥΤΑΙΟΙ… ΠΑΡΙΕΣ").
Οι δύο τελευταίοι απομακρύνθηκαν πρόσφατα από την κυβέρνηση μετά τις αποκαλύψεις για το επίδομα ενοικίου. Ο Δημήτρης Παπαδημητρίου κατείχε τη θέση του Υπουργού Οικονομίας και Ανάπτυξης, ενώ η Ράνια Αντωνοπούλου ήταν αναπληρώτρια υπουργός Εργασίας, Κοινωνικής Ασφάλισης και Κοινωνικής Αλληλεγγύης. (ΣΟΡΟΣ-ΠΟΥΛΑ και τα 2)!..
Ο Θοδωρής Δρίτσας διετέλεσε Υπουργός Ναυτιλίας και Νησιωτικής Πολιτικής και η Τασία Χριστοδουλοπούλου αναπληρώτρια υπουργός Μεταναστευτικής Πολιτικής. (Κάτι ακούστηκε τελευταία για την Κα νομίζω)!..
ΚΑΙ, ΚΑΙ, ΚΑΙ, ΚΑΙ, …….. !  ……..
ΚΑΙ ΠΑΜΕ ΝΑΖΙ ΤΩΡΑ ΤΗΝ ΣΥΡΙΖΟ-ΚΑΡΑΜΕΛΑ! "ΜΙΛΑΤΕ ΕΣΕΙΣ ΠΟΥ 40 ΧΡΟΝΙΑ ΜΑΣ ΚΑΤΑΣΤΡΕΨΑΤΕ, ΠΟΥ ΔΙΟΡΙΖΑΤΕ, ΚΛΠ, ΚΛΠ, ΚΛΠ"; Αχαχαχαχαχαχαχαχα!
ΕΙΧΑΜΕ ΓΡΑΨΕΙ ΑΓΑΠΗΤΟΙ, ΠΡΟ ΠΟΛΛΟΥ ΧΡΟΝΟΥ, ΠΩΣ ΟΙ ΠΟΛΙΤΙΚΟΙ ΑΝΤΙΠΑΛΟΙ ΤΟΥ

ΣΥΡΙΖΑ

, ΚΑΤΑ ΤΗΝ ΛΟΓΙΚΗ ΤΟΥ

ΣΥΡΙΖΑ

, ΘΑ ΜΠΟΡΟΥΝ ΝΑ ΨΕΞΟΥΝ ΤΟΝ

ΣΥΡΙΖΑ

, ΜΟΝΟΝ ΑΝ ΚΑΙ ΑΥΤΟΣ ΚΥΒΕΡΝΗΣΕΙ… 40 ΧΡΟΝΙΑ! ΜΕΧΡΙ ΤΟΤΕ ΔΕΝ ΘΑ ΜΠΟΡΟΥΝ ΝΑ ΑΣΚΟΥΝ "ΕΠ' ΟΥΔΕΝΙ" ΚΡΙΤΙΚΗ ΣΤΟ "ΣΟΡΟΣ-ΚΟΜΜΑ" ΑΥΤΟ, ΑΣΧΕΤΩΣ ΒΕΒΑΙΩΣ ΑΝ ΤΑ "ΔΙΕΘΝΟ-ΝΕΟ-ΚΟΜΜΟΥΝΙΑ" ΜΑΣ ΣΚΛΑΒΩΣΑΝ ΓΙΑ 99 ΧΡΟΝΙΑ!..  ΑΧΑΧΑΧΑΧΑΧΑΧΑΧΑΧΑΧΑΧΑΧΑΧΑΧΑΧΑ!..
14. Νέος ΠΚ! Μερικά "όμορφα"!..
Κανένας ξένος δεν θα απελαύνεται, όποιο έγκλημα και αν κάνει!..
Δεν κινδυνεύουν με Δικαστήρια πια, για τις Πρέσπες, οι Τσίπρας – Καμμένος – Κοτζιάς!
Βρίστε ελεύθερα τα ΘΕΙΑ, τους νεκρούς!..
Αποφυλακίζονται μέχρι 5000 ποινικοί και μέχρι 5000 καταχραστές δημοσίου και μη χρήματος!
Russian and Chinese Nuclear Modernization Trends
Lt. Gen. Robert P. Ashley, Jr.
Director Defense Intelligence Agency
Russian and Chinese Nuclear Modernization Trends
Remarks at the Hudson Institute
29 May 2019
AS PREPARED FOR DELIVERY
First, let me thank the Hudson Institute for hosting this event and the opportunity to speak about Russian and Chinese nuclear modernization trends.  With the return of great power competition, nuclear capabilities are again at the forefront of critical work for the Intelligence Community. For the Defense Intelligence Agency this is why we exist, our core mission is to understand foreign military capabilities and provide decision advantage to our senior leadership.
So let me first begin with Russia.
After working together for decades to achieve real nuclear reductions, Russia is upgrading the capacity of its nuclear forces. We assess its overall nuclear stockpile is likely to grow significantly over the next decade.
This assessed growth is primarily driven by a significant projected increase in the number of Russia's non-strategic nuclear weapons. Russia is adding new military capabilities to its existing stockpile of nonstrategic nuclear weapons, including those employable by ships, aircraft, and ground forces. These nuclear warheads include theater- and tactical-range systems that Russia relies on to deter and defeat NATO or China in a conflict.
Russia's stockpile of non-strategic nuclear weapons–already large and diverse and is being modernized with an eye towards greater accuracy, longer ranges, and lower yields to suit their potential warfighting role.
We assess Russia to have dozens of these systems already deployed or in development. They include, but are not limited to: short- and close-range ballistic missiles, ground-launched cruise missiles, including the 9M729 missile, which the U.S. Government determined violates the Intermediate-Range Nuclear Forces or INF Treaty, as well as antiship and antisubmarine missiles, torpedoes, and depth charges.
For comparison, the United States currently has a single non-strategic nuclear weapons system: the B-61 gravity bomb.
We assess Russia possesses up to 2,000 such non-strategic nuclear warheads not covered by the New Start Treaty and because of a lack of Russian transparency we have  uncertainty in our understanding of the scope and disposition of their stockpile.
Accurately accounting for these non-strategic nuclear weapons delivery systems is not only complicated by a lack of transparency but their dual-capable nature. Most Russian systems lack externally distinguishing features that would allow observers to differentiate between conventional and nuclear variants.
Where limits or reductions have existed, such as with the INF Treaty or the 1992 Presidential Nuclear Initiatives, the United States assesses that Russia has not fulfilled them. This is exemplified by the development of the 9M729 ground launched cruise missile.
By 2015, Russia had completed a comprehensive flight test program consisting of multiple tests of the 9M729 missile from both fixed and mobile launchers that appeared to be purposefully designed to disguise the true nature of their testing activity, as well as the true capacity of the missile.
While compliance determinations such as the INF Treaty are ultimately made by the U.S. interagency policy community, I want to be clear about the role of the Intelligence Community.  It is the job of the Intelligence Community (IC) to analyze those activities that have implications for a country's international obligations.  The IC does not use the word compliance but rather characterizes actions as "inconsistent" with the intent of such treaties and uses those assessments to help inform the interagency process.
From an interagency standpoint, the U.S. has determined Russia's actions have strained other key pillars of arms control architecture, including the Chemical Weapons Convention, Open Skies Treaty, the Vienna Document, and the Treaty on Conventional Armed Forces in Europe.
In addition to the anticipated growth in non-strategic nuclear weapons, Russia claims to be developing new warhead designs for strategic systems,  such as new high-yield and earth-penetrating warheads  to attack hardened military targets like U.S., Allied, and Chinese command and control facilities.
Russia's development of new warhead designs and overall stockpile management efforts have been enhanced by its approach to nuclear testing. The United States believes that Russia probably is not adhering to its nuclear testing moratorium in a manner consistent with the "zero-yield" standard.
Our understanding of nuclear weapon development leads us to believe Russia's testing activities would help it to improve its nuclear weapons capabilities. The United States, by contrast, has forgone such benefits by upholding a "zero-yield" standard.
Russia's ongoing, comprehensive build-up in both its strategic and nonstrategic nuclear forces is made possible by sustained and prioritized investments in its nuclear weapons development and production infrastructure. By 2013, Rosatom had modernized dozens of its experimental facilities, and Rosatom's budget has increased roughly 30 percent in real terms from 2010 to 2018 to support these and other operations.
In contrast to the United States, during the past decade, Russia has improved and expanded its production complex, which has the capacity to process thousands of warheads annually.
An increase in its overall nuclear warhead stockpile is not the only source of concern stemming from Russia's broad-based nuclear modernization program.
Within the confines of the New START Treaty, Russia claims its overhaul of its strategic rocket forces is roughly 70% complete. Every leg of Russia's triad is being modernized and Russia is fielding new strategic systems, including road-mobile and silo-based intercontinental ballistic missiles (ICBMs), a submarine-launched ballistic missile, an upgraded strategic nuclear bomber, and a strategic air-launched cruise missile.
Many of these new systems have a greater warhead delivery capacity than the systems they are replacing.  For example, Russia's aging SS-25 road-mobile ICBM carries a single nuclear warhead, while its replacement–the SS-27–can carry multiple warheads, providing Russia significant capability to "upload" additional warheads onto its strategic delivery systems. The SS-18–Russia's aging heavy ICBM–carries up to 10 nuclear warheads, while the Russian president claims the Sarmat–its replacement–will carry even more warheads or Russia's new nuclear-armed "Avanguard" hypersonic glide vehicle.
While we assess Russia is currently adhering to the New START Treaty limits on deployed warheads, this upload capacity will give Russia the ability to increase the number of deployed warheads in a time of crisis.
Russia is also pursuing novel nuclear delivery systems that create a strategic challenge for the U.S. and which are difficult to manage under current arms control agreements.
In March 2018, President Putin unveiled these systems, which include: an intercontinental-range, nuclear-powered and nuclear-armed underwater drone; a nuclear-powered, nuclear-armed intercontinental-range cruise missile; and an air-launched ballistic missile.  Russia also continues to modernize its existing automated nuclear command and control launch system, known as "Perimeter."
President Putin's high-profile announcement in March 2018 makes clear that Russia is continuing to prioritize investment in its nuclear forces, even at a time of domestic budgetary constraints.
These new nuclear capabilities have come at the expense of other Russian defense priorities, such as the development of a new aircraft carrier, because Russia sees its nuclear weapons as the ultimate guarantor of the country's survival, perceives a warfighting role for their use, and directs its scarce resources to its nuclear modernization effort.
These quantitative and qualitative improvements to Russia's nuclear arsenal have security implications for the United States and our allies.  Russia's large and diverse stockpile facilitates a doctrine that envisions the potential coercive use of nuclear weapons.
Russia assesses that the threat of nuclear escalation or actual first use of nuclear weapons would serve to "de-escalate" a conflict on terms favorable to Russia.  Russian defense officials have spoken publicly about "de-escalating" a conflict through limited nuclear use and it is a fact that the Russian military has prepared plans and is well trained to transition rapidly to nuclear use in order to compel an end to a conventional conflict. Russia's perception that nuclear use could terminate a conflict on terms favorable to Russia increases the prospect for miscalculation.
Let me now turn to China as Russia is not the United States' only strategic competitor expanding its nuclear capability.
Over the next decade, China is likely to at least double the size of its nuclear stockpile in the course of implementing the most rapid expansion and diversification of its nuclear arsenal in China's history. Last year, China launched more ballistic missiles for testing and training than the rest of the world combined.   We expect this modernization to continue and this trajectory is consistent with  Chinese President Xi's vision for China's military, which he laid out at the 19th Party Congress and stated that China's military will be "fully transformed into a first tier force" by 2050.
China has developed a new road-mobile ICBM, a new multi-warhead version of its silo-based ICBM, and a new submarine-launched ballistic missile. With its announcement of a new nuclear-capable strategic bomber, China will soon field their own nuclear triad, demonstrating China's commitment to expanding the role and centrality of nuclear forces in Beijing's military aspirations. And like Russia, China is also working to field nuclear, theater-range precision-strike systems. While China's overall arsenal is assessed to be much smaller than Russia's does not make this trend any less concerning.
Based on the United States' experience in developing nuclear weapons, we understand the efforts required for China's substantive and rapid expansion in their nuclear weapons program and capabilities.
US Government information indicates that China is possibly preparing to operate its test site year-round, a development that speaks directly to China's growing goals for its nuclear forces.  Further, China continues to use explosive containment chambers at its nuclear test site and Chinese leaders previously joined Russia in watering down language in a P5 statement that would have affirmed a uniform understanding of "zero-yield" testing. The combination of these facts and China's lack of transparency on their nuclear testing activities raise questions as to whether China could achieve such progress without activities inconsistent with the Comprehensive Nuclear-Test-Ban Treaty.
It is also important to note that–in addition to modernizing their nuclear forces–China and Russia are also pursuing emerging technologies that have the potential to revolutionize undersea warfare and challenge U.S. superiority in the maritime domain.
As our annual threat assessments, national security, and defense strategies have highlighted, the resurgence of great power competition is a geopolitical reality. It is the mindset Russia and China have embraced, the mindset that is guiding their approach to nuclear modernization and investment. Nuclear weapons remain central to Russia and China's military plans and intentions and therefore remain a critical area of analysis for the Defense Intelligence Agency to provide our senior leadership with decision advantage.
"ΧΑΙΡΕΤΕ"!
"ΕΛΛΗΝΑΣ"
-/-