Chechnyan leader Ramzan Kadyrov. (AP Photo/Musa Sadulayev)
'
Annihilate Israel,' Leader of Chechnya Tells Arab Nations
On Russian TV, Chechen leader Ramzan Kadyrov urged nations in the Arab world to band together to wipe Israel off the map.
By United with Israel Staff
In an interview aired Tuesday, the head of the Chechen Republic Ramzan Kadyrov said told  Russian television network RT that Arab nations in the Middle East should join forces to attack Israel.
The interview was reported in Israeli sources including Maariv and the Jerusalem Post.
According to the Post, Kadyrov owns a soccer team called FC Akhmat Grozny, which played against Israeli side Beitar Jerusalem FC in 2013.
Prior to the match, Kadyrov made comments to the Israeli press that appeared to stoke religious tensions between Jews and Muslims.
In a meeting in Jordan in August, Kadyrov called Jews "the main enemy of Islam," reported Arutz 7, claiming that the fouder of Islam, Muhammed, had "killed Jews more than any other people."
Around 95% of the citizens of the Chechen Republic are Muslim, including Kadyrov.
The son of a former assassinated Chechen leader, Kadyrov advocates honor killings of women, supports polygamy, and was accused of participating in a lewd video involving alleged prostitutes in 2006.
Among the cultural events Kadyrov has promoted are a mixed martial arts tournament involving children and a lavish televised 35th birthday party attended by Western celebrities such as Hillary Swank and Seal.
3. Κε "Σύμβουλε Ασφαλείας", αυτό το… "FRAGILE", μήπως θα πρέπει να σε απασχολήσει λίγο, σε ό,τι μας αφορά; 
IDF CHIEF SAYS ALL FRONTS 'FRAGILE,' COULD DETERIORATE INTO A WAR
IDF

releases new multi-year plan.
OCTOBER 25, 2019
IDF Chief of Staff Lt.-Gen. Aviv Kochavi in a meeting with IAF commanders. (photo credit: IDF SPOKESPERSON'S UNIT)
"On both the northern and southern fronts, the situation is tense and fragile, and could deteriorate into a confrontation," Kochavi said.
Tensions with the Hamas-run Gaza Strip continue to pose a threat to Israel, with rounds of violent conflict breaking out several times over the last year. Close to 2,000 rockets were fired from the blockaded coastal enclave towards Israel by Palestinian Islamic Jihad and Hamas in the last year alone, killing five Israeli civilians, the highest number of civilian casualties since Operation Protective Edge in 2014.
Ongoing violence in the West Bank by Palestinians has also killed several civilians and IDF soldiers.
But, according to Israel's top military officer, the "central strategic challenge of the State of Israel lies in the northern arena," where Iran continues to consolidate its forces in Syria and work with Hezbollah on its precision missile project.
"In both cases, this is an Iranian-led effort, using the territory of countries with very limited governments," Kochavi said, referring to Syria and Lebanon.
For years, Iran has been trying to establish a 1,200 km.-length land bridge from Tehran to the Mediterranean, a major concern for Israel which, since 2013, has been carrying out a "war-between-wars" campaign aimed at preventing Iran from reaching that goal.Israeli officials have warned that Iran is also attempting to entrench itself in Iraq, a mainly Shia country, as it did in Syria, where it has established and consolidated a parallel security structure. Prime Minister Benjamin Netanyahu in August hinted at Israel's role in several strikes in the country, saying that "Iran has no immunity – anywhere."
This summer, a new border crossing 2.6 km. west of the official Al-Bukamal Al-Qaim border crossing opened between Syria and Iraq, making it easier for Iran to expedite the transfer of weapons from Tehran to groups like Hezbollah in Syria or Lebanon.
"For many years, Hezbollah has taken the State of Lebanon hostage and established its own army there," Kochavi said, adding that it is Hezbollah that "actually determines the security policy" of Beirut.
In August, Israel was blamed for a drone attack on Hezbollah in its Beirut stronghold which, according to a report by The Times, targeted Hezbollah's precision missile project, including crates with machinery to mix high-grade propellant for precision-guided missiles.
Shortly after that alleged Israeli attack and an IAF strike in Syria days earlier, which killed two Hezbollah operatives planning to launch a drone attack against northern Israel, Hezbollah fired a Kornet anti-tank missile towards an IDF vehicle in northern Israel.
While there were no Israeli casualties or injuries, the incident marked the first time since the Second Lebanon War in 2006 that saw direct confrontation between the IDF and Hezbollah, which is fully backed by Iran.
A senior defense official this summer said that while preventing Iran from obtaining a nuclear bomb remains Israel's top priority, thwarting Hezbollah's precision missile project has become the second top objective. After those two goals, the official said, comes the third priority of preventing Iranian entrenchment in various Middle Eastern countries.
"Due to developments and situational assessments, it was decided three months ago that the precision missile project would be given high priority because of the immediate danger it poses," the senior official said. "The military echelons were informed of this decision. We cannot afford to be surrounded by thousands of precision missiles that could land and harm the State of Israel."
According to the source, "Our three targets have one address – Iran," adding that Iran's Quds Force Commander Qassem Soleimani is the address for two of the three threats.
"To prevent this consolidation by Iran, we are carrying out many operations that nobody knows anything about," he said, adding that the operations are carried out by the IDF and the Mossad.
WITH ISRAEL facing multiple arenas and enemies at the same time, the IDF has released its new multi-year plan, which will focus on improving the military's defensive and offensive capabilities.
Dubbed "Momentum," the plan will officially begin on January 1, 2020, and was formed following a critical and comprehensive investigation into the IDF's strengths and weaknesses, which led the military to decide to update the operating concept and build a new one for the next decade.
While the plan will formally go into effect next year, the military has already begun to implement several decisions, including two general combat procedures – one in the South and one in the North.
Under the plan, there will be a change in the formulation of the operational concept of victory of the IDF, which will include new concepts and methods of warfare which have been adapted to the challenges of the urban battlefield saturated with enemy fire.
The IDF will also focus on closing the gaps in several key areas, including weapons and manpower, as well as increasing the intelligence directorate's ability to detect enemy forces in urban areas. The military will also focus on improving offensive capabilities of all corps against decentralized enemy troops, which requires more offensive platforms and weapons.
As such, the military will procure a significant amount of precision guided missiles and mid-sized drones as well as additional air defense batteries. The IDF will also spread capabilities to all the operational-end units  – battalions and companies – to encourage different branches to work together in maneuvering and defense, as well as empower troops and commanders in the field.
There will also be a digital transformation, where all aspects will be connected – from the drones and pilots in the sky to the tank and platoon commanders on the ground – to improve the military's effectiveness by sharing information, knowledge and capabilities.
The plan, which will focus on the preparedness of troops for future war, will preserve the increased training that was implemented under the Gideon multi-year plan – an increase from 13 weeks to 17 weeks of consecutive training – and increase troops training for urban combat in realistic simulators.
4.
When asked if she would use U.S. aid money to Israel as leverage in pushing for a two-state solution or an Israeli settlement freeze, Elizabeth Warren said that the option was "on the table." Does this show that she's ready to do what it takes to pursue peace for Israel? Or that she's ready to abandon Israel to please the far left?
Warren's harsh words toward Israel stand in stark contrast to her previous condemnation of Trump's cutoff of aid to Palestinians.
"
Many Israelis agree with Warren that a two-state solution is the only way to end the Israeli-Palestinian conflict and allow the two peoples to live side by side. And many Israelis also agree that expanding settlements – at least those that are not in the consensus of being part of Israel in a two-state solution – is not helpful in achieving that goal…
What Warren's implied threat fails to consider is that Israel and the US can have differences and still be staunch allies.
5. 
ON SECURITY
When Espionage Skills Are for Sale, So Is Your Security
VP of Tactical Analysis, Stratfor
(JACK GUEZ/AFP/Getty Images)
The governments of Mexico and Saudi Arabia both reportedly surveilled journalists and political opponents using spyware bought from NSO Group, the Israeli company whose office near Tel Aviv is pictured above.
HIGHLIGHTS
Anyone with the intent, interest and budget to buy espionage tools and expertise can now acquire the capability to steal a specific piece of information. 
It can thus be presumed that any national intelligence agency, large corporation or organized crime group can access whatever data they deem valuable enough to pay for.
Reports emerged Oct. 16 that UAE-based cybersecurity company DarkMatter recruited officers who had previously worked for Israel's elite cyber intelligence outfit, Unit 8200. Interestingly, the story also noted that many of the Unit 8200 personnel had first worked at the Israeli cybersecurity company NSO Group before reportedly departing the company for larger salaries at DarkMatter. Both NSO Group and DarkMatter have generated a great deal of media coverage for allegedly arming governments with intelligence tools to spy on potential dissidents and journalists, among other targets. These cases, however, undoubtedly only scratch the surface of a much larger threat — that is, the increasing proliferation of intelligence tools and skills on the open market. Today, more actors than ever can purchase advanced intelligence capabilities, forcing us to reconsider the way we think about, analyze and protect against corporate espionage threats.
The Big Picture
Corporate espionage is a serious, pervasive and persistent threat that emanates from a widening array of state and private actors. Today, tools such as LinkedIn are increasingly being used to not only acquire recruiting intelligence sources, but intelligence tradecraft by hiring officers and operators with world-class skills.
An Emerging Black Market
When assessing the corporate espionage threat posed by a hostile actor, Stratfor has long used a three-pronged model that gauges the actor's interest, intent and capability. Over the course of my career, I've encountered numerous cases in which an actor had the interest and intent to conduct espionage, but lacked the innate capability to effectively steal some piece of proprietary information or monitor a private organization's activities and communications. State sponsors have helped intelligence services punch far above their weight class in decades past. The training and equipment that the Soviet KGB and the East German Stasi provided Cuba in the 1960s and 70s, for example, helped propel its intelligence agency to top-tier status. Likewise, Jordanian intelligence has become quite competent thanks to its long association with U.S. counterparts. Many other nations and other espionage actors simply did not possess, and largely could not obtain, world-class intelligence capabilities.
But that is changing under this new model of intelligence capabilities proliferation. Certainly, the United Arab Emirates has taken a very big jump in its capabilities by creating DarkMatter and employing some of the world's most elite intelligence officers. Meanwhile, other countries such as Mexico and Saudi Arabia have allegedly purchased and used tools developed by the Israel-based NSO Group to ostensibly spy on journalists, opposition politicians and human rights organizations seen as threats to the regime. China's partner governments in Africa are also reportedly using technology manufactured by tech giant Huawei to track political opponents and other targets.
But while these cases involving Huawei, NSO Group and DarkMatter have garnered headlines, the threat extends far beyond the cyber realm. It has become increasingly common for intelligence professionals to parlay the tradecraft skills they acquired during their government service into high-paying, private sector jobs. This not only includes cyber skills used for hacking, but human intelligence know-how such as source recruitment and handling, as well as other esoteric tradecraft skills such as conducting black-bag jobs. As a result, the full array of espionage tools — including human intelligence tradecraft — is now available for purchase.
In some cases, the price tag for such tools and skills can be relatively steep. The base fee for NSO Group's Pegasus software used by the Mexican and Saudi governments reportedly cost $500,000 — with an additional $650,000 to hack the phones of 10 targets. But while expensive, these fees are certainly well within the budget of not only the intelligence agencies of even small countries, but private companies and large organized crime groups. Drug cartels in Mexico, for example, have hired hackers to help them gather information on their enemies. The notorious Sinaloa cartel also purchased state-of-the-art encrypted cellphones from the Canada-based Phantom Secure to protect both its operations and Joaquin "El Chapo" Guzman Loera's communications with his various wives and mistresses.
The Limitations of Outsourcing  Expertise
This new model of intelligence capabilities outsourcing, however, is not without risk. First, as we've seen in Saudi Arabia's alleged killing of journalist Jamal Khashoggi, it can bring a great deal of unwanted attention upon the instigator when intelligence tools are used to help facilitate atrocities or otherwise violate international norms. Since the two stories first broke in late 2018, the Saudi and Mexican governments' use of the NSO Group's software have also resulted in a public uproar and court cases in both countries.
Anyone with the means can now buy advanced espionage skills, and presuming otherwise is as foolish as it is dangerous.
Second is the concern of loyalty. Intelligence providers will know who their clients are targeting, which can grant valuable insight into the internal dynamics of a country or its foreign affairs. There will thus always be some unease over the possibility that the providers of these intelligence capabilities could be double agents who are either still reporting to their former employers, or sharing that information with others — including those being targeted by the client. Take the case of Saudi Arabia: Even if the cyber tools are being employed by Saudi personnel, can the kingdom be positive that the software isn't reporting back to the NSO Group through some sort of backdoor channel where it can then be passed on to Israeli intelligence?
And last but not least, the intelligence tools and techniques up for purchase are either industry-standard or one-size-fits-all, and thus may be somewhat outdated and less effective in going after truly hard targets. Such capabilities are therefore unlikely to grant clients capabilities that rival those of first-tier intelligence agencies, such as the U.S. National Security Agency or the Chinese Ministry of State Security. But they can — and indeed have — sufficed when used to target less difficult targets, such as companies, journalists or nongovernmental organizations. And we expect to see them used increasingly against such softer targets going forward.
Because of this new reality, it is imperative that we update the way we think about the intelligence threat triad. Now, if an actor has interest in a piece of information and the intent to use espionage tools to obtain it — as well as the resources to afford outsourced tools and tradecraft — we must believe that they can acquire the capability to do so; to presume otherwise in an era where anyone can buy advanced espionage proficiency is as foolish as it is dangerous.
6. 
US Quietly Reduces Troop Force in Afghanistan by 2,000
The top American commander in Afghanistan revealed Monday the size of U.S. troop force in the country has quietly been reduced by 2,000 over the last year, insisting remaining military personnel are still capable of reaching their stated objectives. …
7. Ακολουθούν παρακάτω 2, 3 καλά άρθρα, μεταξύ άλλων, για κάποιους… ανόητους!..
US Keeping Troops Near Syrian

Oil

Fields
By Ken Bredemeier October 21, 2019
The United States is keeping some troops near oil fields in northeastern Syria to protect them from being captured by Islamic State, defense chief Mark Esper said Monday.
A convoy of more than 100 vehicles with U.S. troops crossed into Iraq from Syria on Monday, part of the broader withdrawal from northern Syria ordered by President Donald Trump. But Esper said that some American forces were still patrolling near the oil fields alongside Kurdish-led Syrian Democratic Forces.
The Pentagon leader said no long-term decision has been made "with regard to numbers or anything like that."
"We presently have troops in a couple of cities that [are] located right near that area. The purpose is to deny access, specifically revenue to ISIS and any other groups that may want to seek that revenue to enable their own malign activities," Esper said.
Trump tweeted Sunday that "We have secured the oil."
Brett McGurk, former U.S. envoy in the fight against Islamic State, told VOA on Monday that he finds it "troubling" that a president should talk like that, calling the seizure of another country's assets "illegal."
"It's really not possible for us to exploit those oil resources unless we want to be oil smugglers," McGurk said. "Like it or not, it [the oil] is owned by the Syrian state."
Trump's troop withdrawal has angered Kurds in northern Syria, where Kurdish fighters have fought alongside U.S. forces against Islamic State terrorists. But Trump said the U.S. had no stake in Turkey's offensive against the Kurdish fighters, which Ankara considers as allies with Kurdish separatists fighting for autonomy in southeastern Turkey for the last three decades.
On Monday, Trump told his Cabinet that the U.S. "never gave the Kurds a commitment we'd fight with them for 400 years" to protect them.
The U.S. last week brokered a five-day cease-fire with Turkey in the region to give the Kurdish fighters a chance to move away from the border where Turkey wants to impose a 32-kilometer-wide "safe zone."
Trump said the cease-fire is largely holding, despite some skirmishes.
He said the Kurdish fighters were leaving the safe zone, "not expeditiously, but rather intelligently."
Trump said that "if Turkey misbehaves – I don't think they will" – but if Ankara does, "we will tariff them, we will sanction them. But I don't want to do that."
Turkish President Recep Tayyip Erdogan reiterated Monday that his offensive against the Kurdish fighters would resume if they have not pulled back from the Turkish border by the time the pause in the conflict ends Tuesday night.
With Trump's withdrawal of most U.S. troops, Russia, an ally of Syrian President Bashar al-Assad, has stepped into the vacuum in northern Syria. Even though Turkey is a NATO ally of the U.S., Erdogan is meeting with Russian President Vladimir Putin in Moscow to plot their strategy in Syria.
Erdogan, without elaborating, told a forum in Istanbul on Monday, "We will take up this process with Mr. Putin and after that we will take the necessary steps" in northeastern Syria.
As U.S. armored vehicles drove out of Syria through the Kurdish-dominated northeastern city of Qamishli on Monday, residents hurled potatoes at the Americans, shouting in English, "No America," and "America liar."
Near the town of Tal Tamr, protesters late Sunday raised banners against departing U.S. troops. One man blocked the path of a U.S. van with a poster reading: "Thanks for U.S. people, but Trump betrayed us."
Trump has said the troop withdrawal was necessary for the U.S. to "end endless wars" in the Middle East. The Pentagon is moving its Syrian contingent of more than 700 U.S. troops to Iraq, not sending them "home" as Trump had tweeted they would be. Esper said the troops would help defend Iraq and could still conduct antiterrorist raids in Syria on Islamic State insurgents.
The U.S. currently has about 5,000 troops in Iraq under an agreement between Baghdad and Washington. The U.S. had pulled out in 2011 when combat operations ended there, but went back in three years later when Islamic State took over large parts of the country before later losing what it had gained.
While the Kurdish withdrawal from the border region is occurring, both Kurdish and Turkish leaders accused each other of violating the cease-fire with scattered attacks.
The Kurds said Turkey had shelled one village at dawn Monday and contended that the U.S. had not forced Ankara to adhere to the terms of the cease-fire. Turkey accused the Kurds of 30 live-fire violations during the four days of the purported pause in hostilities, including an attack that killed one Turkish soldier.
VOA's Jeff Seldin and Kenneth Schwartz contributed to this report.
8. 
Gantz gets shot at forming government, invites Netanyahu to negotiations
Israeli president Reuven Rivlin presents Blue and White party leader Benny Gantz with the mandate to form a new Israeli government. (Yonatan Sindel/Flash90)
By Associated PressAfter Israeli Prime Minister Benjamin Netanyahu failed to form a government built on a large right-wing bloc, rival Benny Gantz faces similarly steep odds, raising the possibility that Israel will hold a third election in less than a year.

President Reuven Rivlin formally granted the mandate to Gantz, who will have 28 days to form a coalition. It is the first time in over a decade that anyone besides Netanyahu has been given the task.

After accepting the mandate at Rivlin's official residence in Jerusalem, Gantz commented, "I will invite all the parties that are represented in the Knesset, even those who will not be in the government. I will first turn to the Likud and to its head Netanyahu and offer for him to be part of that government," Times of Israel reported.

Gantz, a lifelong military man, has presented himself as a practical leader who can bridge Israel's many divisions and address the various security threats it faces.

Gantz presents himself as a more trustworthy alternative to the Netanyahu, and may hope to evoke past generals who became statesmen, including Moshe Dayan, Yitzhak Rabin and Ariel Sharon.

But he faces steep odds in every possible path to forming a government. He has been endorsed by just 54 lawmakers representing an array of parties that are unlikely to sit together in a coalition.

Both Gantz and Netanyahu say they favor a national unity government. Together, Netanyahu's Likud and Gantz's Blue and White control a solid 65-seat majority. But the two men are divided over who should lead any new government.

Netanyahu has insisted he head the government, at least for the first two years, and that it include his right-wing allies, conditions that Gantz has repeatedly rejected.

Netanyahu also accusations of corruption, which will be litigated in the coming weeks, and Gantz has said Netanyahu should resolve his legal troubles before returning to the top post.

Blue and White nevertheless invited Likud negotiators to a meeting planned for Thursday.

Gantz could potentially break up the right-wing alliance and recruit some of the smaller parties to his coalition. But that might be seen as a major betrayal by those parties' voters.

Another option would be to form a minority government with Avigdor Lieberman, who emerged as kingmaker after his party won eight seats and has refused to endorse either Gantz or Netanyahu. Gantz might be able to convince the Arab Joint List, which won 13 seats, to support the coalition from the outside.

That would bring down Netanyahu but result in a highly unstable government. It's also far from clear that Lieberman, a nationalist with a history of harsh rhetoric toward the Arab minority, would support such a scheme. No Arab party has ever sat in an Israeli government.

The political deadlock dates back to April, when Lieberman refused to join a right-wing coalition under Netanyahu, denying him a majority. In response, parliament voted to dissolve itself, leading to an unprecedented repeat election in September. A similar scenario could play out again.

The political deadlock has delayed the Trump administration's release of its long-awaited peace plan. The Palestinians have already vowed to ignore the plan, a move consistent with decades of Palestinian rejectionism.

9. 
Poll shows

Gideon Saar

is best Netanyahu replacement; half of Liberman voters would abandon him
Benjamin Netanyahu and Gideon Saar (Flash90/Miriam Alster)
By World Israel News Staff
A recent poll found that Likud MK Gideon Saar received the greatest support among the general public (41%), as compared with Likud MKs Yuli Edelstein (8%), Gilad Erdan (6%), and other candidates (8%) to replace Prime Minister Benjamin Netanyahu.
In possibly far-reaching ramifications should Israel go to a third election, only about half of Israel Beiteinu voters (51.5%) said they would vote for the party again. It was the lowest outcome compared to the other parties, such as Likud (88.5%) and Blue and White (84%).
Israel Beiteinu, led by Avigdor Liberman, brought about both the April election and the subsequent September election by first quitting as defense minister and then, second, by refusing to join the Netanyahu coalition.
A loss of Knesset seats would significantly weaken Liberman's ability to influence events. It is also likely that his generally right-wing supporters would flow to other right-wing parties, including the Likud.
The poll was done under the direction of Menachem Lazar of PanelsLTD for the Israel Democracy Institute's Guttman Center.
Among its other findings, 56% of the public support a rotational government between Netanyahu and Blue and White leader Benny Gantz, in which they would take turns acting as prime minister.
Of those surveyed, 14% support a rotation only if Netanyahu is first in line to serve as prime minister, and 20% only if Gantz is first.
The poll found that 41% of the general public is in favor of including the ultra-Orthodox parties in the government, while 66% of Israeli Jews view the establishment of a coalition that includes the Arab Joint List as problematic.
If Netanyahu is indicted, 65% of Israelis believe that he should resign as head of the Likud.
Netanyahu faced a pre-indictment hearing in September. He is awaiting the decision of the attorney general. Netanyahu faces charges in three cases.
Case 2000 involves an alleged deal Netanyahu made with Yedioth Ahronoth publisher Arnon Mozes, under the terms of which the prime minister would get a law passed that would hurt the daily's main rival, Israel Hayom, in exchange for gaining positive coverage in Mozes' newspaper and sister website.
In Case 4000, the State Attorney's Office believes that Netanyahu pushed for regulatory changes that benefited Bezeq Telecom controlling shareholder and Walla! news outlet owner Shaul Elovitch to the tune of hundreds of millions of dollars in return for positive media coverage of the prime minister.
Case 4000 is considered by the prosecution as the most serious.
10. 
Netanyahu celebrates 70th birthday

with former IDF comrades
Israeli Prime Minister and leader of the Likud party Benjamin Netanyahu. (Miriam Alster/FLASH90)
By World Israel News Staff
On Tuesday, Israeli Prime Minister Benjamin Netanyahu celebrated his 70th birthday with his former comrades from the IDF General Staff Reconnaissance Unit.
This group of former soldiers is often referred to as "Team Bibi" because Netanyahu served as their commander.
The celebration was held at the Crusader fortress at Kochav Hayarden National Park, where Team Bibi staged it's final military exercise 50 years ago.
"Fifty years ago, in the southern approaches to Afula, I received these boys. They have not changed much, I must say," Netanyahu stated in his speech. "We marched 120 kilometers in order to reach the unit. We started a long training march ahead of the important missions we carried out as a team."
"Two of us are absent, Udi and Uri who have passed away, but the unity has been maintained over the years. This cohesiveness, this friendship, this fellowship, is exceptional," he added.
During the celebration, Netanyahu joined his fellow comrades in singing the unit's song and was given a medal, inscribed with the words: "To Bibi, marking 50 years since the unit was formed. From your soldiers in Team Bibi Netanyahu. Summer of 1969-Summer of 1972."
"I would be happy if I could tell you everything that we did. But here, in this place, Kochav Hayarden, was the conclusion of an important exercise that took several days. They carried out all kinds of missions and reached this point where they received the unit insignia," Netanyahu said. "I had the privilege of having such soldiers. I have had the privilege that we have kept this bond, a very special and very strong bond. I can only wish that we will meet here in another 50 years."
11. 
Israel prepares for Iranian missile attack
Iranian Taer-2 missile (AP /Vahid Salemi)
By World Israel News Staff
A high-level security cabinet meeting to discuss the increasing Iranian threat is scheduled for next week, reports Israeli Army Radio.
According to the report, Iran could be planning a direct cruise missile or drone strike against Israel in retaliation for recent attacks against Iran's allies in the Middle East.
Israel is expecting the missiles to not be high-arcing ballistic missiles that are easier to intercept, but rather low flying ones that are harder to detect.
Brig. Gen. Dror Shalom, the head of Military Intelligence's Research Division told Israel Hayom that Israel expects to be attacked by Iran from southern Iraq.
"It could be in the form of a surface-to-surface missile, cruise missiles, or long-range UAVs. He has UAVs that can fly 1,000-1,200 kilometers (600-1200 miles) which he [Iran's commander Qassem Soleimani] has used in the Persian Gulf," Shalom said.
"In the end, when he takes a hit to the nose, he wants to hit back, and he has taken some blows recently. So my working assumption is that it's only a matter of time until he tries," he added.
According to Kan Bet, economic officials say the cost of Netanyahu's proposed defense project would entail cutting a large number of funds to civilian projects and raising taxes.
12.
What Do Jews and Kurds Have in Common?
Kurds have more in common with Jews than I had ever imagined before I arrived in northern Iraq last week to interview refugees fleeing Turkish aggression.
Kurds are an ethnic group that alleges to have existed since biblical times. They have a clear sense of their homeland, and their loyalty to their people extends well beyond transitory changes to borders, language and religion. Kurds have lived in a warped form of diaspora since external powers superimposed countries where they existed for centuries. They are a people struggling to survive in the very place they have lived for centuries. Sound familiar?
There are 30 million Kurds in the world today, approximately twice as many as there are Jews. In 1916, a secret plan to carve up the Middle East, known as the Sykes-Picot Agreement between France and Britain, was put into effect, for which we are all still paying the high cost. The Kurds, who at the time did not have a nation, found the territory in which they had lived for centuries had been assigned to Turkey, Syria, Iraq and Iran.
Kurds are without a state although they occupy a mountainous borderlands region that includes parts of Iran, Iraq, Syria and Turkey that often is referred to as Kurdistan.
Since their alienation by the imposition of the new countries, Kurds have had to navigate the rivalries and wars of the countries in which they live while maintaining their identities. Kurds who live in the northern part of Syria face a new peril as Turkey consolidates its position there through its agreement with Russia.
We know from the study of not only the Holocaust but also the 20th-century genocides that targeted Armenians, Tutsi Rwandans, Bosnian Muslims and indigenous Guatemalans that the cover of military objectives is used by powers to execute more sinister goals.
The term "ethnic cleansing" has been used to describe Turkey's goals but this is a euphemism that makes the removal of civilians seem more palatable. The Nazis used their own ethnic cleansing euphemism "Judenrein" — cleaned of Jews — to hide their genocidal killing from plain sight. "Ethnic cleansing" is not an end in itself, it is a means to bring the life of a community in a particular place to an end. Deadly, violent or nonviolent, ethnic cleansing is motivated by ethnic hatred and violates many international conventions and laws.
"Like Jews who fled Germany in 1933, before it was too late, the families I have been speaking to decided not to wait to find out how lethal Turkey, Russia and Syria will be."
In situations like the one unfolding in northern Syria, as the crisis ramps up, the voices of the victims become increasingly silenced. News agencies are interested in the politics, the casualties, the body count. But victims who know more about what is happening than anyone tend to get silenced.
During World War II, the media gave astonishingly short shrift to the Holocaust. When the atrocities were covered, the news was often downplayed. Consider this headline — discovered in a recent project by the U.S. Holocaust Memorial Museum — in the Nov. 25, 1942, edition of the Los Angeles Times: "Half of Jews in Europe Dead." Front-page news? Guess again. It ran on page two.
Or this piece in the New York Daily News the same month: "Jews Declare 5,000,000 Face a Nazi Death." Page 45.
The Jews facing persecution were acutely aware of the neglect. This is why Jews in the Warsaw Ghetto were feverishly documenting their story, as depicted in Roberta Grossman's most recent docudrama, "Who Will Write Our History?" They knew if they did not tell their story, who would?
I am currently in northern Iraq to research why refugees who are crossing the border into southern Kurdistan decided to leave their homes. It may seem obvious because they have been living under a hail of Turkish shells. However, it is clear that the only reason that Turkey is in Syria at all is to displace the Kurds. Like all other dangerous regimes, they blame the victims, labeling Kurdish separatist militias as terrorists, which is no reason to terrorize the entire population in return.
The refugees I have met to date confirm my suspicion that there are two distinct reasons for their hurried departure from northern Syria. The first is the immediate threat of death from the military operation. The second is a longer-term visceral understanding that they cannot survive in a region occupied by powers that do not want them there. If they sense their community is in danger, then it probably is because they understand the threat more than any of us. Like Jews who fled Germany in 1933, before it was too late, the families I have been speaking to decided not to wait to find out how lethal Turkey, Russia and Syria will be. They know it is far from over.
Kurds in southern Kurdistan have a regional government in northern Iraq where, unlike many countries across the Middle East, they believe in a multicultural society. They recently renamed their Ministry of Muslim Affairs to the Department of Religious Affairs to ensure all religious traditions are represented. There are Christian Kurds, Zoroastrian Kurds, even a handful of Jewish Kurds (living in Israel now).
Like Jews in the past who needed non-Jews to speak out for justice, Kurds need vocal advocates who understand the threat they are facing to speak up now.
13. 
'

Matters of ego': To whom was Gantz directing his cutting remarks?
Blue and White party leader Benny Gantz (Flash90/Yonatan Sindel)
By World Israel News StaffTo whom was Blue and White leader Benny Gantz speaking when he made cutting remarks about "matters of ego" while accepting the mandate to form a government from President Reuven Rivlin on Wednesday evening?

Was he speaking to Prime Minister Benjamin Netanyahu as most assumed? Or was he directing his attack at one of his own party's leading members, Yair Lapid?

"Whoever drags Israel to third elections will be tossed from the political establishment," said the former IDF chief of staff. "I made tough decisions in the past. I made tough decisions this year. If I need to, I will make tough decisions in the coming days. My friends and I are set for it.

"There will be a place for everyone who puts the national interest first. There will be a place in the government for everyone. I don't intend to waste time on matters of ego."

It was generally assumed that he was speaking to Netanyahu, who had first dibs at forming a government but failed, returning it on Oct. 21.

Yediot Ahronot took this position. Quoting the above comment, the paper said it was a "clear warning" directed at Netanyahu "without mentioning his name."

However, competing daily Israel Hayom had a much different take. Citing two anonymous Blue and White officials, it said the comments were meant for fellow Blue and White member Lapid.

"Perhaps it sounded to people like Gantz meant Netanyahu when he said those things," a Blue and White source said. "But actually he meant Lapid, and Yair knows it very well."

Another source quoted by the paper said, "Benny is fed up with Yair's ego. [Gantz] want to establish a government and be prime minister. He understands that Lapid pulls Blue and White down in everything connected to establishing a unity government.

"Lapid has an allergy to Netanyahu and Blue and White wants to conduct negotiations with the Likud, and right now Netanyahu stands at the head and its important to deal with him," the source said.

"This is the chance for Blue and White to replace the government, and if Lapid doesn't understand that and won't let go of his ego, he will be tossed out… Benny understands that Lapid and his ego can lead Israel to third elections, and the opportunity Blue and White now has won't be lost because of Lapid, therefore it's important that he understands the message, that he'll straighten up and get behind him [Gantz]," the source added.

Blue and White denied the comments were accurate. "Another lie that never was. Gantz and Lapid are united and in concert and came to this moment together in contrast to all the forecasts and obituaries," a party statement said. "We suggest listening and quoting his words, and not anonymous officials."

Gantz has already met with a number of party leaders in his efforts to form a government. He has 28 days in which to cobble together a majority of 61 Knesset seats. He may apply for a 14-day extension after that.

14. 
Arabs 'will be invited' to form next Israeli government, says Arab MK
Joint List member Ahmad Tibi arrives for a meeting with party members at the Knesset, Sept. 22, 2019. (Flash90/ Yonatan Sindel)
By World Israel News Staff
MK Ahmad Tibi, a leading member of the Joint List of predominantly Arab non-Zionist parliamentarians, says his bloc is to be invited to talks on forming a new Israeli government that would be headed by MK Benny Gantz, leader of the Blue and White faction.
"We will be invited," Tibi told Israeli Kan public radio.
"We know that such a meeting will come soon," he told the Ynet news outlet.
The Joint List won 13 seats in the 120-member Knesset in the September 17 parliamentary election, making it the third-largest faction, after Blue and White's 33 and the Likud's 32 mandates.
Most of the list – which incorporates four parties – endorsed Gantz for the post of prime minister in a meeting that took place with President Reuven Rivlin following the September election.
Non-Zionist Arab parties have never officially joined an Israeli government.
However, in the 1990s, Arab MKs agreed to support then-Prime Minister Yitzhak Rabin without joining his cabinet.
They provided what was referred to as a safety net, guaranteeing that the Rabin government coalition would have a majority of votes which took place in the Knesset in exchange for the government's promotion of causes important to these parties, relating to the Israeli-Arab sector and the peace process with the Palestinians.
As in the case of the Rabin coalition, Gantz runs the risk of becoming a minority government. Even with the support of the Joint List, the Blue and White leader is seen as having only 57 MKs in his camp.
One option discussed is that Israel Beiteinu's eight parliamentarians, headed by former Defense Minister Avigdor Liberman, would neither join the opposition nor the coalition.
"If you're talking about 57 against 55 [MKs], that's not a minority," Tibi told Ynet. But that option "hasn't been presented to us officially," he added.
Such a move would be highly ironic because Liberman has referred to various Arab MKs as a "fifth column," questioning their loyalty to Israel as the Jewish State.
There is a feeling in political circles that Liberman is leaving that possibility open in order to scare the Likud, headed by incumbent Prime Minister Benjamin Netanyahu, into agreeing to join a national unity government with Blue and White.
Gantz is to receive the nod on Wednesday from the president to try to form a government after Netanyahu returned the mandate, having failed in his efforts to build a parliamentary coalition.
15. 
'We looked for side-locks': Terrorists detail August murder of 19-year-old Dvir Sorek
Dvir Sorek (Facebook)
By Batya Jerenberg, World Israel News
The police deposition of the confessed murderers of 19-year-old Dvir Sorek shows that the two had decided to murder a "settler" out of nationalistic motives, and chose Sorek simply because he fit the "settlers' look" and was alone, according to the leaked document published Thursday on Ynet.
The interrogation revealed that cousins Nassir and Qassam Issafara had come separately to the idea that killing a Jew would be a proper response to Israel's "occupation" of what they considered to be Palestinian land.
Nassir had bought the eight-inch knife he used on Sorek a full two years earlier, and told the interrogator that he had trained often to build up his strength.
"I practiced alone at home, [then] with Qassem in the wadi," he said.
Qassem said that he had been incited by the local imam.
"For several months, I'd been going to the mosque and hearing about the situation at Al-Aqsa [on the Temple Mount], that on regular days they prevent Muslim Palestinian worshipers from entering but allow settlers, and also there's building in the settlements and the land that's ours was taken forcibly by the Israeli occupier, and I always wished that I could die like a martyr," he told his interrogator.
Qassem bought a taser in Hebron, and asked Nassir if he'd be willing to carry out an attack together in the Gush Etzion area. If possible, he told Nassir to shock their victim and drag him into their car before killing him and hiding the body so that the security personnel would "tire themselves out until they found the settler." T
hey had no intention of asking for a prisoner trade in exchange, he said. If Nassir couldn't shock him, he told him to just kill the Jew on the spot.
When asked how they chose their victim, Qassem said, "We looked for a certain description, like a settler's hat [a skullcap] and side-locks."
That description, which fits many religious Jewish men, also fit Sorek, who had gotten off a bus that night alone, and was walking on a dark road towards his yeshiva in Kibbutz Migdal Oz. Qassem drove their car up to the young man and blocked his way, and Nassir jumped out.
"I tried to shock the settler but I couldn't activate the taser," Nassir said in his description of the attack.
"At that moment, the settler tried to push me backwards and I pushed the settler and he fell on the ground. I took out the knife and started stabbing him in his upper body, and he tried to protect himself by covering his face and chest with his hands. After that the settler didn't move and I got into the car with Qassem."
The two sped back to their village of Beit Kahil, about 10 kilometers away. An elite IDF force captured them two days later while they were asleep, mostly due to intelligence work and an analysis of security cameras in the area. They were indicted some two weeks ago for murder and other serious crimes.
In response to their crimes, the cousins' homes have already been mapped out to be demolished and the IDF gave their families the official orders in September. The High Court is supposed to rule on the families' appeal of the demolitions at the end of the month.
16. 
Air raid siren in Ashkelon area, residents sent scurrying for cover
An Iron Dome battery in action. (AP/Tsafrir Abayov)
By World Israel News Staff
An air raid siren was sounded in the Ashkelon coastal area in southern Israel on Thursday morning, as children were attending schools, and the Iron Dome air defense system was activated to fend off what turned out to be a "mistaken identity" of a rocket fired from the Gaza Strip, said the IDF, adding that policy dictates that such measures must be taken as a precaution.
"The warning system was activated as required," said the military statement. Interceptors were launched "toward targets as dictated by policy," it continued.
The Magen David Adom first-responder service reported no casualties, according to the Ynet news website.
Residents were sent scurrying to protected areas upon hearing the siren, it said.
The siren was sounded at Kibbutz Zikim, located between Ashkelon and Gaza.
Weekly Friday riots by Palestinians along the Gazan-Israeli border continue to take place, but the overall situation has been relatively quiet as Israel and Hamas have allowed Egypt, the U.N., and Qatar to take measures to improve infrastructure and socio-economic conditions in the Palestinian enclave, controlled by the Hamas terror group.
17. 
Sadık Kürtler, hain emperyalistler
23 Ekim 2019 
Türkiye ve Azerbaycan Türkleri için "iki devlet, tek millet" ifadesini kullanılır. Fakat Türkler ile Kürtler için "iki millet, tek devlet" ifadesini bile kullanamayız. O derece bir ve beraberiz, bütünüz. 
Kürtler, bizim bin yıllık yol arkadaşımızdır. Aramızda aziz hatıralar var. 
Bin yıldır Türklerin ve Kürtlerin birbirlerine karşı işlediği kusurlar, yaptıkları yanlışlar, büyütülmemiş, hoş görülmüş, üstü örtülmüştür.
Kürtler, en zorlu günlerde bile, Türk kardeşlerini terk etmediler. Bunun tersi de doğrudur: Türkler, hiçbir zaman, Kürt kardeşlerini emperyalistlerin insafına bırakmadılar.
Birkaç örnek verelim ki, konu daha iyi anlaşılsın.
Kürtler, Birinci Dünya Savaşı yıllarında, son ana kadar Osmanlı devletine sadık kalan halklardan bir tanesi oldular. Mesela, Doğu cephesinde görev yapan birliklerdeki askerlerin çoğu Kürt kökenliydi. Hamidiye alaylarının yerine kurulan Aşiret Hafif Süvari alaylarını da unutmayalım.
Kürtler, Ruslara ve Ermenilere karşı savaşıp, büyük can ve mal kaybına uğradılar. Yüz binlercesi, topraklarını terk etmek zorunda kaldılar. Buna rağmen yanlışa düşmediler, hilafete ve saltanata bağlı kaldılar.
Türkler ise, Ermeni saldırıları karşısında, Kürt kardeşlerine yardım etmiştir. Kürtleri, kana susamış Ermeni çetelerinin elinden kurtarmıştır. 
Saddam Hüseyin Irak'taki Kürtlerin üzerine yürüyünce, Türkler, canını kurtarmak isteyen Kürtlere kapılarını açmıştır.
Bunları, şunun için anlattım. 
Birinci Dünya Savaşı'nda Osmanlı Devleti'nin yanında yer almayan veya düşmanla işbirliği yapanların hepsi devlet sahibi oldular. Savaştan sonra uyduruk devletler kuruldu, daha doğrusu galip devletler tarafından kurduruldu. 
Galip devletler, Ermenilere, Gürcülere, bazı emirlere ve ailelere devletler dağıttılar. Mesela, Ürdünlü diye bir millet yokken, Ürdün diye bir devlet var edildi. Buna karşılık Kürtler, bol keseden dağıtılan, bu imkânlarından mahrum bırakıldılar. 
Galip devletler, başlangıçta, bir Kürt devletinin kurulmasını gündeme getirdiler. Hatta bu hususta bazı girişimler de oldu. Bağımsızlık yanlısı cemiyetler kuruldu, daha doğrusu kurduruldu. Kürdistan'ı gösteren haritalar elden elde dolaştırıldı.
Sonra her şey birden bire, bıçak gibi kesildi. Kürt devlerinin kurulması düşünülen topraklar Türkiye'nin yanı sıra Suriye, Irak ve İran arasında paylaşıldı.
Batılılar, Kürt devletinin kuruluşunu, şartlar olgunlaşıncaya kadar askıya alıp, ileri bir tarihe ertelediler. Çünkü denize çıkış kapısı olmayan ve hasımları arasına sıkışıp kalan bir devletinin yaşama şansı yoktu. 
Son yıllarda yaşananlar bize, Batılıların, şartların artık olgunlaştığını düşünmeye başladıklarını gösteriyor. 
Türkiye'deki olaylar herkesin malumu. Terör örgütünün hain eylemleri, hendek olayları vesaire. İran'ın Kürt nüfusu içten içe kaynıyor, kaynatılıyor. Irak'ta yaşayan Kürtler, neredeyse devletlerini kurdular. 
Suriye'de ise terör örgütünün militanları ile yabancı ajanlar, sayı olarak neredeyse eşit. Amerikalılar ve İsrailliler orada, Fransızlar ve İngilizler de orada. Birçok Batı ülkesi, terör örgütüne yardım ve yataklık ediyor.
Türkiye, Amerika'dan, Suriye ve Irak'ta yuvalanan PKK ile mücadele etmesini beklerken; onlar, DAEŞ ile mücadele bahanesine sığınıp, PKK'ye yüzlerce TIR dolusu silah ve lojistik sağlamayı tercih ediyorlar. Amerika'nın, Suriye ve Irak'taki DAEŞ direnişini kırdıktan sonra PKK konusunda gerekeni yapacağını belirtmesi, Kürdistan'ın kurulmasından başka bir anlam taşımıyor.
Eski Kürdistan haritaları, sadece Güneydoğu bölgemizin beş altı vilayetini içine alıyordu. Şimdiki haritalar, İskenderun körfezine kadar uzanıyor. 
Barış Pınarı Harekâtı başlayıncaya kadar: Batılılara göre, her şey yolundaydı. Türkiye her anlamda köşeye sıkıştırılmıştı. Üç ülkedeki Kürtler, harita üzerinde birleştirilebilecekti. Böylece denize ulaşacak kapı da açılacaktı. Özetle, ikinci İsrail için tüm şartlar sağlanmıştı. 
Türkiye'nin, bu büyük oyunu bozmak için, büyük devlet gibi davranması gerekiyordu. Öyle de oldu, oluyor. 
Fırat Kalkanı ve Zeytin Dalı'nın ardından düzenlenen Barış Pınarı Harekâtı'yla: Türkiye, Amerika başta olmak üzere, dış güçlere karşı tavrını net bir şekilde ortaya koydu. Avrupa Birliği'ne girmek uğruna birlik ve beraberliğimizi tehlikeye atan tavizler verilmedi. Batılıların hamlelerine karşı, yeni ve caydırıcı taktikler geliştirdi. 
Osmanlı Devleti'nin "Kürt sorunu" diye bir meselesi yoktu. Çünkü "Türk sorunu" yoktu. Cumhuriyet Türkiye'sinin "Kürt sorunu" olduğunu söyleyenler, aslında "Türk sorunu" olduğunu söylemekten kaçıyorlar.
Mesele ekonomik geri kalmışlık olsaydı, Kürtlerin maddi durumu, şimdiye göre, Osmanlı zamanında daha kötüydü. Mesele verilmeyen haklar olsaydı, Kürtlerin sosyal durumu, düne göre, Türkiye Cumhuriyeti tarihinin zirvesinde bulunuyor. 
Nurettin Topçu, "Davamız, İslam ahlakına dayanan bir cemiyet düzeni kurmaktır" diyor.
İslam üzerinden konuşursak, Türk ile Kürt arasında hiçbir fark yoktur. İslam'ı dışarıda bırakıp konuşursak, kardeşler arasında bile çok sayıda fark vardır.
İnancım tam: Oyun ne kadar büyük olursa olsun, Türkleri ve Kürtleri ayırmaya, daha bin yıl kimsenin gücü yetmez, yetmeyecek. Türkleri ve Kürtleri bugüne kadar bir arada tutan ne ise, bugünden sonra da o olacak.
 18. 
Pakistan Enerji ve Petrol Bakanı Ömer Eyüp Han, ülkesinin çok hızlı büyüyen bir enerji sektörüne sahip olduğunu belirterek, Türk yatırımcıları beklediklerini söyledi.
23 Ekim 2019 
Bakanlıktan yapılan yazılı açıklamada, Han ile Türkiye'nin İslamabad Büyükelçisi İhsan Mustafa Yurdakul'un iki ülkenin enerji alanındaki iş birliği üzerine bir görüşme gerçekleştirdiği bildirildi.
Görüşmede, iki ülke arasındaki enerji iş birliğinin artırılması için özel alanların belirlenmesi konusunda mutabık kalındığı aktarılan açıklamada, şu ifadeler kullanıldı:
"Pakistan, çok hızlı büyüyen bir enerji sektörüne sahip. Özellikle yenilenebilir enerjideki büyük potansiyel, yabancı yatırımcılar tarafından değerlendirilmelidir. Yenilenebilir enerji alanındaki yatırımlarla ilgili yasal düzenlemeler onay sürecinde. Han, Türk enerji şirketlerini Pakistan'da enerji yatırımı yapmaya davet ediyor."
19.
TSK'nın terör koridorunu yok etmek için Suriye'nin kuzeyinde başlattığı "Barış Pınarı" Harekatı'nın başlangıç tarihi olan 9 Ekim'den itibaren 2 bin 330 kişi gönüllü askerlik için başvuru yaptı.
23 Ekim 2019
700'ü aşkın teröristin öldürüldüğü Barış Pınarı Harekatı boyunca tek yürek olan Türkiye, bir kez daha Mehmetçik'e desteğini gösterdi.
Milli Savunma Bakanlığı da Türkiye'nin sınırların güneyinde bir terör koridoru oluşmasına müsaade edilmeyeceğini, terörle mücadelenin kararlılıkla devam edeceğini belirtti.
2 bin 330 kişi askerlik için başvurdu
Yapılan açıklamada, Barış Pınarı Harekatı'nın başladığı 9 Ekim tarihinden itibaren 130'u kadın 2 bin 330 kişinin, gönüllü askerlik için başvuru yaptığı bildirildi.
Açıklamanın devamında şu ifadelere yer verildi:
"Müşterek çalışmalara başlanacak"
"Barış Pınarı Harekatı, bölgenin terörden arındırılması, terör örgütünün yerel halk üzerindeki baskı ve zulmünün sona erdirilmesine büyük katkı sağlanmıştır. Terör tehdidinin bertaraf edilmesiyle, göçü tetikleyen en büyük etken de ortadan kaldırılmış olacaktır. Cumhurbaşkanımız ile Rusya Federasyonu Devlet Başkanı arasında varılan mutabakat kapsamında, bugünden itibaren müşterek çalışmalara başlanacak."
"Terörist unsur tespit edilmedi"
Öte yandan güvenlik kaynakları, saat 22.00'den sonra Barış Pınarı Harekatı bölgesinde terörist unsur tespiti olmadığını bildirdi.
20.
Trump Announces "Permanent" Ceasefire in Northeast Syria
The end to the U.S.'s role as world policeman?
President Trump announced on October 22nd that Turkey's government, under the leadership of President Erdogan, had agreed to stop its offensive against the Syrian Kurds and to make the ceasefire negotiated by Vice President Mike Pence and Secretary of State Mike Pompeo "permanent." Although the president said that he would be lifting the economic sanctions that he had imposed on Turkey, he also issued a warning to Turkey. Crippling sanctions and tariffs would be re-imposed if Turkey does not honor its obligations, "including the protection of religious and ethnic minorities," the president said.
President Trump credited the negotiated ceasefire for saving countless lives – "an outcome reached without spilling one drop of American blood.  No injuries.  Nobody shot, nobody killed." U.S. troops are not retreating, as the president's critics have charged. They are being deployed elsewhere in the region, with some remaining in Syria to protect its oil resources from falling into the wrong hands such as Iran or Islamic jihadists. President Trump said that in a conversation he had with General Mazloum Abdi, the commander of the Kurdish Syrian Democratic Forces, the Kurdish leader expressed gratitude for what the United States had accomplished in negotiating the ceasefire and saving Kurdish lives. "General Mazloum has assured me that ISIS is under very, very strict lock and key, and the detention facilities are being strongly maintained," the president said. General Mazloum issued his own statement thanking President Trump "for his tireless efforts that stopped the brutal Turkish attack."
President Trump derided his critics as "the ones that got us into the Middle East mess but never had the vision or the courage to get us out.  They just talk." The president decided to pursue a different course than drastically expanding U.S. military presence to deter or beat back Turkey's offensive against the Kurds. He used the economic leverage of sanctions and increased tariffs to back up a negotiated resolution, while maintaining U.S. troops in the region to be called upon if necessary. "Let someone else fight over this long-bloodstained sand," the president said, adding that "we have avoided another costly military intervention that could've led to disastrous, far-reaching consequences. Many thousands of people could've been killed."
President Trump used his announcement to share his strategic thinking about U.S. military involvement in the perpetual wars that have plagued the Middle East. He wants to make fundamental changes to the conventional paradigm.
No more open-ended U.S. military commitments to fight other people's wars over age-old grievances that have sucked the U.S. into seemingly bottomless quagmires. "How many Americans must die in the Middle East in the midst of these ancient sectarian and tribal conflicts?" the president asked.  "After all of the precious blood and treasure America has poured into the deserts of the Middle East, I am committed to pursuing a different course — one that leads to victory for America."
No more U.S. military interventions to bring about regime change. "Across the Middle East, we have seen anguish on a colossal scale," the president said. "We have spent $8 trillion on wars in the Middle East, never really wanting to win those wars.  But after all that money was spent and all of those lives lost, the young men and women gravely wounded — so many — the Middle East is less safe, less stable, and less secure than before these conflicts began."
No more American lives needlessly sacrificed just to act as the world's policeman. "The job of our military is not to police the world," President Trump said.  "Other nations must step up and do their fair share. That hasn't taken place." When the United States does commit its troops to battle, "we must do so only when a vital national interest is at stake, and when we have a clear objective, a plan for victory, and a path out of conflict." Such vital interests would include defeating ISIS and other jihadist terrorists who threaten the U.S. homeland, preventing Iran from achieving a nuclear arms capability, and protecting the security of Israel, our closest ally in the Middle East.
President Trump showed his resolve when a vital national interest was at stake by removing the shackles placed by the Obama administration on the U.S. military in order to defeat ISIS as quickly as possible. "American forces defeated 100 percent of the ISIS caliphate during the last two years," President Trump said, while calling on Turkey, Syria and others in the region to do their fair share "to ensure that ISIS does not regain any territory."
Thirty-six years ago, President Ronald Reagan – no cut and run dove, to be sure – had to face the lethal consequences of U.S. military presence in a war-torn Middle East country without a clearly defined objective that served a vital U.S. national interest. Two hundred and forty-one U.S. marines deployed to Beirut, Lebanon in a "peacekeeping" role lost their lives as a result of a massive suicide bombing on October 23, 1983. President Reagan had to make a strategic decision whether to double down on the deployment of U.S. ground troops in Lebanon or alter military positioning in the region to keep U.S. military personnel safe without retreating from the Middle East altogether. President Reagan chose the latter course. The marines departed the Beirut International Airport where they were housed and moved to Sixth Fleet ships – a tactical "redeployment," as President Reagan described it. The United States would not maintain a long-term physical presence in the middle of the Lebanese battlefield to fight in its civil war, but would maintain a strong presence nearby to protect its core national interests. A senior State Department official at the time explained the rationale: "Lebanon is a country that has been at war for a thousand years. We did what we could to bring some order to the place, but it is obvious that nobody there wants order, and so we're turning our attention now to wider issues of reviving the Middle East peace process and letting the Lebanese fight their own battles."
America's relationship with the Syrian Kurds needs to be examined in a similar fashion. The U.S. and the Kurds relied on each other to fight their common enemy, ISIS, which had threatened in 2014 to unleash mass slaughter upon the Kurdish population in northern Syria until the U.S. stepped in and provided military assistance. For five years, the Kurds provided the ground troops while the U.S. provided critical air and reconnaissance support. Both have an interest in seeing to it that ISIS does not regenerate itself into the threat that it once was. However, while the Kurds were fighting against ISIS, they were also establishing self-rule within the area of northeast Syria. They envisioned living securely within sort of a self-ruling U.S. protectorate, shielded from a Turkish attack so long as the U.S. maintained its military presence there. The New York Times described the developing conditions on the ground this way: "As the Islamic State retreated, the Kurdish fighters became, in effect, the government of roughly a quarter of Syria, including — to Mr. Erdogan's fury — most of the Syrian border with Turkey. For several years, American troops kept order between its two allies, Turkey and the Syrian Kurds, acting as de facto peacekeepers on the border."
The Kurds would have loved to live under such U.S. protection for many years to come.
The question that President Trump had to face was how long the status quo should continue. Does the U.S. have either its own vital security interest at stake or an obligation to its Kurdish allies to act as a long-term protection force for the Kurds' self-governing region within the sovereign territory of another country? Must the U.S. entangle itself in a regional face-off between the Syrian Kurds, who desire self-rule within an area adjoining Syria's border with Turkey, and the determined resolve of the president of Turkey, a NATO ally, not to allow what he perceives to be a grave security threat to persist on his country's border? Defense Secretary Mark T. Esper said that President Trump's decision "to withdraw less than 50 soldiers from the zone of attack was made after it was made very clear to us that President Erdogan made the decision to come across the border."  He added that the United States could "not jeopardize the lives" of American special operations troops in Syria and that the United States could not "start a fight with a NATO ally."
One can certainly argue that President Trump's precipitous decision to remove U.S. military protection of the Syrian Kurds from Turkish forces created the unintended consequences of fostering an ISIS resurgence and allowing Syrian and Russian forces to fill the vacuum left by the U.S. withdrawal. However, the United States did not leave the Middle East, any more than President Reagan did when he withdrew the marines from the Beirut airport. U.S. troops are in the neighborhood and can be called upon quickly to strike ISIS wherever it rears its ugly head. Moreover, Russia, certainly no friend of ISIS, has now assumed the responsibility and has its own interest to crush any resurgence of the jihadist terrorist group in the area before it gets out of hand.
Contrary to conventional thinking, Iran may come out a loser, not a winner, as a result of Turkey's establishment of a safety zone in northeast Syria with Russian backing, following President Trump's withdrawal decision. Iran was unhappy with Turkey's actions in Syria in the first place. If Turkey follows through on plans to resettle within the safety zone it has set up in northeastern Syria the millions of mostly Sunni Syrian refugees now living in Turkey, Iran will have a harder time filling empty spaces in Syria with its Shiite supporters. This will make Iran's strategic ambition of establishing the Shiite Crescent, a land route from Iran through Iraq and then into Syria and Lebanon, more difficult to achieve. Meanwhile, the United States has moved troops at least temporarily to Iraq to keep the pressure on any ISIS remnants. The U.S. will now also have more flexibility to fortify its special forces base in southern Syria that has not only been used to fight ISIS but also to counter Iran's efforts to expand its military influence within Syria.
President Trump was dealt a bad hand in Syria as a result of Barack Obama's ineptitude. Obama failed to take ISIS seriously until it metastasized. He drew a red line in the sand over the Assad regime's use of chemical weapons, which he then disregarded (the opposite of what President Trump did when faced with the Assad regime's continued use of chemical weapons). And Obama committed U.S. military resources and prestige to regime change in Syria without any clear idea how to accomplish it or whether worse consequences would follow, such as happened in Libya. President Trump took the steps he believed to be necessary to protect American lives without giving up the fight against the two largest threats in the Middle East to U.S. and regional security – ISIS and Iran. History will judge the wisdom of his decision.
21. ΝΑΙ, ΥΠΑΡΧΕΙ ΚΑΙ ΑΥΤΟΣ!..
Turkey Advertises Its Koranic "Ecumenism"
Accompanied by the image of a blood-splattered cross and star of David.
Billboards belonging to the traditionalist Muslim Justice and Development Party (AKP) municipality are on public display in Konya, central Turkey, featuring the verbatim text of Koran 5:51 (in accurate Turkish translation). Accompanied by the image of a blood-splattered cross, and star of David, the text simply re-states Koran 5:51:
O you who believe! Take not the Jews and the Christians as Auliya' (friends, protectors, helpers, etc.), they are but Auliya' to one another. And if any amongst you takes them as Auliya', then surely he is one of them. Verily, Allah guides not those people who are the Zalimun (polytheists and wrong­doers and unjust).
Muhammad Husayn Tabatabai was (d. 1981) a towering modern Muslim religious scholar and philosopher, dubbed a "theosopher." Allameh [Allamah] Tabatabaei [Tabatabai] University, named in honor of this celebrated authority and "theosopher," is the largest specialized state social sciences university in Iran and the Middle East, with 17000 students and 500 full-time faculty members. Affirming his continued lofty stature, and relevance, an Iranian national conference was held on May 3, 2012, in Qom, dedicated to "recognizing the interpretative methods and principles used by Allameh [Allamah] Tabatabaee [Tabatabai] in [his Koranic] exegesis." Tabatabai's al-Mizān fi tafsir al-Qurʾān "The measure of balance/justly held scales in the interpretation of the Quran," a 21-volume Arabic opus, is regarded as the most important contemporary Shiite Koranic commentary, and one of the seminal Koranic commentaries of the contemporary era, Sunni, or Shiite.
Tabatabai's  modern Sunni counterpart is the late Muhammad Sayyid Tantawi (d. 2010). Not only was Tantawi the Grand Imam of Egypt's Al-Azhar University, from 1996 to 2010—the Papal equivalent of Sunni Islam's Vatican of religious teaching and authority—he was also arguably the most important modern Sunni Koranic commentator of the contemporary era. Tantawi produced a contemporary magnum opus 15-volume Koranic commentary, "al-Tafsīr al-wasīṭ lil-Qur'ān al-karīm," "The Broad Interpretation of The Koran." He also oversaw the establishment of the largest online resource for Koranic interpretation, ALTAFSIR.COM, which has published ~100 full-text, verse by verse searchable classical & modern commentaries on the Koran, including his own.
What follows are Shiite Tabatabai's, and Sunni Tanatawi's authoritative glosses on Koran 5:51, which are entirely consistent with the corpus of classical (here; here) and modern (here) exegeses on this verse:
[Tabatabai] In a nutshell, Allah warns the believers against taking the Jews and Christians for friends, and threatens them most severely; then points in an apocalyptical way where such friendship was to take them and how it would turn into ruins the magnificent structure of (Islamic) religious character…the clause, "do not take the Jews and Christians for awliya" (friends; protectors), clearly forbids loving them or having any affection towards them; because such feelings pull the souls and spirits toward each other and it creates mutual moral effects on both sides; and if Muslims are influenced by un-Islamic behavior, their society will diverge from its religious way –which is based on the felicity of following the truth—to the way of unbelief—which is based on following low desires and of worshipping Satan…

[Tantawi] These verses contain various reasons why it is important for the believers not to associate with the Jews and the Christians—Allah's enemies….This is a call—at all times and everywhere—to all believers in Allah, His books, His angels and the Last Day, not take the Jews and the Christians as allies. They should not be regarded as friends, supporters or allies. They will unite (as one) against you (the believers) wishing you harm and misfortunes, so don't you ever think they can be your allies. They are allies of one another. Evil, malice and hatred towards you lurk in their hearts… Being an ally to the Jews and the Christians is blasphemous and "Kufr" (unbelief) if it is based on being content with their (Jews/Christians) religion, for it shows that you are just one of them, and no one would do such a thing unless he is content with them and their religion…
These billboards inculcating "sacralized" Islamic hatred of Jews and Christians in Turkey will likely continue to bear ugly fruit, manifest in Turkey's ongoing brutal Christian persecution, and virulent Antisemitism, which have relegated both communities to their traditional humiliated "dhimmi status."
22. Δεν σας έγραφα ότι οι υποψήφιοι των "ΔΗΜΟΚΡΑΤΙΚΩΝ" είναι "για τα μπάζα"; 
Hillary Running?
Will a failed politician offer salvation to the Democratic Party?
In 2016, we thought we had heard the last of Hillary Clinton. We thought wrong. Instead of engaging in humble introspection, the twice failed presidential candidate went on a whirlwind tour giving interviews and lectures, blaming everyone from former FBI director James Comey to the Macedonians for her 2016 rout. But Clinton hasn't stopped with book tours. According to multiple reliable sources, she is considering a third run, lured by both the thirst for power and the prospect of defeating her arch nemeses, Donald Trump.
Recently on Fox's Tucker Carlson show, a close advisor to Hillary Clinton indicated that the architect of the Benghazi fiasco may yet have another go at proclaiming herself leader of the free world. Philippe Reines, who has been a close Clinton confidant since 2009 and prepped Hillary for debates with Trump in 2016, tellingly noted that Clinton has not foreclosed the possibility of joining the race.
Democrats are in serious trouble. Joe Biden, the supposed savior of the Democratic Party and the man who was expected to easily secure the nomination is lagging in both the polls and fundraising. According to the latest reports, Biden only has $8.9 million on hand. But anemic fundraising is only half the problem for Biden. He is now being eclipsed by Elizabeth Warren in the polls. That ominous development spells trouble not only for Biden but also for Democratic prospects for victory in 2020.
Despite being pulled to the left by his challengers, Biden is viewed by many as a centrist Democrat capable of securing Independents as well as causing defections among moderate Republicans. Crucially, his carefully crafted blue collar image and Pennsylvania origins gave him an advantage in the nation's Rust Belt, an area secured by Trump in 2016. And his past association with Barack Obama gave him an advantage with African American voters.
But the conventional wisdom, logical as it was, failed to take into account Biden's advanced age, failing mind, somewhat bizarre behavior and penchant for forgetfulness. His performance during the debates was dreadful. Worse yet, despite his desperate attempt to ride Obama's coattails, his former boss's much sought after endorsement was not forthcoming. Finally, Trump has successfully managed to transform the contrived Ukraine quid pro quo incident into a referendum on Joe Biden's corruption, shedding the spotlight on both Joe and Hunter Biden's indiscretions.
While his dad was formulating U.S. policy vis-à-vis Ukraine and China, Hunter hitched a ride with pops on Air Force Two and landed cushy deals with a Ukrainian energy company (Burisma Holdings Ltd) and a Chinese bank, securing $1.5 billion in funding from the latter and being appointed board member on the former. Nothing in Hunter's background suggests that he speaks Ukrainian or possesses any technical training or acumen on energy. When a Ukrainian prosecutor investigated Burisma for corruption and got too close for comfort to Hunter, Joe bragged about how he strong-armed the Ukrainian government into firing the prosecutor, using economic aid as leverage. Moreover, Joe Biden's claims that he knew nothing of his son's business dealings with Burisma were shattered when a photo of Hunter, Joe and a Burisma official emerged, with the trio leisurely posing at the golf course.
Biden's brief foray and return to politics is ending in disaster and that is disastrous for Democrats. The polls suggest that Elizabeth Warren is now the top Democratic contender. She is also the Democrats' weakest and most vulnerable candidate. Of all the Democratic candidates, only Bernie Sanders exceeds her leftist extremism. With her views on single payer healthcare, open borders, free healthcare for illegals, and higher taxes on the middleclass, it would not be inaccurate to characterize her as a hard core socialist.
And she has other vulnerabilities. She continues to be dogged by credible accusations that she falsely classified herself as Native American to advance her academic career. Most recently, she was caught lying about being fired from a teaching position because of her pregnancy. In addition, she lags with African American voters, a crucial Democratic constituency. Finally, traditional big-money Democratic donors and fundraisers have indicated that they would either back Trump or sit out the 2020 elections if Warren became the Party's nominee.
Enter Hillary Clinton. Sensing Warren's weakness and Biden's downward spiral, Hillary, the elitist, establishment Democrat wants to have a third go. She actually believes that she can defeat Trump, claiming in one interview this month that "there does need to be a rematch, I mean obviously I can beat him again," (emphasis added). The statement garnered many raised eyebrows in political circles but is delusional on two levels. First and most obvious, Hillary lost in 2016 but the poor soul seems to have created a fantastical alternate reality, one in which she emerged the victor. Second, Hillary would lose again for the same reasons she lost in 2016. She is viewed as an out of touch elitist, and is despised by the vast majority of Middle America. She can at best carry the bi-coastal bubble but that's about it.
As for Warren, she is a Hillary clone, just far more to the left and that makes her doubly unpalatable for Americans. Finally, aside from deeply flawed Democratic candidates, the GOP has even more reason to be upbeat about 2020. According to a historically accurate Moody's projection, if the economy continues to remain strong, Trump will win 2020 by a landslide. So my advice to Democrats is this; bring lots of tissue boxes to your Party's convention center, you're gonna need it.
23.  Ό,τι ακριβώς υπεστήριζα!..
Netanyahu, the Media and the Fate of Israeli Democracy
The Israeli establishment has long sought to destroy Israel's PM – who never sought their approval.
The ongoing criminal probes against Israel's Prime Minister Benjamin Netanyhahu are reaching their climax. After conducting a marathon four-day pre-indictment hearing for Netanyahu earlier this month, Israel's Attorney General Avichai Mandelblit reportedly intends to complete his review of the state prosecution's cases and decide whether to indict Israel's longest-serving prime minister by the end of next month. The main charges against Netanyahu relate to his associations with media owners.
For three years, illegal leaks from the investigations have dominated the news. The key question – indeed, just about the only question – that has been endlessly discussed is whether or not Mandelblit will end Netanyahu's political career by indicting him on corruption charges.
The importance of this question is self-evident. On the one hand we have a democratically elected leader. On the other hand, we have unelected state prosecutors who wish to oust him from power by indicting him.
For nearly a year, Israeli politics have been in a state of chaos because of the criminal probes. The probes played a central role in the April Knesset elections and arguably were the primary reason that Netanyahu failed to form a coalition despite his electoral victory. Today the probes and Mandelblit's deliberations are the primary reason that no one can form a government in the wake of last month's repeat elections. If Israel holds a third election in the coming months, the probes will again be the central issue determining both the result and the ability of whoever wins to form a government. The center-left Blue and White party is using the probes as an excuse to refuse to join a coalition government with Netanyahu.
While the probes' impact on Netanyahu's political future is a key question, and on the composition of the next government is certainly a big deal, neither of these issues is the central matter than hangs in the balance as Mandelblit holds his deliberations.
If Israel's Attorney General relies on these probes as a means to end Netanyahu's career, he will do far more than overthrow a political leader. He will embrace a legal doctrine that rejects the very essence of democracy.
This truth has been largely ignored in both the popular and the legal discourse regarding the Netanyahu investigations. It was only sounded in a significant way during the final half hour of Netanyahu's four-day, 15-hour a day hearing two weeks ago.
During the final half hour of Netanyahu's hearing, Mandelblit approved his attorneys' request to permit two senior American jurists – legendary litigator Nathan Lewin and Professor Avi Bell from University of San Diego and Bar Ilan University law schools address him. The two presented the main points raised in a brief they authored with their colleagues Prof. Alan Dershowitz and attorneys Richard Heideman and Joseph Tipograph. Netanyahu's lawyers submitted their brief to Mandelblit the previous week.
Netanyahu's lawyers asked that Mandelblit permit the jurists to address him orally at the outset of the premier's hearing. But he refused. As the hearing's final day drew to a close, Mandelblit changed his mind. Lewin and Bell were rushed into the hearing room just before it adjourned.
The American lawyers did not address the specific details of the probes against Netanyahu either in their oral or written arguments. Their brief focuses solely on the question at the heart of the two main investigations: Is it permissible to define the provision of positive news coverage to a politician by a news organization as a form of bribery?
Their answer is an unequivocal no. The American jurists warned that if Mandelblit chooses to bow to the position of his prosecutors and accepts that it is permissible to define the provision of positive coverage to a politician by a media organization as bribery, the Attorney General will bring about Israel's legal isolation throughout the free world.
In their brief, the American legal scholars examined court judgments and legal studies from the United States, Britain, Australia and across Europe. The central issue in all of them was whether it is possible to limit – much less criminalize – relations between media agents and politicians. In all of the judgments and opinions, the answer was the same.
From Oslo to London to Sidney to Washington, the position of courts and senior jurists is that it is not permissible to criminalize, or even to set limits on such relations. This is true in cases where the relations are characterized by quid pro quos and in relations in which no give and take is present.
For instance, in 2010-2011, British Justice Sir Brian Leveson presided over a public inquiry into the practices of the British media in the wake of the News of the World hacking scandal. Among other things, Leveson investigated media mogul Rupert Murdoch's ties to British prime ministers Margaret Thatcher and Tony Blair as well as to two Australian prime ministers.
The Leveson Report was published in 2012. It spans 2000 pages. As the American jurists noted, the Leveson Report documents instances in which political leaders in both countries agreed to grant regulatory breaks and adopt policies that advanced Murdoch's interests in exchange for positive coverage during elections. The report, they note includes an "extensive legal analysis" of Murdoch's relations with politicians.
And yet, the American jurists explained to Mandelblit, the report, "never suggests that Murdoch's flattering and hostile coverage could be deemed a 'bribe'" to the British leaders.
The same was the case in Australia.
"Nor have Australia's prosecutors opened investigations of the relations" between Murdoch and Australian political leaders with whom Murdoch traded horses, the American lawyers wrote.
Bell, Lewin and their colleagues cautioned Mandelblit that the reason the idea of criminalizing ties between politicians and media owners has been rejected is because the action threatens the foundations of democratic societies.
"Prosecution of the Netanyahu case would signal to journalists and media executives that favorable or damaging publicity about a candidate may be investigated by the police and by prosecutors to determine whether the publicity was a quid exchanged for the quo of official action. If the police and prosecutors are empowered to probe the mixed motives of journalists and politicians, they can exercise arbitrary control over essential institutions of democracy," they warned.
In Israel, and throughout the free world, all politicians and all media organs maintain ties with one another as a matter of course. If Mandelblit accepts State Prosecutor's position and indicts Netanyahu, practically speaking, he will render all politicians and media outlets in Israel hostage to state prosecutors. At their pleasure, the prosecutors can criminalize their routine practice of politics and journalism. They can investigate anyone, at any time. They can destroy reputations, squeeze politicians and media outlets financially by saddling them with legal fees, and even send them to prison.
And at their pleasure, prosecutors can decide not to investigate politicians and media outlets, and so leave them free to attack their less fortunate colleagues as "criminal suspects," and "alleged felons."
Some observers in Israel and worldwide may respond to this state of affairs with a shrug of their shoulders. The prosecutors, after all, say they don't intend to abuse the power they are seizing. The only thing that concerns them, the prosecutors insist, is protecting the public from politicians and media moguls who reach back room deals on the public's back.
This attitude of faith in the good will and objectivity of prosecutors is riddled with both substantive and normative drawbacks. Substantively, in democratic societies, the public doesn't need prosecutors to decide its interests. For that they have the ballot box. If politicians don't advance their interests as the public defines them, the public elects other politicians to advance those interests.
At the core of the state prosecutors' desire to arrogate the power to criminalize politics stands a rejection of the democratic principle that the public is the sovereign and the source of political power, and an ambition to replace the public as the sovereign.
The normative drawbacks of the prosecution's claim to serve as a surrogate for the public have been evident throughout Netanyahu's investigation. Prosecutors and police investigators have provided anti-Netanyahu reporters with a steady flow of prejudicial leaks from interrogation rooms and from the prosecutions' internal deliberations.
As these leaks have been broadcast, the public has also been subjected to case after case in which other politicians have made deals with media owners that are substantively identical, and in some cases for more problematic than those Netanyahu is accused of having negotiated. But in all of these instances, police investigators and state prosecutors have stubbornly refused to open investigations.
One of the key claims that state prosecutors have raised throughout their investigations of Netanyahu has been the claim that media owners do not have a legal right to set editorial policy in their publications. In their view, if a media owner blocks the publication of articles that adversely affect their editorial line, the owner is wrongly constraining his writers' freedom of expression.
The prosecution's position, which has been rejected by Israeli labor courts, contradicts the right to own private property that stands at the heart of liberal democracy. Just as the owner of a shoe factory has the right to decide what sort of shoes his workers will make, so a media owner has the right to decide the editorial policy of his media outlet.
When Bell and Lewin noted this basic turth in the hearing, one of the prosecutors in the room was annoyed.
"That's a capitalist position," she said.
It is certainly legitimate to oppose free market economics. Many members of Israel's elite look back with longing to the days when socialist and communist newspapers set the tone of the public discourse. But a person who longs for socialism in the name of equality is not more objective than someone who prefers capitalism in the name of freedom and liberty. The prosecutor who rejects the property rights of media owners is not more representative of the public's interest than the politicians the public elects.
The Israeli establishment has long sought to destroy Netanyahu, the only political leader in Israeli history who was never a member of their club and never sought their approval. They haven't been able to defeat him at the ballot box and now they have placed their hopes in the politicized state prosecution. If Mandelblit chooses to make their dream a reality, he will not merely get rid of Netanyahu. He will criminalize routine politics and so end Israeli democracy while replacing our political leaders with unelected prosecutors who have richly demonstrated their lack of objectivity and contempt for the public.
Caroline Glick, Center for Security Policy, is deputy managing editor of the Jerusalem Post.
24. 
Don't Blame Trump for Syria
Blame our schizophrenic foreign policy.
Bruce Thornton is a Shillman Journalism Fellow at the David Horowitz Freedom Center.
President Trump is facing intense criticism for his decision to withdraw fewer than 1000 U.S. troops from northeastern Syria. The dispute largely reflects the bipartisan Never Trump penchant for politicizing every Trump decision in order to weaken the president. But there are honest people on both sides of the issue who have compelling arguments for their positions. Unfortunately, no rational argument can resolve this disagreement over our presence in Syria, for its causes run much deeper than military tactics and foreign policy strategies: The divided aims underlying our interactions with the world that have left us with a schizophrenic foreign policy.
America has long tried to reconcile our desire to be wary of "foreign entanglements," with our involvements abroad forced on us by changes in technology like the steamship and the telegraph, and by a growing global trade that enriched our own economy at the cost of increasing "entanglements" in foreign affairs. Our participation in the Great War of 1914-1918 made us a global power, just at the time that the ideology of "moralizing internationalism" had taken hold in the West, famously expressed in Woodrow Wilson's call "to make the world safe for democracy." For many, the return to isolationism following the war, evident in the Senate's refusal to ratify the Versailles Treaty, was a disaster that helped spark the much more devastating Second World War.
During the Cold War, our standoff with a nuclear armed communist superpower legitimized our deep involvement in managing and defending the Free World we now led. Multinational alliances, conventions, institutions, treaties, and covenants were the means for promoting liberal democracy and human rights, and for adjudicating international disputes and global conflicts while limiting armed violence to proxy duels. The successful end of the Cold War created the illusion that our traditional isolationism was no longer viable, given what George H.W. Bush called the "new world order."
Yet this global leadership still cut against the grain of America's tradition of avoiding involvement in overseas disputes. In part these isolationist inclinations reflect the age-old flaw of democracies and their regularly scheduled elections, in which political power and policies shift from one party to another, empowering democratic voters to pursue their traditional preference for "butter" over guns. More important, democratic recycling of political leadership promotes short-term thinking, as writers from Demosthenes to de Tocqueville to Churchill have pointed out.
Writing after the spectacular carnage of World War II, for example, Churchill attributed the slaughter in part "to the structure and habits of democratic states," which "lack those elements of persistence and conviction which alone can give security to the humble masses," and in which "even in matters of self-preservation, no policy is pursued for even ten or fifteen years at a time." If you think the Cold War policy of containment disprove this assessment, remember it was "cold" because of the Mutually Assured Destruction that would result from a direct confrontation. Imagine how the postwar conflict between the U.S. and the USSR would have played out if the Trinity nuclear test had failed on July 16, 1945.
Our foreign policy since WWII has many examples of the split personality of our foreign policy, in which engagements costly in lives and resources are abandoned because the voters become dissatisfied with their idealistic strategic goals, and costs in lives and money. And elections give them the power to change parties and polices. The worst example, of course, was the Vietnam War, when a victory hard-won on the battlefield at the cost of nearly 60,000 Americans, was squandered by a Democrat Congress that exploited the Watergate scandal and war-weariness of many voters to pass legislation abandoning the South Vietnamese. Or consider the betrayal of the Shah of Iran on the feckless watch of Jimmy Carter, who was addled by "human rights" internationalism. A geopolitically reliable ally was lost, and the seeds of al Qaeda and other jihadist outfits were sown. Iran went on to support and train jihadist terrorists, its prestige buoyed by its success in facing down and humiliating the superpower infidels. One of these proxies, later known as Hezbollah, in 1983 murdered with impunity 241 American servicemen and 17 diplomatic personnel in Beirut.
Other, less costly conflicts have followed the same pattern: interventions followed by failures caused by misguided strategies such as democracy promotion in nations lacking the cultural infrastructure for liberal democracy, as in Iraq and Afghanistan; or the pursuit of humanitarian or "peacekeeping" aims on the cheap, as in Beirut in 1983, Mogadishu in 1993, Libya in 2011, or Syria today. In each instance, American lives were lost, America ignominiously retreated, allies were abandoned, and the ostensible purpose was not achieved. Nor were our national interests and security enhanced. Today Iraq is a virtual satrap of Iran, Afghanistan is still under siege from the Taliban, Libya became a weapons arsenal for jihadists still trying to kill us, Israel's northern border is threatened by thousands of missiles, and Syria still has the blood-stained autocrat Bashar al Assad in power. The only material change is that Russia and Iran are now more consequential in the region than we are.
The current hysteria over Trump's withdraw of a handful of troops from the Syrian-Turkish border is long on charges of "betrayal" and "damaged prestige," but short on any clearly defined, long-term alternative strategy for achieving an equally ill-defined goal. What strategy would we have followed if Turkey had killed some of those troops had they not been withdrawn? What do the "remainers" want Syria to be in 5, 10, or 20 years? What state of affairs in the region do they envision that serves our national security and interests? Do they think a 1000 U.S. troops will dislodge Iran and Russia from the region, or establish an independent nation for the Kurds, or deter our NATO "ally" Turkey from its neo-Ottoman ambitions?
Or is it the protection of our prestige and bona fides as an "ally," which serves our national interests by showing we are a reliable power? That horse left the regional barn in 2011, when Barack Obama withdrew our troops from Iraq, creating the vacuum that ISIS, al Qaeda 2.0, filled, along with Iran. From that betrayal of both the Iraqis and slain Americans was the beginning of today's disaster in Syria that Trump has inherited. Any criticism of Obama for that blunder certainly wasn't  as personal and hysterical as what we're hearing about Trump's removal of a relative handful of troops, too few to be a credible deterrent to Turkey's ambitions. Or does anyone think, as does The Wall Street Journal, that American airpower and its attendant risks of wider war could have garnered political support?
In fact, since Vietnam our deterrence prestige has been weakened, except for the brief vacation from history in the Nineties following the collapse of the Soviet Union. But of course, during that same period al Qaeda killed Americans in Saudi Arabia, Kenya, Tanzania, and Yemen, and made its first attempt to destroy the World Trade Center in 1993. Except for some cruise-missile fireworks in the desert, those attacks were not punished––a blow to our prestige incessantly brought up in Osama bin Laden's sermons to his recruits.
It took the devastating attacks on Manhattan and the Pentagon to rouse us to retaliating and restoring our deterrent credibility––which within a few years was weakened yet again by our political and ideological conflicts. Remember the "Bush lied," "1000 Mogadishus," and Code Pink antiwar rhetoric during the Democrat presidential primary season? Remember when the Democrat Senators competing for the nomination repudiated the war they had voted to authorize, based on the same intelligence the Bush administration relied on? Remember when Michael Moore's agitprop "documentary" Fahrenheit 9/11 won an Academy Award, its premier attended by the House and Senate Democrat leadership, and Moore given a seat of honor next to Jimmy Carter at the Democrat nominating convention?
Which brings up back to politics. We can justly fault the presidents and Congressmen who oversaw this long history of foreign-policy incoherence, particularly their dubious vision of foreign policy as the advancement of lofty global goals like human rights and liberal democracy, in spite of the explicit rejection of those Western ideals on the part of different cultures with different goods and aims.
But in the end, presidents and Congressmen all have to be elected, which means the mood of the voter has to be taken into account. Whether rightly or wrongly, after nearly two decades of war, the American people are not in the mood for further interventions in a region seemingly mired in ancient, intractable tribal and religious conflicts. To them the remaining ISIS fighters are the EU's problem, one they brought on themselves with their virtue-signaling and feckless immigration policies. It was the EU that emboldened Turkey's Erdoğan by paying him blackmail to keep Syrian refugees and ISIS fighters from flooding Europe. No one has explained to the American people how our interests and security are served by a few troops who, if left in place, could become casualties.
Just as Obama did in his "leading from behind" foreign policy, Trump has taken the measure of the voters' bad mood. But there's a big difference between the two presidents. Obama was a moralizing internationalist who endorsed democracy promotion and the "responsibility to protect" those subject to tyranny and oppression abroad. Trump is in the main a Jacksonian: Willing to use lethal force when America is attacked, if the action is limited in its goals, and the risk of casualties is low. He's not interested in transforming cultures mired in centuries of illiberalism and tyranny. Most important, he explicitly campaigned on a promise to stop "endless wars," and his move in Syria fulfilled that promise––a novel concept, no doubt, for our professional political class, who find it normal to dismiss campaign promises as expedient lies to be forgotten after the election.
What's really at issue here, though, isn't Trump's alleged foreign policy ad hocker and inability to take advice from "experts." It's the longtime contradictory aims of the American people, their cyclic swings between wanting to see justice done and the evil punished, but not wanting to accept the costs and time required for achieving such a goal. We like our imperial global hegemony and stature, a product of history rather than intention. We like the cheap goods that a come from a globalized economy, but we chafe at being the "sheriff" of the global "market," as Robert Kagan put it, especially when our money and lives are squandered on muddled and dubious aims. And as a nation founded in rebellion against an empire, we don't like the responsibilities, costs, and international dislike that go with being even a virtual empire.
So here we are, illustrating the truth that Thucydides 2400 years ago put in the mouth of the Athenian demagogue Cleon: "A democracy is incapable of empire." We can't blame Trump for recognizing that for now, American voters have had enough of trying to prove Cleon wrong.
25. ΘΗΡΙΩΔΙΩΝ ΣΥΝΕΧΕΙΑ!..
The Terror of October 16
The darkest day in the history of Roman Jewry.
This is the accursed anniversary of the roundup of the Jews of Rome in the fall of 1943. Roman Jews did not believe that Mussolini would turn them over to the Nazis, but they forgot about the census of the country's Jews conducted at the time of the Racial Laws. That census provided the Nazis with a door-by-door guide to the residences of Jewish citizens, and enabled the Nazis to arrest most all of them and ship them to Auschwitz and other death camps.
On the 16th of October, the day that Cecil Roth calls the "blackest day in the long history of Roman Jewry," a monster raid was unleashed on the Jewish homes in the former Ghetto neighborhood and on the pricier residences outside. More than a thousand victims were loaded onto trucks and thence onto a train. The train passed through Orte, Chiusi, Florence, Bologna and the German frontier. As Roth puts it, "we will perhaps never know at what death-camp in Eastern Europe these unhappy victims of man's inhumanity to man met their end."
The Nazi extermination of the Italian Jews went on apace, with Rome as a model. City by city was stripped of its Jews: a hundred in Florence on November 6; thereafter Venice, Ferrara and Genoa. The Nazi occupation forces announced that Italian Jews would be treated as non-citizens; they were to be summarily arrested, and their property was seized.
As the extermination of the Jews gathered momentum, the Jews increasingly went underground.
The Jews…constantly…constantly changed their lodgings, they slept in lofts and stables, they appeared in public as little as possible (some did not venture into the streets for months on end)…the story most conveniently put forward was that they were refugees from the southern provinces, already occupied by the victorious allied forces…Thus, furtively and miserably, in constant fear for their lives, the most part managed to continue their existence from day to day.
A great deal of assistance was given to the Jews by local Catholics, often in exchange for conversion. In Rome, one of the most spectacular cases involved a rabbi who raised a small fortune to provide the Nazis with a quantity of gold from the Jewish Community. The gold was to be used for ransom for the Jews, and once the war was over, the rabbi converted to Catholicism.
Virtually every Jewish family in Italy suffered severe losses. Many had simply disappeared. Out of the 42,000 who had inhabited the peninsula, 6,000 had left, and another 4,000 or 5,000 had been deported.
Of these only a few score returned; the rest lay in unknown graves, in the death camps of Poland and of Germany.  There was hardly a Jewish family in the whole of Italy that did not have to deplore appalling losses…so that it became difficult to keep an accurate record.  In some places, one person in three was missing; in Trieste, a community which had once numbered 5,500 and was reduced by 1943 to 2,300 was now brought down to only 900…Some ancient communities, such as those of Verona or of Mantua, had received such mortal blows that it was doubtful whether they would ever be reconstituted.
Some of the old centers of Jewish life disappeared altogether, while places like Livorno took on a new identity as a NATO port. Meanwhile, a whole new generation of literature entered the canon, as the memoirs of survivors such as Primo Levi, and the work of the great scholar of fascism, Renzo de Felice, took their place among the fundamental works.
The publication of de Felice's history of the Italian Jews marks the turning point in the historiography of the whole subject. Many historians have challenged de Felice's reading of Italian fascist antisemitism, and the most recent interpretations of Mussolini's doctrines have left little doubt about the intensity of the anti-Jewish campaign.
Even the most outspoken opponents of fascist antisemitism, such as the Neapolitan intellectual Benedetto Croce, saw the widespread popularity of the campaign against the Jews. Croce assisted Jews forced to emigrate, and wrote of his distress at the "cold-blooded dispossession and persecution of the Jews, our fellow-citizens, our colleagues, our friends, who worked for Italy and loved Italy exactly like the rest of us…"
So the anniversary of the Racial Laws reminds us that even in Italy, where for decades people believed that the people were basically good, the Jews were singled out for harsh treatment. We shouldn't be surprised to see it happen again.
26.
Pelosi's Disinformation Campaign
House Speaker issues bogus "fact sheet" full of blatant distortions.
House Speaker Nancy Pelosi and House Intelligence Committee Chairman Adam Schiff, who is currently leading the Ukrainegate probe, have refused to say when their so-called impeachment inquiry is expected to conclude. "The timeline will depend on the truth line, and that's what we're looking for," Pelosi explained to reporters last week. More accurately, the timeline will depend on the success of the House Democrats' propaganda line. To try and manipulate public opinion, as the closed-door star chamber proceedings move along, Pelosi decided to put out a jumble of out-of-context bits and pieces of cherrypicked quotes entitled "Truth Exposed."  It purports to lay out how President Trump "betrayed his oath of office, betrayed our national security and betrayed the integrity of our elections for his own personal political gain" in his dealings with the Ukrainian government." It is divided into three sections with these ominous headings – The Shakedown, The Pressure Campaign, and The Cover Up. What Pelosi's office has billed as a "fact sheet" is a pathetic attempt to spin a false narrative.
1.      The Shakedown – Pelosi quoted selectively from the record of President Trump's call with Ukrainian President Zelensky on July 25, 2019, falsely juxtaposing the following excerpts as if they came directly after each other and underlining certain phrases for emphasis:
"I will say that we do a lot for Ukraine…. I wouldn't say that it's reciprocal necessarily because things are happening that are not good but the United States has been very very good to Ukraine."
 "I would like you to do us a favor though because our country has been through a lot and Ukraine knows a lot about it."
"There's a lot of talk about Biden's son, that Biden stopped the prosecution and a lot of people want to find out about that so whatever you can do with the Attorney General would be great. Biden went around bragging that he stopped the prosecution so if you can look into it… It sounds horrible to me."
 "I will have Mr. Giuliani give you a call and I am also going to have Attorney General Barr call and we will get to the bottom of it. I'm sure you will figure it out."
There are huge distortions in the way Pelosi set forth her "chronology" of quotes, which make her account as misleading as Schiff's despicable attempt to put words in the president's mouth when he described the call in a public hearing. The most glaring distortion has to do with President Trump's request for a "favor." It had nothing to do with investigating Joe Biden or his son, which is contrary to what Pelosi would like us to believe by placing the Biden reference right after the "favor" reference.
The truth is that immediately after President Trump said, "I would like you to do us a favor though because our country has been through a lot and Ukraine knows a lot about it," he referred to an investigation of possible Ukrainian interference in the 2016 presidential election: "I would like you to find out what happened with this whole situation with Ukraine, they say Crowdstrike… I guess you have one of your wealthy people… The server, they say Ukraine has it. There are a lot of things that went on, the whole situation. I think you're surrounding yourself with some of the same people. I would like to have the Attorney General call you or your people and I would like you to get to the bottom of it."
Nothing here about Joe Biden or his son. The first reference to the Bidens and their possible corruption came later in the call, after President Zelensky spoke at length about the U.S.-Ukraine relationship and first brought up Giuliani's name.
Pelosi just happened to skip over the fact that President Trump was requesting assistance from the new Ukrainian president to get to the bottom of alleged interference by his country's prior government in the previous U.S. presidential election. Considering that alleged foreign interference in the 2016 election has been the subject of numerous official investigations during the last three years and continues to be, as U.S. Attorney John Durham currently investigates Ukrainian officials' alleged involvement in that election, President Trump's request for the Ukrainian president's assistance was entirely appropriate. It was part of his constitutional obligation to take care that U.S. laws be faithfully executed.
2.      The Pressure Campaign – Here, Pelosi quoted from texts written by U.S. Ambassador Bill Taylor, who was serving as Chargé d'Affaires in Ukraine. Taylor expressed his concern that the release of military aid to Ukraine and the scheduling of a possible White House visit by President Zelensky were being tied to Ukraine's commitment to help with President Trump's 2020 campaign by opening investigations of his political opposition. Pelosi left out that Gordon Sondland, the U.S. European Union ambassador whose portfolio included Ukraine, expressed a more innocent interpretation of President Trump's intentions after speaking with the president, which had to do with addressing Ukraine's corruption problem as a whole. Taylor reportedly elaborated on his concern during his closed-door testimony on October 22nd, which the Democrats have already pounced upon to make their case to the public against the president. They would rather the public not hear Ambassador Sondland's side of the story, including what he said in the opening statement to his own testimony last week: "to the best of my recollection, I do not recall any discussions with the White House on withholding U.S. security assistance from Ukraine in return for assistance with the President's 2020 re-election campaign."
Pelosi claimed in her bogus "fact sheet" that "Vice President Pence is entangled in this scandal." How did she reach this far-fetched conclusion? She based it on the vice president's meeting with Ukrainian President Zelensky in Poland where he "conveyed the news that hundreds of millions of dollars in U.S. aid to Ukraine was not going to be released amid concerns about the country's lagging efforts to combat corruption." Somehow, in Pelosi's fevered imagination, using U.S. aid as leverage to pressure Ukraine into combating corruption in that country – following the same policy the Obama administration claimed to be following under former Vice President Biden's leadership – is evidence of President Trump's alleged abuse of power.
There are a few inconvenient facts that destroy Pelosi's "pressure campaign" allegation. The object of the supposed pressure, Ukrainian President Zelensky, has said that he felt no such "push." It turns out that the Ukrainian government was not even aware that military aid had been suspended until well after the July 25th call, during which there was no mention of military aid in the first place. When former United States special representative to Ukraine Kurt Volker reportedly testified during one of Schiff's closed-door hearings that Ukrainian leaders did not then know the aid was being withheld, Schiff was unhappy. Schiff declared, "Ambassador, you're making this much more complicated than it has to be." Schiff evidently thinks that getting to the real truth is just too complicated. So, he makes things up and tries to pressure witnesses into saying what he wants to hear.
Finally, the military aid that the Trump administration had suspended before the July 25th call was released on September 11th with no apparent political conditions attached.
3.       The Cover Up – Here, Pelosi quotes portions of the whistleblower complaint claiming that the White House "had intervened to 'lock down' all records" of the July 25th phone call. The "transcript" of the call, the complaint said, was "loaded into a separate electronic system… used to store and handle classified information of an especially sensitive nature." Supposedly, such treatment of call records is highly unusual and evidences an intent to cover up the existence of the call.
This claim is absurd on its face. After the leaks of the content of at least two prior phone conversations that President Trump had with foreign government leaders, the president had every right to direct heightened security for this call memo until he decided  – not some leaker – whether to release it. In any case, the president did not stonewall the release of the call memo after news of the whistleblower complaint became public. To the contrary, he voluntarily authorized its release as well as the whistleblower complaint. That's not a cover up. It's being straight up with the American people. Moreover, if the president wanted to communicate something to Zelensky that he had reason to know was improper, he would not have permitted so many government officials to listen in. He could have limited the call participants to the translators.
There was a cover up, but not by the Trump administration. The real cover up, it seems, was by Vice President Joe Biden's office when a State Department official, Deputy Assistant Secretary of State George Kent, expressed concern in 2016 that Hunter Biden's work with Burisma raised an issue of possible conflict of interest. Biden's office "blew him off," according to a Fox News report of testimony that Mr. Kent provided last week behind closed doors to congressional investigators involved in the so-called impeachment inquiry.
In short, Pelosi's "fact sheet" is an example of disinformation, in the same league as the infamous Steele dossier, that would make the Russians proud.
27. ΤΕΛΙΚΑ, ΕΙΔΑΤΕ ΠΟΣΟ ΣΠΟΥΔΑΙΑ ΕΙΝΑΙ Η… "ΥΠΟΜΟΝΗ", ΠΟΥ ΣΑΣ ΣΥΝΕΣΤΕΙΝΑ ΝΑ ΚΑΝΕΤΕ, ΣΤΟ ΘΕΜΑ ΤΗΣ ΑΜΕΡΙΚΑΝΙΚΗΣ ΣΤΑΣΕΩΣ ΣΤΗΝ ΣΥΡΙΑ ΚΑΙ ΝΑ ΜΗΝ ΑΚΟΥΤΕ ΤΑ ΠΑΠΑΓΑΛΑΚΙΑ ΤΩΝ "ΔΗΜΟΚΡΑΤΙΚΩΝ" ΚΑΙ ΤΗΣ "ΠΑΓΚΟΣΜΙΟΠΟΙΗΣΗΣ" ΣΤΗΝ ΧΩΡΑ ΜΑΣ; "ΠΑΡΤΕ" ΚΑΙ ΤΟ ΠΑΡΑΚΑΤΩ: 
Ve ABD yeniden harekete geçti! Skandal hamle
Başkan Trump'ın talimatıyla Suriye'deki askeri gücünü azaltmaya giden Amerikan ordusu, terör örgütü YPG/PKK'nın kontrolündeki El Ömer petrol sahasına takviye güç gönderdi. ABD ordusu ayrıca, petrol sahalarının ve İran destekli güçlerin yakınındaki Bagoz'da da

yeni bir üs kurmaya hazırlandığı

belirtiliyor.
28.
Zirve biterken son sözü söyledi! NATO'dan yeni Türkiye açıklaması
NATO üyesi 29 ülkenin savunma bakanlarını Belçika'nın başkenti Brüksel'de iki günlüğüne bir araya getiren toplantı sona erdi. Toplantı sonrasında basına açıklamalarda bulunan NATO Genel Sekreteri Jens Stoltenberg, Afganistan'ın durumu, Suriye'nin kuzeyinde yaşanan gelişmeler, Türkiye'nin harekatı ve siber saldırılar hakkında açıklamalarda bulundu

.
26.10.2019 
NATO
 üyesi 29 ülkenin savunma bakanlarının 
Belçika
'nın başkenti 
Brüksel
'de bir araya geldiği iki günlük 
zirve
 sona erdi. Zirvenin ardından basın toplantısında gazetecilerin sorularını yanıtlayan NATO Genel Sekreteri 
Jens Stoltenberg
, 
Türkiye
'nin 
Suriye
'nin kuzey doğusunda düzenlediği askeri harekatı ele aldıklarını, NATO üyeleri arasında bu konuda görüş ayrılıkları olduğunu, bölgede tansiyonun düştüğünü ve 
DAEŞ
 ile mücadele etmeye devam edeceklerini ifade etti.
Bölgede çözüm arayışını sürdüreceklerini belirten Stoltenberg, 
Almanya
'nın güvenli bölge için uluslararası destek teklifini olumlu karşıladıklarını, konuya kalıcı çözüm bulmaya çalıştıklarını söyledi.
NATO'nun zirvesine katılan diplomatlar, Türkiye'nin Suriye'nin kuzeyindeki terör örgütü PKK/PYD'ye yönelik başlattığı Barış Pınarı Harekatı ve Rusya'yla yaptığı sınır anlaşmasına yönelik tepkilere rağmen NATO'nun Türkiye'ye askeri desteği sürdürme kararı aldığını açıkladı.

İngiliz haber ajansı Reuters'a konuşan NATO diplomatlarından biri "NATO'da işlerin daha da kötüleşmemesi için ortak bir çaba var. Türkiye, ABD Başkanı Donald Trump'tan sonra, ittifak üzerinde yeni bir baskı yarattı. Fakat Türkiye kaybedilmeyecek kadar çok önemli bir ülke" açıklamasında bulundu.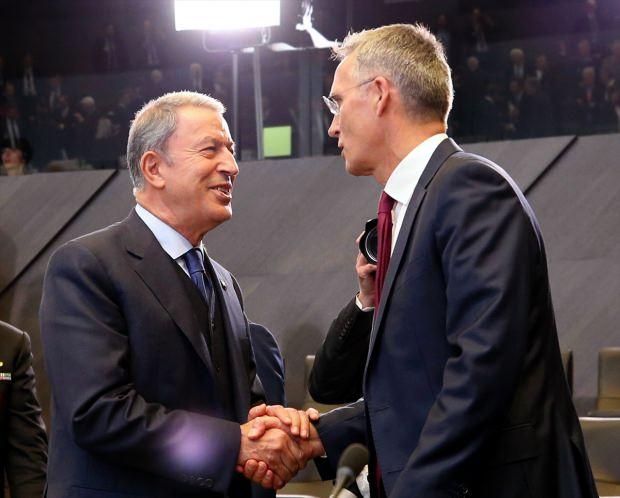 Stoltenberg ile Hulusi Akar…
YENİ ANLAŞMA: HIZLI HAVA HAREKETLİLİĞİ
Stoltenberg, savunma bakanlarının NATO'nun misyon ve operasyonları ile güçlerin hazırlık durumunu da ele aldıklarını belirterek, "Vatandaşlarımızı korumak için güçlerimizin ihtiyaç olması halinde hızlı hareket etmesi gerekiyor" ifadesini kullandı.
Sekreter Stoltenberg, bu çerçevede NATO uçaklarının, Avrupa çapında öncelikli muamele görmesini sağlayacak "Hızlı Hava Hareketliliği" girişiminde anlaşma sağlandığını duyurdu.
Misyon ve operasyonlarda görevli NATO uçaklarına özel arama sinyali verileceğini ifade eden Stoltenberg, bu vesileyle söz konusu hava araçlarına Avrupa Hava Trafiği Kontrolü tarafından öncelikli muamele sağlanacağını kaydetti.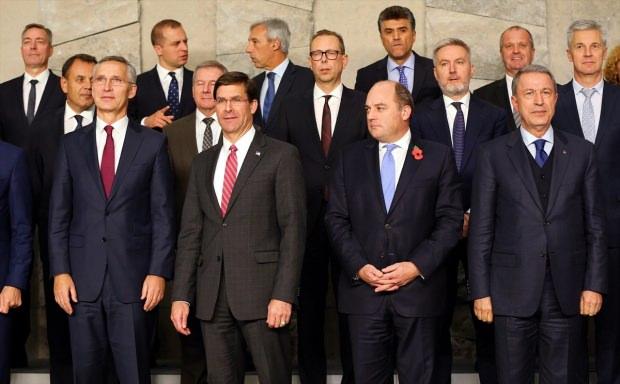 Aile fotoğrafı...
NATO'DAKİ YÜKÜN PAYLAŞTIRILMASI MESELESİ
Diğer yandan Jens Stoltenberg, NATO'nun yükünün paylaştırılması konusunda olumlu gelişmeler yaşandığını, AB ülkeleri ile Kanada'nın katkı paylarını arttırdığını söyledi.
AFGANİSTAN'DAKİ DURUM
Stoltenberg, "NATO, Afganistan konusunda kararlılığını koruyor. Afgan güvenlik güçlerini eğitim ve fonlarla desteklemeye devam edeceğiz" diye konuştu. NATO'nun misyonu sayesinde Afgan güvenlik güçlerinin uluslararası terörle mücadele konusunda güçlendiğini ve barış için olumlu koşullar oluştuğunu belirten Stoltenberg, "Afganistan'da barışı sağlamak için Taliban'ın istek göstermesi ve bazı tavizlerde bulunması gerekiyor" dedi.
Stoltenberg, NATO'nun Afganistan misyonunu ne zaman sonlandıracağına ilişkin soruya, müttefiklerin ülkeye beraber girdiği ve birlikte karar aldığı cevabını verdi.
Çıkma konusunda da birlikte hareket edileceğini vurgulayan Stoltenberg, "Eğer Afganistan'dan erken çıkarsak bunun bedeli ağır olur. Hem Afgan halkı hem biz hem de DEAŞ'la mücadelemiz zarar görür" açıklamasında bulundu.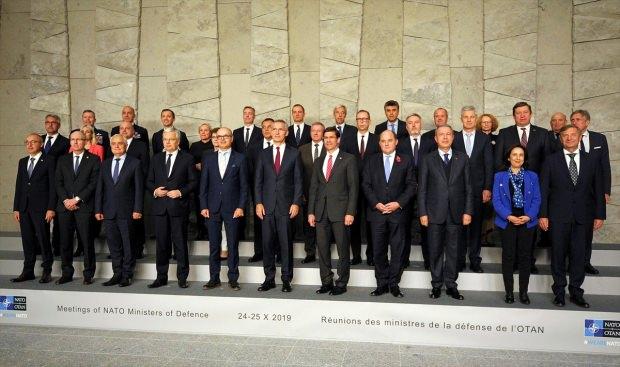 Aile fotoğrafı…
SİBER SALDIRI TEHDİDİ
NATO zirvesinde buluşan savunma bakanları, Avrupa Birliği müttefikleri ile hibrit tehditlerle mücadele için işbirliği konusunu da masaya yatırdı.
Stoltenberg, "5G dahil telekomünikasyon alanında bazı temel unsurlar konusunda anlaşmaya varıldı. Siber saldırılar ile mücadele önemli, güvenliğimiz için yabancı yatırımlar da kontrol altında tutulmalı. Teknoloji hızlı ilerliyor, uzmanlar bu konular üzerinde çalışıyor. Savunma bakanları 5G'yi de dahil eden yeni direktifleri onayladı. NATO üyeleri siber saldırıları daha iyi değerlendirmek durumunda zira bu güvenliğimiz için büyük önem taşıyor. Bizler bir ülkeyi veya bir şirketi hedef göstermek istemiyoruz" dedi.
KAYNAK: AA, EURONEWS, REUTERS
29. 
Binali Yıldırım: Bize 40 yıllık terörün faturası 1,5 trilyon dolar
6'ncı Uluslararası Ticaret Kongresi'nde konuşan eski Başbakan ve TBMM Başkanı Binali Yıldırım,

Türkiye'ye 40 yıllık terörün faturası 1,5 trilyon dolar

olduğunu belirtti.
30.
Almanya'nın Türkiye karşıtı Suriye planı ortaya çıktı
Almanya Savunma Bakanı Annegret Kramp-Krarrenbauer'ın Suriye'nin kuzeyinde uluslararası güvenli bölge oluşturmayla ilgili teklifin ayrıntıları Spiegel Online sitesinde yayımlandı. Hazırlanan plana göre,

güvenli bölge için

2500 asker gönderilecek ve çok sayıda ağır askeri ekipmanlarla donatılacak.

Bu plan Türkiye'nin Barış Pınarı Harekatı sonrası hazırlandı. Berlin hükümeti operasyona karşı çıkan ülkeler arasındaydı.
"ΧΑΙΡΕΤΕ"!
"ΕΛΛΗΝΑΣ"
-/-