1.
Syrian missile explodes near Israeli nuclear reactor causing panic, IDF bombs Syria
A ball of fire and smoke rises above buildings during a previous Israeli airstrike on Feb. 24, 2020. (Fadi Fahd/Flash90)
An Iranian attack on the Dimona nuclear facility was ruled out, with the incident chalked up to a stray Syrian anti-aircraft missile that missed Israeli warplanes.

By Paul Shindman, World Israel News
Israeli Air Force jets attacked targets in Syria early Thursday after a Syrian anti-aircraft missile triggered alarms in southern Israel, the IDF said.
The older model Russian-made SA-5 missile was apparently fired at Israeli planes, missed its target and kept flying until it reached southern Israel in the area of Dimona, near Israel's nuclear facility.
Air raid alerts were given in the Bedouin towns that dot the area where the missile crashed, but there were no reports of damage or injuries. Unconfirmed reports said Patriot anti-missile batteries were activated to intercept the missile.
A Palestinian resident in the Judean mountains underneath the flight path of the missile told World Israel News he was woken up in the middle of the night by loud explosions.
The IDF said following the incident it launched retaliatory strikes on Syria.
"A surface-to-air missile was fired from Syria to Israel's southern Negev. In response, we struck the battery from which the missile was launched and additional surface-to-air batteries in Syria," the IDF said in a statement.
"There was a surface-to-air missile fired, apparently an SA5 model, that drifted into Israel and fell in the Negev," IDF Spokesman Brig. Gen. Hidai Zilberman told a briefing of military reporters. "There was no deliberate firing here or there. They fired at [Israel] Air Force planes over the Syrian Golan. The range of the SA5 is hundreds of kilometers."
The head of the Institute for National Security Studies in Tel Aviv, Maj. Gen. (res.) Amos Yadlin, told Israel Army Radio the incident was not connected to any Iranian revenge attack on Israel.
"The arena is very tense, [Hezbollah terror group leader Hassan] Nasrallah and the Iranians have open accounts with Israel. However, I suggest taking a deep breath – this is not an Iranian missile destined for Dimona, although there is a desire to connect it with the incident in Natanz," Yadlin said, referring to an attack earlier this month at the Iranian nuclear facility.
Iran blamed Israel for the incident and threatened to take revenge, but Yadlin pointed out that the missile involved was known for its shortcomings in battle.
"The missile that was fired is an old missile against transport planes," Yadlin said. "When I was a major, in '83, we were already planning how to attack it. When it does not hit the plane, it flies to the end of its range."
Both Yadlin and Zilberman said it was simply a coincidence that the range of the SA-5 took it from northern Israel to the vicinity of Dimona and the nearby Israeli nuclear facility.
2.
Ultra-orthodox men participating in the Pardes Project. (Facebook)
Israel's Newest Secret Weapon: Ultra-Orthodox Cyber Pros Join Spy Agencies
Haredim are signing up to work for the Mossad, the Shin Bet (Israel Security Agency) and the police cyber units.
By United With Israel Staff
The times they are a changin' and more of Israel's ultra-Orthodox community are not only joining the high tech world, but their best and brightest are also making the pro-active decision to serve and protect their country – althought not necessarily by wearing a green IDF uniform.
The Jerusalem Post has revealed that more and more members of haredi society are being recruited by Israel's top security agencies, including the legendary Mossad spy agency, the Shin Bet national security agency (known also as the Shabak or Israel Security Agency), and the top cyber crime units of Israel's national police force.
In the past few years, some of the brightest and most talented ultra-Orthodox men, ranging in age from 24 to 34, are joining the ranks of the security establishment, serving as analysts and cyber sleuths.
The Post got security clearance to interview several of them, who can only be identified as "G" from the Mossad, "Y" from the Shin Bet, and police special agents Yisrael and Yoni. Only their wives are allowed to know who they work for, and the rest of their families have no clue what their real day jobs are.
The common factor in their recruitment is Rabbi Moshe Kahan, founder of the Pardes Project and head of its Beit Hamidrash ('House of Study' program, referring to Torah and Talmud learning). Kahan, a graduate of the leading ultra-Orthodox Tifrah and Mir yeshivas in Jerusalem, is also a lecturer on Arabic and the Koran and among the staff of Ben-Gurion University's department of Semitic languages.
The Pardes Project gives haredi youth an education track to pursue secular studies in a haredi framework, while maintaining an ultra-Orthodox environment. [Note: It is not connected in any way to the Pardes Institute of Jewish Studies in Jerusalem.]
The screening process is described as "obscenely competitive," with each prospective candidate taking pre-academic preparatory courses in the fields of computer science, geopolitics and international relations before applying for jobs in the security establishment.
Mossad director Yossi Cohen said the spy agency started recruiting ultra-orthodox candidates in 2017 in partnership with Pardes. "The intention is to integrate haredim in all aspects of the the organization's operations," Cohen said.
"Two years ago, I felt something missing, I felt I needed something more," Shin Bet agent Y told the Post. "I happened to see an advertisement on the Internet. I had tried something else in the working world, but I wanted to do something good for the world, not just make money."
The studying he had to do through Pardes to prepare for the Shin Bet was "very intensive. I didn't know any English or math. I learned from 9 a.m. until midnight." However, he said, his Talmudic analytic studies have helped him arrive at some unique perspectives.
"I see a strong will and commitment for all people to keep their religious lifestyle standards. There are no problems. A few years ago they had already brought a rabbi into the organization for asking Jewish law questions," said Mossad agent G.
Both Y and G said they have not yet had to work on the sabbath, but if the need arose, they would do so. "I have not yet had to work on Shabbat, but if state security is at stake, we can figure out how to act," G said.
Furthermore, they feel respected at work.
"It happens every day… I sat in a room with a woman from Tel Aviv…who did not know the haredi world," explained G. "We debated questions about the future of the country: conversion, public transportation on Shabbat and other issues. I gave a different perspective. I explained the importance of the state remaining Jewish. I did not understand as much where she was coming from. At the end of the discussion, both sides knew more. I understood more of her ideas," and vice versa, said the religious Mossad analyst.
Y and G prefer to remain modest and don't see themselves as "representatives" of their communities, but "their comments made it clear they indeed feel the need to act as ambassadors to help their secular coworkers bridge into understanding their world," the Post noted.
3.
Israeli Breakthrough in the Battle Against Brain Cancer
Researchers at Tel Aviv University discover that blocking a certain protein helps prevent the spread of brain cancer cells.
By Yakir Benzion, United With Israel
Researchers at Tel Aviv University have discovered a fix to stop certain cells in the brain from helping spread cancerous growths, the university announced on Sunday.
They focused on a problem that had frustrated scientists related to why the brain's immune system fails to fight the disease and instead encourages division and the spread of deadly glioblastoma cancer cells.
"We've been studying glioblastoma for the last decade. We are intrigued by the way that glioblastoma, a very aggressive brain cancer, progresses and advances so quickly in the brain while most treatments are actually useless," said Prof. Ronit Satchi-Fainaro, Director of the Cancer Biology Research Center and the Head of the Cancer Research and Nanomedicine Laboratory at the university.
Glioblastoma is the deadliest type of cancer in the central nervous system, accounting for most malignant brain tumors. It is aggressive, invasive, and fast-growing, making it resistant to existing treatments, with patients dying within a year of the cancer's onset. Moreover, glioblastoma produces "cold tumors," which do not respond to immunotherapeutic attempts to activate the immune system against it.
"Five years ago, we decided to focus on the interactions between the glioblastoma cells and the resident cells in the microenvironment in the brain. We focused on microglia. These are the immune cells of the brain," she explained.
"To our surprise, we found that not only do the microglia cells do nothing to stop the cancer cells, they actually play a crucial and negative role by accelerating the division, spread and mobilization of glioblastoma cells," she said.
Satchi-Fainaro's team found that the brain secretes a protein called P-Selectin (SELP), which alters the brain's immune cells so that instead of inhibiting the spread of cancer cells, they do the opposite, enabling them to proliferate and penetrate brain tissues. They then searched for a way to inhibit the SELP protein so that the microglia do what they're supposed to do and block the spread of what is normally an incurable cancer.
"SELP is a known protein that normally helps cells travel inside the body – especially white blood cells and endothelial cells that line the interior of blood vessels," explains Satchi-Fainaro. "The encounter between glioblastoma cells and microglia cells causes them to express SELP in large quantities. In the study, we were able to show that the overexpressed SELP helps the cancer cells travel and penetrate the brain tissue."
"By inhibiting the secretion of this protein, we actually halted the progression of the glioblastoma in multiple models, in mice and in unique 3D models from brain tissues that has glioblastoma (taken) from patients," said Satchi-Fainaro.
The results of the study may have lifesaving therapeutic implications and by sheer coincidence, a clinical study is already being conducted to inhibit SELP for a different reason – treating pain associated with sickle cell anemia.
Satchi-Fainaro hopes that since that treatment appears to be showing that inhibiting SELP is proving safe in humans, positive results from that trial could pave the way for relatively rapid approval of a clinical trial repurposing the new treatment for glioblastoma.
"Unfortunately, glioblastoma patients need new treatments immediately. Our treatment may be the needed breakthrough in the battle against the most daunting cancer of all," she said.
4.
April 11, 2021
News
By Jim Garamone , DOD News
Defense.gov
Austin Says U.S. Commitment to Israel Remains 'Ironclad'
The United States' commitment to Israel's existence and security began moments after Prime Minister David Ben-Gurion proclaimed the establishment of the state of Israel in 1948.
Then-President Harry S. Truman recognized the nation immediately, and the United States has become a strong strategic partner through U.S. administrations of different parties and through many conflicts.
Secretary of Defense Lloyd J. Austin III reiterated American support and commitment during his talks with Israeli Defense Minister Benny Gantz today in Tel Aviv.
The two men covered a wide range of issues, and Austin said he was pleased with the discussions. "I wanted to convey the Biden-Harris administration's strong commitment to Israel and the Israeli people," he said following the talks. "As a major strategic partner for the United States, our bilateral relationship with Israel, in particular, is central to regional stability and security in the Middle East. And during our meeting, I reaffirmed to Minister Gantz our commitment to Israel is enduring, and it is ironclad. And I pledge to continue close consultations in order to ensure Israel's qualitative military edge and to strengthen Israel's security."
Austin noted that the United States marked Holocaust Remembrance last week. "Minister Gantz, you, as a son of a Holocaust survivor, know better than most the horror and heartache your family endured," Austin said. "We remember the 6 million Jews and the millions of others who perished during the Holocaust; may their memory be a blessing, and let it be a solemn reminder of our duty to be ever vigilant against mass atrocities."
It is also sobering that Austin's visit coincides with Israel's Remembrance Day, which is similar to America's Memorial Day.
Austin and Gantz agreed the two nations must work closely together to enhance U.S.-Israeli defense cooperation. For example, the two countries already cooperate on ballistic missile defense and Israel flies the F-35 Joint Strike Fighter. The two men want to move toward discussing advanced, shared security interests and priorities.
But the Middle East is still a dangerous neighborhood. "I … appreciated hearing Minister Gantz's perspectives about the challenges in this region," Austin said. "We addressed a broad range of defense issues, to include Israel's long-term planning for defense acquisitions and regional security challenges and U.S. support for efforts to normalize relations between Israel and Arab and Muslim-majority nations."
In his remarks, Gantz specifically pointed to the threat from Iran. He said Israel "regards the United States as a full partner across all operational threats, not the least, Iran." The fundamentalist leaders in Tehran pose a strategic threat to international security to the entire Middle East and to the state of Israel, the Israeli leader said.
"We will work closely with our American allies to ensure that any new agreement with Iran will secure the vital interests of the world, of the United States; prevent dangerous unrest in our region; and protect the state of Israel," he said.
Gantz said the ties between the U.S. and Israeli militaries are so close because the nations share the same values and beliefs in basic human decency. "I find great comfort in the assurance of our people's unbreakable bonds and in the knowledge that both in the United States and in Israel, forces of good act to promote unity, solidarity and diversity," Gantz said.
5.
6.
US Further Punishes Russia for Cyberattacks, Election Meddling
By Steve Herman April 15, 2021
The United States cannot allow a foreign power to intervene with impunity in American elections, President Joe Biden said Thursday, after he took action to punish Russia for that and a major cyberattack.
"Today I've approved several steps, including expulsion of several Russian officials, as a consequence of their actions," Biden said at the White House. "I've also signed an executive order authorizing new measures, including sanctions to address specific harmful actions that Russia has taken against U.S. interests."
Biden said he told Russian President Vladimir Putin in a phone call earlier this week that he could have gone further but chose to be proportionate and does not seek to escalate tensions between Washington and Moscow.
"If Russia continues to interfere with our democracy, I'm prepared to take further actions to respond," he added.
Thirty-two entities and individuals linked to Moscow are being sanctioned for disinformation efforts and interference in the 2020 U.S. presidential election.
Ten personnel from Russia's diplomatic mission in Washington were expelled, including "representatives of Russian intelligence services," according to the White House.
The Biden administration is formally blaming the SVR, the external intelligence agency of Russia, for the massive cybersecurity breach discovered last year involving SolarWinds, a Texas-based software management company that allowed access to the systems of thousands of companies and multiple federal agencies.
The Russian spy agency reacted by calling the accusation "nonsense" and "windbaggery."
The Russian Foreign Ministry said it told U.S. Ambassador to Russia John Sullivan that the new sanctions are a serious blow to bilateral relations and that Moscow's response to them will follow soon. The Foreign Ministry, in a statement, added that it was entirely inappropriate for Washington to warn Moscow against further escalation.
Besides Thursday's widely anticipated moves by the Biden administration, "there will be elements of these actions that will remain unseen," said a senior U.S. official speaking to reporters on condition of not being named.
Biden, during his seven minutes of remarks in the East Room on Thursday afternoon, said he believed he and Putin would meet for a summit this summer somewhere in Europe.
At that meeting, the president said, the two countries "could launch a strategic stability dialogue, to pursue cooperation in arms control and security," as well as address such issues as reining in nuclear threats from Iran and North Korea, the coronavirus pandemic and "the existential crisis of climate change."
Congressional reaction
U.S. Representative Adam Schiff, who heads the House Intelligence Committee, said the president's actions demonstrate the United States "will no longer turn a blind eye to Russian malign activity." But Schiff, in a statement, predicted sanctions alone will not be enough to deter Russia's misbehavior.
"We must strengthen our own cyber defenses, take further action to condemn Russia's human rights abuses, and, working in concert with our allies and partners in Europe, deter further Russian military aggression," Schiff said.
"I am glad to see the Biden administration formally attributing the SolarWinds hack to Russian intelligence services and taking steps to sanction some of the individuals and entities involved," said Senate Intelligence Committee Chairman Mark Warner. "The scale and scope of this hack are beyond any that we've seen before and should make clear that we will hold Russia and other adversaries accountable for committing this kind of malicious cyber activity against American targets."
Numerous Republican members of Congress, while praising the president's action, are calling for more measures — particularly to halt the controversial Nord Stream 2 project.
"If the Biden administration is serious about imposing real costs on the Putin regime's efforts to undermine U.S. democratic institutions and weaken our allies and partners, then it must ensure the Russian malign influence Nord Stream 2 pipeline project is never completed," House Foreign Affairs Committee lead Republican Michael McCaul said in a statement.
Nord Stream 2 is a multibillion-dollar underwater gas pipeline project linking Russia to Germany. Work on the pipeline was suspended in December 2019 after it became a source of contention between Russia and the West.
Nord Stream officials said Russia resumed construction on the gas pipeline in December. The United States has opposed the joint international project because of possible threats to Europe's energy security. Nord Stream 2 is intended to double the annual gas capacity of an existing Nord Stream pipeline.
"Nord Stream 2 is a complicated issue affecting our allies in Europe," Biden replied to a reporter following his speech. He said that he has been opposed to the project for a long time and it is "still is an issue that is in play."
US sanctions
Biden's administration had already sanctioned seven Russian officials and more than a dozen government entities last month in response to Russia's treatment of opposition leader Alexey Navalny.
The U.S. actions taken Thursday expanded prohibitions on primary market purchases of ruble-dominated Russian sovereign debt, effective June 14.
"There's no credible reason why the American people should directly fund Russia's government when the Putin regime has repeatedly attempted to undermine our sovereignty," said a senior administration official in explaining the move. "We're also delivering a clear signal that the president has maximum flexibility to expand the sovereign debt prohibitions if Russia's malign activities continue or escalate."
Russia has largely ignored previous U.S. sanctions, which were narrower and primarily targeted individuals.
"These are 'unfinished business' sanctions that telegraph the Biden administration's more forceful approach to dealing with Russia. The measures are dialed to make good on Biden's promise to significantly impose costs on Russia without provoking a downward spiral in relations," said Cyrus Newlin, associate fellow with the Europe, Russia and Eurasia Program at the Center for Strategic and International Studies.
"I think we could continue to see targeting against the Russian intelligence agencies, potentially against Russian government figures and their families, which is something that many sanctions experts have been pushing for," according to Nina Jankowicz, a Wilson Center disinformation fellow. "This is only the tip of the iceberg of the full range of responses available to the U.S. government, both public and nonpublic, that we can take in response to Russia's malicious cyberactivity."
"The economic consequences for Russia will be fairly minor: The Russian financial system is much more insulated from sanctions than it was in 2014, and new restrictions on sovereign debt don't extend to secondary markets. I suspect Moscow will respond reciprocally with diplomatic expulsions, but preserve political space for a bilateral summit, which the Kremlin places high value on," said Newlin, of CSIS.
"The Biden administration has reserved more punishing sanctions options in the event of further Russian aggression in Ukraine," Newlin added. "These could be an expansion of sovereign debt restrictions to secondary markets or measures targeting Russian state-owned companies and banks. Against the backdrop of Ukraine, today's measures also serve as a warning shot."
Jankowicz said she agreed with that assessment, noting "the timing of this is pretty significant, because we've seen a buildup of Russian troops along the Ukrainian border, the most significant buildup since 2014."
According to Andrea Kendall-Taylor, senior fellow and director of the Transatlantic Security Program at the Center for a New American Security, this package of sanctions does not really relate to what is going on with Ukraine. She terms it the Biden administration's way of wrapping up unfinished business with other issues, allowing a pivot "to a more proactive, future-oriented relationship with Russia."
VOA's Katherine Gypson and Patsy Widakuswara contributed to this report.
7. ΞΑΝΑΒΑΖΩ ΤΟΝ ΙΣΧΥΟΝΤΑ ΑΜΕΡΙΚΑΝΙΚΟ ΧΑΡΤΗ ΤΗΣ ΠΑΝΔΗΜΙΑΣ "ΣΗΜΕΡΑ" (23-04-2021), ΩΣΤΕ ΝΑ ΒΓΑΛΛΕΤΕ ΜΟΝΟΙ ΣΑΣ ΤΑ ΣΥΜΠΕΡΑΣΜΑΤΑ ΣΑΣ ΚΑΙ ΝΑ ΕΤΣΙ ΝΑ ΓΛΥΤΩΣΕΤΕ ΑΠΟ ΤΗΝ ΒΡΩΜΙΚΗ ΠΡΟΠΑΓΑΝΔΑ ΤΟΥ "ΣΟΡΟΣ-ΣΥΡΙΖΑ"!..
ΧΘΕΣ ΣΑΣ ΕΙΧΑΜΕ ΟΛΟΚΛΗΡΟ Τ/ΑΡΘΡΟ, ΣΧΕΤΙΚΟ ΜΕ ΤΟ ΟΤΙ ΟΙ Η.Π.Α. ΑΠΑΓΟΡΕΥΣΑΝ ΤΑ ΤΑΞΙΔΙΑ ΣΤΟΥΣ ΠΟΛΙΤΕΣ ΤΟΥΣ Η(ΔΙΑΖ) ΤΟΥΣ ΠΡΟΕΙΔΟΠΟΙΗΣΑΝ, ΑΝ ΘΕΛΕΤΕ, ΑΝΑΦΕΡΟΝΤΑΣ ΟΤΙ ΤΟ 80% ΤΟΥ ΠΛΑΝΗΤΗ ΕΙΝΑΙ ΕΠΙΚΙΝΔΥΝΟ!..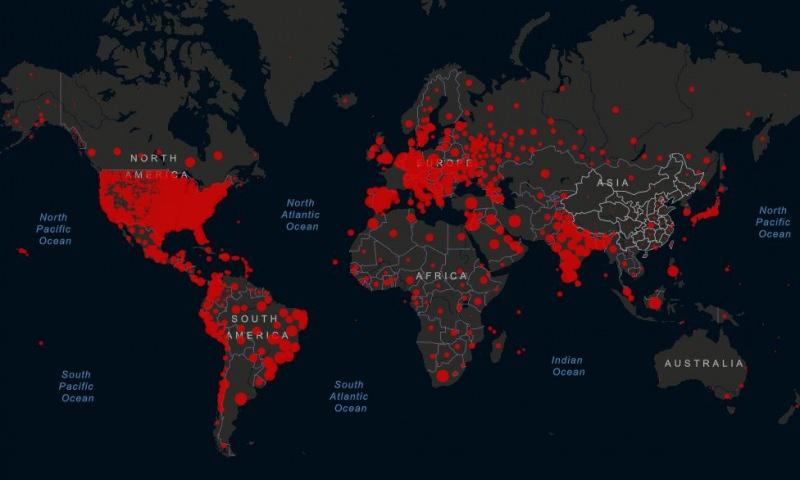 8.
Ülkede 63 yıldır yürürlükteydi, İsrail yasasını kaldırdılar
Sudan Egemenlik Konseyi ve Bakanlar Kurulu, İsrail ile normalleşme adımları kapsamında, 1958'den beri yürürlükteki İsrail'i boykot yasasını iptal etti

.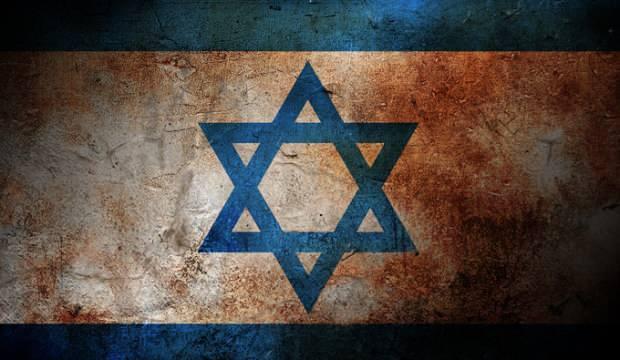 Sudan
 Adalet Bakanı 
Nasreddin Abdulbari
, Twitter'da yaptığı açıklamada, "Kısa bir süre önce, Egemenlik Konseyi ve Bakanlar Kurulu'nun ortak toplantısında
 İsrail'i boykot yasasını iptal eden bir tasarıyı onayladık
." ifadesini kullandı.
İsrail'i Boykot Yasası, Sudanlıların İsrail'deki herhangi bir İsrail vatandaşı, kuruluş ile ya da yabancı şirketlerle anlaşma yapmasını yasaklıyordu.
İHLAL EDENLERE 10 YILA KADAR HAPİS VE PARA CEZASI VERİLEBİLİYORDU
Kanun ile İsrail menşeli malların Sudan'a girişi ve bu ülkeden transit geçişine de izin verilmiyordu. Söz konusu kanunun maddelerini ihlal edenlere 10 yıla kadar hapis ve para cezası verilebiliyordu.
Eski ABD Başkanı Donald Trump, 23 Ekim 2020'de yaptığı açıklamada, Sudan'ın İsrail ile barış yapmak ve ilişkilerini normalleştirmek konusunda anlaşmaya vardığını duyurmuştu.
Bunun hemen öncesinde Beyaz Saray'dan yapılan açıklamada, Trump'ın Sudan'ı "teröre destek veren ülkeler" listesinden çıkarma kararını imzaladığı bildirilmişti.
KAYNAK: AA
9.
ABD'nin Moskova Büyükelçisi Washington'a dönüyor
ABD'nin Moskova Büyükelçisi John Sulliavn'ın, Rusya Dışişleri'nin tavsiyesi üstüne bu hafta içinde istişareler için Washington'a döneceği belirtildi

.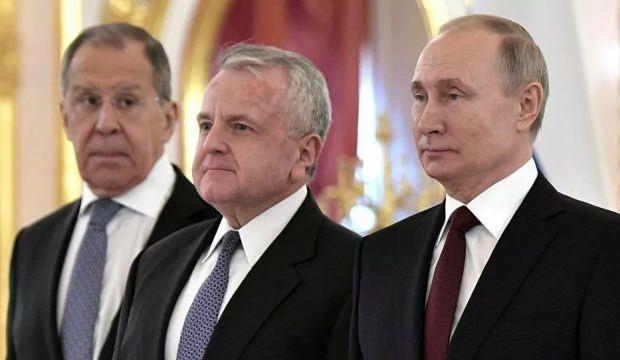 İLETİŞİM KURMANIN ÇOK MÜHİM OLDUĞUNA İNANIYORUM
Sullivan geri dönüşüne ilişkinse, 'birkaç hafta içinde, ülke liderlerinin olası bir görüşmesinden önce Moskova'ya dönmüş olacağını' kaydetti. Sullivan "Rusya ile ikili ilişkilerimizin mevcut durumu hakkında Biden yönetimindeki yeni meslektaşlarım ile doğrudan iletişim kurmamın çok mühim olduğuna inanıyorum. Ayrıca, bir seneyi aşkın bir süredir ailemi de görmedim, eve gidecek olmamın bir sebebi de bu." dedi.
İSTİŞARELER İÇİN ÜLKESİNE DÖNECEK
Sullivan'n ülkesine dönüşü, Rusya Dışişleri Bakanlığı'nın kendisine istişarelerde bulunmak üzere ABD'ye dönmesini tavsiye etmesini izleyecek. Zira Rusya-ABD ilişkilerinde son dönemde gerilimin yükseldiği gözleniyor.
ABD, Başkan Joe Biden'ın göreve gelmesini takiben çeşitli sebepler öne sürerek Rusya karşıtı bir dizi yeni yaptırım kararı almış durumda. ABD'nin açıkladığı son yaptırım paketinin ardından Moskova da 10 ABD'li diplomatı sınırdışı etme kararını açıkladı ve Büyükelçi Sullivan'a da istişarelerde bulunması için ülkesine dönme tavsiyesinde bulundu.
"ΕΛΛΗΝΑΣ"
-/-