Ε, ρε, γλέντια!.. (Νο "1")! (UPDATED)!
Φίλοι μου!
Α.  ΤΟΥΡΚΙΑ
"Πάμε" μαζί να "δούμε" μερικά πράγματα, για την Τουρκία του "σήμερα", για τους Τούρκους του "τώρα", …"άτακτα" και… Καφενειακά!!..
  1. Ενοχλήθηκαν πάρα πολύ οι Τούρκοι με τον στρατιωτικό "ερχομό" των Η.Π.Α. στην Ελλάδα! (Και όχι μόνον)!..
Πώς "ήρθαν" οι Αμερικανικές ΕΔ στην χώρα μας; Διαβάστε τί λένε οι Τούρκοι παρακάτω!
Στην Ηλεία με τα πυρηνικά τους, στην Αθήνα / Πειραιά με τον στόλο τους, στην Σύρο με τα Υ/Β τους, στην Καβάλα με ΕΕ/Π, στην Κρήτη / Σούδα με ναυτική και αεροπορική Βάση, στην Κρήτη /Καστέλι, όπως και στην Λάρισα με τα "UAV" τους, στην Κάρπαθο με πολεμικά α/φ τους, στην Θεσσαλονίκη με προσωπικό (εδώ, επίσης, υπάρχει από χρόνια και Α/"Βάση Συλλογής Πληροφοριών") και τώρα, με προσωπικό – εξοπλισμό – υλικά, κλπ, και στην Αλεξανδρούπολη (2.000 στρ-τες τουλάχιστον, 800 ΤΘνα οχήματα, 30 "Black Hawk", κλπ)!
Γράφουν οι Τούρκοι! "Εγκαταστάθηκαν οι Αμερικανοί 30 χλμ από τα σύνορά μας"! Και, "Βάσει της Λωζάννης, η περιοχή θα πρέπει να είναι αποστρατικοποιημένη", και λοιπά… "ωραία"!..
Παράλληλα, μνημονεύουν οι Τούρκοι και τους Βρετανούς, οι οποίοι ήλθαν και αυτοί στον Ν. Έβρο, για λόγους ασκήσεως φυσικά. ("STEADFAST DEFENDER 21" / Για την ενόχληση των Τούρκων, για την μη συμμετοχή τους, λόγω μη κλήσεώς τους, στην υπόψη άσκηση, γράψαμε μόλις στο προηγούμενο άρθρο μας)!..
Στον Έβρο ήταν να μεταβούν ο Άγγλος Δντης Σχεδίων και Επχσεων, Αντγος Ivon JONES, καθώς και ο Αμερικανός Στρατηγός Κρίστοφερ ΚΑΒΟΛΙ, Δκτης των Αμερικανικών Δυνάμεων σε Ευρώπη και Αφρική, καθώς και οι Α/Πρέσβης Πάϊατ, Ε/ΥΠΑΜ, Κος Παναγιωτόπουλος!
Οι Τούρκοι βεβαίως ξέχασαν πως, από το 1952, μέχρι και τον Ιούλιο του 2016, αποτελούσαν μια τεράστια Βάση του ΝΑΤΟ και των Η.Π.Α. και πως μόλις, μετά από το αποτυχημένο στρατιωτικό Γκιουλενικό "Κίνημα", του 2016, άλλαξαν σχεδόν το σύνολον των  στρατιωτικών τους σχεδίων, κάνοντάς τα, πρωτίστως, "Εθνικά", από "ΝΑΤΟ-ΪΚΑ"!
Είχαν συνηθίσει (και έχουν ακόμα, αφού δεν το έχουν ξεπεράσει αυτό, κατά το "έξις δευτέρα φύσις"), να θέλουν τα πάντα αυτοί, ήτοι "μονά – ζυγά" δικά τους!..
Οι Τούρκοι έχουν ενοχληθεί "τα μέγιστα" και από τις συνασκήσεις των ΕΕΔ, με τις αντίστοιχες των Η.Π.Α., Γαλλίας, ΗΑΕ και Σ. Αραβίας!.. (Εδώ "κολλάει" το "όχι μόνον" του τίτλου της παρ. "Α1").
Το γεγονός ότι οι Τούρκοι ενοχλήθηκαν πολύ με τον "ερχομό" των ΑΕΔ στην χώρα μας, δείχνει ότι ποσώς(!) πλέον τους ενδιαφέρει η Άμυνα της Δύσεως, παρά μόνον -ανοήτως βεβαίως- η δική τους Άμυνα και ασφαλώς τα δικά τους αναθεωρητικά… όνειρα, αφού δεν είναι δυνατόν να μην αντιλαμβάνονται την σημασία υπάρξεως, ειδικά "σήμερα", στην περιοχή μας, δυτικών δυνάμεων και δη αμερικανικών!..
Αυτή η αδιαφορία τους για την δυτική Άμυνα -έστω, ας δεχθούμε ότι μόνον περί αδιαφορίας πρόκειται- γεννά αυτομάτως το ερώτημα της σημερινής τους σχέσεως, του σημερινού τους "STATUS" με την Δύση και το ΝΑΤΟ!..
  2. Από τις 22-03-2021 γίνεται μια νέα διεθνής προσπάθεια προσβολής της Τ/Οικονομίας, από "Κύκλους" της Δύσης και κυρίως των Η.Π.Α., ένας ακόμα σε εξέλιξη "Οικονομικός Πόλεμος", με στόχο τον ΡΤΕ*, τον οποίον οι Η.Π.Α. θέλουν να τον… "αποκαθηλώσουν"! 
* Ο ΡΤΕ έχουμε πει και εξηγήσει πως είναι ο στόχος και όχι η Τουρκία!.. Γι' αυτό και δεν έχει υπάρξει ακόμα επικοινωνία Μπάϊντεν – ΡΤΕ, αν και φέρεται -κατά τους Τούρκους πάντα- ο ΡΤΕ να έχει προσκληθεί, από τον Α/Πρόεδρο, να συμμετάσχει, στις 22-24/04-2021, στην συνάντηση (μάλλον με τηλε-διάσκεψη), για το κλίμα, οπότε, αν είναι έτσι, μάλλον θα συνομιλήσουν!..
Αφορμή για τον "Πόλεμο" αυτόν, φέρεται να αποτέλεσε η αποπομπή, από τον ΡΤΕ, του τ/"Κεντρικού Τραπεζίτη" Naci Ağlal. (Λίγο μετά, ο ΡΤΕ "σούταρε" και τον Υδκτή της "Κεντρικής Τράπεζας").
Η τ/Οικονομία "κτυπιέται" σκληρά, παρ' ότι αυξήθηκε ο όγκος της! (Αυτό για κάποιους που συνειδητά συγχέουν τα 2 αυτά θέματα, ήτοι την "αύξηση του όγκου μιας Οικονομίας" και την σχέση της με την… "Υγεία Μιας Οικονομίας", αναφερόμενοι… "παραπλανητικά" στην τ/Οικονομία των… "G-20", κλπ).
Φυσικά και πάλι, τίποτα δεν μπορεί να πάθει η Τουρκία, όπως και η Κ-Β του ΡΤΕ, από τον πόλεμο αυτόν, αφού έχουμε πει πως οι Κ-Β στην συγκεκριμένη(!) αυτήν χώρα, (όπως και σχεδόν στο σύνολο των Ισλαμικών χωρών), δεν κινδυνεύουν να "πέσουν" από την Οικονομία, και όσοι υποστηρίζουν κάτι τέτοιο, απλώς αγνοούν την φύση των χωρών στον χώρο του ΙΣΛΑΜ, αν βεβαίως δεν το κάνουν, για τους λόγους τους, εσκεμμένως και σίγουρα ανοήτως!.. Τα έχουμε πει αυτά εδώ και εξηγήσει, επίσης!..
Άλλωστε φίλοι μου, ποτέ η Δύση δεν θέλησε, ούτε και θέλει, να επιβάλλει έναν πραγματικά "ΟΛΟΚΛΗΡΩΤΙΚΟ ΟΙΚΟΝΟΜΙΚΟ ΠΟΛΕΜΟ" στην Τουρκία, ώστε να την "γονατίσει"! Σε όποια της… πίεση, ιστορικά, η Δύση δεν ξεπερνούσε ποτέ κάποια… όρια! Καταλάβατε!..
Αυτό δεν κάνει και τώρα πχ η "ΕΕ" με τις περίφημες κατά της Τουρκίας κυρώσεις και… κυρώσεις και τάχα μου κυρώσεις, κλπ;
Άλλο παράδειγμα της "μη καθαρής" οικονομικής στάσης της "Διεθνούς Εξουσίας", προς την Τουρκία! Διαβάστε:
Η "Goldman Sachs"(!!!) και η "EBRD" ("Ευρωπαϊκή Τράπεζα Ανοικοδομήσεως και Αναπτύξεως"), συμφώνησαν να επενδύσουν τώρα(!) στην τ/τεχνολογική εταιρεία "Delays"!.. (Ιδρυτής και "CEO" της είναι ο Σερκάν ΟΜΕΡΜΠΕΪΟΓΛΟΥ).
Τί είδους οικονομική προσβολή είναι λοιπόν αυτή, όταν δεν επιβάλλονται οικονομικές κυρώσεις στην Τουρκία, (αν και υπάρχουν 100 λόγοι που θα τις δικαιολογούσαν), όταν μεγάλοι χρηματο-πιστωτικοί "Οίκοι" επενδύουν σε τ/εταιρείες, όταν μια ΑΓΓΛΙΑ, και όχι μια οποιαδήποτε χώρα, υπογράφει σύγχρονες… "Διομολογήσεις" με τους Τούρκους, ("εν όψει", προφανώς και του 2023), όταν ο παγκόσμιος χρυσός συνεχίζει να διέρχεται (με ό,τι αυτό σημαίνει), από τον "Τερματικό Σταθμό" Τουρκία, πριν να καταλήξει στις Τράπεζες των "Διεθνών Εβραίων" σε Γερμανία και Αγγλία, κλπ, κλπ, κλπ;
Ακόμα και η ανακοίνωση της "Γερμανικής Τραπέζης", όπως και της "JP Morgan", μετά από την αποπομπή του "Κ. Τραπεζίτη", έλεγε επακριβώς:
«Η αλλαγή του Δκτη της "Κεντρικής Τραπέζης" της Τουρκίας, ΕΝΔΕΧΟΜΕΝΩΣ(!), να οδηγήσει σε ΑΣΑΦΕΙΑ(sic) την πολιτική των τόκων και ευρύτερα το "Οικονομικό Πεδίο" στην χώρα»!
Προσέξατε αγαπητοί; "ΕΝΔΕΧΟΜΕΝΩΣ"(!), αλλά και… "ΑΣΑΦΕΙΑ"(sic), λέξεις που "προδίδουν" αυτά τα… όρια, που αναφέραμε πιο πάνω!..
Σημειώστε ακόμα ότι η τ/Οικονομία, από της ιδρύσεως ακόμα της Τ/Δημοκρατίας, στις 29-10-1923, ελέγχεται απολύτως απ' τους "Μεγαλο-Εβραίους" Κεμαλιστές Κεφαλαιούχους της χώρας ("Ντονμέδες" και μη), τους οποίους ΠΟΤΕ(!) δεν θα αφήσουν οι "Μεγάλοι και Τρανοί" "Διεθνείς Αδελφοί" τους να χάσουν τον οικονομικό έλεγχο στην… χώρα τους, αν μας αντιλαμβάνεστε!..
Τους… Κους αυτούς δεν κατάφερε να ελέγξει ούτε ο ΡΤΕ την εποχή της μεγίστης πολιτικής δυνάμεώς του, κάπου ανάμεσα στο 2010 και 2015 (να περιορίσει "ναι"), χρησιμοποιώντας ως κύριο όπλο του και ως κύριο "αντίπαλον δέος" τους την "Ένωση των Τούρκων Ισλαμιστών/Μουσουλμάνων… Κεφαλαιοκρατών" ("MÜSIAD") ή -αλλιώς- το λεγόμενο "Πράσινο Τουρκικό Κεφάλαιο"!.. ("Βιομηχάνων" είναι το τυπικά ορθόν, αλλά εσκεμμένως αναγράφουμε "Κεφαλαιοκρατών", αφού στην πραγματικότητα περί αυτού πρόκειται)!..
Ακόμα να λάβετε υπόψη σας, πως η Τουρκία έχει δικό της νόμισμα (!!!), με ό,τι αυτό συνεπάγεται, αλλά και πως πλην του πλούσιου οικονομικού της αρωγού ΚΑΤΑΡ, πρόσφατα υπέγραψε "στρατηγική συμφωνία" συνεργασίας με την ΚΙΝΑ, στην Άγκυρα, συμφωνία η οποία εμπεριέχει και ένα άκρως ενδιαφέρον "Οικονομικό Κεφάλαιο"!..
Επίσης, οπωσδήποτε πρέπει να ληφθεί υπόψη και η φύση του τ/λαού, όταν αναφερόμαστε σε έξωθεν "οικονομική προσβολή" της Τουρκίας!
Την Τουρκία επισκέφθηκε πρόσφατα ο Κ/ΥΠΕΞ Βανγκ Γι, ο οποίος και υπέγραψε, από Κ/πλευράς, την υπόψη συμφωνία! Μερικά θέματα οικονομικής φύσεως, στα οποία φέρεται να συμφώνησαν οι 2 χώρες, είναι το "5G", γεγονός που δεν θα αρέσει καθόλου στις Η.Π.Α., οι εναλλακτικές οδοί μεταφοράς προϊόντων και αγαθών, οι ενεργειακές οδοί, οι νέες τεχνολογίες, η πανδημία, κλπ. (Η συμφωνία που η Τουρκία έχει υπογράψει με Κίνα και Ιράν φέρεται να έχει 25ετές βάθος)!..
Να σημειώσουμε, πως οι Τούρκοι συνέλαβαν πρόσφατα, στην Πόλη, Κινέζους, ενεχόμενους σε δραστηριότητες "ΚΡΥΠΤΟ-ΧΡΗΜΑΤΟΣ"!..
Την ίδια στιγμή, που μια Δυτική -υποτίθεται- χώρα, όπως η Τουρκία, συνάπτει "στρατηγικές συμφωνίες" ή αναπτύσσει σχέσεις στενής συνεργασίας με Κράτη-εχθρούς της Δύσεως, όπως είναι η Ρωσία, το Ιράν (άρχισε πρόσφατα εμπλουτισμό ουρανίου στην Νατάντς, με υδατόπτωση από μηχανές, κλπ, ενώ ασκώντας "Περιβαλλοντολογική Τρομοκρατία" μόλυνε, προ ολίγου καιρού, τις Ι/ακτές με ακατέργαστο πετρέλαιο / "μαζούτ", αν δεν απατώμεθα) και θεωρητικά και η Κίνα, ο Α/ΥΠΕΞ ΜΠΛΙΝΚΕΝ ΔΗΛΩΝΕΙ:
«Η ΚΙΝΑ ΑΠΟΤΕΛΕΙ ΤΟ ΜΕΓΑΛΥΤΕΡΟ ΓΕΩΠΟΛΙΤΙΚΟ "ΤΕΣΤ"»!
Και ακόμα… χειρότερα, για τους Τούρκους, ο ίδιος ο Μπάϊντεν δήλωσε, στην πρόσφατη Σύνοδο Κορυφής του ΝΑΤΟ, πως πλέον, για τις Η.Π.Α. και τις όποιες άλλες χώρες, ισχύει το "ή είστε μαζί μας ή είστε με τους άλλους"!..
Άραγε, Η ΤΟΥΡΚΙΑ ΤΟ ΑΚΟΥΣΕ ΑΥΤΟ;
Η ΕΕ, Η ΟΠΟΙΑ ΘΩΠΕΥΕΙ ΣΥΝΕΧΩΣ ΤΟ ΑΓΑΠΗΜΕΝΟ ΤΗΣ ΠΑΙΔΙ, ΤΗΝ ΤΟΥΡΚΙΑ, ΤΟ ΑΚΟΥΣΕ ΕΠΙΣΗΣ"; 
[Οι "ΑΓΓΕΛΟΙ" δεν αναμένουμε να υπάρξει, πλην της Α-Ρ, και Α-Κ "κόντρα", μετά από την νίκη των "Δημοκρατικών" στις Η.Π.Α., αφού οι Κινέζοι ήσαν και παραμένουν "Συνεργάτες" στο "Παγκόσμιο Κόλπο" της "Διεθνούς Εξουσίας", απ' τα τέλη του 2019 και τον "COVID-19", ενώ οι "Δημοκρατικοί" των Η.Π.Α. και η νυν Α/Κ-Β είναι Όργανα των "Διεθνών Εβραίων", όσο και να θέλει ο Μπάϊντεν να εκδικηθεί, εκτός από τον ΡΤΕ και τον Κινέζο Κομμουνιστή Πρόεδρο Κτσιάο Πι, ο οποίος "διέρρευσε" στον Κόσμο, μέσω του "ΤΙΚ – ΤΟΚ",  σκηνές από "Βίντεο", με τον γιό του Α/Προέδρου να κάνει "ΣΕΞ" με 2 πόρνες, κάνοντας παράλληλα και χρήση ναρκωτικών, σε δωμάτιο Κινεζικού ξενοδοχείου, κλπ!..
Δεν είναι λοιπόν μόνον το γεγονός ότι οι Κινέζοι δεν έχουν ακόμα τις κατάλληλες στρατιωτικές δυνάμεις, ώστε να μπορούν να σταθούν στρατιωτικά απέναντι στις Η.Π.Α., όπως μπορούν να στέκονται και στέκονται οι Ρώσοι, αλλά και η παραπάνω "πτυχή", που σας παρουσιάσαμε!.. 
Η πληροφορία που διέρρευσε και ήθελε / θέλει την Κίνα να επιθυμεί να γίνει ο διαμεσολαβητής ανάμεσα στους Ισραηλινούς και στους Παλαιστινίους, μάλλον ως αστείο μπορεί να εκληφθεί, αφού κάτι τέτοιο θα έβαζε στα αμερικανικά… αμπελοχώραφα την ισχυρά, ούτως ή άλλως, όσο και επικίνδυνη, "Κίτρινη Φυλή", κάτι τουλάχιστον ΑΔΙΑΝΟΗΤΟ για τις Η.Π.Α.!
Η είδηση ότι οι Ισραηλινοί "έβλεπαν" θετικά κάτι τέτοιο, ίσως να έγινε περισσότερο για να "πειραχθεί" ο νυν Α/Πρόεδρος, επειδή επιθυμεί την πτώση Νετανιάχου!..
Σε κάθε περίπτωση, "για να δέσει τον γαϊδαρό του" περισσότερο ο Μπάϊντεν έστειλε 15 εκ-ρια $ Η.Π.Α. βοήθεια στους Παλαιστινίους, οι οποίοι πλέον, δια του Αμπάς, φέρεται να αποδέχονται και να ομιλούν για ένα καθεστώς "περιορισμένης κυριαρχίας"(;)]!.. 
Στην Τουρκία, κάθε τέτοια φορά, σαν την παραπάνω,  με την οποίαν επιδιώκεται να "κτυπηθεί" οικονομικά η χώρα τους, απλώς βρίσκει την ευκαιρία η Αντιπολίτευση (και σήμερα ο Κεμάλ Κιλιτσντάρογλου**, η Ακσενέρ, κλπ), να κάνει "σπέκουλα" πάνω στην Οικονομία, της μορφής πχ του προσφάτου πρωτοσέλιδου της ε/φ "Cumhuriyet", επισήμου Οργάνου του "CHP" ("Αξ-κή Αντιπολίτευση"), που έγραφε "Βυθιζόμαστε / Batıyoruz" ή της μορφής… διαρρεομένων ψευδών ειδήσεων, της μορφής «πάμε για Έλεγχο Κεφαλαίων ("Capitol Controls")», κλπ!..
Ακόμα όμως και όταν η Τουρκία κατέφυγε στο "ΔΝΤ" στις αρχές της 1ης 10ετίας του 21ου αι. , μέσα σε χρόνο "ρεκόρ" (εντός της ίδιας 10ετίας) επανέκαμψε, με πολυ-επίπεδη και πολυ… "Πηγική" (sic), την ίδια στιγμή, τεράστια εξωτερική βοήθεια, (λόγω κυρίως της Γεωγραφίας της),  και έτσι -θεωρητικώς- ξεχρέωσε τότε, προχώρησε και προχωρεί!..
** Ο Κιλιτσντάρογλου (Α/"CHP"), το ξαναγράφουμε, είναι "πολύ λίγος", για να "κοντράρει" εκλογικά τον ΡΤΕ! Το γεγονός ότι "από πίσω του" έχει τον Σόρος, όπως και τις Η.Π.Α., μετά τις 20-01-2021, (Κ-Β Μπάϊντεν), δεν του δίνει "από μόνο του" και την νίκη, όπως και δεν του την έδωσε μέχρι τώρα, ποτέ! Πρόσφατα είπε (σαν ένας περίπου άλλος… Σόρος-Τσίπρας), πως "ο στόχος του ΡΤΕ είναι να αφήσει την Τουρκία χωρίς εμβόλια"!.. Γέλαγαν και τον "έκραξαν" μέχρι και οι "δικοί" του, με την δήλωσή του αυτήν, ενώ την ίδια στιγμή η Τουρκία έχει εμβολιάσει περισσότερους από 10.000.000 κατοίκους της (10%+ του συνολικού της πληθυσμού) και… συνεχίζει!..
Τον ΡΤΕ πια, κανείς "Οικονομικός Πόλεμος" δεν μπορεί να τον "ρίξει" και ιδιαιτέρως σήμερα που ο ίδιος έχει κηρύξει τον 2ο "Τουρκικό Αγώνα Ανεξαρτησίας", μετά απ' εκείνον του Κεμάλ, την περίοδο 1919-1922, (κάτι που για εμάς πολύ σοφά έπραξε για την χώρα του και τον τ/λαό), αφού το 2023 "έρχεται", με αποτέλεσμα τίποτα να μην μπορεί να… αιφνιδιάσει αρνητικά τους Τούρκους, αφού είναι ψυχικά προετοιμασμένοι να δεχθούν τα πάντα!
Πρόσφατα ο ΡΤΕ δήλωσε στον τ/λαό πως "ο Αγώνας Ανεξαρτησίας" συνεχίζεται!..
Τον ΡΤΕ πλέον(!), μπορούν να τον… νικήσουν και "αποκαθηλώσουν", από την Κ-Β, είτε οι "Ευρασιανικές" σήμερα ΤΕΔ, οι οποίες όμως συνεργάζονται στο παρόν διάστημα μαζί του, ελεγχόμενες ιδεολογικά, στην βάση τους, από τους Τ/Εθνικιστές του "Μπασμπούγ" Μπαχτσελί, που είναι στην παρούσα φάση "σύμμαχοι" του Τ/ΠτΔ, είτε ο… θάνατος, που τον… περιτριγυρίζει καιρό τώρα (προβλήματα στα έντερα, προβλήματα καρδιάς), είτε μια συγκυρία, μη δυνάμενη να εκτιμηθεί από τώρα, συγκυρία που -γιατί όχι;- θα μπορούσε να ήταν μέχρι και το "να αποχωρήσει από την ενεργό δράση από μόνος του", για κάποιον ή κάποιου λόγους που θα προφασισθεί, ηρωοποιώντας πιθανότατα, δια του Επιτελείου του, τον εαυτό του!..
Σε κάθε περίπτωση, δεν υπάρχει πουθενά θέμα αποβάσεως αμερικανικών δυνάμεων -κάπου- σε τ/έδαφος, (κάτι που είχε "παίξει" επί Τραμπ, για άλλους λόγους), ώστε να πιεστεί να αποχωρήσει ο ΡΤΕ, αφού κάτι τέτοιο, με "ξύπνια" και πάλι την "Α-Ρ Σύγκρουση", με θέληση δυστυχώς των Αμερικανών, θα ήταν "καθαρή" τρέλα!.. (Και μάλιστα τόσο γρήγορα νέα ρήξη των Α-Ρ σχέσεων, από της αναλήψεως της εξουσίας από τους "ΔΗΜΟΚΡΑΤΙΚΟΥΣ" στις Η.Π.Α., κάτι που δίνει την εντύπωση πως έγινε τουλάχιστον ασυλόγιστα, αν όχι άκριτα, από τους Αμερικανούς)!..
Οι Ρώσοι ήδη βρίσκονται και πάλι στην Κριμαία, "κατεβάζοντας" εκεί μεγάλο όγκο δυνάμεων, κλπ, και δεν θα φύγουν απ' εκεί, τουλάχιστον -λέμε εμείς- μέχρι το 2023, ενώ και δεν είναι τυχαίο ότι αμερικανικές δυνάμεις βρίσκονται πλέον "γερά" και στην Ελλάδα!.. Καταλαβαίνετε τον υπαινιγμό!..
Οι κινήσεις αυτές των 2… "ΘΗΡΙΩΝ" Η.Π.Α. και Ρωσίας είναι -μάλλον- ενδεικτικές ότι ΓΝΩΡΙΖΟΥΝ πως κάτι ΜΕΓΑΛΟ "ΕΡΧΕΤΑΙ" και πως ΕΤΟΙΜΑΖΟΝΤΑΙ στρατιωτικά γι' αυτό, αν κάπου σκαλώσει το θέμα ειρηνικά, έτσι φυσικά, όπως το θέλει το… θέμα να εξελιχθεί, η κάθε πλευρά!..  
Η αμερικανική πολιτική θα γίνει ξανά εντονότατα(!) ΦΙΛΙΚΗ προς την Τουρκία, και θα μας θυμηθείτε(!) για άλλη μια φορά, από την ίδια στιγμή της "Φυγής" ή της "Πτώσεως" του ΡΤΕ, αφού τώρα(!) η ΕΚΔΙΚΗΣΗ(!), για το 2016, πεισματικά δυστυχώς, προτάσσεται στην πολιτική του Μπάϊντεν προς την Τουρκία.
Παράλληλα, η πολιτική του Μπάϊντεν στην περιοχή του Καυκάσου, στην Μ. Ανατολή και στον Κόλπο είναι πολιτική "ξηλωτική" (αργά, αλλά σταθερά), του… "Πουλόβερ", που κατόρθωσε να φτιάξει ο… Αμερικανόστροφος και… "Απέχων" πολιτικά Τραμπ ("Πρώτα η Αμερική") στα μέρη αυτά, με βάση κυρίως το φλέγον θέμα της ΑΣΦΑΛΕΙΑΣ του ΙΣΡΑΗΛ, (θέμα, από της ιδρύσεώς του ακόμα), παρ' ότι οι κινήσεις Μπλίνκεν, κάποιες στιγμές, δείχνουν να επιζητούν [και ορθώς(!)] την "Μέση Λύση", μεταξύ των "2 άκρων", αν δεχθούμε ως "2 άκρα" τις πολιτικές Τραμπ και Μπάϊντεν, αντίστοιχα!.. (Οι "Άγγελοι" εκτιμούμε ως ορθή την γενική χάραξη της εξωτερικής πολιτικής του Α/ΥΠΕΞ Κου Μπλίνκεν, έτσι, τουλάχιστον, όπως αυτή παρουσιάστηκε τους πρώτους μήνες των "Δημοκρατικών" στην εξουσία, αρκεί βεβαίως να καταφέρει ο Κος Α/ΥΠΕΞ να πείσει γι' αυτήν τον Πρόεδρό του)!
Στην συνέχεια, ρωτάμε!
"Η τ/Οικονομία θα καταρρεύσει με τις… σύγχρονες "Αγγλικές Διομολογήσεις" να είναι σε ισχύ, εδώ και λίγο καιρό";
Ο ΡΤΕ έκανε έκκληση στον τ/λαό να καταθέσει τις όποιες φυλασσόμενες στο σπίτι του οικονομίες σε χρήμα ή χρυσό, στις τ/Τράπεζες, ώστε να ενισχυθεί, με την είσοδο αυτών στο χρηματο-οικονομικό σύστημα, η πληττόμενη τ/Οικονομία!
Σε ό,τι αφορά τους κατόχους χρυσού, ο ΡΤΕ τους ζήτησε να καταθέσουν στις Τράπεζες της χώρας από 1/2 κιλό χρυσό ο καθένας!
Σημειώνουμε ότι, η παραγωγή χρυσού στην Τουρκία, το 2020, ήταν 42 τόνοι, ενώ η εκτίμηση των ειδικών αναφέρει πως τα επόμενα 4, 5 χρόνια ο εφικτός τ/στόχος είναι να φτάσει η παραγωγή τους 100 τόνους.
Αναμένεται να δούμε τα αποτελέσματα αυτής της έκκλησης, ήτοι την ανταπόκριση ή μη του τ/λαού, φανταζόμαστε μετά από κάποιο χρονικό διάστημα και μέσω μιας κάποιας ανακοινώσεως της τ/Κ-Β!..
Παράλληλα, ο Διευθυντής του "Οικονομικού Γραφείου" του Τ/ΠτΔ Γκιοκσέλ ΑΣΑΝ ανέφερε ότι θα μειωθεί η δραστηριότητα στην τ/αγορά το επόμενο διάστημα, είπε πως θα παγώσουν οι καταθέσεις στις Τράπεζες, αλλά πως τελικώς το κλίμα θα αλλάξει και θα υπάρξει ανάκαμψη!
Είκοσι (20) χρόνια, με το "ΑΚΡ" στην εξουσία, ακολουθήθηκε το μοντέλο της Οικονομίας της "Ελεύθερης Αγοράς" στην χώρα, δήλωσε ο Κος ΑΣΑΝ, με έμφαση στο "Κοινωνικό Κράτος"! Αυτή η φιλελεύθερη πολιτική στην Οικονομία θα συνεχιστεί, είπε, τονίζοντας ότι δεν θα υπάρξει κανένας "Έλεγχος Κεφαλαίων", λέγε με "Capital Controls", κάτι που θα κάνει το ίδιο το τ/Κράτος, όπως εκείνο γνωρίζει!..
Να αναφέρουμε στο σημείο αυτό πως, το υπολογισθέν ετήσιο οικονομικό κόστος στην Τουρκία, λόγω του "COVID-19" είναι 3,7 δις ΤΛ, ήτοι 528.571.428 εκ. $ Η.Π.Α., με 1$ Η.Π.Α. να αντιστοιχεί σε 7 ΤΛ! (Δηλαδή λίγο περισσότερο από μισό δις $ Η.Π.Α. / Την ισοτιμία την "βάλαμε" κατά προσέγγιση, αλλά για το τ/"σήμερα", όπως και για το άμεσο τ/μέλλον, εκτιμάται ως "μάλλον χαμηλή" η υπόψη ισοτιμία)!..
Σημειώνεται ότι το 25% του παραπάνω κόστους θα το πληρώσουν οι Τ/Πολίτες.
    3.  Οι Τούρκοι "παλεύουν" ακόμα να… πείσουν(sic) τις Η.Π.Α. για το θέμα των Ρωσικών "S-400" που αγόρασαν, βαυκαλιζόμενοι ακόμα ότι τελικώς θα το αναπτύξουν το "Σύστημα" αυτό στην χώρα τους!
Οι Η.Π.Α. συνεχίζουν να είναι, και επί Μπάϊντεν, κάθετα αντίθετες στο τ/"θέλω" στο θέμα αυτό και "δεν το συζητούν" καθόλου! 
Οι Τούρκοι, από την πλευρά τους, και απ' ό,τι μπορούμε αυτήν την στιγμή να ανακαλέσουμε στην μνήμη μας, την μια ανέφεραν ψευδώς(!) πως, σε συνεννόηση με τους Αμερικανούς(!), συγκρότησαν "Ομάδες Συζήτησης" για το θέμα, την άλλη πρότειναν (Ακάρ), για τους τ/S-400, την χρήση του μοντέλου "Κρήτης" για τους Κυπριακούς S-300 που κατέληξαν, "δια της πλαγίας", στην Ελλάδα, που και αυτό απερρίφθη, ως πρόταση, από τις Η.Π.Α., μέχρι που, φίλοι μου, διαβάστε παρακάτω, τί άλλο φέρεται να επεχείρησαν οι Τούρκοι στο θέμα αυτό!
Τί;
Ο Νο "1" "εξ απορρήτων" του ΡΤΕ Κος Ιμπραήμ ΚΑΛΙΝ φέρεται να πρότεινε στις Η.Π.Α. να κάνουν οι Τούρκοι ακριβώς ό,τι θέλουν οι Αμερικανοί στο θέμα των τ/"S-400″, αρκεί όμως οι Αμερικανοί να "εγκαταλείψουν" πολιτικο-οικονομικο-στρατιωτικά (και κυρίως στρατιωτικά) το "ΡΚΚ" και το "YPG" – "PYD" στην ΝΑ Τουρκία, στο Β. Ιράκ και κυρίως στην Β. – ΒΑ Συρία, αντίστοιχα!
Και μόνον απ' αυτήν την πρόταση του Καλίν, που την αμερικανική απάντηση εμείς τουλάχιστον δεν την ακούσαμε ακόμα, μπορεί να αντιληφθεί κανείς, ασφαλώς και το πόσο σοβαρά έχουν οι Τούρκοι το θέμα των "S-400", αλλά κυρίως(!) το πόσο δαιμόνιοι είναι στην ανεύρεση διπλωματικών αντίβαρων, συνεπώς το πόσο έξυπνα και με πόση προχωρημένη… φαντασία προωθούν τα θέματά τους, που άπτονται των εθνικών τους, γενικώς, συμφερόντων!
Το γεγονός αυτό δείχνει και κάτι ακόμα! Δείχνει ότι οι Τούρκοι ακολουθούν στην εξωτερική τους πολιτική την στρατηγική "της… θήρας / του… κυνηγίου του μεγίστου κέρδους / οφέλους", (διεκδίκηση του "ΟΛΟΥ", με στόχο το "ΜΕΙΖΟΝ"), "πατώντας", όπως 100 φορές έχουμε πει, στην κρίσιμη παγκοσμίως Γεωγραφία τους!
Έτσι, λένε, για παράδειγμα, τώρα!
«Σου "δίνω" Αμερικανέ τους "S-400", αλλά εσύ θα μου δώσεις -ουσιαστικά- το "ΡΚΚ" και τις όποιες παραφυάδες του σε Ιράκ και Συρία "στο πιάτο", για να μην σου πω ότι θέλω να γίνεις εχθρός του, σαν να πρόκειται για απειλή προς το ίδιο το Α/Κράτος»! 
Άλλο παράδειγμα!
"Ελάτε να τα βρούμε" Έλληνες, αλλά εμείς θέλουμε το 1/2 Αιγαίο, μέχρι τον 25ο Μεσημβρινό, α(!) σημειώστε επίσης συνακολούθως Έλληνες, πως "τα νησιά του Αιγαίου" (προσοχή, όχι "ελληνικά νησιά") δεν έχουν υφαλοκρηπίδα, ούτε και "ΑΟΖ", αφού αποτελούν συνέχεια της γης της Ανατολίας, όπως έχει αποφανθεί και το "Διεθνές Δικαστήριο", ακόμα θα πρέπει να πάψετε να κατέχετε νησιά μας, όπως είναι πολλά απ' αυτά δίπλα στα τ/παράλια, στην δε Κύπρο "μιλάμε" μαζί σας μόνον, αν αποδεχθείτε την ύπαρξη 2 Κρατών στο νησί, κλπ, κλπ, κλπ»!.. 
Βλέπετε; Ξεκινούν με το πολιτικό… γκάζι πατημένο στο τέρμα, βάζουν και λίγο ψέμα μέσα***, και αν πάνε σε συνομιλίες, θα επιδιώξουν το πόδι τους από το… γκάζι να μην τραβηχτεί πολύ και για το… Αιγαίο και για την… Κύπρο!..
Δηλώσεις σαν αυτές παραπάνω, αναλόγως του κάθε φορά στόχου ή στόχων και τ/επιδιώξεων  επαναλαμβάνονται "από καιρού, εις καιρόν", ώστε να παγιώνεται το περιεχόμενό τους (και συνεπώς η τ/θέση) στην συνείδηση των  διαφόρων "Ακροατηρίων – Στόχων", (φιλικά, ουδέτερα και εκτιμηθέντα ως εχθρικά), και φυσικά λέγονται και πάλι, και με αυξανόμενη κάθε φορά συχνότητα, αλλά και ένταση, όταν επίκεινται συνομιλίες, όπως τώρα, για παράδειγμα, που στις 27-04 / 29-04-2021 θα διεξαχθούν στην Γενεύη συνομιλίες για το "ΚΥΠΡΙΑΚΟ", υπό την αιγίδα του ΓΓ/Ο.Η.Ε. Κου ΓΚΟΥΤΙΕΡΕΖ, και στην "βάση" του σχήματος "5+1", προκειμένου να διερευνηθεί το "αν υπάρχει κοινό έδαφος, προκειμένου ακολούθως να υπάρξουν διαπραγματεύσεις, με στόχο μια διαρκή και μόνιμη λύση του Κυπριακού, εντός – ΠΡΟΣΟΧΗ (!) – ενός προβλεπτού ορίζοντος"!..
Καταλάβατε!!!..
Την πολιτική αυτήν την διδάχθηκαν από τον "ΜΕΤΡ" της Διπλωματίας,  "ΕΘΝΑΡΧΗ" μας Ελευθέριο ΒΕΝΙΖΕΛΟ, όπως ομοίως και την βάση της εξωτερικής τους πολιτικής άντλησαν, οικειοποιήθηκαν και υλοποίησαν / υλοποιούν,  από τους Έλληνες Φαναριώτες, απ' αυτά δηλαδή, τα πολλά κάποτε, παρά "τω Σουλτάνω", μικρά συμβουλευτικά ΥΠΕΞ!.. 
*** Το ψέμα στο παράδειγμα είναι ότι το "Διεθνές Δικαστήριο" ΄έχει τάχα αποφανθεί πως τα νησιά μας δεν έχουν "ΑΟΖ" και υφαλοκρηπίδα, κάτι που φυσικά και δεν έχει συμβεί, αφού κάτι τέτοιο θα προσέκρουε, πλην των άλλων, και στην "Σύμβαση του Μοντέγκο Μπέϋ", της Τζαμάϊκα, το 1982 και στις εκεί τότε ληφθείσες για την θάλασσα αποφάσεις (είναι σε ισχύ από το 1995), απ' τις οποίες η Τουρκία απείχε, ως μη συμμετέχουσα χώρα!.. (Το εσκεμμένο αυτό ψέμα, που εντάσσεται στον τρόπο – μεθοδολογία που ασκείται η τ/διπλωματία – εξωτερική πολιτική, το ανέφερε ο Κος Ακάρ, πριν από ακριβώς 3 ημέρες, σε δήλωσή του, και αποτελεί τα 2/3 των όσων ο ίδιος ανέφερε σ' αυτήν του την παρέμβαση)!
Τέλος, οι Τούρκοι δεν λησμονούν να κάνουν και τον… λαγό, στο γνωστό ανέκδοτο με το λιοντάρι, "πετώντας" γενικές ή ειδικές και συγκεκριμένες λεκτικές… ηρωϊκές κορώνες προς τις Η.Π.Α., με… σάλτσα υποδείξεων, της μορφής, "οι Η.Π.Α. να λειτουργήσουν αμερόληπτα! Οι απειλές (sic) δεν θα περάσουν"!
(Αυτή η δήλωση αφορούσε τις τελευταίες αναφορές Μπλίνκεν, για λύση του "Κυπριακού" στην βάση των προνοιών του Ο.Η.Ε., στην δήλωσή του επίσης, στην Σύνοδο του ΝΑΤΟ, πως "δεν είναι ψέμα ότι βιώνεται μια ασυμφωνία με την Τουρκία σε μερικά θέματα", αλλά και τ/απάντηση στην άποψη του Α/ΥΠΕΞ πως τώρα η Τουρκία μοιάζει να τα "πηγαίνει" καλύτερα με την Ευρώπη, κλπ)!..
"ΣΥΝΕΧΙΖΕΤΑΙ"!
"ΕΛΛΗΝΑΣ"
-/- 
ΥΓ.
1. "ΞΕΛΑΜΠΙΚΑΖ"!
Αχ, Κούλα!..
Κούλα

μ' ακούς; Πόσο έχει ο μήνας; Πέεεεεντε;!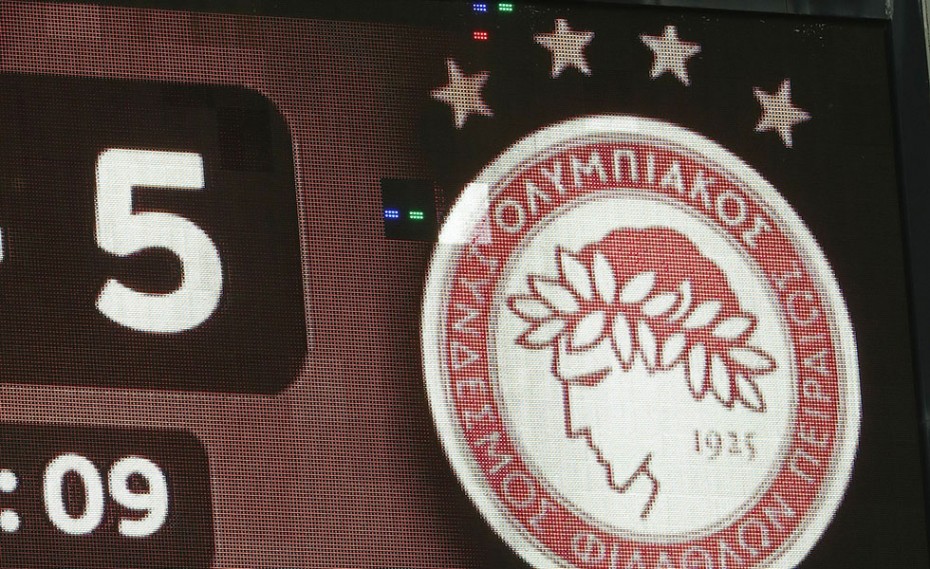 Εμείς στο ποδόσφαιρο διακρινόμαστε, εν προκειμένω. Στον αθλητισμό γενικότερα. Αλλά το να ρίχνουμε πέντε στην ομάδα του «επενδυτή» και να ξημερώνει πέντε του μήνα, το λες και λίγο… σατανικό. Το λες και λίγο -ακόμα- κάρμα, ρε παιδάκι μου. Το λες και λίγο… ειρωνεία της τύχης, για όλους εκείνους που θα ήθελαν, σήμερα, 5 του μήνα, να… πανηγυρίζουν εις βάρους του «δυνάστη» τους. Να πανηγυρίζουν εις βάρος της μεγαλύτερης ομάδας στην Ελλάδα…
Καλή εβδομάδα σε όλους, με υγεία και… πεντάρες…
Ατελείωτο πάρτι, επί εποχής Μαρινάκη: 12 νίκες, 6άρα, 5άρα, 4άρες και… 47 γκολ

!
"Σ' ΑΓΑΠΑME"!
Δεν έχει σταματημό το γλέντι του Ολυμπιακού, στην ΑΕΚ, επί εποχής Βαγγέλη Μαρινάκη, με… 47 γκολ, σε μία 10ετία! Επί εποχής Μαρινάκη, ο Ολυμπιακός έχει ανοίξει τόσο πολύ την ψαλίδα, σε σχέση με τους «κιτρινόμαυρους, που πλέον… παύει να είναι αστείο! Και τείνει σε… χάος!
Ο Θρύλος έχει κάνει άλματα προόδου, την ώρα που η ΑΕΚ του «επενδυτή» βυθίζεται στην ανυπαρξία και
στην εσωστρέφεια, με… έναν τίτλο στη χάση και έναν στη φέξη. Όπως και νίκες. Μία εδώ και μία… εκεί. Σκόρπιες.
Όπως σκόρπισε και χθες το βράδυ, στο ΟΑΚΑ, ο Ολυμπιακός την ΑΕΚ! Με 12 νίκες, μία 6άρα, μία 5άρα, τρεις 4άρες, τέσσερις 3άρες και… πάει λέγοντας και συνολικά… 47 γκολ, ενεργητικό, ο Θρύλος το έχει πάει, πλέον, σε… άλλο επίπεδο!
Οι νίκες του Θρύλου:
04/04/21 ΑΕΚ – Ολυμπιακός 1-5
03/01/21 Ολυμπιακός – ΑΕΚ 3-0
19/07/20 Ολυμπιακός – ΑΕΚ 3-0
28/06/20 ΑΕΚ – Ολυμπιακός 1-2
27/10/19 Ολυμπιακός – ΑΕΚ 2-0
17/02/19 Ολυμπιακός – ΑΕΚ 4-1
02/10/16 Ολυμπιακός – ΑΕΚ 3-0
17/10/15 Ολυμπιακός – ΑΕΚ 4-0
10/03/13 Ολυμπιακός – ΑΕΚ 3-0
11/11/12 ΑΕΚ – Ολυμπιακός 0-4
10/02/12 Ολυμπιακός – ΑΕΚ 2-0
20/03/11 Ολυμπιακός – ΑΕΚ 6-0
Τα υπόλοιπα αποτελέσματα:
Μη Νίκες ΘΡΥΛΟΥ:
04/02/18 Ολυμπιακός – ΑΕΚ 1-2
24/09/17 ΑΕΚ – Ολυμπιακός 3-2
19/02/17 ΑΕΚ – Ολυμπιακός 1-0
13/02/16 ΑΕΚ – Ολυμπιακός 1-0
27/11/10 ΑΕΚ – Ολυμπιακός 1-0
Ισοπαλίες:
16/12/20 ΑΕΚ – Ολυμπιακός 1-1
26/01/20 ΑΕΚ – Ολυμπιακός 0-0
07/10/18 ΑΕΚ – Ολυμπιακός 1-1
15/10/11 ΑΕΚ – Ολυμπιακός 1-1
2. ΕΡΩΤΗΣΕΙΣ:
ΕΓΙΝΕ ΤΕΛΙΚΑ, ΝΑΙ ή ΟΧΙ ΔΟΛΙΟΦΘΟΡΑ ΣΕ "ΡΑΝΤΑΡ" ΜΑΣ ΣΤΗΝ ΡΟΔΟ; (17/03)
ΚΑΤΑΛΗΓΟΥΝ ΑΚΟΜΑ ΟΠΛΑ ΑΠΟ ΑΛΒΑΝΙΑ ΣΤΗΝ ΚΡΗΤΗ, ΠΧ ΣΤΑ ΣΦΑΚΙΑ ΚΑΙ ΠΟΙΟΙ, ΓΙΑ ΛΟΓΑΡΙΑΣΜΟ ΠΟΙΩΝ, ΤΑ "ΔΙΑΧΕΙΡΙΖΟΝΤΑΙ";
3.
Jeopolitik ve Jeostratejik
02.04.2021
Osmanlı İmparatorluğunu güçlü bir cihan devleti  yapan Karadeniz, Marmara, Ege, Akdeniz,  Kızıldeniz , Umman denizi ve Basra körfezine hakim olması, Aden Körfezi ve Hint Okyanusunda güçlü bir donanmaya sahip olmasıydı. Avrupa, Asya ve Afrika kıtasındaki en jeopolitik, jeostratejik askeri ve ticari bölgeleri ve deniz yollarını kontrol altında tutması onu ve ordusunu bileği bükülmez bir güç haline getirdi.
Denizlerine hakim olamayan devletlerin özgürlük ve bağımsızlık mücadelesi adına attıkları her adım baskı ve tehdit altındadır. (ΕΠΙΤΕΛΟΥΣ! ΤΟ ΚΑΤΑΛΑΒΑΝ ΟΙ ΤΟΥΡΚΟΙ, ΜΕΤΑ ΑΠΟ 100+ ΧΡΟΝΙΑ ΚΑΙ ΤΟΥΣ Α' ΚΑΙ Β' ΒΑΛΚΑΝΙΚΟΥΣ ΠΟΛΕΜΟΥΣ)! Bu devletlerin askeri gücünün  dünya siyaseti, ticareti  ve karar mekanizmalarında ciddi bir özgül ağırlığı yoktur. Denizler ülkelerin dünyaya açılan kapıları ve pencereleridir. Denizlerde güçlü olan milletler her alanda güçlü ve söz sahibi olurlar.
İngiltere, Fransa, İspanya, Portekiz, Danimarka, Hollanda ve Belçika gibi Avrupa devletlerinin hala denizaşırı ülkelerde birçok sömürgeleri varsa bu onların zamanında denizlere verdiği önemin bugünlere uzanan meyvesidir. Bu ülkeleri zengin eden, buyruk sahibi efendiler konumuna getiren denizaşırı ülkelerdeki bakir toprakları 300- 400 yıl önce işgal ve istila edip hala da sömürmeleri ve oralarda açık ve gizli emperyalizmi ve kolonyalizmi sürdürmeleridir.
Portekiz, Hollanda, Belçika, Danimarka gibi ülkelerin bizim iki üç vilayetimiz kadar toprağı ve nüfusu vardır. Ama; gayri safi milli hasılatları, denizaşırı ülkelerdeki sürdüregeldikleri sömürü politikaları, nüfuzları ve ticari kapasiteleri olarak Türkiye'yi birkaç defa katlayacak güçtedir.
Devlet ve milletlerin vatanları ve ekonomik çıkarları sadece kara parçalarından ibaret değildir. Hakimiyetin sadece göklerde olmadığı gibi… İngiltereyi dünyanın en güçlü ekonomisi ve ülkelerinden birisi yapan onun dünya üzerine yayılmış  sözde ve yarı bağımsız ülkelerdeki emperyal-sömürü çarkları ve çıkarlarıdır.
ABD'yi, Rusya'yı ve Çin'i dünyanın en büyük askeri, siyasi ve ekonomik gücü haline getire özelliklerden birisi güçlü ordu ve deniz kuvvetlerine, deniz ticaret filolarına, stratejik deniz bağlantı yolları ve enerji kaynaklarına sahip ve hakim olmalarıdır.
Çin'den konteyner taşıyan dev bir Hollanda gemisinin Süveyş kanalında karaya oturmasıyla birkaç gün içinde (ki Süveyş kanalı dünya deniz taşımacılığının % 10 unu kadarını karşılayabiliyor)  dünyaya verdiği zarar 10 milyar Dolar olduğunu düşündüğümüzde global ticaret ağının ne kadar deniz taşımacılığına bağlı olduğu görebiliyoruz. Bugün; Süveyş ve Panama Kanalını, Cebeli Tarık Boğazını, Basra Körfezini, Aden Körfezini, Singapur, Güney Asya ve Çin denizindeki deniz ticaret yollarını kontrolünde tutmak için ABD 1 milyonun üzerinde asker ve 100 miyarlarca Dolar askeri harcamayı boşuna yapmıyor.
Denizlerin kontrol ve hakimiyeti hangi ilkenin elinde ise; o ülke istediği zaman dünya ticaretini bir haftada felç edebilecek bir güce, kuvvete ve silaha sahiptir. Çin ve Rusya'nın ABD'nin dünya üzerindeki hegomonyasını kırmak için birlikte hareket etmek zorunda kalmaktadırlar. Her iki süper devletin yaptıkları askeri harcamalar ABD'nin yarısı kadar bile değildir. Bunun için ABD tartışmasız dünya hakimiyeti mücadelesinde rakiplerinden güçlü, ileride ve söz sahibidir.
Çin'in denizaşırı ülkelerde sessizce yaptığı askeri, ticari ve ekonomik yatırımlar dünyanın patronu ABD'nin tahtını sallayacak güçte olmasa da onun hegemonyal sınırlarını zorlayan yayılmacı atakları Washington'u hayli rahatsız ediyor. Buna karşın Rusya ve Çin ile kim dirsek temasında ise;  o ülkeleri mercek altına alıp gerekirse onlara ekonomik ve askeri ambargo uygulamaktan da asla geri kalmıyor. ABD'nin Baltık, Karadeniz, Akdeniz, Hint Okyanusu, Körfez ve Atlas Okyanusundaki askeri varlığını güçlendirmesi Çin'i frenlemeyen yükselişine yönelik panikataklardır.
Çin ve Rusya'nın Türkiye'nin de içinde olduğu  doğudan batıya ''Bir kuşak bir yol '' projesiyle ABD'nin denizlerdeki hakimiyetini boşa çıkarma gayreti hayli başarılı görülmekte. Çin Rusya'dan Avrupa'ya, Ortadoğu'ya, Hindistan'a, Güney Asya'ya hatta; Afrika'ya kadar uzanan kara ve demir yolları projeleri ile  dünyayı bir örümcek ağı gibi örmesi ve sarmasıyla ''ABD emperyalizminden sonra; şimdi de sıra Çin hegemonyasına mı geliyor'' sorusunu gündeme getirmektedir.
Üretim üssü Çin'den dünyanın en zengin ve refah ülkelerine uzanan ihracat ve ithalat en ucuz, en süratli ve en emniyetli taşımacılık yollarıyla yapılması ülkeler arasındaki yakınlaşmayı da beraber getireceği gibi, aynı zamanda ticari rekabeti de kamçılayacaktır. 1.ve 2. Dünya savaşlarının fitilini ateşleyen batının çılgınca hammadde ve pazar arayışları olduğu düşünüldüğünde, ABD AB ve Çin Rusya arasındaki ekonomik ambargolar, işgaller ve hegemonya mücadeleleri bir dünya savaşını da beraberinde getirebilir.  Bu hal tüm dünyayı tesir altına alıp, kendi çekim alanına çekebilecek sayısız olumsuz gelişmeleri ve felaket zincirini de beraberinde getireceğini, bunun ülkemize, bölgemize , coğrafyamıza ve insanlığa nelere mal olabileceğini düşünmek bile korkunç.
Bu bağlamda; Türkiye'nin Afganistan, Irak, Suriye, Somali, Katar, Libya, Azerbaycan ve Kıbrıs'taki askeri üstleri, Kafkaslar Balkanlar Orta ve Güney Asya'da Ortadoğu Kuzey Afrika'daki askeri, ticari ve kültürel aktiviteleri hem ülkemiz, hem kendi Coğrafyamız, hem  dost ve kardeş ülkeler ve tüm insanlık için ümit ve gelecek vaad ediyor. Bu durum; Hazar denizi, Karadeniz, Ege, Akdeniz, Kızıldeniz, Umman Denizi ve  Basra Körfezi gibi jeostratejik ve jeopolitik alanlarda elimizi kolumuzu güçlendirecektir.
Bela ve tehlike her zaman geliyorum, der. Onu anlamak ve kavramak için millet ve devlet yöneticileri tarihten dersler ve ibretler çıkarmak zorundadırlar. Kendisini, ülkesini, coğrafyasını ve geleceğini düşünen  milletler her zaman, her alanda, her türlü şartlara hazır olmak zorundadır. Atalarımızın; ''Hazır ol cenge, ister isen; sulhu salah'' (Barış ve huzur istiyorsan; savaşa hazır ol ) (ΤΟ ΕΜΑΘΑΝ ΠΡΟΣΦΑΤΑ ΑΠΟ ΕΜΑΣ ΚΑΙ ΑΥΤΟ ΟΙ ΤΟΥΡΚΟΙ) dediği gibi.
Ne yazık ki; dış güçlerin ve emperyalizmin ülkemizde taşeronları ile akıl fukarası zavallı muhalefetin bunları anlamaya, kavramaya ve düşünmeye ne kapasitesi, ne de niyeti var. Onların gündeminde düşmanlarımızın, ''Ne olursa olsun, nasıl olursa olsun milli birliğimizi sağlayan, Türkiye'yi dünya devi yapmak isteyen Başkan Erdoğan'ı devirme planı var.''
İnanmış Müslüman bir millet için hayat; sadece savaş ve barıştan, dostluk ve düşmanlıktan meydana gelen paradokslardan ibaret değildir. Bizim için hayat; bu iki zıddın birleşiminden her türlü imkansızlıklardan imkanlar, her türlü krizlerden fırsatlar, her türlü olumsuzluklardan sonsuz sayıda güzellikler çıkarma sanatıdır. Her gecenin; bir sabahı, her Firavunun; bir Musa'sı vardır.
Arif Altunbaş, Haber 7
4.
Then US Vice President Joe Biden, left, and Palestinian President Mahmoud Abbas in 2016. (Debbie Hill, Pool via AP)
$90 Million: Is Biden's Massive Gift to the Palestinians Legal?
According to USAID, Biden's $90 million in aid to the Palestinians "adheres" to "anti-terrorism vetting" that ensures "assistance does not go to Hamas or other terrorist organizations."
By JNS
The Biden administration has allocated $90 million in aid to the Palestinians, with only a portion of the money being publicly announced, according to a report by the Associated Press.
The United States announced last week that it would give $15 million in coronavirus relief to the Palestinians. However, the Biden administration notified Congress a day later, without a public announcement, that it will allocate $75 million to the Palestinians for economic support to be used in part to regain their "trust and goodwill" following Trump administration cuts, the AP report said.
The State Department declined to comment on the report, and it remains unclear if the $75 million includes the $15 million in COVID aid.
U.S. President Joe Biden has been outspoken in his desire to re-engage with the international community, especially European allies but also with Iran and the Palestinians, and his intention to roll back many of former President Donald Trump's foreign-policy positions.
State Department spokesman Ned Price says that in general, the United States supports the restoration of aid to the Palestinians.
"We continue to believe that American support for the Palestinian people, including financial support, is consistent with our values. It is consistent with our interests. Of course, it is consistent with the interests of the Palestinian people. It's also consistent with the interests of our partner, Israel, and we'll have more to say on that going forward," he told reporters.
The Trump administration cut nearly all aid to the Palestinian Authority as part of the Taylor Force Act, which prohibits U.S. aid to the P.A. as long as it continues to provide support to terrorists or their families.
According to USAID's congressional notification, much of the $75 million will go towards short-term projects aimed at rebuilding U.S.-Palestinian relations. This includes $5.4 million to Palestinian civic groups, including possibly independent media in Judea and Samaria and Gaza, as well as funding for the health-care sector and the resumption of assistance to the East Jerusalem Hospital Network.
Additionally, the Biden administration seeks to fund sanitation, water supply, transportation infrastructure, social services, job training for Palestinian youth, micro-loans and grants for small businesses, and disaster preparedness.
The USAID notification said that it would adhere to U.S. law for providing the money.
Said the notice: "USAID adheres to rigorous partner anti-terrorism vetting and certification, auditing and monitoring procedures to help ensure that its assistance does not go to Hamas or other terrorist organizations."
5.
Bayraktar TB2 SİHA önünde gurur veren buluşma!
02.04.2021 
1 / 8
Baykar Savunma Teknoloji Lideri Selçuk Bayraktar, mezun olan Azerbaycanlı İHA personeliyle buluştu.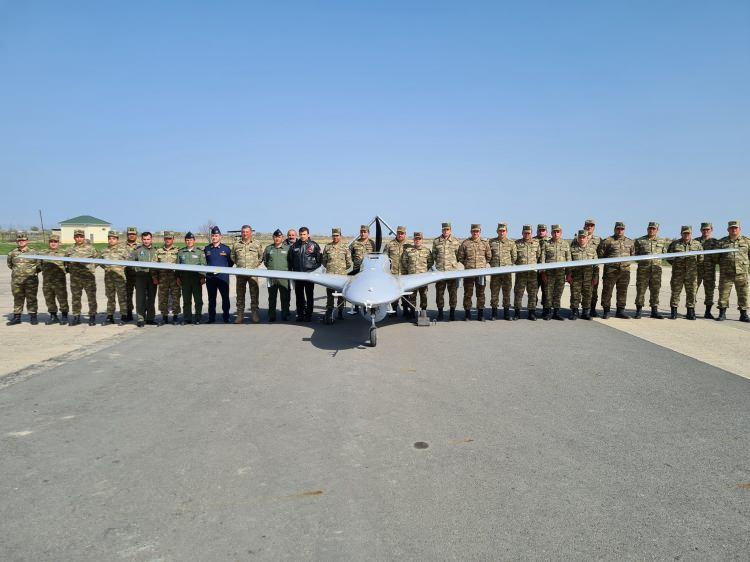 2 / 8
Sosyal medya hesabından fotoğrafları paylaşan Selçuk Bayraktar, şu ifadeleri kullandı;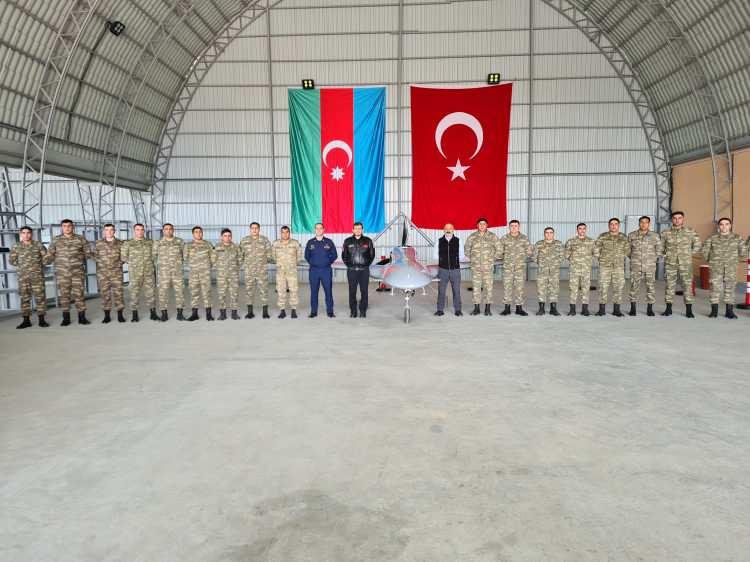 3 / 8
Eğitimlerini Baykar Savunma  Uçuş Eğitim Merkezimizde tamamlayarak mezun olan Azerbaycanlı İHA personeliyle buluştuk.
Karabağ Tek Vatan Harekâtı anısına yaptırdığımız hatıra pullarını kendilerine takdim ettik.
Bu arada tatlı yedik, tatlı konuştuk…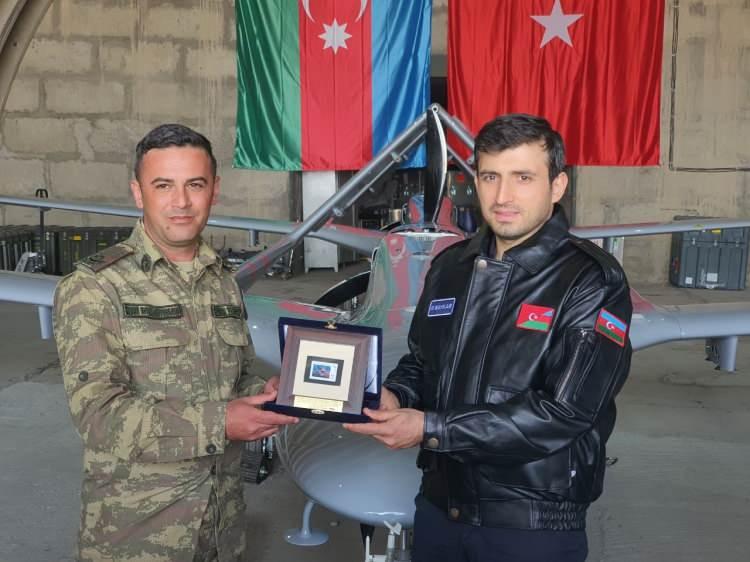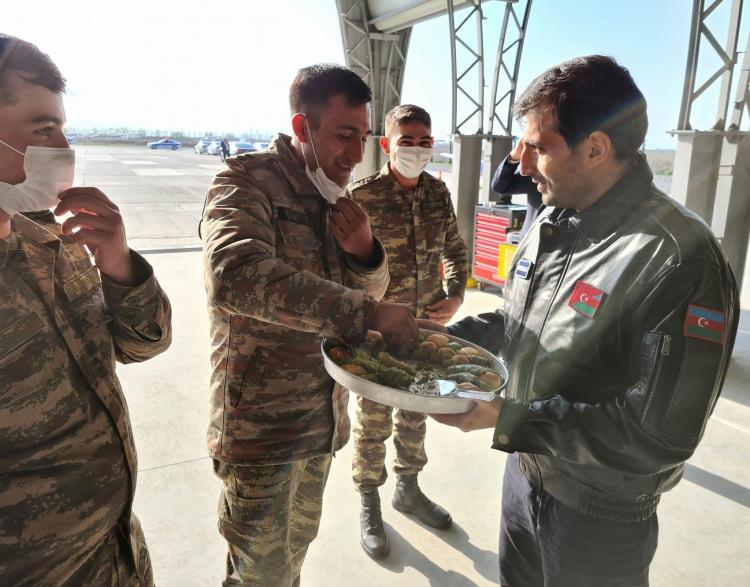 5 / 8
Azerbaycan Cumhurbaşkanı İlham Aliyev tarafından Baykar Teknik Müdürü Selçuk Bayraktar'a "Karabağ Nişanı" verildi.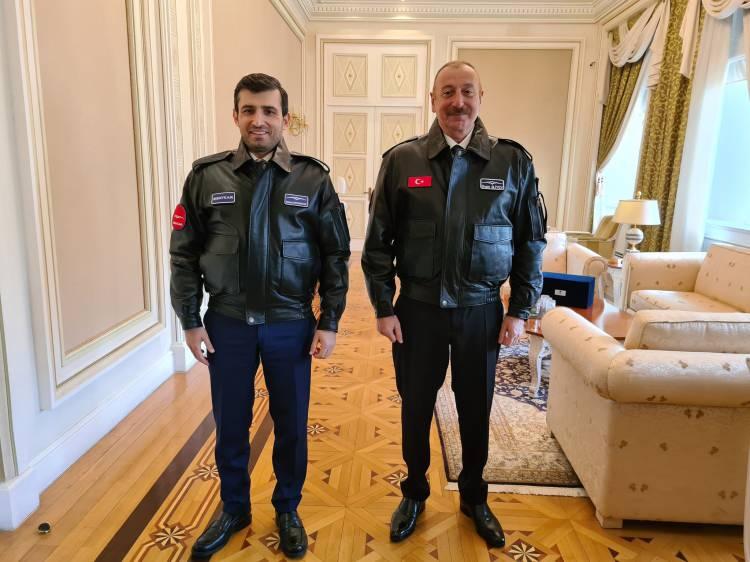 6 / 8
Aliyev, temaslarda bulunmak için Bakü'ye gelen Bayraktar ile ASELSAN Yönetim Kurulu Başkanı ve Genel Müdürü Haluk Görgün'ü kabul etti.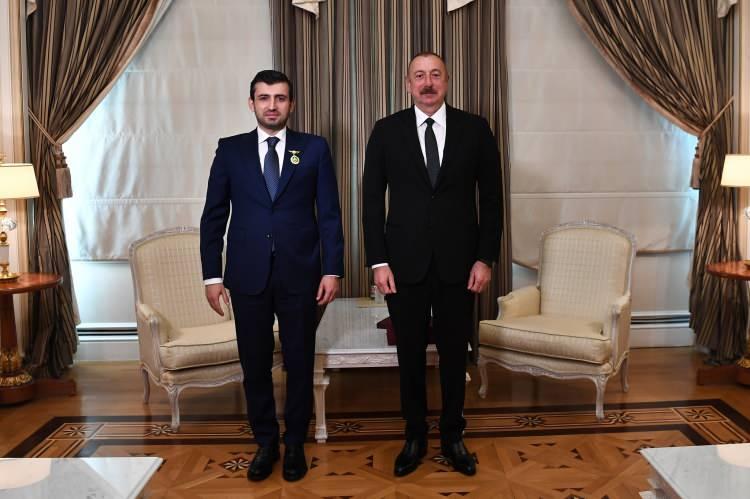 7 / 8
Kabulün ardından Aliyev, Dağlık Karabağ savaşında Azerbaycan topraklarının işgalden kurtarılmasında hizmetleri bulunan asker ve sivillerin ödüllendirilmesi için tesis edilen "Karabağ Nişanı"nı Bayraktar'a takdim etti.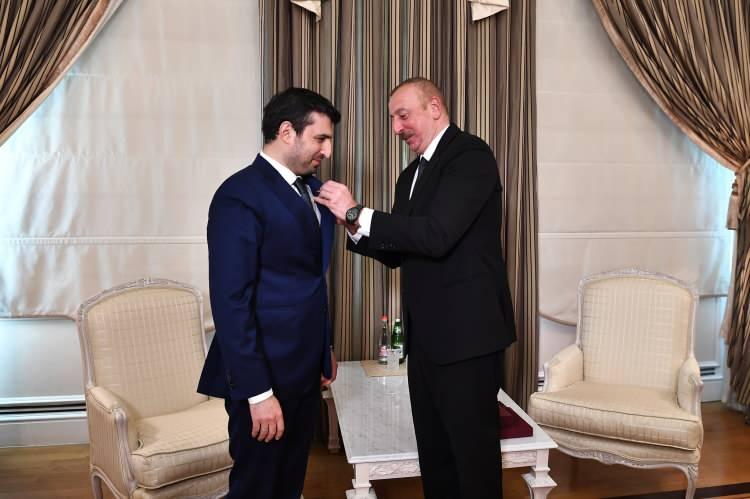 8 / 8
Bayraktar, Twitter hesabından yaptığı açıklamada, "Babam Özdemir Bayraktar ve ağabeyim Haluk Bayraktar ile birlikte Azerbaycan Cumhurbaşkanı Sayın İlham Aliyev tarafından Karabağ Nişanı'na layık görülmekten dolayı büyük şeref ve onur duyduk. Tek millet, iki devletin ortak geleceği için çalışmaya devam edeceğiz." ifadelerini kullandı.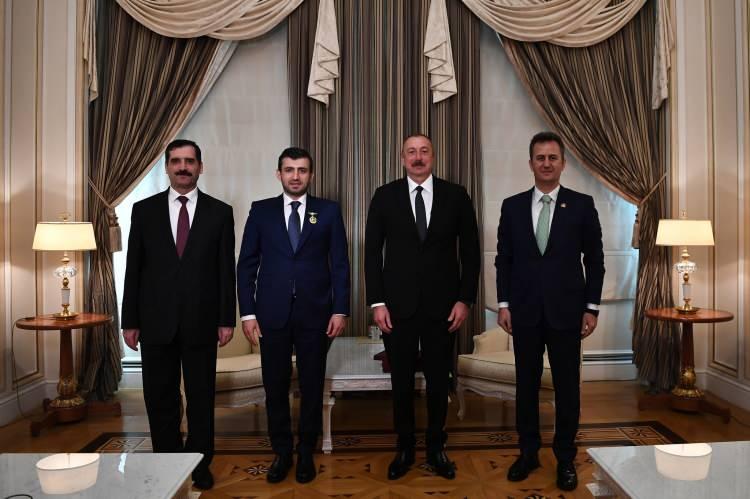 6.
Biden'dan Patriot talimatı! Dengeleri sarsabilir
ABD Başkanı Biden'ın Basra Körfezin'deki Patriot sistemlerinin kaldırılması talimatı verdiği iddia edildi.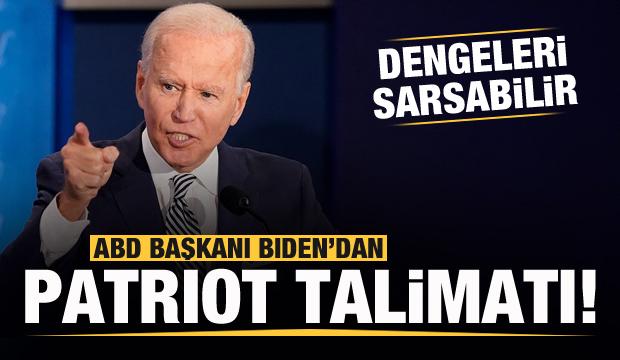 Wall Street Journal, ABD Başkanı Joe Biden'ın Basra Körfezi'nde bulunan Patriot hava savunma sistemleri de dahil olmak üzere birçok askeri donanımın ve kuvvetin bölgeden kaldırılması yönünde ABD Savunma Bakanlığına (Pentagon) talimat verdiğini öne sürdü.
ABD basını, ABD Başkanı Joe Biden'ın Basra Körfezi'nde bulunan Patriot hava savunma sistemlerinin kaldırılması talimatı verdiğini öne sürdü.
Wall Street Journal, Biden'ın Basra Körfezi'nde bulunan Patriot hava savunma sistemleri de dahil olmak üzere birçok askeri donanımın ve kuvvetin bölgeden kaldırılması yönünde ABD Savunma Bakanlığı'na (Pentagon) talimat verdiğini öne sürdü.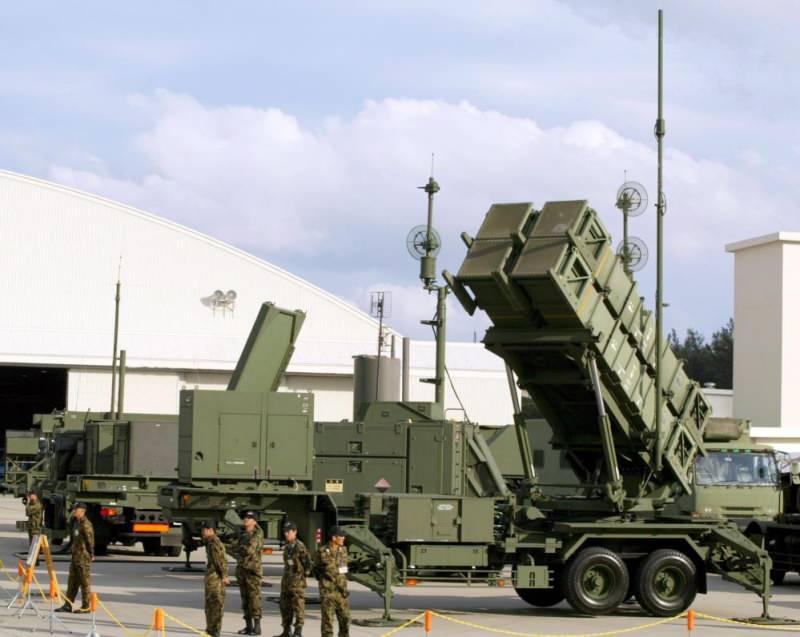 WSJ haberde üst düzey yetkililere atıfta bulunurken, Pentagon'un 1'i Suudi Arabistan'daki Prens Sultan Hava Üssü'nde olmak üzere 3 Patriot sistemini bölgeden kaldırdığını ifade etti. Haberde, Pentagon'un bir uçak gemisini, gözetleme sistemlerini ve birçok askeri kuvveti Orta Doğu'nun dışına taşıdığı belirtildi.
RUSYA VE ÇİN'E KARŞI KONUŞLANDIRILABİLİRLER
Haberde, Pentagon'un Orta Doğu'dan çektiği donanımların ve kuvvetlerin bir kısmını başlıca küresel rakipleri olarak gördüğü iki ülke olan Rusya ve Çin'e karşı yeniden konuşlandırılabileceği belirtildi. Haberde ayrıca, ABD'li yetkililerin daha fazla donanımı ve kuvveti bölgeden çıkarmayı gözden geçirdiği ifade edildi.
SUUDİ ARABİSTAN KENDİ TOPLRAKLARINI SAVUNMALI
Askeri ekipmanların bölgeden çıkarılmasının bir diğer nedeni olarak ise, ABD'nin Suudi Arabistan'dan kendi topraklarını savunma yükünü daha fazla üstlenmesini istemesi olarak gösterildi. Pentagon'un Suudi Arabistan'daki stratejik noktalar ile petrol tesislerin korunmasına yardımcı olacak yolları araştırmak için bir ekip oluşturduğu ifade edilen haberde ayrıca, yardım seçenekleri arasında hava savunma sistemi satışı, genişletilmiş istihbarat paylaşımı ve ek askeri eğitim gibi başlıkların yer aldığı belirtildi.
7.
Türkiye'den Rum Kesimine çok sert tepki!
Türkiye'den, Rum Kesiminde terör örgütü EOKA'nın kuruluşunun kutlamasına sert tepki geldi.
Bakanlıktan yapılan yazılı açıklamada, Güney Kıbrıs Rum Yönetimi'nin, terör örgütü EOKA'nın 66'ncı yıl dönümünü, anma töreniyle kutladığı belirtilerek, "EOKA, bizim ve Kıbrıs Türk kardeşlerimizin gözünde bir terör örgütüdür." denildi.
Açıklamada, bu örgütün, Ada'daki Kıbrıs Türk varlığını ortadan kaldırmak için 1963-1974 arasında insanlık dışı katliamlar gerçekleştirdiği belirtildi.
İnsanlık dışı katliamların acısının halen hafızalarda olduğu vurgulanan açıklamada, "Tüm bunlara rağmen, Güney Kıbrıs Rum Yönetimi'nin EOKA'nın kuruluş yıl dönümünü hala kutlaması, anısına pullar bastırması, Kıbrıs Türklerini azınlık olarak gören ve onları yok sayan zihniyetlerinin bugün de aynen devam ettiğinin bir başka kanıtıdır." ifadeleri kullanıldı.
Açıklamada Türkiye'nin, geçmişte olduğu gibi, gelecekte de her zaman Kuzey Kıbrıs Türk Cumhuriyeti'nin (KKTC) ve Kıbrıs Türklerinin, güvenliği ve refahı için yanında olmaya devam edeceği belirtildi.
8. "ΣΦΡΑΓΙΣΕ ΤΟ ΚΑΠΙΤΩΛΕΙΟ" / Ο,ΤΙ ΣΑΣ ΓΡΑΦΑΜΕ, ή ΟΧΙ;  
ABD Kongresi yerleşkesinin, bir aracın bariyerler ile polislere çarpması nedeniyle giriş ve çıkışlara kapatıldığı, güvenlik önlemlerinin artırıldığı bildirildi.
ABD'de 6 Ocak'ta baskına sahne olan Kongrede yine alarm verildi.
Kongre polisi, "dış tehdit" nedeniyle tüm yerleşkedeki binalara giriş çıkışların kapatıldığını ve güvenlik önlemlerinin artırıldığını duyurdu.
ABD Kongre Polisinin resmi Twitter hesabından yapılan açıklamada, Independence Caddesi'ne çıkan bölgedeki bariyerlere bir aracın hızla girdiği kaydedildi.
2'Sİ POLİS 3 KİŞİ YARALANDI
Aracın iki polise çarptığına dikkat çekilen açıklamada, şüphelinin de yaralı olarak ele geçirildiği belirtildi. Açıklamada, yaralanan iki polis ile şüphelinin hastaneye kaldırıldığı ifade edildi.
Olay esnasında Kongre yerleşkesine, olaya müdahale için polis helikopterlerinin inmesi dikkati çekti.
– POLİS ATEŞ AÇTI, YARALANAN SALDIRGAN HASTANEDE ÖLDÜ
Amerikan basınına konuşan görgü tanıkları, şüphelinin bariyerlere çarptıktan sonra elinde bıçakla arabadan çıkması üzerine polisin ateş açtığını aktardı.
NBC News ise güvenlik kaynaklarına dayandırdığı haberinde, saldırganın kaldırıldığı hastanede öldüğünü kaydetti.
Olayın saldırı mı yoksa kaza mı olduğuna dair yetkililerden henüz bir açıklama gelmedi.
– KONGRE OTURUMLARINA ARA VERİLDİ
Olay nedeniyle Senato ve Temsilciler Meclisindeki oturumlara ara verildi.
Öte yandan olay esnasında brifing yapan Beyaz Saray Sözcüsü Jen Psaki, Başkan Joe Biden'ın Washington'ın dış bölgesindeki Camp David'de ve güvende olduğunu kaydetti.
WASHINGTON POLİSİ: KONGREDEKİ OLAY, TERÖRLE İLİŞKİLİ GİBİ DURMUYOR
ABD'nin başkenti Washington'da polis, bugün Kongre çevresindeki barikatlara bir kişinin aracıyla çarpmasının terörle ilişkili gibi durmadığını açıkladı.
Washington'da bir şüphelinin aracıyla iki polise ve Kongre yerleşkesindeki barikatlara çarpması yerleşkede güvenlik alarmına yol açtı.
ABD Kongre Polis Departmanı Müdür Vekili Yogananda Pittman ve Washington DC Polis Müdür Vekili Robert Contee olaya ilişkin basın toplantısı düzenledi.
Pittman, yerel saat ile 13.00'de bir şüphelinin aracıyla iki polis memurunu ezdiğini, ardından Kongre çevresindeki barikatlara daldığını anlatarak, "Şüpheli, aracından elinde bıçakla çıktı. Polis memurlarımız duruma müdahale etti. Şüphelinin sözlü uyarılara uymaması üzerine polislerimiz ateş açtı. Şu anda şüphelinin ölü olduğunu biliyoruz." ifadesini kullandı.
Olayda iki Kongre polisinin de yaralandığını aktaran Pittman, "Çok ama çok üzülerek söylüyorum ki yaralı polislerimizden birisi yaşamını yitirdi." dedi.
Pittman, saldırgan ve polis memurlarının kimlikleri hakkında şu anda herhangi bir detay paylaşamayacaklarını da kaydetti.
6 Ocak Kongre baskınının ardından Kongre polisinin zor günler geçirdiğini vurgulayan Pittman, "Amerikan halkından, Kongre polislerini ve ailelerini dualarına katmalarını istiyoruz." diye konuştu.
Öte yandan Washington DC Polis Müdür Vekili Contee de olaya ilişkin soruşturmanın sürdüğünü, Park Polisi ve Kongre Polisi ile yakından çalıştıklarını ifade etti.
Olayda yaşamını yitiren polis memurunun ailesine de taziyelerin ileten Contee, "Olay terörle ilişkili gibi durmuyor ancak soruşturmamız sürüyor." bilgisini paylaştı.
ABD KONGRESINE GİRİŞ-ÇIKIŞLAR YENİDEN AÇILDI
Bir aracın güvenlik bariyerlerine ve polislere çarpması sonucu kapatılan ABD Kongre yerleşkesi, yeniden giriş çıkışlara açıldı.
Washington'da bir şüphelinin, aracıyla, iki polise ve Kongre yerleşkesindeki barikatlara çarpması yerleşkede güvenlik alarmına yol açtı.
Etrafında güvenlik sağlanan ve başka bir tehdit tespit edilmeyen Kongre yerleşkesi, giriş çıkışlara yeniden açıldı.
– ÖLEN POLİS İÇİN KONGREDEKİ BAYRAKLAR YARIYA İNDİ
Öte yandan Temsilciler Meclisi Başkanı Nancy Pelosi de olayda yaşamını yitiren polis memuru için Kongredeki bayrakların yarıya indirilmesi talimatı verdi.
Polisin olaya ilişkin soruşturması sürüyor.
ΟΛΑ ΑΥΤΑ, ΛΙΓΟ ΜΕΤΑ ΠΟΥ Ο ΠΡΟΕΔΡΟΣ ΜΠΑΪΝΤΕΝ ΕΙΧΕ ΠΑΕΙ ΣΤΗΝ ΤΖΟΡΤΖΙΑ, ΓΙΑ ΕΠΕΙΣΟΔΙΑ ΜΕΤΑΞΥ… ΑΣΙΑΤΩΝ, ΟΠΩΣ ΕΙΧΕ ΕΙΠΩΘΕΙ!
Η ΚΑΤΑΣΤΑΣΗ ΣΤΙΣ Η.Π.Α. ΔΕΝ ΕΧΕΙ ΑΚΟΜΑ ΟΜΑΛΟΠΟΙΗΘΕΙ, ΜΕΤΑ ΤΑ ΟΣΑ ΕΛΑΒΑΝ ΧΩΡΑ ΕΚΕΙ ΜΕ ΑΦΟΡΜΗ ΤΙΣ ΑΝΤΙΔΡΑΣΕΙΣ ΤΟΥ "Ρ. Κ." ΠΕΡΙ ΝΟΘΕΙΑΣ ΣΤΙΣ ΕΚΛΟΓΕΣ ΤΟΥ ΝΟΕ ΤΟΥ 2020, ΦΙΛΟΙ ΜΟΥ! Ο,ΤΙ ΛΕΓΑΜΕ ΕΔΩ ΚΑΙ ΣΑΣ… ΓΡΑΦΑΜΕ!..
9.
Almanya'dan Türkiye kararı: İzin vereceğiz
Almanya, ikinci doz aşısını yaptıranlara, aşıdan 15 gün sonra diledikleri gibi seyahat etme hakkı getiriyor. Listede Türkiye de bulunuyor.
10. ΑΣ ΠΡΟΣΕΞΟΥΝ ΛΙΓΟ, ΤΟΥΛΑΧΙΣΤΟΝ ΟΙ… ΣΟΒΑΡΟΙ ΕΛΛΗΝΕΣ ΔΗΜ/ΦΟΙ, ΔΙΟΤΙ ΕΤΣΙ ΔΗΜΙΟΥΡΓΕΙΤΑΙ ΣΥΓΚΕΚΡΙΜΕΝΟ (ΑΡΝΗΤΙΚΟ) ΚΛΙΜΑ ΜΕ ΤΟΥΣ ΤΟΥΡΚΟΥΣ, ΑΝΕΥ ΛΟΓΟΥ ΚΑΙ ΑΙΤΙΑΣ!
Ο ΜΠΑΧΤΣΕΛΙ ΔΕΝ "ΒΓΗΚΕ" ΝΑ ΜΑΣ ΑΠΕΙΛΗΣΕΙ ΕΤΣΙ, ΑΠΟ ΜΟΝΟΣ  ΤΟΥ, ΚΑΙ ΞΑΦΝΙΚΑ!.. ΑΦΟΡΜΗ ΦΕΡΕΤΑΙ ΝΑ ΗΤΑΝ ΑΝΤΙ-ΤΟΥΡΚΙΚΑ ΣΥΝΘΗΜΑΤΑ ΠΟΥ ΓΡΑΦΗΚΑΝ ΠΡΟΣΦΑΤΑ ΣΕ ΤΖΑΜΙ ΣΤΗΝ ΛΕΜΕΣΣΟ (ΣΤΗΝ "ΕΠΙΣΚΟΠΗ" ΝΟΜΙΖΟΥΜΕ), ΜΕ ΑΦΟΡΜΗ ΤΟΥΣ ΕΟΡΤΑΣΜΟΥΣ ΓΙΑ ΤΑ 200 ΧΡΟΝΙΑ ΑΠΟ ΤΗΝ ΕΘΝΙΚΗ ΜΑΣ ΠΑΛΙΓΓΕΝΕΣΙΑ! (ΔΕΙΤΕ "ΕΔΩ", ΣΤΟ "ΣΑΪΤ" ΜΑΣ, 2 ΑΡΘΡΑ ΠΙΣΩ ΚΑΙ ΘΑ ΤΟ ΒΡΕΙΤΕ ΚΑΙ ΑΥΤΟ ΤΟ ΘΕΜΑ ΜΕ ΤΟΝ Α/"ΜΗΡ", ΚΑΙ ΜΕ "ΦΩΤΟ" ΜΑΛΙΣΤΑ)!..
11.
Montrö ile Türkiye'nin kontrolüne bırakıldı
Türkiye Gazetesi yazarı Ekrem Buğra Ekinci, Lozan'la milletlerarası statüye getirilen Boğazlar'ın, Montrö ile Türkiye'nin kontrolüne bırakılma sürecini anlattı.
Prof. Dr. Ekrem Buğra Ekinci'nin bugünkü köşe yazısından ilgili bölüm şöyle: 
"Lozan ile milletlerarası statüye getirilen Boğazlar, Montrö ile Türkiye'nin kontrolüne bırakılmıştır. 
Boğazlar, nakliye kolaylığı temin ettiği için dünyanın iktisadi, siyasi ve sosyal tarihinde mühim inkişaflara sebep olmuş coğrafi mevkilerdir. Marmara Boğazları belki de bunların en meşhurlarıdır. Boğazlara benzer avantajları elde etmek için suların yakınlaştığı yerde kanallar açmak da eski, ama pahalı bir âdettir.
İstanbul'un fethinden itibaren Karadeniz gitgide bir iç deniz hâlini aldı. Boğazlar ve buradaki seyrüsefer Osmanlı hâkimiyeti altındadır. Fransa, İngiltere, Hollanda gibi dost devletlere bazı imtiyazlar tanındı.
Rusya'nın galibiyeti üzerine imzalanan 1774 Küçük Kaynarca Muahedesi ile Boğazlar, Rus gemilerine açıldı. Öteden beri imparatorluğun Boğazlar'dan harp gemilerinin geçemeyeceğine dair ananesi, 1809'da milletlerarası kaide hâline geldi. Bundan sonra imzalanan milletlerarası muahedeler ve bilhassa 1856 Paris Muahedesi de bunu teyit etti. 1871'de Karadeniz'in tarafsızlığı kaldırıldı. Ama Boğazlar'dan harp gemilerinin geçişi, Babıali'nin inisiyatifine bırakıldı.
BOĞAZ'A HAKİM OLAN
Asrın başında Rusya ihracatının yarıya yakını buradan sevk ediliyordu. Trablusgarp ve Balkan Harbi'nde Boğazlar'ın kapatılması, Rusya'ya çok maddi zarar vermişti. Cihan Harbi, Rusya cihetinden Boğazlar'ın ehemmiyetini arttırdı. Boğazlar'ın kapatılması sebebiyle müttefiklerinden yardım alamayan Rusya'nın çöküşüne yol açtı. Demek ki Boğazlar'a hâkim olan güç, Rusya'yı siyasî, askerî ve iktisadî olarak tehdit etmekteydi. Bu sebeple Rusya, Boğazlar'ın enternasyonalize edilmesi tezini müdafaa ediyordu.
Sevr Muahedesi gibi, Lozan Muahedesi (m.23) ve bunun mütemmimi olarak İngiltere, Fransa, İtalya, Japonya, Bulgaristan, Yunanistan, Romanya, Rusya, Yugoslavya ve Türkiye tarafından imzalanan "Boğazların usul-i idaresine dair mukavelename" de bu tezi kabul etti. Türkiye söz sahibi olmaktan çıkarılarak, Boğazlar, her çeşit askerî güçten arındırıldı. Artık milletlerarası bir konsorsiyum tarafından idare edilecekti. Deniz ve hava geçişleri, harb ve sulh zamanında tam serbestiyi haizdi. Boğazlar, ayrı bayrağı bulunan otonom bir devlet gibiydi.
Bunu çaresiz kabul eden Türkiye'nin ümidi, I. Cihan Harbi'nden sonra Milletler Cemiyeti'nin silahlanmayı önleyerek muhtemel harplerin önüne geçmesiydi. Ama bu, mümkün olmadı. Japonya'nın 1936'da Mançurya'ya taarruzu ile başlayan hadiseler neticesinde dünya kendisini hummalı bir silahlanma ve dehşetli bir harbin içinde buldu. Milletlerarası hukuktaki pacta sunt servanda (ahde vefa) kaidesinin istisnası olan clausula rebus sic stantibus (şartlar değişmedikçe ahde uyulur) kaidesini işletmenin zamanı gelmişti.
FIRSATTAN İSTİFADE
İngiltere'nin XIX. asrın ikinci yarısındaki düşmanca politikasını, cumhuriyetin kuruluşundan sonra terk etmesi, hatta Rusya'ya karşı desteklemesi ve kendisine yakınlaştırmak istemesi, Boğazlar'da Türkiye'nin önünü açtı. Türkiye Hariciye Vekili Tevfik Rüştü Aras, 1935'te Milletler Cemiyeti Konseyi'nde bir konuşma yaparak Boğazlar'ın silahsızlandırılmasının, Türkiye'nin müdafaasını zayıflattığını söyleyip bu statünün değiştirilmesini istedi. İngiltere, Fransa ve İtalya alakasız görünürken, Rusya destek verdi.
Nazi Almanya'sı ile Faşist İtalya'nın Orta Doğu ve Akdeniz'de nüfuz kurma faaliyetleri İngiltere'yi endişelendiriyordu. İtalya'nın Habeşistan'ı işgali ve Almanya'nın Ren mıntıkasını silahlandırması, Türkiye'ye beklediği fırsatı verdi. 10 Nisan 1936'da Lozan Boğazlar Mukavelesi'ne taraf olan devletlere birer nota vererek Boğazlar'ın statüsünün değiştirilmesini talep etti. Başta İngiltere olmak üzere, İtalya hariç hepsi buna müspet cevap verdi.
BAĞI GEVŞİYOR
22 Haziran 1936'da İsviçre'nin Montrö (Montreaux) şehrinde toplanan konferansta, Türkiye'nin tezine mukabil, Rusya ve İngiltere de birer tez ileri sürdü. Rusya, Boğazlar'ın Türkiye tarafından silahlandırılmasını kabul ediyor; ama Karadeniz'e sahili olmayan devletlere ait harp gemilerinin geçirilmemesini istiyordu. Rusya, Lozan'da da Boğazlar'ın silahsızlandırılmasına muhalif idi. İngiltere ise, Karadeniz'e sahili olsun olmasın bütün devletlerin bir tonaj tahdidine tabi olarak geçişini müdafaa ediyordu.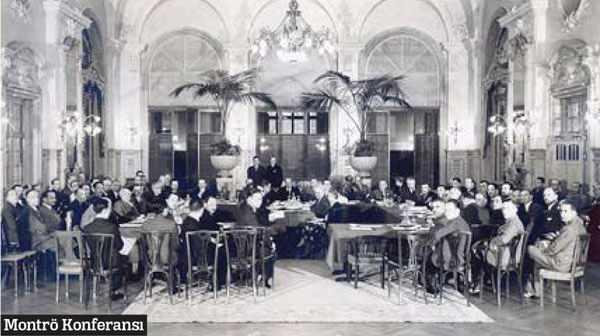 Müzakereler neticesinde, 20 Temmuz 1936 tarihinde Montrö Mukavelesi imzalanarak Türkiye'nin tezi büyük ölçüde kabul edildi. Boğazlar'ın askerden arındırılması hükmü ve Boğazlar'ı idare eden Milletlerarası Boğazlar Komisyonu kaldırıldı. Mıntıkanın emniyeti Türkiye'nin inisiyatifine bırakıldı. Geçen ticaret gemilerinden, sağlık kontrolü, fener ve kurtarma hizmeti mukabili ücret alabileceği kabul edildi. Ancak altın frankın zamana intibakında yaşanan problemler (dolara endekslenmesi, altının ise yükselmesi) sebebiyle bu madde hakkıyla tatbik edilemedi.
Türkiye, İngiltere, Fransa, Rusya, Bulgaristan, Yugoslavya, Romanya, Avustralya ve Japonya arasında imzalanan mukavele, 2 sene sonra İtalya tarafından da imzalandı. Müddeti 20 sene olup, taraflar fesih istemezse, mukavele kendiliğinden devam edecekti. 1956'da tarafların hiçbiri fesih istemediği için mukavele bugün de meriyettedir.
Bugün Türkiye, başka bir su yolu açsa bile, ecnebi gemileri Boğaz yerine buradan geçmeye mecbur edemez! Belki beklememek adına parayı verip başka yolu tercih edebilirler. Montrö'yü feshedebilmek, ancak milletlerarası bir güce sahip olan tarafın harcıdır. Bu takdirde Lozan hükümleri cari olacaktır ki, Türkiye'nin aleyhinedir. Boğazlar'ın statüsünü bir devletin tek başına tayini kolay değildir.
SULH ZAMANI
Montrö Mukavelesi'ne göre sulh zamanında veya Türkiye'nin taraf olmadığı bir harp esnasında, ticaret gemileri Boğazlar'dan serbestçe geçebilecektir. Türkiye'nin taraf olduğu bir harpte, düşman olmayan devletlere ait ticaret gemileri belli şartlar altında serbestçe geçebilecektir. Geçiş ücreti alınamayacağı gibi, kılavuzluk hizmeti de mecburi değildir.
Sulh zamanında Karadeniz'e sahili olmayan devletlere ait harp gemileri serbestçe geçebilecek; ama transit geçişlerde gemi sayısı 9'u ve mecmu tonajı da 15 bin tonilatoyu geçmeyecektir. Bu devletler Karadeniz'de en fazla 21 gün ve nihai olarak 30 bin tonilatoluk harp gemisi bulundurabilecektir.
Ayrıca geçişten evvel Türk hükûmetine ihbarda bulunulacaktır. Türkiye, 10 bin tonilatodan büyük harp gemilerine, denizaltı ve uçak gemilerine izin vermeyebilecektir. Boğaz limanlarına dostluk ziyareti yapan gemiler tonaj hesabına katılmayacaktır.
Karadeniz'de sahili bulunan devletler, sulh zamanında tonaj ve adet tahdidi olmaksızın; ama teker teker ve en çok iki destroyer ile beraber geçebilecektir. Karadeniz dışında yaptırdıkları veya satın aldıkları gemileri, önceden bilgi vererek gündüz ve satıhtan geçirebilir. Uçak gemilerini bunlar da geçiremez.
HARP ZAMANI
Kendisinin iştirak ettiği bir harpte, Boğazlar'dan geçişte bütün inisiyatif Türkiye'ye aittir. Kendisinin iştirak etmediği bir harpte, muharip devlet gemilerinin Boğazlar'dan geçişi yasaktır. Türkiye harpte olmasa bile, kendisini yakın harp tehdidi altında hissettiği zaman, harp gemilerini geçirmeyebilir. Ancak Birleşmiş Milletler'in üçte ikisi münasip bulmazsa, bu tedbirleri alamaz. Boğazlar'dan geçecek sivil tayyarelerin güzergâhı da Türkiye tarafından tayin edilir.
MONTRÖ'NÜN SEBEBİ
Montrö, Türk-İngiliz ve Türk-Sovyet münasebetlerinde bir dönüm noktası sayılır. O zaman dünyada oyun kurucu devletlerin başında gelen İngiltere olmasa, bu mukavele imzalanamazdı. 1937'de Karabük Demir Çelik, İngiltere'nin yardımıyla kuruldu. Ardından Türkiye'ye 16 milyon liralık kredi açtı. Bütün bunlar Türkiye'yi Almanya'dan uzaklaştırmak içindi. Sovyetler, bu Türkiye-İngiliz yakınlığından rahatsız olsa da ses çıkarmadı. Montrö, II. Cihan Harbi'nde Türkiye'nin tarafsız kalabilmesini temin eden iki büyük tavizden biridir. (Diğeri Hatay'dır.)
Ticaret gemilerinin -sıhhi engellemeler haricinde- gece gündüz serbestçe geçebilmesi, kılavuz ve römorkör almanın da ihtiyari oluşu bir risktir. 1994'te Nassia tanker kazasından sonra Türkiye bu hususta -Rusya'nın reaksiyon gösterdiği- bir nizamname hazırladı. 200 metreden uzun gemilerin gece geçişi yasaklandı. 250 metreden uzun olanlara kılavuz mecburiyeti getirildi.
BOĞAZLAR'DA ÜS
Stalin, 10 Şubat 1945'te Yalta'da Roosevelt ve Churchill ile bir araya geldiğinde Boğazlar'ın statüsünü dile getirdi ve Montrö'nün revizyona tabi tutulmasını istedi. Japonya'nın bile Rusya'dan fazla hakka sahip olduğunu; Türkiye'nin bu vasıtayla Rusya'nın boğazını sıktığını söyledi. Roosevelt gayet umursamaz bir tavırla, ABD ve Kanada arasında 3000 millik sınır olduğunu; ama yüz yıldır hiç asker beklemediğini söyleyerek "Temenni ederim siz de böyle olursunuz" deyip geçiştirdi.
Stalin'i kızdırmaktan korkan Churchill, ara formül buldu. "Montrö'de [Rusya lehine] değişiklik lazımdır. Bunu gelecek toplantıda hariciye nazırları ele alsınlar. Rusya, müşahhas teklif getirsin. Türkiye de haberdar edilsin" dedi. Zaten Stalin, bir sene evvel, harpten bunalmış İngiltere'nin bu yolda muvafakatini almıştı. Ona göre; "İnönü geçen sene harbe girmeyi reddederek fırsatı kaçırmıştı!.."
Churchill tarafından haber uçurulan ABD hükûmetinin 1944'te mevzuya dair görüşü şu şekildeydi: "Harpte Rusya'ya yardım edememek Montrö yüzünden değil, Balkanların Alman işgalinde olmasından dolayı idi. Montrö değişir de, Türkiye'nin hâkimiyeti zayıflarsa, Balkanlarda stratejik ve politik muvazene bozulur."
Türkiye, 23 Şubat 1945'te Almanya ve Japonya'ya harp ilan edince, Montrö'nün tadili rafa kalktı. Ama kriz bitmedi. Rusya, Türkiye ile akdettiği 1925 tarihli tarafsızlık ve saldırmazlık paktını 19 Mart 1945'te feshetti. Böylece Türkiye için açık bir düşman hâline geldi. Almanya'nın mağlubiyeti, dünya dengesini bozmuştu.
7 Haziran 1945'te Rusya Ankara'ya nota vererek Kars ve Ardahan'ın terki ve Boğazlar'da Rusya'ya üs verilmesi mukabilinde ittifak teklif etti. Ardından Boğazlar'ın statüsünün, Türkiye, Rusya, Bulgaristan ve Romanya tarafından tayinini istedi.
17 Temmuz 1945 tarihinde Potsdam Konferansı'nda Churchill, bu meseleyi Rusya ile Türkiye'nin aralarında halletmeleri gerektiğini söyledi. Rusya'nın, Afrika'daki İtalyan sömürgelerinden pay istemesi, İngiltere'yi ve ABD'yi ürkütmüştü. İkisi de Türkiye'ye arka çıkmaya mecbur oldu. Montrö yerinde kaldı.
Zaman değişti. Montrö, bugün Türkiye'den sonra en çok Rusya'ya yarayan bir mukaveledir. Boğazlar üzerinden yıllarca Suriye'ye yardım göndermektedir."
KAYNAK: TÜRKİYE GAZETESİ
12.
Türkiye için büyük jeopolitik öneme sahip proje
ODTÜ Kuzey Kıbrıs Kampüsü Öğretim Üyesi Doç. Dr. Murat Fahrioğlu, "Denizaltından elektrik iletim hattı projesinin Türkiye için büyük öneme sahip" dedi.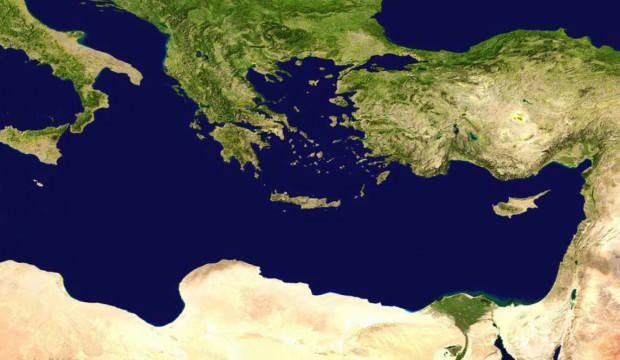 05.04.2021
ODTÜ Kuzey Kıbrıs Kampüsü Elektrik Elektronik Mühendisliği Öğretim Üyesi ve Program Koordinatörü Doç. Dr. Murat Fahrioğlu, Türkiye ile Kuzey Kıbrıs Türk Cumhuriyeti (KKTC) arasındaki enerji iş birliği anlaşmasının ortak projeleri hızlandırabileceğini belirterek, '(Denizaltından elektrik iletim hattı projesi) Normal koşullarda böyle bir kablonun serilmesi bir yıl kadar sürer fakat çevirici istasyonların hazırlanması ve diğer süreçleri de göz önüne alırsak bu projenin 1-2 yıl arası bir sürede teknik olarak tamamlanması mümkün.' dedi. Fahrioğlu, projenin özellikle KKTC için çok önemli olduğunu ancak Türkiye için de büyük jeopolitik öneme sahip olduğunu vurguladı.
Fahrioğlu, AA muhabirine yaptığı değerlendirmede, Türkiye'nin her zaman enerji anlamında KKTC'ye yardım ettiğini ancak Ekim 2016'da İstanbul'da imzalanan "Türkiye Cumhuriyeti ile Kuzey Kıbrıs Türk Cumhuriyeti Hükümeti Arasında Enerji Alanında İşbirliğine İlişkin Anlaşma"nın yürürlüğe girmesiyle iki ülke arasında iş birliğinin sağlam bir zemine oturacağını söyledi.
Söz konusu anlaşmayla ortak projelerin de hızlanabileceğini ifade eden Fahrioğlu, ortak projelerden biri olan denizaltından elektrik iletim hattı projesinin teknik çalışmalarının yapıldığını kaydetti.
Fahrioğlu, kendisinin de üyesi olduğu Türkiye-KKTC arasında oluşturulan ortak çalışma grubunun bağlantı teknolojisini belirlediğine işaret ederek, "Bağlantının çift yönlü HVDC VSC olması kararlaştırıldı. Türkiye Elektrik İletim Anonim Şirketi (TEİAŞ) ve Kıbrıs Elektrik Kurumu (KIBTEK) de bu sürece müdahil ve bu konuda veri paylaşımı yaparak belirli konularda istişareler yapıldı. Kablonun 800 megavatlık olması ve talebe göre 200 megavatlık istasyonlar kullanarak kapasitenin kademeli şekilde 800 megavata ulaştırılması konuşuluyor. Denizaltı kablo uzunluğu 80-95 kilometre civarında. Normal koşullarda böyle bir kablonun serilmesi bir yıl kadar sürer fakat çevirici istasyonların hazırlanması ve diğer süreçleri de göz önüne alırsak bu projenin 1-2 yıl arası bir sürede teknik olarak tamamlanması mümkün. Tabii burada süreci etkileyecek teknik olmayan diğer etkenler de var." dedi.
Proje tamamlanıp hat çekildikten sonra elektrik enerjisinin KKTC'ye sağlıklı ve kesintisiz iletilmesinde sorun olmayacağını belirten Fahrioğlu, "Neticede proje iki taraflı yürütülecek ama KKTC şebekesinin belirli iyileştirmelere ihtiyacı var. Bu bağlantı yapıldıktan sonra sisteme daha çok güneş enerjisi de katabileceğiz, bunu sağlıklı yapabilmemiz için de şebekemizde belirli altyapı çalışmaları yapılması gerekecektir." diye konuştu.
"ÜLKELERARASI BAĞLANTILAR, YENİLENEBİLİR ENERJİNİN DE ÖNÜNÜ AÇIYOR"
Fahrioğlu, projenin özellikle KKTC için çok önemli olduğunu ancak Türkiye için de büyük jeopolitik öneme sahip olduğunu vurguladı.
Aslında tüm Avrupa Birliği (AB) ülkelerinin birbirine elektrik iletim hatlarıyla bağlanmış durumda bulunduğuna işaret eden Fahrioğlu, bunun tek istisnasının ise Güney Kıbrıs Rum Yönetimi (GKRY) olduğunu dile getirdi.
Fahrioğlu, GKRY'nin KKTC ile elektriksel bağlantısı bulunduğuna ancak AB ile olmadığına ifade ederek, şöyle devam etti:
"Türkiye'nin AB'ye elektrik hatları ile bağlı olduğunu düşünürsek, KKTC-Türkiye bağlantısı Kıbrıs adasını da AB'ye elektriksel olarak bağlayacaktır. Dünya genelinde çok önem verilen ülkelerarası elektriksel bağlantılar Doğu Akdeniz ülkeleri açısından da çok büyük önem taşıyor. GKRY aslında İsrail ve Yunanistan ile yaptığı anlaşma ile İsrail'den başlayıp, Güney Kıbrıs üzerinden Yunanistan'a ulaşacak 1500 kilometrelik bir denizaltı elektriksel bağlantının temellerini atıp projeyi başlattı. Ülkelerarası bağlantılar, yenilenebilir enerjinin de önünü açıyor. KKTC için çok önemli olan güneş enerjisinin de daha fazla kullanılmasını sağlıyor ve daha temiz bir enerji yelpazemiz olmasına imkan kılıyor.
"TÜRKİYE BAĞLANTISI OLMADAN YENİLENEBİLİRDE ARTIŞ TEHLİKE ARZ EDİYOR"
Fahrioğlu, KKTC Ekonomi ve Enerji Bakanlığı ile ASELSAN arasında imzalanan iş birliği protokolüne Kuzey Kıbrıs Kampüsünden akademisyenler olarak katkı vermeye çalışacaklarını da belirterek, "Bildiğim kadarı ile ilk etapta, daha fazla yenilenebilir enerji kullanımı için KKTC şebekesine nasıl katkılar yapılabilir konusu incelenecek. Aynı zamanda üretilen enerjinin daha randımanlı kullanılması ve şebekenin daha sağlıklı çalışması için çalışmalar yürütülecek." dedi.
KKTC'de kurulu gücün neredeyse tamamının fuel oil ile çalıştığını kaydeden Fahrioğlu, sözlerini şöyle sürdürdü:
"Bunun dışında KIBTEK'in çalıştırdığı 1,27 megavatlık bir güneş enerjisi santrali (GES) var. Toplam kurulu güç 350 – 400 megavat civarında olduğu için bu GES toplamın çok düşük bir yüzdesi. Tabii bu arada tüketicilerin kurduğu GES'ler de var, bunlar 80 megavat civarına ulaştı ve izinlendirilmiş tüm GES'ler kurulursa 130 megavatlık bir rakam karşımıza çıkacak. Ada şebekeleri çok hassas şebekeler ve yüksek oranda kurulu GES varsa şebekede sorunlar yaratıyor. Bu tür şebekelerde azami olarak yüzde 20'lik bir yenilenebilir enerji oranı tavsiye ediliyor ama biz bu oranı aşmış durumdayız. Hedef olarak güzel bir oran ama şebeke sağlığı bakımından Türkiye bağlantısı olmadan bu kadar artış tehlike arz ediyor."
KAYNAK: AA
13.
Darbe bildirisini imzalayan emekli amirallerden 4'ü CHP üyesi çıktı
Skandal bildiriye imza atan emekli amirallerden 4'ünün Cumhuriyet Halk Partisi (CHP) üyesi olduğu ortaya çıktı.
05.04.2021
Bildiriyi imzalayan isimlerin en başında İYİ Parti Uluslararası Siyasi Kuruluşlar ve Jeo Stratejik Analizlerden Sorumlu Başkan Yardımcısı Ergun Mengi yer alıyordu.
Ankara Cumhuriyet Başsavcılığı, bir internet sitesinde 104 emekli emekli amiralin imzasıyla yayımlanan ve demokrasi ve siyaseti hedef alan darbe imamlı bildiriye imza atanlar ile varsa irtibatlı oldukları kişilerin tespiti ve yasal gereğinin takdir ve ifası amacıyla resen soruşturma başlatmıştı. Gözaltına alınan emekli amirallerin ev aramaları ve dijital materyallerinin incelemesinin devam ederken soruşturma kapsamında emekli amirallerin yurtiçi ve yurtdışındaki bağlantılarının araştırıldığı belirtildi.
CHP ÜYESİ OLDUĞU TESPİT EDİLDİ
Skandal bildiriye imza atan emekli amirallerden Kadir Nazif Özdağdeviren, Cemil Şükrü Bozoğlu, Cengiz Alpözü ve Mehmet Tayfun Uraz'ın Cumhuriyet Halk Partisi (CHP) üyesi olduğu tespit edildi.
Bildiriye imza atan E. Amirallerden  Kadir Nazif Özdağdeviren, Atilla Kezek, Nurhan Kayhaoğlu, Mustafa Baha Eren, Şükrü Taner Ezgü ,Abdullah Can Erenoğlu, Türker Ertürk,   Gündüz Alp Demirus, Nejat Güldiken, Raif Naldemir, Erol Aydayener, Haluk Sayın, Taner Akkaya, Hayati Bilgiç,  Hasan Nihat Doğan gibi isimlerinde hanımı, kardeşi, kızı,  kardeşi, annesi gibi birinci dereceden akrabaları olduğu ortaya çıktı.
BAŞKAN ERDOĞAN "ANA MUHALEFET BU İŞİN MERKEZİNDE" DEMİŞTİ
Başkan Erdoğan bugünkü değerlendirme toplantısı sonrası "Şu anda bu 104 kişinin içerisinde bizzat CHP içinde üye olan, ailesi olanlar var. Siz bunları yakın zamanda medyada göreceksiniz. Bu işin merkezinde ana muhalefet partisinin ta kendisi var. Türk ekonomisini, yatırım istihdam üretim yönünde büyütmeyi sürdüreceğiz. İktidara geldiğimizden bu yana, ülkemizi biz nereden aldık, bugün neredeyiz. Yatırımlar dahil bunları kronolojik olarak Çarşamba günü milletimize açıklayacağım." demişti.
14.
Milyon dolarlık yatırım kararları! Türkiye üs oluyor
Dünyaca ünlü teknoloji devleri peş peşe Türkiye'ye yatırım kararı alıyor. Türkiye'nin bu yatırımlarla önemli bir teknoloji üssü haline geleceği kaydediliyor.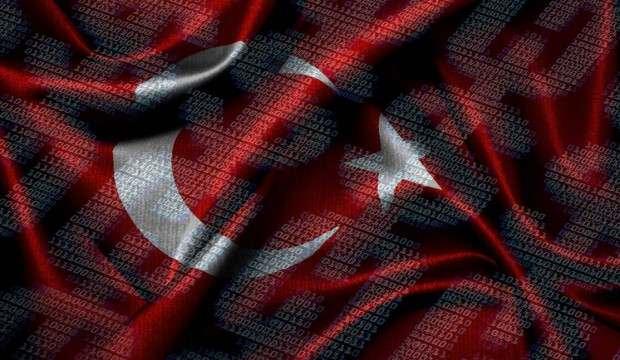 05.04.2021 
Teknoloji
nin merkezinde yer alan akıllı telefon sektöründe firmalar arasında ciddi rekabet yaşanıyor. Gün geçtikçe yeni bir telefon modeli çıkıyor, özellikleriyle kendine hayran bırakıyor.
Akıllı telefon üreten firmalar yatırımlarını artırıyor. Pazar hareketliliğinin yüksek, teknoloji ilgisinin fazla ve coğrafi konumunun avantajlı olduğu ülkeler, üreticiler için cazibe merkezi haline geliyor.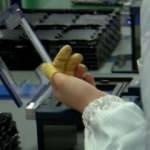 Huawei'nin Türkiye planı ortaya çıktı! Fiyatlar yüzde 30 düşecek
Türkiye de bu merkezlerden birisi olma yolunda emin adımlarla ilerliyor. Yıllık 10 milyonun üzerinde cep telefonu satışının gerçekleştiği Türkiye, Avrupa, Rusya ve Ortadoğu pazarlarının birleşme noktasında dikkati çekiyor.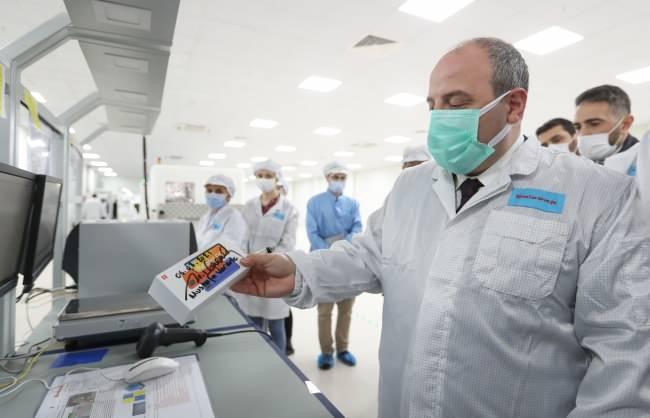 30 MİLYON DOLARLIK YATIRIM HAMLESİ
Geçtiğimiz günlerde dünyanın önde gelen akıllı telefon üreticileri arasında yer alan Çin merkezli Xiaomi, yıllık 5 milyon adet akıllı telefon üretim kapasitesine sahip fabrikasının açılışını İstanbul'da yaptı.
Dünyada üretim yapacağı 4'üncü yer olarak Türkiye'yi seçen teknoloji devi, 30 milyon dolarlık yatırımla 2 bin kişiye de istihdam sağlayacak.
"Batının doğuya ve doğunun batıya açıldığı kapısı" olarak nitelendirilen Türkiye, yatırımcılar için tüketiciye hızlı ulaşım imkanı sağlıyor. Birçok sektörde olduğunu gibi mobil araçlar alanında da gelecek dönemler için adından söz ettirmeye hazırlanan Türkiye, dinamik nüfusu, nitelikli iş gücü ve geniş pazarlarıyla aranan yatırım ortamını sunuyor.
TÜRKİYE, TEKNOLOJİ DEVLERİNİN RADARINDA
Bir başka Çinli dev akıllı telefon üreticisi OPPO da Türkiye'yi yatırım radarına aldı. İstanbul'da yapımı devam eden fabrikasında test üretimine başlayan teknoloji devi, 1000 kişiyi istihdam ederek CKD sistemiyle (ana karttaki parçaların fabrikada birleştirilmesi) üretim yapacak.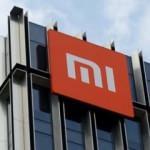 Xiaomi fabrikası üretime başladı
Akıllı telefon üreticilerinin Türkiye'ye ilgisinin her geçen gün artmasıyla bu alandaki ekosistemin hareketlilik kazanması bekleniyor.
Teknoloji devlerinin Türkiye'ye yatırım hamlelerini değerlendiren sektör temsilcileri ve alanında uzman isimler, gelecek dönemde bu adımların artacağı görüşünde. Avrupa, Afrika ve Asya'nın merkezinde yer alan Türkiye'nin coğrafi konumuyla bölgede ciddi bir pazar oluşturacağı düşünülüyor.
TÜRKİYE BÖLGESEL GÜÇ OLABİLİR
Sanayi ve Teknoloji Bakanlığı Teşvik Uygulama ve Yabancı Sermaye Genel Müdürü Dr. Mehmet Yurdal Şahin, yatırımlarla Türkiye'nin bölgesel güç olma yolunda ilerlediğini söyledi.
TRT Haber'e açıklama yapan Şahin, "Afrika'dan Avrupa'ya, Kafkasya'ya kadar uzanan bir bölgeden söz ediyoruz. Türkiye burada önemli bir merkez olabilir. Hızlı altyapı, girişimcilik, pratiklik özelliklerimizi kullanarak çabuk bir aksiyon alındı" diyor.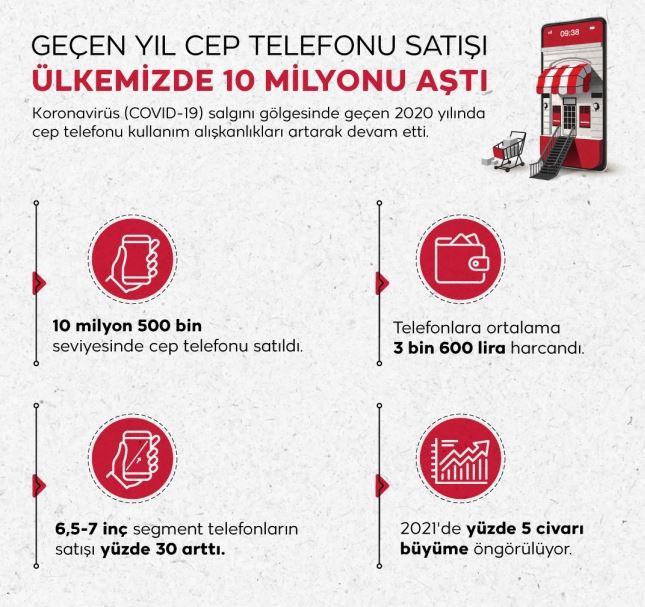 Şahin sözlerine şöyle devam etti:
"Türkiye büyük bir pazar. 10 milyonu aşkın telefon satılan bir yer haline geldi. Son yıllarda yeni firmaların rekabet içine girmesiyle Türkiye'ye yatırımlar başladı. İthalatın fazla olmasıyla Ticaret Bakanlığı İthalat Genel Müdürlüğü tedbir aldı ve teknoloji firmalarının ülkemize yatırımları onların lehine oldu. Bu yatırımlarla Türkiye'de istihdam hareketi de oluşacak. Firmaların burada fabrika kurması ekonomik kalkınmanın yanında istihdam çeşitliliğinde de artışa neden olacak"
"ETRAFIMIZDA ÇOK CİDDİ BİR TEKNOLOJİ PAZARI VAR"
Coğrafi konumu nedeniyle Türkiye'nin bölgedeki gücünü artıracağını ifade eden Şahin, "Bu yatırımlar Türkiye'nin bölgedeki pazar gücünü de artırır. Etrafımızda çok ciddi bir teknoloji pazarı var. Afrika'dan Avrupa'ya, Kafkasya'ya kadar uzanan bir bölgeden söz ediyoruz. Türkiye burada önemli bir merkez olabilir. Hızlı altyapı, girişimcilik, pratiklik özelliklerimizi kullanarak çabuk bir aksiyon alındı. Hızlı bir şekilde ivme alınarak bu süreçlerden geçildi ve yatırım kapısı da çok ciddi aralandı. Türkiye bu konuda bir güç olabilir" açıklamasını yaptı.
Yatırımlarla ticari faaliyetlerin artacağını söyleyen Şahin, "İthalat ve gümrük boyutuna da bakıldığında firmaların artık yatırımlarını yapması kaçınılmaz oldu. İthalatta gözetim uygulamasıyla eğer Türkiye'de varlıklarını sürdürmek istiyorsa firmalar bu yatırımları yapmak durumundalar" dedi.
"TEKNOLOJİ ÜSSÜ HALİNE GELECEĞİZ"
Yeni tip koronavirüs (COVID-19) salgını gölgesinde geçen 2020 yılında Türkiye'ye yatırımlar da arttı. Sanayi ve Teknoloji Bakanlığı'nın yatırım ve teşvik belgesi düzenlemesiyle geçen yıllara göre bu alanda faaliyetlerin arttığına dikkati çeken Mehmet Yurdal Şahin, "İlerleyen dönemde bölgede önemli bir teknoloji üssü haline geleceğiz" diyor.
Arz güvenliğinin Türkiye üzerinden daha rahat sağlanabilecek olmasının yatırımcılara cazip geldiğini söyleyen Şahin konuyu bir örnekle şöyle anlattı:
"Çin'den ürün 40 günde geliyor, üzerine salgın dönemi yaşandı ve uçuşlar durduruldu. Ne oldu? Ürünler geç ulaştı, piyasa hareketliliği aksamış oldu. Bu açıdan bakıldığında Türkiye'nin coğrafi konumu yatırımlar açısından üretici için kıymetlidir"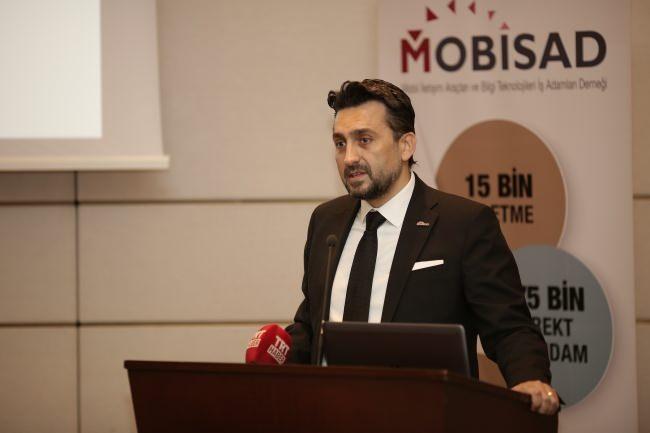 TÜRKİYE'YE YATIRIMCI ÇEKEN SEKTÖR
Mobil İletişim Araçları ve Bilgi Teknolojileri İş Adamları Derneği (MOBİSAD) Başkanı Mustafa Kemal Turnacı, akıllı telefon yatırımlarıyla Türkiye'nin bölgede önemli bir pazar haline dönüşeceğini söyledi.
"Coğrafi konumumuzu avantaja dönüştürerek ihraç kaleminin oluşması, Orta Doğu ve Rusya pazarındaki hareketliliğin gözlenmesi konusunda ciddi bir adım olacaktır. Mobil iletişim sektörü temsilcileri olarak gelişen teknolojilere karşı durmamamız gerektiğini savunduk. Bu teknolojiden nasıl faydalanabiliriz gözüyle baktık her zaman. Ülkemize yatırım çekecek büyük bir sektörün içerisindeyiz."
"İNSAN KAYNAĞIMIZ DA YETİŞECEK"
Dev firmaların yatırımlarıyla insan kaynağının da yetişeceğine dikkati çeken Turnacı, gelişmelerin umut verici olduğunu söylüyor.
"Dünyaca ünlü akıllı telefon markalarının deneyimleriyle birlikte insan kaynağımız yetişecek. Teknolojinin bu kadar yoğun bir şekilde kullanıldığı dönemde insan gücümüze katkıda bulunacak yatırımlar da faydalıdır. İleriye dönük katkı sağlayacak. Gelecek yıllar için Türkiye'ye umut veren önemli hamleler yapılıyor"
YATIRIM ORTAMI NASIL OLUŞTU?
Senelerdir Türkiye'yi radarlarına alan teknoloji devlerinin yatırımlarının nasıl ve hangi süreç içerisinde oluştuğunu anlatan Turnacı, teşviklere dikkati çekti:
"2020 yılında ithalatta gözetim kararı getirildi. Belli bir miktarın altında getirilen telefonlar bu kapsamda tutuldu. Yatırımcıyı teşvik edecek yöntemlerin geliştirilmesi bu doğrultuda verimli oldu. Gümrük vergisi muafiyetiyle de bir adım atılmış oldu. Ülkede üretilen parça ithalatına vergi muafiyeti getirildi. Bu kararlar doğrultusunda dünyaca ünlü markalar kendine yer bulmak istedi. Cihaz sayılarını artırmak istedi akıllı telefon firmaları. Fiyat dengesinde de doğru hamleler atılacak bu sayede. Yani Türkiye'nin hamleleri yatırımcıyı teşvik etti"
"POTANSİYELİ GÖRDÜLER"
Gelecek dönemde akıllı telefon sektöründe yatırımların devam etmesini bekleyen Turnacı, şunları da sözlerine ekledi:
"Firmalar yatırımlarını doğru bir stratejiyle yaptı. Türkiye'nin ciddi ihraç kalemi oluşturabileceği potansiyelini gören akıllı telefon üreticileri adımlarını atmaya başladı. Gelecek dönemde potansiyelin gelişeceğine inanıyoruz. Teknolojik alanda insan kaynağını yetiştirmek önemlidir. İstihdam açısından katkıda bulunacağını düşününce bu yatırımların yakın dönemde artacağını öngörebiliriz"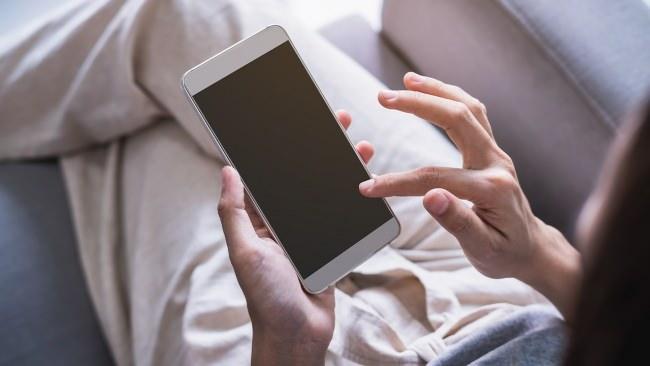 "FİRMALAR KRİTİK BÖLGELERE ÜS KURARLAR"
Akıllı telefon üreticilerinin Türkiye hamlesinin gelecek dönemde devam edeceğine inanan teknoloji editörü Hakkı Alkan, coğrafi konumun önemini Süveyş Kanalı'nda kara oturan gemi örneğinden yola çıkarak şöyle anlattı:
"Süveyş Kanalı'nda "The Ever Given" gemisi karaya oturdu, dünyada ticari faaliyetler aksadı. Bu durum bizim ülkemizin coğrafyasının ne kadar kıymetli olduğunu gösterdi. Firmalar da böyle zorluk yaşamamak için kritik öneme sahip ülkelere üretim üssü kuruyorlar. Türkiye bu ülkelerden birisi. Jeopolitik olarak avantajlı konumda olduğumuz için yatırımcıların gözü Türkiye'de. Geminin karaya oturması olayında coğrafyanın önemini görmüş olduk"
TEŞVİKLER YATIRIMCILARIN DİKKATİNİ ÇEKİYOR
Yatırımcıların Türkiye'ye gelmesindeki sebeplerden biri olarak teşviklere dikkati çeken Alkan, "Yatırım yapmak isteyen firmalara başta Sanayi ve Teknoloji Bakanlığı olmak üzere inanılmaz bir destek var. Arazi, vergi, çalışan, maaş desteği gibi geniş kapsamlı bir destek veriliyor. Türkiye'deki işçiliğin bilgi birikimi de yüksek. Bu tip avantajlar teknoloji devi firmalara ekonomik olarak da Türkiye'nin yatırım için cazip bir yer olması açısından motivasyon sağlıyor" diyor.
Cep telefonu kullanımı artarak devam ediyor. Türkiye'de ayda yaklaşık 1 milyon telefon satıldığını söyleyen Alkan, "Bu rakam çok ciddi boyutta. Fiyatları düşük olan -giriş seviyesindeki telefonlar- burada üretilirse fiyat avantajı elde edilecek. Lojistik ve gümrük maliyetleri ortadan kalkmış olacak. Örnek verecek olursak, Türkiye'de üretilen otomobillere bakıldığında satışları çok yüksek. Bunun nedeni fiyat avantajı. Fabrika kuran firmalar zirveyi aldı, kurmayanların satışları azaldı. Benzeri bir sonuç akıllı telefon sektöründe de yaşanabilir" açıklamasını yaptı.
Yan sanayi üretiminde Türkiye'nin özellikle otomobil sektöründe çok geniş bir pazara sahip olduğunu söyleyen Hakkı Alkan, benzer bir durumun cep telefonları için de görülebileceğini belirtti.
Türkiye'nin Avrupa, Asya ve Afrika coğrafyasıyla ilişkilerinin iyi durumda olduğunu belirterek, ihracat boyutu açısından da yatırımcı firmalar için avantajlı bir merkez olacağını söyledi.
KAYNAK: TRT HABER
15.
AK Parti Sözcüsü Ömer Çelik: Sessiz kalsaydık adı muhtıra olacaktı
AK Parti Sözcüsü Ömer Çelik, skandal bildiri ile ilgili 'Muhtıra siyasetinin ve muhtıra gazeteciliğinin mutasyona uğramış biçimiyle karşı karşıyayız.' dedi.
05.04.2021
Sözcü Çelik darbe imalı bildiri hakkında açıklama yaptı.
Bildirinin neye hizmet ettiğini biliyoruz. Tek hizmet etmediği şey, Türkiye Cumhuriyeti'dir, Türkiye'nin demokrasisi, sivil siyasetidir.
Bunların yazılımında demokrasi bir virüstür, muhtırayı ise bir aşı olarak kabul ederler.
Baştan aşağı reddediyoruz. Siyasi ve hukuki olarak en güçlü tepkiyi vereceğiz.
Sessiz kalsaydık adı muhtıra olacaktı, sessiz kalmayınca 'ifade hürriyeti' diyerek bunu meşrulaştırmaya çalışıyorlar.
Yaptıkları hizmetlerle anılmaları gerekirken, bu şekilde anılacak bir tavır içerisine girmeleri kendi itibarlarına yönelik suikasttır.
AK Parti Sözcüsü Çelik, Cumhurbaşkanı Recep Tayyip Erdoğan başkanlığında AK Parti Genel Merkezi'nde düzenlenen MYK toplantısının ardından önemli açıklamalarda bulundu.
TÜRK SİYASİ HAYATI BU TİP TEŞEBBÜSLERİ ÇOK YAŞADI
104 emekli amiralin yayımladığı bildirinin Merkez Yürütme Kurulu'nda değerlendirildiğini kaydeden Çelik, bildiri ile ilgili bütün tartışmaların yakından izlendiğini ifade etti. Bunun siyasete müdahale teşebbüsü olduğuna dikkat çeken Çelik, "Türk siyasi hayatı bu tip teşebbüsleri çok yaşadı. Bu tip bildirilerin Türk siyasi hayatında neleri tetiklediğini demokrasiyi sakatlamaya dönük sivil siyaseti zehirlemeye dönük ne büyük sonuçlar doğurduğunu hepimiz biliyoruz. Bunun hiçbir şekilde hafifletilecek küçük görülecek masum sayılacak herhangi bir tarafı yoktur. Cumhurbaşkanımızın Ankara dışında olduğu bir zamanda gece yarısı geçmişteki muhtıra teşebbüslerini hatırlatır şekilde aynı üslup ve yöntemle böylesine bir bildiri yayımlıyorlar. Böyle bir şey hukuk dışı, siyaset dışı, kesinlikle hiçbir açıdan meşru kabul edilemeyecek gayrimeşru bir teşebbüstür" açıklamalarında bulundu.
Çelik, bu bildiriyi son derece normalmiş gibi göstermeye çalışanların olduğunu dikkat çekerek, "Aslında geçmişte de bunu yapanlar vardı, bu demokrasi ikliminin zehirlenmesine, sivil siyasetin sakatlanmasına çanak tutanlardır. Böylesi bir bildiri karşısında 'buna bu kadar tepki vermeye ne gerek var' diyerek konuşanlar aslında geçmişteki geleneği sürdürerek demokratik iklimi zehirleme teşebbüsünün bir parçası haline gelmiş oluyorlar. Bu son derece nettir. Kayıtsız ve şartsız, net, bu bildirinin neye hizmet ettiğini biliyoruz ama tek hizmet etmediği şey Türkiye Cumhuriyeti'dir, Türkiye'nin demokrasisidir ve Türkiye'nin sivil siyasetidir. Baştan aşağı gayrimeşrudur, baştan aşağı reddediyoruz. Siyasi ve hukuki olarak en güçlü mücadeleyi vermeye devam edeceğiz" diye konuştu.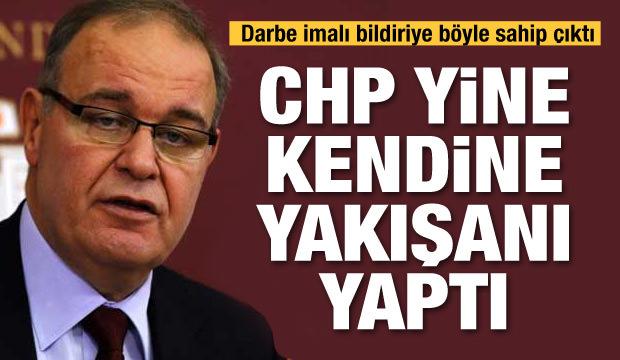 CHP SÖZCÜSÜ ÖZTRAK'A TEPKİ
"Muhtıralar kadar bir de muhtıra siyaseti vardır" diyen Çelik, CHP Sözcüsü Faik Öztrak'ın açıklamalarına tepki gösterdi. Çelik, CHP'nin bu bildiriye sahip çıktığına dikkat çekerek şunları söyledi:
"Geçmişte 1960'tan bu tarafa emekli askerlerin de içinde olduğu bu vesayet süreçlerinin nasıl tetiklendiğini, demokrasinin nasıl zehirlendiğini bilmiyor muyuz biz. O zaman birilerinin yine çıkıp bu süreçlere sessiz kalarak iş işten geçtikten sonra ne diyorlardı, 'evet bu yapılanlar yanlıştır ama iktidarın da çok hataları vardır.' 1960 ihtilalinden bu tarafa o ihtilali savunamayanların, o ihtilalin sonuçlarını, bir başbakanın, bakanların şehit edilmesini savunamayanların kaçtıkları gri bölge burasıdır. 'Evet bu yanlıştı ama iktidarın da suçu vardı.' Bu zehirleme faaliyetinin aynı şekilde devam ettiğini görüyoruz. 'Bunu niye bu kadar abartıyorsunuz' diyerek konuşanlar bunun aynı zamanda bu zehirleme faaliyetinin yeni bir versiyonunu ortaya koymuş oluyorlar. Muhtıra siyaseti mutasyona uğramıştır. Bunlar yakın zamana kadar yüksek bir şekilde demokrasiden bahsediyorlardı, demokratik süreçleri desteklediklerinden bahsediyorlardı ama ilk muhtırayı gördükleri anda muhtıra siyasetini mutasyona uğratarak tekrar devam ettirmeye başladılar.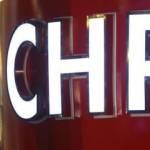 Darbe bildirisini imzalayan emekli amirallerden 4'ü CHP üyesi çıktı
Çünkü bunların yazılımında demokrasi bir virüstür, muhtırayı ise bir aşı olarak kabul ederler. Demokrasiyi virüs gördükleri için muhtıra olmaksızın kendilerinin aşılanamayacağını düşünürler. Bu içerikle, bu üslupla, gece yarısı ve 15 Temmuz darbe girişimi sırasında olduğu gibi, Cumhurbaşkanımız 15 Temmuz darbe girişimi sırasında neredeyse orada olduğu bir zaman diliminde bunun bu şekilde yayımlanmasının neresi masum olabilir."
Doğu Akdeniz'de, Libya'da, Suriye'de güçlü mücadeleler verildiği bir dönemde 104 emekli amiral tarafından yayımlanan bildiriyle bütün dünyada '104 tane emekli amiralden Türk hükümetine bildiri' başlığı ile haberler geçildiğini sözlerine ekleyen Çelik, "Kimi sevindirmiştir bu. Yunan medyasındaki sevinci görüyoruz. Türkiye'nin rakibi olan devletlerin nasıl büyük bir sevinç içerisinde olduğunu görüyoruz. Bu kadar sayıda emekli askerin bir araya gelerek bildiri yayımlaması dünyanın her demokrasisinde bir problemdir. Bu sıradan bir olay değildir. Bunu sıradan göstermeye çalışanların yapmaya çalıştığı şey buna zımnen destek vermektir" dedi.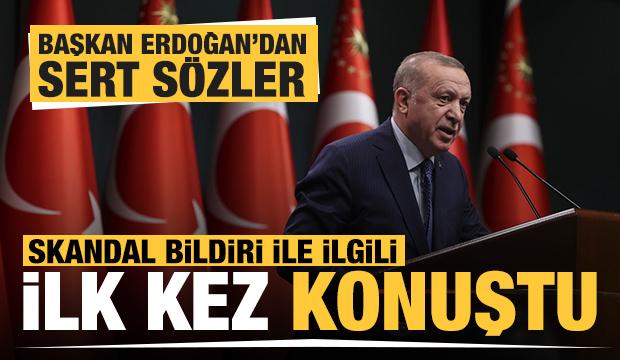 'ANTİDEMOKRATİK ZEHİRLİ BİR İKLİM İSTİYORLAR'
"AK Parti gündem değiştirmeye çalışıyor" eleştirilerini de değerlendiren Çelik, "Neyin gündemini değiştirmeye çalışıyoruz? Asıl gündemi değiştirmeye çalışan bu bildiriyi yazanlardır. Eğer gündem değiştirilmesinden bir rahatsızlığınız varsa bu bildiriye karşı koyun. Sırf AK Parti'ye yarıyor diyerek demokratik bir tavır alamayanlar aslında topluma şunu söylemiş oluyorlar; demokratik hakları, düzeni, siyaseti savunmakla AK Parti'nin özdeşleştiğini açık bir şekilde itiraf etmiş oluyorlar. Dolayısıyla biz antidemokratik bir teşebbüse eğer demokratik bir tavırla karşı çıkarsak bu AK Parti'nin işine yarar diyerek bundan uzak duruyorlar. Aslında bu demokratik duruşun AK Parti özdeşleştiğinin, antidemokratik duruşun ise onlarla özdeşleştiğinin kendi dillerinden açık bir itirafıdır" açıklamasını yaptı.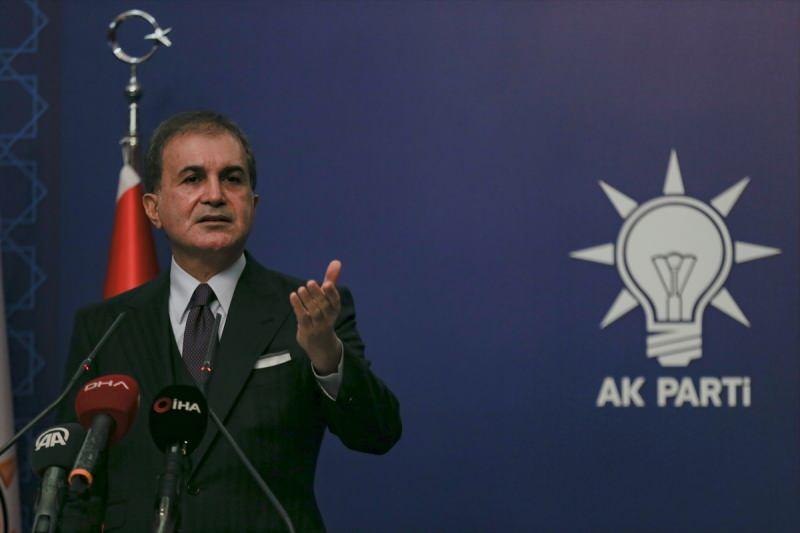 "Keşke bütün partiler bu bildiriye karşı çıksaydı" diyen Çelik, "Ama bazı partilerin maalesef yazılımı demokrasiyi virüs gibi algılıyor, muhtırayı aşı gibi algılıyor. O sebeple zamanında doğru tavır koyamıyor. Sürekli olarak kendi muhtıra siyasetini mutasyonla yenilemek durumunda kalıyor" ifadelerini kullandı.
Emekli olmuş kişilerin Türk Silahlı Kuvvetleri adına konuşma hakkının olmadığını söyleyen Çelik, "Burada sürekli olarak kendi dönemlerinde Türk Silahlı Kuvvetleri çok başarılıymış, kendileri gittikten sonra başarısızmış gibisinden bir tutum içerisine girmeleri modern askerlik kavramına da aykırı, Türk Silahlı Kuvvetleri'nin geleneklerine ve felsefesine de aykırıdır" dedi.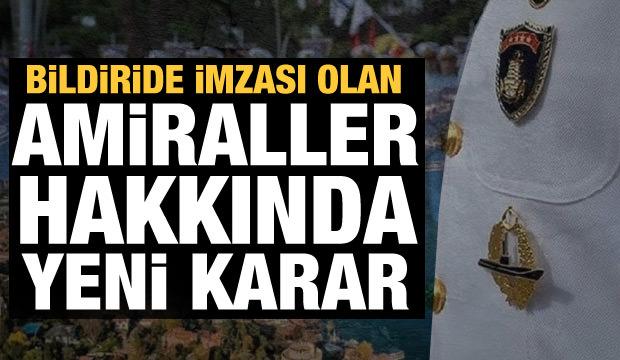 Bildiride imzası olanlar arasında çok sayıda CHP üyesinin olduğunun altını çizen Çelik, "Bu gözüküyor. Çeşitli beyanlarında kendileri de açıklıyorlar, tablo ortada. Şimdiye kadar hiçbir muhtıra, hiçbir müdahale, hiçbir darbe karşısında CHP'nin demokratik bir tavır aldığını görmedik. Son dönemlerde bunu değiştirmek yönünde bir takım teşebbüsler söz konusuydu, işte bu tabloda da bunun bir makyaj düzeyinde kaldığını gördük. Organize olmuş 104 emekli askerin Cumhurbaşkanı Marmaris'te iken ve gece yarısı yayımladıkları bir bildiri karşısında bile bu iş yanlış olmuştur gibisinden 3 kelimelik bir cümle kuramıyorlar. Bu bildirinin ne kadar doğru olduğuna dair onlarca cümle kurdular. İçlerinden bir tanesi 'biz bu iktidarı TRT'de canlı yayınla yargılayacağız, üstelik bunu yabancı dillerle de dünyaya duyuracağız' diyerek bir siyasi cellatlığa soyunuyor. Bunların Yassıada mahkemelerinin başkanlarının yaptığı konuşmadan bile daha vahşi ve ileri konuşmalar olduğu açıktır" diye konuştu.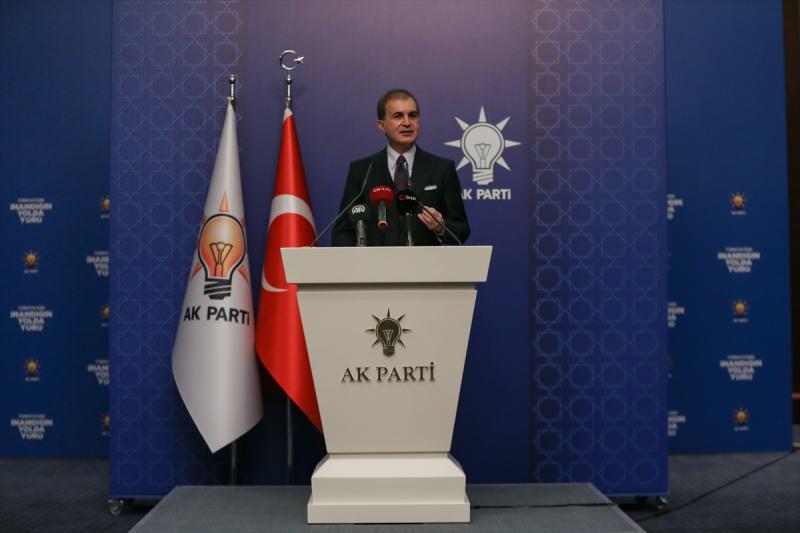 Bu tip işlerin mutlaka yurt dışı bağlantısının da olduğunu vurgulayan Çelik, şunları söyledi:
"Görevdeki bir takım kahraman mensuplarımızı bir şekilde işin içine sokma teşebbüsü de oluyor. Ben asla Türk Silahlı Kuvvetleri'nde görev yapan birilerinin bu antidemokratik süreçlerin bir parçası olacağını düşünmek istemem ama tabii ki geçmişteki muhtıra teşebbüslerinde gördünüz. 28 Şubat döneminde bunların eylem planı olarak ortaya koydukları şeyin aslında yurt dışındaki bir eylem planının tercümesi olduğu ortaya çıkmıştı. 15 Temmuz'da da gördük. Bazı senatörler çıkıp, 'Türk ordusu bu iktidara müdahale ediyor.' Dolayısıyla yargının işi ayrıdır, ben sadece siyasi analiz yapıyorum. Bu tip işlerin nasıl işlediğine dair şimdiye kadar bildiklerimizi bir şekilde paylaşıyorum. Ama tabii ki Cumhuriyet Başsavcısı çok yönlü olarak bakacaktır. Cumhuriyet Başsavcısının nelere ulaştığını zaman içerisinde bizde göreceğiz."
16. 
Başkan Erdoğan noktayı koydu! Montrö açıklaması
Cumhurbaşkanı Erdoğan: "Montrö Sözleşmesinden çıkmayla ilgili halihazırda ne bir çalışmamız ne de böyle bir niyetimiz vardır." ifadelerini kullandı.
17.
Gözaltındaki emekli amirallere sorulacak 3 soru
Darbe imalı bildiri soruşturmasında yeni detaylar ortaya çıktı. Gözaltına alınan emekli amirallere 3 soru sorulacak. Emniyet'teki sorgu başladı.
05.04.2021
Montrö Boğazlar Sözleşmesi'yle ilgili bildiri yayımlayan 104 emekli
amiral
le ilgili Ankara Cumhuriyet Başsavcılığı'nca 'Devletin Güvenliğine ve Anayasal Düzene Karşı Suç İşlemek için Anlaşma' suçlamasıyla başlatılan 
soruşturma
yla ilgili ayrıntılar ortaya çıktı. Soruşturmada emekli amirallere, bildirinin hazırlanma sürecinden, yayınlanan son içeriğinden, yayınlanacağı tarih ve saatten haberdar olup, olmadıklarının sorulacağı öğrenildi.
AMİRALLERE 3 SORU SORULACAK
Montrö Boğazlar Sözleşmesi'yle ilgili gece yarısı bildirisi yayımlayan 104 emekli amiral ile ilgili Ankara Cumhuriyet Başsavcılığı'nca TCK'nın 316/1 maddesi kapsamında 'Devletin Güvenliğine ve Anayasal Düzene Karşı Suç İşlemek için Anlaşma' suçlamasıyla başlatılan soruşturma süreciyle ilgili ayrıntılar ortaya çıktı. Soruşturmada gözaltına alınan ve ifadeye çağrılan 14 emekli amiral dışında kalan 90 kişinin de önümüzdeki günlerde ifadelerinin alınacağı bildirildi. Soruşturmada, imzası bulunan emekli amirallere yöneltilecek 3 kritik soruya ulaşıldı.
Emekli amirallere, bildirinin hazırlanma sürecinden, yayınlanan son içeriğinden, yayınlanacağı tarih ve saatten haberdar olup, olmadıklarının sorulacağı öğrenildi. 
SORGULARI BAŞLADI
Emekli amirallerin Ankara Emniyet Müdürlüğü'ndeki sorgusu başladı.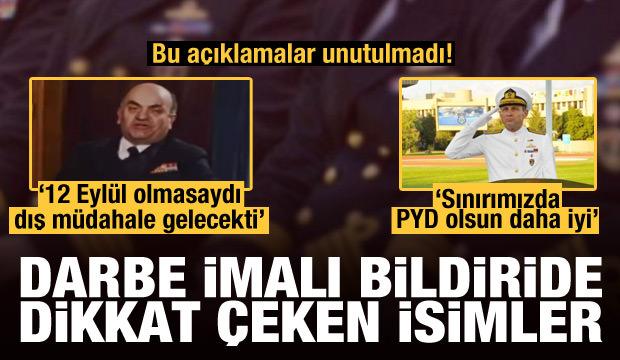 10'U GÖZALTINA ALINDI
Ankara Cumhuriyet Başsavcılığı'nın soruşturmasında, haklarında gözaltı kararı verilen emekli amiraller Ergun Mengi, Atilla Kezek, Ankara'da; Alaettin Sevim, Ramazan Cem Gürdeniz, Nadir Hakan Eraydın, Bülent Olcay, Kadir Sağdıç ve Türker Ertürk, İstanbul'da; Turgay Erdağ ve Ali Sadi Ünsal ise Kocaeli'de bu sabah gözaltına alındı. Emekli amiraller Engin Baykal, Cemil Şükrü Bozoğlu, Mustafa Özbey ve Atilla Kıyat'ın ise 3 gün içinde Ankara Emniyet Müdürlüğü'ne müracaat etmeleri tebliğ edildi.
KAYNAK: DHA
18.
Bakan Akar'dan darbe imalı bildiriye tepki
Milli Savunma Bakanı Akar, bazı emekli amirallerin darbe imalı bildirisine tepki gösterdi.
MİLLİ SAVUNMA BAKANI HULİSİ AKAR EMEKLİ ASKERLERİ KABUL ETTİ
Milli Savunma Bakanı Akar beraberinde Genelkurmay Başkanı Güler ile emekli subay ve astsubayların temsilcisi TESUD ve TEMAD yönetimini kabul etti. Emekli amirallerin darbe imalı bildirisine tepki gösteren Akar şunları söyledi:
"Türk Silahlı Kuvvetlerinin başarılarını görmeyen, görmek istemeyen, hırs, ihtiras ve haset ile körleşenlerdir.
Bildirinin demokrasimize zarar vermekten, personelin moralini olumsuz etkilemekten, düşmanlarımızı sevindirmekten başka işe yaramadığı açıktır."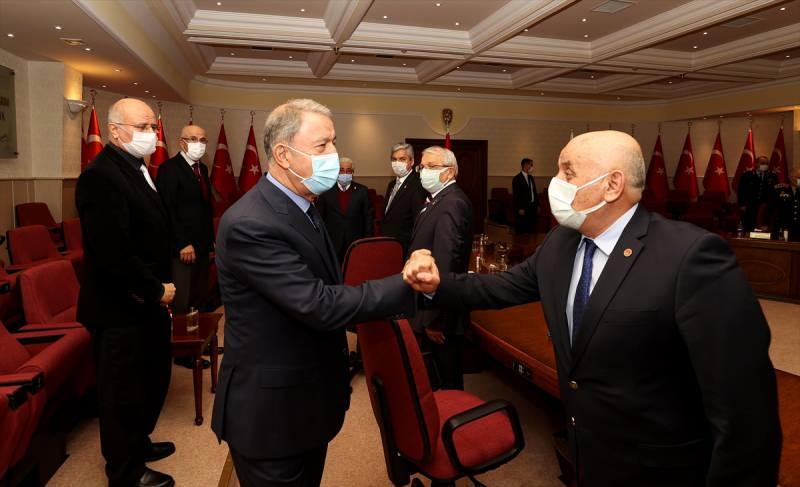 MANİDAR BULUŞMA
Milli Savunma Bakanı Akar'ın, darbe imalı bildiriye tepkisini emekli askerlerle yaptığı görüşmede vermesi dikkat çekti.
NELER YAŞANMIŞTI?
Bazı emekli amiraller, Montrö Sözleşmesi üzerinden siyasete ayar vermek için bildiri yayımladı. Darbe imalı bildiriye birçok kurum ve siyasetçi tepki gösterdi.
DARBE İMASI: AKSİ HALDE… 
Emekli amirallerin imzası olan bildiride, "Bu gerekçelerle, TSK ve Deniz Kuvvetlerimizi bu değerlerin dışına çıkmış, Atatürk'ün çizdiği çağdaş rotadan uzaklaşmış gösterme çabalarını kınıyor ve tüm varlığımızla karşı çıkıyoruz. Aksi halde, Türkiye Cumhuriyeti, tarihte örnekleri olan, bunalımlı ve bekası için en tehlikeli olayları yaşama risk ve tehdidi ile karşılaşabilecektir" açıklaması darbe iması olarak dikkat çekti.
10'U GÖZALTINDA
Dün Ankara Cumhuriyet Başsavcılığı, bildiriyle ilgili re'sen soruşturma başlattı. Bu sabah da bildiride imzası olan emekli amirallerden 10'u gözaltına alındı.
EMEKLİ AMİRALLERE SORULACAK 3 SORU 
Emekli amirallere, bildirinin hazırlanma sürecinden, yayınlanan son içeriğinden, yayınlanacağı tarih ve saatten haberdar olup, olmadıklarının sorulacağı öğrenildi.
LOJMAN VE KORUMA HAKLARI İPTAL EDİLDİ
Güvenlik kaynakları: Darbe imalı bildiriyi imzalayan emekli amirallerin lojman hakları ve koruma hakları iptal edildi.
KAYNAK: AA, HABER7
19.
Rusya savaşa hazırlanıyor! Ukrayna sınırına görülmemiş askeri yığına
HABER7
Ukrayna ile Rusya arasındaki Kırım gerilimi artmaya devam ediyor.
Moskova yönetimi son günlerde, işgal ettiği topraklaa çok sayıda tank dahil askeri araç yığdı.
Kremlin ise, her defasında yaptığı açıklama ile böyle bir durum olmadığını iddia ediyor.
Ancak yerel medyanın geçtiği görüntüler, Moskova'yı tamamen yalanlıyor.
Rus sosyal ağlarında da paylaşılan görüntülerde, Rusya'nın bölgeye onlarca tank ve askeri araç sevk ettiği görülüyor.
Görüntülerde ayrıca, Türk SİHA'larından kaçmayı başaramayan hava savunma sistemi Pantsir-S1'ler de var.
Sınır hattına gönderilen askeri teçhizatın nitelik ve niceliği incelendiğinde "Rusya, Ukrayna ile olası savaşa hazırlanıyor" çıkarımı yapıldı.
20.
21.
Iran Wants Over $3 Billion to Negotiate with Biden
How many billions will Biden's date with terror cost?
Daniel Greenfield, a Shillman Journalism Fellow at the Freedom Center, is an investigative journalist and writer focusing on the radical Left and Islamic terrorism.
After North Korea's latest missile test and a threat from Kim Jong-Un's sister that if the Biden administration "wants to sleep in peace for [the] coming four years, it had better refrain from causing a stink", the administration had a firm and unyielding response to the threats.
Officials told the media that the Biden administration sees North Korean missile tests as "normal military activity" and that they "don't want a situation where it is perceived that our door is not open to talk."
North Korea knows that Biden's barn door is wide open. The snarling threat by Lil Kim's sister was the first North Korean response to a month of diplomatic overtures from Biden.
That came after Biden's people had waged a desperate campaign of "diplomatic outreach" to everyone from North Korea's UN mission to Kim Jong Un's hairdresser.
Yet another senior Biden administration official claimed that they had been reaching out "through several channels", but "have not received any response from Pyongyang."
The response finally came in the form of a missile launch and a vicious threat.
All of that is a long way from Biden's tough talk on the debate stage when he attacked Kim Jong-Un as a "thug", and vowed to meet with him only "on the condition that he would agree that he would be drawing down his nuclear capacity." So much for that. Now Biden is begging the thug to talk on any terms and getting nowhere in that department.
Or in any other department.
Biden would like to get back into bed with the Islamic Republic of Iran. Not only was restoring Obama's Iran nuclear sellout one of the biggest foreign policy pledges of his campaign, but the Democrat pol has been funded by the Iran lobby for much of his career.
After 9/11, he thought a fit response would be to send a $200 million check to Iran.
He picked Rob Malley, the lead negotiator for the Iran deal, as his envoy to Iran, and a guy who loves Islamic terrorists almost as much as Biden loves groping protesting women.
With that kind of political pedigree, you would think that Tehran Joe could get a mullah or two on the phone. Unfortunately for Joe, even the mullahs have higher standards.
Iran's foreign ministry turned down informal talks with the Biden administration, while the Bidenites pleaded for another chance.
"While we are disappointed at Iran's response, we remain ready to reengage in meaningful diplomacy," Biden's White House pleaded.
Nobody else seems very interested in a meaningful diplomatic relationship with Biden that will include long walks on the DMZ beach, sipping champagne from radioactive warheads, and holding conferences that have no purpose except to make him appear competent.
Maybe that's because they know that Biden's meaningful diplomacy is meaningless.
Foreign Minister Javad Zarif, who had often met with Senate Democrats and top Obama officials during the Trump administration, initially suggested that Iran might agree to consider an "informal meeting … in which the United States is not a member, but is invited."
That would have been the most awkward date ever, even by the standards of Joseph Robinette Biden Jr, a guy who likes smelling strange women's hair in public, and Kamala Harris, who built her political career by dating a married politician twice her age.
But the Iranians decided that they couldn't even participate in a meeting at which a United States representative was present, even if that rep, like Rob Malley, was really representing everything and everyone but America, possibly from George Soros to his father's Egyptian Communist Party, unless there was money in it for Tehran in the form of direct sanctions relief.
Iran wants to be paid to even sit at the same table or it's not coming. That's not diplomacy: it's prostitution. The only date Biden can get with Iran will cost billions of dollars. That's a lot even for a five-star restaurant near the UN patronized by the corrupt diplomats of Turtle Bay.
How many billions will Biden's blind date with terror cost? More than a billion. Or three billion.
Biden had told CBS's Face the Nation that he was not going to lift sanctions on Iran to get it to negotiate with him. As usual, he was lying. Behind the scenes, the Biden administration was looking for a way to get sanctions relief to Iran without making it public.
Obama had illegally airmailed pallets of foreign currency on unmarked cargo planes. The Biden administration told South Korea that it could send a billion to Iran in exchange for releasing a tanker that it was holding hostage. But that's still not good enough for Iran. It wants more.
After that initial $1 billion, the Islamic regime announced that the Biden administration had approved the release of $3 billion from South Korea, Oman, and Iraq.
Still not good enough.
Iran wants the full $7 billion from South Korea, some estimates place it at $8.5 billion, and there's another $6 billion sitting in Iraq. It's unclear how much of the money has been released yet, with Biden's people vocally claiming that all of these reports are wholly and entirely false.
Iran's Central Bank governor Abdolnaser Hemmati however has said, "The payment will be in cash which will be transferred to our banks."
That's more convenient than Obama's pallets of foreign currency on unmarked planes.
But whatever amount Iran has been paid hasn't been enough to get it to sit at the same table with a bunch of Bidenites. That's going to cost more than a mere $3 billion.
As long as Biden keeps paying, Iran will negotiate over whether to attend an informal negotiation as a prerequisite to a formal negotiation to return to an accord that it won't keep.
And if you think that's absurd, Biden has paid out $3 billion without even getting his foot in the door. It's going to cost a lot more than $3 billion to go to the actual formal negotiations and then to a renewed agreement which the Iranians will violate while laughing all the way to the bank.
Meanwhile, Biden can't fulfill his campaign promise to revive the Iran Deal because the Iranians won't even start negotiating with him on the best way to get America to pay for its nuclear program, until the Democrats start presenting the cash to the terrorists up front. Or no deal.
Having gotten nowhere with Iran on its nuclear weapons program, the Biden administration proposed resolving the mess in Afghanistan by asking "the United Nations to convene Foreign Ministers and envoys from Russia, China, Pakistan, Iran, India and the United States to discuss a unified approach to supporting peace in Afghanistan". Too bad that 4 out of 6 of those countries actually benefit from an ongoing war in Afghanistan and want us to bear the brunt of it.
Iran is behind much of the terrorism on the planet: including in Afghanistan. Why would it want to work with Biden on bringing peace to Afghanistan when it can bring terror and death instead?
The Biden administration can't answer that or anything else. Its solution to everything is to call some sort of multinational conference. The wave of proposed multinational conferences is as staggering as it is silly and pointless. Biden wants to partner with China on denuclearization for North Korea. But why would China want to relieve the pressure on America and South Korea?
That's about as likely as Iran relieving the pressure on America.
When Biden ended support for the campaign against the Houthis in Yemen, the Iranian-backed Jihadist group whose motto is "Death to America" responsed by ramping up its attacks.
"Tragically, and somewhat confusingly for me, it appears that the Houthis are prioritizing a military campaign … over suspending the war and moving relief to the Yemeni people," State Department special representative Tim Lenderking wondered.
Only a madman, an idiot, or a diplomat would think that it's unexpected for an Islamic terrorist group to respond to appeasement by "prioritizing a military campaign" rather than providing relief for a famine that it had caused to begin with. But Democrats insist on being surprised by the obvious and the inevitable all the time. They're surprised that Iran is demanding cash for negotiations and they're surprised that their meeting with China was an even bigger disaster.
They're surprised that North Korea isn't interested in a meeting either.
Biden begs America's enemies to negotiate and is then surprised when they demand that he pay for the privilege. And that makes sense. If the Democrats want North Korea or Iran to waste its time pretending to negotiate with them, there had better be a carrot or a stick involved.
Whether there's a carrot or a stick won't change the pointlessness of the negotiations. But if there isn't a stick, then the dictators, tyrants, and terrorists want to be paid for their time.
That's not unreasonable.
If Biden wants to date Iran, the mullahs warn him that he's going to have to pick up the check.
There's only one enemy country that wants to talk to Biden and it's the world power that Democrats use as both a pretext and a model for domestic repression in America.
The Trump administration had refused to renew the START treaty that limited America's military capabilities while allowing Moscow to cheat as much as it wanted. The Russians had asked for at least a one-year extension, while the Trump administration had demanded a tougher deal.
Biden offered a five-year extension, no questions asked, and the Russians happily took it. Unlike Iran, they didn't even make Biden pay them to humiliate his own country and undermine its national security. Now that's what a good diplomatic relationship looks like to a Democrat.
Democrats may be striking out with North Korea and Iran, but they'll always have Russia.
At least until they have to blame whatever horrible thing Hunter Biden did this time on Moscow.
22.
Biden & Democrats: 'American Lives Don't Matter'
Destroying America from within.
We know Democrats support "Black Lives Matter." It's all they talk about. While I'm no fan of the Marxist BLM organization, I think all of us can agree that black lives matter. No one wants a single law-abiding, innocent black American to die needlessly.
But someone needs to ask puppet President Joe Biden and every Democratic politician in Washington, D.C., a simple question: Do American lives matter?
Because, from their actions, it's pretty darn clear that they don't. It seems like they're purposely trying to destroy the lives of American citizens.
Who in their right mind would open the borders, stop construction of the wall, invite the entire world to come to America, announce they won't deport anyone, and incentivize migrants with free lawyers, welfare, bus or air fare and, of course, free health care?
Even worse, who in their right mind would open the borders in the middle of this COVID-19 pandemic?
Who'd be insane enough to demand every American citizen returning to the U.S. to take a COVID test but refuse to give COVID tests to thousands of immigrants illegally breaking into our country each day?
Who would spend $86 million on nice hotel rooms for illegal immigrants, yet ask our brave, selfless troops to sleep in freezing cold parking garages, on concrete floors, with only one bathroom for 5,000 troops?
Who would open the borders to the Mexican drug cartel, drug traffickers, sex traffickers and pedophiles? Who'd want to give easy entree to the U.S. for MS-13 murderers?
Think about the countries across the globe that hate us — terrorist regimes such as Iran, North Korea, Syria, Somalia, Libya and our mortal enemies Russia and China. Our border is wide open and unguarded. Anyone can get in. You don't think they've noticed? You don't think they're sending spies and terrorists?
Can you tell the difference between a nice father and husband from Mexico or Guatemala, or a terrorist from Iran or Syria posing as a nice father? Of course not; no one can.
How many terror cells are walking into America at this moment? If I were the leader of a rogue terrorist nation, then I'd send hundreds of bloodthirsty terror cells across the open border. If even one gets through, it's a victory. What if hundreds get through?
Think about the Syrian refugee who, just days ago, committed mass murder in a Boulder, Colorado, grocery. He came to America as a child. Twenty years later, he committed mass murder. How many kids exactly like him are coming across that border? Ticking time bombs, who 10 or 20 years from now, will commit atrocities? Who would be dumb enough to let in thousands of future terrorists and mass murderers from countries that hate us?
Biden and his top officials have loudly, proudly and publicly promised no child will be turned away. There are almost 2 billion children age 14 or younger around the world. Most of them live in poverty and misery. What if they all come? Why wouldn't they? Biden is promising them free entry. Are you ready to share this country and our resources with a billion foreign mouths to feed?
How many murders, rapes, assaults, car-jackings and home invasion robberies will these strangers bring to our country? If I were the leader of a poor country, I'd open the prisons and tell my worst criminals to head for the U.S. border. Trust me, it's happening. Our cities will soon be overrun by violent crime.
The whole world is coming. Hundreds of millions in coming years. Maybe a billion. Maybe more. Biden has invited them all. They will turn America into an economic basket case. They will turn our streets into killing fields. They will bring disease and spread COVID. They will destroy our school system and health care system. They will create poverty from sea to shining sea. Taxes will reach 90% to pay for it all. This is the end of America.
At this point it's crystal clear. Biden and Democrats believe "American Lives Don't Matter."
23.
Noah Green – and 'Not All Muslims Do That!'
Why the Capitol barricade crasher – and Farrakhan follower – is already out of the news.
Introduction: Just recently, we witnessed U.S. authorities and the establishment media try their hardest to de-Islamize the Jihad mass shooting in Boulder, Colorado, and to obscure the fact that the Jihadist perpetrator, Ahmad Al Issa, is a Muslim migrant ISIS sympathizer.
And now we see the same pattern with Noah Green, who crashed his car into a barricade at the U.S. Capitol building last Friday, hitting Capitol Police officers, one of whom was killed and a second severely injured. Green also got out of his car and charged officers with a knife. The establishment media clearly salivated at the prospect of the perpetrator being a white supporter of Donald Trump, so that they could perpetuate their false narrative about the threat of "white supremacist terrorism" all around us. But alas for the media, it was not to be: Green was a black man and a member of the Nation of Islam. And so he is, typically and expectedly, no longer in the news. President Biden heroically led the way, making no mention of Green's ideology in his statement on the attack and, instead of condemning Green's violence, alluding instead to the mob that stormed Capitol Hill in January. Even Facebook did its faithful leftist duty, deleting – within the blink of an eye – Green's Facebook page, where the Capitol barricade crasher proclaimed himself a "Follower of Farrakhan." Louis Farrakhan is, of course, the leader of the Nation of Islam, which, apart from things like stirring hatred of whites and Jews, embraces Islam's jihad doctrine.
Some vital questions confront us once again: why does the Left consistently engage in Jihad Denial? Why is it so invested in denying the Islamic roots of Islamic Jihad?
This is, without doubt, one of the most pertinent questions of our time, especially now with the Boulder Jihad and Capitol barricade crasher — and their tragic victims — hovering right before our very eyes. Frontpage Mag editors have therefore deemed it vital to run, below, an excerpt from Jamie Glazov's book, Jihadist Psychopath: How He is Charming, Seducing, and Devouring Us.
The excerpt is Chapter 5, titled "Not All Muslims Do That!" It outlines how Jihad Denial works as a machine, laying bare all the main arguments utilized by Jihad Denial, since they are extremely calculating, deceptive, and destructive.
This documentation outlines and discredits the specious facades of Jihad Denial. Doing so equips us with the understanding of why individuals like Ahmad Al Issa and Noah Green are able to sow the destruction that they do today — and so easily. It also sets the foundation for our insight into exactly why the Left practices Jihad Denial — and what all the specious ingredients of that denial entail.
Don't miss this essay below.
[To read the chapter on what the Left actually is — and why it aids and abets Jihad — read Utopian Virus: HERE. The Virus in Power, meanwhile, explores how the Left took power in America — and why it had such an easy time doing so. Read it: HERE. The introduction crystallizes the general nature of Jihad Denial HERE — while Chapter 1 details the Obama administration's horrific record of trying to hide and camouflage the true sources of Islamic terror HERE. Chapter 4 explains why the Left must push Jihad into invisibility — and why it is so callous toward the victims of Jihad and Sharia: HERE.]
*
'Not All Muslims Do That!'
Now that we have learned how and why the Left perpetuates Jihad Denial, we move on to examine the key arguments within its toxic agenda. As will be demonstrated below, the entire gambit is a lie and a fraud.
It's Just the Extremists!
One of the most widely employed Jihad Denial arguments heard in our culture today is the infamous assurance that It's not Islam, but the extremists! This proposition is interwoven with the central foundation of the Jihad Denial matrix: that it all really has nothing to do with Islam. The thinking goes like this: even when Jihadists quote their Islamic texts to justify their barbaric actions, it is not because of Islam. The terrorists, we are told, are just a very tiny minority of Muslims who have misunderstood and hijacked their own religion. They are, therefore, not even real Muslims.
The reality is that Muslims who perpetrate Jihad do so because they are following the example of their prophet Mohammed, and are abiding by the mandates of their faith.[i] This is precisely why they refer to their own texts to legitimize and sanction the violence they perpetrate. The "tiny minority" argument is also a complete falsehood, because (1) it is immaterial whether a large majority or tiny minority is involved, since a very small number of people can inflict a monumental amount of damage, and (2) the number of Muslims that are either involved in, or support, Islamic terror is actually extremely high.[ii]
Not all Muslims Do That!
Another popular Jihad Denial argument is the Not all Muslims do that! con job. In this case, when devout Muslims perpetrate a crime carrying out the directives of Islam, Unholy Alliance[iii] members and followers dutifully proclaim: But not all Muslims do that! The bizarre assumption here is that because not all Muslims do something, it somehow makes the victims, and the problem of Jihad and Sharia, go away. But it is completely inconsequential whether all Muslims do something or not. It is a given that not all people in any one group do or see everything in the same way — and there are obviously some "good" people in most environments. What matters is that Islamic Law exists independently of whether Muslims follow it or not. In other words, the fact that there may be Muslims who do not follow Islamic Law does not make Islamic Law disappear, nor does it erase the Muslims who follow it, or the people they hurt by doing so.[iv] It is also crucial to keep in mind that when it comes to Jihadists, they represent the military tip of the spear — and the military is always the minority of the population. As Daniel Greenfield points out: "Outside of Sparta, not everyone in a population fights."[v] Thus, not all Muslims might be carrying out the violent commands of the Islam, but many of them may very well be supporting someone else doing it.
ISIS Kills Muslims Too!
Another much-used argument is the ISIS kills Muslims too! ploy. Here we see the attempt to de-Islamize the Islamic State by noting that its victims include some Muslims. President Obama engaged in this charade on countless occasions.[vi] But the proposition that Islamic terror cannot be Islamic if its victims include Muslims is simply erroneous. First, it completely ignores the reality of how totalitarian revolutions and systems invariably devour their own children. Indeed, the Islamic State kills Muslims precisely because of Islam, since Islam by its very nature has to kill its own. This is because the Muslims that are dying at the hands of the Islamic State are seen as not the right kind of Muslims. They are regarded as being either apostates or unbelievers. Islam creates these categories of subhumans and delineates the punishments that must be meted out to them. To be sure, Islam mandates that devout and real Muslims must punish, and in some circumstances kill, those Muslims whom they regard as neither legitimate nor properly devout.[vii]
It would do well to point out that ISIS also fights other Jihadist groups, such as Jabhat al-Nusra — which is an extension of al-Qaeda. Daniel Greenfield touches on this phenomenon, commenting: "If fighting ISIS or being killed by it makes you moderate, al-Qaeda is moderate."[viii]
Criticizing Islam Means You Hate All Muslims!
Another deceptive ploy in this con-game is that of conflating all Muslims with Islam. When a truth-teller points to a negative feature in Islam, the Jihad Denier will often immediately retort with the Not all Muslims do that! charade. The assumption here is that the truth-teller has somehow said something bad about all Muslims. The denier then usually refers to some nice Muslim person he knows, as though this delegitimizes what the truth-teller has said. But the whole paradigm here, which involves a conflation of Muslims with Islam, is specious. The truth-teller never said anything about all Muslims; he was speaking about Islam.
Raymond Ibrahim, a leading scholar of Islam, has unveiled the monumental dishonesty that is involved in this conflation tactic. Noting that it is "an all too common approach" that is used to shield Islam from criticism, Ibrahim brings up the example that not every single Muslim alive today believes that the apostasy penalty should be upheld. But this reality, he stresses, "is not a reflection of Islam; it is a reflection of individual human freedom — a freedom that ironically goes against Islamic teaching." [ix]
The conflation tactic is also severely flawed because it is based on a faulty Marxist collectivist premise that conflates an ideology with everyone who happens to be standing in the vicinity of its banner. The deniers who automatically accuse a person of hating all Muslims when that person has said something critical about Islam are actually projecting their own totalitarian Marxist thinking. The truth-teller about Islam is simply referring to an ideology that is dangerous, and to the people who follow the ideology. This by no means implies that every member of Islam accepts, knows about or is carrying out these ideological teachings. But leftists automatically interpret truth-telling about Islam as hate speech against all Muslims not only because it helps them achieve Jihad Denial, but also because they themselves are totalitarians who cannot fathom the possibility of individuals existing outside of a group-think environment. They simply cannot grasp that individuals can stand on their own and not have to conform to a Party Line, since it is not a reality that leftists themselves inhabit.
Look at all the Good and Peaceful Muslims!
There is also the trick of pointing to the "good" and "peaceful" Muslims in an effort to legitimize Islam. This also involves the tactic of conflating all Muslims with Islam. But it is irrational to associate "good Muslims" with the teachings of Islam, because their non-violent behavior is not sanctioned by the Islamic texts that mandate totalitarianism and violence. In other words, there may be many Muslims who make up their own brand of Islam and believe in it and are, therefore "good" Muslims in our eyes. But they are regarded as bad Muslims by Islam, because (1) Islam mandates Islamic Law, Islamic supremacism, war against the unbelievers, sexual slavery and many other barbarities,[x] and (2) Muslims cannot be put on a higher pedestal of authority than Islam itself. [xi]
Another crucial fact to stress is that most Muslims are, obviously, born into Muslim environments and are not, therefore, given a choice as to whether they want to be Muslim or not. When they become adults, they may not agree with Islam or support or participate in Jihad. But if they leave Islam, they risk being killed because of Islamic apostasy laws, which demand the killing of Muslims who abandon the faith.[xii] These individuals are labelled "Muslim" nonetheless, but they are really Muslim in name only. Many of them live in the West and, therefore, have the luxury of not having to practice Sharia and Jihad — and some of them are even safe to reject both if they wish to. But it is precisely because of the West's influence, not of Islam's, that they are safe to do this.[xiii] These Muslims are, once again, a reflection of individuality and human freedom, not of Islam.
Others Do It Too!
Now we arrive at the popular Others Do It Too! charade. This is when the denier hears about a crime committed by Islam and immediately brings up something that someone else has done that is allegedly similar. This tactic works very successfully in our culture, yet it is severely flawed. First, it is based on the false and bizarre assumption that a crime committed by a person in one place is somehow justified if another person does the same thing somewhere else. Second, the deniers in these instances always use fallacious parallels. For instance, when confronting the issue of Islamic rape, a denier will often equivocate by stating that rape is also committed by non-Muslims all across the United States. But the fundamental difference is that when a rape is committed in America, it is illegal and if the rapist is caught he will be put in prison. Where Islamic Law prevails, rape is legal. A Muslim who rapes a non-Muslim female can point to Islam for justification and legitimacy.[xiv] And if a husband hits his wife in America, he will be charged with a crime. In Islam, the Muslim husband will not only not be charged, he will be seen as a good Muslim, since wife-beating finds legitimacy in Islam.[xv]
The Jihad Denier also draws a moral equivalency between Islam and other religions, especially Christianity and Judaism. When the denier is confronted by the verses in the Qur'an that promote Jihadist violence, for instance, he instinctively retorts that the same teachings exist in other religions — especially in the Old Testament.
This tactic is also completely disingenuous. The Judeo-Christian tradition is built on the principle of trying to restrain humans from evil.  Islam, meanwhile, on many levels, encourages its members to perpetrate evil: jihad, sex-slavery, female genital mutilation, etc.[xvi] When the denier points to something Christians have done wrong, the argument is illegitimate because the behavior of Christians that may be "bad" contradicts Christian teachings. If Christians commit murder or engage in sex slavery, they are acting in an un-Christian manner because they are violating Christian teachings. But if Muslims kill unbelievers or force non-Muslim girls into sexual slavery, which the Islamic State and Boko Haram do on a daily basis, they can find justifications for this behavior in Islamic texts.[xvii] So there is no moral equivalency when it comes to Christianity and Islam.[xviii]
As far as the Old Testament is concerned, deniers often point to its "violent" texts to suggest that Judaism is no better than Islam when it comes to condoning violence. They like to display moral indignation about passages where God orders genocides, such as the order given to Saul against the Amalekites in Samuel 1, 15:3. But the command given to Saul, like others that may be found in the Old Testament, is not, like the Qur'an's teachings, an open-ended command directed to all believers for all time and place. Unless you are Saul or an Amalekite at that time and place, it doesn't concern you or anyone else. This is why, as Robert Spencer points out, there is not a single example of a Jew or a Christian committing an act of violence and justifying it by referring to the order given against the Amalekites.[xix]And this is also why there are no Jewish or Christian fanatics anywhere who commit mass murder on the scale of 9/11 and justify doing so by pointing to their texts — the way the Muslim 9/11 attackers did with their texts.[xx]
They Just Need Jobs!
Another argument in the Jihad Denial labyrinth blames poverty for Islamic terrorism (which, of course, also isn't really Islamic). This Marxist view was put on full, pathetic display in February 2015 when Obama's State Department spokeswoman, Marie Harf, infamously suggested that one of the main root causes of Muslims joining groups like ISIS is "lack of opportunity for jobs."[xxi] In this leftist line of thinking, Islamic "extremism" stems from poverty and oppression, which, in turn, are caused by capitalism, American imperialism, etc. This paradigm achieves the leftist objective of absolving Jihadists — because the devil made them do it. And the devil is us. We are at fault because we forced their hand.  
Empirical reality and historical evidence, of course, completely discredit the poverty-causes-terrorism fantasy. Many Jihadists and Jihadist leaders come from the most educated, wealthy, and Westernized backgrounds.[xxii] Osama bin Laden was the son of a billionaire businessman, Ayman al-Zawahiri is a physician, and Khalid Sheikh Mohammed has an engineering degree. One of the San Bernardino shooters, Syed Farook, held a good job in environmental health[xxiii] and the Chattanooga shooter, Muhammad Youssef Abdulazeez, had a degree in electrical engineering.[xxiv]
Close to 60 percent of Palestinian suicide bombers have attended college; they are not the children of economic despair and hopelessness.[xxv] As scholar Daniel Pipes affirms, "suicide bombers who hurl themselves against foreign enemies offer their lives not to protest financial deprivation but to change the world."[xxvi] And no wonder that a 2016 report found that, contrary to Marie Harf's wisdom, Islamic State recruits were not driven by poverty and were above average in education.[xxvii]
Despite the evidence, however, the Left continues to believe in and regurgitate this toxic nonsense. And that is why this particular Marxist assumption molded American policy throughout the Obama years. In September 2013, for instance, Secretary of State John Kerry launched a new global "counter-terror" fund. At a New York meeting of the Global Counterterrorism Forum (GCTF), he spoke of the importance of "providing more economic opportunities for marginalized youth at risk of recruitment." He and his Turkish counterpart, Ahmet Davutoglu, unveiled a $200 million initiative designed to leverage public and private funding in support of "countering violent extremism" (CVE) efforts, the disastrous approach to terror practiced by the Obama administration discussed in Chapter 1.[xxviii] Known formally as the "Global Fund for Community Engagement and Resilience," the purpose of the group was to support local communities and organizations to counter "extremist" ideology and promote "tolerance".[xxix]
The problem with all of these efforts, of course, is that there are many rich Muslims who support terrorism, and there are many poor people who do not support or engage in terrorism. Robert Spencer asked the appropriate question in the context of John Kerry and the GCTF:
Is it poverty and a lack of economic opportunities that leads the fantastically rich House of Saud to finance that jihad worldwide? If Kerry were correct and terrorism is simply a byproduct of poverty, why isn't Haiti a terrorist state? Why isn't the world plagued with Bolivian suicide bombers?[xxx]
Shillman Fellow Bruce Thornton has made a similarly profound observation exposing the fundamental flaw of the poverty-causes-terrorism Marxist charade:
Left unexplained is the fact that billions of other people around the world even more impoverished and hopeless have not created a multi-continental network of groups dedicated to inflicting brutal violence and mayhem on those who do not share their faith or who block their visions of global domination.[xxxi]
Indeed, many people around the world have suffered and been humiliated, but they have not turned to terrorism. One thing for sure in terms of Kerry's GCTF, however, was that, as Spencer warned at the time, some or most of its funds would end up financing the jihad terror it was purporting to try to stop.[xxxii]
All They Need is an "Arab Spring"!
Another Jihad Denial gambit involves the fairy tale which claims that once the bad corrupt dictators in the Islamic Middle East are removed, and the people are given a "democratic alternative," Islam will democratize and everything will be fine. This is how the West projects ridiculous leftist assumptions onto Islam and deceives itself.
A perfect example of this distorted way of thinking was found in the so-called "Arab Spring" — which the West convinced itself was a democratic movement driven by the philosophies of Thomas Jefferson and Thomas Paine.  The "Arab Spring" was, in reality, just a simple impulse toward an Islamist Winter. Its main objective was to construct and impose Sharia as ruling legal system. Anyone with common sense could have easily understood this from the start, since in all of the "Arab Spring" demonstrations there was not one speech, or one placard, that could be found stating "Down With Sharia" or "Separation between Mosque and State." Author Nonie Darwish pointed out this gargantuan elephant in the room:
As I watched the TV coverage of the massive protests, I was desperately searching for a brave poster proclaiming something new and daring — a poster that demanded reformation of the system and not merely removal of the dictator, along with slogans of freedom and democracy — but I could not find any. This is what I wanted to see: "Separation of mosque and state," "Removal of sharia from the Egyptian constitution," "Equal rights for all," or "Equal rights for women" — better yet, "The beating of women is not a husband's right." To my disappointment, I did not see any signs like this.[xxxiii]
Darwish was absolutely right, but the West needed to convince itself that the "Arab Spring" was a yearning for democracy, even though everything that was transpiring suggested the exact opposite. Consequently, leftists nurtured the fairy tale that there was a democratic impulse in a region and a belief system where a large percentage of Muslims advocate Jihad, hate Jews, and support the stoning of adulterers, the killing of apostates, female genital mutilation and many other brutal aspects of Sharia law.[xxxiv] Consequently, the "Arab Spring" amounted to precisely what it was intended to amount to: more Jihad and Sharia. And that is why it created the Islamic State.[xxxv]
Don't Be Racist!
Another crucial component of the Jihad Denial scam is the argument that anyone who says anything critical about Islam is a racist. And since most people in the West now dread being labelled such, this slander has silenced the society at large in terms of the truth about Islam.
This leftist tactic has succeeded because, as writer Daniel Greenfield has noted, the Left has achieved the racialization of Islam — even though Islam is not even a race.[xxxvi] Referring to this con job as the "Big Lie," Robert Spencer writes about its spurious charges and his own efforts to fight them:
I have repeated more times than I could possibly recall: "What race is the jihad mass murder of innocent civilians again? I keep forgetting." I've pointed out almost as often that Muslims who believe that their god is commanding them to wage war against and subjugate those who don't believe as they do come in all races, and that race has nothing to do with their imperatives.[xxxvii]
These simple truths, unfortunately, have not made a dent in the Unholy Alliance's tactic on this score. And the Obama administration empowered the whole charade by launching the effort to make "Middle Eastern and North African" a race.[xxxviii] Since the principal beneficiaries of this move would be Muslim Arabs, the intent was obviously to give Muslims special privileges — and to bolster the charge of "racism" against anyone daring to tell the truth about Jihad or Sharia.[xxxix]
Thus, because Islam has surreally acquired racial status, it is now considered racist to criticize Islam, a protected status that Islam, and no other religion, possesses. The absurdity of the whole thing becomes obvious when looking at the Unholy Alliance's treatment of ex-Muslims, whom leftists freely criticize without the slightest worry that their condemnations may be inherently "racist."
It would be important at this point to reflect on a theme stressed by author Shelby Steele in his masterpiece The Content of Our Character, where Steele focuses on white people's need to feel innocent in the struggle over race in America.[xl] He discusses this issue in the black-white context, but his point is extremely relevant to Jihad Denial today. Indeed, since the Left has succeeded in racializing Islam, we begin to understand better why so many Americans surrender to the Unholy Alliance's bullying on this issue: because they want to feel innocent in the face of accusations of racism. They are, therefore, terrified to say anything about Islam that the Unholy Alliance might frown upon.
Steele also reveals how, in race relations in America, white guilt has translated into black power.[xli] The Unholy Alliance knows this all too well — and now that it has racialized Islam, it has successfully translated white guilt into Islamic power.
White People Can't Understand Islam!
Connected to the You are racist! slander is another farcical smear: that white people can't understand Islam. By this point, we begin to witness so much pathology and contradiction that it is difficult to keep track of it all. But let us try:
The Unholy Alliance lectures truth-tellers about Islam that they must not paint all Muslims with the same broad brush, because Not all Muslims do that! And yet, the truth-tellers are simultaneously told that they can't understand Islam anyway because Muslims are actually one big racial group within which everyone is the same — and presumably dark-skinned. The illogic here is represented best by journalist and novelist Rula Jebreal, who adamantly insists that non-Muslims are all white and simply cannot understand Islamic culture, which apparently consists of exclusively dark-skinned Muslims.
As a guest on a segment on "CNN Tonight" with Don Lemon, Jebreal lectured former CIA analyst Buck Sexton about Islam, telling him that because "white people like yourself"  don't understand "the language, culture and religion" of Islam, they are incapable of understanding the Islamic State. While Jebreal's chastisement of Sexton might have been a bit confusing for many Unholy Alliance members who insist that the Islamic State has nothing to do with Islam, her position became more intriguing when she continued her reprimand of Sexton: "You need to understand what is appealing — what is the message that ISIS actually is selling in these prison cells. And what they are selling online."[xlii] Here Jebreal implied that there was, lo and behold, such a thing as an Islamic "culture" after all. And, in her view, there was something "appealing" about it to many Muslims — all of whom, apparently, are part of one race, that white people simply can't understand.
To summarize the twisted logic here: A white person cannot understand all the dark Muslim people who find Islamic terrorism appealing — but Islam has nothing to do with terrorism. Robert Spencer made the heroic effort to untangle this mystery wrapped inside an enigma. Wondering about Jebreal's thesis, and all the white people who just happen to be Muslims, he notes:
That there are "white people" who are fervent believers in Islam, such has Hamas-linked CAIR's Ibrahim Hooper, the late al-Qaeda jihadi Adam Gadahn, the Marin County Taliban John Walker Lindh, North Carolina jihad plotters Justin Sullivan and Donald Ray Morgan, would-be Wichita jihad bomber Terry Lee Loewen, Boston Marathon jihad bombers Tamerlan and Dzhokhar Tsarnaev, UK "Sharia patrol" leader Jordan Horner, Brandeis Professor Joseph Lumbard, and so very many others, escapes her, and demonstrates the hollowness of her analysis — and CNN's.[xliii]
On the same theme, Daniel Greenfield affirms:
Also Islamist groups love to drag out white American converts as fronts. Like Ibrahim Hooper of CAIR or Ingrid Mattson of ISNA. So according to Rula Jebreal, Hooper and Mattson also don't get Islam. But presumably they're useful idiots for the Islamic cause.[xliv]
Greenfield also observes that those who don't understand Islam include Rula Jebreal's Jewish banker husband. That might be horrifying to Jebreal herself, Greenfield points out, because:
Arabs like Rula Jebreal, who originally comes from '67 Israel, are classified as white by the census bureau. They've demanded a special minority classification MENA, because in real life, minority privilege beats that imaginary 'white privilege' that leftists love to rant about. (If you're lobbying to be classified as a minority, you know white privilege is a myth.) Which would mean that Mohammed was white.[xlv]
And so, perhaps it all ends up making sense why terrorist Muslims are not really authentic Muslims after all. "If white people don't understand Islam," Greenfield notes, "that would include its founder. That must be why Arab Muslims keep misunderstanding their religion."[xlvi]
There is No Islam!
All of these Jihad Denial strategies are, in the end, intentionally doing one basic thing: painting Islam as never doing anything at all — unless it can be praised by Muslims and the Left. In other words, when Islam maims and oppresses, it never stands for anything. Spencer has referred to this Jihad Denial tactic, making the crucial point that, "For Leftists and Islamic supremacists, it is a cardinal sin to essentialize Islam — that is, to dare to suggest that it actually teaches and stands for anything in particular."[xlvii]
We Need to Have Religious Freedom!
While deniers insist, on the one hand, that Islam doesn't stand for anything and, therefore, cannot be essentialized, they contradict themselves by maintaining that it stands for a great deal — since it is actually a religion and, therefore, cannot be touched. This is because religious freedom is guaranteed in the U.S. Constitution and also because, according to leftists, no faith propagates hatred and violence — a mantra that Obama repeatedly maintained throughout his administration to exonerate Islam.[xlviii]
Suffice it to say that while the Unholy Alliance defends Islam by maintaining that no faith sanctions violence, it spends a considerable amount of time alleging that Christianity and Judaism do exactly that.  In any case, many people are afraid to say anything negative about Islam because it is a "religion" and it is assumed that all religions must be "good" and cannot possibly sanction hatred and violence. The problem, of course, is that Islam is not so much a religion as a political ideology.[xlix] Moreover, and again, it does preach hatred and violence.
Thus, Islam is able to continue its malicious agenda in the U.S. because it receives protected status under freedom of religion statutes within the country (while not standing for anything at all). Because of this protection, Muslims are also able to continue building and congregating in their mosques without any questions or even government surveillance.[l] And yet, the empirical evidence demonstrates that Islamic mosques are often covers for violence and Jihad.[li]
In the end, when we examine all of these different arguments that are used to sustain Jihad Denial, we find not only a shrewd deception, but also a ruthlessness and heartlessness. The whole paradigm is a reflection of the Left's callous disregard for the victims of Jihad and Sharia, victims who include Muslims, such as Muslim girls and women who suffer immensely under Islamic gender apartheid, where they are afflicted by every barbarity from female genital mutilation to forced marriage, forced veiling and forced segregation. [lii] Mantras such as Not all Muslims do that! do absolutely nothing to defend these victims — or future victims. And they do absolutely nothing to protect the world from Islamic Jihad and stealth Jihad. To the contrary, they enable our enemy.
Now that we have understood the nature and agenda of Jihad Denial, we move on to demonstrate how it manifests itself and spawns an environment that invariably turns a blind eye to the connection between Islam and Islamic terrorist attacks. The next chapter unveils real-life stories about a civilization that is under attack by Islam while it simultaneously engages in suicide by seeing no Islam at all.
Notes:
[i] Robert Spencer, The Truth About Muhammad: Founder of the World's Most Intolerant Religion, (Washington, D.C.: Regnery, 2006). For a powerful takedown of the It's Just the Extremists! argument, see The Glazov Gang, "Anne Marie Waters Moment: Easy Guide to Debating the Useful Infidel. Part III: "Nothing to Do With Islam," JamieGlazov.com, May 18, 2017. http://jamieglazov.com/2017/05/18/anne-marie-waters-moment-easy-guide-to-debating-the-useful-infidel-part-iii-nothing-to-do-with-islam/
[ii] "By The Numbers – The Untold Story of Muslim Opinions & Demographics," Clarion Project – Challenging Extremism/Promoting Dialogue, Dec 10, 2015, https://www.youtube.com/watch?v=pSPvnFDDQHk; See also: "Ben Shapiro: The Myth of the Tiny Radical Muslim Minority," TruthRevoltOriginals, Oct 15, 2014, https://www.youtube.com/watch?v=g7TAAw3oQvg
[iii] Unholy Alliance is the term this work uses to refer to the alliance between the Left and Islamic Supremacism, a phenomenon documented by David Horowitz in his work, Unholy Alliance: Radical Islam and the American Left (Washington, D.C.: Regnery, 2004). For more discussion and analysis on the Left's romance with Islamic supremacism, and how this romance is an extension of the Left's alliance with communism during the Cold War, see Jamie Glazov, United in Hate: The Left's Romance With Tyranny and Terror (Los Angeles: WND, 2009).
[iv] For a powerful takedown of the But not all Muslims do that! argument, see The Glazov Gang, "Anne Marie Waters Moment: Easy Guide to Debating the Useful Infidel. Part I: 'Not All'", JamieGlazov.com, April 16, 2017. http://jamieglazov.com/2017/04/16/anne-marie-waters-moment-easy-guide-to-debating-the-useful-infidel-part-i-not-all/
[v] Interview with Daniel Greenfield, July 1, 2017.
[vi] Raymond Ibrahim, "But ISIS Kills More Muslims Than Non-Muslims!," Frontpagemag.com, December 18, 2015. http://www.frontpagemag.com/fpm/261156/isis-kills-more-muslims-non-muslims-raymond-ibrahim.
[vii] Ibid.; See also Daniel Greenfield on The Glazov Gang episode, "But ISIS Kills Muslims Too," JamieGlazov.com, February 5, 2016. http://jamieglazov.com/2016/02/05/but-isis-kills-muslims-too-on-the-glazov-gang/
[viii] Interview with Daniel Greenfield, July 1, 2017.
[ix] Raymond Ibrahim, "Ben Affleck: Portrait of Islam's Clueless Apologists," PJMedia, October 6, 2014, http://pjmedia.com/blog/ben-affleck-clueless-islam-apologist/?print=1
[x] For the best work on Islam itself and how it inspires tyranny and violence, see Robert Spencer, The Truth About Muhammed and Spencer, Religion of Peace? Why Christianity Is and Islam Isn't (Washington, D.C.: Regnery, 2007).
[xi] Ibrahim, "Ben Affleck: Portrait of Islam's Clueless Apologists."
[xii] Robert Spencer, "Watch What Happens When 3 Muslim Spokesmen Are Asked About Islam's Death Penalty for Apostasy," PJMedia.com, March 24, 2015. https://pjmedia.com/lifestyle/2015/03/24/watch-what-happens-when-3-muslim-spokesmen-are-asked-about-islams-death-penalty-for-apostasy/
[xiii] Ibrahim, "Ben Affleck: Portrait of Islam's Clueless Apologists."
[xiv] Robert Spencer, "He Said That Raping Me Is His Prayer to God," PJMedia.com, August 14, 2015. https://pjmedia.com/blog/he-said-that-raping-me-is-his-prayer-to-god/
[xv] Robert Spencer, "Canada: Muslim beats his wife in front of cops, says she is his 'property'," JihadWatch.org, August 16, 2015. http://www.jihadwatch.org/2015/08/canada-muslim-beats-his-wife-in-front-of-cops-says-she-is-his-property
[xvi] For an outline of the Islamic nature of female genital mutilation, see Jamie Glazov, "Why 17-Year-Old Mayar Mohamed Mousa Had to Die," Frontpagemag.com, June 15, 2016. http://www.frontpagemag.com/fpm/263192/why-17-year-old-mayar-mohamed-mousa-had-die-jamie-glazov
[xvii] For a strong work documenting how Islamic texts inspire and sanction violence against unbelievers, see: Spencer, Religion of Peace? Why Christianity Is and Islam Isn't. For documentation on how Islamic texts sanction Muslims to take non-Muslim girls and women as sex slaves, see Spencer, "He Said That Raping Me Is His Prayer to God."
[xviii] See Spencer, Religion of Peace? Why Christianity Is and Islam Isn't.
[xix] Robert Spencer, "The Diversity of Islam?" Frontpagemag.com, October 13, 2014. http://www.frontpagemag.com/2014/robert-spencer/the-diversity-of-islam/
[xx] Robert Spencer, "What we have learned since 9/11," Frontpagemag.com, September 11, 2015. https://www.jihadwatch.org/2015/09/what-we-have-learned-since-911. For a powerful takedown of the Others do it too! argument, see The Glazov Gang, "Anne Marie Waters Moment: Easy Guide to Debating the Useful Infidel. Part II: 'But the Bible…'",
JamieGlazov.com, April 27, 2017. http://jamieglazov.com/2017/04/27/anne-marie-waters-moment-easy-guide-to-debating-the-useful-infidel-part-ii-but-the-bible/
[xxi] Fox News, "State Department spokeswoman floats jobs as answer to ISIS," February 17, 2015. http://www.foxnews.com/politics/2015/02/17/state-department-spokeswoman-floats-jobs-as-answer-to-isis.html
[xxii] See Chapter 5, "Does Poverty Cause Militant Islam?" in Daniel Pipes, Militant Islam Reaches America (New York: W. W. Norton, 2002), pp.52–63.
[xxiii] Rebecca Kimitch, "What we know about San Bernardino mass shooting killers Syed Farook and Tashfeen Malik," San Bernardino County Sun, Dec 3, 2015. http://www.sbsun.com/general-news/20151203/what-we-know-about-san-bernardino-mass-shooting-killers-syed-farook-and-tashfeen-malik
[xxiv] Yasmin Khorram, Ben Brumfield and Scott Zamos, "Chattanooga shooter changed after Mideast visit, friend says," CNN.com, September 15, 2015. http://www.cnn.com/2015/07/17/us/tennessee-shooter-mohammad-youssuf-abdulazeez/
[xxv] Pipes, Militant Islam Reaches America, p. x.
[xxvi] Ibid., p.56.
[xxvii] Robert Spencer, "New report: Islamic State recruits not driven by poverty, and above average in education," JihadWatch.org, October 6, 2016. https://www.jihadwatch.org/2016/10/new-report-islamic-state-recruits-not-driven-by-poverty-and-above-average-in-education
[xxviii] Chapter 1, pp.24-25.
[xxix] Robert Spencer, "John Kerry's Jobs Program for Would-Be Jihadists," Frontpagemag.com, October 4, 2013, http://frontpagemag.com/2013/robert-spencer/john-kerrys-jobs-for-potential-jihadists-program/.
[xxx] Ibid.
[xxxi] Bruce Thornton, "Still Getting Jihadism Wrong," Frontpagemag.com, October 14, 2014, http://www.frontpagemag.com/2014/bruce-thornton/still-getting-jihadism-wrong/print/.
[xxxii] Ibid.
[xxxiii] Nonie Darwish, The Devil We Don't Know (New Jersey: John Wiley & Sons Inc. 2012), p.16.
[xxxiv] "Chapter 1: Beliefs About Sharia," Polling and Analysis, PewForum.org, April 30, 2013. http://www.pewforum.org/2013/04/30/the-worlds-muslims-religion-politics-society-beliefs-about-sharia/. See also Jamie Glazov, "200 Million Women Victimized by Female Genital Mutilation – on The Glazov Gang," JihadWatch.org, February 7, 2016. http://www.jihadwatch.org/2016/02/200-million-women-victimized-by-female-genital-mutilation-on-the-glazov-gang
[xxxv] Raymond Ibrahim, "How Obama's Arab Spring Created the Islamic State," Frontpagemag.com, October 5, 2014. http://www.frontpagemag.com/fpm/242422/how-obamas-arab-spring-created-islamic-state-raymond-ibrahim
[xxxvi] Daniel Greenfield, "How Islam in America Became a Privileged Religion," Frontpagemag.com, June 2, 2015. http://www.frontpagemag.com/fpm/257819/how-islam-america-became-privileged-religion-daniel-greenfield
[xxxvii] Robert Spencer, "Islam is not a race? Obama White House wants to change that," JihadWatch.org, October 1, 2016. https://www.jihadwatch.org/2016/10/islam-is-not-a-race-obama-white-house-wants-to-change-that
[xxxviii] Ibid.
[xxxix]  Daniel Greenfield, "Obama to Add Muslims as a Race," The Point at Frontpagemag.com, October 4, 2016. http://www.frontpagemag.com/point/264383/obama-add-muslims-race-daniel-greenfield
[xl] Shelby Steele, The Content of Our Character (New York, NY: HarperPerennial, 1991). See Chapter 1: "I'm Black, You're White, Who's Innocent?" pp. 1-20.
[xli] Steele, pp.79-82.
[xlii] Robert Spencer, "CNN guest says 'white people' don't understand Islamic culture — Ibrahim Hooper hardest hit," JihadWatch.org, March 25, 2016. https://www.jihadwatch.org/2016/03/cnn-guest-says-white-people-dont-understand-islamic-culture-ibrahim-hooper-hardest-hit
[xliii] Ibid.
[xliv] Daniel Greenfield, "White People Can't Understand Islam," The Point at Frontpagemag.com, March 25, 2016. http://www.frontpagemag.com/point/262285/white-people-cant-understand-islam-daniel-greenfield
[xlv] Ibid.
[xlvi] Ibid.
[xlvii] Robert Spencer, "The Diversity of Islam?" Frontpagemag.com, October 13, 2014. http://www.frontpagemag.com/2014/robert-spencer/the-diversity-of-islam/
[xlviii] Robert Spencer, "Obama: 'There's no religious rationale that would justify in any way any of the things' jihad terrorists do," JihadWatch.org, September 29, 2016. https://www.jihadwatch.org/2016/09/obama-theres-no-religious-rationale-that-would-justify-in-any-way-any-of-the-things-jihad-terrorists-do
[xlix] For how Islam is more of a political ideology than a religion, see "Political Islam has subjugated civilizations for 1,400 years," PoliticalIslam.com, https://www.politicalislam.com/about/
[l] For how the FBI can no longer surveil mosques, see Jessica Chasmar, "Mosques off-limits by government snooping since 2011, IBD editorial claims," The Washington Times, June 13, 2013. http://www.washingtontimes.com/news/2013/jun/13/mosques-limits-government-snooping-2011-ibd-editor/
[li] For how mosques are used as a cover for Jihad, see Jamie Glazov, "Shari'a and Violence in American Mosques," Frontpagemag.com, June 9, 2011. http://www.frontpagemag.com/fpm/95567/sharia-and-violence-american-mosques-jamie-glazov
[lii] For a discussion and documentation of Islamic theological teachings that inspire and sanction misogyny and crimes against women, such as honor killings, see Chapter 10 (pp.115-131), "To Hate a Woman" in Jamie Glazov, United in Hate: The Left's Romance With Tyranny and Terror (Los Angeles: WND, 2009).
24.
Hunter Biden's Problem Isn't Drugs
Movies have narratives. So do public relations and propaganda.
It's not hard to spot those seams and cuts in the Hunter Biden redemption narrative. The elevator pitch is, "I'm all better now." The logline is, "Hunter Biden recovers from a lifetime of addiction and trauma through the love of a good woman."
It's a cliche, but most political spin is.
The purpose of the memoir and the sales pitch is to defang the Hunter Biden scandals, not only those that have come out, but those that will come out, and turn them into old news. Hunter's all better now.
There's an investigation, but you know how well the FBI handles investigations involving top Democrats. So like Hillary and Bernie's wife, I doubt Hunter has anything to worry about.
Except maybe Hunter.
The problem with narratives is that they tell a simple story about complex issues. And the entire Hunter narrative is betting hard on being able to put the problem to bed by telling a story about addiction. And yet Hunter's problem is not addiction.
Trying to reduce it to addiction makes it seem manageable. But the problem with Hunter, as always, is Hunter. And addiction is the least of it. The FBI wasn't investigating Hunter Biden because he had a drug problem. Being a top Democrat with a drug problem is practically obligatory. We went from Bill Clinton not inhaling to Obama boasting of trying cocaine. The problem is that Hunter has no self-control. Not with drugs, or business dealings. And, allegedly, with women.
Those are the ticking time bombs.
Talking about Hunter's drug problems is a convenient distraction from the ticking time bombs. It's a way of selling the public on the idea that Hunter was out of control, but is back under control.
And yet what if Hunter Biden is never really under control? And what is his father isn't either?
25. 
.
-/-