ΚΑΤΑΛΗΨΗ ΟΛΗΣ ΤΗΣ ΟΥΚΡΑΝΙΑΣ ΚΑΙ Ρ/ΣΤΡΑΤΙΩΤΙΚΗ ΣΤΡΟΦΗ ΠΡΟΣ ΤΟΥΡΚΙΑ!..
Φίλοι μου / μας!
1. Μεγάλη εντύπωση προκαλεί το γεγονός, ότι οι Δυτικοί επικεφαλής στρατιωτικοί ηγέτες, [ήτοι οι άγνωστοι, μέχρι σήμερα, ηγέτες των στρατιωτικών δυνάμεων της Δύσεως, οι οποίες δυνάμεις (άγνωστες και αυτές), αν και όταν κληθούν, θα αντιμετωπίσουν τις "ΡΕΔ"], δεν βλέπουν ότι οι Ρώσοι, αργά ή γρήγορα [ένας μήνας ήταν / είναι ο σχεδιασμός των Ρώσων για το -αίσιο- πέρας της "1ης Περιόδου" (Π1), για την κατάληψη του ημίσεως της Ουκρανίας], θα καταλάβουν ολόκληρη την Ουκρανία και έτσι θα έχουν καλύψει – ασφαλίσει όλη την… γαστέρα τους, από το Καζακστάν, έως την Πολωνία και πως αμέσως μετά θα στραφούν πιο κάτω, στα νότια, ήτοι προς την Τουρκία, όπου και θα διενεργήσουν διακλαδικές αποβατικές επχ-σεις στον Βορρά της, σε συνδυασμό και με άλλες στρατηγικής φύσεως στρατιωτικές ενέργειές τους, στο τ/έδαφος, με τελικό στόχο την κατάληψη της Κωνσταντινουπόλεως, αφού έχουν αποφασίσει πια να δοκιμάσουν να πάψουν να είναι παγιδευμένοι στην Μ. Θάλασσα και να ζητούν, κάθε φορά, άδεια από την Δύση και "εν προκειμένω" "τύποις" από την Τουρκία, για να περάσουν τον… Βόσπορο και τα Δαρδανέλια, όποτε το θελήσουν!..
Οι Ρώσοι θέλουν να πάψουν πια να ασφυκτιούν, μη δυνάμενοι όχι να ελέγξουν, αλλά ούτε απλώς να "βγαίνουν" στο… κέντρο της Γης ("Μεσό-γειος") χωρίς άδεια και από την στιγμή που δεν μπορούν να συνεννοηθούν με την κυριαρχούσα, στην στρατηγικά κρίσιμη αυτή περιοχή, Δύση, αποφάσισαν πια να πολεμήσουν γι' αυτό!..
Αν οι στρατιωτικοί ηγέτες* της Δύσεως έβλεπαν αυτό που μόλις πιο πάνω διαβάσατε, τότε θα το είχαν ήδη αναφέρει στους πολιτικούς ηγέτες τους, όπως πχ, (και πάντα κατ' εκτίμησιν), στον Α/Πρόεδρο, στον Βρετανό Π-Θ, κλπ και θα είχαν επιμείνει στο να πάνε δυτικές δυνάμεις στην Ουκρανία να αντιμετωπίσουν τώρα(!) και εκεί την Ρωσία, ώστε, και κατ' ελάχιστον, να την εγκλωβίσουν εκεί και τέλος πάντων να της κόψουν την φόρα για καθόδους και… μπασκετικά "ντράϊβ" προς τον Νότο και τα Στενά!..
Είναι τεράστιο στρατηγικό λάθος οι στρατιωτικοί ηγέτες της Δύσεως,
(αν δεχθούμε πως έχουν λογικά "δει" αυτό που παραπάνω τους… αρνούμαστε, για λόγους σπουδής, πως "είδαν" και ακόμα ότι το εισηγήθηκαν μάλιστα και στους πολιτικούς ταγούς τους, αλλά αυτοί το απέρριψαν, ανοήτως βεβαίως, για να πάνε χρονικά πιο… εκεί τον Γ' Π. Π.),
να αφήνουν την Ρωσία να υλοποιεί ΕΛΕΥΘΕΡΑ τους σχεδιασμούς της στο έδαφος για άλλη μία φορά (!) και έτσι να δρα τώρα αυτή ανενόχλητη (ας πούμε και ας δούμε επιτέλους την αλήθεια), πειραματιζόμενη μάλιστα σε πολλά, στην Ουκρανία, αναμένοντάς την για την πραγματική(!) "ΜΗΤΕΡΑ ΟΛΩΝ ΤΩΝ ΜΑΧΩΝ" στα Στενά και στα σημερινά τ/εδάφη, αναλαμβάνοντας έτσι ένα μεγάλο ρίσκο, αφού η μάχη αυτή θα είναι για την Δύση, (αλλά και για την Ρωσία ασφαλώς), "ΟΛΑ ή ΤΙΠΟΤΑ"!..
Δεν καταλαβαίνετε βρε, στρατιωτικοί ή πολιτικοί μικρόνοες της Δύσεως, ότι η Ρωσία, μετά την κατάληψη όλης της Ουκρανίας, αφού πλέον θα έχει καλύψει τα πλευρά και τα νώτα της, (από την Κ. Ασία, έως την Πολωνία), ήτοι το… σπίτι της, θα είναι κυρίως ΨΥΧΟΛΟΓΙΚΑ ΠΑΝΕΤΟΙΜΗ να σας / να μας ΑΝΤΙΜΕΤΩΠΙΣΕΙ, ουσιαστικά στην έδρα της, στην γειτονιά της, όταν οι δυτικοί πολεμιστές θα έχουν έρθει στο "Πεδίο της Μάχης", από κάποιες χιλιάδες χλμ μακριά; [Μετά την 1η Περίοδο των 2 Φάσεων και την κατάληψη του ημίσεώς της, μέχρι την γραμμή Κίεβο – Οδησσός, η υπόλοιπη Ουκρανία (2η Περίοδος) θα "πέσει" ως ώριμο φρούτο… , και πιθανότατα μετά από συνθηκολόγηση]!..
-/-
* Ποιοί να είναι άραγε αυτοί οι στρατιωτικοί επικεφαλής; Οι επικεφαλής των ΕΔ των Η.Π.Α. ; Των βρετανικών ΕΔ ; Του ΝΑΤΟ ; Κάποιος – κάποιοι επικεφαλής ενός στρατιωτικού και… "από κοινού" μεγάλου Σχηματισμού; Θα υπάρξει δηλαδή μια συμμαχική "δύναμη-άθροισμα" και ποιών προσθετέων, ποιός θα είναι ο ανώτατος Συμμαχικός Δκτης, κλπ, ενώ ακόμα δεν ξέρουμε ποιές δυνάμεις θα δράσουν, αν και όταν αυτό απαιτηθεί, κατά των Ρώσων!..
Εμείς, αφού δεν μπορούμε να δεχθούμε ότι οι στρατιωτικοί επικεφαλής της Δύσεως αγνοούν τους βασικούς κανόνες της "Στρατηγικής των Επχ-σεων", πως στερούνται και της πιο απλής προοπτικής, πιστεύουμε πως εισηγήθηκαν στους πολιτικούς να έστελναν δυνάμεις στην Ουκρανία για να πολεμήσουν τους Ρώσους, αλλά πως αυτοί το αρνήθηκαν, για να αποφύγουν τάχα τον Γ' Π.Π., πόλεμο που οι ίδιοι αυτοί οι αλαζόνες και "λίγοι" πολιτικοί ταγοί της Δύσεως, αυτήν την στιγμή, αν υπάρχει μια περίπτωση -λέμε τώρα- να το αγνοούν, τους ενημερώνουμε πως τον… ταϊζουν!.. 
-/-
Το υπόλοιπο 2022 και το επόμενο 2023 θα είναι τα πιο κρίσιμα έτη του 21ου αι. για την Ανθρωπότητα, έτη πολεμικά και δύσκολα!.. Με ό,τι πράττει τώρα η Δύση, με το να αφήνει δηλαδή τους Ρώσους να… εγχειρίζουν την Ουκρανία, "ανοίγουν τον λάκκο τους / μας"!.. 
Είναι κρίμα και άδικο, αυτήν την χρονική συγκυρία, η Δύση να έχει πολιτικούς ηγέτες αλαζόνες, άφρονες, μέχρι και αστείους, και γενικώς ηγέτες "λίγους", άβουλους  και άφωνους λακέδες των Κοσμοκυρίαρχων Βαρώνων του Παγκόσμιου Πλούτου "Διεθνών Εβραίων", σαν τον έχοντα άνοια "Γερο-Τζο", λέγε με Μπάϊντεν, που έχει το πείσμα του αλόγου που δεν θέλει να… εξημερωθεί στο "Κοράλ", όπου ζει, ή σαν τον ασέβαστο τουρκικής καταγωγής Άγγλο Π-Θ Τζόνσον, ο οποίος όταν πρόσφατα όλο το Νησί πενθούσε τον θάνατο του Βασιλιά του, αυτός έκανε χαλαρωτικά "πάρτις", τάχα για το κουρασμένο προσωπικό του Π-Θκού Γραφείου, στην "DOWNING STREET", ένα άτομο που θα μπορούσε κάλλιστα να ήταν πρωταγωνιστής σε… Κουκλοθέατρο, έναν Μακρόν, πρώην Ταμία των Ρότσιλντ, έναν Σολτς, πιθανό απόγονο Ναζιστών, έναν ΓΓ/ΝΑΤΟ, που κάποτε και για θυρωρός ακόμα, σε κάποια αθηναϊκή πολυκατοικία, θα έβαζε μέσον για να πάρει την θέση, έναν υπεύθυνο Πληροφοριών του ΝΑΤΟ, που είναι "βέρι ταμπλ" απόγονος Ναζιστή, κλπ, κλπ, κλπ!.. 
Και τελικώς, είναι ΑΔΙΚΟ(!) για τον Κόσμο όλον, ο οποίος θα οδηγηθεί σε Κ/Φ, μετά από έναν πυρηνικό, λίαν πιθανώς, πόλεμο, με συγκεκριμένο σχεδιασμό της "Διεθνούς Εξουσίας", ,θέλει -υποτίθεται- να "χτίσει" έναν νέο Πλανήτη, μια "Διεθνής Εξουσία" που έχει ως εκτελεστές-της αυτούς τους δοτούς πολιτικούς ηγέτες, οι οποίοι δεν μπορούν ούτε "να τα βρουν", ώστε να σωθούμε, με τον… τρελό, όπως τον αποκαλούν οι ανόητοι, Πούτιν, ώστε να σωθεί η Γη, ο οποίος Πούτιν είναι τόσο τρελός, όσο μπορούν οι δυτικοί ηγέτες να… καλιγώνουν ψύλλο, κάτι που όμως ο Πούτιν μπορεί και εύκολα!..
ΟΣΟ ΕΙΝΑΙ ΑΚΟΜΑ ΚΑΙΡΟΣ, ΚΑΙ ΑΝ ΠΡΑΓΜΑΤΙΚΑ ΔΕΝ ΕΙΝΑΙ ΟΛΑ ΟΣΑ ΤΩΡΑ ΒΙΩΝΟΥΜΕ, ΕΝΑ ΔΥΤΙΚΟ -ΚΑΤ' ΕΝΤΟΛΗΝ ΤΩΝ "ΔΙΕΘΝΩΝ ΕΒΡΑΙΩΝ"- ΠΑΙΧΝΙΔΙ, ΓΙΑ ΝΑ ΠΑΜΕ ΣΕ ΕΝΑΝ ΑΚΟΜΑ Π.Π., ΑΥΤΗΝ ΤΗΝ ΦΟΡΑ ΠΥΡΗΝΙΚΟ ΚΑΙ ΟΛΕΘΡΙΟ ΓΙΑ ΟΛΟΥΣ, ΠΡΟΣ ΧΑΡΙΝ ΕΝΟΣ ΝΕΟΥ, ΤΑΧΑ ΜΟΥ, ΚΟΣΜΟΥ, ΤΟΤΕ Ο ΚΟΣ ΜΠΑΪΝΤΕΝ ΠΡΟΛΑΒΑΙΝΕΙ ΝΑ ΠΑΡΕΙ ΤΗΛΕΦΩΝΟ ΤΟΝ ΠΟΥΤΙΝ ΚΑΙ "ΝΑ ΤΑ ΒΡΟΥΝ", (ΕΧΟΥΜΕ ΓΡΑΨΕΙ ΠΏΣ), ΩΣ ΟΙ 2 ΥΠΕΡΔΥΝΑΜΕΙΣ ΤΟΥ ΠΛΑΝΗΤΗ ΚΑΙ ΝΑ ΚΕΡΔΙΣΕΙ ΕΤΣΙ Η ΕΙΡΗΝΗ!!!..
2. Στις 24-02-2022, που στις 05:00 άρχισε η εισβολή της Ρωσίας στην Ουκρανία, κλπ, ο Κος Μπένετ ήταν σε επίσημη επίσκεψη στην Μόσχα! Τυχαίως; Απαντήστε μόνοι σας!..
Εμείς πιστεύουμε πως πήγε εκεί, όπως και ακολούθως στον ομογενή του Ζελένσκι, στο Κίεβο, για να διασφαλίσει την έξοδο και την ομαλή μεταφορά στο Ισραήλ των 1, 6 – 2 εκ-ρίων Ουκρανών εβραϊκής καταγωγής, που ζούσαν, και πιθανότατα ζουν ακόμα κάποιοι, στην χώρα αυτήν!
Όταν επίκεινται πόλεμοι (πόσο μάλλον ένας Παγκόσμιος) και γενικώς παγκόσμιες αναταραχές, αναμπουμπούλες, κλπ, η Παγκόσμιος Ιστορία, τουλάχιστον από τις αρχές του 20ου αι. και μετά, μας έχει διδάξει πως δεν μαζεύεται μόνον ο… Χρυσός, δεν συγκεντρώνονται μόνον οι ράβδοι του στις Τράπεζες των Κοσμοκυρίαρχων, αλλά πως μαζεύονται και οι… εβραϊκής καταγωγής πολίτες (τουλάχιστον οι περισσότεροι), στην χώρα τους, λέγε με τώρα Ισραήλ, παλαιότερα Παλαιστίνη, "Γη Χαναάν", κλπ!.. 
Γι΄αυτό πιθανότατα και η συγκεκριμένη στάση της Ι/Κ-Β, ήτοι αυτή των "ΙΣΩΝ ΑΠΟΣΤΑΣΕΩΝ", από τους 2 -θεωρητικά- αντιμαχόμενους, Ρώσους και Ουκρανούς!..
Αλλά και η πρόσφατη επαναπροσέγγιση Τ-Ισραήλ και η θέρμη, μέχρι θεατρινισμού, του Κου ΧΕΡΤΣΟΓΚ, του ΠτΔ του Ισραήλ, στην πρόσφατη επίσκεψή του στην Τουρκία, προς τους Τούρκους, συνδέεται ΑΡΡΗΚΤΑ με το εθνικό συμφέρον του Ισραήλ, και θα έλεγα με την ίδια την ΕΠΙΒΙΩΣΗ του, (όπως και βεβαίως με αυτό το… ΜΕΓΑΛΟ, το… ΠΑΓΚΟΣΜΙΟ που έρχεται σύντομα), αφού με βάση τον απώτερο ρ/σχεδιασμό, στην επικείμενη ρωσική κάθοδο προς το Ισραήλ (τουλάχιστον μέχρι τα σύνορά του), η Τουρκία αποτελεί το κυριότερο "μαξιλάρι ασφαλείας" για τους Ισραηλίτες (ρωσική κατάληψη της Τουρκίας θα σημάνει, πλην της ρ/κυριαρχίας στα Στενά, και συνένωση των ρ/δυνάμεων με αυτές που σταθμεύουν τώρα στην Συρία, και συνεπώς το "ΑΛΕΡΤ" για τους Ισραηλινούς θα αυξηθεί ραγδαίως), και μάλιστα το μοναδικό "μαξιλάρι", αφού ο επιχειρηθείς να σχηματιστεί στην Β. Συρία "Κουρδικός διάδρομος" δεν έχει εισέτι δημιουργηθεί, λόγω της οξείας -λογικής γι΄αυτούς- αντιδράσεως των Τούρκων! Η Συρία θα ήταν ένα ακόμα "μαξιλάρι ασφαλείας" για το Ισραήλ, αλλά ο Ρωσόφιλος Άσαντ δεν "έπεσε", αφού η ΑΝΟΗΤΗ "ΑΡΑΒΙΚΗ ΑΝΟΙΞΗ" Α-ΠΕ-ΤΥ-ΧΕ παταγωδώς!..
Γι΄αυτό και πάπαλα (μάλλον) ο "EAST MED", ώστε να μην στεναχωρηθούν οι Τούρκοι!
Γι' αυτό και έπεσαν σε "Χειμερία Νάρκη", μέχρι νεωτέρας, και όλοι οι Παλαιστίνιοι, είτε του Αμπάς και της "πάλαι ποτέ" "ΑΛ ΦΑΤΑΧ", όπως και οι άλλοι τρομοκράτες της "Γάζας"!.. Εδώ υπάρχει τ/δάκτυλος, ακριβώς ο ίδιος που "έβαλε χέρι" στα όποια, γερά βεβαίως, "κόζια", της "ΧΑΜΑΣ" στο τ/έδαφος, κλπ, κλπ, κλπ!..
ΟΙ ΙΣΡΑΗΛΗΝΟΙ, ΠΡΟ ΤΟΥ ΕΠΙΚΕΙΜΕΝΟΥ Π.Π., ΠΡΟΕΤΑΞΑΝ ΤΟΥ ΟΠΟΙΟΥ ΚΕΡΔΟΥΣ, ΤΗΝ ΑΜΥΝΑ ΤΗΣ ΧΩΡΑΣ ΤΟΥΣ, ΕΜΠΡΟΣ ΣΤΟΝ ΠΑΓΚΟΣΜΙΟ ΧΑΛΑΣΜΟ ΠΟΥ ΕΙΝΑΙ "ΑΝΤΕΡ ΠΟΡΤΑΣ"!.. 
Με το Ιρανικό χτες (13-03-2022) χτύπημα, στις αμερικανικές (λέγε με Ισραηλινές) Βάσεις στο κράτος "ΚΟΥΚΛΑ" της Τουρκίας, αυτό των Αφων ΜΠΑΡΖΑΝΙ, ήτοι της "Αυτόνομης Διοικήσεως Του Β. Ιράκ", οι Ιρανοί πιθανότατα έστειλαν ένα μήνυμα στο Ισραήλ, μήνυμα το οποίο έλεγε πως "αν μου πειράξεις την "Χιζμπολλάχ" στην Συρία, τότε θα σε προσβάλλω και εγώ, ως Ιράν, στο έδαφος των Αφων "Μπαρζανί"!.. (Πιθανότατα το Ιράν να κτύπησε τις Ι/Βάσεις στο Μπαρζανικό μόρφωμα, για να εκμαιεύσει μια ταχύτερη υπογραφή, του νέου, με τις χώρες της Δύσεως, συμφωνηθέντος πυρηνικού του προγράμματος κα γιατί όχι, και με σύμφωνη γνώμη της Ρωσίας (η οποία θεωρεί εμπόδιο τους Κούρδους στο δρόμο της για το Ισραήλ), με την οποία Ρωσία, όπως και με την Κίνα, οι Ιρανοί είναι στρατηγικοί εταίροι, αποτελώντας -οι 3 αυτές χώρες- τον νέο, λεγόμενο "ΑΞΟΝΑ ΤΟΥ ΚΑΚΟΥ")!..
ΓΡΑΦΟΥΜΕ ΞΑΝΑ!
ΚΑΘΕ ΦΟΡΑ, ΟΠΩΣ ΤΟ ΕΧΟΥΜΕ ΠΕΙ ΚΑΙ ΕΞΗΓΗΣΕΙ, ΠΟΥ ΟΙ ΡΩΣΟΙ "ΠΛΑΚΩΝΟΝΤΑΙ" ΜΕ ΤΗΝ ΔΥΣΗ, ΟΙ ΤΟΥΡΚΟΙ ΕΙΝΑΙ, ΛΟΓΩ ΤΗΣ ΓΕΩΓΡΑΦΙΑΣ ΤΟΥΣ, ΣΤΑ ΠΟΛΥ… "ΧΑΪ" ΤΟΥΣ!..
ΜΕΤΑ ΤΑ ΛΙΓΑ ΠΑΡΑΠΑΝΩ, ΚΑΤΑΛΑΒΑΤΕ ή ΟΧΙ ΑΚΟΜΑ, ΟΤΙ ΜΕ ΤΟΝ ΜΠΑΪΝΤΕΝ, ΣΙΓΑ – ΣΙΓΑ, ΑΛΛΑ ΣΤΑΘΕΡΑ, ΑΝΑΤΡΕΠΕΤΑΙ Ο ΘΕΤΙΚΟΣ ΚΑΙ… ΔΙΑΥΓΗΣ ΓΙΑ ΤΗΝ ΕΛΛΑΔΑ ΠΟΛΙΤΙΚΟΣ ΟΡΙΖΟΝΤΑΣ, ΠΟΥ ΕΙΧΕ, ΜΕ ΠΟΛΥ… ΙΔΡΩΤΑ, ΕΙΝΑΙ ΑΛΗΘΕΙΑ, … ΟΙΚΟΔΟΜΗΘΕΙ ΣΤΗΝ ΧΩΡΑ ΜΑΣ, ΕΠΙ ΤΡΑΜΠ;
ΤΟ ΚΑΤΑΛΑΒΑΤΕ, ΕΙΜΑΙ ΒΕΒΑΙΟΣ, ΟΠΩΣ ΚΑΙ -ΚΥΡΙΩΣ- ΚΑΤΑΛΑΒΑΤΕ ΚΑΙ ΤΟ "ΓΙΑΤΙ" ΑΥΤΟ ΓΙΝΕΤΑΙ ΤΩΡΑ, ΑΥΤΗ ΤΗΝ ΣΥΓΚΕΚΡΙΜΕΝΗ ΧΡΟΝΙΚΗ ΣΥΓΚΥΡΙΑ!..
ΓΙ' ΑΥΤΟ ΚΑΙ Ο Κ.Κ.Μ. "ΨΑΧΝΕΙ" ΤΩΡΑ "ΝΑ ΤΑ ΒΡΕΙ" ΜΕ ΤΟΝ ΡΤΕ, (ΣΥΝΑΝΤΗΣΗ ΜΕ ΤΟΝ ΡΤΕ ΧΘΕΣ, ΣΤΗΝ ΠΟΛΗ / 13-03-2022), ΩΣΤΕ ΝΑ ΜΗΝ ΠΑΕΙ ΣΤΑ ΧΑΜΕΝΑ, Ο,ΤΙ ΕΘΝΙΚΟ ΠΟΛΙΤΙΚΟ ΚΕΡΔΟΣ ΕΙΧΑΜΕ ΤΑ 2 ΤΕΛΕΥΤΑΙΑ ΧΡΟΝΙΑ, ΜΕ ΤΗΝ ΕΞΩΤΕΡΙΚΗ ΠΟΛΙΤΙΚΗ ΠΟΥ ΕΦΑΡΜΟΣΤΗΚΕ!..
ΣΕ Ο,ΤΙ ΜΑΥΡΟ ΚΑΙ ΑΡΑΧΛΟ, ΓΙΑ ΟΛΟΝ ΤΟΝ ΚΟΣΜΟ, ΕΡΧΕΤΑΙ ΜΠΡΟΣΤΑ, Η ΕΛΛΑΔΑ ΘΑ ΕΧΕΙ ΤΙΣ ΛΙΓΟΤΕΡΕΣ ΑΠΩΛΕΙΕΣ ΓΕΝΙΚΩΣ, ΑΝ ΠΑΡΑΜΕΙΝΕΙ, ΕΣΤΩ ΑΠ' ΕΔΩ ΚΑΙ ΕΜΠΡΟΣ, ΟΥ-ΔΕ-ΤΕ-ΡΗ(!), ΩΣΤΕ ΝΑ ΜΗΝ ΑΠΩΛΕΣΕΙ ΚΑΙ ΑΥΤΑ ΤΑ ΛΙΓΑ ΠΟΥ ΤΗΣ ΑΠΕΜΕΙΝΑΝ!..
3. Ο ΚΟΣΜΟΣ ΠΛΕΟΝ ΣΤΟΝ ΑΙΩΝΑ ΜΑΣ "ΓΥΡΙΣΕ ΣΕΛΙΔΑ", ΚΑΤΑ ΤΗΝ "ΜΙΤ", ΚΑΙ ΤΗΝ ΕΚΘΕΣΗ ΤΗΣ ΓΙΑ ΤΟ 2021! Η "ΜΙΤ" ΣΤΗΝ ΕΚΘΕΣΗ ΤΗΣ ΑΝΑΦΕΡΕΤΑΙ ΣΤΟΝ 21ο ΑΙ. Ως ΤΟΝ ΑΙΩΝΑ ΤΟΥ "ΚΥΒΕΡΝΟΠΟΛΕΜΟΥ" ΚΑΙ ΤΗΣ "ΚΥΒΡΝΟΑΣΦΑΛΕΙΑΣ"! (Σας παρουσιάσαμε "προχθές" ένα σχετικό άρθρο, Τ/Αρθρογράφου, που σχολίαζε την ετησία αναφορά πεπραγμένων, κλπ, της ΜΙΤ).
Σ' ΑΥΤΟ ΤΟ… ΣΥΜΠΕΡΑΣΜΑ ΚΑΤΕΛΗΞΑΝ ΟΙ Τ/ΑΝΑΛΥΤΕΣ ΤΗΣ ΥΠΟΨΗ ΥΠΗΡΕΣΙΑΣ, ΚΑΤ' ΕΜΑΣ ΟΡΘΟΤΑΤΑ, ΜΕΤΑ ΤΗΝ ΕΜΦΑΝΙΣΗ ΤΟΥ Ι/ΛΟΓΙΣΜΙΚΟΥ "ΠΗΓΑΣΟΣ", ΤΟ ΟΠΟΙΟ ΞΕΦΤΙΛΙΣΕ ΟΛΑ ΤΑ ΣΥΣΤΗΜΑΤΑ ΑΣΦΑΛΕΙΑΣ ΤΩΝ Η/Υ, ΣΧΕΔΟΝ ΟΛΩΝ ΤΩΝ ΧΩΡΩΝ ΤΟΥ ΚΟΣΜΟΥ, ΜΕ ΑΠΟΤΕΛΕΣΜΑ ΟΙ ΙΣΡΑΗΛΙΝΟΙ ΝΑ ΕΙΝΑΙ ΟΥΣΙΑΣΤΙΚΑ ΟΙ ΠΑΤΡΩΝΕΣ ΣΗΜΕΡΑ ΤΩΝ "ΠΛΗΡΟΦΟΡΙΩΝ" ΣΤΟΝ ΠΛΑΝΗΤΗ, ΜΑΖΙ ΜΕ ΤΟΥΣ ΡΩΣΟΥΣ ΚΑΙ ΤΟΥΣ ΙΝΔΟΥΣ!..
ΑΥΤΗ, ΑΣ ΤΗΝ ΠΟΥΜΕ… ΤΕΧΝΟΛΟΓΙΑ, ΕΧΕΙ ΠΕΡΑΣΕΙ ΚΑΙ ΣΤΑ ΣΥΣΤΗΜΑΤΑ ΤΩΝ ΒΑΛΛΙΣΤΙΚΩΝ ΠΥΡΑΥΛΩΝ, ΤΕΧΝΟΛΟΓΙΑ ΠΟΥ ΔΕΝ ΤΗΝ ΕΧΟΥΝ ΑΚΟΜΑ ΟΙ ΑΜΕΡΙΚΑΝΟΙ, ΜΕ ΑΠΟΤΕΛΕΣΜΑ ΝΑ ΥΣΤΕΡΟΥΝ ΑΠΕΝΑΝΤΙ ΣΤΟΥΣ "ΕΝ ΔΥΝΑΜΕΙ" ΑΝΤΙΠΑΛΟΥΣ ΤΟΥΣ ΡΩΣΟΥΣ ΚΑΙ ΙΣΩΣ ΑΥΤΟΣ, ΟΠΩΣ ΠΙΣΤΕΥΟΥΝ ΚΑΙ ΛΕΝΕ ΚΑΠΟΙΟΙ, ΝΑ ΕΙΝΑΙ Ο ΛΟΓΟΣ ΓΙΑ ΤΟΝ ΟΠΟΙΟΝ ΟΙ Η.Π.Α. ΔΕΝ ΕΠΕΜΒΑΙΝΟΥΝ ΣΤΗΝ ΟΥΚΡΑΝΙΑ!..
ΞΥΠΝΑΤΕ ΛΟΙΠΟΝ ΚΑΙ ΕΔΩ ΣΤΗΝ ΧΩΡΑ ΜΑΣ ΚΑΙ ΜΑΘΕΤΕ ΑΠΟ / ΜΕ ΤΟΥΣ ΦΙΛΟΥΣ ΜΑΣ ΠΙΑ ΙΣΡΑΗΛΙΝΟΥΣ, ΠΟΥ ΜΕ ΤΟΝ "ΠΗΓΑΣΟ" ΕΜΑΘΑΝ ΚΑΙ Ο,ΤΙ ΤΥΧΟΝ ΑΠΟ ΕΜΑΣ ΔΕΝ ΗΞΕΡΑΝ ΑΚΟΜΑ, Ο,ΤΙ ΠΑΡΑΠΑΝΩ ΜΠΟΡΕΙΤΕ, ΣΕ ΟΛΑ ΤΑ ΘΕΜΑΤΑ ΠΟΥ ΑΠΤΟΝΤΑΙ "ΚΥΒΕΡΝΟ-ΑΣΦΑΛΕΙΑΣ" ΚΑΙ "ΚΥΒΕΡΝΟΠΟΛΕΜΟΥ"!.. ΑΝ ΤΟ ΚΑΛΟΣΚΕΦΤΕΙΤΕ, ΟΙ ΙΣΡΑΗΛΙΝΟΙ ΜΑΣ ΟΦΕΙΛΟΥΝ!..
4.
Saudis and UAE Won't Lower Oil Prices Until Biden Helps Them With This Problem
Biden's America is in free fall and the whole world knows it.
America, in these halcyon days of Old Joe Biden's foundering regime, is in free fall, and the whole world knows it. As PJM's inimitable Stephen Green put it recently, "The alleged American president's response to the Ukraine War has been so detrimental to America's own interests that everyone sees him as weak. Last week, the Wall Street Journal reported that two of the Middle East's richest petrostates wouldn't even take Biden's call," that is, Saudi Arabia and the United Arab Emirates. The reasons for the unprecedented snub are clear: the Saudis and the UAE know that Biden is not a serious character, and they also know that his handlers are not likely to give him the one thing they want most from the United States: help against Iran.
Old Joe was trying to get in touch with Mohammed bin Salman, the crown prince of Saudi Arabia, and Sheikh Mohammed bin Zayed al Nahyan, the crown prince of Abu Dhabi, both of whom are the de facto rulers of their respective countries, to try to get some relief for skyrocketing gas prices. The UK's Daily Mail reported that "as oil prices push over $130 a barrel for the first time in almost 14 years, the two Gulf countries are the only major oil producers that can pump millions more barrels of more oil to calm the crude market at a time when American gasoline prices are at high levels."
They're the only major oil producers who can help, but they won't, at least not until they get some assistance from Old Joe regarding Yemen. In Yemen, the Iran-backed Shi'ite Houthis are waging jihad against the Sunnis in Saudi Arabia and the UAE. Biden's handlers, anxious to replicate Barack Obama's disastrous Iran nuclear deal, are making concession after concession to the Iranian mullahs. The Saudis and the UAE have noticed and want Biden to play ball with them before they will consider lowering oil prices.
Saudi Arabia can hardly be classified as a totally reliable ally of the United States, particularly given lingering questions about the extent of its involvement at the highest levels in the 9/11 jihad attacks. However, it is a notable bulwark against Iran in the region, and so many on both sides of the aisle see the utility of the American alliance with the kingdom. That group, however, apparently does not include Biden's handlers. In September 2021, they quietly removed an advanced missile defense system from Saudi Arabia, heedless of the fact that the Saudis were suffering ongoing air attacks from the Houthis in Yemen.
This was yet another attempt to appease the mullahs in Tehran. The Saudi Defense Ministry shrugged it off, saying its relationship with the U.S. was "strong, longstanding and historic," and adding: "The redeployment of some defense capabilities of the friendly United States of America from the region is carried out through common understanding and realignment of defense strategies as an attribute of operational deployment and disposition." However, the former director of Saudi Arabia's intelligence services, Prince Turki al-Faisal, sounded a dissenting note, saying: "I think we need to be reassured about American commitment. That looks like, for example, not withdrawing Patriot missiles from Saudi Arabia at a time when Saudi Arabia is the victim of missile attacks and drone attacks — not just from Yemen, but from Iran."
In the context of all this, it is important to remember what Iranian President Hassan Rouhani said on November 5, 2020: that "the next U.S. administration will surrender to the Iranian nation." This wasn't just tough talk. In light of Biden's handlers' apparent willingness to give the mullahs all they want and more, it was a sober assessment of the geopolitical situation.
And now it is bearing bitter fruit. Biden and the U.S. are in this bind all because Biden's handlers wanted to vindicate Obama and discredit Trump. Obama's ridiculously weak Iran nuclear deal was his cornerstone foreign policy achievement, but then Trump skewered it — correctly — as the worst deal any American administration has ever concluded, and got us out of it. Now Biden's handlers are so desperate to shore up Obama's sagging legacy that they're willing to turn their backs on our allies and empower an enemy rogue state that chants "Death to America" to do it. When you're taking out a second mortgage to pay for a tank of gas, you can thank Old Joe for doing everything he had to do to get his Iran deal.
5. ΑΥΤΟ ΠΑΡΑΚΑΤΩ, "ΚΟΛΛΑΕΙ" ΜΕ ΜΕΡΟΣ ΤΗΣ ΠΑΡΑΓΡΑΦΟΥ "2" ΤΟΥ ΠΑΡΟΝΤΟΣ!
Israel's Interest in Ukraine Goes Beyond Ukraine
The long-term strategic angle to Prime Minister Bennett's trip.
Israeli Prime Minister Naftali Bennett's visit to Moscow made him the first Western leader to sit down with Russian leader Vladimir Putin since Russia invaded Ukraine on February 24. The visit was highly significant for Israeli interests. Although Israel, like most countries, is concerned about the humanitarian toll on Ukraine, there is a long-term strategic angle to the Bennett trip, which includes Russia and Iran.
One of the most misguided comparisons made in the West about the Russian invasion of Ukraine is the drawing of a parallel between Ukraine and Israel because Ukraine has a Jewish president. Israel is a Jewish state with a Jewish identity. This is certainly not to undermine the humanitarian crisis in Ukraine, but Ukraine is not Israel. Ukraine has a .4 to.5% Jewish population which Israel has not abandoned. Israel is resettling many Jewish refugees from Ukraine — and from far beyond. In fact, Israel has found itself so overwhelmed in its generosity, that the exceptional flow of refugees has prompted Foreign Minister Yair Lapid to revamp a "more balanced" policy. A full 90% of the refugees arriving in Israel are ineligible to immigrate, according to Israel's Law of Return.
Aside from Israel's concern for human life, which it consistently proves (from medically treating Palestinian jihadists to its rescue response during the great Haitian earthquake of 2010), its strategic interests in the Russia-Ukraine crisis cannot be ignored. Four months ago, Israel and Russia were collaborating together on the common goal of ousting Iran from Syria, and established a "deconfliction hotline to keep the sides from getting tangled up and accidentally clashing over Syria." This was despite the long history of cooperation between Russia and Iran. Israel's interest in keeping Iran out of Syria is an Israeli priority, given that Iran has been entrenching itself near the Syrian border with Israel, prompting Israel to launch a new phase in its campaign to protect itself from Iran's jihad against it, as well as Iran's proxies, such as Hezbollah.
Israel's association with Russia still holds Israel's priority during the Russian invasion of Ukraine.
It is also a disservice to Israel for anyone to muddle Israel's identity with Ukraine due to the Jewish identity of the Ukraine leader. Ukraine has a concerning reputation: a horrific history of persecuting Jews. It currently grapples with a big corruption problem, a Nazi problem, a World Economic Forum problem, and the long-time influence and interference of George Soros' Open Society Foundation.
Benjamin Netanyahu was rather wise to instruct his government to "be quiet on Russia" and focus on Iran — the archenemy of Israel. So when Israeli Prime Minister Naftali Bennett flew off to the Kremlin to try to broker peace, informed intuition should have registered that there had to be another salient matter at hand in Israel's interests since the whole world is trying to broker peace. And indeed there is. Outside of global politicking, it is a requisite that Israel focus on its survival — which Iran threatens. According to a BBC article:
Israel has significant relations with both Russia and Ukraine…. But Mr Bennett was flying into something he sees as strategic in the crisis. "Israel has also developed frequent dialogue with the Russians, or 'our neighbors to the north' as one official reportedly referred to them recently. Russia controls the skies over Syria, where Israel routinely carries out air strikes. It says it targets weapons transfers and militants linked to Iran, the country it sees as an existential threat."
Although the BBC report states that "the relationship dynamics of one regional crisis are becoming entangled in another," the Russia-Ukraine crisis bears a gargantuan impact on the entire world. The interests of every ideology is in some fashion wrapped up in this crisis: Democracy, Nazism, Communism, Globalism, and Islam. In the meantime, innocents are suffering, so hopefully a peace deal can be brokered quickly. For those who also have interests in Israel's survival, Netanyahu's advice should not be dismissed.
6. 
Almanya Başbakanı Scholz Ankara'da
Cumhurbaşkanı Erdoğan, Almanya Başbakanı Olaf Scholz'u Beştepe'de resmi törenle karşılıyor.
7.
Iran's missile strike on US mission in Iraq sends multiple messages – analysis
(Shutterstock)
By Pesach Benson, World Israel News
Iran fired ballistic missiles — as many as 12 — at a U.S. diplomatic mission in Iraq in the early hours of Sunday morning.
The target was the U.S. consulate in Erbil, which is the capital of Iraq's Kurdistan province. No casualties were reported. While initial reports said the consulate and adjacent buildings were damaged, U.S. and Iraqi officials said no buildings were damaged.
Although Israel isn't really the issue, the Iranian Revolutionary Guards Corps, a designated terror group, claimed responsibility for the missile strike with a statement that took the unusual step of tying in the "Zionists."
"Following the recent crimes of the fake Zionist regime and the previous announcement that the crimes and evils of this infamous regime will not go unanswered; Last night, the 'Strategic Center of Conspiracy and Evil of the Zionists' was targeted by powerful and point-to-point missiles of the IRGC," said the IRGC statement.
It was presumably referring to an airstrike on Damascus attributed to Israel on March 7. According to the Syrian Observatory for Human Rights, the attack hit "a weapons and ammunition depot operated by Iran-backed militias near the Damascus International Airport."
Two IRGC operatives were killed and Iran vowed revenge.
The IRGC statement following the consulate strike noted that further Israeli "evil" — that is to say, airstrikes in Syria — would face a "harsh, decisive and destructive response."
Multiple messages
Most likely, the missile strike was an opportunity to send several messages at once.
Message to the Iranian populace: "We struck back at the Zionists."
Tehran has struggled to exact revenge on Israel for the assassination of nuclear scientist Mohsen Fakhrizadeh, or for dozens of mysterious acts of sabotage at Iranian facilities real and imagined.
Striking a facility in Iraq and calling it a Mossad center is like firing bullets at a barn door and then painting bullseyes around the holes. Tehran didn't offer any evidence of nefarious Mossad activities at a U.S. consulate. As far as Tehran's concerned, repeating the claim reinforces the idea of the U.S. being the Great Satan along with the Israeli Little Satan.
Message to the JCPOA negotiators: "Before the war in Ukraine distracted you, we were close to finalizing a favorable nuclear deal. We'll continue the thuggery until we close out the agreement."
Tehran is deeply unhappy that the Russian invasion derailed the nuclear talks, and even more unhappy that Moscow wants written guarantees that its military and economic ties with Iran will not be impacted by the West's anti-Russian sanctions.
But Iran would not dare to make any overt moves against Russia. Tehran can't afford to alienate Moscow or endanger its status quo in Syria.
Message to the U.S.: "You were chased out of Afghanistan and we'll chase you out of the Mideast. Now get out of Iraq so we can bring Iraq under our influence already."
Presidents Joe Biden, Donald Trump and Barack Obama all sought to scale back the American military's footprint in the world for close to two decades. Iran regarded this as a sign of weakness.
Ballistic missiles targeting a consulate well outside of working hours was just enough to remind the U.S. that the Mideast is a scary place — without being a mass casualty event that w0uld force Biden to order a harsh response.
Message to the Kurds: "Kurdish nationalism complicates our takeover of Iraq. If you push for independence and alliances with Israel, we can make it very painful for you."
Message to Hafez Assad, Hezbollah, and the rest of the "Axis of Evil": We have your back. We will deter the IDF from striking our weapons depots, drone factories, communication facilities etc. on Syrian soil."
Message to Israel: "We have ballistic missiles and we're not afraid to use them to send these kinds of messages."
For Tehran, it's sufficient if Israeli prime time news leads off with the keywords "Iran" and "ballistic missiles."
8. 
Russian forces splinter long column, revise tactics for seizing Kyiv
Stalled by Ukraine harassment, Russian generals revised their tactics for the offensive on Kyiv by opening a new front to the west and targeting the town of Lviv. They began the third week of their invasion on March 11 by splitting into multiple sub-convoys the huge column of tanks, armored vehicles, artillery and troops snaking around the capital. The sub-units are tightening their encirclement of the city ready to drive in from the north, west and east. Tanks diverted from the convoy were posted at Antonov airport to the north. Heavy artillery units were dug in in wooded areas around Kyiv ready for action.
The new Lviv front places Russian troops 340km from the Polish border.
On Friday, the Russians placed the town of Chernihiv to siege on while also moving east to beef up their encirclement of the capital. Mykolayiv is also under siege and heavy bombardment.
Western military analysts have found no indications that the Russian military is drawing lessons from the unforeseen resistance they have faced in the first two weeks of the war or preparing any radical changes of tactics. They are sticking to their slow, relentless advance on the capital, ravaging Ukrainian towns and areas in their path and keeping urban areas under crippling shelling, ravaging whole towns and putting millions of civilians to flight.
The Ukraine high command now believes that the Russian forces as they are today are not up to beating the Ukrainian army and/or withstanding a surge of guerilla warfare on their long supply lines. However, notwithstanding setbacks and delays caused by far fiercer and more effective than estimated Ukrainian military and popular resistance, the numerical disparity between their military strength and firepower will likely enable Moscow to seize the initiative on the battlefield.
At the National Security Council meeting in Moscow on Friday, President Vladimir Putin approved Defense Minister Sergey Shoigu's proposal to enlist 16,000 foreign volunteers for the Russian army, some of whom come from Syria (whose ruler Bashar Assad owes his survival from a long and bitter civil war to Russian military intervention.)
Some Western analysts suggest that the Ukraine war will end with the partitioning of the embattled country between East Ukraine and West Ukraine. The Dnieper River may serve as the border between the two separate entities, acting much like the defunct Berlin Wall. The river rises in Russia and flows through Belarus and Ukraine to the Black Sea.  West Ukraine, under this plan, would lose its outlet to the sea and therefore its economic lifeline for exports.
9.
ΔΕΙΤΕ ΤΟΝ ΠΑΡΑΚΑΤΩ ΧΑΡΤΗ
ΚΑΙ
ΠΡΟΒΛΗΜΑΤΙΣΤΕΙΤΕ
ΜΟΝΟΙ ΣΑΣ!
10.
Erdoğan Miçotakis 'le görüşmüştü

! Yunanistan'dan Türkiye açıklaması
Yunanistan Başbakanı Kiryakos Miçotakis, Cumhurbaşkanı Recep Tayyip Erdoğan ile İstanbul'da gerçekleştirdikleri görüşmede ikili ilişkilerin düzelmesi için temel atıldığını bildirdi.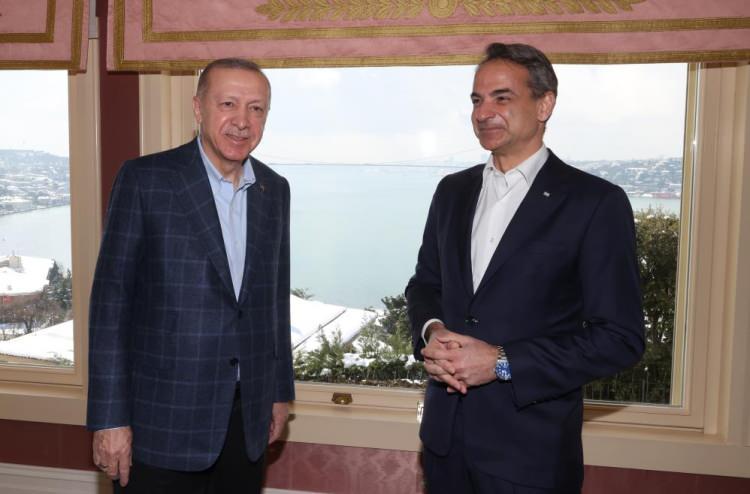 Yunanistan Başbakanlık Ofisinden yapılan açıklamaya göre, Miçotakis, Fener Rum Patriği Bartholomeos ile görüşmesinde, Erdoğan ile temaslarına yönelik değerlendirmede bulundu.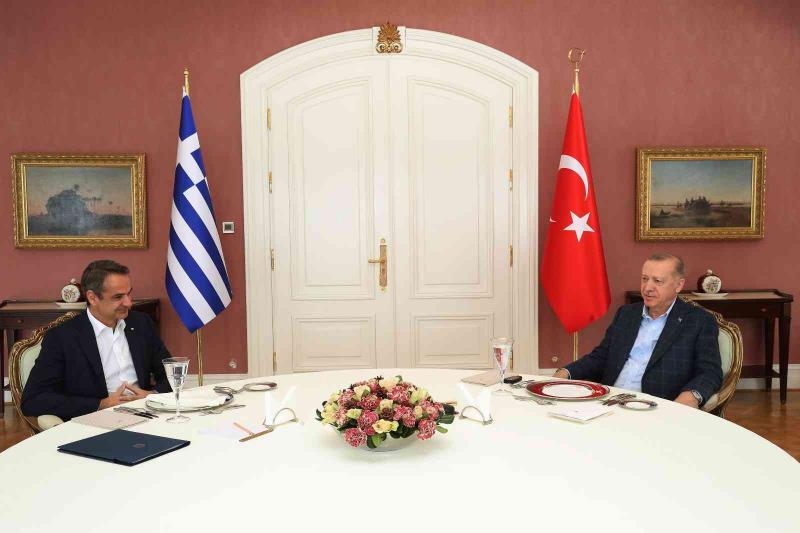 'MUTABIK KALDIK'
Görüşmenin olumlu havada geçtiğini belirten Miçotakis, "İnsanlık olarak ve NATO müttefiki iki ülke olarak böylesi bir dönemde öyle çok ortak sorunla karşı karşıyayız ki, bizi ayıran sorunlardan çok bizi birleştiren bu sorunlara odaklanmamızın daha önemli olduğunda mutabık kaldık." dedi.
'ÖNEMLİ BİR İLERLEME KAYDEDEBİLECEĞİMİZİ SANIYORUM'
Miçotakis, başta ekonomi olmak üzere, birçok konuda pozitif gündem oluşturmaya vurgu yapıldığını kaydederek, "Önümüzdeki aylarda önemli bir ilerleme kaydedebileceğimizi sanıyorum. Her şey yolunda giderse, sonbaharda hayırlısıyla Yüksek Düzeyli İş birliği Konseyini Yunanistan'da düzenleyebiliriz." değerlendirmesinde bulundu.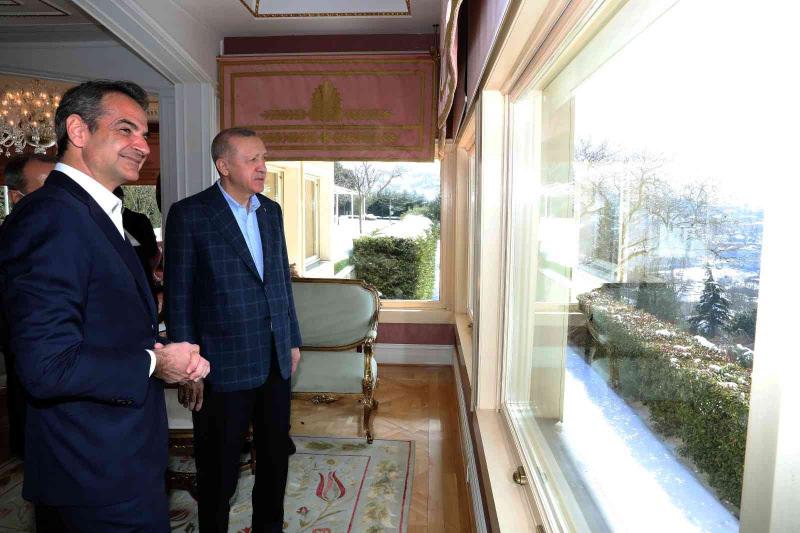 Türkiye ve Yunanistan arasında bir anda uzlaşılamayacak fikir ayrılıkları olduğuna işaret eden Miçotakis, Cumhurbaşkanı Erdoğan ile son derece açık ve samimi bir görüşme gerçekleştirdiklerini kaydetti.
Miçotakis, Ukrayna'daki gelişmeleri de hatırlatarak "İkili ilişkilerimizin iyileşmesi ve özellikle şu an karşılaştığımız büyük sorunlara ilişkin iş birliği yapmamız için temelleri attığımıza inanıyorum. Bugün yine Ukrayna'da sivillerin hayatını kaybettiği trajik görüntüler gördünüz. Bizi bunlar meşgul etmeli." ifadesini kullandı.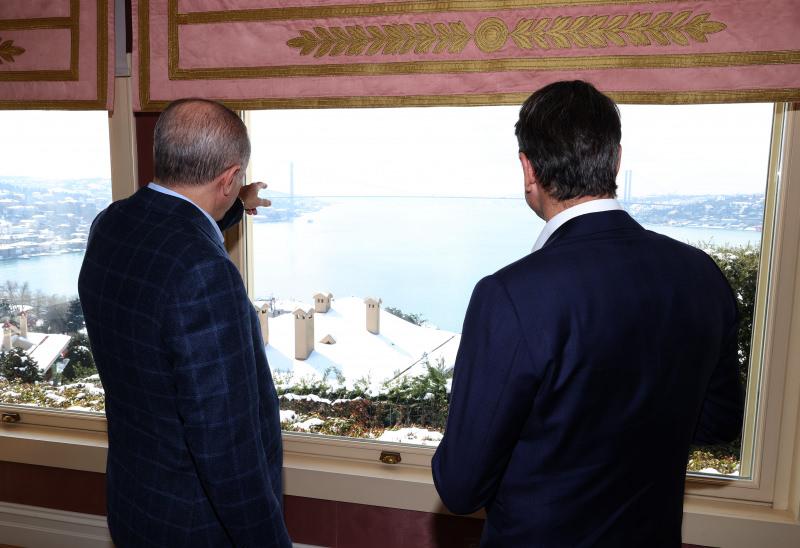 11.
Greece: Muslim Migrants Desecrate and 'Turn into Toilets' 2,339 Churches
Another example of Islam's Rule of Numbers.
Raymond Ibrahim is a Shillman Fellow at the David Horowitz Freedom Center.  This article is reprinted from the Gatestone Institute.
According to a new report published by Greece's Ministry of Education and Religious Affairs, there were 2,339 incidents of church desecrations in the country between 2015 and 2020, when tiny Greece, seen as Europe's eastern gateway, was flooded with migrants from the Islamic world.  As the Greek City Times writes in regards to the report, "There appears to be a correlation between the increase in illegal migration and the incidents of attacks on Greek Orthodox religious churches and religious spaces during the five year period which occurred during the peak of the migration crisis."
Of the most recent year in the recording period, 2020, there were 385 incidents against Christian churches and buildings, including "vandalism, burglary, theft, sacrilege, necromancy, robbery, placement of explosive devices and other desecrations."
Over the years, a few of these desecrations made it to English language media.
In April 2021, Muslim migrants entered into and utterly desecrated a small church.  Proud of their handiwork, they also videotaped portions of the incident and uploaded it on TikTok (available here).  It shows a topless migrant dancing to rap music as he walks towards and inside the church.  The next clip shows the aftermath: devastation inside the church, with smashed icons and the altar overthrown.
In 2020, Muslim migrants ransacked and transformed another church into their personal toilet. This public restroom was once the St. Catherine Church in Moria, a small town on the island of Lesvos, which was flooded with migrants who arrived via Turkey. "The smell inside is unbearable," said a local. "[T]he metropolitan of Mytilene is aware of the situation in the area, nevertheless, he does not wish to deal with it for his own reasons." The May 2020 report elaborates:
This is only the latest incident … [I]t has become extremely common for Greek Orthodox Churches to be vandalised and attacked by illegal immigrants on Lesvos….
As a deeply religious society, these attacks on churches are shocking to the Greek people and calls to question whether these illegal immigrants seeking a new life in Europe are willing to integrate and conform to the norms and values of their new countries.
These continued attacks have ultimately seen the people of Lesvos, who were nominated for the Nobel Peace Prize in 2016, become increasingly frustrated by the unresolved situation that has restricted and changed their lives as they no longer feel safe on their once near crime-free island.
While there are many such examples from between 2015-2020—in 2016, the Church of All Saints in Kallithea near Athens was set aflame by "Arabic speakers"—historically conscious Greeks see a continuum in the Islamic targeting of their churches.  As one report on the desecration of Greek churches explains,
We should remember that Greece spent 400 years under Turkish Islamic rule and that the fight for freedom was bloody.  With that in mind it is even more dramatic seeing these images of fighting age migrants desecrating Greek holy places and having no respect for the country they are allegedly seeking refuge in.
While the report likely has the 1453 sack of Constantinople (today Istanbul) in mind—when countless Greek churches, including Hagia Sophia, were desecrated, destroyed, or turned into mosques—that pattern is a century older.  In 1354, when the invading Turks first achieved a foothold in Europe, in Gallipoli, which was then Greek, immediately, "Where there were churches he [Suleiman Pasha, an early Ottoman ruler] destroyed them or converted them to mosques," writes an Ottoman chronicler: "Where there were bells, Suleiman broke them up and cast them into fires. Thus, in place of bells there were now muezzins." Cleansed of all Christian "filth," Gallipoli became, as a later Ottoman bey boasted, "the Muslim throat that gulps down every Christian nation—that chokes and destroys the Christians."[*]
Modern Greece, of course, is ultimately experiencing what all European nations that have large Muslim migrant populations are experiencing.  All around Western Europe, churches are under attack. This is especially true of those two Western European nations that hold Europe's largest Muslim populations—Germany and France.
According to a 2017 report, in the Alps and Bavaria regions of Germany alone, countless crosses on some 200 churches were attacked and broken: "Police are currently dealing with church desecrations again and again… The perpetrators are often youthful rioters with a migration background."
Following the arrival of a million Muslim migrants to Dülmen, Germany in 2016, a local newspaper noted that "not a day goes by" without attacks on crosses and other Christian symbols outside of churches.  Before Christmas, in the North Rhine-Westphalia region, where more than a million Muslim migrants reside, some 50 public statues of Jesus and other Christian figures were beheaded and crucifixes broken.
As for France, an average of two churches are reportedly attacked there every single day.  In one instance in 2019, Vandals plundered and used human excrement to draw a cross on the Notre-Dame des Enfants Church in Nimes (smearing fecal matter on churches is not an uncommon Muslim tactic).  Although the identities of those targeting churches is often left out of reports—as when "unknown vandals" desecrated and smashed crosses and statues at a cathedral and mangled the arms of a crucified Christ in a mocking manner—on occasion they appear.
Thus, in 2014, an enraged Muslim man physically twisted a massive bronze cross with his bare hands while committing major acts of vandalism in two churches.  He also overturned and broke two altars, destroyed Christian statues, tore down a tabernacle, smashed in a sacristy door, and broke some stained-glass windows.  Similarly, in 2015, Christian crosses and gravestones in a church cemetery were damaged and desecrated by a Muslim man.  After being apprehended, he was described as follows: "The man repeats Muslim prayers over and over, he drools and cannot be communicated with: his condition has been declared incompatible with preliminary detention."  He was hospitalized as "mentally unbalanced."
Be that as it may; the new report by Greece's Ministry of Education and Religious Affairs makes one thing perfectly clear: Greece has become the latest exemplar of "Islam's Rule of Numbers"—a rule which posits that, the more Muslims grow in numbers, the more phenomena intrinsic to Islam grows with them, in this case, the desecration of Christian churches.  In Nigeria alone, for example, Muslims have torched or destroyed some 20,000 churches over the last decade).
[*] Doukas, Decline and Fall of Byzantium to the Ottomans, 1975, 144–145; Bostom, Andrew, The Legacy of Jihad, 2005, 63.
12.
Russia Responds to Credit Card Cutoff by Turning to China
Visa and MasterCard have no problem with the CCP.
As I noted recently, Visa and MasterCard have suspended operations in Russia because, as Visa's Al Kelly put it, of "Russia's unprovoked invasion of Ukraine, and the unacceptable events that we have witnessed." It is striking, however, that despite a steady stream of "unacceptable events" coming out China, Visa and MasterCard are reportedly still operating there. The rampant human rights abuses China is committing against the Uighurs apparently don't rise to the level of "unacceptable" for the credit cards giants, apparently because China didn't have to invade another country to get to them. MasterCard and Visa, however, don't do huge business in China anyway, because the Chinese have their own credit card system, UnionPay. So in effect, what MasterCard and Visa have done is bring Russia and China closer together. What could possibly go wrong?
Reuters reported Monday that MasterCard and Visa cards from Russian banks will stop working Thursday, and that "some local lenders would look to use China's UnionPay system instead….The central bank added that many Russian banks plan to issue cards using UnionPay, a system it said was enabled in 180 countries." That allows Russian citizens to hardly miss a beat, as they will be able to use UnionPay virtually everywhere they used MasterCard and Visa.
Meanwhile, American Express has now joined the "in" crowd, announcing Sunday that it, too, is suspending Russian operations, "in addition to the previous steps we have taken, which include halting our relationships with banks in Russia impacted by the U.S. and international government sanctions." More business for the Chinese. It would seem that MasterCard and Visa, like so many others, have shot themselves in the foot with their virtue-signaling, and set a disquieting precedent for shutting down the accounts of anyone whose political opinions are disliked by the political and media elites.
Yet obviously their outrage is selective and inconsistent. The plight of the Uighurs has never aroused any outrage comparable to that which has been sparked by Russia's invasion of Ukraine. It's clear that Visa and MasterCard, like so many corporations, is not so much interested in standing up for human rights for all as it is in protecting itself against a storm of woke outrage. Until "The View" and Rachel Maddow start talking about China's human rights abuses, those abuses just don't exist, and corporations need take no action. But you can be absolutely certain that once someone who dissents from the Leftist agenda starts to gain traction, MasterCard and Visa will pull the rug out from under his or her feet. The precedent has been set.
The strengthening of economic ties between Russia and China also bodes ill for the future. If we don't end up in a world war this week, we will be facing a revitalization of the old Cold War-era ties between two powerful nations that are fundamentally antagonistic to the United States. Whether or not that antagonism needs to exist is another matter altogether. It is likely that tensions with Russia would not be so high if the Democrats hadn't pulled off the Russian collusion hoax and made Russia the all-purpose scapegoat in their attempt to destroy Trump and his followers. Putin would have had no argument about the expansion of NATO encircling Russia if the question of NATO membership had been handled less recklessly. And if the U.S. had not outsourced so much of our economy to China, we would not feel the effects of its antagonism so keenly. Ultimately, however, these considerations are immaterial for geopolitical considerations today: Russia and China are antagonistic to the U.S. and are getting closer to each other, and in the age of Old Joe Biden and the Left's near-total dominance of the government and media, that is not a good situation.
What should MasterCard and Visa have done? Either act consistently on political matters, or not act at all. The latter would have been preferable, as then the credit card giants would not have signaled so clearly to conservatives that our day is coming, and the age of financial institutions being available to any law-abiding citizen regardless of his or her political views is coming to an end. In the meantime, Biden's handlers will have to deal with all the many and various ramifications of the new closeness between Russia and China, and given their abysmal track record, they are certain to handle that also in a way that maximizes the harm done to American citizens.
13. Κε Καρατζαφέρη! Για να εγγυηθεί ο Αμερικανός την ασφάλεια των νήσων μας παρά την Μ. Ασία, των οποίων οι Τούρκοι ζητούν την αποστρατικοποίηση, οπότε μόνον τότε εσείς θα αποδεχόσασταν την αποστρατικοποίησή τους, όπως δηλώσατε στον Κομμουνιστή Βερύκιο, που επί ΠΑΣΟΚ έγινε δημοσιογραφικός… Ολιγάρχης, θα πρέπει τα νησιά να αλλάξουν ιδιοκτήτη και από ελληνικά να γίνουν αμερικανικά!..