Μια Πολύ Καλή, Ενημερωτική… Ενδεκάδα!
1. 
Turkey Frees American Pastor Andrew Brunson
Pastor Andrew Brunson (AFP/Getty Image)
Friday, 12 October 2018 
A Turkish court convicted an American pastor at the center of a Turkish-American diplomatic dispute of terror charges Friday, but released him from house arrest and allowed him to leave Turkey.
The court near the western city of Izmir on Friday sentenced the Rev. Andrew Brunson to 3 years and 1 month in prison for the conviction, but since the evangelical pastor has already spent two years in detention he won't serve more time.
Brunson, 50, had rejected the espionage and terror-related charges and strongly maintained
Word of his release became public around the time President Donald Trump issued a one-sentence tweet: "Working very hard on Pastor Brunson!"Trump followed up with another message on Twitter minutes later: "My thoughts and prayers are with Pastor Brunson, and we hope to have him safely back home soon!"
"PASTOR BRUNSON JUST RELEASED. WILL BE HOME SOON!"
Brunson faced up to 35 years in jail if convicted.
Brunson, who has lived in Turkey for more than two decades, rejects the charges and strongly maintains his innocence. He is one of thousands caught up in a wide-scale government crackdown that followed a failed coup against the Turkish government in July 2016.
Prosecutors accuse Brunson of committing crimes on behalf of terror groups, linking him to outlawed Kurdish militants and a network led by a U.S.-based Turkish cleric who is accused of orchestrating the coup attempt. The U.S. maintains he is being held unjustly and has repeatedly called for his release.
The trial comes as Turkey and the United States are embroiled in another major diplomatic incident regarding a Saudi writer — U.S. resident Jamal Khashoggi — who disappeared at the Saudi consulate in Istanbul last week. Turkish officials claim the writer may have been killed inside the diplomatic mission. Saudi officials reject the claims as "baseless."
The court on Friday called two witnesses following tips from witness Levent Kalkan, who at the previous hearing had accused Brunson of aiding terror groups. The new witnesses did not confirm Kalkan's accusations. Another witness for the prosecution said she did not know Brunson.
Brunson again denied accusations that his church aided Kurdish militants, saying he had handed over a list of Syrian refugees the congregation had helped and adding that Turkish authorities would have identified any terrorists.
"We helped everyone, Kurds, Arabs, without showing any discrimination," he said.
On Thursday, a person involved in efforts to free Brunson told The Associated Press in Washington that the pastor could be released at the hearing. The person spoke on condition of anonymity because officials had not yet reached a final agreement on the release and it could still fall through.
State Department spokeswoman Heather Nauert told reporters that the U.S. is hopeful he will soon go free but said she was unaware of any agreement on his release.
The pastor, who is originally from Black Mountain, North Carolina, was imprisoned for nearly two years  — detained in October 2016 and formally arrested in December that year — before being placed under house arrest on July 25 for health reasons.   
The court's decision failed to improve tensions between the two NATO allies. Washington slapped sanctions on two Turkish officials and doubled tariff on Turkish steel and aluminum imports. Those moves in August, coupled with concerns over the government's economic management, helped trigger a Turkish currency crisis.
Turkish President Recep Tayyip Erdogan has resisted U.S. demands for Brunson's release, insisting that the courts are independent. But he had previously suggested a possible swap of Brunson and the Pennsylvania-resident Fethullah Gulen — the cleric accused of being behind the coup.
Brunson led a small congregation in the Izmir Resurrection Church. The U.S. Commission on "International Religious Freedom", with top representative Tony Perkins monitoring the trial, has listed him as a "prisoner of conscience." 
The U.S. chargé d'affaires to Turkey, Jeffrey M. Hovenier, was also in the courtroom.
William Devlin, an evangelical pastor from New York spoke to reporters outside the prison, saying hundreds of thousands of Christians are praying for Brunson's release.
Brunson's lawyer took the case to Turkey's highest court last week seeking his release from house arrest.
© Copyright 2018 "The Associated Press". All rights reserved. This material may not be published, broadcast, rewritten or redistributed.
ΕΛΠΙΖΟΥΜΕ ΣΤΗΝ ΣΥΓΓΝΩΜΗ(!) ΤΟΥ ΠΑΡΑΠΑΝΩ "ΠΡΑΚΤΟΡΕΙΟΥ"!
ΣΧΟΛΙΟ: Πολύ άντεξες ρε Ερντογάν!.. Αχαχαχαχαχαχαχα
2. 
NATO Deputy Secretary General meets Israeli parliamentary delegation
On 9 October 2018, NATO Deputy Secretary General Rose Gottemoeller met with Avi Dicter, Chairman of the Israeli Parliament's (Knesset) Foreign Affairs and Defense Committee, to discuss NATO-Israel cooperation.
Mr. Dicter was accompanied by three members of the Knesset – Dr. Lt. Col. (Ret.) Anat Berko, Head of the Foreign Affairs and Defense's Subcommittee on Cyber Affairs; Omer Bar Lev, Head of the Foreign Affairs and Defense's Subcommittee for Military Readiness and Routine Security; and Michal Rozin, Member of the Foreign Affairs and Defense Committee, Member of the Constitution, Law and Justice Committee, and Member of the Implementation of Government Information and Transparency Committee. The Knesset delegation also met with NATO's Assistant Secretary General for Political Affairs and Security Policy, Ambassador Alejandro Alvargonzaléz, and with the Head of the NATO Middle East and North Africa Section of the Political Affairs and Security Policy Division, Nicola de Santis.
The delegation also met with the Permanent Representative of Italy to NATO, Ambassador Claudio Bisogniero; the Permanent Representative of Greece, Ambassador Spiros Lampridis (Greece is the current Contact Point Embassy of NATO in Israel); the Permanent Representative of the United States, Ambassador Kay Bailey Hutchison; and with the chargé d'affaires of the Permanent Representation of Germany, Heiko Thoms.
The parliamentary delegation also paid a visit to NATO's Euro-Atlantic Disaster Response Coordination Centre (EADRCC), which is NATO's principal civil emergency response mechanism in the Euro-Atlantic area.
Israel is a member of NATO's Mediterranean Dialogue, established by NATO Foreign Ministers in December 1994.
3. 
New NATO scientific project to reduce energy consumption of deployable camps.
When responding to security threats and crises, NATO Allies and partner countries must be able to deploy their forces rapidly and effectively. This includes the setting up of multinational military camps that need to be flexible in size, ranging from a small forward operating base to a base camp comparable to the size of a small town. Today, these camps are heavily dependent on fossil fuel, rendering them vulnerable to energy shortages and risking the lives of soldiers in protecting fuel supplies.
Saving energy, but also lives
Experiments recently conducted in model camps by several countries demonstrated that, depending on the climatic conditions, the energy management as well as the use of renewable energy technologies (such as photovoltaic panels) and innovative storage capabilities could save up to 50–80 per cent of fuel. In practice, this means that at least every second fuel convoy could become unnecessary, effectively saving lives.
"Achieving energy efficiency in deployed camps goes beyond just reducing energy consumption," said Dr Judith Bossé, Director General of Natural Resources Canada, CanmetENERGY Research Centre in Varennes, the lead institution of the project. "It also contributes to reducing the number of convoy escorts, which means that fewer combat-ready troops are needed for fuel transport support and that less fuel must be transported across ecologically sensitive areas."
Developing monitoring kits
The SPS project "Camp Energy Efficiency" launched on 18 September 2018 in Canada, will allow Allies and partners to monitor the power production and energy consumption in their camps in a fast and efficient way. This project will develop interoperable monitoring kits for camps deployed in various climatic regions and will collect energy data, in order to gain a common understanding of camp energy flows and consumptions. The first generation of the universal energy monitoring kits will be handed over to the core team during the SPS co-funded conference and exhibition "Innovative Energy Solutions for Military Applications" (IESMA) to be held in Vilnius, Lithuania on 14-15 November 2018.
The project is led by Canada and a core team of engineering experts from Australia, Germany, the Netherlands and the United States. Other countries and organisations, such as France, Denmark and NATO's Centres of Excellence on energy security and military engineering, as well as Allied Command Operations, have joined this initiative.
4. 
ISRAEL ENVOY TO UNESCO:

DO WHAT YOU WANT, WE'RE LEAVING ANYWAY
"
In withdrawing from UNESCO in 2017, Israel and the United States made a clear moral statement that UNESCO's antisemitism will no longer be tolerated.

"
OCTOBER 11, 2018

Israel's top UN envoy blasted UNESCO's attempt to water down its controversial bi-annual Jerusalem resolution, reaffirming that Israel planned to leave the organization at the end of the year.
Danny Danon spoke after the 58 members of UNESCO's executive board in Paris hid language disavowing Israeli sovereignty over Jerusalem in the lengthy annex to an otherwise short benign text called Resolution 28.
The statements in the resolution's annexes are "further evidence, for anyone who did not understand why the United States and Israel withdrew from UNESCO," Danon said.
The board gave its preliminary approval to that text on Wednesday, with a final vote likely to be held on Monday.
UNESCO's director-general Audrey Azoulay lauded the use of an annex text to bypass some of the controversy caused by the Jerusalem resolutions in past years.
"I wish to thank those who have worked to achieve this, especially the representatives of the Palestinian, Israeli and Jordanian delegations, and all members of the Executive Board who supported this agreement, as well as the European Union," Azoulay said.
A similar compromise had been reached at the April Executive Board meeting. At the time, the Israeli and the Palestinian delegations accepted the annex compromise, with Jerusalem welcoming Azoulay's efforts to downgrade the anti-Israeli tone of the agency.
It's understood that the Israeli delegation at UNESCO in Paris approved the compromise language this time as well.
Previous UNESCO resolutions had ignored Jewish ties to its most holy site, the Temple Mount, known in Hebrew as Har Habayit, referring to it solely by its Arabic-Muslim name al-Haram al-Sharif.
But this resolution's annex modified some of that tone, stating that while Rachel's Tomb in Bethlehem and the Tomb of the Patriarchs in Hebron "are an integral part of  the Occupied Palestinian Territory," the two tombs "are of religious significance for Judaism, Christianity and Islam."
In addition, it affirmed the importance of the "Old City of Jerusalem and its Walls for the three monotheistic religions."
The board gave its preliminary approval to that text on Wednesday, with a final vote likely to be held on Monday.
The idea of placing controversial statements about Israel in an annex was conceived by by Azoulay with an eye to depoliticizing the organization.
She also hoped to sway Israel and the United States to rescind their decision to leave the organization at the end of the year.
The resolution's annex allows for votes on controversial statements to be delayed to further meetings of the board, which gathers twice a year.
Applause broke out among board members when Resolution 28 and another one on the Israeli-Palestinian conflict, called Resolution 29, were approved by consensus.
After the meeting Azoulay, said: "I would like to commend the spirit of dialogue and the sense of responsibility that led to this result. A trend towards consensus is now emerging. It is based on the presence of all parties around the table at UNESCO and, of course, on their goodwill. These factors have come together in recent months and have enabled the Secretariat to play to the full its role as mediator."
Still Israel believes that resolutions with such texts politicize UNESCO and should not come before the board altogether.
Danon dismissed such watering down efforts as too little, too late, saying the resolution "proves that UNESCO is a body based on lies and biases, and is deliberately acting against us. 
The State of Israel will not be a member of an organization
 that is trying to rewrite history and willing to be manipulated by our enemies."
The enmity between UNESCO and Israel is so bitter that Prime Minister Benjamin Netanyahu refused to attend a UNESCO event condemning antisemitism.
UNESCO held that event earlier this month on the sidelines of the United Nations General Assembly in New York, when Netanyahu was in New York.
At the time, Netanyahu said, "In withdrawing from UNESCO in 2017, Israel and the United States made a clear moral statement that UNESCO's antisemitism will no longer be tolerated.
"If and when UNESCO ends its bias against Israel, stops denying history and starts standing up for the truth, Israel will be honored to rejoin," Netanyahu said.
Director for International Relations of the Simon Wiesenthal Center Dr. Shimon Samuels told The Jerusalem Post that 'the big question is what now? What will happen after Israel leaves? I believe that the role of all the Jewish groups accredited to UNESCO will become significantly more important, in confronting such challenges.''
Samuels noted that Azoulay is keen on enhancing the agency's relations with the Jewish world, but that without Israel as member state, this might prove difficult.
Still, the Jewish organizations, he said, are committed to take up the job of defending the cause of Israel and world Jewry in UNESCO.
Representative of B'nai B'rith Stephane Teicher told the Post that Jerusalem believes that delaying these resolutions each time is not a solution.
"I understand that," he said.
Teicher noted that at the executive board, "everybody was relieved that such an issue was resolved through consensus. And this is to the credit of Audrey Azoulay, who has deployed significant efforts to de-politicize the agency."
Israeli and Palestinian delegates to UNESCO refused to comment, though an Israel source told the Post  that Israel recognizes the efforts made by Mrs. Azoulay to change UNESCO"s attitude.
A statement put out by her office on Wednesday noted that in this past year 12 resolutions on the Middle East had been arrived at by consensus, "after negotiation between the parties, facilitated by the UNESCO Secretariat."
5. 
WHAT 

ISLAM

 HAS THAT WE DON'T
The answer lies in your family tree

.

October 11, 2018
Back in February, I wrote about how, in my pre-Internet teens, my curiosity about my family history sent me to the genealogy room at the New York Public Library – where, though I failed to find anything about my father's forebears (his parents had been poor Polish Catholic immigrants), I managed to trace some of my WASP mother's lines to colonial-era settlers from England, Wales, Scotland, Ireland, and France. Late last year a family member picked up where I'd left off, and, using today's extraordinary online resources, soon discovered – as I noted in February – that we're part American Indian. Soon afterwards, she ascertained that we had Italian and Dutch antecedents. Then she had me spit in a vial, and the DNA results – which I got a couple of weeks ago – informed me that I'm also part Baltic, Swedish, and Jewish.
Swedish? Jewish? Okay, I was hooked. As Al Pacino put it in Godfather III, just when I thought I was out, they pulled me back in. Putting aside my most recent online distractions (geography quizzes and Scrabble in Norwegian), I clambered once again up my family tree, and within a few days I'd traced some of my distaff lines back to the early Middle Ages, locating progenitors in Spain, Hungary, and pretty much everywhere in between.
Of course, I was fully aware that once you get to medieval times, you've left behind researching your very own family tree, in the sense of cobbling together something that's unique to you, and are instead poking around in the lives of people from whom untold millions of us are descended. This past weekend, wondering about the numbers on this, I tracked down a 1998 study by Yale statistician Joseph Chang, who concluded that sometime in the late thirteenth century, there lived a European man or woman who – get this – is a direct ancestor of every white person currently alive.
That's not all. Go back to a thousand years ago, and one-fifth of the Europeans who lived then have no living descendants today (their gene pools having dried up relatively soon), but every single one of the others is an ancestor of everyone of European heritage living today. "All lines of ancestry," as statistician Adam Rutherford putsit, "coalesce on every individual in the tenth century." Five years ago, a DNA study reached the same conclusion as Chang's math.
Rutherford's own calculations suggest that the chances that a Briton living today is not a direct descendant of Edward III (1312-77) is one in 100 nonillion. "Everyone from this room," he recently told a British audience, "is directly descended between 21 and 24 generations from Edward III." Just last week, as it happens, I found one of my own direct lines back to that particular royal. Yep, twenty-four generations.
You might think that the fact that our family trees all ultimately converge would make it a waste of time, after a certain point, to keep plugging away at this stuff. On the contrary, it's a neat way to enhance and refresh your historical memory. This time around, every time I've added another famous name to my family tree, I've googled that person and read up on his or her life. I've always loved history, but now it feels considerably less distant. To stumble over Geoffrey Chaucer, Eleanor of Aquitaine, and Charlemagne in your direct ancestral lines, as I have in the last few days, has to affect the way you think about these immense figures – and the way you view your own relationship to history in general.
As it happens, one name in particular really hit home for me when I found it in my tree. That would be the name of Charles Martel – the man who, on the tenth of October in the year 732, led the army that saved Europe from the forces of the Umayyad Caliphate at the Battle of Tours.
Yes, I was aware that every Caucasian on earth today is descended from the guy. But sue me. I still found it moving to be able to trace one meandering line back from me through forty-six (count 'em, forty-six) specific individuals – all of whom, to those persons immediately above and below them on my chart, were not just names on a computer screen but family – and to wind up at the man who repelled the nefarious forces of Islam at the height of its European power. To follow an ancestral line from yourself to someone like him is to experience a compelling sense not only of one's flesh-and-blood connection to history but of one's intense and ineradicable filial obligation to it.
Nailing down that Martel nexus underscored for me a vitally important fact: namely, that one weapon that Muslims have in spades, and that we Westerners don't at all, is history. They remember these things. We don't – at least not in the fiercely acute way that they do. In this era of social networks and reality TV, an overwhelming number of us folks in the West inhabit an eternal present, preoccupied by the latest tweets, Facebook postings, and celebrity Instagram photos. We live and die by the daily news cycle, allowing ourselves to get worked up into a lather over trivial events that we'll forget about in a week. Issues that weren't even on our radar five years ago (transsexuality, anyone?) now steer what we think of as our moral compass. Meanwhile we have little or nothing in the way of historical perspective. Kids graduating from some of the "best" colleges in America don't know who fought whom in World War II, let alone World War I or the Napoleonic Wars – or, needless to say, the Battle of Tours.
In this regard, we could hardly be more different from those people in the Muslim world (and, increasingly, in our midst) who are more than willing to sacrifice their earthly lives to drag the nations of the West into the House of Islam. To them, the forty-seven generations that separate you, me, and them from the Battle of Tours are absolutely nothing – nothing at all. They have a feeling of intimacy with their forefathers of fifty-odd generations ago that is a good deal more potent and profound than whatever sense of attachment most of us in the West have with our late great-great-grandparents. Their values and principles, if you can call them that, haven't changed in fourteen centuries.
Indeed, to any Muslim who's been properly educated in his faith and in his solemn duties thereto, the very earliest days of Islam – only a little over a century, nota bene, before the Battle of Tours – are realer, more vital, and more significant than his own quotidian existence. That's a momentous psychological force and a not inconsiderable asset for the jihadist cause; it's a phenomenon that we in the West, however hard we may try, are probably incapable of fully replicating within our own hearts and minds. But my experience of the past couple of weeks has taught me that even a brief climb up your family tree can give you something of an idea of what that closeness with the past must feel like. And this act of forging ties with our shared Western patrimony, it seems to me, can only aid our current struggle to do for our own posterity what Charles Martel did for us all those centuries ago – namely, to ensure that his and our civilization is saved, yet again, from the scourge of Islam.
6.
SYRIA RECEIVES ANTI-AIRCRAFT SYSTEM FROM RUSSIA 
But Israel is prepared.
October 11, 2018
On July 30, 1970 during the height of the War of Attrition between Egypt and Israel, Israeli fighter jets –Mirages and F-4E Phantoms – tangled with Soviet-piloted MiG-21s over Egyptian airspace. In the four minute dogfight that ensued, the Israeli Air Force shot down five of the MiGs while the rest of the Red formation scattered. The engagement brought Israel to the brink of war with a superpower.
Israeli-Russian relations have markedly improved since those tense Cold War years. Prime Minister Benjamin Netanyahu and President Vladimir Putin have developed an excellent relationship based on personal friendship and shared interests.  Netanyahu was one of only two Western leaders to attend Russia's Victory Day Parade this year and Putin was the first Russian president to ever visit the Jewish State. In 2012, Putin returned to Israel as a guest of honor at a state dinner and inaugurated a monument to Soviet soldiers who defeated Nazi Germany. During Operation Protective Edge, Putin voiced support for Israel in its quest to protect its citizens from Hamas terrorism.
Despite the warming of ties, Israel's military brass and political echelons viewed Russia's military intervention on behalf of the outlaw Assad regime warily. Given the proximity of Russian forces to Syrian and Iranian positions, the Israelis were rightly concerned over the prospect of an accidental engagement between Israeli and Russian militaries. Consequently, Israel and Russia developed and effective de-confliction mechanism aimed at avoiding such unintended engagements.
For the most part, this arrangement worked well but on the night of September 17, it went disastrously wrong. At approximately 10 p.m. four Israeli F-16 Sufa fighter-bombers launched a precision strike from Lebanese airspace at a weapons-linked facility in the Syrian coastal city of Latakia, obliterating it. The attack was part of Israel's relentless campaign of thwarting arms transfers to Hezbollah and Iranian entrenchment in Syria
The Syrians responded by wildly firing a number of anti-aircraft missiles. Syrian air defense units continued launching missiles even after the attack subsided. During the course of their unfocused response, the Syrians inadvertently shot down a Russian Ilyushin-20M "Coot-A" surveillance and control aircraft off the Syrian coast killing all 15 Russian personnel aboard. It was reported that several Syrian air defense personnel were arrested following the shoot-down.
Israel immediately expressed regret for the loss and sent a response team to Moscow to explain that fault for the downing rested squarely with incompetent Syrian air defense units. Putin appeared to accept the Israeli explanation and apology, and referred to the incident as an "unfortunate accident." But shortly thereafter, Russia's Ministry of Defense assumed a less conciliatory approach, which rejected Israel's explanation and referred to the manner in which Israel carried out its strike as "criminal negligence." The MoD even accused Israel of utilizing the Ilyushin as cover to mask the presence of IAF fighters.
The contradictory Russian response can best be explained by competing Russian political and military interests. Putin wants to maintain good relations with Israel while Russia's MoD wants to demonstrate that it's doing everything it can to back its overseas troops.
In response to the accident, Russia announced that it would deliver to the Syrian army the S-300 air defense system which would significantly enhance Syria's air defense capabilities. Russian Defense Minister Sergei Shoigu announced that the delivery, which included 49 pieces of equipment, was completed on October 1. Russia's MoD also announced that it would take three months to train the Syrians.
The Russians, not known for their magnanimity, announced that they provided the system to their Syrian allies free of charge but it is still unclear what variant of the S-300 was delivered. According to the Russian propaganda outlet RT, it was the more advanced S-300VM model while the defense blog The War Zone suggested that it was S-300PMU-2, Russia's export version of the S-300. In addition to the delivery of the S-300, Russia also reportedly delivered a suite of electronic warfare equipment aimed at protecting anti-aircraft sites by jamming radars.
So what do these ominous developments portend for Israel and its efforts to thwart Iranian arms trafficking to Hezbollah and Iranian entrenchment? And how will these developments affect Israeli-Russian relations?
With respect to the latter, it is highly unlikely that Israeli-Russian ties will be adversely affected by this momentary blip. Both Israel and Russia have an interest in maintaining good ties and both have an interest in seeing Iranian expansion in Syria checked, albeit for different reasons. Moreover, visits by high-level Russian leaders to Israel have not been impeded as evidenced by the fact that Russia's deputy prime minister, Maxim Akimov, is scheduled to arrive on Tuesday. Nevertheless as General Joseph Votel, who heads the US Central Command noted, the transfer of the S-300 platform to the Syrian army represents a "needless escalation" and cover for nefarious Syrian and Iranian activities.
It is also highly unlikely that Israel will cease its operations over Syria. Israel's quest to thwart Iranian aggression represents a paramount strategic objective. Israel has already conducted over 200 strikes in Syria and has likely carried out a number of covert operations as well. Indeed, a day prior to the September 17 attack, Israel blew up an Iranian Boeing 747 containing weapons destined for Hezbollah at Damascus International Airport.
The S-300, with its 124 mile range, advanced radar and anti-jamming systems, and ability to track multiple targets simultaneously certainly presents challenges to the IAF's freedom of action but it is a virtual certainty that the Israelis have already developed counter-measures to this formidable weapon system. As The War Zone notes "Israel has also already gained significant insight into the capabilities of the S-300 system specifically by participating in training exercises that feature older variants in Greece."
While the transfer of the S-300 to the Syrian army certainly doesn't make things easier for Israel, it will not for a moment prevent Israel from acting resolutely when its security interests are threatened. This is an ongoing Israeli doctrine that is subordinate to no other interest.
7. 
THE ONLY ANTI-SEMITISM THE

LEFT

CAN SEE IS CRITICIZING

GEORGE SOROS
How the Jew-hating Left uses fake charges of anti-Semitism to defend an anti-Semite.
Daniel Greenfield, a Shillman Journalism Fellow at the Freedom Center, is an investigative journalist and writer focusing on the radical left and Islamic terrorism
Earlier this year, a photo was released of Obama posing with Louis Farrakhan.
Farrakhan is the head of an anti-Semitic hate group, he has praised Hitler and warned that the Jews, "can't say 'Never Again' to God, because when he puts you in the ovens, you're there forever."
Obama had frequently met with Al Sharpton, an anti-Semitic demagogue closely tied to two bloody anti-Semitic incidents, the Crown Heights pogrom and the Freddy's Fashion Mart arson, who had taunted, "If the Jews want to get it on, tell them to pin their yarmulkes back and come over to my house."
Sharpton then went on to become a DNC speaker and a progressive MSNBC host.
Obama had appeared at Sharpton's hate group, whose official had chanted, "Don't give the Jew a dime."
The Democrats never questioned or challenged Obama's affinity for anti-Semites.
At the Kavanaugh hearings, Senator Cory Booker quoted Stokely Carmichael, who had famously said, "The only good Zionist is a dead Zionist we must take a lesson from Hitler."
Again, nothing from the Democrats.
The leaders of the Women's March praised Farrakhan. Despite that, Senator Elizabeth Warren and Senator Kirsten Gillibrand spoke at a rally hosted by two activists who had praised the anti-Semitic figure.
Gillibrand was introduced by Linda Sarsour, who had praised Farrakhan and warned Muslims not to "humanize"Israeli Jews. Also there was Farrakhan fan Tamika Mallory, who had responded to Jewish outrage by tweeting, "If your leader does not have the same enemies as Jesus, they may not be THE leader!"
Again, nothing.
In California, the Democratic Socialists of America and Feel the Bern have refused to condemn, revoke their endorsement or stop fundraising for Maria Estrada, who had not only praised Farrakhan, but accused Jews of exploiting the Holocaust, and attacked a Jewish Democrat for not keeping "your party, your religion and your people in check."
"Anyone who believes they are one of 'God's chosen people' automatically feels superior and justified in all they do," Maria Estrada had ranted.
The DSA's embrace of Estrada is unsurprising. At the DSA's 2017 convention, delegates had enthusiastically cheered mentions of British leftist Jeremy Corbyn, a deeply polarizing anti-Semitic figure. Also present was a representative from a French leftist party led by a Holocaust denier.
The Democrats choose not to condemn the DSA's anti-Semitism issues even though its candidates like Alexandria Ocasio-Cortez and Julia Salazar, who had appropriated a Jewish identity to attack Jews, are rising through their ranks. And the Democrat media chooses to glamorize DSA figures instead of challenging their anti-Semitism.
The media doesn't care about the normalization of Democrat anti-Semitism. Instead it decided that the one form of 'anti-Semitism' that it cared about was labeling critics of an anti-Semite as anti-Semitic.
George Soros.
Soros grew up in a "Jewish, anti-Semitic home". He called his mother a "typical Jewish anti-Semite" who hated his first wife because she was "too Jewish". He blamed Israel for anti-Semitism in Europe and argued that, "America and Israel must open the door to Hamas".
"My understanding is that you went … went out, in fact, and helped in the confiscation of property from the Jews," Steve Kroft asked Soros on 60 Minutes.
"Yes, that's right. Yes," Soros replied.
But Soros insisted that he felt no guilt whatsoever for his actions. "There was no sense that I shouldn't be there, because that was well, actually, in a funny way, it's just like in markets that if I weren't there of course, I wasn't doing it, but somebody else would."
Soros described, what was a terrible time for most actual Jews as, "the most exciting time of my life."
And he has defended anti-Semitism on the left, writing that, "The fact that constructive critics of Israel say things that, when taken out of context or paraphrased in provocative ways, can be made to sound similar to the comments of anti-Semites does not make them anti-Semitic."
That's the media's radical billionaire poster child for anti-Semitism.
ThinkProgress, a Soros funded project, whose anti-Semitism had even been condemned by the Obama White House, claimed that Trump's criticism of Soros was an "anti-Semitic conspiracy theory".
At the Washington Post, Catherine Rampell whined that pointing out Soros' funding of the left means that the Republicans are invoking everything from the Elders of Zion to Shylock. That's a much more accurate description of some of Soros' own history of blaming anti-Semitism on the Jews.
Worse still, Soros claimed that, "I also contribute to that image" of the idea that "Jews rule the world."
It isn't Soros' critics who invoke anti-Semitic stereotypes by criticizing him. It's George Soros doing it. Even when it comes to himself, Soros can't stop excusing anti-Semitism by blaming it on the Jews.
It's sad, pathetic and disgusting.
Soros has claimed that, "the pro-Israel lobby's success in suppressing divergent views" causes anti-Semitism.
That's a classically anti-Semitic remark.
George Soros is a sick and twisted human being. He also funds much of the left. And so the left is forced to defend him to defend itself. And it does this by attacking the critics of an anti-Semite as anti-Semitic.
This would be merely cynical if the left were actually opposed to anti-Semitism. But instead the left is mired in anti-Semitism, and it ignores the anti-Semitism all around it to try and silence critics of an anti-Semite by calling them anti-Semitic.
The only anti-Semitism that the left believes in its criticizing George Soros.
The media has shrugged off calls for the murder of Jews by Muslim clerics in California, North Carolina, New Jersey and Texas.
 "Count them one by one, and kill them down to the very last one. Do not leave a single one on the face of the Earth," an imam preaches in Jersey City.
The president of the mosque had been invited to the State of the Union by Senator Cory Booker.
It ignores the fact that the ongoing murder of Jews in Israel is being funded by American taxpayers.
Democrats continually denounce President Trump for refusing to fund the Palestinian Authority which boasts publicly that it "has killed 11,000 Israelis".
The Obama administration sent billions of dollars in illegal shipments to Iran, an Islamic terror state that hosts Holocaust denial events and seeks to murder millions of Jews by developing nuclear weapons. It had previously supported the rise of violently anti-Semitic Muslim Brotherhood regimes in the region.
In 2013, a number of Senators met with the Egyptian Brotherhood's President Morsi, who had previously been caught calling Jews the "descendants of apes and pigs", mouthing along to a prayer to "destroy the Jews and their supporters",  and calling on Egyptians to "nurse our children and our grandchildren on hatred" for the Jews. At the meeting, Morsi claimed that Jews run the media.
Despite that, Obama and Kerry continued to prop up his regime.
In 2014, Tunisian Islamist boss Rachid Ghannouchi was invited to Washington D.C. where he met with close Obama aide Ben Rhodes, Deputy Secretary of State William J. Burns and spoke at the Carnegie Endowment.
Ghannouchi had even endorsed the murder of Jewish children, saying, "There are no civilians in Israel. The population—males, females and children—are the army reserve soldiers, and thus can be killed."
The Carnegie Endowment has received funding from the Soros network.
Sheikh Mouaz Alkhatib of the Muslim Brotherhood and the Syrian rebels, got an invite from the Obama administration to Washington D.C., despite having praised Saddam Hussein for "terrifying the Jews" and despite his website describing Jews as "Enemies of Allah".
Biden and Kerry can both be seen meeting with Alkhatib.
If the left really opposes anti-Semitism, here are a few places to start in its own backyard. If it really wants to fight anti-Semitism, it should stop funding the murder and murderers of Jews. It should stop palling around with anti-Semites at home and abroad. It should call out Barack Obama, Cory Booker, the DSA, the Women's March and every lefty personality and organization tainted by anti-Semitism.
Including George Soros.
But instead the left only opportunistically exploits charges of anti-Semitism to defend its financier. And that is its own form of anti-Semitism.
The only time the left cares about anti-Semitism is when it's defending a hater of Jews.
8.
NETANYAHU MEETS HIGHEST-RANKING RUSSIAN OFFICIAL SINCE SYRIA PLANE DOWNING
Netanyahu

stressed the importance of the relations between the countries and their collaboration in face of regional threat

s
.
OCTOBER 9, 2018

Amid a mini-crisis with Russia over Moscow's blaming Israel for indirect responsibility in Syria's downing of a Russian intelligence plane in September, Prime Minister Benjamin Netanyahu met Russia's Deputy Prime Minister Maxim Akimov on Tuesday and stressed the importance of continued cooperation between the two countries.
According to the Prime Minister's Office, Netanyahu emphasized the importance of the link between the two states and of the need for continued dialogue regarding threats in the region based on common interests.
Akimov is currently in the country as part of a delegation taking part in meetings of the Israel-Russia Economic Forum at the Foreign Ministry.
Netanyahu said on Sunday that, following a telephone conversation with Russian President Vladimir Putin that day, the two agreed to meet shortly for the first meeting between them since the plane incident.
However, on Monday TASS News Agency reported that Putin's spokesman Dmitry Peskov told reporters that Moscow was not ruling out a meeting with Netanyahu, "but there are no specific dates yet."
Akimov is taking part in the 15th meeting of the business forum, aimed at strengthening business ties between the two countries.
In 2017, trade between the two countries reached $2 billion, a significant increase from 2016 but well below the level of trade with some of Israel's other main trading partners.
For example, trade with the US reached $25 billion, last year; $10 billion with China; $9.5 billion with the United Kingdom; $3.8 billion with India; and even $4.3 billion with Turkey, with whom Israel has dreadful diplomatic ties.
The PMO said that Netanyahu and Akimov discussed furthering cooperation in the fields of medicine, science, construction and agriculture, and that they also discussed developments on an agreement to govern child adoption.
9.
Breaking News from Newsmax.com
He was once the CIA's top expert on Russia's nuclear forces. In a startling column for Newsmax, Dr. Peter Pry writes:

"Russia's Vostok-18, the largest military exercise of the 21st Century, conducted Sept. 11-17, passed little noted and less understood by Washington and press fixated on now-Justice Brett Kavanaugh's adolescent sex life. Russia's new nuclear doctrine — similar to Khrushchev-era thinking, like Marshal Sokolovsky's 1962 "Military Strategy" on steroids — relies on nuclear firepower and relatively small armies that are highly mobile and survivable, and able to knife through Europe in a week or two. Russia's new generation nuclear weapons for strategic EMP attack and tactical battlefield use make this possible."

Putin's threat to Europe and the U.S. is real, Pry claims, and lays out details of Russia's secret military build-up.
10. 
GERMANS ONCE AGAIN AIDING A GENOCIDAL REGIME
Appeasing the murderous Mullahs at Israel's expense.
Germany's current efforts to maintain its trade with Iran evokes memories of the early 1960's, when West German scientists, many of whom worked for Hitler's Third Reich, developed rockets for Egypt's dictator Gamal Abdul Nasser, aiming to destroy the Jewish state.  That was barely 18 years after the Holocaust, perpetrated by Nazi Germany against European Jewry. The likes of Dr. Wolfgang Pilz, who helped Werner Von Braun develop the V1 and V2 rockets which terrorized Britain during WWII, was among those scientists seeking to help the Egyptian dictator "finish off the Jews."  Others included Eugen Saenger, who worked the last years of the Third Reich developing the world's first jet-fighter, and rocket man Paul Goercke, to name a few.  They developed the "Al Kahir" Egyptian rocket with a range of 370 miles, a range that included all of Israel.
Now, the German government, under the leadership of Chancellor Angela Merkel, is aiding and abetting the theocratic regime of the Ayatollahs, also known as the Islamic Republic of Iran, whose declared goal is to obliterate the Jewish state.  As a fresh reminder to Merkel of Germany's role in providing Israel's enemies with the means to potentially destroy the Jewish state, Iran launched missiles into Syria which carried the meter-long inscription "Death to Israel and Death to the USA."  Iran retaliated for the attack on its military parade last week in the city of Ahwaz, which killed 25 people.  Ahwaz is the capital of Khuzestan, where its Arab majority is in a state of rebellion against its occupation by the Islamic Republic of Iran.
Julian Ropcke, the Foreign Policy editor of the mass-circulation Bild newspaper (1,580,977 daily in 2018) wrote last week (October 1, 2018) "This Iran cannot at this time be an ally. Neither in the fight against terrorism, nor as an oil supplier or trade partner."  He pointed out that Iran's rockets were not fired against the Islamic State terrorists, "rather against those who stand in the way of the corrupt regime in Tehran.  Against those who do not want to stand inactively by when Iran's leader again and again propagates the 'extermination of Israel.'"
Germany, along with France and Britain (signatories to the nuclear deal with Iran), are seeking ways to evade the U.S. sanctions on Iran.  They have been working with the European Commission and the EU's diplomatic service on a planned funding channel for Iran.  Germany, France and Britain are seeking to create a finance mechanism to aid the Ayatollahs ahead of the second wave of U.S. sanctions scheduled for November that is aimed at Iran's oil exports.
Germany, along with the EU, is blatantly appeasing the murderous regime in Tehran at Israel's expense. They are providing the Islamic Revolutionary Guards Corps (IRGC) the real power in Iran, with the means to expand its terrorist activities worldwide, and build ever more sophisticated ballistic missiles that can reach Israel, and will surely reach Europe in no time.  Berlin is using the pretext of saving the nuclear deal as a panacea against a nuclearized Iran.  Yet, Germany and the other signatories to the JCPOA (Joint Comprehensive Plan Of Action) have refrained from demanding aggressive inspections of Iran's military sites, where the real work on developing Iran's nuclear arsenal is being done.  Neither Germany nor the EU have made any efforts to push the mullahs to end their ballistic missile development.
Germany is supporting Iran's murderous totalitarian regime whose notorious human rights violations it ignores.  Berlin shuts its eyes to the Iranian regime terrorizing and murdering its own people, while at the same time preaching human rights to the Saudis over their actions in Yemen.  Merkel's excuse for the nuclear deal with Iran is that it will prevent a catastrophic war.  Yet, Iran is a partner in perpetrating the greatest humanitarian catastrophe in the 21st Century (the war in Syria), along with the Assad regime and Russia.  Germany, it appears, is willing to serve as Iran's 'human shield' against the U.S.  Given its Nazi totalitarian experience, Germany should know better than trusting a totalitarian regime like Iran, to abide by the nuclear deal.  Germany's excuse for preserving the nuclear deal is rather lame at best.
The Bild newspaper called for the complete end of business deals with the Islamic Republic of Iran.  Angela Merkel and her foreign minister Heiko Maas support the EU's "Special Purpose Vehicle (SPV)" that would allow financial transactions with Iran, and would thwart the U.S. sanctions on Iran's energy and financial systems.  According to the Jerusalem Post, "Germany's federal government provides credit insurance guarantees to companies that want to conduct business with Iran."
The primary factor in Merkel's willingness to back a genocidal Iran rather than stand in solidarity with Israel is greed, and much more, something like latent anti-Semitism that still pervades German society.  Germans seek to purge the pathological guilt associated with the crimes of the Nazis by blaming Jews for war crimes. The Israeli psychoanalyst Zvi Rex, in a flash of biting historical sarcasm, reduced Adorno and Horkheimer's theory of 'guilt-defensiveness anti-Semitism' to a single profound sentence: "The Germans will never forgive the Jews for Auschwitz."
In economic terms, Germany's trade with Iran is insignificant compared to its trade with the U.S. and Israel.  In 2017, it exported 2,972,082,000 Euros worth of merchandize to Iran, while exports to Israel in Euros amounted to 4,344,665,000, almost twice the exports to Iran.  The U.S. was the number 1 importer of German goods at 111,495,269,000 Euros.  Yet Germany is willing to jeopardize its relations with the U.S. and endanger Israel to preserve its relations with a murderous regime like Iran. Approximately 120 German companies operate inside the Islamic Republic, and 10,000 German businesses trade with Iran.
Dr. Josef Schuster, head of the Central Council of Jews in Germany was quoted by the U.S. Embassy in Berlin as saying, "I endorse the immediate stop to any economic relations with Iran.  Any trade with Iran means a benefit for radical terrorist forces, and a hazard and destabilization for the region."  Dr. Schuster has pointed out that, "It seems paradoxical that Germany – as a country that is said to have learned from its horrendous past and which has a strong commitment to fight anti-Semitism – is one of the strongest economic partners of a regime [Tehran] that is blatantly denying the Holocaust and abusing human rights on a daily basis. Besides, Germany has included Israel's security as a part of its raison d'être. As a matter of course this should exclude doing business with a fanatic dictatorship that is calling for Israel's destruction, pursuing nuclear weapons and financing terror organizations around the world."
Merkel and Maas (who claimed that he entered politics "because of Auschwitz") along with most of the mainstream German media, ignored Schuster's plea. Yet, today's Germany is protecting its merchants of death (A Bild exposé revealed that a German company (Krempel) sold materials to Iran that included components used in Iranian rockets to gas Syrian civilians in January and February 2018) who are providing Iran with the means to pursue its quest to annihilate the Jewish State.  It is reminiscent of the 1960's when Germany protected its Nazi scientists in Egypt who built rockets for Nasser.  The hypocrisy and cynicism in Germany's behavior is glaring
11.
Erdoğan üstüne basa basa uyardı! Alçak pazarlık
Esed rejimi ile terör örgütü PYD/YPG'nin Fırat Nehri'nin doğusu için yaptığı gizli görüşmelerin detayları ortaya çıktı

.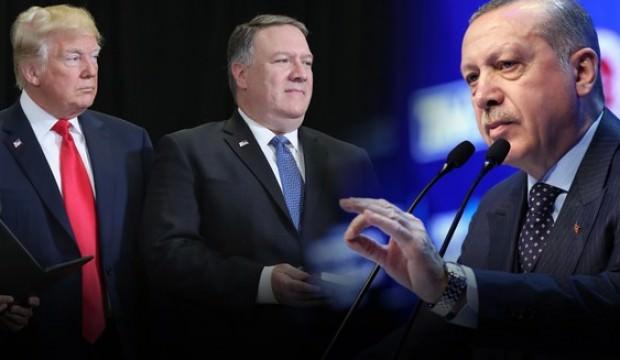 Hürriyet'ten Hande Fırat'ın haberine göre; Cumhurbaşkanı Erdoğan, Fırat'ın doğusu ile ilgili mesajını bu kez de Isparta'dan verdi. Zamanlama çok kritik. Çünkü devletin önünde PYD/YPG'nin Suriye'nin kuzeyinde kendisine özerklik verilmesi amacıyla Esed rejimiyle yürüttüğü gizli görüşmelerin içeriği var. Gizli görüşmelerde madde madde yapılan pazarlığa gelelim. Bu pazarlık ABD'nin de nasıl devrede olduğunu bir kez daha gözler önüne seriyor.
1) Suriye Petrol Bakanlığı'nın başına Kürt bir ismin getirilmesi.
2) PYD/YPG mevcut petrol gelirlerinin yüzde 25'ini rejime devredebilir, karşılığında rejim de mühendislik desteği vererek mevcut üretim kapasitesini arttırabilir.
3) Deyr Ez Zor'daki petrol kuyuları ile doğalgaz yatakları rejim ile ortak işletilebilir.
4) Rejim PYD/YPG'ye arıtılmış mazot ve benzin verir.
5) Mazot ve benzin aktarımının ABD'li bir şirket aracılığıyla yapılması.
6) Tabka Barajı'ndan örgüt kontrolündeki alanlara enerji nakil hatlarının çekilmesi.
Pazarlık sürüyor. ABD'nin silahlarla desteklediği terör örgütü Fırat'ın doğusunda enerji kaynaklarından para kazanıyor.
Terör örgütünün kontrol ettiği enerji kaynaklarına gelince:
– Rakka'daki Tabka Barajı ve Menbiç'teki Tişrin Barajı
– Al Omar, Tanak, Azrak, Galban gibi önemli 17 petrol ve doğalgaz kuyuları
Fırat'ın doğusu için rejim ile YPG/PYD arasındaki gizli pazarlık
Terör örgütü sadece petrol ticareti üzerinden şimdilik 2 milyar liraya yakın gelir elde ediyor.
Bu gelirin nereye gittiğini tahmin etmek hiç zor değil.
 YENİ TAKTİK: PARALI TERÖRİST
Gelelim konunun diğer boyutuna…
Söz konusu imkânlar PKK'nın da iştahını kabartıyor. Raporlarda PKK'nın YPG üzerindeki her türlü hâkimiyetini daha da güçlendirme çabasında olduğu belirtiliyor. Amaçları bir yandan da inisiyatifi ABD'ye bırakmamak. Türkiye'nin PKK terör örgütüyle mücadelesinde gelinen noktaya bakmakta da fayda var. Güvenlik raporlarına göre terör örgütüne katılım sayısı son 10 yılın en düşük seviyesinde. Bu sebeple örgüt Irak ve Suriye'den para karşılığında teröristleri Türkiye'ye sokmaya çalışıyor. Türkiye ise Kandil-Türkiye hattını geçici üs bölgeleriyle kapattı. Hedef örgütün Türkiye'ye girişini tıkamak. Hem rejimle yürütükleri pazarlık hem de Türkiye'ye yönelik olası sızmalarına karşı yeni ve ses getirecek operasyonların yolda olduğu bilgisi var.
KILIÇDAROĞLU'NU ÜZEN OLASILIK
CHP Lideri Kemal Kılıçdaroğlu TÜSİAD Başkanı ve kurmay ekibiyle Beyoğlu binasında önceki gün akşam yemeği yedi. Ekonominin röntgeninin karşılıklı olarak çekildiği yemekte bir üyenin "Eğer bu krize kısa sürede çözüm bulunamazsa, büyük işten çıkarmalarla karşı karşıya kalınabilir" cümlesinin Kılıçdaroğlu'nu üzdüğünü öğrendim. CHP Lideri'nin "Konuya partiler üstü yaklaşıyoruz, 13 maddelik öneri paketi açıkladık ama bizi dolar baronlarına hizmet etmekle bile suçladılar. Partiler üstü mesele olarak bakmaya devam edeceğiz, doğru bildiklerimizi söyleceğiz" dediği belirtiliyor.
"ΑΠΙΘΑΝΟΣ"