1.
The Plot Against the President
Lee Smith's new book exposes the biggest political scandal in American history.
Daniel Greenfield, a Shillman Journalism Fellow at the Freedom Center, is an investigative journalist and writer focusing on the radical Left and Islamic terrorism.
The Five W's are the essential infrastructure of good journalism. It's important to be able to tell a good story. But if the story doesn't contain answers to who, what, where, when, and why, it's meaningless.
Fortunately, Lee Smith's The Plot Against the President digs into the origin of the coup against President Trump in the old-fashioned Five W's sense. While the book still leaves plenty of questions buried in reams of classified documents, it's an excellent resource for organizing and making sense of the mess.
Rarely has a government investigation been clouded in this much secrecy or required so many investigations of the investigation. The points of the spiderweb between private contractors, the media, and government figures still vanish into darkness. But Smith follows the work of Rep. Devin Nunes and his team (the subtitle for the tome is The True Story of How Congressman Devin Nunes Uncovered the Biggest Political Scandal in U.S. History) and that comes with its own infrastructure of the Five W's.
The 'why' isn't hard to grasp, but the 'when' remains elusive. Smith makes a good case for the smear campaign associated with the Steele Dossier predating the former British operative whose continental credentials and FBI connections were used to sell a political assault ordered by the Clinton campaign.
Instead, Smith describes a series of 'protodossiers' which were used to eventually shape the Steele Dossier. These protodossiers were works in progress, bits of opposition research focusing on Trump's international business connections, put together and fed to the media in a conventional fashion. There's nothing especially controversial (or palatable) about this type of opposition research. But, even from the very beginning, these work products were not merely opposition research intended for the public.
Their real audience can be assessed from the linkages to Nellie Ohr, the wife of senior Department of Justice official Bruce Ohr, and a friend of Steele's, who would act as a conduit for the Steele dossier, and the warnings that Trump was a national security threat. Accusing Trump of Russian ties was not a strategy meant to win an election. It was a justification for an unlimited investigation of Trump and his associates using methods and degrees of secrecy that would otherwise be off limits against Americans.
This is what Smith describes as a "paper coup" or "a bureaucratic insurgency waged almost entirely through the printed word". Trump's international business affairs wouldn't have interested voters. Opposition research focusing on those ties had only one true vector and purpose. The protodossiers were also a protocoup. The Steele dossier, sloppy and incompetent as it might have been, was the final product. A piece of work that could be used to bring the full weight of FISA warrants, informants, and unmaskings down on the political opposition, even while the media manufactured a parallel reality.
Smith also traces how the protodossiers evolved into Russiagate. As he notes, "a key difference between the protodossiers and Steele's seventeen memos is that the former discuss Trump's supposed connections to Russian and Eastern Bloc figures alleged to have ties to organized crime and also possibly to Russian state interests. Steele's documents by contrast deal almost exclusively with alleged ties connecting Trump and his associates to Russian government officials and figures publicly known to be close to Kremlin leadership." The narrowing of the focus on Russia from the protodossiers into the dossier, winnowed down and focused the regional opposition research into the most useful narrative.
The usefulness of a narrative that moved past organized crime figures to the Kremlin lay not in its public appeal, where allegations of organized crime might have been more damaging, but its surveillance uses. The Steele dossier had emerged as the product of a political campaign, but had never been intended for public use. Instead it was a piece of opposition research that had been aimed directly at the FBI.
The uniqueness of such a thing also testifies to the uniqueness of the conspiracy against Trump.
The media echo chamber fed by the dossier and the protodossiers had not come into being to merely pursue a negative, smear Trump, but to uphold a positive, the investigation of Trump. Their stories were used internally, as in the FISA warrant, to support the tactics and the purpose of targeting Trump.
The evolution of the 'Paper Coup', its stages, and the roles of a variety of familiar figures from James Comey to Glenn Simpson, from Peter Strzok to Rod Rosenstein, are at the center of Smith's Five W's book. Even as it remains mired in paper, the reams of documents have real consequences, leading to arrests, interrogations, legal bills, surveillance and, eventually a pushback by, among others, Rep. Devin Nunes.
Smith pays careful attention to the interplay of personalities, the timing of bureaucratic maneuvers, and the evolution of narratives to produce a carefully studied and documented reading of his original research and the work of the Nunes investigation. The plot that is the book's subject takes place in a world governed by these rules, by motives telegraphed through maneuvers, by an intimate knowledge of procedures, and by a formidable array of contacts, and that is world that Smith and Nunes know.
As the book progresses, Smith and Nunes and his team dig into not just the lines of the documents, but the story between the lines, explaining not just why the players did what they did, but why they did it when they did it, and what the various moments that drove the disparate news cycles underlying this story really meant.
As the political dominoes keep falling, the lies that brought us from the murky origins of the Russia smear to the Ukraine impeachment are being exposed. And Smith's book is an important resource for understanding where those lies came from, how they were employed, and what they were meant to accomplish. We already know, as its title testifies, the plot against President Trump was the biggest political scandal in American history. But The Plot Against the President explains how it was exposed.
The Plot Against the President: The True Story of How Congressman Devin Nunes Uncovered the Biggest Political Scandal in U.S. History is ultimately a study of a war fought with paper, in which both sides warred with investigations, one to seize power under the guise of a lie and the other to protect the power of the people with the truth.
 2.
Why the Left Doesn't Like Christmas
Have you ever met a joyful leftist?
Many on the left (as opposed to liberals) have been warring on Christmas for more than a generation. Leftists always deny there is a war on Christmas and mock those who claim there is.
There is a mind-blowing chutzpah or lack of self-awareness when people do something and yet deny that they are actually doing it. But the evidence is overwhelming. The left has stopped schools from calling Christmas vacations by that name — the name schools called them throughout American history until the last couple of decades. Almost every non-Christian school in America now calls Christmas vacation "winter break." Fewer and fewer Americans, stores, companies or media wish people "merry Christmas," preferring the neutered "happy holidays" (despite the fact that the overwhelming majority of Americans celebrate Christmas). And in but one generation, virtually every American business has gone from having a "Christmas party" to having a "holiday party."
Having written in the past about the falsehood of "merry Christmas," "Christmas vacation" and "Christmas party" not being "inclusive," I will not reiterate the point here. Suffice it to say that it takes a breathtaking level of narcissism for a non-Christian to be offended by mentions of Christmas and a breathtaking level of meanness to seek to deprive the vast majority of fellow Americans of the public mention of their holiday.
Rather, I want to try to explain why this has happened.
The "inclusive" argument is so absurd — I am a religious Jew and cannot even fathom being offended or feeling "not included" by an invitation to a Christmas party — that there have to be other, or at least additional, reasons for the left's neutering of Christmas.
There are.
One is that the left sees in Christianity its primary ideological and political enemy. And it is right to do so. The only large-scale organized opposition to the left comes from the traditional Christian community — evangelical Protestants, traditional Catholics and faithful Mormons — and Orthodox Jews. Leftism is a secular religion, and it deems all other religions immoral and false.
From Karl Marx to Vladimir Lenin to George Soros, the left has regarded religion in general and Christianity in particular as the "opiate of the masses" — a drug that dulls the masses into accepting their oppressed condition and, thereby, keeps them from engaging in revolution.
The left understands that the more people believe in Christianity (and Judaism), the less chance the left has to gain power. The left doesn't concern itself with Islam, because it perceives Islam as an ally in its war against Western civilization, and because leftists do not have the courage to confront Islam. They know that confronting religious Muslims can be fatal, whereas confronting religious Christians entails no risks.
Second, the left regards Christianity in America as an intrinsic part of American national identity — an identity it wishes to erode in favor of a "world citizen" identity. The left has not only warred against Christmas; it has sought to undermine other national identity holidays. For any number of reasons, not only including the left, Americans no longer celebrate George Washington's birthday (it has de facto been replaced by the utterly meaningless "Presidents Day") or Abraham Lincoln's birthday, as they did when I was a child, my father was a child and his father was a child. The only American celebrated in a national holiday is Martin Luther King Jr., which is acceptable to the left since he is not white. One proof of the left's desire to undermine specifically American national holidays is its war on the two remaining specifically American holidays: July Fourth and Thanksgiving.
The left deems Thanksgiving a historical fraud and an immoral celebration of "genocide" of the American Indians — which is what American children are now taught in many American public schools. And "happy Thanksgiving" has been replaced by "happy holidays." As for July Fourth, The New York Times is leading the undermining of the celebration of America's birthday by declaring that the real founding of America was 1619, the year, The Times asserts, African slaves first arrived on the American continent.
Of course, there is still Veterans Day and Memorial Day, but they are not specifically American national holidays; just about every country has such holidays.
But Christmas is a problem for the left. It celebrates religion, and it does so in quintessentially American ways (take American Christmas music, for example).
The third and final reason is that the left is joyless. Whatever and whomever the left influences has less joy in life. I have met happy and unhappy liberals, and happy and unhappy conservatives, but I've never encountered a happy leftist. And the further left you go, the more angry and unhappy the people you will encounter. Happy women and happy blacks, for example, are far more likely to be conservative than on the left.
Christmas is just too happy for the left. "Holly, jolly" is not a left-wing term.
3.
Another Christmas in the Age of Jihad
Oppression of Christians in Muslim lands and appeasement of Muslims in post-Christian lands.
Another Christmas is upon us, and the story is familiar: in Muslim lands, Christians are oppressed and in constant danger of violent jihad attacks. And in the lands once known as Christendom, Christians freely abdicate their own traditions and mores in order to appease and accommodate Muslims.
Take, for example, the world's most populous Muslim nation, Indonesia. In the Sharia-compliant Aceh province, the BBC reported Monday that Christians "are preparing to celebrate Christmas in makeshift tents in the jungle." Why? Because "their churches were destroyed four years ago by Islamic vigilante groups and the police," and "local authorities are stopping them from rebuilding."
Another Indonesian province, West Sumatra, has "banned Christians from celebrating Christmas in private homes….This year, authorities have barred Christians from holding worship services and Christmas celebrations in Sungai Tambang, Sijunjung Regency and Jorong Kampung Baru, Dharmasraya Regency in West Sumatra." An Indonesian named Sudarto, who is director of the Center for Inter-Community Studies, explained: "They did not get permission from the local government since the Christmas celebration and worship were held at the house of one of the Christians who had been involved. The local government argued that the situation was not conducive. It has been going on for a long time, so far they have been quietly worshiping at the home of one of the worshipers, but they have applied for permission several times. Yet the permit to celebrate Christmas was never granted."
Nor is that all: "The house where they performed worship services was once burned down in early 2000 due to resistance from residents."
Anti-Christian sentiment in Indonesia runs so high that Indonesian President Joko Widodo felt it necessary to warn Muslims against committing violence against Christians on Christmas. Nearly 200,000 police officers have been deployed to protect the nation's Christians.
Meanwhile, in Australia, according to 3aw.com, "a couple were left stranded and out of pocket after a rideshare driver refused to pick them up because they had a Christmas ham….They ordered an Uber, but as they approached the car the driver told them the ride was cancelled." Why? "The driver told the couple he wouldn't take them home with the ham because he was Muslim." But surely Uber fired or at least disciplined this supremacist clown, no? No. In fact, Uber charged the couple for a cancelled ride.
In England, reports the Mail on Sunday, "children at a primary school have been told not to sing the word 'Lord' in the Christmas carol Away In A Manger – so that pupils of all beliefs can join in….Youngsters at Whitehall Primary School in Chingford, Essex, have also been told to sing edited versions of two modern hymns when they attend a carol service and nativity play at a nearby church on Tuesday. The words 'Jesus the saviour' in the carol Love Shone Down have been replaced with 'Jesus the baby', while the words 'new King born today' in the carol Come And Join The Celebration have been replaced with 'a baby born today.'"
Why? Whitehall Primary School head teacher Zakia Khatun explained that she didn't want students of other beliefs to feel "excluded." She "defended her decision, insisting the school is inclusive of all children, and maintained that last year 60 children did not attend the carol service and nativity at St Peter and St Paul Church in Chingford because of their religious beliefs."
Britain has been home to non-Christians for centuries, and they never complained about Christmas carols. There is only one group in Britain that might object to calling Jesus "Lord," and that group isn't likely to attend the Christmas pageant now that the word has been removed, because the whole idea of celebrating the birth of Jesus is predicated upon the now-unmentionable title.
One mother noted: "If he was just a baby boy named Jesus, there wouldn't be a celebration in the first place. He is our Lord and Saviour and King of all Kings – that's the whole point. It is also a tradition – it is taking away the traditions of the country."
Yeah.
And in Germany, a Muslim woman who supports the Islamic State (ISIS) "started an apprenticeship as a truck driver sponsored by the employment office, where she also stood out due to radical statements. During a driving exercise, she is said to have answered the teacher's question of where she actually wanted to go: 'I'm going to the next Christmas market.'" Christmas markets in Europe have more than once been targeted for jihad massacres.
None of this is new, or surprising. It's just another Christmas in the age of jihad.
4.
Ex-Intelligence Agents Unveil John Brennan
What U.S. Attorney John Durham really needs to know about the ex-CIA director.
With U.S. Attorney John Durham now investigating former CIA Director John Brennan's role in the early stages of the Russian investigation, Frontpage has deemed it urgent to run the Glazov Gang's special episode: Ex-Intelligence Agents Unveil John Brennan, which featured John Guandolo, an ex-FBI agent and president of Understanding the Threat, and Brad Johnson, a former CIA Station Chief and president of Americans for Intelligence Reform.
John and Brad both unveil The Real John Brennan, exposing The Traitor that the Ex-CIA Director Really Was and Is.
We hope that John Durham and his team will talk to these two truth-tellers to gather what really needs to be known about John Brennan.
Don't miss this episode!
And make sure to watch 
Dan Bongino
 focus on 
The Failed Takedown of President Trump,
 where he reveals 
the swamp's vile – and pathetic — hoax
.
5.
The War for the Persian Succession
It's time for a winning strategy.
Is this the end at last? Or just another speech?
There doesn't seem to be a crucial level of deaths and injuries that will lead to a revolution against the Islamic Republic of Iran. The latest reports put the death total at well over a thousand, with ten times as many wounded. And the list of victims continues to grow apace, with scores arrested every day. New victims are fished out of the waters or dragged from their death beds, and added to the grim totals. Banafsheh's regular reportage brings us up to date:
A detailed report published on the Persian-language section of the Al Arabiya news website has estimated the number of Iranians killed by the regime during the November demonstrations to be 1,360. The report, which is very detailed, and lists the date, time and location of each clash between regime forces and the crowds, also identifies the specific Islamic Revolutionary Guards Corps (IRGC) units involved in suppressing the people. The information is said to come from clandestine sources inside the IRGC.
It's significant that the death toll comes from secret sources from within the Revolutionary Guards Corps, apparently eager to reveal what they have done to the protesters, and to make sure that the victims' families know the details.
150 doctors inside Iran have signed an open letter critiquing the regime for its abuses against the protestors. "Regular and disguised military, law enforcement and security forces opened fire on the people and used the destruction and rioting of a few opportunists as an excuse to attribute the rightful protest of the people to foreign [powers]. Our country with God-given abundant resources should have enjoyed a much better situation than it does now. Unfortunately, our statesmen with costly and fruitless adventurism have repeatedly pushed the country to the brink of the abyss," the statement read.
A recent Iranian poll found that only fifteen percent of the citizens of Tehran supported the regime, and approved of the uprising.
In other words, the most violent and widespread insurrection against the Tehran regime produced the most systematic, murderous repression since the revolt against the shah in 1979, all across the country. And both the insurrection and the repression are continuing. This is a continuation of the fierce internal struggle that I have called the war for the Persian succession, a struggle to name the next supreme leader after Ayatollah Khamenei.
The two main contenders are the old leaders of the Revolutionary Guards Corps and the current spokesmen for the regime, starting with President Hassan Rouhani. The former chief of the IRGC, Mohammad Ali Jafari, has called for Rouhani to stand trial for causing the massive protests, oppressing the people, and wrecking the society.
Once the regime had gained the upper hand against the demonstrators, U.S. Secretary of State Mike Pompeo delivered his usual series of warnings, placing the United States firmly on the side of the insurrection, and expanding sanctions on Iranian leaders. It was a fine speech, and numerous commentators pointed out that the Trump Administration was edging closer and closer to a policy of regime change.
Yet, despite the powerful rhetoric, there is still no sign that the United States is actually moving to assist the Iranian people to bring down the detested regime. If we were serious about regime change, we would hear about it, in no uncertain terms, from Pompeo and Trump himself. But we do not. I wonder if we even have ongoing contacts with the leaders of the insurrection.
On the other hand, there is abundant evidence of Iranian penetration of U.S. defenses, highlighted by the sentencing of Ali Kourani to forty years imprisonment for plotting to carry out terrorist acts. Kourani, originally Lebanese, was trained by Hezbollahis, and trained like-minded terrorists to unleash attacks on American soil. It was an Iranian operation.
"Ali Kourani's arrest was a reminder to us all that New York City and its surrounding areas remain primary targets for those looking to conduct a violent attack against our way of life," said FBI assistant director William F. Sweeney Jr.
The Kourani case shows that our intelligence services can see the enemy at work, and that our courts have the will to lock away the perpetrators. Kourani cannot be the only such case; we need a more active counterintelligence campaign against the Islamic Republic.
Which brings us back to the insurrection, which remains open-ended:
Islamic authorities willfully continues to invest in additional apparatus of oppression, in order to crack down on Iranians who protest, the regime's rampant corruption, financial waste and depletion of the country to fund its regional adventurism. This reflects a pattern common to the entirety of the Islamic regime's 40-year-long reign, where national development, infrastructure, and social services have been overlooked, while Iran's oil wealth has been thrown around on the regime's military machine, foreign interventions, and terrorism.
The regime in Tehran is at war with us. Enough speeches, it's time for a winning strategy.
6.
Canlı yayında Osmanlı üzerinden Türkiye'ye saldırdı:

Erdoğan ateşle oynuyor
Türkiye

'nin attığı kararlı adımlar karşısında ne yapacağını bilemeyen Atina yönetimi, Türkiye'ye saldırmaya devam ediyor. Yunanistan Dışişleri Bakan Vekili

Miltiadis Varvitsiotis

, Cumhurbaşkanı Recep Tayyip Erdoğan'ın "ateşle oynadığını" söyleyerek, Türkiye'nin dünya tarafından daha fazla izole edileceğini belirtti.
Yunanistan Dışişleri Bakan Vekili 
Miltiadis Varvitsiotis
, ülkede yayın yapan Skai radyosunda yayınlanan bir programda konuştu. Varvitsiotis radyo yayınında, 
Türkiye
'nin hem kendi hem de 
KKTC
'nin haklarını korumak için 
Doğu Akdeniz
'de attığı adımları hedef adı ve Cumhurbaşkanı Recep Tayyip 
Erdoğan
 hakkında skandal sözler sarf etti.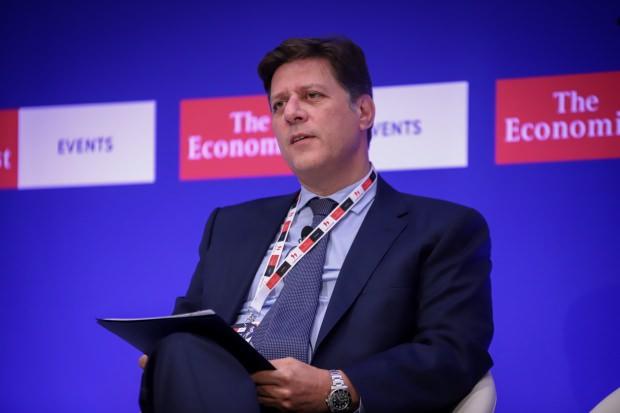 Yunanistan Dışişleri Bakan Vekili Miltiadis Varvitsiotis….
OSMANLI ÜZERİNDEN SALDIRDI: ERDOĞAN ATEŞLE OYNUYOR
Türkiye'nin 
Libya
'ya asker göndereceğinin sorulması üzerine, 
"Erdoğan riskli davranıyor. Böyle bir hareket, Türkiye'nin daha büyük bir şekilde izole edilmesini sağlar"
 dedi. Küstah sözlerine devam eden Varvitsiotis, Erdoğan'ın
 "ateşle oynadığını"
 belirterek, 
"Bu Neo-Osmanlı yayılmacılığına her yerden kınamalar geliyor. Erdoğan ateşle oynuyor ve sadece Yunanistan'dan değil, uluslararası tüm aktörlerden tepki görüyor"
 dedi.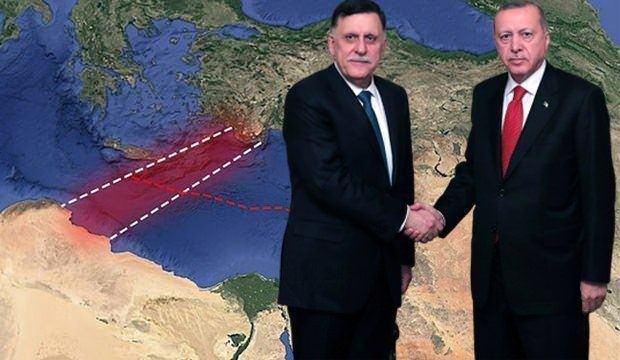 UMH Başbakanı Al Sarraj ve Cumhurbaşkanı Erdoğan…
TÜRKİYE İLE LİBYA ARASINDA MUTABAKAT: TÜRK ASKERİ TRABLUS YOLCUSU
Cumhurbaşkanı Erdoğan ile Libya Ulusal Mutabakat Hükümeti (UMH) arasında "Deniz Yetki Alanlarının Sınırlandırılması" anlaşması imzalanmıştı. Anlaşmayla bu iki ülke, İsrail, Yunanistan ve Güney Kıbrıs'ın planlarını altüst etmişti.
Erdoğan, Trablus hükümetinin istemesi halinde Mehmetçiğin gönderileceğini duyurmuştu. Libya hükümetinden ise resmi talep geldi. Cumhurbaşkanı da, AK Parti İl Başkanlı Toplantısı'nda yaptığı son dakika konuşmasında, 8 ya da 9 Ocak 2020 tarihinde Meclis'e tezkerenin getirileceğini açıklamıştı.
KAYNAK: HABER7
7.
Tüm hazırlıklar tamamlandı! Asker tetikte, son emir bekleniyor
Askeri kaynaklar, Mehmetçiğin yurt içinde ve dışında emir verildiği zaman her türlü görevi yapmaya hazır olduğunu bildirdi.
TSK'nın İdlib'deki gözlem noktalarına yönelik bir risk bulunmadığını da kaydeden kaynaklar
 "Gözlem noktaları ile ilgili herhangi bir güvenlik endişesi yok, ikmal ile ilgili de bir sorun yok. Biz bu tür konuları Rus muhataplarımızla koordineli şekilde yürütüyoruz" 
açıklamasında bulundu. Gözlem noktalarında 
Astana
 Mutabakatı kapsamında gözlem yapıldığını hatırlatan kaynaklar şunları kaydetti: 
"Şayet bu noktalara bir saldırı olur ise bu noktalar kendini savunacak yeterlilikte ve muharebe gücündedir. Görevleri oradaki faaliyetleri gözetleme ve rapor etme olsa da meşru müdafaa kapsamında savunma yapabilecek durumdadır."
1.789 TERÖRİST ETKİSİZ
Millî Savunma Bakanlığı (MSB) Basın ve Halka İlişkiler Şube Müdiresi Yarbay Nadide Şebnem Aktop, 2019'daki faaliyetlere ilişkin basın bilgilendirme toplantısında güvenlik güçlerinin terör örgütlerine karşı mücadelesini azim ve kararlılıkla sürdürdüğünü vurguladı. Terör örgütü 
PKK
/ KCK'nın barınma alanlarına yönelik 2019 yılı içinde kolluk kuvvetleri ile yurt içinde ve dışında 31'i büyük, 119'u orta çaplı olmak üzere toplam 150 operasyon icra edildiğini belirten Aktop 
"Kararlılıkla ve taarruz anlayışı ile icra edilen operasyonlarda 1.789 terörist etkisiz hâle getirildi, bunların 255'i terör örgütünden kaçarak kendi iradeleriyle teslim oldu. 2019'daki operasyonlarda 1.066 el yapımı patlayıcı imha edilirken 1.015 silah, 69 tanksavar füze, 1.598 el bombası, 174 mayın ele geçirildi"
 dedi.
REJİM GÖÇ DALGASINI TETİKLEDİ
Suriye rejiminin son zamanlarda artan ve masum sivilleri hedef alan saldırılarının sahada radikalleşmeyi artırdığına dikkati çeken Aktop "Bu saldırılar, yeni bir göç dalgasını da tetiklemiştir. Neticede 100 bine yakın kişi kuzeye ve Türkiye sınırına doğru kaçmaya başlamıştır" diye konuştu.
FETÖ'DEN 18 BİN 630 İHRAÇ
Yarbay Aktop, FETÖ ile mücadelenin kararlılıkla sürdürüldüğünü vurgulayarak şunları söyledi: FETÖ ile mücadele kapsamında yürütülen soruşturmalar neticesinde 15 Temmuz 2016'dan bugüne kadar 3 bin 559'u 2019'da olmak üzere toplam 18 bin 630 personel ihraç edilmiş, 356'sı 2019 yılında olmak üzere toplam 982 emekli personelin rütbeleri geri alınmıştır. 5 bin 846 personel hakkında ise adli ve idari süreç devam etmektedir.
AKDENİZ'DE KALKAN HAREKATI
Doğu Akdeniz'de deniz güvenliğinin sağlanması maksadıyla gerçekleştirilen Akdeniz Kalkanı Harekâtı'na kesintisiz ve etkin bir şekilde devam ediliyor. Bu kapsamda, TCG Giresun, TCG Gökova, TCG Göksu ve TCG Salihreis fırkateynleri, Aksaz Deniz Üssü'nü ziyaret eden İtalyan ITS Zeffiro fırkateyni ile Doğu Akdeniz'de deniz harp nevi ve deniz güvenliğine yönelik ortak eğitimler yaptı.
8. 
IDF chief: Sometimes war is a 'solution'
IDF Chief of Staff Aviv Kochavi (Flash90/ Tomer Neuberg)
Israel's view of war only as a "last step" allows it to show that "we have gone to war for defense purposes and not occupation," said Kochavi.
By World Israel News Staff 
War is "always the last resort," says Israel's military chief, but "in cases when all diplomatic channels have been exhausted, war is a solution."
Chief of Staff Lt. Gen. Aviv Kochavi used the occasion of a conference at the Interdisciplinary Center (IDC) in Herzliya, near Tel Aviv, to counter the decision of the International Criminal Court's chief prosecutor to investigate Israel for war crimes.
Israel's view of war only as a "last step" allows the Jewish State to show that "we have gone to war for defense purposes and not occupation," said the chief of staff.
Referring to the Israeli military's "moral stance," Kochavi said the IDF does not "tolerate any diversions from the norms of [its] values." Those moral norms, he maintained, allow the IDF to operate "with all its might even in urban areas which the enemy chooses."
He stressed the difference between Israel's morals and that of the Palestinians in that the IDF tries to avoid civilian casualties.
"Mistakes can happen from time to time," he acknowledged, citing a particular strike by the Israel Air Force in Gaza last month on a terror installation which was believed by Israel to be void of civilians but in which eight non-combatants were killed because, it was later determined, the terrorists had not closed the compound to civilian access.
"Here's the difference and the deep divide between us and our enemies," he told the conference.
"While we are investigating for hours why we harmed civilians, they were investigating for hours why they didn't harm civilians," said Kochavi, referring to rocket attacks from the Hamas-controlled Gaza Strip on Israeli civilians compared to the Israeli military responses in Gaza where the IAF is challenged by having to attack in densely-populated areas where terrorists are located and civilians are used as human shields.
"We cannot allow such symmetry," he asserted.
9. 
Giuliani hits Soros again: 'Funded many enemies to the State of Israel'
Rudy Giuliani (AP/Charles Krupa)
"Soros has funded many enemies to the State of Israel, including groups that support BDS,"  Rudy Giuliani said.
By World Israel News Staff
Former New York City Mayor and Trump adviser Rudy Giuliani has chosen to keep attacking George Soros's Jewish moral compass rather than apologize for his earlier questioning of Soros' Jewishness.
"Soros has funded many enemies to the State of Israel, including groups that support BDS, whose ultimate goal is to destroy the Jewish homeland. Those who oppose these groups are not only better Jews, but better people than him. Most certainly not anti-Semitic," Giuliani tweeted on Tuesday.
"Soros is hardly a Jew. I'm more of a Jew than Soros is. I probably know more about — he doesn't go to church, he doesn't go to religion — synagogue," he said. "He doesn't belong to a synagogue, he doesn't support Israel, he's an enemy of Israel. He's elected eight anarchist DAs in the United States. He's a horrible human being."
Soros is known for supporting far-left causes. He has funded the Center for American Progress, MoveOn.org, Media Matters and the Southern Poverty Law Center, among others.
Giuliani also claimed at the time that Soros "controlled" a former U.S. ambassador to Ukraine who testified against President Donald Trump during the House impeachment hearings in November.(KAI O ΠΑΪΑΤ ΕΙΝΑΙ ΣΤΗΝ "ΚΛΙΚΑ" ΤΩΝ ΠΡΕΣΒΕΩΝ ΤΟΥ… ΣΟΡΟΣ)
"Don't tell me I'm anti-Semitic if I oppose him," Giuliani said.
NBC News reached out to Giuliani for a comment, and instead of apologizing he sent back a text message saying, "I'm more Jewish than half my friends."
Jonathan Greenblatt, CEO of the Anti-Defamation League (ADL), slammed Giuliani's comments.
"Mr. Giuliani is not the arbiter of who is Jewish and who is not, or what is anti-Semitic and what is not," Greenblatt told the Daily Beast on Tuesday.
"For decades, George Soros' philanthropy has been used as fodder for outsized anti-Semitic conspiracy theories insisting there exists Jewish control and manipulation of countries and global events. Mr. Giuliani should apologize and retract his comments immediately, unless he seeks to dog whistle to hardcore anti-Semites and white supremacists who believe this garbage," he said.
10.
Netanyahu determined to annex Jordan Valley, refuting earlier report
Prime Minister Benjamin Netanyahu leads the weekly cabinet meeting in Jerusalem. (Flash90/Marc Israel Sellem)
An Israeli news site said that an inter-ministerial committee will convene to examine plans to extend sovereignty over the Jordan Valley, in contradiction to an earlier report.
By World Israel News Staff
Arutz-7 reports on Tuesday afternoon that the inter-ministerial Committee to Promote Sovereignty in the Jordan Valley will meet in a week and a half at the Prime Minister's Office.
The report contradicts an earlier one Tuesday by Israeli daily Yediot Ahronot that Prime Minister Benjamin Netanyahu's government has frozen plans to annex the Jordan Valley.
"Netanyahu has made it clear that he will promote with full force the plan for applying sovereignty in the Valley and the northern Dead Sea and will continue to do so," the Prime Minister's Office said, according to Arutz-7.
Yediot had reported earlier in the day that the inter-ministerial meeting had been canceled last week in order not to increase friction with the International Criminal Court in The Hague.
It was motivated by "the assessment that the chief prosecutor of The Hague was about to publish her preliminary examination results. The concern was that the convening of the [inter-ministerial] team at that time would intensify the confrontation with the ICC," he paper reported.
But Arutz 7 reports the prime minister intends to keep his promise to annex the Jordan Valley and northern Dead Sea areas.
Arutz 7 reports that Netanyahu visited the community of Mitzpe Yericho in the Binyamin region of Judea and Samaria last week.
"The enthusiasm here and the pioneering spirit just shakes the soul. The huge development of Mitzpeh Yericho and all the settlements in Binyamin is incredible and we'll continue it. The reason we are here is that we have pooled forces to overcome those who wanted to push us out of our country and bring us back to the 1967 line," Netanyahu said.
He said he was "excited to see the ancient landscape of the Land of Israel, the Land of the Bible, the Land of our ancestors."
11. 
Arab Media Claims Israel Killed Iranian General Who Planned to Attack on Jerusalem, Tehran Denies Reports
Dec 24, 2019
While reports in the Arab media claimed an Israeli Air Force (IAF) strike in Syria on Sunday night  took out a top Iranian general, the Revolutionary Guards "reject[ed] rumors about [his] martyrdom."
By United with Israel Staff and TPSFollowing reports that Israeli fighter jets struck positions in Syria on Sunday, Arab media disseminated information regarding the assassination of an Iranian Revolutionary Guard Corps commander in the strikes.According to the Amman-based Al Hadath newspaper and other Arab media sources, Brigadier General Hajj Amir Ali (Hajizadeh) was eliminated on Sunday evening in strikes near Damascus, the Jewish Press reporteed.

By Tuesday , a spokesman for the Islamic Revolution Guards Corps (IRGC), General Ramezan Sharif, issued a statement "dismiss[ing] as a lie recent rumors that Commander of IRGC Aerospace Force Brigadier General Amir Ali Hajizadeh has been martyred in an Israeli missile attack on Syria," reported Iran's AhlulBayt News Agency.

In March, Hajizadeh oversaw an unprecedented drill in Iran entitled "Towards Jerusalem" showcasing supposedly locally-made attack drones capable of striking targets up to 1,000 kilometers from the Islamic Republic, which would place the Jewish state within their range.

The IAF in August struck Iranian Quds Force operatives and Shiite militia targets in the town of Aqraba, situated southeast of Damascus.

The Iranian-led forces were planning to launch armed drones at Israeli targets in the coming days, the IDF said.

The Syrian Observatory for Human Rights (SOHR), which has assets inside Syria, recorded at least three explosions that rocked the areas around Damascus on Sunday night.

The missiles, "believed to be Israeli," hit Syrian military sites and those of Iranian militias.

The SOHR further said that the strike killed at least three people "of non-Syrian nationality, as they are likely to be of Iranian nationality."

No additional verifiable details were available.

Some reports indicate that weapons-storage sites were hit, including those housing Iranian drones and missiles.

The IAF has carried out thousands of attacks to thwart Iranian entrenchment in the war-torn country, including more than 17 recorded Israeli attacks in 2019, the latest of which occurred on November 20 when several Israeli missiles hit sites on the southern and southwestern outskirts of Damascus.

Strikes against targets in Syria reportedly carried out by Israel are usually meant to prevent the transfer of advanced weapons from Iran through Syria to Hezbollah in Lebanon or to thwart Iran's military buildup in the country, and especially on Syria's border with Israel.

Iran uses its positions in Syria to transfer weapons and infrastructure to its terror proxy in Lebanon, Hezbollah, while attempting to establish another military front against Israel from the Syrian Golan Heights.

Iran's military buildup in Syria remains a red line for Israel.

12. Η ΒΡΑΖΙΛΙΑ ΘΑ ΜΕΤΑΦΕΡΕΙ ΤΗΝ ΠΡΕΣΒΕΙΑ ΤΗΣ ΣΤΗΝ ΙΕΡΟΥΣΑΛΗΜ!..
13.
We Have Lost the War on Christmas
When Jesus Christ becomes less important than Santa Claus.
Bruce Thornton is a Shillman Journalism Fellow at the David Horowitz Freedom Center.
The "war on Christmas" meme popular this time of year hasn't been as intense as usual. Of course, there are still a few examples such as a Santa Hat embedded in Microsoft open source coding, which a developer discovered and demanded be removed, comparing it to a swastika. Microsoft, of course, apologized and removed the offensive image, though it tweaked the complainer by substituting a snowflake. There was also Rudolph the Red-Nosed Reindeer being called a racist, but there weren't many other instances of goofy complaints about Christian symbols like creches in public spaces, school pageants, and "Merry Christmas" greetings.
That's because the "war on Christmas," another front in Western Civilization's bigger war against faith that has been going on for nearly two centuries in the West, has been pretty much lost.
We could mark secularism's most visible first historical manifestation in the excesses of the French Revolution, when sacred spaces were vandalized, priests and nuns were tied together and thrown into lakes and rivers in "republican marriage," dating history by the birth of Christ was abandoned, and Notre Dame cathedral was renamed the Temple of Reason. Slowly over the 19th century God and Christ were relentlessly removed from public spaces and culture in Western Europe and the U.S. in the steady advance of secularism. Today, religion is "shut up," as Benedict XVI put it, "in the subjective sphere of residues from the past." It is a private taste coexisting with, and no better than, all the other alternatives in the cultural bazaar.
In terms of Christmas, this process had begun long before our current "woke" cultural gestapo put Christmas in its sights. Christmas in its secular existence as a public holiday was already half-way more secular than religious in the 19th century. It was pretty much invented by Charles Dickens' A Christmas Carol, published in 1846. In Christian theology, the significance of Christmas is the miraculous birth of the incarnated Word, the promised Redeemer who becomes fully human while remaining fully divine, and who experiences our material existence with its pain, suffering, and death in order to secure our soul's salvation, the historical proof of God's unconditional spiritual love and grace.
But A Christmas Carol has little of Christ in it. Scrooge is visited by the ghost of his partner Jacob Marley, weighed down by his riches to which he sacrificed his humanity. Then come three pagan-like spirits who each in turn show Scrooge that he has dehumanized himself by closing his heart to love and sympathy and charity to the less fortunate. The vague "spirituality" of Dickens' tale serves not so much salvation in the next life, but a sort of social welfare ideal that the selfish rich must soften their hearts and take responsibility for the less fortunate in this life.
Without the acceptance of Christ through baptism, however, why should people care about others? Without God, where do we find the transcendent, universal, non-negotiable imperative to care for others? In Matthew 25:41-45, the Gospel gives us the rationale for charity predicated on salvation through Christ. Speaking of the Last Judgement, Jesus says of the damned,
"Away with you, you cursed ones, into the eternal fire prepared for the devil and his demons. 42 For I was hungry, and you didn't feed me. I was thirsty, and you didn't give me a drink. 43 I was a stranger, and you didn't invite me into your home. I was naked, and you didn't give me clothing. I was sick and in prison, and you didn't visit me.'44 "Then they will reply, 'Lord, when did we ever see you hungry or thirsty or a stranger or naked or sick or in prison, and not help you?'45 "And he will answer, 'I tell you the truth, when you refused to help the least of these my brothers and sisters, you were refusing to help me.'
The sentiment in Dickens is the same, except the role of Christ in effecting this change is missing, replaced by the "spirits" and their supernatural power to show Scrooge the past, present, and future. The result is a shift from Christ's power to personal emotion and sentiment. Moreover, whereas Jesus puts the responsibility on the individual to personally demonstrate His effect on himself manifested in charitable works, we see in Dickens' story and some of his novels the inchoate foundations of the entitlement state, in which this responsibility is offloaded onto the government, with all the bad consequences for people's characters when they get something for nothing or, as Kipling put it, "Each man is paid for living, and no man pays for his sins."
This diminishment of the theological foundation of Christmas increases as secularism gradually replaced faith as the foundational assumption of modern society. In the Forties, this divorce of charity from Christ suggests a vaguely leftist demonization of wealth and capitalism, while the function of God is to send his angels as "life coaches" to straighten out our lives. In our classic Christmas movies, a vague supernaturalism is linked to this caricature of the rich as heartless and selfish, and responsible for the commercialization of Christmas that violates the "spirit of the season."
In The Bishop's Wife, released in 1947, David Niven is an Anglican bishop whose marriage is troubled, mainly because of his obsession with getting a self-centered rich woman to finance a new cathedral. Cary Grant is the angel sent to teach him the costs to his marriage his obsession is exacting, and also soften the rich woman's heart. In the end, the bishop and his wife are reconciled, and the plutocrat Agnes Hamilton, stirred like Scrooge by a reminder of the lost love of her life, abandons the cathedral project and devotes her fortune to helping the poor.
In the same year, Miracle on 34th Street takes a different tact. A retiree who calls himself Kris Kringle claims to be Santa Clause, and is so convincing that Macy's hires him to be their Santa Clause. But instead of prodding children to ask for toys Macy's stocks, he instead directs parents to stores where the same product is cheaper. The fiscal success of this tact convinces the owners of other department stores like Gimbels to do the same thing, leading the famous rivals to drop their rivalry, thus honoring the "spirit of the season" that has been besmirched by their bottom-line commercialization. Along the way, the Macy's exec Doris Walker, a bitter cynic who is teaching her child not to believe in Christmas, is transformed, finding true love along the way.
Finally, from 1946 comes It's a Wonderful Life, the premier Christmas movie. Again the villain is the rich, Scrooge-like Mr. Potter, who owns most of Bedford Falls, pitted against George Bailey, who inherits a savings-and-loan from his father, and runs it not for profit but to provide homes for those who otherwise would have to rent shabby lodgings from the ruthless Mr. Potter. But Bailey, beset by problems at the bank and his frustrated ambitions for adventure, contemplates suicide, and is rescued by an angel. Again using the supernatural, the angel shows George that his life has been a rich one because of all the people it has touched with his kindness, love, and empathy.
What we notice in all three movies is again the replacement of Christian theology with a fuzzy "spiritualism" in service to personal sentiment and a sort of "social justice" ethos pitted against the greedy, heartless rich. Christ is left out, salvation comes in this world, angels are just really good shrinks, and the need for wealth to be redistributed by the state is validated by appropriating Christ's authority.
Of course, the sentiments these movies champion are noble and good. But it's ironic that the holiday celebrating the birth of Christ and Christianity, the transcendent reason why we should care for our fellows and their misfortunes in the first place, is pushed aside and replaced with a thin spirituality embodied in the theologically dubious notion of angels as fixers.
Today, after several decades of banishing Christianity from the public square, Christmas is pretty much secularized, and Christ is less important than Santa Claus. Obviously, millions of people still celebrate Christmas as a religious event. My point is that, as Benedict said, it's now relegated to the realm of the private.
But in the public square, it's about consumerism, consumption, entertainment, and time off from work and school. That's the "spirit of the season" these days. Perhaps we're not seeing more attacks on Christmas because its secularist enemies have finally won.
14.
Ex-IDF intelligence soldiers may be aiding Israel's enemies – journalist
Alumni of the

8200 Unit

, which develops hacking tech, are high profile targets for foreign regimes wanting to exploit Israeli expertise for their own gain.
By DONNA RACHEL EDMUNDS
DECEMBER 26, 2019 
People pose in front of a display showing the word 'cyber' in binary code, in this picture illustration taken in Zenica
(photo credit: DADO RUVIC/REUTERS)
Alumni of Israel's Intelligence Corps 8200 cyber hacking unit may be unwittingly working against Israel by taking their expertise abroad, investigative journalist Ronen Bergman said on the Two Nice Jewish Boys podcast.
The 8200 intelligence unit comprises more than 10,000 IDF soldiers, making it larger than security agencies the Mossad or Shin Bet
. Along with its sister unit, a military intelligence technology unit, the two are responsible for developing and utilizing technologies which make it possible to discover and exploit programming flaws. These technologies are known as 'Zero Days,' and are able to
hack
technologies ranging from mobile phones to nuclear reactors in order to collect intelligence or to sabotage the technology, according to foreign reports.
Israel has invested heavily in such capabilities, nurturing young people while still at school to develop the sort of computer know-how required for such work, and identifying individuals capable of carrying it out. They are then recruited into the unit where they undertake the compulsory military service, followed by two or more years as a professional soldier, honing their hacking capabilities.
The experience of being intensively trained in this way means that Israel has the best offensive and defensive cyber experts in the world. But it is a double-edged sword for the Jewish State as once their service is up the operatives are free to leverage their knowledge worldwide – including against Israel's interests.
Israel has attempted to get around this problem by heavily regulating the use of such expertise within its shores. Israeli companies wishing to develop and sell hacking products such as the Pegasus spyware are overseen by the Ministry of Defense, who license the products and rule on which countries they can be sold to.
Even here there are problems – while countries have purchased such software to help catch pedophiles, human traffickers, and terrorists, there have also been cases of regimes using the tech against human rights activists, leading to criticisms of Israel's licensing process.
But Israeli journalist Bergman, who has investigated this area heavily, says the problems don't stop there.
"Once these cyber experts leave Israel and work for non-Israeli companies, then whatever you say about the supervision and the regime of inspection by the Israeli Ministry of Defense, it's not there," he told the Two Nice Jewish Boys podcast. "Meaning, if [the oversight in Israel is] too weak, not rigid enough, not strict enough, not severe enough – it's nothing when they are outside of Israel."
The expertise of the military veterans makes them prime recruiting targets for foreign operatives with a lot of money to invest in cyber security, as Bergman explained: "Young veterans of 8200, offensive cyber experts who are the target for headhunters who are saying to them: "look, you can earn maybe 70-100,000 shekels in Israel a month working for Israeli companies doing offensive cyber, but if you go abroad to where I, the headhunter, invite you, you will have a full relocation, a view of the sea, and up to 100,000 dollars excluding bonuses a month."
"Just imagine, that guy is 23 years old, 25 … these are excellent, extremely smart people but not very mature; they need to be very strong to say no. And some of them didn't."
He highlights a recent case in which employees of the Israeli private firm NSO group, who developed the Pegasus spyware among other phone hacking technologies, were found by management to be suddenly leaving for unconvincing reasons. The workers had been good workers making good money, so management decided to find out why they were leaving and hired private detectives, who followed the workers to Cyprus.
It transpired that they had been headhunted by a private firm called Dark Matter, which is the commercial cyber wing of the National Electronic Security Authority (NESA) – the United Arab Emirate's version of the National Security Agency (NSA).
The UAE had purchased Pegasus and used it many times, but in addition to the market price, Pegasus is sold on a token model, meaning that the UAE was having to pay each time they wanted to use it. In the end, they opted to create their own product, by recruiting the Israeli manpower required to develop it.
The UAE doesn't have diplomatic relations with Israel, but it does have under-the-radar contact, liaising where required to move against common enemies. However, technologies developed by the UAE could easily fall into third party hands where it could eventually make its way to regimes such as Iran, who could use it against Israel's interests.
"I don't think it's treason, I don't think these people are treacherous," Bergman said, referring to the Israelis who are taking their expertise abroad. "I think they are nonchalant, and that they give themselves explanations of why this is OK, why this is legal."
Technically, what the workers are doing isn't illegal, as they are not using knowledge of specific Zero Days weaknesses discovered within the 8200 unit to benefit the private companies. But Bergman says the question isn't just one of legality.
"The legality is not the only thing that counts. I think that 8200 maybe failed to educate these people not just how to hack a computer or mainframe or nuclear reactor or a phone but also to educate them they are holding strategic tools, and these strategic tools should be preserved in Israeli hands only and be exported only when Israel allows it. I think that these people are looking the other way from the very dangerous possibilities that much of their knowledge, much of these strategic tools would be proliferated to other parts of the world and God knows what will happen."
15. A Greek Jew revisits Christmas and Hanukkah
Hanukkah for me – as I am about to enter my 50s – is about kindling, augmenting and sustaining the inner light.
A giant menorah stands in front of a Christmas tree at the Brandenburg gate to celebrate Hanukkah in Berlin December 16, 2014
(photo credit: REUTERS/FABRIZIO BENSCH)
Every year as Christmas approaches, I am reminded of my childhood holidays in Athens, Greece. In particular, something that my late grandfather Jacques used to say to my grandmother comes to mind: "It is Christmas for Christians, it is Christmas for me."
My grandmother Yvette's birthday on the 25th of December happens to be the day the whole of Greece was lit up and decorated for Christmas. On my grandmother's birthday the family would gather at my parents' house in Athens by the fireplace.
Growing up as a Jew in Athens meant that the Jewish holidays had no connection to the outer culture. Celebrating my grandmother's birthday on Christmas Day felt for a change as if the whole world was celebrating with us. A real treat to our minority Jewish family in Athens.
This year on 
Hanukkah
, I was invited to a Hanukkah yoga workshop in Jerusalem. The invitation read: "We will prepare our bodies through breath, meditation, visualization and mindful movement to become vessels of light." I rejoiced for the opportunity to light up my body and spirit from the inside-out, in sync with the rest of the city.
Hanukkah for me – as I am about to enter my 50s – is about kindling, augmenting and sustaining the inner light. As in the yoga practice I was invited to, I think about what I can do in my life to kindle, add to and sustain my inner light.
Recently my husband and I started a new practice: morning meditation, just after we wake up in the morning. I find that this modest 10-minute practice each day of bringing in the light is creating miracles. I notice that the more I make it a priority to nurture my inner light, the more I have to give to others.
The Hanukkah story tells us that the Maccabees found only a jar of oil bearing the seal of the High Priest Yohanan to light up the menorah in the Temple. In modern times, when there is no temple, we can direct the light to our inner temple, our own body. Find the "oil" to light the body up every, day as the Maccabees went ahead and lit the menorah with the oil at hand. Practice kindling the light body as they kept the menorah lit in the Temple. Exercise adding to the light every day. I find that what helps is focusing on just one day at a time.
Let us have faith, too, that our light-work, even when modest, is indeed supported and augmented by a nurturing, synergistic, spiritual force hidden behind it all. Let our bodies project our inner light and reflect the Christmas trees and Hanukkiot lights shining bright in our midst.
The writer is a Greek-born Jewish woman who lives in Jerusalem. She blogs at fromjerusalemwithlove.com
16.
Turkish Leader Threatens To Close Key U.S. Base If Sanctions Imposed
December 15, 2019
Turkey's president threatened to close two strategic military bases used by the United States and NATO if Washington imposes sanctions in response for Turkey's purchase of a Russia antiaircraft system.
The threat by Recep Tayyip Erdogan, made December 15 in an interview with A Haber TV, was the latest sign of worsening relations between Ankara and Washington.
"If necessary, we can close Incirlik and we can close Kurecik," Erdogan said in the interview.
The Incirlik Air Base has been a strategic facility for U.S. and NATO forces for decades. The base at Kurecik is home to a major NATO radar station.
It wasn't immediately clear how much Erdogan's threat was bluster or a genuine signal of his intentions.
Ties between Turkey and the United States have worsened since an attempted coup in 2016, which Erdogan has blamed on a Turkish businessman living in exile in the United States.
Relations worsened further when Erdogan said he would move to buy an advanced S-400 missile system from Russia. Washington has said the system poses a threat to U.S. F-35 jets that use Incirlik.
And the move by Turkish armed forces to enter Syria in October, targeting U.S.-allied Kurdish forces there, has prompted vocal opposition from both Republicans and Democrats in Congress.
Last week, a U.S. Senate committee backed legislation to impose sanctions on Turkey for the S-400 missiles, and other things.
U.S. President Donald Trump's criticism of Erdogan has been largely muted, to the dismay of many U.S. lawmakers.
Based on reporting by Reuters, TASS
Source:
https://www.rferl.org/a/turkish-leader-threatens-to-close-key-u-s-base-if-sanctions imposed/30326945.html
Copyright (c) 2019. RFE/RL, Inc. Reprinted with the permission of Radio Free Europe/Radio Liberty, 1201 Connecticut Ave., N.W. Washington DC 20036.
17.
ΥΠΕΣ ΤΟΥΡΚΙΑΣ ΣΟΥΛΕΪΜΑΝ ΣΟΪΛΟΥ: Ο ΣΥΓΧΡΟΝΟΣ ΤΟΥΡΚΟΣ… "ΤΟΠΑΛ ΟΣΜΑΝ"!.. 
Bakan Soylu'dan net mesaj: Tarihe gömeceğiz
İçişleri Bakanı

Süleyman Soylu

, "2020'de terör örgütü PKK'nın adını, cismini, ismini, tarihten bir silin de şu Muş Ovası, şu Şenyayla, tarihimizin bize emanet ettiği Malazgirt tekrar şenlensin, yeni bir tarihe yine ismini kazımış olsun." dedi.
İçişleri Bakanı 
Süleyman Soylu
, 
"2020'de terör örgütü PKK'nın adını, cismini, ismini, tarihten bir silin de şu Muş Ovası, şu Şenyayla, tarihimizin bize emanet ettiği Malazgirt tekrar şenlensin, yeni bir tarihe yine ismini kazımış olsun."
 dedi.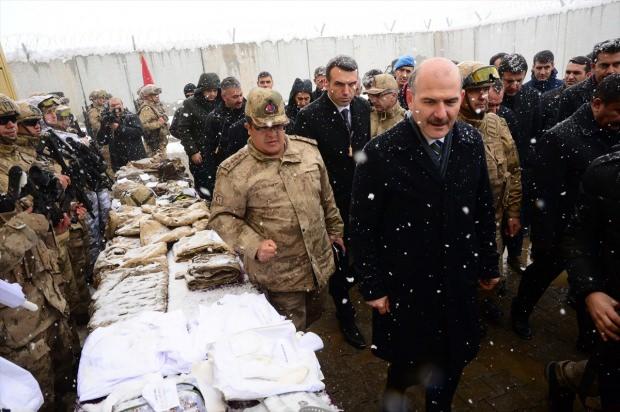 Çeşitli temaslarda bulunmak üzere Muş'a gelen Soylu, Muş-Kulp kara  yolundaki Şenyayla bölgesinde kurulan Moray Üs Bölgesini ziyaret etti.  Komutanlardan bilgi alan Soylu, daha sonra askerlerle kahvaltı yaptı ve üs  bölgesinde incelemelerde bulundu.
Bakan Soylu, burada yaptığı konuşmada, kışın ortasında Şenyayla'da  vatan savunması yapan, milletin huzuru ve güveni için canı pahasına kararlı  mücadele ortaya koyan jandarma personeliyle bir arada bulunmaktan duyduğu  memnuniyeti dile getirdi.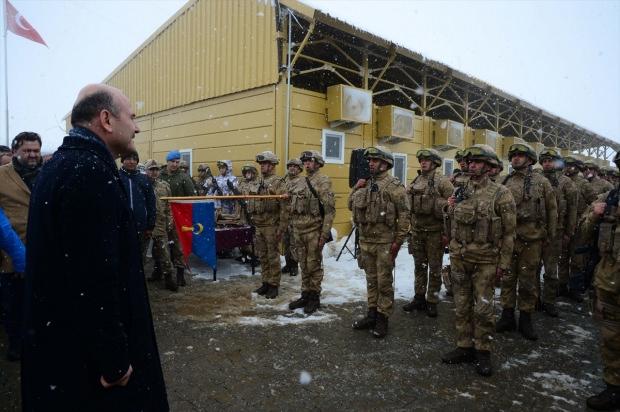 Şenyayla'nın uzun yıllar terör örgütü PKK'nın kendi sözlüğünde "kendi  alanı" olarak nitelendirdiği yerlerden biri olduğunu belirten Soylu, "Ortaya  koyduğunuz kararlı mücadele, terör örgütüne aman vermeyen iradeniz ve kar kış  demeden bu milletin birliğine, beraberliğine, kardeşliğine, hürriyetine kast  edenlere karşı acımasız tavrınız, özellikle son 2-3 ay içerisinde Şenyayla'da  elde ettiğiniz büyük başarı takdire değerdir. Sizi tebrik etmek ve bu milletin  size olan bir borcunu eda etmek için buraya geldik. Allah sizden razı olsun,  Allah ayağınıza taş değdirmesin." diye konuştu.
"TERÖR ÖRGÜTÜNÜ TARİHE GÖMECEĞİZ"
Yakın zamanda biten ve Şenyayla'nın göbeğine mıh gibi çakılan üs  bölgesinin, terör örgütünün göğsüne saplanan bir kama gibi olduğunu vurgulayan  Soylu, Şenyayla'nın terör örgütünden temizlenip huzurun ve kardeşliğin alanı  olduğu gibi, aynı şekilde terör örgütünün yıllarca kullandığı alanların tamamında  2020'de de aynı kararlılığı ortaya koyacaklarını aktardı.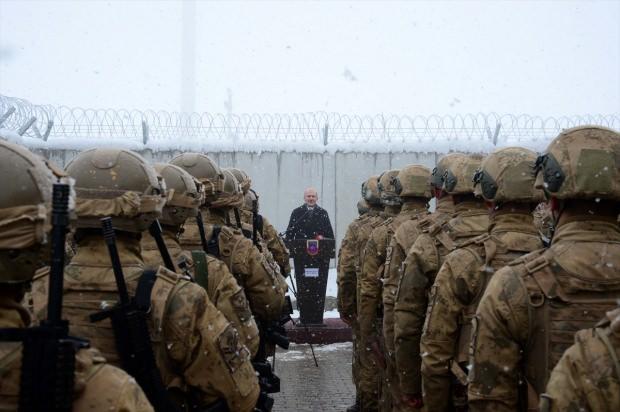 "2020'de inşallah sizin cesur bakışlarınızla, irade ortaya koyan  anlayışınızla, bize, millete güç veren adımlarınızla silip süpüreceğiz. Bu derdi,  gelecek nesillere bırakmadan terör örgütünü tarihe gömeceğiz." diyen Soylu, şöyle  devam etti:
"Her birimizin yemini var. Milletimize, bu uğurda şehit olan  kahramanlarımıza, uzvunu kaybetmiş, gözü, gönlü burada olan, duası sizlerle olan  gazilerimize, o kahraman arkadaşlarımıza yeminimiz var. İnşallah bunu hep  birlikte gerçekleştireceğiz. Ne yapacağımızı, nasıl adım atacağımızı biliyoruz.  Özellikle çukur ve barikat olaylarından sonra her geçen gün artan bir kapasiteyle  büyük bir çalışma azmiyle önemli bir kararlılıkla yolumuza devam ediyoruz. Sadece  kendi ülkemizde değil, dünyaya örnek bir terörle mücadele gösteriyoruz. Bu  bölgelerde okula rahat gidemeyen evlatlarımız öğretmenleriyle buluşuyor.  Üniversitelerimiz şenleniyor. Bir taraftan ihya ve inşa çalışmaları aynı şekilde  sürüyor, bir taraftan da bugün tarihimizin bize emanet bıraktığı Muş ve Malazgirt  ovasında hem ürünümüz değerleniyor hem de her yıl 30 Ağustos'ta bütün dünyaya  tarihimizin bize emanet ettiği bu kararlılığı Cumhurbaşkanımız Recep Tayyip  Erdoğan ile haykırıyoruz. Allah sizlerden razı olsun."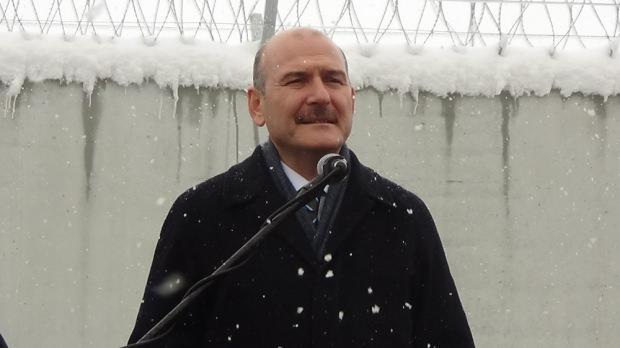 Bölgeye birçok kez geldiğini ve ne halde olduğunu en iyi bilenlerden  biri olduğunu aktaran Soylu, şunları kaydetti:
"İnşallah bunu çok daha güzel şekilde yarınlara taşıma emaneti  sizlerin omuzlarındadır, sorumluluğundadır. Allah ayağınıza taş değdirmesin. Hem  duamız hem de attığınız her adımdaki desteğimiz sizinledir. Ailenizin,  çocuklarınızın, annelerinizin, babalarınızın her birine şükranlarımızı,  minnetlerimizi ifade ediyoruz. Yetiştirdikleri kahraman evlatlarıyla bütün  milletimiz, ecdadımız ve geleceğimiz övünmektedir. 2020'de terör örgütü PKK'nın  adını, cismini, ismini, tarihten bir silin de şu Muş Ovası, şu Şenyayla,  tarihimizin bize emanet ettiği Malazgirt tekrar şenlensin, yeni bir tarihe yine  ismini kazımış olsun."
Soylu, daha sonra AK Parti Muş İl Başkanlığı Danışma Meclisi  toplantısına katılmak üzere üs bölgesinden ayrıldı.
18.
a. Irkçı liderden yeni provokasyon! Hz. Muhammed karikatürü yarışması düzenledi
Hollanda'da aşırı sağcı

Özgürlük Partisi

(PVV) lideri Geert Wilders İslam karşıtı hamlelerine bir yenisini daha ekledi. Wilders,

Hz. Muhammed konulu bir karikatür yarışması düzenleyerek kazananı sosyal medya hesabı üzerinden duyurdu

.
b.
KKTC'den GKRY'ye rest: Kabul edilemez
Kuzey Kıbrıs Türk Cumhuriyeti (KKTC) Başbakanı Ersin Tatar, Güney Kıbrıs Rum Yönetimi'nin (GKRY) darbeci General Halife Hafter yönetimi ile iş birliği içinde bulunmasının kabul edilemez bir tutum olduğunu bildirdi

.
20.
Στην Κίναρο ο Αλκιβιάδης Στεφανής – Επισκέφτηκε την κυρά Ρηνιώ, τη μοναδική κάτοικο του νησιού
ΣΤΟΧΟΣ – 28 Δεκεμβρίου
Ο Αλκιβιάδης Στεφανής αντάλλαξε ευχές , ενόψει της Πρωτοχρονιάς, με τη μοναδική κάτοικο του νησιού την κυρά Ρηνιώ και το πλήρωμα του πλοίου που εκτελεί χρέη «φυλακής σκοπούντος» στο Βόρειο Αιγαίο.
Τον Αλκιβιάδη Στεφανή υποδέχθηκε στη φρεγάτα ο Αρχηγός Στόλου αντιναύαρχος Στυλιανός Πετράκης.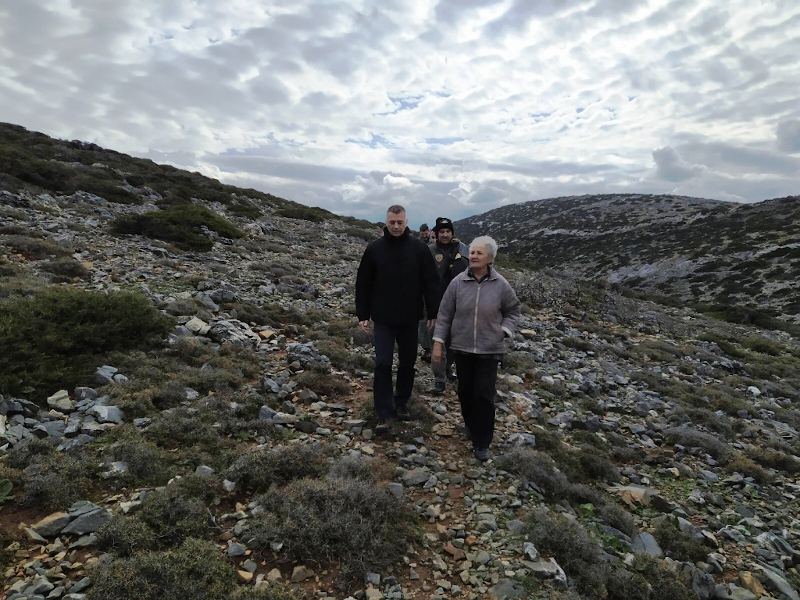 21.

ΑΤΕΛΕΙΩΤΟ ΜΙΣΟΣ ΚΑΤΑ ΤΩΝ ΕΒΡΑΙΩΝ

!..
Κε ΤΡΑΜΠ ΠΟΥ ΕΙΣΑΙ; ΘΑ ΚΑΝΕΙΣ ΤΙΠΟΤΑ ή ΘΑ ΣΚΟΤΩΝΟΝΤΑΙ ΣΑΝ ΤΑ ΚΟΤΟΠΟΥΛΑ ΟΙ ΕΒΡΑΙΟΙ ΚΑΙ ΤΟΝ 21ο ΑΙ., ΑΠΛΑ ΚΑΙ ΜΟΝΟΝ ΕΠΕΙΔΗ ΓΕΝΝΗΘΗΚΑΝ ΕΒΡΑΙΟΙ; 
ΕΣΕΙΣ ΟΙ ΜΕΓΑΛΟΙ ΤΟΥ ΚΟΣΜΟΥ ΑΡΙΣΤΕΡΟΙ "ΔΗΜΟΚΡΑΤΕΣ" – ΤΑΧΑ ΜΟΥ- ΠΟΥ ΕΙΣΤΕ ΑΛΗΘΕΙΑ;
Π-Θγέ ΝΕΤΑΝΙΑΧΟΥ ΤΙ ΓΙΝΕΤΑΙ;
Ο ΘΕΟΣ ΝΑ ΑΝΑΠΑΥΣΕΙ ΤΙΣ ΨΥΧΕΣ ΤΩΝ ΑΔΙΚΟΧΑΜΕΝΩΝ ΑΥΤΩΝ ΑΝΘΡΩΠΩΝ!..
5 Jews stabbed in brutal attack at NY Chanukah party
Orthodox Jewish men talk to police on Forshay Road in Monsey, N.Y., Dec. 29, 2019, down the street from the scene of a stabbing that occurred late Saturday during a Chanukah celebration. (AP/Allyse Pulliam)
A man attacked at a rabbi's home north of New York City late Saturday, stabbing and wounding several people before fleeing in a vehicle, police said.
By Associated PressA man attacked a Chanukah celebration at a rabbi's home north of New York City late Saturday, stabbing and wounding five people before fleeing in a vehicle, police said.The attack appeared to be the latest in a string targeting Jews in the region, including a massacre at a kosher grocery store in New Jersey earlier this month.

Police said the stabbings happened at around 10:00 p.m. in Monsey, one of several Hudson Valley towns that have seen an influx in large numbers of Hasidic Jews in recent years.

Ramapo Police Chief Brad Weidel said hours later that New York City police had located a vehicle and possible suspect being sought in connection with the stabbing.

New York City Police wouldn't immediately confirm whether anyone was in custody.

Top state officials, including Governor Andrew Cuomo and Attorney General Leticia James, released statements condemning the attack.

Photos and videos posted on Twitter showed a large emergency response with paramedics running and pushing stretchers. A number of police and emergency vehicles could be seen in the images.

The Anti-Defamation League of New York and New Jersey says it's aware of the stabbings and was at the scene in Monsey.

Monsey is about an hour north of New York City.

The Orthodox Jewish Public Affairs Council for the Hudson Valley region tweeted reports that the stabbings took place at the house of a Hasidic rabbi while they were celebrating Hanukkah.

Several state and local officials have described the location of the stabbing as a synagogue. The rabbi's home is next door to a synagogue.

Saturday was the seventh night of Hanukkah.

Aron Kohn, 65, told The New York Times that he was inside the house when the stabbings occurred.

"I was praying for my life," said Kohn, 65. "He started attacking people right away as soon as he came in the door. We didn't have time to react at all."

Cuomo, who called the stabbings a "cowardly act" has directed the State Police hate crimes task force to investigate the attacks.

"Let me be clear: anti-Semitism and bigotry of any kind are repugnant to our values of inclusion and diversity and we have absolutely zero tolerance for such acts of hate," he said in Saturday's statement. "In New York we will always stand up and say with one voice to anyone who wishes to divide and spread fear: you do not represent New York and your actions will not go unpunished."

Weidel said the five people were taken to hospitals for treatment. It is unclear what the extent of their injuries were. Authorities have not provided a motive for the attack.

The stabbings occurred a month after a man was stabbed while walking to a Monsey synagogue. The man required surgery. It's unknown if the person suspected in that stabbing has been arrested.

Jewish communities in the New York City metro area have been troubled following a deadly Dec. 10 shooting rampage at a northern New Jersey kosher market. Six people died in the shooting, including the two killers, a police officer and three people who had been inside the store. New Jersey Attorney General Gurbir Grewal said the attack was driven by hatred of Jews and law enforcement.

Around New York City, police have gotten at least six reports this week — and eight since Dec. 13 — of attacks possibly propelled by anti-Jewish bias.

Mayor Bill de Blasio said Friday that police presence would increase in Brooklyn neighborhoods with large Jewish populations.

22.

Κε ΜΗΤΣΟΤΑΚΗ! 
ΦΛΩΡΟΣ ΛΕΓΕΤΑΙ Ο ΕΠΟΜΕΝΟΣ Α/ΓΕΣ! ΜΗΝ ΣΕ "ΠΑΡΑΜΥΘΙΑΣΟΥΝ"… ! …
ΕΛΛΗΝΟΠΟΥΛΟ ΔΥΝΑΤΟ, ΒΑΘΥΣ ΓΝΩΣΤΗΣ ΤΩΝ ΘΕΜΑΤΩΝ ΚΑΙ ΜΕ… ΑΝΤΕΡΑ!..
23. Κε Α/ΓΕΝ! Σεβαστέ Κε Τσούνη! Επειδή πραγματικά αξίζεις, σε ενημερώνουμε πως… διάβασε παρακάτω!..
ΠΡΟΣΟΧΗ!
– Πολύ κοντά σου έχεις… "ένστολη", αχαχαχαχαχαχαχα, … μάχιμη"πρακτοράντζα" (με πάρα πολύ υψηλά "πλοκάμια" στην ΝΔ), που πέρασε "ζωάρα" στο ΕΠΝ και τώρα θα υπερασπιστεί του "Ζωτικού μας Χώρου"!.. Έχε λοιπόν παντού "δικούς" σου, αν θες να μ' ακούσεις, ώστε να μην πάμε όλοι μαζί στα… βράχια!..
24.
ΚΕΝΤΡΟ ΑΘΗΝΑΣ…!!!

ΧΡΙΣΤΟΥΓΕΝΝΑ

2019! Τα σώβρακα του Χασάν, η ρόμπα της Εμινέ, η φανέλα του Αχμέτ, Ο Χριστουγεννιάτικος διάκοσμος της Αθήνας…!!!
Στη μεγάλη φωτογραφία βλέπουμε όμορφο χριστουγεννιάτικο στιγμιότυπο από την οδό Χέυδεν, στη Βικτώρια. Τα σώβρακα του Χασάν, η ρόμπα της Εμινέ, ο στηθόδεσμος της Γκιουλμπεγιάζ, η φανέλα του Αχμέτ, οι κάλτσες του Μεχμέτ, το φόρεμα της Εϊσάν, όλα όμορφα απλωμένα, με σχοινιά, από τη μια άκρη του δρόμου στην άλλη….
Τα δεντράκια στολισμένα με λαμπιόνια, ο δήμαρχος, πασιχαρής για τις μυγοπαγίδες του ιδρύματος Ωνάση στη λεωφόρο Βασιλίσσης Σοφίας, περιμένει να περάσει ο καιρός, ώστε να… σιτέψει για τα καλά ο θείος του, ο Κυριάκος, στην πρωθυπουργία και να έρθει η σειρά του να πάρει το πηδάλιο της χώρας στα στιβαρά χεράκια του για να κάνει -δημοσία δαπάνη- ένα άγαλμα του καπετάν Ερμή, του πρωτοπαλίκαρου του Βελουχιώτη, που τόσο εκτιμούσε.
Στη μικρή φωτό, βρισκόμαστε λίγα μέτρα πιο πέρα στον χώρο και λιγουλάκι πιο μετά (περίπου μία ώρα) στον χρόνο. Βλέπουμε έναν κάδο απορριμμάτων που φλέγεται στην οδό Δεριγνύ (περιοχή Βικτώρια), ακριβώς απέναντι από το θέατρο Αθηνά. Οι θεατές έπειτα από το τέλος της παράστασης ίσως να σκέφτηκαν ότι εκτός θεάτρου η φαντασμαγορία της αληθινής ζωής είναι μεγαλύτερη και συγκλονιστικότερη από κάθε παράσταση.
Ληστές, πορτοφολάδες, λαθρομετανάστες που καβγαδίζουν, τοξικομανείς που τρυπιούνται μπροστά στον κόσμο, πόρνες με εκζέματα που πυορροούν και χάσματα μαύρα στις θέσεις όπου θα έπρεπε να βρίσκονται δόντια, πρόσωπα παράξενα και αγριωπά, που φαίνονται λες και είναι δραπέτες από έναν μεταπυρηνικό κόσμο
.
Ιδού τα έργα, τα ενσαρκωμένα οράματα, οι δυνατότητες και οι ικανότητες των πολυδιαφημισμένων Καμίνη και Μπακογιάννη. Αυτοί δεν μένουν στη Βικτώρια, στα Πατήσια, στα Σεπόλια, στην Ομόνοια, στον Άγιο Παντελεήμονα.
Τους ψηφίζουν άτομα που (μάλλον) μένουν εκεί και θέλουν τις περιοχές τους να είναι έτσι. Αποκλείεται να είναι πλανεμένοι τόσες εκατοντάδες χιλιάδες ψηφοφόροι. Όταν είδαν Καμίνη και ενημερώθηκαν για τη σταδιοδρομία του και τις πολιτικές θέσεις του, και βλέπουν και Μπακογιάννη και ακούνε όσα πρεσβεύει, γνωρίζουν τις συνέπειες των επιλογών τους. Απλώς, είχαν την αυταπάτη ότι… αυτές οι συνέπειες δεν θα έφταναν στο κατώφλι τους.
Από τον Παναγιώτη Λιάκο
25. Α ΡΕ "ΣΟΡΟΣ-

ΣΥΡΙΖΟ

–

ΚΟΜΜΟΥΝΑ"

! ΜΙΑ ΖΩΗ

ΨΕΥΤΕΣ

, ΡΕ ΑΝΘΕΛΛΗΝΕΣ!
ΕΜ, ΒΕΒΑΙΑ!.. ΟΙ ΠΑΠΠΟΥΔΕΣ ΤΩΝ ΑΣΤΥΦΥΛΑΚΩΝ ΚΑΙ ΤΩΝ ΧΩΡΟΦΥΛΑΚΩΝ ΣΑΣ "ΠΗΔΗΞΑΝ" ΤΟ 1944 – 1949 ΚΑΙ ΔΕΝ ΣΑΣ ΑΦΗΣΑΝ ΝΑ ΦΕΡΕΤΕ ΣΤΗΝ

ΕΛΛΑΔΑ

ΤΗΝ ΔΙΚΤΑΤΟΡΙΑ ΤΟΥ… ΚΑΡΟΛΟΥ ΜΑΡΞ, ΜΕ ΑΠΟΤΕΛΕΣΜΑ ΝΑ ΜΗΝ ΓΙΝΟΥΜΕ ΑΛΒΑΝΙΑ, ΒΟΥΛΓΑΡΙΑ, ΡΩΣΙΑ, ΚΛΠ, ΚΛΠ, ΚΛΠ! ΑΛΗΤΕΣ! ΜΠΟΡΕΙ ΝΑ ΛΕΓΕΣΤΕ ΑΝΔΡΕΣ ΕΣΕΙΣ ΡΕ;
Διαβάστε!
Να δικαιολογήσει την πράξη του -που αποτελεί και αντικείμενο έρευνας της ίδιας της αστυνομίας εις βάρος του- επιχείρησε ο αστυνομικός ο οποίος το βράδυ της 20ής Οκτωβρίου κατέβρεξε μια γυναίκα με μάνικα έξω από το Α.Τ. Ομόνοιας.
Το θέμα είδε το φως της δημοσιότητας πριν από λίγες ημέρες όταν δημοσιεύτηκε το βίντεο, δείχνει τον αστυνομικό να καταβρέχει μια γυναίκα μπροστά από τη σκοπιά του Αστυνομικού Τμήματος Ομονοίας.
Μιλώντας στον ANT1, ο αστυνομικός κάνει λόγο για διαστρέβλωση των πραγμάτων, αφού όπως είπε προβλήθηκαν λίγα λεπτά από ένα μεγάλο βίντεο.
Υποστήριξε πως η γυναίκα αυτή είναι ναρκομανής, και πως κατέβασε το παντελόνι της και άρχισε να κάνει την ανάγκη της μπροστά στη σκοπιά!..
Έτσι την έβρεξε με τη μάνικα, πράττοντας – όπως αναφέρει – όπως έπρεπε να πράξει.
26.

ΒΑΛΤΕ ΚΑΙ ΑΛΛΟΥΣ… ΦΤΩΧΟ-ΠΥΡΗΝΙΚΟΥΣ, ΑΧΑΧΑΧΑΧΑΧΑ, ΠΑΚΙΣΤΑΝΟΥΣ ΣΤΗΝ

ΕΛΛΑΔΑ

! 
ΠΑΚΙΣΤΑΝ:

«Σε περίπτωση

Ελληνο

–

τουρκικού

πολέμου θα βοηθήσουμε την Άγκυρα» λέει ξεκάθαρα Πακιστανός αναλυτής…!!
Απίστευτα πράγματα δημοσιεύονται σήμερα από έναν σημαντικό "ειδικό" επί γεωπολιτικών θεμάτων, για μια πιθανή περίπτωση ελληνο-τουρκικής αναμέτρησης με αφορμή την κρίση στην Λιβύη, αλλά και την σχεδιαζόμενη αποστολή τουρκικών δυνάμεων στην χώρα αυτή, σύμφωνα με τις χθεσινές δηλώσεις του Ερντογάν.

"Εάν η Τουρκία εισέλθει σε πόλεμο με την Ελλάδα ή αλλού, το Πακιστάν δεν θα καθίσει στο περιθώριο, π.χ. όπως στον ελληνο-τουρκικό πόλεμο στην Κύπρο (1974), όταν το Ισλαμαμπάντ βοήθησε κρυφά την Άγκυρα συμπεριλαμβανομένης της παροχής ανταλλακτικών για τα αεροσκάφη της τουρκικής πολεμικής αεροπορίας (TuAF) εν μέσω εμπάργκο όπλων. Καλύτερα η διπλωματία", μας "προειδοποιεί ο Naveed Ahmad, ένας πακιστανικής καταγωγής ερευνητής δημοσιογράφος και Ακαδημαϊκός, στις εφημερίδες The Guardian, South China Morning Post (Hong Kong) and ISN (Switzerland), Pakistan daily News, daily Zaman and Todays Zaman, και ειδικός ανταποκριτής σε Atlantic Monthly & Foreign Policy καθώς και στο Geo News.
Πρώτοι είχαμε είχαμε αναφέρει οι Τούρκοι ετοιμάζουν πυρετωδώς και αυτοί τον δικό τους αμυντικό άξονα στην περιοχή της Α.Μεσογείου απέναντι σε (Ελλάδα-Αίγυπτο-Κύπρο) με χώρες που έχουν την ίδια θρησκεία και κυρίως συμφέροντα.
Το Πακιστάν φέρεται ότι θα είναι η δεύτερη χώρα σε αυτό το σχέδιο, καθώς Άγκυρα και Ισλαμπαμπάντ ετοιμάζουν μόνιμη παρουσία μονάδων επιφανείας και αεροσκαφών του πακιστανικού ΠΝ στην τουρκική επιχείρηση "Ασπίδα της Μεσογείου", με την οποία ο Ερντογάν ευελπιστεί να υφαρπάξει θαλάσσια οικόπεδα από Ελλάδα και λοιπές χώρες.
"Στο πλαίσιο του τουρκικού σχεδίου εφαρμογής εξωτερικών σχέσεων από την 16-20 Δεκεμβρίου 2019, αντιπροσωπεία της Διοίκησης Ναυτικών Δυνάμεων του Πακιστάν επισκέφθηκε και διερεύνησε τις εγκαταστάσεις στην τουρκική ναυτική βάση της Αλεξανδρέττας, ανακοίνωσε το τουρκικό πολεμικό ναυτικό στην ιστοσελίδα του.
Πληροφορίες αναφέρουν ότι πολύ σύντομα θα δούμε πακιστανικά πολεμικά πλοία στην βάση αυτή, με την οποία οι Τούρκοι ελέγχουν την Α.Μεσόγειο. pentapostagma.gr
"GRAND-E" ΣΧΟΛΙΟ ΓΙΑ… ΣΧΟΛΙΑΣΜΟ:
ΟΤΑΝ, … "ΕΝ ΑΙΘΡΙΑ" ΑΚΟΜΑ (ΕΔΩ ΚΑΙ 2 ΧΡΟΝΙΑ ΣΤΑ "ΓΕΜΑΤΑ"), ΓΡΑΦΑΜΕ ΕΔΩ, ΓΙΑ ΤΗΝ Τ-ΠΑΚΙΣΤΑΝΙΚΗ ΣΥΝΕΡΓΑΣΙΑ, ΚΥΡΙΩΣ ΜΕΤΑ ΤΟ 2016, ΚΑΠΟΙΟΙ "ΚΟΝΟΜΗΜΕΝΟΙ" "ΓΝΩΣΤΟΙ – ΑΓΝΩΣΤΟΙ" "ΕΠΕΣΑΝ ΝΑ ΜΑΣ ΦΑΝΕ", ΑΚΟΜΑ ΚΑΙ ΜΕ… ΣΥΚΟΦΑΝΤΙΕΣ, ΠΟΥ ΕΙΝΑΙ ΤΟ ΚΥΡΙΟΤΕΡΟ ΟΠΛΟ ΤΟΥΣ, ΜΕΤΑ ΤΑ "ΚΟΝΕ" ΤΟΥΣ!
ΕΙΝΑΙ ΟΙ ΙΔΙΟΙ ΑΣΧΕΤΟΙ ΚΑΙ ΑΝΙΣΤΟΡΗΤΟΙ [ΠΟΥ ΑΝ ΔΕΝ ΕΙΝΑΙ ΕΜΜΙΣΘΟΙ ("ΕΝΣΤΟΛΟΙ" ΚΑΙ ΜΗ) ΠΡΑΚΤΟΡΕΣ ΞΕΝΩΝ ΔΥΝΑΜΕΩΝ, ΕΙΝΑΙ ΠΟΛΛΑΠΛΩΣ ΕΠΙΚΙΝΔΥΝΟΙ ΛΟΓΩ ΗΛΙΘΙΟΤΗΤΟΣ, ΓΙΑ ΤΗΝ

ΕΘΝΙΚΗ

ΜΑΣ ΑΣΦΑΛΕΙΑ], ΠΟΥ ΕΛΕΓΑΝ ΤΑ ΙΔΙΑ, ΔΗΛΑΔΗ "ΤΙ ΜΑΛΑΚΙΕΣ ΓΡΑΦΕΙ ΑΥΤΟΣ Ο ΓΡΑΦΙΚΟΣ, ΚΛΠ, ΚΛΠ", ΟΤΑΝ ΛΕΓΑΜΕ ΑΠΟ ΤΟ 2010 ΟΤΙ ΟΙ ΙΣΡΑΗΛΙΝΟΙ ΘΑ ΠΕΡΑΣΟΥΝ ΑΠΟ ΤΗΝ

ΕΛΛΑΔΑ (ΚΡΗΤΗ – ΑΙΓΑΙΟ)

ΤΟΥΣ ΑΓΩΓΟΥΣ ΤΟΥΣ, ΚΛΠ, ΚΛΠ, ΚΛΠ, ΕΝΩ ΑΥΤΟΙ ΕΓΡΑΦΑΝ ΚΑΙ ΤΟΝΙΖΑΝ ΜΑΛΙΣΤΑ ΟΤΙ ΟΙ Ι/ΑΓΩΓΟΙ ΘΑ ΠΕΡΑΣΟΥΝ ΑΠΟ ΤΗΝ ΤΟΥΡΚΙΑ, ΚΛΠ, ΚΛΠ, ΚΛΠ! 
ΤΑ ΙΔΙΑ ΕΛΕΓΑΝ ΚΑΙ ΓΙΑ ΑΛΛΑ ΘΕΜΑΤΑ ΠΟΥ Ο "ΑΡΧΑΓΓΕΛΟΣ" ΕΙΧΕ ΜΕ ΤΟ… 45ΑΡΙ ΤΟΥ ΣΤΟΧΕΥΣΕΙ ΣΤΟ "ΔΟΞΑ ΠΑΤΡΙ" ΔΙΑΦΟΡΩΝ ΖΗΤΟΥΜΕΝΩΝ ΑΠΑΝΤΗΣΕΩΝ, ΣΕ ΤΕΘΕΝΤΑ ΠΡΟΒΛΗΜΑΤΑ!..
Η ΙΔΙΑ ΚΛΙΚΑ ΠΑΝΤΟΥ, ΑΥΤΗ ΠΟΥ "ΕΛΕΓΧΕΙ" ΤΑ 2/3 ΣΗΜΕΡΑ ΤΩΝ ΕΕΔ, ΑΥΤΗ ΠΟΥ ΠΧ ΕΛΕΓΧΕΙ ΤΗΝ… "ΠΡΑΚΤΟΡΑΝΤΖΑ" ΠΟΥ ΓΡΑΦΑΜΕ ΠΙΟ ΠΑΝΩ, ΠΑΡΑ ΤΟΝ ΤΣΟΥΝΗ, Η ΙΔΙΑ ΚΛΙΚΑ ΠΟΥ "ΕΒΓΑΛΕ", ΧΩΡΙΣ ΝΑ ΤΟ.., ΚΑΤΑΛΑΒΕΙ(!), ΚΑΙ ΑΡΚΕΤΑ ΠΟΛΙΤΙΚΟ-ΣΤΡΑΤΙΩΤΙΚΑ ΚΟΜΜΑΤΙΚΑ ΚΑΘΙΚΙΑ ΣΑΝ ΤΟΝ ΤΟΣΚΑ, ΠΟΥ Ο ΜΠΑΛΑΦΑΣ ΕΝΑ ΠΡΩΪ, ΜΑΣ ΕΙΠΕ ΑΠΟ ΤΟΝ "ΣΚΑΪ¨", ΠΩΣ Ο ΤΟΣΚΑΣ, ΟΥΤΕ ΛΙΓΟ -ΠΟΛΥ ΗΤΑΝ "ΑΣΠΑΛΑΚΑΣ" ΤΩΝ ΚΟΜΜΟΥΝΙΣΤΩΝ ΣΤΟΝ ΣΤΡΑΤΟ!.. ΚΑΤΑΛΑΒΑΙΝΕΤΕ!..
ΓΙ' ΑΥΤΟ ΚΑΙ ΕΠΕΙΔΗ ΚΥΡΙΩΣ ΚΙΝΔΥΝΕΥΣΕ Η ΤΣΕΠΗ ΤΟΥΣ, ΚΑΤΕΣΤΡΕΨΑΝ ΜΙΑ ΟΛΟΚΛΗΡΗ "ΟΜΑΔΑ ΜΑΧΗΣ", ΣΚΟΤΩΝΟΝΤΑΣ ΤΟΝ "ΒΛΑΚΑ" 

"ΑΡΧΑΓΓΕΛΟ

"

!..
ΣΚΕΦΤΕΙΤΕ! ΓΙΑΤΙ ΔΕΝ ΑΛΛΑΞΑΝ ΑΚΟΜΑ ΤΟΝ ΕΠΙΚΕΦΑΛΗΣ ΕΠΙΚΟΙΝΩΝΙΩΝ ΤΟΥ Α/ΓΕΕΘΑ, ΑΞΚΟ ΤΩΝ ΔΒ, ΣΣΕ 1985; ΕΙΝΑΙ ΑΡΑΓΕ ΑΝΑΝΤΙΚΑΤΑΣΤΑΤΟΣ, ΔΙΟΤΙ ΚΑΠΟΤΕ ΟΙ ΕΚΠ-ΤΕΣ ΜΑΣ ΕΛΕΓΑΝ ΟΤΙ ΟΙ ΑΝΑΝΤΙΚΑΤΑΣΤΑΤΟΙ ΕΙΝΑΙ ΜΟΝΟΝ ΣΤΑ… Ν/Φ!..
ΚΕ… "ΣΕΚΙΟΥΡΙΤΑ"!  (ΜΕ ΟΛΟ ΤΟΝ ΣΕΒΑΣΜΟ ΣΤΟΝ… ΕΥΓΕΝΗ ΑΥΤΟΝ ΚΛΑΔΟ)!..
"ΒΑΛΕ ΓΕΡΟ ΧΕΡΙ" ΚΑΙ ΣΤΙΣ "ΔΙΚΕΣ" ΣΟΥ ΕΠΙΚΟΙΝΩΝΙΕΣ ΚΑΙ ΕΣΥ, ΚΑΙ ΚΥΡΙΩΣ Σ' ΑΥΤΟΥΣ ΠΟΥ ΠΑΡΑΚΟΛΟΥΘΟΥΝ ΔΙΑ… ΜΗΧΑΝΗΜΑΤΩΝ ΔΙΑΦΟΡΟΥΣ ΣΤΟΧΟΥΣ! ΨΑΞΕ ΤΟΝ ΡΟΛΟ ΚΑΙ ΤΗΝ ΔΡΑΣΗ ΟΛΩΝ ΑΥΤΩΝ, ΑΦΟΥ ΟΙ 9 ΣΤΙΣ 10 ΠΛΗΡΟΦΟΡΙΕΣ ΠΡΟΕΡΧΟΝΤΑΙ ΑΠΟ ΠΑΡΑΚΟΛΟΥΘΗΣΕΙΣ ΟΛΟΥ ΑΥΤΟΥ ΤΟΥ… "ΥΛΙΚΟΥ" ΠΟΥ "ΒΓΑΙΝΕΙ ΣΤΟΝ ΑΕΡΑ"… ΚΑΤΑΛΑΒΑΙΝΕΙΣ, ΔΙΟΤΙ ΠΟΛΛΟΙ ΕΚΕΙ ΜΕΣΑ ΕΧΟΥΝ ΕΞΑΡΤΗΣΕΙΣ ΚΑΙ ΚΕΡΔΙΖΟΥΝ ΠΟΛΛΑ ΕΞΩ-ΥΠΗΡΕΣΙΑΚΑ ΧΡΗΜΑΤΑ! (ΘΑ ΜΟΥ ΠΕΙΣ ΟΤΙ "ΕΔΩ ΕΧΕΙ ΔΙΑΛΥΘΕΙ ΤΟ ΣΥΜΠΑΝ", ΚΛΠ)!.. ΟΚ! ΣΥΜΦΩΝΩ! ΑΛΛΑ ΝΑ ΞΕΚΙΝΗΣΕΙΣ ΑΠ' ΑΥΤΟΥΣ ΚΑΙ… ΓΙΑ ΝΑ ΕΠΙΜΕΝΕΙ Ο ΜΗΤΣΟΤΑΚΗΣ ΣΕ ΕΣΕΝΑ, ΔΕΝ ΜΠΟΡΕΙ ΝΑ ΕΙΝΑΙ ΜΟΝΟΝ ΕΠΕΙΔΗ, ΠΙΘΑΝΩΣ, ΤΟΝ ΔΙΕΤΑΞΕ Ο ΠΑϊΑΤ, ΑΛΛΑ ΚΑΙ ΔΙΟΤΙ ΠΡΟΦΑΝΩΣ ΘΑ "ΑΞΙΖΕΙΣ"!.. ΕΚΤΙΜΩ ΤΟΥΛΑΧΙΣΤΟΝ!..
ΚΑΙ ΚΑΤΙ ΑΚΟΜΑ!
"ΑΚΟΥΕ" ΟΛΟΥΣ ΤΟΥΣ ΥΨΗΛΑ ΙΣΤΑΜΕΝΟΥΣ ΣΕ ΥΠΑΜ ΚΑΙ ΣΤΑ 4 ΕΠΙΣΗΣ ΕΚΕΙ ΕΠΙΤΕΛΕΙΑ, ΚΑΘΩΣ ΚΑΙ ΤΑ "ΚΟΝΤΙΝΑ" ΤΟΥΣ ΤΣΙΡΑΚΙΑ
!.. ΑΣΕ ΤΑ…
"ΘΥΜΑΤΑ"

*
, ΚΑΙ ΑΣΧΟΛΗΣΟΥ ΜΕ ΤΟΥΣ… "ΚΑΡΧΑΡΙΕΣ", ΠΟΥ ΟΣΟ ΕΥΚΟΛΑ ΚΑΤΑΣΤΡΕΦΟΥΝ ΑΤΟΜΑ, ΣΥΝΑΔΕΛΦΟΥΣ ΤΟΥΣ, ΟΙΚΟΓΕΝΕΙΕΣ, ΚΛΠ, ΠΟΛΥ ΕΥΚΟΛΑ ΘΑ ΑΠΕΚΔΥΘΟΥΝ ΚΑΠΟΙΑ ΣΤΙΓΜΗ ΤΗΝ ΕΥΘΥΝΗ ΤΟΥΣ, ΑΝ ΗΤΤΗΘΟΥΜΕ ΚΑΙ ΠΑΛΙ ΑΠΟ ΤΟΥΣ… ΤΖΙΧΑΝΤΙΣΤΕΣ ΤΩΝ ΤΕΔ! (ΕΙΘΕ ΟΧΙ)!..
ΤΟ 2010, ΜΟΛΙΣ Ο ΤΟΤΕ ΑΚΟΜΑ ΖΩΝ "ΑΡΧΑΓΓΕΛΟΣ" ΕΙΧΕ ΔΙΑΠΙΣΤΩΣΕΙ ΟΤΙ ΠΑΡΑΚΟΛΟΥΘΕΙΤΟ Ο ΧΩΡΟΣ ΤΩΝ "ΠΛΗΡΟΦΟΡΙΩΝ" ΣΤΟ ΓΕΕΘΑ (ΘΑ ΜΠΟΡΟΥΣΕ ΝΑ ΕΙΝΑΙ ΜΙΑ ΑΝΑΛΟΓΗ ΠΕΡΙΠΤΩΣΗ… ΣΕΜΠΑΧΑΤΤΙΝ ΙΣΙΚ ΚΟΣΑΝΕΡ), ΤΟΝ "ΕΚΠΑΡΑΘΥΡΩΣΑΝ", ΕΝΤΟΣ ΜΙΚΡΟΥ ΧΡΟΝΙΚΟΥ ΔΙΑΣΤΗΜΑΤΟΣ, ΜΕΤΑ ΦΥΣΙΚΑ ΚΑΙ ΑΠΟ ΤΗΝ ΕΠΕΜΒΑΣΗ ΤΟΥ ΓΝΩΣΤΟΥ  ΑΞΚΟΥ, ΑΠΟΚΑΛΟΥΜΕΝΟΥ "ΕΝΔΡΟΜΙΔΑ", Ο ΟΠΟΙΟΣ ΛΕΓΟΤΑΝ ΕΤΣΙ, ΔΙΟΤΙ ΔΕΝ ΕΙΧΕ ΦΟΡΕΣΕΙ ΠΟΤΕ ΑΡΒΥΛΟ ΣΤΗΝ… ΚΑΡΙΕΡΑ ΤΟΥ!.. (ΕΙΧΕ ΕΡΘΕΙ ΝΑ ΕΝΔΙΑΦΕΡΘΕΙ ΓΙΑ ΑΞΚΟ ΠΑΤΡΙΩΤΗ ΚΑΙ ΝΟΜΙΖΩ ΚΑΙ ΣΥΓΓΕΝΗ ΤΟΥ)!..
*
ΟΤΑΝ ΗΤΑΝ Ο… ΓΝΩΣΤΟΣ ΑΞΚΟΣ ΚΑΤΣΟΥΛΗΣ… ΥΠΑΣΠΙΣΤΗΣ ΑΡΚΕΤΩΝ ΑΡΧΗΓΩΝ, ΚΑΠΟΤΕ, ΤΗΣ ΥΠΗΡΕΣΙΑΣ ΠΟΥ ΣΗΜΕΡΑ ΔΙΟΙΚΕΙΣ ΕΛΕΩ "ΠΑΪΑΤ" (ΔΕΝ ΞΕΡΩ ΑΝ ΕΧΕΙ ΣΧΕΣΗ ΜΕ ΤΗΝ ΓΝΩΣΤΗ ΧΟΥΝΤΙΚΗ ΟΙΚΟΓΕΝΕΙΑ ΣΤΡ-ΚΩΝ ΜΕ ΤΟ ΙΔΙΟ ΕΠΩΝΥΜΟ), ΑΞΚΟΣ ΤΩΝ ΔΒ, ΣΠΟΥΔΑΓΜΕΝΟΣ ΤΕΧΝΙΚΑ ΚΑΙ ΣΤΗΝ ΑΓΓΛΙΑ,
"ΕΒΓΑΙΝΑΝ ΠΑΓΑΝΙΑ" "ΔΙΚΟΙ" ΣΑΣ ΚΑΙ ΠΑΡΑΚΟΛΟΥΘΟΥΣΑΝ ΜΕ ΤΗΝ ΕΙΔΙΚΗ… ΚΛΟΥΒΑ (ΑΣ ΤΟ ΓΡΑΨΩ ΕΤΣΙ), ΑΚΟΜΑ ΚΑΙ ΠΩΣ ΕΚΑΝΑΝ ΕΡΩΤΑ ΚΑΠΟΙΟΙ ΣΤΟΧΟΙ, ΚΥΡΙΩΣ ΚΡΙΘΕΝΤΕΣ ΕΠΙΚΙΝΔΥΝΟΙ ΓΙΑ ΤΟ ΚΑΘΕΣΤΩΣ, ΚΑΙ ΟΧΙ ΓΙΑ ΤΗΝ ΕΘΝΙΚΗ ΑΣΦΑΛΕΙΑ
! ΕΒΑΖΑΝ ΜΠΡΟΣΤΑ ΤΟ ΠΡΟΣΧΗΜΑ, ΤΟΥ ΑΝ Ο ΠΑΡΑΚΟΛΟΥΘΟΥΜΕΝΟΣ ΗΤΑΝ / ΕΙΝΑΙ ή ΟΧΙ "ΔΗΜΟΚΡΑΤΗΣ" ΚΑΙ ΤΟΝ "ΞΕΣΚΙΖΑΝ", ΓΙΑ ΔΙΑΦΟΡΕΤΙΚΟΥΣ ΠΑΝΤΑ ΛΟΓΟΥΣ, ΟΝΤΑΣ ΟΙ ΙΔΙΟΙ ΟΙ ΜΕΓΑΛΥΤΕΡΟΙ ΥΠΑΡΞΑΝΤΕΣ ΧΟΥΝΤΑΙΟΙ ΚΑΙ ΒΡΩΜΕΡΟΙ ΠΑΛΙΑΝΘΡΩΠΟΙ, ΑΡΟΥΡΑΙΟΙ ΤΩΝ ΥΠΟΝΟΜΩΝ!..
ΓΙΑ ΔΕΣ ΛΟΙΠΟΝ, ΜΗΠΩΣ ΚΑΙ ΤΩΡΑ ΚΑΝΟΥΝ ΚΑΤΙ ΑΝΑΛΟΓΟ, ΚΑΠΟΙΟΙ ΕΚΕΙ ΜΕΣΑ ΠΟΥ ΕΙΣΑΙ, ΔΙΟΤΙ ΕΤΣΙ ΠΙΣΤΕΥΩ! 
ΑΝ ΥΠΑΡΧΟΥΝ (ΚΑΙ ΥΠΑΡΧΟΥΝ) ΠΑΤΡΙΩΤΕΣ "ΕΞΩ" ΚΕ ΑΡΧΗΓΕ ΚΑΙ ΣΤΟΥΣ ΕΧΟΥΝ ΠΑΡΟΥΣΙΑΣΕΙ ΩΣ… ΕΠΙΚΙΝΔΥΝΟΥΣ ΣΤΟΧΟΥΣ, ΠΡΟΣΤΑΤΕΨΕ ΤΟΥΣ, ΟΠΟΥ ΚΑΙ ΝΑ ΑΝΗΚΟΥΝ ΠΟΛΙΤΙΚΑ (ΘΕΟΣ ΔΕΝ ΕΙΝΑΙ ΑΣΦΑΛΩΣ ΚΑΝΕΙΣ) ΚΑΙ ΒΑΛΛΕ ΤΟΥΣ ΕΙΔΙΚΟΥΣ ΑΥΤΟΥΣ "ΑΝΘΡΩΠΟΥΣ" ΣΟΥ ΝΑ ΑΣΧΟΛΗΘΟΥΝ ΠΡΑΓΜΑΤΙΚΑ ΜΕ ΤΗΝ ΕΘΝΙΚΗ ΑΣΦΑΛΕΙΑ, ΔΙΟΤΙ ΕΧΟΥΜΕ ΚΑΤΑΝΤΗΣΕΙ "ΚΟΛΟΣ ΥΠΗΡΕΣΙΑΣ" ΠΙΑ, Η ΕΛΛΑΔΙΤΣΑ "ΤΕΛΕΙΩΝΕΙ" ΚΑΙ ΚΑΠΟΙΟΙ ΚΑΙ(!!!) ΕΚΕΙ ΟΠΟΥ ΥΠΗΡΕΤΕΙΣ ΚΑΝΟΥΝ "ΠΑΡΤΙ", ΕΝΩ ΚΑΛΑ ΟΛΟΙ ΟΙ ΑΛΛΟΙ, ΑΛΛΑ ΝΑ ΓΕΛΑΕΙ ΜΑΖΙ ΜΑΣ ΚΑΙ Ο ΧΑΚΑΝ-ούλης ΔΕΝ ΜΟΥ ΚΑΘΕΤΑΙ ΚΑΛΑ ΡΕ ΣΥ ΦΙΛΕ!..
ΤΙ ΛΕΣ ΚΑΙ ΕΣΥ;
ΜΕ ΤΗΝ ΕΥΚΑΙΡΙΑ ΜΠΕΣ ΣΕ ΚΑΠΟΙΟΝ "ΔΙΚΟ" ΣΟΥ ΝΑ ΜΠΕΙ ΣΤΟ "ACADEMIA", ΣΤΟ ΔΙΑΔΙΚΤΥΟ ΚΑΙ ΝΑ ΒΡΕΙ ΚΑΙ ΝΑ ΣΟΥ ΦΕΡΕΙ ΤΗΝ ΕΡΓΑΣΙΑ ΠΟΥ "ΚΥΚΛΟΦΟΡΕΙ" ΩΣ ΠΕΡΙΠΟΥ ΣΥΓΧΡΟΝΕΣ "ΑΝΑΓΚΕΣ ΓΙΑ ΤΙΣ ΤΟΥΡΚΙΚΕΣ ΥΠΗΡΕΣΙΕΣ ΠΛΗΡΟΦΟΡΙΩΝ" ΚΑΙ ΖΗΤΑ ΝΑ ΔΙΑΒΑΣΕΙΣ ΓΙΑ ΤΙΣ ΣΤΡΑΤΙΩΤΙΚΕΣ ΕΤΑΙΡΕΙΕΣ ΠΟΥ ΤΙΣ ΥΠΗΡΕΤΟΥΝ!
ΜΕΤΑ ΨΑΞΕ ΝΑ ΔΕΙΣ ΑΝ ΕΧΟΥΝ ΜΠΕΙ ΤΕΤΟΙΕΣ ΟΜΑΔΕΣ ΗΔΗ ΣΤΗΝ ΧΩΡΑ ΚΑΙ ΚΥΡΙΩΣ ΣΕ ΑΘΗΝΑ – ΘΕΣΣΑΛΟΝΙΚΗ – Δ. ΘΡΑΚΗ ("ΕΛΕΥΘΕΡΗ ΘΡΑΚΗ")! ΕΧΟΥΝ ΜΠΕΙ, ΓΙΑ ΝΑ ΜΗΝ ΚΟΥΡΑΖΕΣΑΙ!.. ΒΑΛΕ ΝΑ ΤΟΥΣ ΒΡΟΥΝ ΑΜΕΣΑ! ΔΕΝ ΕΙΝΑΙ ΚΑΙ ΔΥΣΚΟΛΟ!..
ΤΕΛΟΣ, ΜΕ ΠΟΛΥ ΣΕΒΑΣΜΟ ΚΑΙ ΣΕ ΕΣΕΝΑ, ΑΛΛΑ ΚΑΙ
ΣΤΗΝ ΚΑΠΟΤΕ ΠΟΛΥ ΣΟΒΑΡΗ ΘΕΣΗ
ΠΟΥ ΣΗΜΕΡΑ ΚΑΤΕΧΕΙΣ, ΑΚΟΛΟΥΘΗΣΕ
-ΑΦΟΥ ΟΡΓΑΝΩΘΕΙΣ ΒΕΒΑΙΩΣ- ΕΠΙΘΕΤΙΚΗ ΠΟΛΙΤΙΚΗ ΜΕ ΤΟΥΣ ΤΟΥΡΚΟΥΣ ΚΑΙ ΕΝΙΣΧΥΣΕ, ΑΝ ΕΙΣΑΙ ΕΛΛΗΝΑΣ ή ΕΣΤΩ ΚΑΙ ΕΛΛΗΝΑΣ (ΜΕ ΤΟ ΣΥΜΠΑΘΙΟ), ΤΟ

ΕΘΝΙΚΟ

ΚΟΜΜΑΤΙ ΤΗΣ ΥΠΗΡΕΣΙΑΣ
!..
ΥΓ. ΝΟΜΙΖΩ ΟΤΙ ΕΚΤΙΜΑΣ ΤΟΥΣ ΕΥΘΕΙΣ ΚΑΙ ΟΧΙ ΤΙΣ

ΟΧΙΕΣ

!..
27. 
 Anti-Semites Vandalize London with 9-11 Conspiracy Graffiti
Anti-Semites sprayed Stars of David and "911" throughout North London neighborhoods, referencing a bizarre conspiracy theory blaming Jews for the 2001 Islamic terror attacks in the U.S.
London residents woke up Sunday morning to red Stars of David painted on synagogues and Jewish establishments in the Hampstead and Belsize Park neighborhoods.
The graffiti included not only traditionally Jewish symbols, but also "911," which is shorthand for an anti-Semitic conspiracy that blames Jews for perpetrating the September 11, 2001 terror attacks in the U.S., which were in reality the acts of Islamic extremists.
The U.K. is still reeling from an election campaign in which the Labour party was exposed for harboring virulent anti-Semites among its ranks. Party leader Jeremy Corbyn also faced personal accusations of anti-Semitism based on his positions on terrorists who seek the annihilation of the Jewish state.
28.
ΟΙ ΕΛΕΓΧΟΜΕΝΟΙ ΔΙΑΙΤΗΤΕΣ ΤΟΥ ΕΕΛΛΗΝΙΚΟΥ ΠΡΩΤΑΘΛΗΜΑΤΟΣ ΠΗΡΑΝ ΕΝΤΟΛΗ ΑΠΟ ΤΟ ΑΦΕΝΤΙΚΟ ΤΟΥΣ, ΤΟΝ ΣΑΒΒΙΔΗ ΝΑ ΑΠΕΡΓΗΣΟΥΝ!
ΚΑΙ(!) ΑΔΙΚΗΣΑΝ ΤΟΝ ΟΛΥΜΠΙΑΚΟ ΓΙΑ ΑΛΛΗ ΜΙΑ ΦΟΡΑ (ΣΤΟΝ ΒΟΛΟ Η ΤΕΛΕΥΤΑΙΑ) ΚΑΙ(!!!) ΘΕΛΟΥΝ "ΝΑ ΒΓΟΥΝ ΚΑΙ ΑΠΟ ΠΑΝΩ"!
ΓΙΑΤΙ; ΤΙ ΑΚΡΙΒΩΣ ΕΠΑΘΕ Ο… ΕΥΓΕΝΗΣ ΤΟΥΣ ΚΛΑΔΟΣ;
ΕΔΩ ΙΣΧΥΕΙ ΤΟ ΓΝΩΣΤΟ "ΚΑΙ ΚΕΡΑΤΑΣ ΚΑΙ ΔΑΡΜΕΝΟΣ"!..
ΒΡΩΜΙΑΡΗΔΕΣ ΜΙΣΘΑΡΝΟΙ ΡΩΣΟ-ΔΟΥΛΟΙ ΓΙΟΙ ΤΩΝ ΠΙΟ ΜΑΥΡΩΝ ΚΟΡΑΚΩΝ!

ΖΟΥΜΕ

ΑΚΟΜΑ
!..
ΟΙ "ΠΡΕΣΠΕΣ" ΤΕΛΕΙΩΣΑΝ!..
ΚΑΤΑΛΑΒΕΤΕ ΤΟ!..
ΞΕΧΑΣΕΣ, ΑΛΗΘΕΙΑ, ΤΟΝ "ΛΑΓΟ" ΣΑΒΒΙΔΗ, ΠΟΥ ΥΜΝΟΥΣΕ ΤΟΝ

ΤΣΙΠΡΑ

, ΑΠΟΚΑΛΩΝΤΑΣ ΤΟΝ "Ο ΕΛΛΗΝΑΣ ΠΟΥΤΙΝ" ΚΑΙ ΕΛΕΓΕ ΣΥΝΕΧΩΣ, ΣΧΕΔΟΝ ΥΒΡΙΣΤΙΚΑ ΚΑΙ ΣΙΓΟΥΡΑ ΜΕ ΥΠΟΤΙΜΗΤΙΚΟ, ΠΡΟΣ ΕΣΕΝΑ, ΥΦΟΣ ΟΤΙ ΔΕΝ ΠΡΟΚΕΙΤΑΙ ΝΑ ΓΙΝΟΣΟΥΝ ΠΟΤΕ Π-Θ;
-/-