20 ΠΡΟΣΦΑΤΕΣ… ΕΠΙΛΟΓΕΣ!..
Φίλοι μου!
"Σφιχτείτε" και… διαβάστε: (Με καφέ και τα… συναφή λοιπά συνοδευτικά).
1.
EX-CYBER CZAR: MISUSE OF CYBER TECH DOESN'T DISQUALIFY FUTURE SALES
"

All sales are approved by the Defense Ministry

."
DECEMBER 9, 2018
Just because a country has misused cyber technology sold to it by Israel does not necessarily preclude the future sale of advanced cyber tools to that country, former Israel cyber chief Buky Carmeli told "The Jerusalem Post" on Sunday.
With the Jamal Khashoggi affair still fresh, Carmeli was adamant that he was not addressing any specific case or country, but was speaking solely about the broader strategic and ethics issue.
With so much anger in the West directed at the Saudis' killing of Khashoggi, how would Carmeli even generally defend the idea of selling additional cyber technology to a state which has previously misused such tools?
Carmeli said that in 2015-2016, when then-FBI Director James Comey discussed the use of advanced cyber tools at a joint counterterrorism meeting, Comey advocated that in today's day and age "

if you want the government to fulfill its obligations to defend the public against terror and cartels, there is no choice but to use these [tools]

."
He explained that NSO Group has been around for a while and routinely "gives technology to governments" to fight terrorist groups and drug cartels by hacking their communications.
At the same time, he said that adversaries to

Israel

and to

Western countries

"are moving forward in the cyber area" and that private-sector allies, like NSO Group, are crucial to stay ahead of them.
Regarding the process for which NSO Group uses to decide whether to sell its cyber technologies to foreign countries, he said that not a single sale goes through without approval from the Defense Ministry.
This obviously means that NSO Group cyber sales only go through if they fit into the Israeli government's national security concept.
While Carmeli vehemently refused to address diplomatic concerns generally or with regard to Saudi Arabia, it is not hard to imagine that the government viewed selling cyber tools to the Saudis as a way to deepen positive relations between the countries.
On Sunday, there were unconfirmed reports that Prime Minister Benjamin Netanyahu is hoping to press toward normalization with the Saudis. It is not hard to imagine that the NSO Group cyber deal would have been perceived as an important segment in the normalization push.
Do the ends justify the means? Is it morally justified to sell such cyber technology to the Saudis knowing how far they might go in misusing it?
Again, Carmeli refused to address the Saudis specifically, but taking on the general question, he tossed out two metaphors.
He remarked that a company that produces scissors intends them as a technical solution for building something or art.
Yet, they can and have been misused as a weapon.
The same is true about gloves, which he said can be used for protection, but can also be used by a criminal to cover up their fingerprints to avoid being traced and caught.
He said that NSO Group goes beyond the Defense Ministry's legal requirements and also has an ethics panel with outside international experts approve all deals.
The panel looks solely at the ethics issues, as opposed to the Defense Ministry, which may consider a variety of geopolitical considerations.
In other words, he was saying that it is impossible to know whether a foreign country will misuse cyber tools and violate promises it made in that regard, but that NSO Group takes the issue seriously.
Even regarding the future, he was extremely hesitant to disqualify a country that has already misused such cyber technologies in a limited number of instances, if they have overwhelmingly used the tool properly to fight terrorism.
Carmeli asks: Would you rather a country be an ally in the global war against terrorist groups and enemy states, even if it misuses the technology on rare occasions, or that the country do less fighting against terrorism and common enemies, while still getting cyber abilities from others to put down internal dissent?
Carmeli added that some countries are going to violently put down internal dissent no matter what.
Coverage of the Khashoggi affair has suggested that the US, Italy, the UAE and possibly others have also helped the Saudis in the cyber arena.
With that as a given, Carmeli said that you can then benefit from helping them with positive uses of cyber power or lose that opportunity.
Critics might say that they would still rather their country's technology not be the one being used to purge internal dissent.
So should Israel continue to approve NSO Group or others selling cyber tools to the Saudis after they allegedly used the technology to hack Khashoggi's communications as part of an eventual plan to kill him?
Whatever the philosophical answer is, Carmeli suggested ideas that could be a basis for continuing to sell and Netanyahu's silence during the Khashoggi affair suggests that he will not allow it to derail his broader plans for Israeli-Saudi alignment in cyber and other arenas.
2.
US Accuses Russia, Syria of Fabricating Story of Chemical Weapons Use
By VOA News December 07, 2018
The United States has accused Russia and Syria of fabricating a story about chemical weapons use by Syrian rebels.
The United States said Friday it had "credible information" that the account by Russia of chemical weapons use in Syria in November was false and said that Russian and Syrian forces instead had fired tear gas, State Department spokesman Robert Palladino said.
Russia's defense ministry had said on Nov. 24 that Syrian rebels fired grenades containing chlorine near the government-held city of Aleppo. Syrian state media also reported the account, saying that about 100 Syrians were hospitalized with breathing difficulties.
However, Palladino accused Russia and Syria of creating the false report as "an opportunity to undermine confidence in the cease-fire in Idlib," the last stronghold of rebels fighting Syrian President Bashar al-Assad.
Russia responded to the purported attack with air raids on Idlib.
"We caution Russia and the regime against tampering with the suspected attack site and urge them to secure the safety of impartial, independent inspectors so that those responsible can be held accountable," he said.
Palladino said that the United States is concerned that Syrian officials have maintained control of the site to "potentially fabricate samples and contaminate the site before a proper investigation of it by the Organization for the Prohibition of Chemical Weapons."
The United States, the United Nations and other Western governments have repeatedly accused Assad's forces of using chemical weapons over the last several years. Syria's government has denied the charges and has blamed the attacks on rebels.
3.
U.S. Says Russia Must Scrap Or Modify Novator Missile System To Comply With INF
By RFE/RL December 07, 2018
WASHINGTON — Russia must scrap its "Novator 9M729" missile systems and launchers or reduce their range to comply with the Intermediate-Range Nuclear Forces Treaty (INF) and prevent a U.S. withdrawal from the Cold War-era pact, U.S. officials say.
Andrea Thompson, the undersecretary of state for arms control and international security, on December 6 told reporters on a teleconference call that the weapons system has a range that is not in compliance with the 1987 INF pact.
She added that Moscow must "rid the system, rid the launcher, or change the system so it doesn't exceed the range" to bring Russia back "to full and verifiable compliance."
"The ball's in Russia's court. We can't do that for them. They have to take the initiative," she added.
President Donald Trump announced in October that the United States would abandon the INF, citing alleged Russian violation and concerns that the bilateral treaty binds Washington to restrictions while leaving nuclear-armed countries that are not signatories, such as China, free to develop and deploy the missiles.
U.S. officials have said Russia's deployment of the 9M729, also known as the SSC-8, breaches the ban on ground-launched cruise and ballistic missiles with a range of 500 to 5,500 kilometers.
On December 4, the United States said it would suspend its obligations under the treaty if Moscow did not return to compliance within two months.
Secretary of State Mike Pompeo announced the decision after NATO allies meeting in Brussels "strongly" supported U.S. accusations that Russia violated the terms of the INF.
"During this 60 days, we will still not test or produce or deploy any systems, and we'll see what happens during this 60-day period," Pompeo said.
Russian officials have repeatedly dismissed such demands, and President Vladimir Putin gave no indication that Russia plans to abandon the 9M729, which it claims does not violate the treaty.
Moscow has alleged that some elements of U.S. missile-defense systems in Europe were in violation of the treaty, which Washington denies.
The U.S. ambassador to Moscow, Jon Huntsman, who was on the briefing call with Thompson, insisted that a U.S. withdrawal from the INF did not mean "we are walking away from arms control."
"We are doing this to preserve the viability and integrity of arms control agreements more broadly," he said.
"We remain committed to arms control, but we need a reliable partner and do not have one in Russia on INF, or for that matter on other treaties that it's violating."
He said "one can only surmise" that Moscow is attempting to "somehow seek an advantage" with the missile – "a little bit like violations we're seeing with other treaties, whether it's the Open Skies Treaty or whether it's the Chemical Weapons Convention."
With reporting by Reuters
Source: 
https: // www.rferl.org/a/us-russia-inf-treaty-novator-missile-huntsman-trump/29642398.html
4.
U.S. Backs Kosovo's Plan To Create Army, Says Process Will Take 'Many Years.'
By RFE/RL's Balkan Service December 06, 2018
The United States has backed Kosovo's moves toward establishing a regular army, but it tried to reassure those opposed to the action by insisting the process will take "many years."
The U.S. ambassador to Pristina, Philip Kosnett, made the comments in an interview with RTK television on December 6, eight days before the Kosovar parliament is set to vote on whether to transform the Balkan country's lightly armed security force into a national army.
The U.S. comments came hours after NATO Secretary-General Jens Stoltenberg stressed that said Kosovo's plan was "ill-timed" and goes "against the advice of many NATO allies."
Belgrade and ethnic Serbs in the Kosovo have vehemently opposed the creation of a Kosovar military, saying it would violate UN resolutions and be used against the country's Serb minority — a claim denied by officials in Pristina.
Kosnett said that "it is only natural for Kosovo as a sovereign, independent country to have a self-defense capability."
"Some people in neighboring countries have fixated on a certain date that is coming up very soon and have expressed concerns that the evolution of the [Kosovo Security Force, or KSF] into the Armed Forces could have negative implications for security," the ambassador said.
"What I will say about that is: this is a process that will take many years. That Kosovo has every reason, every right to have a self–defense capability," he added.
"Whether they pass this law or change the patches on their shoulders of the personnel on a certain date, is not the most important thing," Kosnett insisted.
What is important is that it will be a "long, sustainable, and multiethnic" process that involves ethnic Serbs and members of other communities, he added.
Kosnett also called for dialogue between Kosovo and Serbia, saying that "it is important for people in both countries to understand the perspective of the other side."
"Because when you are not communicating, all sorts of fears will rise to the surface and people always fear what they do not understand," the ambassador added.
Relations between Pristina and Belgrade have been tense since Kosovo declared independence from Serbia in 2008.
Although more than 110 countries recognize Kosovo, Serbia does not.
Both Kosovo and Serbia have been told they must resolve their differences in order to make progress toward EU membership, but EU-sponsored normalization talks have been stop-and-go in recent months.
Stoltenberg said he had called Kosovar and Serbian leaders on December 6 to underlined that both countries should "show calm and restraint, and avoid any provocative statements or actions."
Stoltenberg said in a statement that he had told Kosovar Prime Minister Ramush Haradinaj that Pristina's plan to transform the KSF into an army is "ill-timed, goes against the advice of many NATO Allies, and can have negative repercussions on Kosovo's prospects for Euro-Atlantic integration."
"Should the mandate of the Kosovo Security Force evolve, NATO will have to examine the level of our engagement with the Kosovo Security Force." he warned.
Stoltenberg told President Aleksandar Vucic of Serbia on "the need to deescalate current tensions" and reminded both leaders that the EU-mediated dialogue between Belgrade and Pristina remains "the only way to bring durable peace and stability to the region."
Serbia lost control over Kosovo in 1999 after NATO launched air strikes to stop the killing and expulsion of ethnic Albanians by Serb forces during a two-year counterinsurgency war.
Nearly two decades after the end of the conflict, the landlocked territory of 1.8 million people is still guarded by NATO troops.
The current KSF is a 2,500-strong force trained by NATO and tasked with crisis response, civil protection, and ordinance disposal.
Following his discussion with Stoltenberg, Haradinaj reiterated that his country remained committed to transform the force into a regular army, calling it a "sovereign decision of Kosovo."
The move "contains in itself the vision and will of the citizens of Kosovo to preserve and defend Western values," he wrote on Facebook.
The prime minister said the process will "provide a professional, multiethnic, and credible army serving Kosovo's all citizens of Kosovo."
Meanwhile, Vucic said in a statement he had told Stoltenberg that Kosovo's plan represents a                  danger" for the "survival" of Kosovo's ethnic Serb minority.
Serbia has warned the formation of a Kosovo army could trigger an armed intervention in its former province.
In October, Kosovo's lawmakers gave preliminary approval to legislation expanding the size and competencies of its security force in a session that was boycotted by ethnic Serb representatives.
With reporting by AP
Source: https://www.rferl.org/a/us-backs-kosovo-regular- army-plan-nato-serbia/29641890.html
Copyright (c) 2018. RFE/RL, Inc. Reprinted with the permission of Radio Free Europe/Radio Liberty, 1201 Connecticut Ave., N.W. Washington DC 20036.
5.
Army updates future operating concept.
By Sean Kimmons, Army News Service December 6, 2018
FORT MEADE, Md. — Army leaders have released the latest version of the service's future fighting concept, which focuses on, among other things, possible solutions to counter and defeat layers of stand-off created by adversaries.
"The U.S. Army in Multi-Domain Operations 2028," also referred to as MDO Concept 1.5, further refines the Multi-Domain Battle concept published last year.
The name was changed to better align with sister services and interagency efforts.
In it, the concept asserts that over the years adversaries have studied how the U.S. military operates. Emerging technologies — such as artificial intelligence, hypersonics, machine learning, nanotechnology and robotics — have also changed the character of war.
"The American way of war must evolve and adapt," Chief of Staff of the Army Gen. Mark A. Milley wrote in the foreword of the concept, which was published Thursday.
Though not the final product, Milley noted that MDO Concept 1.5 is the first step in the service's doctrinal evolution.
"It describes how U.S. Army forces, as part of the Joint Force, will militarily compete, penetrate, dis-integrate, and exploit our adversaries in the future," he wrote.
In about a year, Army leaders expect to publish another updated concept using lessons learned from previous exercises. The general also encouraged Soldiers to read and understand the concept now, so that they can provide input.
"Every one of you is part of our evolution and the construction of our future force," he wrote, "and we want your critical feedback."
While the latest concept still revolves around operations in the land, maritime, air, space and cyberspace domains, it provides refined solutions based on experimentation.
A challenge the new concept aims to tackle is layered stand-off, which adversaries can use in those domains to achieve strategic aims without engaging in armed conflict. Those aims, for instance, could be to separate the United States from its partners in the political, military and economic realms.
Deterrence through the "rapid and continuous integration of all domains" is key in overcoming this challenge, according to Gen. Stephen Townsend, commander of Army Training and Doctrine Command.
"If deterrence fails," he wrote in the concept's preface, "Army formations, operating as part of the Joint Force, penetrate and dis-integrate enemy anti-access and area denial systems; exploit the resulting freedom of maneuver to defeat enemy systems, formations and objectives and to achieve our own strategic objectives; and consolidate gains to force a return to competition on terms more favorable to the U.S., our allies and partners."
Army leaders believe they can do this by using three core tenets — calibrated force posture, multi-domain formations, and convergence.
"Calibrated force posture combines position and the ability to maneuver across strategic distances," Townsend wrote. "Multi-domain formations possess the capacity, endurance and capability to access and employ capabilities across all domains to pose multiple and compounding dilemmas on the adversary.
"Convergence achieves the rapid and continuous integration of all domains across time, space and capabilities to overmatch the enemy. Underpinning these tenets are mission command and disciplined initiative at all warfighting echelons."
Based on foundational work by TRADOC and Army Capabilities Integration Center, the Army Futures Command, which was created last year to lead modernization efforts, will implement the concept. It will also work to develop MDO Concept 2.0.
"The Army is refining strategic direction, integrating the Army's future force modernization enterprise, aligning resources to priorities, and maintaining accountability for modernization solutions," said Gen. John Murray, the AFC commander. "We are delivering concepts and capabilities that ensure our Soldiers and formations have overmatch on future battlefields."
The concept will take years to refine as did the Army's previous AirLand Battle concept, which took a decade to finalize.
A Multi-Domain Task Force has already tested in the Pacific theater some new capabilities to defeat an enemy's anti-access and area denial, or A2/AD, system.
Designed to integrate long-range precision fires with an intelligence, cyber, electronic warfare and space detachment, the task force could support, or enable, a new way to fight.
"Given its capability to compete and provide an initial penetration, the MDTF, as a forerunner to other multi-domain formations now in development, is the essential first step to realizing an MDO-capable Army by 2028," the concept states.
The Army has also worked extensively with the Marine Corps and Air Force in the past 18 months to further refine the concept.
TRADOC and the Air Force's Air Combat Command, for instance, teamed up during four multi-service tabletop exercises over the past year.
"What has become clear is that a single-service concept without undergoing a lot of joint or multi-service experimentation probably has little value in the future," said Brig. Gen. Mark Odom, director of ARCIC's Concept Development and Learning Directorate.
As a component of the Army Strategy, Odom said, the concept also attempts to operationalize the National Defense Strategy and National Military Strategy.
The concept is significant for three reasons, he noted.
First, it focuses on solving operational problems that strategic competitors like Russia and China present to the Joint Force.
"This represents a return to a threat-based approach rather than a capabilities-based approach to concept development," he said.
Second, the concept is inherently joint and recognizes the requirement to develop joint solutions from the top-down.
"Our traditional approach of synchronizing federated or service-federated solutions," he said, "will not work against Russia and China in the future."
Lastly, he added, the concept provides a hypothesis to drive experimentation and modernization.
(Editor's note: MDO Concept 1.5 has been published as TRADOC Pamphlet 525-3-1. The full version can be downloaded from the TRADOC homepage at https://www.tradoc.army.mil)
6.
Defence Secretary announces £400m investment for nuclear-armed submarines
Defence Secretary Gavin Williamson has today announced a £400 million funding boost for the Dreadnought programme, as he opened a new training academy and revealed the name of the second Dreadnought submarine.
6 December 2018
The planned funding release, which supports the building phase of the programme, came as the Defence Secretary unveiled a £25 million BAE Systems academy that will upskill employees to work on Royal Navy submarines for the next two decades.
The £400million investment will safeguard more than 8,000 jobs in Barrow and across the UK, which are all supported by the £31billion Dreadnought programme and supply chain.
The announcement was made during the Defence Secretary's visit to BAE Systems' site in Barrow-in-Furness, where he also named the second Dreadnought submarine as HMS Valiant.
Defence Secretary Gavin Williamson said:
"Next year marks half-a-century since British nuclear-armed submarines began patrolling the waters in response to the danger posed by the Cold War – and the world is again facing a raft of intensifying threats."
"This £400m investment will ensure the Dreadnought programme remains on track, so we continue to have a nuclear deterrent at sea for decades to come. Not only does today's news see us safeguard 8,000 jobs right now, but I have also opened a brand new multi-million-pound facility to train Britain's submarine engineers of the future."
The last vessel to carry the name HMS Valiant was the second Royal Navy nuclear-powered submarine.
Launched in 1963, she took part in the Navy's first tactical exercise under the Arctic ice and played an important role in the Falklands War, deterring the Argentine surface fleet from closing the islands.
The latest investment comes after £960 million worth of contracts were announced in May to ramp up the current phase of construction for the UK's four nuclear-armed Dreadnought submarines.
Submarine Delivery Agency Chief Executive Ian Booth said:
"The Academy for Skills and Knowledge is essential in developing the vast range of talent in Barrow and ensures that the workforce is equipped with the best possible tools needed to meet the ever-growing demands placed on the UK's submarine construction industry."
The Submarine Academy for Skills and Knowledge will provide around 2,500 people a month – including 600 apprentices from across industry and the Ministry of Defence – with invaluable skills and training to benefit the work carried out on the Dreadnought and Astute submarine programmes.
Cliff Robson, Managing Director of BAE Systems Submarines, said:
"This is a fantastic facility that will provide a unique environment in which to train our growing workforce. Our investment in skills will not only ensure we have a pipeline of world-class talent available to deliver our complex programmes, but will also positively contribute to the economic prosperity of the region and the UK's engineering industry."
"The new academy will give our current and future workforce access to the very latest in learning and development, demonstrating our lasting commitment not just to our current employees but to those who will join our company in years to come."
Today's funding announcement comes a year after the launch of the Government's Industrial Strategy, which set out a long-term plan to boost the productivity and earning power of people throughout the UK.
It demonstrates how defence is building a Britain fit for the future – how we will help businesses create better, higher-paying jobs in every part of the UK with investment in skills, industries and infrastructure.
7.
If INF Cancelled Russia's Responsive Steps to Target States Housing US Missiles
05.12.2018
MOSCOW (Sputnik) – The activities of the United States, aimed at preserving the predominant role of Washington in the world is one of the main factors deteriorating the international situation, the Chief of the Russian General Staff, Gen. Valery Gerasimov, noted.
If the Intermediate-Range Nuclear Forces (INF) Treaty is cancelled, then Russian responsive measures will target the countries that accommodate US intermediate-range and short-range missiles, the Chief of the Russian General Staff, Gen. Valery Gerasimov, has stated.
The creation of a solid radar field near Russia's borders has been completed, this guarantees the detection of ballistic missiles from all directions, Gerasimov said.
"As military professionals, you should understand that not US territory, but the countries that accommodate US systems of intermediate-range and short-range missiles will become the targets of Russian responsive measures", Gerasimov told foreign military attaches.
US Deteriorating Int'l Situation
"One of the main destructive factors deteriorating the international situation is the activities of the United States aimed at retaining the predominant role of the US in the world and excluding other countries from competition", Gerasimov said.
The chief of the Russian General Staff stressed that for these purposes Washington and its allies are taking measures to contain Russia and discredit its role in international affairs.
The statements come after US Secretary of State Mike Pompeo said during a press conference in Brussels that the United States would suspend its adherence to the INF Treaty in 60 days unless Russia returns to full compliance with the agreement.
Independent Kurdish Formation in Syria
The United States is trying to create a Kurdish quasi-state formation in Syria, which would be independent of Damascus, the chief of the Russian General Staff has noted.
"The situation on the eastern border of the Euphrates is deteriorating. The United States, falling back on Syrian Kurds, is trying to create a quasi-state formation independent from the central government there. They are already forming the government of the so-called Democratic Federation of Northern Syria. Americans support Kurds' separatist aspirations by delivering weapons and military equipment to them, and they are thus allowing Arabic tribes' oppression by Kurds", Gerasimov said.
While Damascus has already regained control over important territories that had been occupied by rebel and terrorist groups during the war, some northeastern Syrian regions are still controlled by the Kurdish-led Syrian Democratic Forces, which includes the Kurdish People's Protection Units (YPG), backed by the United States. Damascus considers its actions illegal.
Convoys Bringing Oil From East Syria to Turkey, Iraq
The Russian intelligence services regularly register convoys transporting oil, moving from eastern Syria to Turkey and Iraq, Valery Gerasimov said in a statement.
"Meanwhile, the funds from the sale of oil products are also being spent on financing terrorists belonging to Daesh*", Gerasimov indicated.
The general went on to say that Daesh militants in Syria are present only east of the Euphrates, in US-controlled territory.
"In December last year, the active phase of the operation to eliminate gangs in Syria was completed. Today, Daesh militants are only east of the Euphrates, on the territory controlled by the United States", Gerasimov said.
He also stressed that so-called "sleeping" cells of the Daesh terrorist organisation have progressed to active operations, have begun expanding their zone of influence.
"The United States is always telling us about some fight against Daesh in the east of Syria. But we are seeing the opposite. 'Sleeping' terrorist cells have become active and as a result, Daesh has begun expanding its zone of influence in the east of the country", Gerasimov said.
The chief of Russia's General Staff added that the terrorists in the west of Syria had been eliminated by the Syrian authorities and special services.
Pentagon Lowered Intensity of NATO Drills Near Russia's Borders During World Cup
The US DoD agreed to decrease the intensify of NATO exercises near Russia's borders during the 2018 FIFA World Cup at Moscow's request, Chief of the Russian General Staff Gen. Valery Gerasimov stated.
"A positive example of such an interaction was the positive reaction of the US Defence Department to [Russia's] request to reduce the intensity of NATO's operational and combat training [exercises] near Russia's borders during the FIFA World Cup," Gerasimov said at a meeting with foreign military attaches.
According to Gerasimov, this was one of the positive examples of Russia-US military cooperation within the framework of agreements preventing maritime and aviation incidents. Russia hosted the championship on June 14 – July 15.
*Daesh (also known as ISIS/ISIL/IS) is a terrorist group banned in Russia
© Sputnik
8.
NATO Chief Warns Kosovo Over 'Ill-Timed' Army Plans
By RFE/RL's Balkan Service December 05, 2018
NATO Secretary-General Jens Stoltenberg has expressed concerns about Kosovo's plans to transform the Balkan country's lightly armed security force into a national army, calling the step "ill-timed."
Stoltenberg made the comments following a meeting of the military alliance's foreign ministers in Brussels on December 5, nine days before the Kosovar parliament is set to vote on whether to create a regular army, a move that the Serbian prime minister has warned trigger Serbia's armed intervention in the former province.
Belgrade and ethnic Serbs in the northern part of Kosovo have vehemently opposed the creation of a Kosovar military, saying it would violate UN resolutions and be used against the country's Serb minority — a claim denied by officials in Pristina.
Tensions between Pristina and Belgrade have also soared after the Kosovo government last month introduced a 100-percent tax on imports from Serbia in retaliation for what it said were the country's efforts to undermine the young republic on the international stage.
Relations between Pristina and Belgrade have been tense since Kosovo declared independence from Serbia in 2008.
Although more than 110 countries recognize Kosovo, Serbia does not.
Both Kosovo and Serbia have been told they must resolve their differences in order to make progress toward EU membership, but EU-sponsored normalization talks have been stop-and-go in recent months.
Speaking at a press conference in Brussels, Stoltenberg said Pristina's moves to transform the Kosovo Security Force (KSF) into an army was "ill-timed, goes against the advice of many NATO Allies, and may have serious repercussions for Kosovo's future Euro-Atlantic integration."
The new tariff introduced by Pristina has created "new divisions," the NATO chief also said, adding that such steps "are making the EU-mediated dialogue between Belgrade and Pristina even more difficult."
Stoltenberg called on both sides "to show restraint, to refrain from provocative steps and statements, and to make the necessary compromises so that they can move forward toward a better future."
In Belgrade, Serbian Prime Minister Ana Brnabic warned that her country "cannot stand aside and watch in silence while someone is conducting new ethnic cleansing" of Serbs.
Brnabic also said Serbia was losing 42 million euros ($48 million) a month because of Kosovo's tariff on Serbian products.
Her warning came a day after President Aleksandar Vucic said that "the irresponsible behavior of Pristina could lead to a catastrophe because Serbia cannot peacefully watch the destruction of the Serbian people."
Kosovar Prime Minister Ramush Hardinaj on December 5 denied as "a pure lie" that the intentions of a new Kosovar army would be to occupy northern Kosovo.
"The army is not for the north. Our army is for Afghanistan and Iraq, to help those countries" in peacekeeping missions, Hardinaj said.
Serbia lost control over Kosovo in 1999 after NATO launched air strikes to stop the killing and expulsion of ethnic Albanians by Serb forces during a two-year counterinsurgency war.
Nearly two decades after the end of the conflict, the landlocked territory of 1.8 million people is still guarded by NATO troops.
The current KSF is a 2,500-strong force trained by NATO and tasked with crisis response, civil protection, and ordinance disposal.
In October, Kosovo's lawmakers gave preliminary approval to legislation expanding the size and competencies of the force in a session that was boycotted by ethnic Serb representatives.
The proposed laws envision the new security force will have 5,000 active soldiers and 3,000 reservists.
Parliament is set to vote again on the proposals on December 14.
With reporting by AP
Source:https://www.rferl.org/a/nato-chief-warns-kosovo-over-ill-timed-army plans/29639529.html
Copyright (c) 2018. RFE/RL, Inc. Reprinted with the permission of Radio Free Europe/Radio Liberty, 1201 Connecticut Ave., N.W. Washington DC 20036.
9. 
NATO Gives Bosnia Green Light To Move Toward Membership
By RFE/RL's Balkan Service December 05, 2018
NATO foreign ministers have agreed to activate the military alliance's program of advice and assistance for Bosnia-Herzegovina, despite Bosnian Serb objections to membership.
Meeting in Brussels on December 5, the ministers invited Bosnia to submit its first annual national program of political, economic, and defense reforms aimed at bringing aspiring countries into line with the alliance's standards.
The move is part of NATO's Membership Action Plan (MAP) process, but it doesn't mean that the ethnically-divided Balkans country will join anytime soon.
And it's unclear whether Sarajevo will accept NATO's invitation.
"We made our decision: we are ready to receive their annual national program. But let them decide and we are ready if they are ready," NATO Secretary-General Jens Stoltenberg told reporters after the Brussels meeting.
The alliance offered a MAP to Bosnia in 2010 but declined to "activate" it until all conditions were met.
The process held up over the registration of immovable defense property at the federal level, with the ethnic Serb-dominated Republika Srpska — one of the two entities that make up Bosnia — opposing the move.
NATO allies have decided to move forward rather than allow the Bosnian Serbs to have a de facto veto over the MAP, but the property must still be registered at a federal level for the MAP process to conclude.
Serb nationalist Milorad Dodik, the current head of the rotating chairmanship of Bosnia's three-part presidency, has long been a vocal opponent of Bosnia's membership in NATO.
Bosnian Muslim presidency member, Sefik Dzaferovic, said in a statement that NATO's invitation will give new impetus for the country to reach one of its "most important foreign policy goals."
Dzaferovic also said he expected Bosnian institutions to "immediately start preparing the annual program of reforms in cooperation with NATO."
That view was also expressed by the ethnic Croat member of the presidency, Zeljko Komisic.
With reporting by AP
Source: https: // www.rferl.org / a / nato – gives – bosnia – green – light – to – move – toward membership / 29639709.html
Copyright (c) 2018. RFE/RL, Inc. Reprinted with the permission of Radio Free Europe/Radio Liberty, 1201 Connecticut Ave., N.W. Washington DC 20036.
10.
Allied Intelligence Chiefs discuss countering cyber-attacks, disinformation

.
29 Nov. 2018 
04 Dec. 2018 
The Heads of Allied Civil and Military, Intelligence and Security Organizations met at NATO Headquarters in Brussels on 29 November 2018 for talks on countering disinformation, cyber-attacks and traditional means of espionage.
The conference was opened by Secretary General Jens Stoltenberg, together with the Romanian Chair of NATO's Civilian Intelligence Committee and the Canadian Chair of the Military Intelligence Committee.
The Allied Intelligence officials endorsed the framework for the establishment of a "NATO Intelligence Academy", and they discussed together with Partner services and the European Union about emerging technologies that have an impact on intelligence and also about NATO – EU cooperation.
"High quality intelligence and analysis are vital to the security of the Alliance", NATO's Assistant Secretary General for Intelligence and Security, Arndt Freytag von Loringhoven, (σας έχουμε γράψει γι΄αυτόν), said after the meeting.
"Today, we face challenges from:
a much more assertive Russia
terrorism and instability in the Middle East.
The role of the Intelligence Community is to assess those challenges and provide the best information and recommendations to the NATO's North Atlantic Council." Ambassador Loringhoven cited

well documented attempts to manipulate elections, hack the Organization for the Prohibition of Chemical Weapons, and spark a coup in Montenegro as recent examples of hybrid attacks.
Due to the deteriorating security environment after 2014, NATO has created a new "Intelligence Division" to better understand the threats to our security. The division does not collect its own intelligence, but assesses information provided by allied services.
11.
NEW AGE AND THE NAZIS
What Eric Kurlander's 'Hitler's Monsters' offers to the civilizational debate.
December 7, 2018
Nazis play a major role in the culture wars. Anyone arguing for the value of Western Civilization, the Judeo-Christian tradition, the Enlightenment, and the heritage of the Ancient Greeks will eventually be confronted with the Nazis. If cultural relativism is wrong, if it is wrong to say that Islam or Communism or New Age are not all equally valuable options on the cultural menu, then what about the Nazis? After all, the Nazis were Christians, weren't they? Wasn't the Holocaust informed by Christian theology? How dare Western Christians criticize jihad or communism's purges? You have the worst crime in history on your team's scorecard.
About that claim that the Nazis were the worst. The Nazis were compulsive record keepers. Hollywood directors and Soviet cameramen participated in the liberation of concentration camps. Their films have been required viewing for generations of students. We lack comparable documentation for others' crimes. When I inform students of the cost of the establishment of communism or the advance of jihad, they indicate to me that they have never been exposed to these facts before. Historian Stephen Kotkin's conservative estimate is that communism cost 65 million lives, while historian David Satter estimates that "the greatest catastrophe in human history," killed 100 million. Bill Warner estimates that the death toll from jihad is 270 million.
His figure is controversial, but supported with citations. Any other honest estimate will be similarly overwhelmingly vast. Tamerlane, the fourteenth century "Sword of Islam," is estimated to have killed five percent of the entire population of the world. There are two hundred million untouchables, or Dalits in India, and, even as India modernizes, their victimization continues. Hinduism mandates that Dalits must suffer to pay for their sins in their past lives. On November 17, 2018, The New York Times ran an account of a Dalit scalped by higher caste Hindus. Yes, worldviews besides Nazism have resulted in mass graves. We are less aware of those mass graves. So we assume that Nazism's mass graves are the worst.
If the Nazis did not carry out their crimes as integral and predictable expressions of Western Civilization and Christian theology, what did ground them? What were their guiding beliefs and principles? The extent to which Nazism was informed by neo-paganism is made clear in Eric Kurlander's 2017 book Hitler's Monsters: A Supernatural History of the Third Reich, published by Yale University Press. Hitler's Monsters is a dense, ambitious, scholarly tome. There are over one hundred pages of footnotes and bibliography. Kurlander acknowledges that previous authors have documented Nazism's involvement with New Age ideas and practices, and he draws on these authors' work. Kurlander also acknowledges that without the perfect storm of historical circumstances exploited by Hitler, including Germany's defeat in WW I, the punitive Versailles Treaty, and the Depression, Nazism probably never would have risen to power. And Kurlander notes that New Age beliefs don't cause a believer to become a Nazi.
But Kurlander is unafraid to state the importance of his research. "No mass political movement drew as consciously or consistently as the Nazis on … occultism  and … pagan, New Age, and Eastern religions, folklore, mythology … Without understanding this relationship between Nazism and the supernatural, one cannot fully understand the history of the Third Reich … Hitler's Monsters is the first book to address this rich, fascinating, often extraordinary relationship from the party's origins to the end of the Second World War … the Third Reich would have been highly improbable without a widespread penchant for supernatural thinking."
You can get a sense of what the Nazis believed by walking through any given New Age store. On such a visit, you will encounter astrology, reincarnation, hypnotism, Chinese massage, and yoga how-to books, next to homeopathic flower "cures," vegetarian recipes, and magical gardening manuals advising you to harvest your crops in tune with the movement of celestial bodies. There will be alternative histories of the universe and planet Earth, including books about the lost city of Atlantis. For teens, there will be lurid witch, vampire and werewolf novels.
Allegedly "non-fiction" books will inform you of your secret, spiritual Tibetan or Indian ancestry or past lives. The Bhagavad Gita, a Hindu classic, will be in an honored place. There will be books by or about Madame Blavatsky and Nostradamus, as well as Zoroastrian, Zen, Shinto, and Buddhist scriptures. Friendly pamphlets will extol the virtues of Islam in contrast to degenerate, oppressive Christianity. There will be a "serious," "scholarly" tome insisting that witches were descendants of a pagan nature religion, and that the witch trials were really the Catholic Inquisition's efforts to wipe out paganism.
Gurus will promise that Enlightenment concepts like objective reality and the scientific method are mere dogma created and exercised by lesser minds. These gurus will insist that you are somebody special, with a special destiny, and you need not be hidebound by conventional reality, science, or religion. Only lowly people believe in objective reality. You can use the power of your will to create any reality you want. Gravity is for lesser mortals. You can levitate.
Continuing your stroll through the New Age shop, you will encounter invitations to worship Satan. Satan is misrepresented by those stuffy, Christian prudes. Why should you, as special as you are, obey a God who orders you to rein in your appetites? Satan will strengthen your wildest urges. You'll find materials on ley lines, special magical places exuding special geographic magic known only to a privileged few. You'll find out how to use ancient runes in divination, and how to dowse, that is, how to find water, lost objects, and magical energies using only a forked stick.
Now imagine yourself a top Nazi, a Hitler, Himmler, Goebbels or Hess. You'd buy every single one of these products. Himmler "carried around with him" the Norse Edda, the Hindu Vedas and Bhagavad Gita, and the speeches of Buddha. Nazis participated in orgies aboard a yacht named after "The Indian goddess of love" the "Aryan Schakti [Shakti]." Nazi yoga. Nazi Buddha. Yes. The Nazis were that nuts. And they were that New Age.
An eclectic mélange of New Age beliefs and practices were in the roots that vomited up Nazism's toxic tree. These beliefs and practices were harnessed to support Nazism's most consequential, and most evil, acts. These beliefs and practices inspired daily life in concentration camps, human medical experimentation that violated every tenet of ethics and reason, weapons research and development, and military decisions. New Age beliefs and practices influenced Nazism's bloody demise. Any understanding of Nazism that does not include New Age's influence on Nazism is incomplete. Any understanding of New Age that does not take into consideration its influence on Nazism is incomplete.
Not all Nazis were interested in New Age beliefs, and not all Nazis were interested in all expressions of New Age. Some might prefer astrology; others homeopathy. On May 10, 1941, Deputy Führer Rudolf Hess, known as "The Yogi from Egypt," after consulting an astrologer and inspired by a supernatural dream, flew to Scotland in an attempt to make peace with the British. He was captured and imprisoned. Less than a month later, beginning on June 4, 1941, Reinhard Heydrich, head of the Reich Main Security Office, launched the "Hess Action." Heydrich wanted to purge the occult from the Nazi party as well as the general public. Heydrich's timing of the Hess Action indicates how seriously he took the issue. Heydrich initiated the Hess Action two weeks before Germany's ultimately disastrous invasion of the Soviet Union. As a result of Heydrich's action, some astrologers ended up in concentration camps. Some of those same practitioners were later released and went to work for top Nazis. Curt Munch was released from Sachsenhausen in order that he could use his psychic powers to locate Mussolini.
Hitler himself, Kurlander argues, didn't want to restrain the occult because it was meaningless; he wanted to limit and control common people's access to the occult because of its power. Goebbels exemplified this power-centric approach to the occult. Goebbels used Nostradamus for propaganda purposes.
Decades before Hitler arrived on the historical scene, many German seekers had partially or completely rejected Judeo-Christian cosmology, morality and worldview. They also rejected Enlightenment values and the scientific method's insistence on objective facts. Many chose to find meaning and structure in pre-Christian paganism, Eastern religions, and new gurus like Madame Blavatsky. The Brothers Grimm, Wagner's folklore-inspired operas, Nietzsche's philosophy, and Herder's writing on nationalism are partial expressions of, and, in turn, inspirations for, these trends. Kurlander writes, "Folklore, mythology, and neo-paganism rushed to fill an important gap in the German spiritual landscape, helping to occupy 'the transcendental realm of mystic life' vacated by Judeo-Christian traditions … Folklore and mythology facilitated fascism." "By the end of the nineteenth century, folklore, mythology, and Ario-Germanic religiosity was etched into the consciousness of millions of ordinary Germans." In this search for new paradigms, universal values were rejected in favor of moralities based on identity, place, and race. "I am a German, therefore I should or I can …" might be the preface to any moral statement.
The senseless mass destruction and humiliating defeat of WW I, and rapid modernization and upheaval, helped the previous century's turn to nationalism, magic, myth, and folklore take center stage. Nazis saw a ripe opportunity to jettison the past, adopt a scorched earth mentality, and impose their new paradigm. In his 1930 book The Myth of the Twentieth Century, Nazi theorist Alfred Rosenberg declared the "collapse" of all that had come before and a "new dawn" and a "new faith" a "new light" a "new mission:" "blood and blood, race and race, folk and folk." "That is the task of our century; to create a new human type out of a new view of life."
Social Darwinism and biological racism were interwoven with New Age spiritual beliefs. Not only would old, impure ideas be jettisoned. Human beings deemed racially unfit to participate in superior souls' upward thrust to perfection also had to be eliminated. "'One could insist that the race to which one belonged had primarily to do with one's degree of spiritual maturity' … the lost civilization of Atlantis was considered to be the prehistoric source of divine (possibly extraterrestrial) racial and spiritual perfection," writes Kurlander, quoting another author about Theosophy, a New Age belief system that predated, and influenced, Nazism's rise. "Cosmic eugenics" blessed the destruction of that "'which is unworthy to take part in the ascent of humanity … Humanity has risen by throwing out the lower forms in order to purify itself … dark skin is due to demonic interference' … Luciferian remnants' must be elevated 'as a wise guiding force left behind for the evolution of mankind in general' … Nazi religious theorists would make nearly identical arguments," Kurlander says, quoting another New Age author who also wrote decades before Nazism's rise. Other New Age thinkers, again, decades before Nazism, advocated selective breeding, and the elimination of inferior races and the handicapped. This culling was supported by a New Age theory that humanity was the result of breeding between angels and animals. Nordic people contained a higher percentage of angel. Indeed, New Age thinkers (and Friedrich Nietzsche) adopted a Hindu caste system term, chandala, for "untouchable" to talk about "lower races."
A weakening of the influence of Judeo-Christian morality and a return to pagan norms appeared to be foreseen by at least one concerned observer. German poet Heinrich Heine, who was born Jewish but converted to Lutheranism, wrote in 1834 that "When once the taming talisman, the Cross, breaks in two, the savagery of the old fighters, the senseless Berserker fury of which the Northern poets sing … will gush up anew … the old stone god will rise from the silent ruins and … Thor, with his giant's hammer, will at last spring up and shatter to bits the Gothic cathedrals."
Hermann Rauschning, a former Nazi, diagnosed Hitler's success. "Every German has one foot in Atlantis[and one in Tibet], where he seeks a better fatherland." Pre-Nazi New Age societies and thinkers sometimes voiced their awareness that Hitler was mining and benefitting from the paths they had paved.
The Thule Society, or Study Group for Germanic Antiquity, was founded in 1918. Its purpose was an unsavory mix of biological racism and flakey, folkloric concepts of German origins. The Thule Society symbol was a swastika, an ancient, pagan symbol often found in Hindu and Buddhist art. Thule Society member and fan of Nordic folklore and "the wisdom of India," Dietrich Eckart, argued that the "racially superior 'Indo-European people' had been corrupted by the 'Jewish desert spirit' embedded in mainstream Christianity." Eckhart said on his deathbed that "Hitler will dance, but it is I who will call the tune." In other words, Eckart and other New Age Germans saw Hitler as fulfilling their goals. Germany's occult magazines supported Hitler, even before he took power. They lent whatever legitimacy they had to his seizure of power by predicting a "'world turning'" "'Third Reich'" lead by "'a single prophet who preserved the German essence against all odds.'"
Top Nazis were not only not believing Christians, they were anti-Christian and determined to extirpate Christianity from their Reich. As Hitler Youth leader Baldur von Schirach said, "the destruction of Christianity was explicitly recognized as a purpose of the National Socialist movement." Alfred Rosenberg dreamed of a day when "Nordic sagas and fairy tales will take the place of the Old Testament stories of pimps and cattle dealers." Nazism's anti-Christian, pagan worldview was obvious to contemporaries. Christopher Dawson, "the greatest English-speaking Catholic historian of the twentieth century," warned in 1935 that Nazism could "develop a mythology and ethic" that may "take the place of Christian theology and Christian ethics." On January 13, 2002, Joe Sharkey, writing in The New York Times, reported on then-recently released documents outlining "How Hitler's Forces Planned to Destroy German Christianity."
In addition to rejecting, and hoping to overturn, Christianity, Nazis also rejected the Enlightenment ideal of objective reality. Konrad Heiden, a historian of Nazism, said that Nazism incorporated a hodgepodge of political theories.
Only one feature was consistent throughout, Heiden claimed. Nazism rejected objectivity and causality; it rejected "a world in which causal links work themselves out independently of transcendent forces." That very essence of Nazism can be seen in this quote from Hitler. "We do not judge by … purely scientific standards … We judge by the spiritual energy which a people is capable of putting forth … I intend to set up a thousand year Reich and anyone who supports me in battle is a fellow fighter for a unique spiritual – I would almost say divine – creation. At the decisive moment the decisive factor is not the ratio of strength but the spiritual force employed." Nazism, in the words of author Peter S. Fisher, "erased the boundary between fantasy and reality." Nazis wanted to replace Darwinian evolution, Einstein's theories and Genesis with World Ice theory, that described Aryans as "gods come directly from Heaven to Earth."
Rudolf Olden was an anti-Nazi journalist. In 1932, he published Prophets in the German Crisis: The Miraculous or the Enchanted. Olden insisted that Nazism's rise was linked to "a German preoccupation with the supernatural, exacerbated by war, defeat, and depression," as Kurlander summarizes Olden's work. Politics, according to Olden, is "'an eternal struggle between rationality and the miraculous … when rationality comes under pressure" it becomes "mute, it is eaten by doubt, it emigrates or is restricted … the predominance of miraculous forces' had marginalized 'everyone that wants to think rationally.'"
Hitler read kinky author Ernst Schertel's 1923 book, Magic: History, Theory, Practice. It is one of the most underlined books in Hitler's personal library. Kurlander quotes Schertel as expressing ideas very similar to the record-breaking, international New Age bestseller, The Secret, published by Rhonda Byrne in 2006. Both Schertel and Byrne insist that thoughts can alter physical reality. In his 1913 book Totem and Taboo, Sigmund Freud called this notion "omnipotence of thought." Freud described it as foundational to animism. Animism is the religious belief system that all primitive humans probably believed in at one time, before the advent of the Big Five, Hinduism, Judaism, Buddhism, Christianity, and Islam. Animism posits that each thing has its own spirit, and that humans can change material reality through relationships with those spirits.
Schertel mocks the concept of objective reality, and insists that invisible realities supersede visible ones. Kurlander quotes Schertel: "It would be 'senseless to counterpoise the empirical perceptions as real opposite the fictive conceptions of the demonic' Schertel explained, 'for the empirical world is also fictive, resting on an imaginative synthetic foundation.' What materialists deemed 'empirical reality' Schertel suggested, was 'in its roots demonic – or magic in nature.'" Schertel called objective reality a "jugglery of fantasy." After escaping the bonds of reality, the adept could "intervene in this structure, that is to say change the world according to our will … to create reality where no reality exists."
To claim the power that awaits the adept, he must reject objective reality and invest in the omnipotence of thought, what Schertel called "an "accumulation of potential and kinetic world energies … the first stardust" aided by Satan himself. Hitler underlined passages about Satan in Schertel's book. "Satan is the fertilizing, destroying-constructing warrior … He who does not carry demonic seeds within him will never give birth to a new world." Another underlined passage: "Horror always lurks at the bottom of the magic world and everything holy is always mixed with horror." Schertel described objective reality as a prison that makes it harder for practitioners to access their special powers. This formula, again, one highlighted by the reader Adolf Hitler, constitutes a rejection of the Enlightenment, for which objective reality was supreme, and Judeo-Christian morality. As described by Freud, this rejection of objective reality and insistence on the primacy of omnipotence of thought constitutes a return, as the Nazis themselves hoped for, to a pre-Christian, pre-Enlightenment, pagan worldview.
Contemporary New Agers, and Christophobic polemicists, purposely misrepresent the history of the European Witch Craze. As New Agers tell it, "During the Middle Ages, the misogynist Catholic Inquisition murdered nine million women because they still practiced a pre-Christian, pagan religion. The witch craze only ended when enlightened atheists were able to convince Catholic clergy that it was irrational." One can find variations of this so-called history in respected media. These include Barbara Ehrenreich and Deirdre English's classic feminist manifesto, Witches, Midwives, and Nurses, Michael Shermer's The Moral Arc, and the Canadian documentary The Burning Times. Problem: not a word of this formula is accurate. Modern scholars point out that the witch craze did not take place in the Middle Ages, but rather in the Early Modern Period, perhaps 40,000 died, and the witch craze was a neighbor-on-neighbor atrocity. Women often accused other women. At least two Catholic priests, Friedrich Spee and Alonso Salazar de Frias, played roles in ending the witch craze. And Salazar, a.k.a. "The Witches Advocate," worked for – wait for it – The Spanish Inquisition.
Where did the false narrative emerge? One avid disseminator of the false witch craze narrative was SS Reichsfuhrer Heinrich Himmler. Himmler founded a "Special Task Force on Witches" whose job it was to collect, through purchase or theft, archival material about witches. The SS Witch Division accumulated nearly thirty thousand documents. Himmler wanted to research how the "dominant Aryan-Germanic religion of Nature" could "be defeated by the decadent Jewish-Christian religion." Witches were the "guardians of the German faith" and "natural healers" of German sagas. For New Agers, and for Nazis, "Witches became earth mothers, practitioners of an ancient Indo-Germanic religion that the Catholic Church … the true monster … sought to eradicate." "My ancestors were witches and I am a heretic," declared SS Obersturmfuhrer Otto Rahn. Himmler commissioned "'witch novels in the form of a trilogy.'" Himmler, just like pagans today, cultivated a sense of victimization around the witch craze. "The 'martyred and torn apart bodies of our mothers and girls burned to ashes in the witch trials'" were called upon to justify the mass murder of Jews. Because, of course, Jews controlled the Catholic Church, and Christianity sprang from Judaism.
Vampires, spoken of as if real, were associated, in propaganda, with "Polish danger." Czechs, Serbs, and Jews were also demonized using vampire imagery. "Slavic vampirism became a metaphor for racial degeneration and political disintegration. Racially degenerate Slavic and Jewish vampires met their match in the heroic Aryan." One group victimized by the Nazis that is rarely mentioned are Serbs, and yet the USHMM statistics indicate that Nazis murdered more Serbs than handicapped people, Gypsies, aka Roma, and Jehovah's Witnesses, other victim groups more frequently mentioned. The mass murder of Serbs and other Slavs, like the mass murder of Jews, was facilitated by propaganda depicting Slavs as vampires. In contrast to Slavic vampires, Nazis encouraged each other to regard themselves as werewolves. Over Goebbels' Radio Werwolf (sic), listeners could sing along to lyrics encouraging them to bite and eat their enemies. Some lyrics: "I bite. I eat. I am not tame."
All aspects of Nazism, including the most evil, were somehow interwoven with some aspects of New Age thinking. "The Third Reich embraced a range of pagan, esoteric, and Indo-Aryan religious doctrines that buttressed its racial, political and ideological goals." Leading parapsychologist Hans Bender, whose work involved researching poltergeists, joined the Nazi Party to advance his own career and "knowingly countenanced" evil medical experimentation "to preserve the funding and independence" of his own research. He continued his career as a famous parapsychologist after the war and died peacefully in 1991 at age 84.
Auschwitz, Ravensbruck, and Dachau concentration camps all had biodynamic gardens. These were based "'on a holistic view of the farm or garden as an integrated organism comprising soil, plants, animals, and various cosmic forces, with sowing and harvesting conducted according to astrological principles.'" The gardeners rejected fertilizer and pesticides, relying instead on "'homeopathic preparations meant to channel the etheric and astral energies of the Earth and other celestial bodies.'" "Berlin's athletic fields for the Summer Olympics were treated biodynamically."
New Age ideas were consulted in the most pressing military decisions. "Even during the most desperate moments of the war, Nazi science was as preoccupied with faith-based fantasies of 'absolute conceptional boundlessness' as it was with practical military technologies… one can only speculate as to how much more effective German armaments production might have been without this Nazi proclivity for miraculous thinking." The Berlin Pendulum Institute attempted to locate enemy battleships by suspending a pendulum over toy battleships located on a large map of the Atlantic. This methodology returns to primitive magic as described by Sir James Frazer in The Golden Bough. Frazer described homeopathic magic, the primitive belief that something that looks like something else has magical power over that something else. This same idea is behind voodoo dolls. Fantastic hopes for, and promises of miracle weapons encouraged Germans to continue fighting long after the war was lost.
Kurlander writes, "The Holocaust was only possible in its scope and severity because of the elision of biopolitical and circumstantial factors with volkisch-esoteric, fantastical, even magical conceptions of Jewish monstrosity." "Pagan and occultist" images were used to demonize Jews. "This conception of the Jews as simultaneously a biological threat to the racial body politic and vampiric monsters operating outside the bounds of humanity, invited, in turn, all the more radical and totalizing solutions to the Jewish question."
In the final days, Himmler was inseparable from his astrologer, consulting him on all aspects of the war. Goebbels looked to Nostradamus to find reassuring prophecies. Hitler owned an original copy of the prelude to Wagner's Gotterdammerung, or the Twilight of the Gods, and its nihilistic mythology helped to inform the Nazis' behavior. On March 19, 1945, a bit over a month before his suicide, Hitler issued his so-called Nero Decree, urging the destruction of Germany's infrastructure. Hitler, Goebbels, Himmler, Bormann, and many other top Nazis and thousands of ordinary Germans committed suicide. Nazis embraced their coming end as a reenactment of Wagnerian and other nihilistic, mythological themes.
We cannot turn back the clock and rescue the Nazis' millions of victims. We owe it to those innocent victims to diagnose the pathology that  murdered them. We say, "Never again." The question becomes, "Never again what?" What exactly is the perfect storm that gave birth to Nazism? How to recognize it on the horizon? How to defuse it?
Many attribute Nazism's death toll to Christianity. The United States Holocaust Memorial Museum is a highly influential institution. It reports that anti-Semitism has plagued the world for two thousand years. This inaccurate two-thousand-year limit identifies anti-Semitism, and, by extension, Nazism, with Christianity. Dabru Emet is a September 10, 2000 statement signed by over 220 Jewish rabbis and scholars. Dabru Emet states, "Without the long history of Christian anti-Judaism and Christian violence against Jews, Nazi ideology could not have taken hold nor could it have been carried out." Many more such statements could be cited.
Books linking Christianity and Nazism have produced great success for authors like Daniel Jonah Goldhagen, James Carroll, and John Cornwell. A database search shows that, just in the two-year period after its publication, Hitler's Pope was the subject of over six hundred articles in mainstream and scholarly presses. These articles weren't just reviews, but calls for thorough self-examination among Christians. A similar database search turns up merely thirty articles about Hitler's Monsters in the year and a half since its publication. Hitler's Pope became a New York Times bestseller. Today's Amazon rating for Hitler's Monsters is  78,231—nowhere near bestseller status. After the publication of Cornwell's book in 1999, James Carroll's Constantine's Sword in 2001, and Daniel Jonah Goldhagen's A Moral Reckoning: The Role of the Catholic Church in the Holocaust and Its Unfulfilled Duty of Repair in 2002, Christians worldwide engaged in protracted and profound efforts at self-examination, apologies, and amends.
I am unaware of any such exercise among New Age followers. New Agers shamelessly promote some of the very same falsehoods disseminated by Nazis. There has been no ethical or intellectual housecleaning around the fake witch craze narrative, the rejection of objective reality and that rejection's impact on ethics, or the New Age premise that conventional morality is oppressive and only for little people. Further, white supremacy is alive and well among Neo-Pagans. "Racists Are Threatening to Take Over Paganism," Vice reported on April 2, 2018. "Faith, Family, and Folk," the motto of modern Odinists, would meet with Himmler's approval.
Not only hardcore Neo-Pagans espouse ideas that would be comfortable in the Nazi intellectual toolkit. One of the fastest growing groups in the West identifies as "spiritual but not religious." Just as Nazism did, New Age theology cherry picks from a religious cafeteria menu. Again, so what? Why does this matter? It matters because this approach is often accompanied by the elimination of any ethical or intellectual standards. Truth, and right and wrong, are what the individual says they are. Personal responsibility is erased. The spiritual-but-not-religious person feels empowered not only to select religious trinkets from the display case, but also to choose which history "feels" best. History is rewritten. If the spiritual-but-not-religious consumer wants to use the word "karma" and practice yoga and never acknowledge the horrors of the caste system, that's fine. New Agers might practice dervish spinning without acknowledging the cost of jihad and gender apartheid. They can attend witch doctor weekend workshops while ignoring how the very same magical beliefs they've chosen selectively to adopt and apply endanger albinos in East Africa, living human beings who are threatened with dismemberment so that their body parts can be harvested for magic rituals. At the same time, the spiritual-but-not-religious person is certain that Christianity was responsible for Nazism, and the Crusades were Catholic war crimes committed against unoffending Muslims. New Agers pick and choose self-serving moralities and rewrite history no less than did Heinrich Himmler.
Modern, conscious Christians are denied this kind of tunnel vision. Christians must incorporate crimes committed in the name of the church into their ethical worldview. New Ages get to float above the blood spilled in the name of their beliefs. That denial is not a good thing. We say "never again." To honor this motto, we must confront what really happened the first time. That confrontation has to include the crimes of the New Age.
Yes, Christians have stereotyped Jews negatively. Yes, Christians have committed crimes against Jews. Yes, it is a good thing that Christians have engaged in self-examination and making of amends for these crimes. But seeking the cause of Nazism in Christianity is a dead end; I argue as much in Against Identifying Nazism with Christianity. Rather, the thought processes that lead to Nazism are getting off scot-free. If you want to find the criminals who leave the largest mass graves, look to those who say, "Let's wipe the slate clean. Let's be pure. Let's invent a whole new hodgepodge system cherry picked from random exotica. Let's decide that neither the old rules nor objective reality apply to us. We are not responsible for the sins committed by those who believe what we believe. We can rewrite history however we want." These are the attitudes that give birth to the biggest mass graves.
They are alive and well in the New Age movement.
12.
12-06-18
Elite commando unit was interrogated by Hamas for 40 minutes
INN – The commandos that were involved in last month's botched special forces mission in Gaza were interrogated for 40 minutes by Hamas before the gunfight erupted, Channel 2 reported.
The soldiers were stopped while driving in Gaza by Hamas terrorists, who decided to detain them after finding inconsistencies in their story. The undercover operatives them opened fire in order not to be taken into custody and fled while being pursued by several patrol vehicles manned by Hamas terrorists.
The IDF dispatched several unmanned aircraft which opened fire on the Hamas terrorists pursuing the Israeli agents.
During the pursuit, one of the Israeli vehicles struck a wall, forcing the team members to continue on foot. An IDF helicopter later managed to land inside the Gaza Strip and evacuate the team.
The report also said that the troops had entered Gaza two months earlier and were installing highly advanced surveillance gear inside Gaza, including attempts to tap Hamas' communications network.
A 41-year-old Israeli lieutenant colonel, identified solely by the initial M , was killed in a pitched battle with Hamas terrorists deep inside the Gaza Strip, near the city of Khan Yunis.
Hamas has been intensively investigating last week's events and has called on the public to supply any information that might help them expose more details about the highly classified unit. Hamas says that it managed to salvage classified equipment the commandos had been carrying in their car despite the vehicle having been bombed by the IDF.
Earlier this week, Hamas claimed that the classified unit was living in Gaza in a safe house under the guise of humanitarian volunteers. The team s equipment was smuggled into the Hamas-controlled coastal enclave through the Kerem Shalom crossing, where it was picked up by an agent working for Israel inside the Strip. The agent is also said to have secured two cars for the Israeli special forces team.
Transcripts of Hamas' radio chatter during the operation that were released by Hadashot last month showed that the terror group originally thought it was battling drug smugglers during the shootout with the commandos. Only after IDF drones started strafing Hamas terrorists did the organization realize it was a commando op gone awry.
Four fighter jets are above me. There was a strike near us. The jets are coming from the north. They attacked one of the (Hamas) cars. Hide. Close in on the Jews. Don t let them leave Gaza," one Hamas commander yelled into the radio during the firefight.
 13.
12-06-18
Netanyahu is mired in multiple scandals. So why is he so popular

?
JTA –
There will be nothing, because there is nothing, Prime Minister Benjamin Netanyahu has taken to repeating of late, telling his supporters that despite allegations of corruption and multiple police investigations into his conduct, he is absolutely blameless.
Following opposition lawmakers calls for his resignation in response to this week s police recommendation that he be indicted on charges including bribery and breach of trust, Netanyahu hit back, tweeting that these recommendations were set and leaked before the investigations even began.
As part of this effort, he and his allies in the government have gone on the offensive, blaming law enforcement, the media and the judiciary for conspiring against him.
It has proven an effective strategy, perhaps to the bafflement of outsiders, but one that Israelis have come to accept with the inevitability of, well, the latest corruption charges against a high-ranking public official.
Netanyahu built himself up over many years as Mr. Security and when it comes to elections many people, especially on the right, vote on security issues rather than civilian issues like economics, said one prominent Israeli pollster who asked not be named because it could damage his business. (Αυτά είναι παραμύθια των ντόπιων Ι/Οργάνων της "Παγκ-σης"! Ο Μπίμπι σε όλα είναι γάτα").
Up until now people haven΄t felt that the corruption has touched them personally, and to persuade people about corruption you have to show them that they are personally hit by it, the pollster explained. Let s say a mayor of a city someplace runs a city nicely. Even if convicted of corruption, they feel he has advanced the city and don t feel that his corruption hit them personally.
There have been several examples of such a phenomenon of late. In October, during the most recent round of municipal elections in Israel, several candidates who had either been convicted or were actively under investigation were elected or re-elected in Haifa, Netanya, Nazareth, Beer Yaakov, Hadera and the Tamar Regional Council.
As for Netanyahu, there are currently four distinct investigations into the prime minister and his inner circle, known in Israel as cases 1000, 2000, 3000 and 4000. Except for Case 3000, in which Netanyahu is not currently a suspect, all of the investigations focus on allegations that the prime minister engaged in quid pro quos to use his influence in exchange for gifts or personal favors.
In cases 2000 and 4000, he is alleged to have offered favors to the owners of media outlets in exchange for more favorable coverage. It was regarding Case 4000 that the police recommended that Netanyahu be indicted earlier this week. Police had previously recommended indictments in cases 1000 and 2000.
Despite his multiple scandals, however, the prime minister s popularity has remained high and he retains the political support of both his base and a significant chunk of the wider electorate. According to a poll conducted by Smith Consulting in mid-November, Netanyahu s Likud party would have received 29 mandates if elections had been held at the time. This is down only one seat from the 30 Likud now holds in the Knesset.
Also, 30 percent of those polled named Netanyahu most suitable for the role of prime minister twice the level of support for the next highest-rated candidate.
According to the "Israel Democracy Institute"΄s annual Democracy Index, which was released earlier this week, 72 percent of Israelis indicated that they see the government as corrupt. This shows that Israelis are very alarmed and worried about the level of corruption, the institute s president, Yohanan Plesner, told JTA. This indicates a lack of trust in the motivations of our public figures.
However, the popular view of Israel as a corrupt country is likely less a reflection of overall corruption than of Israel s successful fight against government misconduct, he said.
The reason why there is a high perception [of corruption] is because we have independent law enforcement that interrogates and indicts politicians, Plesner said, so sometimes the activities designed to deal with corruption also increase the perception of corruption.
High-level corruption cases resulted in the convictions of a former president, Moshe Katsav; a former prime minister, Ehud Olmert; and a former chief rabbi, Yona Metzger.
Part of the prime minister s enduring popularity is likely due to the public s perception of the media, according to Likud Central Committee member Gidon Ariel, a staunch Netanyahu supporter.
If the media seems to be against something, we are going to be for it. It sounds simplistic, but there it is, Ariel said. When you do see everything that Netanyahu claims is a success it s hard to argue, and the biggest success for most Likud activists is he is succeeding, he is still the prime minister.
And while Ariel said that he wished that Netanyahu would move further to the right on some issues, overall he has been successful in implementing policies supported by much of the center-right.
He said that many Netanyahu supporters aren΄t following the unfolding scandals closely, dismissing them as related to empty soft drink bottles, a reference to allegations that Netanyahu s wife, Sara, illegally pocketed thousands of dollars in bottle deposits that should have gone into government coffers. Earlier this year the first lady was indicted for allegedly using $100,000 in state funds to order takeout from high-end restaurants despite employing a cook at government expense.
He keeps on saying there s nothing and that s good enough for us at this point, Ariel said. And everyone saying you should leave [office] because your wife didn t lick a stamp or whatever is just a joke from our perspective.
Unlike some other Western countries, Israel s political culture is not one in which one such allegation surfaces and it kills the political career, Plesner said. The further one moves to the right on the political spectrum, he said, the more likely they are to believe that corruption charges are part of a conspiracy of law enforcement institutions which have an agenda.
If you think it s a conspiracy it will affect your political behavior, and this might explain why Bibi is using conspiracy-type explanations vis-a-vis the police, the Israel Democracy Institute s chief said. He sees polling that this resonates with his base.
Not everybody is happy to ignore the whiff of scandal, and many can t separate the accusations from Netanyahu s policymaking. This week, some opposition members and pundits grumbled that Operation Northern Shield, which is targeting terror tunnels along the Israel-Lebanon border, was a way for Netanyahu to distract the public from the latest corruption allegations.
Ksenia Svetlova, a Knesset member from the opposition Zionist Union party, recalled when Netanyahu, as head of the opposition, called for then-Prime Minister Olmert s resignation in the face of his own corruption scandal. Netanyahu alleged that Olmert could not handle the duties of his office while managing his legal defense.
Now, in addition to his role as prime minister, Netanyahu has also taken on the foreign affairs and defense portfolios at a time when his conduct is under scrutiny.
Prime Minister Netanyahu should take advice from head of the opposition Netanyahu and act according to what he himself said, Svetlova quipped.
14.
Netanyahu: Violence against women is terrorism
 December 6, 2018
"I see violence against women as terrorism in every respect," Israel's prime minister said, Wednesday.
By World Israel News Staff
Israeli Prime Minister Benjamin Netanyahu said he would like to give a "punch in the face" to those who commit violence against women, in a special Wednesday meeting called to discuss the matter after nationwide protests.
"I see violence against women as terrorism in every respect," the prime minister said.
Netanyahu called for fast-tracking legislation that would require suspects in violence against women to wear a GPS electronic bracelet so their whereabouts could be monitored.
The proposed law was drafted by Justice Minister Ayelet Shaked and Minister of Public Security Gilad Erdan.
"It's not the women who are hurt by violence who should hide, but the criminals who need to be pushed away," Justice Minister Shaked said. "That's the purpose of this law that we're delivering."
Minster Erdan said, "The use of an attached location device will provide a quick and effective answer for the victims of domestic violence at every moment, and particularly, will allow them the freedom they deserve."
The Netanyahu goverment has come in for criticism from women's rights groups for holding up NIS 250 million in funding earmarked to address problems of violence against women but which they say did not go to its intended purpose.
Netanyahu is taking credit for other people's initiatives, said Keren Greenblatt, i24NEWS reports. Greenblatt is the co-chair of Layla Tov, an organization that works to create a safer Israeli nightlife for women.
Greenblatt told i24NEWS that the GPS electronic ankle proposal has been "on the table for some years now."
15.  SOS SOS SOS ! ! !
Doğu Akdeniz'de Türkiye'yi kızdıracak

ABD iddiası

!
Doğu Akdeniz'de yaşanan gerginliği tırmandıracak bir iddia İsrail basınından geldi. Ortaya atılan iddiada,

ABD'nin İsrail, Yunanistan ve Güney Kıbrıs Rum Kesimi

liderleriyle bir görüşme gerçekleştirerek bölgedeki askeri, ekonomik, ve siber alanlardaki aktif rolünü arttırmayı hedeflediği ortaya atıldı.
GİRİŞ 09.12.2018 16:47 GÜNCELLEME 09.12.2018 17:22
Haber7 / Dış Haberler Servisi
Doğu Akdeniz'de sular adeta ısınmaya başladı. Yunanistan ile Güney KıbrısRum Kesimi'nin bölgede tek taraflı attığı adımlar Türkiye'nin sabrını taşırmış ve Cumhurbaşkanı Recep Tayyip Erdoğan ve Milli Savunma Bakanı Hulusi Akar'ın sert sözleriyle tepkiler en üst perdeden dile getirilmişti.
Arkasına İsrail'i alan Yunanistan ve Kıbrıs yönetimi, Türkiye adına bölgede arama çalışmaları yürüten Barbaros Hayrettin isimli sismik gemimizi taciz etmiş, Türk F-16'ları acil havalanarak Türk gemisini korumaya almıştı.
Bölgede ayrıca, Mısır'ın da zaman zaman dahil olduğu bölge ülkeleri askeri tatbikatlar gerçekleştiriyor.
AMERİKA İLK ADIMI GEÇEN GÜNLERDE ATMIŞTI
Doğu Akdeniz'deki gerginlikte tarafını ilk kez açıktan belli eden ABD yönetimi, geçtiğimiz günlerde Güney Kıbrıs Rum Yönetimi Büyükelçisi'ni Türkiye için ihtilaflı olan 10. bölgedeki sondaj gemisine göndermişti.
GKRY Enerji Bakani Georgios Lakkotrypis, Dışişleri Bakanı Nicos Christodoulides, ABD Büyükelçisi Kathleen Doherty ve Exxon – Mobil'in Başkan Yardımcısı Tristan Aspray Guney Kibrisin ilan ettiği sözde 10.Blokta Sondaj faaliyeti yapan Stena Icemax Sondaj gemisini ziyaret etmişti.
ABD BÖLGEYE GELİYOR: LİDERLERLE GÖRÜŞÜP, HAREKETE GEÇECEKLER
Bölge adeta yeni bir enerji savaşı'nın alanı haline gelmişken İsrail basınından önemli bir iddia ortaya atıldı.
İsrail basını, ABD'nin İsrail, Yunanistan ve Rum tarafının liderleriyle önümüzdeki aylarda bir görüşme gerçekleştireceğini yazdı. Görüşmeye ABD Dışişleri Bakanı Mike Pompeo'nun liderlik edeceği belirtildi. Haberlerde ayrıca, Doğu Akdeniz'de bu dört ülkenin katılacağı bir tatbikatın düşünüldüğü aktarıldı.
ABD'nin bölgede böyle bir adım atmasına sebep olarak ise, Rusya ve Türkiye gibi ülkelerin bağlantılarına karşı "Doğu Akdeniz'de demokratik bir eksen" kurarak destek vermek istemesi gösterildi. Haberlerde ayrıca, ABD'nin burada askeri, ekonomik ve siber alanlarda da bir dizi işbirliği gerçekleştirmek istediği aktarıldı.
RUSYA, KIBRIS'A BÖYLE UYARI MESAJI VERMİŞTİ
Kıbrıs'a ABD'nin adadaki askeri varlığını artırma planına engel olma çağrısı yapan Rusya Dışişleri Bakanlığı Sözcüsü Mariya Zaharova, aksi halde Rusya'nın cevabi önlemler alacağını belirtmişti.
KAYNAK: HABER7 / DIŞ HABERLER SERVİSİ
16.
Dünyayı sarsan kriz büyüyor! ABD'ye ültimatom
Pekin yönetimi, Huawei CFO'su Meng Wanzhou'nun tutuklanması konusunda ABD ve Kanada'ya tepkisini sertleştiriyor. Çin, Pekin'deki ABD Büyükelçisi'ni Dışişleri'ne çağırarak, tutuklama kararını "güçlü bir şekilde protesto ettiklerini" açıkladı. ABD'den tutuklama kararının derhal geri çekmesi istendi

.
09.12.2018
Çin Dışişleri Bakanlığın'dan çok önemli açıklama geldi. Çin Dışişleri Bakanı locaya çağrılan ABD büyükelçisiyle özel bir görüşme yaptı. Çin Dışişleri Bakanlığın'dan yapılan açıklamada görüşmede, ABD'nin Huawei CFO'su Ming Vancou'nun tutuklanmasıyla ilgili kararını derhal geri çekmesini istendi.
Çin Dışişleri Bakanı Le Yucheng'in ABD büyükelçisine, "Gelecek adımlarımız ABD'nin alacağı kararlara göre şekillenecek" dediği ifade edildi.
KANADA'YA DA TEPKİ GÖSTERİLDİ
Çin Dışişleri Bakanlığı, Mıng'in derhal serbest bırakılmasını talep etti, aksi halde bunun ciddi sonuçları olacağı konusunda uyardı.
Çin Dışişleri Bakanlığı Kanada'nın Pekin Büyükelçisi John McCallum'a, Vancou'nun serbest bırakılmaması halinde bunun ciddi sonuçları olacağını bildirdi.
Çin'in bu gözaltıyı ciddi şekilde protesto ettiği iletildi. Kanada'nın, ABD'nin talebi üzerine 1 Aralık'ta Çin vatandaşını gözaltına alarak, bu kişinin yasal haklarını ihlal ettiğini belirten Dışişleri Bakan yardımcısı Li, Kanada'nın bu tutumunun "mantıksız, tolere edilemez" olduğunu söyledi.
CFO MING, KANADA'DA TUTUKLANMIŞTI
Kanada Büyükelçisi'ni Dışişleri Bakanlığı'na çağıran Çin'in, Huawei CFO Ming Vancou'nun tutuklanması sebebiyle Kanada'ya nota verdiği belirtildi. Vancou'nun tutuklanmasını çirkin bir eylem olarak niteleyen Çin Dışişleri Bakanlığı, Kanada'dan CFO'yu derhal serbest bırakmasını istedi aksi taktirde yaşanan olayın sonuçlarının ağır olacağını belirtti.
Huawei'nin sahibi Ren Zhengfei'nin kızı ve şirketin CFO'su Ming'in ABD'nin İran'a yönelik yaptırımlarını delmek suçlamasıyla 1 Aralık'ta Kanada'nın Vancouver kentinde tutuklandığı bildirilmişti.
17. 
İki farklı Hürjet üretilecek!
Jet Eğitim ve Hafif Taarruz Uçağı (Hürjet) Projesi'ne yönelik çalışmalar "Hava Kuvvetleri Komutanlığı" ile iş birliği içinde çok yönlü sürüyor

.
09.12.2018
Jet Eğitim ve Hafif Taarruz Uçağı Projesi kapsamında Hürjet'in dış geometrisi donduruldu, sistem yerleşim çalışmaları devam ediyor. Rüzgar tüneli testleri gerçekleştirilen projede, gelecek yılın ilk aylarında ön tasarım gözden geçirilecek. 
Hava Kuvvetleri Komutanlığı ile uçağın operasyon konseptine yönelik çalışmalar yürütülürken, ilerleyen dönemde iş birliği, harbe hazırlık faaliyetleriyle devam edecek. İlerleyen dönemde kanat başta olmak üzere deneme imalatlarına başlanacak.
Savunma Sanayii Başkanlığı (SSB) koordinasyonunda, Türk Havacılık Uzay Sanayii (TUSAŞ) tarafından Ağustos 2017'de Türk Hava Kuvvetleri'nin ve uluslararası pazarın kısa dönemdeki ihtiyaçları hedef alınarak Hürjet Projesi başlatıldı.
Projede geçen sürede Hürjet'in bire bir modeli üretildi. Uçağın "yer prototipinin" ortaya çıkmasıyla ön tasarım da fiziksel boyut kazanmaya başladı. Hürjet'in modeli son olarak Verimlilik ve Teknoloji Fuarı'nda sergilendi.
Operasyon konsepti Hava Kuvvetleri ile çalışılıyor
Gelinen aşamada, Hürjet'in dış geometrisi donduruldu, sistem yerleşim çalışmaları ise devam ediyor.
Bu arada, Hava Kuvvetleri Komutanlığı ile uçağın operasyon konsepti üzerinde çalışılıyor. İlerleyen dönemde ise Hava Kuvvetleri Komutanlığı ile harbe hazırlığa geçiş toplantısı yapılacak. Ayrıca bir ön tasarım gözden geçirme toplantısı gerçekleştirilecek.
Bunun yanında kanat başta olmak üzere deneme imalatlarına başlanacak ve mühendislik geliştirme benzetim ortamı hayata geçirilecek.
Hem pilot yetiştirecek hem operasyonel olacak
Proje kapsamında iki konfigürasyonda Hürjet üretilecek. Bunlardan biri tamamen eğitim uçağı odaklı, ikincisi aynı uçağın silahlı varyantı olacak. Silahlı varyantında, uçağa atış kontrol radarı, harici yük ve atış kontrol sistemleri ile çeşitli görev sistemleri eklenecek.
Hürjet'in Türk Hava Kuvvetleri'nin envanterinde bulunan T-38 jet eğitim uçaklarının yerini alması ve 3 bin kilogram faydalı yük kapasitesine sahip "hafif taarruz uçağı konfigürasyonu ile de F-16'ların yakın hava destek ve savaş eğitim uçağı rollerini paylaşması hedefleniyor.
Hürjet uçağının Türkiye ile birlikte dost ve müttefik ülkelerin silahlı kuvvetleri tarafından yakın hava destek, sınır güvenliği, terörle mücadele gibi görevlerde kullanılabileceği değerlendiriliyor.
İhtiyaç büyüyor
Gelecek 10 yıl içerisinde Türk Hava Kuvvetleri de dahil olmak üzere pek çok silahlı kuvvetin mevcut jet eğitim uçaklarının yerini gelişmiş sürümlerine bırakacak olması sebebiyle artan ihtiyacı karşılamak üzere ABD, Avusturalya, Brezilya, Avusturya, Bulgaristan, Belçika, Kolombiya, Fransa, Tayvan, Peru, Birleşik Arap Emirlikleri ve İsveç gibi ülkeler çalışmalar yürütüyor.
Aynı zamanda, yeni nesil savaş uçaklarının üstün performansları ve harp teknikleri, jet eğitim uçaklarında daha üst seviye performans ihtiyacını beraberinde getiriyor.
Dünya pazarına yönelik hedeflerin yanı sıra harekat bağımsızlığının maksimum seviyede sağlanabilmesi için Hürjet'te yerli/milli geliştirilen sistem ve alt sistemlerin kullanımına ve Milli Muharip Uçak ile sistemlerin ortaklaştırılmasına öncelik verilecek.
KAYNAK: AA
18.
Soner Polat
Aydınlık Gazetesi, 10.2.2017 
Gerilemeyi savaşarak durdurmak!
Hillary Clinton savaş tamtamları çalarak seçim kampanyası yürüttü. Çin, Rusya, İran ve Kuzey Kore'yi açıkça hedef tahtasına koydu. Nükleer savaşı da göze alabileceğinin sinyallerini verdi. PYD ve Kürtleri göklere çıkardı. Trump ise daha dengeli mesajlar verdi. Amerikan halkının duygu ve düşüncelerini merkeze koydu. Ama yabancı düşmanlığı ve Müslümanlara yönelik ön yargısını ırkçılığa varan bir boyuta taşıdı. Kafalar karıştı. Trump iyi mi, kötü müydü?
DERİN DEVLET UYUMAZ!
ABD derin devletinin uyuduğunu sananlar şiddetle yanılır. Oğul Bush çok yıpranmıştı. Bütün dünyada onlarca yıllık bir propaganda sonunda yaratılan Amerikan rüyası yerle bir olmuştu. Demokrasi, insan hakları, özgürlük gibi değerler ile ABD arasında ilişki kuranlar ciddiye alınmıyordu. ABD'nin kültürel üstünlük tezi çok ağır bir darbe almıştı. Bir şeyler yapılmalıydı. İşte bu ortamda Bush "tu kaka" ilan edildi! Amerikan değerleri sapasağlam yerinde duruyordu ama Bush bu değerleri temsil etmiyordu! Yerine dünyaya ve özellikle Müslümanlara sıcak bir mesaj vermek amacıyla Hüseyin Barack Obama getirildi. Afganistan ve Irak'taki savaş bıkkınlık yaratmıştı. Hem ekonomik bir depreme neden olmuş hem de iç kamuoyunda olumsuz bir algı oluşmuştu.
Obama ile birlikte ABD derin devleti aynı hedeflere farklı yöntemlerle ulaşmak için yeni yöntemleri devreye soktu. Doğrudan ABD askeri kullanmak yerine, IŞID, PKK, YPG, El Nusra gibi terör örgütleri sahaya sürüldü !!!!!!!!!!!!! (Τα θαυμαστικά του "σάϊτ" μας)!.. Barzani gibi geleneksel uydular kullanıldı. Bölge ülkelerinde bu anlayışa uygun politikalara destek verildi. Açılımlar, Haburlar, Oslo'lar bu planın parçalarıydı. Mali yükü azaltmak için kirli savaşın faturası Katar ve Suudi Arabistan'ın üzerine yıkıldı. Sahadaki sistemin örtülmesi ve terörle mücadele imajının kafalara kazınması için devletlerden sadece hava desteği talep edildi. Böylece Irak'ta büyük bir askeri harekât ile gerçekleştirilen sonuca Suriye'de daha az maliyetle ulaşılması hedeflendi.
DERİN DEVLET HEP HAKLIDIR
Rusya'nın müdahalesi ile planlarda bozulmalar başlayınca Obama günah keçisi yapıldı. Aldığı kararlar bile hukuk dışına çıkılarak çöpe atıldı. Obama'nın süreçleri yönetemediği, ABD'nin gerçek gücünü yansıtamadığı vurgulandı. Netanyahu ile karşı karşıya getirildi. Oysaki Obama, sadece onların dediğini yapmıştı. ABD öyle de, böyle de gerilemeyi durduramıyor. Şimdi ABD içinde de hoşnutsuzluklar başladı. Amerikan halkı aslında Clinton'a değil, ABD derin devletine (Establisment) "hayır" dedi. (Καααααλά)! Ekonomik sorunlar Amerikan halkını sistemden uzaklaştırıyor.
DERİN DEVLETİN YENİ PLANI
ABD derin devleti bu gerilemeyi durdurmak için daha geniş bir planla ortaya çıktı. Önce içerideki Amerikalının gönlünü kazanmaya çalışıyor.
Trump'ın üretim tesislerini ABD'ye taşıması, güvenlik masraflarını Avrupa'nın üstüne yıkma çabalarının amacı içe mesaj vermektir.
Diğer taraftan Trump'ın İsrail'in politikalarını gözü kara desteklemesi aslında her şeyi açıklıyor.
İsrail'in dümen suyuna girmek, Irak ve Suriye politikalarının, küçük ayarlarla aynen devam etmesi anlamına geliyor…
ABD'nin, Rusya'ya sıcak mesajlar verirken, Çin ve İran'a karşı kaba tehditleri, resmi tamamlamamıza yardımcı oluyor… ABD yeni bir küresel jeopolitik denklem kurmayı hedefliyor.
Çin en önemli ve öncelikli tehdit olarak kabul edilerek hedefe oturtuluyor. Hem denizden hem de karadan kuşatılması için çalışmalar başladı bile! Eğer Rusya tarafsız bir konuma gelirse, bu ABD açısından büyük bir başarı olur. Rusya ile flörtü bu kapsamda düşünmeliyiz.
Batı Asya'da (Ortadoğu) İsrail'le uyumlu politikalar sahneye konulacak.
İran'la kriz her geçen gün daha da derinleşecek!
Türkiye'nin çeşitli yöntemlerle ABD'nin bölge politikalarına yeşil ışık yakması için çalışmalar yapılacak. Türkiye'ye karşı sıcak bir dil kullanılacak, küçük tavizler verilecek ancak büyük tavizler talep edilecek!
ABD içine düştüğü krizi, tehditlerle, savaşlarla ve yeni ittifaklarla aşmak, en azından ertelemek istiyor. Türkiye şu andan itibaren atacağı her adımı stratejik bir çerçeveye sokmalıdır. Her hal ve şartta bölge ülkeleri ile kucaklaşmadan ulaşılabilecek hiçbir limanın olmadığı açık, seçik görülüyor.
 19. 
Ο στρατιωτικός εμπειρογνώμονας επέκρινε την αξιολόγηση των κατασκευαστών όπλων SIPRI
"Όσον αφορά τη στρατιωτική παραγωγή, βρισκόμαστε μπροστά από το Ηνωμένο Βασίλειο από το 2000", δήλωσε ο στρατιωτικός εμπειρογνώμονας Igor Korotchenko, ο οποίος σχολίασε την έκθεση του Διεθνούς Ινστιτούτου Ερευνών για την Ειρήνη της Στοκχόλμης (SIPRI) και την δεύτερη θέση της Ρωσίας, στην παραγωγή και εξαγωγή όπλων.
"Η έρευνα του Ινστιτούτου Ερευνών για την Ειρήνη της Στοκχόλμης (SIPRI) είναι ένα απολύτως θέμα", δήλωσε ο Igor Korotchenko, μέλος του δημοτικού συμβουλίου του Υπουργείου Άμυνας, στρατιωτικός εμπειρογνώμονας.
Οι όγκοι της ρωσικής και βρετανικής στρατιωτικής παραγωγής, κατά τα λεγόμενά του, είναι κατ 'αρχήν ασύγκριτοι. "Χωρίς καμία έρευνα, είναι σαφές ότι η Ρωσία βρίσκεται μπροστά από τη Βρετανία, από το 2000. Το SIPRI κάνει λάθη στο σύστημα και δηλώνει ένα γνωστό γεγονός ", ανέφερε ο εμπειρογνώμονας.
Σύμφωνα με τον Κοροτσένκο, το λάθος της μεθοδολογίας SIPRI είναι ότι όλων των επιχειρήσεων του αμυντικού συγκροτήματος, εκ των οποίων υπάρχουν περίπου 1.300 στη Ρωσία, η μελέτη ανέλυσε τους δείκτες μόνο 10 εταιρειών. "Από όλες τις υπάρχουσες εταιρείες, πήραν 10 και λένε ότι είμαστε μπροστά από το Ηνωμένο Βασίλειο", αναρωτιέται ο εμπειρογνώμονας.
Έτσι, η SIPRI δεν λαμβάνει υπόψη τους δείκτες του Ινστιτούτου Τεχνικής Θέρμανσης της Μόσχας – ο κορυφαίος κατασκευαστής και κατασκευαστής στρατηγικών πυραυλικών συστημάτων, ανέφερε η πηγή. "Αναφέρουν στοιχεία σχετικά με την "Almaz-Antey", αλλά αυτά τα στοιχεία παρείχαν προηγουμένως η αμερικανική εβδομαδιαία "Defense News", η οποία κατέταξε την "Almaz-Antei", ως την όγδοη θέση μεταξύ των κορυφαίων κατασκευαστών όπλων στον κόσμο και δεν υπάρχουν αισθήσεις σε αυτό", είπε ο Korotchenko.
Τα τελευταία 15 χρόνια, η Ρωσία κατέλαβε τη δεύτερη θέση στον κόσμο μετά τις Ηνωμένες Πολιτείες, όσον αφορά την αμυντική παραγωγή και την εξαγωγή όπλων, τόνισε. "Παράγουμε και αναπτύσσουμε όλα τα είδη όπλων, που κυμαίνονται από αυτόματους έως στρατηγικούς διηπειρωτικούς βαλλιστικούς πυραύλους. Η δεύτερη θέση ήταν πάντα, είναι και παραμένει για μας χωρίς καμία έρευνα. Και λένε ότι έχουμε ξεπεράσει την Αγγλία και το δίνουμε σαν αίσθηση ", δήλωσε ο ειδικός.
"Οι σοφοί της Στοκχόλμης στέκονται στο SIPRI, οι οποίοι αυθαίρετα ζογίζουν με τα γεγονότα, τα δεδομένα τους είναι ευκαιριακά, υποκειμενικά και δεν βασίζονται σε ένα συνδυασμό γεγονότων", πιστεύει ο Κοροτσένκο. Ο εμπειρογνώμονας εξήγησε ότι οι μελέτες αυτές είναι στενά εντοπισμένες και δεν αναλύουν το σύνολο των δεδομένων, τα οποία, όπως τόνισε, είναι διαθέσιμα στο κοινό.
"Αυτό δεν είναι παρά μια ενημερωτική ευκαιρία να μιλήσουμε γι 'αυτό", κατέληξε ο Κοροτσένκο.
Θυμηθείτε, το Ινστιτούτο Στοκχόλμης για τις Ειρηνευτικές Σπουδές (SIPRI) δημοσίευσε μια έκθεση σχετικά με την κατάσταση της στρατιωτικής παραγωγής και των εξαγωγών στον κόσμο, σύμφωνα με την οποία η Ρωσία πήρε τη δεύτερη θέση μετά τις Ηνωμένες Πολιτείες, πιέζοντας τις βρετανικές εταιρείες.
Η μελέτη παρουσιάζει δεδομένα της εταιρείας "Almaz-Antey" για το 2017, σύμφωνα με τα οποία κινήθηκε από την 13η στην 10η θέση, αυξάνοντας τις πωλήσεις κατά 17%, στα 8,6 δισεκατομμύρια δολάρια.
20.
Ο Νέος Επικεφαλής της GRU

 

Ο αντιναύαρχος Igor Kostyukov, ο οποίος εκτέλεσε προσωρινά τα καθήκοντα του επικεφαλής της "Γενικής Διεύθυνσης Πληροφοριών", των Γενικών Επιτελείων των Ενόπλων Δυνάμεων, διορίστηκε επικεφαλής της GRU, ανέφερε η πηγή.
«Αντιναύαρχος Ιγκόρ Kostjukov, ενεργώντας επικεφαλής της GRU, διορίστηκε επικεφαλής της Κύριας Διεύθυνσης Πληροφοριών του Γενικού Επιτελείου της Ρωσίας», Πηγή Tass.
Ο Kostyukov γεννήθηκε στις 21 Φεβρουαρίου 1961, έχει ναυτική εκπαίδευση, αποφοίτησε από τη Στρατιωτική Διπλωματική Ακαδημία, και μετά άρχισε να υπηρετεί στην GRU. 
Ασχολήθηκε άμεσα με την ηγεσία της στρατιωτικής επιχείρησης στη Συρία.
Ο αντιναύαρχος έχει λάβει τον τίτλο "Ήρωας της Ρωσίας", για το θάρρος και τον ηρωισμό του, κατά την εκτέλεση του στρατιωτικού καθήκοντος. 
Το 2016, συμπεριλήφθηκε στον κατάλογο κυρώσεων των ΗΠΑ για «ενέργειες για υπονόμευση της δημοκρατίας στις Ηνωμένες Πολιτείες», τον Σεπτέμβριο του 2018, για «παρέμβαση στις αμερικανικές εκλογές του 2016».
Ο Kostyukov διορίστηκε επικεφαλής της GRU στα τέλη Νοεμβρίου μετά τον θάνατο του πρώην επικεφαλής Igor Korobov.
Η εφημερίδα VIEW έγραψε λεπτομερώς γιατί, για πρώτη φορά στη σύγχρονη ιστορία, ναυτικός διορίστηκε επικεφαλής της GRU.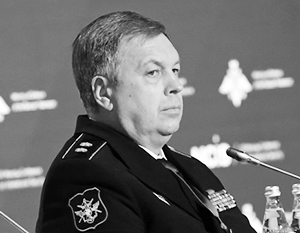 "ΧΑΙΡΕΤΕ"!
"ΕΛΛΗΝΑΣ"
-/-