1.
Iran accuses

Israel

of attack on cargo vessel in Mediterranean
An Israeli soldier fires on board the Israeli Navy Ship Lahav. (illustrative) (AP Photo/Ariel Schalit)
An unnamed investigator told the semi-official Nournews that "one of the strong possibilities is that this terrorist operation was carried out by the Zionist regime."
By World Israel News Staff
An Iranian cargo vessel was targeted this week in a "terrorist attack" in the Mediterranean Sea, the country's state TV reported on Friday. There were no casualties in the explosion, the report said.
The report quoted Ali Ghiasian, spokesman for Iran's state shipping line, who said that Wednesday's attack damaged Shahr-e Kord, a commercial vessel traveling to Europe. He said an "explosives device" damaged the hull of the ship and set off a small fire that was quickly extinguished.
Ghiasian said "legal prosecution of the perpetrators of this terrorist action will be pursued through competent international organizations."
The report said the ship would continue on its path following a damage assessment, without providing more details.
On Saturday, Reuters reported that local media were quoting an Iranian investigator who blamed Israel as the most likely suspect behind the strike.
An unnamed individual told Iran's semi-official Nournews that "considering the geographical location and the way the ship was targeted, one of the strong possibilities is that this terrorist operation was carried out by the Zionist regime."
According to the Wall Street Journal on March 11, "Israel has targeted at least a dozen vessels bound for Syria and mostly carrying Iranian oil out of concern that petroleum profits are funding extremism in the Middle East," citing U.S. and regional officials.
The sources tell the Journal that since the end of 2019, "Israel has used weaponry including water mines to strike Iranian vessels or those carrying Iranian cargo as they navigate toward Syria in the Red Sea and in other areas of the region."
These attacks were previously undisclosed.
Earlier this week, Israel accused Iran's Revolutionary Guard of attaching an explosive device to the Israeli-owned cargo vessel Helios Ray in international waters near the Gulf of Oman in February. The vessel was en route from Saudi Arabia to Singapore. Israel said the explosion caused "severe damage, forcing the ship to return to the port of Dubai to ensure the safety of the crew."
Iran rejected the claim as an unfounded allegation.
Israel's Minister of Environmental Protection also accused Iran of being behind the massive oil spill that polluted Israel's beaches in February, saying "environmental terrorists" were responsible for a deliberate attack on Israel.
Iran has repeatedly threatened Israel's destruction. Earlier this week, Israel's Defense Minister Benny Gantz told Fox News that his country is upgrading contingency plans to strike Iranian targets if Tehran shows signs of a nuclear escalation.
Iran denies it is pursuing nuclear weapons and says its nuclear program is for peaceful purposes.
AP contributed to this report.
2.
Large pro-

Israel

group in US launches ads against Biden Pentagon pick
The ads target Colin Kahl's "hostility toward Israel," and specifically his "effort to strip recognition of Israel's true capital of Jerusalem from the Democratic party's platform."
By Alana Goodman, Washington Free Beacon
A prominent pro-Israel group is launching a targeted ad campaign calling on Democratic Sen. Joe Manchin (W. Va.) to oppose Pentagon nominee Colin Kahl, citing Kahl's "antagonism" toward Israel and "disturbing" positions on Iran.
The series of ads will run in six West Virginia newspapers early next week, ahead of the Senate Armed Services Committee's vote on Kahl's nomination for undersecretary of defense for policy, which is expected to take place on Tuesday. Manchin has said he is still undecided and is likely to hold the swing vote on the committee.
The ads feature a statement by Pastor Doug Joseph, Christians United for Israel's state director for West Virginia, describing Kahl as an "antagonistic anti-Israel voice" and asking constituents to call Manchin's office and voice their opposition.
The ad campaign comes as a number of Republicans have come out strongly against Kahl, due to his positions on Israel and Iran, as well as his inflammatory Twitter comments. Kahl has referred to the GOP as the "party of ethnic cleansing" and a "clown show," and approvingly linked to an anti-Israel blog that claimed the "Israel lobby" was trying to start a war between the United States and Iran.
"Kahl's nomination may well hinge on one vote. And that vote will very likely be our state's own Sen. Joe Manchin," wrote Joseph. "Given his West Virginia values and common-sense approach to the Middle East, I am hopeful he'll make the right decision and decline to support such a misguided nomination."
"The stakes are high. I have every confidence that Sen. Manchin is disturbed by Kahl's record on Israel because, like the majority of West Virginians, the senator has Israel in his heart," he added.
Christians United for Israel is the largest pro-Israel advocacy group in the country and has over 77,000 members in West Virginia, according to a spokesman.
"Kahl's hostility toward Israel is beyond unconventional. It's outlandish," says Joseph in the ad. "While serving in the Obama administration, he led an effort to strip recognition of Israel's true capital of Jerusalem from the Democratic party's platform."
"Kahl's disqualifying positions are not limited to his antagonism toward Israel. He has held numerous positions concerning Iran that call his judgment into question," the ad continues. "Among the most disturbing was his opposition to America's designation of Iran's ruthless Islamic Revolutionary Guards Corps (IRGC) as a Foreign Terrorist Organization."
Sen. Manchin did not respond to a request for comment.
The ads will run in the Charleston Gazette-Mail, the Herald Dispatch, the Register Herald, the Bluefield Daily Telegraph, the Times West Virginian (Fairmont) and the Parkersburg News & Sentinel, according to CUFI.
"Colin Kahl is unfit to serve," said CUFI founder and chairman Pastor John Hagee in a statement to the Washington Free Beacon. "His fringe pro-Iran, anti-Israel views would imperil the national security interests of the United States. The people of West Virginia are communicating with Sen. Manchin's office and we believe it is incumbent upon the Senator to hear what his constituents are saying and oppose this nomination."
3.
'

I'd kill Jews and eat them for breakfast': Hitler lookalike, Army reservist charged in Capitol riots
Timothy Hale-Cusanelli (YouTube/Lisa Cabrera/Screenshot)
Timothy Hale-Cusanelli allegedly said that "babies born with any deformities or disabilities should be shot in the forehead."
By Lauren Marcus, World Israel News
An Army Reservist and former contractor for the U.S. Navy who is currently facing charges for participating in the Jan. 6 Capitol riots has a long history of anti-Semitic and racist remarks, the Washington Post reported.
New Jersey resident Timothy Hale-Cusanelli, who had high level security clearance for his work in the Navy, reportedly grew a "Hitler-style mustache" and made disturbing statements indicating that he harbored Nazi-like opinions on Jews and people with disabilities.
According to the Washington Post, a Navy colleague of Hale-Cusanelli heard him say that if he were a Nazi, "he would kill all the Jews and eat them for breakfast, lunch and dinner, and he wouldn't need to season them because the salt from their tears would make it flavorful enough."
He also allegedly referred to black people using racial slurs, and said that "babies born with any deformities or disabilities should be shot in the forehead."
4.
Iran reveals new 'missile city' with advanced capabilities
5.
IDF general: Next war will bring 2,000 missiles a day on Israel
By David Isaac, World Israel News
Home Front Commander Gen. Uri Gordin gave a dire warning during an address at the B'Sheva Conference in Jerusalem on Monday regarding the threat awaiting Israel in the next war.
"In the next war the State of Israel is expected to absorb about 2,000 missiles and rockets that will be launched at it every day and will challenge all military and civilian systems alike," Gordin said.
Israel faces missile threats on multiple fronts. In Lebanon, there are an estimated 150,000 missiles controlled by Hezbollah. The terror group is engaged in an ongoing effort to make its arsenal more precise.
Hamas is also working to build up its missile arsenal and routinely launches rockets at Israel from the Gaza Strip.
In Iran, which has repeatedly threatened to bomb Israel out of existence, a new "missile city" was just announced. It also has started enriching uranium, a key ingredient in nuclear weapons.
Gordin, who assumed his command in 2020, said that the missile option is one Israel's enemies will turn to because they can't beat Israel on the battlefield.
"Therefore, they are trying to transfer the battle to the second front, which is our home – physical damage to cities, towns and villages and damage to our spirit through psychological warfare. They must understand that even on the house front they will meet a determined and cohesive iron fist," Gordin said.
Gordin has addressed the danger from missiles before. In a Maariv interview in Sept. 2020, he said Hezbollah has "created a powerful threat to Israel in the field of rockets and missiles… This is a rocket quantity that no country in Europe has, and these are very significant capabilities that will meet us if war breaks out."
"There is no doubt that if a war breaks out, the Home Front will be very involved in it, because that is what our enemies have chosen," Gordin told Maariv.
"This is worrying, so we take a lot of action, some of it in the area of ​​protection. We have many defensive programs, some launched, some less so."
6.
Knesset member about to become first billionaire in Israel's parliament
Former Jerusalem Mayor and current MK Nir Barkat (Flash90)
 IPO is set to earn Barkat billions of dollars

.
By Lauren Marcus, World Israel News
Former Jerusalem Mayor and current Likud MK Nir Barkat is set to become the Knesset's first ever billionaire, as a company in which he is a major investor gears up for a giant initial public offering (IPO).
Barkat and his brother, Eli, are the brains behind the BRM Investment Fund. Together, they own 10% of FinTech company eToro, which is publicly valued at $10 billion and is preparing for a NASDAQ debut in the coming weeks.
According to Calcalist, the IPO will earn Barkat, who also owns shares in eToro as an independent investor, and his fund billions of dollars.
But this wouldn't be the first time that Barkat cashes in from a high-tech company exit. He was a founder and major investor in Check Point Technologies, a cyber security software company which is valued at $14 billion.
His fund also counts transportation app Moovit in its portfolio. Intel recently acquired Moovit for $1 billion.
A former venture capitalist, Barkat's current net worth is estimated at several hundred million dollars. He is the only member of Knesset who does not accept a salary from the state, and does not request reimbursements for expenses incurred while serving in the government.
Barkat has previously expressed his intention to become prime minister one day. Citing the fact that he is a marathon runner, he said he had the patience to wait out Prime Minister Benjamin Netanyahu's political career.
"The day after he leaves, I will know how to run and win in the Likud and get the public's trust to be prime minister," he told Channel 12 in a June 2020 interview.
During a June 2018 visit, Britain's Prince William extended an invitation to meet with Barkat at the British Ambassador's residence in Ramat Gan, which the then-Jerusalem mayor turned down.
Reportedly, the British government feared that a meeting between the monarch and the Jerusalem mayor in the Jewish State's capital city would lead to international backlash.
Rather than agree to meet Prince William in the Tel Aviv suburb, Barkat refused to meet him at all. Barkat's aides told Hebrew media that he skipped the Ramat Gan meeting "out of respect for Jerusalem."
7.
Joint Statement by the Secretary of State of the United States of America, the Foreign Secretary of the United Kingdom, and the Foreign Ministers of France, Germany, and Italy
Media Note
Office of the Spokesperson
March 15, 2021
The following statement was released by United States Secretary of State Antony J. Blinken, French Foreign Minister Jean-Yves Le Drian, German Foreign Minister Heiko Maas, Italian Foreign Minister Luigi Di Maio, and UK Foreign Secretary Dominic Raab on the occasion of the 10-year anniversary of the Syrian uprising:
Begin text:
Today marks ten years since the Syrian people peacefully took to the streets calling for reform. The Assad regime's response has been one of appalling violence. President Assad and his backers bear responsibility for the years of war and human suffering that followed. We praise the brave individuals and organisations who over the last ten years have exposed the truth from Syria, documented and pursued abuses, mass atrocities, and grave violations of international law to hold the perpetrators accountable and delivered vital assistance to communities. That work remains essential.
After years of conflict, widespread corruption, and economic mismanagement, the Syrian economy is broken. More than half of the population, nearly 13 million Syrians, depend upon humanitarian assistance. The millions of Syrian refugees, hosted generously by Syria's neighbours, Turkey, Jordan, Lebanon, Iraq, and Egypt as well as those internally displaced cannot yet return home without fear of violence, arbitrary arrest, and torture. Continued conflict has also led to space for terrorists, particularly Daesh, to exploit. Preventing Daesh's resurgence remains a priority.
It is imperative the regime and its supporters engage seriously in the political process and allow humanitarian assistance to reach communities in need. The proposed Syrian Presidential election this year will neither be free nor fair, nor should it lead to any measure of international normalization with the Syrian regime. Any political process needs the participation of all Syrians, including the diaspora and the displaced, to enable all voices to be heard.
We, the Foreign Ministers of France, Germany, Italy, the United Kingdom and the United States, will not abandon the Syrian people. Our nations commit to reinvigorating the pursuit of a peaceful solution which protects the rights and future prosperity of all Syrians, based on UN Security Council Resolution 2254. Impunity is unacceptable and we will firmly continue to press for accountability for the most serious crimes. We will continue to support the important role of the Commission of Inquiry and the International, Impartial and Independent Mechanism. We welcome the ongoing efforts by national courts to investigate and prosecute crimes within their jurisdiction committed in Syria. We will not tolerate Syria's non-compliance with the Chemical Weapons Convention and fully support the work of the OPCW in this regard. We will continue to strongly call for a nationwide ceasefire, unhindered aid access through all possible routes to those in need, including through the renewal of UN Security Council Resolution 2533 and the cross-border mechanism by the UN Security Council, as well as the release of those arbitrarily detained, and free and fair elections under UN auspices with all Syrians participating, including members of the diaspora. To that end we reiterate our firm support for UN Special Envoy for Syria, Geir Pedersen's efforts to deliver all aspects of UN Security Council Resolution 2254 as the only way to resolve this conflict. Clear progress towards an inclusive political process and an end to the repression of the Syrian people is essential. We cannot allow this tragedy to last another decade.
8.
'

You should all have died in the Holocaust': Crazed anti-Semitic attack in Buenos Aires
Two Orthodox Jewish women were subjected to a crazed anti-Semitic attack in downtown Buenos Aires on Monday, with the assailant screaming anti-Jewish invective and expressing her wish that "you should all have died in the Holocaust."An eyewitness to the attack told the Argentine news portal Vis-a-Vis that he had been riding his skateboard along a main thoroughfare in the Once neighborhood of the Argentine capital. He saw a car in which the two Orthodox Jewish women were traveling pull over with its horn honking urgently, and approached the two women, asking them what was wrong.The woman who was driving indicated a second car that had arrived alongside, saying "she collided into me."The driver of the second car then exited her vehicle and proceeded to attack the Jewish woman. She pulled off the woman's sheytl — the wig traditionally worn by Orthodox Jewish women to cover their hair — and threw her to the ground, shouting, "you f***ing Jew, I'm going to kill you, you should have all died in the Holocaust."At this point, the eyewitness said he intervened, grabbing the assailant and pulling her off the Jewish woman.

"It was an extreme moment," the witness said. "I grabbed the woman and called the police. She was not in her right mind. All the time saying 's***ty Jew', 'I'm going to kill you all', repeating about the Holocaust."

The assailant also told her victim, "I'm from Cristina" — a reference to the former Argentine President, Cristina Fernandez de Kirchner, whom many Argentine Jews suspect of colluding with the Iranian regime to prevent the Iranian suspects in the 1994 bombing of the AMIA Jewish Center in Buenos Aires from being brought to justice.

There was another twist in Monday's incident that occurred after police arrived at the scene. According to the witness, the assailant was apparently not arrested, but instructed to leave in her car. As she drove off, however, she attempted to plough straight into the two Jewish women, hitting the sidewalk instead. Only at this point was she forcibly removed from her car and arrested.

Another colleague said Hale-Cusanelli would approach new coworkers by asking, "You're not Jewish, are you?" in a manner that he described as "joking but not."
An additional Navy contractor said that it was clear that he was "crazy," and people were "afraid" to report his behavior to supervisors for fear of retribution from Hale-Cusanelli.
Investigators also found photos on Hale-Cusanelli's cellphone in which he sported a Hitler mustache and styled his hair to resemble that of the German dictator.
Prosecutors, who want Hale-Cusanelli to remain in pretrial custody rather than being freed on bail, presented his remarks during a bond hearing as proof that his participation in the riot was in line with an ideology that poses a risk to public safety.
Jonathan Zucker, Hale-Cusanelli's attorney, said that the pictures and statements did not prove that his client is an "avowed white supremacist and Nazi sympathizer." He said there was zero proof that he is a member of "any white supremacist organizations."
Army Reserve Strategic Communications told the Post, "The Army does not tolerate racism, extremism or hatred in our ranks and is committed to working closely with the FBI as they identify people who participated in the violent attack on the Capitol to determine if the individuals have any connection to the Army.
9.
Most notorious anti-Semitic tract found at Capitol Hill security post
There is No Biden Administration
Only an imminent 25th Amendment crisis and soldiers in the streets.
Daniel Greenfield, a Shillman Journalism Fellow at the Freedom Center, is an investigative journalist and writer focusing on the radical Left and Islamic terrorism.
In the final months of the Trump administration, House Democrats universally voted to demand the unconstitutional use of the 25th Amendment to remove President Trump from office.
The 25th Amendment was meant to remove presidents who were unable to discharge their duties. President Trump was clearly able to do so, but Biden may be exactly the disastrous scenario that the 25th Amendment was created to avoid. And he may be its worst test case.
A basic problem with the Biden administration is that there really isn't one. Like most journalists I use the term as a formality, but the White House site calls it the Biden-Harris Administration. It's not unheard of for younger presidents like George W. Bush to lean on more experienced vice presidents, but a politician who spent 46 years in public office letting a newbie like Kamala Harris handle most of the phone calls with foreign leaders is the opposite of that scenario.
The Biden campaign has been open about Kamala Harris being trained to step into Biden's shoes because it doesn't expect him to run for reelection or even make it through one term.
Except that presidents aren't supposed to run for office as figureheads or stalking horses.
Kamala Harris isn't talking to foreign leaders because she has more experience, but because the guy whose job it is to do it isn't up to anything challenging beyond some photo ops, stumbling through a teleprompter speech, and then a trip back home over the weekend.
Don't ask him to hold a press conference or pull off an actual State of the Union address.
Obama was the teleprompter-in-chief, but Biden is also the telecommuter-in-chief.
Biden's face is everywhere, but there's no real sign that he's actually running anything. Instead the Biden administration seems to be exactly the kind of mess that the 25th Amendment was designed to prevent in which a non-functional president is the figurehead for the cabinet members and the special interests who are actually calling all the shots.
The Potemkin village that is the Biden administration was built in two tiers with establishment cabinet members who appear more moderate presented for Senate approval while extremists were being placed in key positions to set policy on everything from civil rights to Iran.
The big policy momentum though isn't coming from the Biden administration, but from Pelosi.
The Obama administration called the shots, not Nancy Pelosi or Harry Reid. The Biden administration is filled with Obama's old people, but there's no leader in the White House to push forward an agenda. That's why the most powerful elected  official in the country isn't Joe Biden or Kamala Harris: Nancy Pelosi has become the closest thing to POTUS.
Pelosi may not have all her marbles, but she's got enough of them to advance an agenda. And she can also perform incredible feats like remember the name of the Secretary of Defense.
That's more than Biden can do.
The issue isn't just mental capacity. Biden can obviously be prepped to perform in public. He may have yet to hold a press conference, which even with softball questions might be daunting, and there's no actual State of the Union in sight, but leading the country is a lot more than speechifying. It requires a focus and drive that Biden didn't have during the campaign.
And that he very clearly still lacks.
What the guy in the Oval Office does, more than anything else, is exercise his judgement.
The President of the United States has to sort through national and international problems, get input from his appointees and advisers, pick and choose between the different factions around him, and make the final decision about a course of action. That is actually how the president runs the country and there's no sign that Biden is doing that or is even capable of doing it.
The role of the Chief Executive exists because one person needs to make those decisions.
In Biden's mental absence, various appointees chosen by his cronies, think tanks, and donors are making their own policy and their own decisions for a figurehead government. It's the "I'm In Control" moment from the Reagan assassination writ large and with no end in sight.
Biden's term will test the question of whether it's better to have a bad president or no president.
The 25th Amendment was created to protect the presidential transition. The Biden administration is giving us a field test of what would happen with no presidential transition. Instead an inexperienced VP, various cabinet members and appointees, carve out their own territories, and run parts of the government in their own way while trying to avoid clashes.
The only man who can decisively settle the clashes when they come is out to lunch.
Monarchies have functioned with insane and senile kings, but America doesn't have a prime minister. Instead, the Biden administration is there to sign off on anything Pelosi proposes and Schumer manages to pass, while its cabinet officials flail and the radicals behind the scenes wreck the country making this a farcical rerun of the Obama administration without Obama.
Biden's old boss could have tried to dominate the administration, but he despised Biden too much to come on board until the very last second. Obama's own chosen candidates, including a hilarious failure by Deval Patrick, crashed and burned, giving him very little sway. The Left had coalesced around Bernie and no one is giving Obama any credit for swinging the election.
That role instead went to Stacey Abrams.
The only way that Obama could have kept his central role would have been to pull a Clinton and hold out hope that Michelle was going to run. But Michelle didn't want to run, and without a potential presidential candidate in his pocket, there was no reason for anyone to listen to Obama. Deals with Netflix and Spotify are the perfect sinecures for the laziest man in the White House since Jimmy Carter, but it's not enough money to duplicate the old Clinton machine.
The Biden administration was built out of the wreckage of the Obama and Sanders campaigns, but staffers and appointees are only loyal to whoever can get them their next job. That's not Obama and it's not Biden who can't name his own Secretary of Defense. It's the think tanks and non-profits who built the Obama administration and built an even more radical Biden admin.
But non-profits and think tanks can't actually run a government. Neither can Biden.
That's why there isn't a Biden administration. There's an ongoing Netroots conference on government property. That's why Jen Psaki can't answer any real questions. The press secretary is supposed to speak for the White House, but there's no one to speak for. Like a plane with no airport, she keeps circling back because there's no administration position.
It's also why the Biden administration keeps wading into culture wars. They're comfortable territory and a good distraction from the fact that the lights are on, but nobody's home. Picking a fight with Tucker Carlson or extending the D.C. military occupation buys a little more time for everyone to figure how an administration can function with no final decision maker at the top.
Forget Harry Truman's 'The Buck Stops Here'. There's nowhere for the buck to stop.
The military occupation of Washington D.C. would be bad under any administration, but deploying the military indefinitely when there isn't a functional chain of command is ominous. Power-sharing arrangements, like those of the Soviet Union's Troikas, are the likeliest to break down and descend into violence. And then the military becomes the ultimate power play.
Combine a looming 25th Amendment, a military occupation of Washington D.C., and a leadership that, despite appearances is actually deeply at odds, and the situation is explosive.
Outwardly, if you watch the media, everything appears normal. But it usually does.
The old journalism has been mostly replaced by reporters who only know how to cover social justice issues. They can cover the Biden administration through the lens of race or sex, but don't ask them to do basic things like figure out who's making the decisions in the White House.
The facade of normalcy that readers get from the New York Times or that viewers get from CNN comes apart in a crisis. A divided government can run its own spheres of influence, but when faced with something bigger, whether it's the pandemic, or the border crisis, it all falls apart.
The Biden administration is the equivalent of one of those cartoons of a bunch of kids standing on each other's shoulders while draped in a trenchcoat so they can all pretend to be one adult.
The illusion holds up until they try to walk.
The Biden illusion holds up as long as all the various parts of the administration are busy dealing with their own problems, but when there's a national or international crisis, then it becomes obvious that no one is making the overall decisions and no one knows how to do it.
Biden's people are doing plenty of damage by commission, but if an actual crisis breaks out, such as a war or an economic collapse, they'll do even more damage by omission. And that's the ticking time bomb in this administration that the 25th Amendment was designed for.
But it is a Biden-Harris administration. The Biden part of it is running things more or less in Biden's mental absence. And that inner circle of Biden's D.C. advisers and loyalists is going to resist ceding power to Kamala's sister and the California crowd. That's a major reason why Biden's leading cabinet members are more moderate than many of their subordinates.
A key role of Biden's cabinet appointees is stalemating a 25th Amendment coup by Kamala.
Any attempt to invoke the 25th Amendment would lead to legal challenges that would require defining, among other things, which cabinet members can legally vote on Biden's removal.
Sending the question to the Roberts Court would just stalemate it further. The same court that was unwilling to take a stand on the election is not about to decide who should be president.
Faced with an irresolvable legal battle, there's always all those soldiers deployed in D.C.
The Biden administration is a disaster because it restores the rule of a radicalized leftist machine. But it could potentially be an even bigger disaster because it's got a figurehead at the top of a house of cards that could easily collapse or trigger a civil war in a major crisis.
That's another urgent reason why the military occupation of Washington D.C. needs to end.
If the Biden administration's power-sharing arrangement catastrophically breaks down in a 25th Amendment scenario, none of the factions should have an easy recourse to armed force in a government town where using the military to deal with a political crisis has become the answer.
The media spent the Trump administration hypocritically lecturing the country about the violation of political norms. Now there are soldiers in D.C. and no functioning commander-in-chief.
The real violation of political norms is going to be spectacular.
28.
Horowitz Video ("FRONTPAGE MAG"): The Democrats' China Syndrome
What the Democrat demand for vaccine passports is really all about.
[David Horowitz's new book, The Enemy Within: How A Totalitarian Movement is Destroying America, will be published by Regnery on April 6, 2021.]  
Freedom Center founder David Horowitz recently appeared on Newsmax to discuss what is really at the heart of the Democrat demand for a coronavirus vaccine passport. He excoriates the Democrat Party for their corrupt connections to the Chinese Communist regime — and much more. Don't miss it!
29.
NATO Zirvesi başladı! ABD'den son dakika

Türkiye

açıklaması
ABD Dışişleri Bakanı Antony Blinken, Türkiye ile bazı konularda anlaşmazlık yaşadıklarının bir sır olmadığını söyleyerek, "Türkiye'yi NATO ve ABD'ye yakın tutmak, hem Ankara'nın hem de bizim çıkarımıza" dedi

.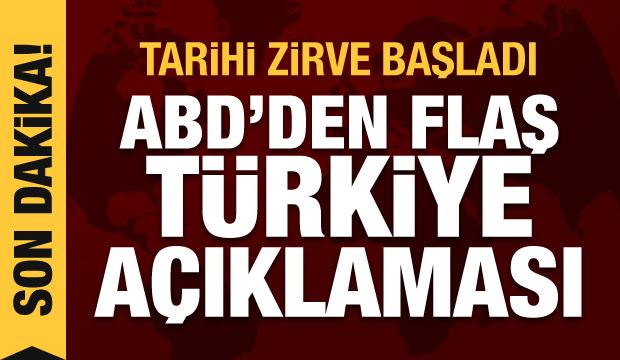 23.03.2021
Belçika'nın başkenti Brüksel'de
NATO
 Dışişleri Bakanları Zirvesi bugün başladı.
Zirvede açıklamalarda bulunan ABD Dışişleri Bakanı Antony Blinken, Türkiye ile anlaşmadıkları bazı konular olduğunu söyleyerek, "Türkiye'yi yakın bir müttefik olarak tutmak ABD ve NATO'nun çıkarına" dedi.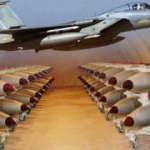 İncirlik'teki nükleer bombalarla ilgili flaş gelişme
Ankara ile yaşadıkları sorunların bir sır olmadığını söyleyen ABD Dışişleri Bakanı, Türkiye'nin değerli bir müttefik olduğuna vurgu yaparak, "NATO'da kalmak Ankara'nın da çıkarına" ifadesini kullandı.
Blinken, Dışişleri Bakanı Mevlüt Çavuşoğlu ile yarın bir görüşme gerçekleştirecek. Bu görüşme, Biden yönetimi ile Ankara arasındaki ilk temas olacak.
KAYNAK: HABER7
30.
İncirlik

'teki nükleer bombalarla ilgili flaş gelişme
Amerikan Bilim Adamları Federasyonu (FAS), ABD'nin son yıllarda Avrupa'daki taktik nükleer silahlarının sayısını üçte bir oranında azalttığını belirtti. FAS'a göre; bombaların büyük kısmı İncirlik'te bulunuyordu, ancak

en az 30'u buradan çıkarıldı

. Bu kararın, 15 Temmuz kalkışmasının ardından ABD ve Türkiye arasındaki ilişkilerin kötüleşmesi ve İncirlik'e erişimin engellenme olasılığı nedeniyle alındığı ifade edildi.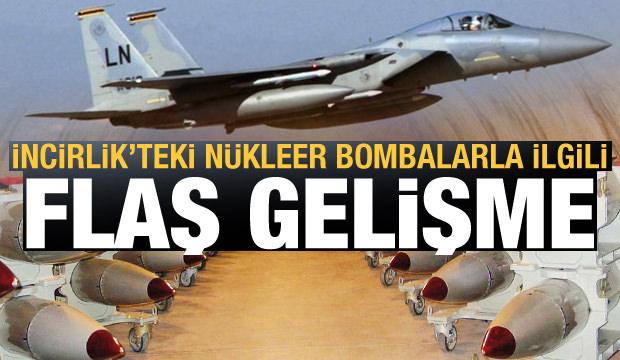 Amerikan Bilim Adamları Federasyonundan (FAS) Hans Kristensen ve Matt Korda, 
ABD
 nükleer kuvvetlerinin durumuna ilişkin hazırlanan 
son dakika
 raporunda, Avrupa'daki B61 nükleer yer çekim bombası sayısının 150'den 100'e azaltıldığını belirtti.
RESMİ BİR AÇIKLAMA YAPILMADI

ABD yönetimi, Avrupa'daki taktik nükleer silahlarının sayısında değişikliğe gidip gitmediğini henüz resmi olarak açıklamadı.
RUS YETKİLİ: DEĞİŞİKLİK YAPILDIYSA BU BİLDİRİLMELİ
Rusya'nın her zaman ABD'nin nükleer silahlarını Avrupa'dan çekmesini talep ettiğini anımsatan Kommersant gazetesinin haberine göre, Rusya devlet kuruluşlarındaki kaynaklar, ABD veya NATO'nun kapalı kanallar kullanarak Avrupa'daki nükleer cephaneliğin sayısının azaltıldığını bildirmediğini kaydetti. Gazeteye konuşan kaynaklardan biri, "Eğer sayı değiştiyse bu değişiklik, bombaların hassasiyeti ve işlevselliği iyileştirmeye yönelik modernizasyonuyla ilgili olabilir" dedi.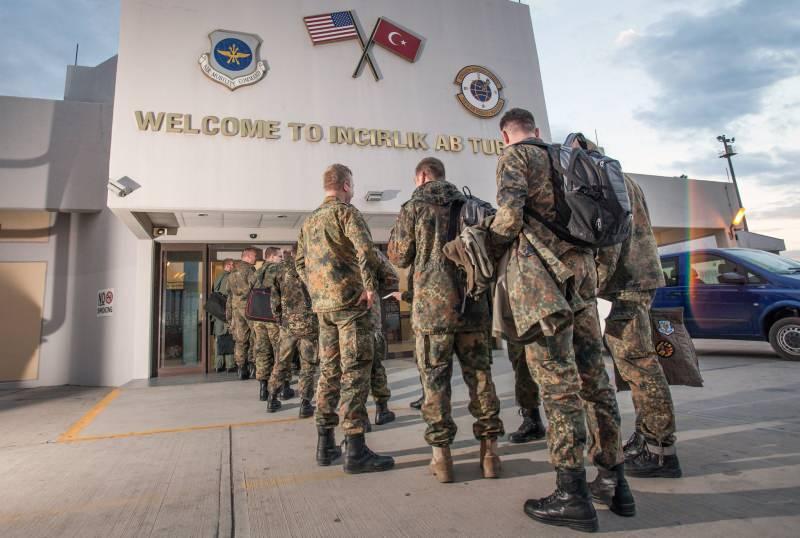 "NÜKLEER BOMBALAR İNCİRLİK'TEN SESSİZCE ÇIKARILDI"
FAS'ın verilerine göre, bombaların büyük kısmı -yaklaşık 50 tanesi-  İncirlik'te bulunuyordu, fakat rapora göre, en az 30'u buradan çıkarıldı. Bunun, 15 Temmuz 2016 darbe girişiminin ardından Türkiye ve ABD arasındaki ilişkilerin kötüleşmesi ve İncirlik üssüne erişimin engellenme olasılığı nedeniyle meydana geldiği ifade edildi. Darbeyi izleyen olayların ardından ABD'nin silah tahliyesini görüşmeye başladığı, ama bir kısmını tahliye ettiğini açıklamadığı ifade edilirken, Hans Kristensen, Kommersant'a yaptığı açıklamada, "Bu tür şeyler her zaman sessizce yapılır" yorumunu yaptı.
Alman medyası geçen yıl, Büchel üssündeki Amerikan bombalarının bir kısmının yeni modifikasyon olan B61-12 ile değiştirildiğini bildirmişti.
KAYNAK: SPUTNİK
31.
Türkiye ile ilgili bomba gelişme: Belge 2 gün sonra dünya liderlerine sunulacak
Avrupa Birliği'nin üst düzey yetkililerinden Josep Borrell'in 25-26 Mart'ta yapılacak AB Zirvesi'nde liderlere sunacağı Türkiye raporu ortaya çıktı. AB yetkilisi raporda, Türkiye hakkında daha çok pozitif gündeme odaklandı. Borrell raporunda AB'ye, Türkiye'nin gerginliği düşürücü tutumunu sürdürmesi halinde olumlu adımlar atması önerisinde bulundu. Raporun olumsuz tarafları da var

.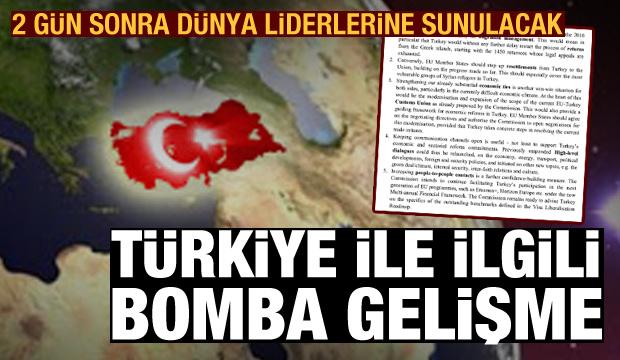 Avrupa Birliği (AB) Dışişleri ve Güvenlik Politikası Yüksek Temsilcisi
Josep Borrell
'in 16 sayfalık raporu AB-
Türkiye
 arasındaki siyasi, ekonomik ve ticari ilişkilerin fotoğrafını çeken bir içeriğe sahip. Dün 
Brüksel
'de toplanan AB dışişleri bakanları tarafından da ele alınan raporda ikili bir yaklaşım benimsendi.
OLUMLU VURGULAR
Türkiye'nin aralık ayından bu yana daha sakin ve yapıcı tavır sergilediğinin belirtildiği raporda, "Bunlar olumlu ve memnuniyetle karşılanan ileriye doğru adımlar. KovId-19 salgını, işbirliğine dayalı ilişkinin karşılıklı yararlarını daha da belirginleştirdi" denildi. Bununla birlikte gerilimi düşürme sürecinin halen kırılgan olduğu, sürecin sürdürülebilir ve inanılır olduğunu görebilmek için daha fazla zamana ihtiyaç olduğu da raporun vurguları arasında yer aldı.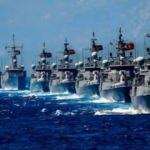 Doğu Akdeniz'de Türkiye ile Yunanistan arasında kırmızı hat anlaşması
POZİTİF TAVSİYELER
Türkiye'nin olumlu yaklaşımı sürdürmesi halinde AB'nin atabileceği adımlar şu şekilde sıralanıyor:
Mülteci odaklı 18 Mart mutabakatının, özellikle göç idaresi alanında, etkili şekilde uygulanması. Bu çerçevede Türkiye, Yunan adalarından tekrar mülteci kabulüne başlamalı. AB de Türkiye'den Suriyeli mülteci alımını hızlandırmalı.
Ekonomik bağların güçlendirilmesi her iki taraf için de kazan-kazan sonucu doğurur. Gümrük Birliğinin güncellenmesi bunun odağında yer alıyor.
Daha önce askıya alınan yüksek seviyeli diyalog tekrar başlamalı.
AB Komisyonu, vize muafiyeti için kalan kriterler konusunda Türkiye'ye tavsiyede bulunmaya hazır.
AB Komisyonu, Türkiye'deki mültecilere mali destek için yeni opsiyonları hızlı şekilde hazırlayacak.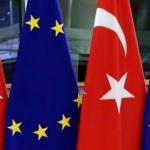 AB'den Türkiye açıklaması: Türkiye kilit öneme sahip
OLUMSUZ TAVSİYELER
Türkiye'nin gerginliği tırmandırması halinde ise şu adımlar öneriliyor:
Sondaj çalışmaları odaklı yaptırım listesi genişletilebilir. Tüzel kişiler içinde kısıtlama uygulanabilir.
AB-Türkiye ekonomik işbirliğine yönelik daha fazla kısıtlamaya gidilebilir.
Önemli ekonomik sektörler önlemlerle hedef alınabilir. Enerji ve bağlantılı sektörlere yönelik ek tedbirler devreye sokulabilir.
Öte yandan belgede, bölgesel ve uluslararası konularda Türkiye'nin yaklaşımı ve ülkede insan hakları ile hukuk devleti kapsamında yaşanan gelişmeler de yer buldu. Borrell, bu alanlarda olumsuz tespitlere yer verdi.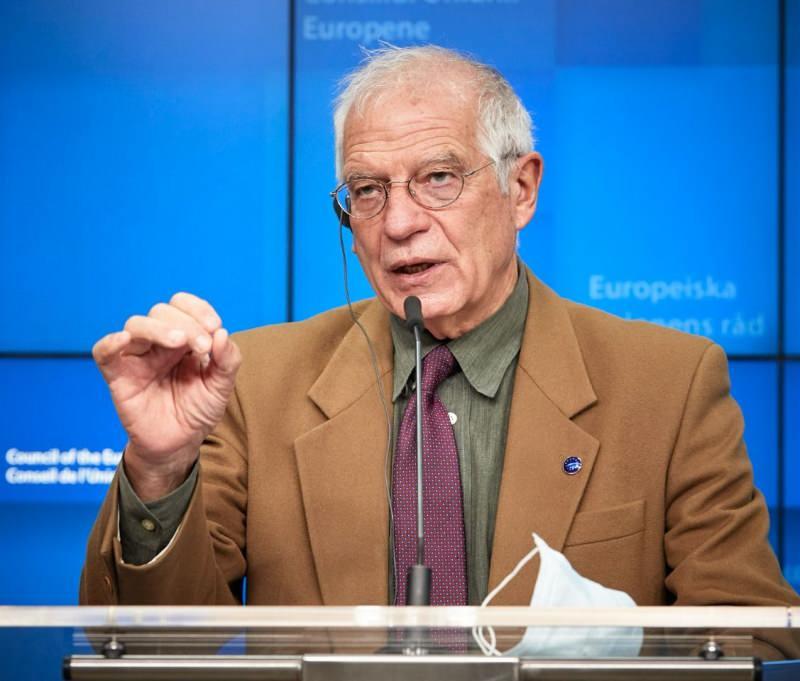 "EN İYİ İLİŞKİYİ İSTİYORUZ"
AB Yüksek Temsilcisi Josep Borrell, dünkü toplantı sonrasında yaptığı açıklamada, "Türkiye'yle, bir aday ülke, bir komşu, önemli bir ülke olarak üye ülkelerin çıkarlarını ve AB'nin değerlerini koruyarak en iyi ilişkiye sahip olmayı istiyoruz" dedi. Bakanların raporu olumlu ve dengeli bulduğunu söyleyen Borrell, "Türkiye'nin tavrını yakından izlemeyi sürdüreceğiz" ifadelerini kullandı. Borrell, izlenecek başlıca konuları ise Kıbrıs müzakereleri, Türk-Yunan görüşmeleri, Libya'daki durum ve Türkiye'deki iç siyasi gelişmeler olarak sıraladı. Olumlu gelişmeleri destekleme konusunda bakanlarla mutabık kaldıklarının altını çizen Borrell, "İstanbul Sözleşmesi'nden çekilme, siyasi parti kapatma davası gibi olumlu olarak değerlendiremeyeceğimiz gelişmeler de oldu" diye konuştu. Borrell, toplantı sonrası, NATO Dışişleri Bakanları Toplantısı'na katılmak üzere Brüksel'de bulunan Dışişleri Bakanı Mevlüt Çavuşoğlu ile bir araya geldi.
ATİNA RAPORDAN MEMNUN
Brüksel'deki toplantı öncesi değerlendirmelerde bulunan Yunanistan Dışişleri Bakanı Nikos Dendias da, Borrell'in Türkiye raporunu, eksikleri olmakla birlikte, prensipte olumlu bulduklarını açıkladı. Dendias, raporun yaptırım olasılığını içerdiğine vurgu yaptı.
KAYNAK: HÜRRİYET GAZETESİ / GÜVEN ÖZALP
32.
 53 il ve

KKTC

'de dev operasyon!
Fethullahçı Terör Örgütü'ne (FETÖ) yönelik yürütülen soruşturma kapsamında, İzmir merkezli ve Kuzey Kıbrıs Türk Cumhuriyeti'nde de olmak üzere 53 ilde eş zamanlı operasyon başlatıldı. Operasyonda çok sayıda kişinin gözaltına alındığı öğrenildi.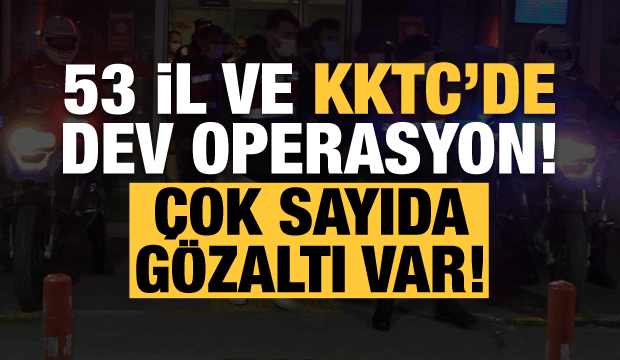 İzmir Cumhuriyet Başsavcılığı'nın, 
FETÖ
'ye yönelik yürüttüğü soruşturma kapsamında,  123'ü muvazzaf  olmak üzere146 asker ile 38'i darbe girişimi sonrası ilişikleri kesilen askeri okul öğrencisi hakkında gözaltı kararı verildi.
Bunun  üzerine İzmir merkezli olmak üzere 53 il ve KKTC'de saat 01.00 sıralarında eş zamanlı operasyon başlatıldı. Toplam 184 şüphelinin gözaltına alınması için İzmir İl Emniyet Müdürlüğü Terörle Mücadele Şubesi ve İzmir İl Jandarma Komutanlığı ekipleri harekete geçti.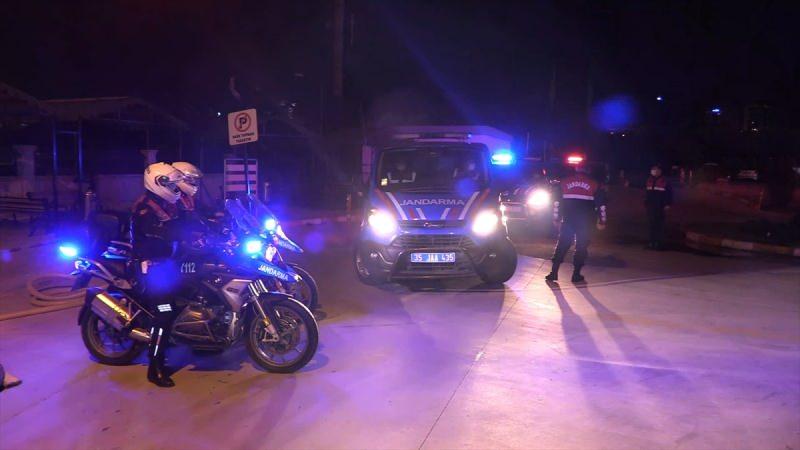 Operasyon kapsamında, çok sayıda şüphelinin gözaltına alındığı öğrenilirken, şüpheliler sağlık kontrollerinin ardından sorgulanmak üzere emniyete ve jandarma komutanlığına götürüldü.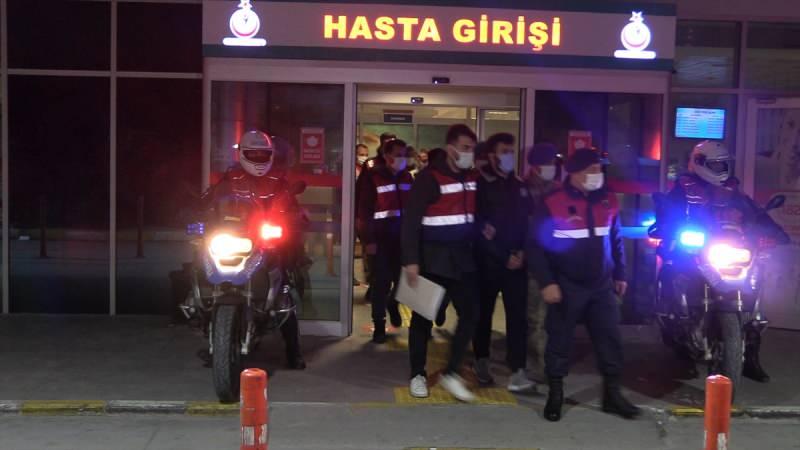 KARA KUVVETLERİ'NDE OPERASYON: 19 GÖZALTI
Ankara Cumhuriyet Başsavcılığı, FETÖ'nün Kara Kuvvetleri Komutanlığı yapılanmasına yönelik soruşturma kapsamında 19 şüpheli hakkında gözaltı kararı verdi.
MİLLİ EĞİTİM BAKANLIĞI'NDAKİ OPERASYONDA 13 GÖZALTI
Ankara Cumhuriyet Başsavcılığı, FETÖ'nün Milli Eğitim Bakanlığındaki yapılanmasına yönelik soruşturmada 13 şüpheli hakkında gözaltı kararı verdi.
33.
34.
35. 
Merkel 11 saatlik toplantıdan çıkıp böyle duyurdu: Yenemedik peşimizi bırakmıyor!
Almanya'da Kovid-19 salgınıyla mücadelede tedbirlerin süresi 18 Nisan'da kadar uzatıldı. 11 saat süren toplantının ardından açıklama yapan Almanya Başbakanı Angela Merkel, "Henüz virüsü yenemedik, peşimizi bırakmıyor." diye konuştu

.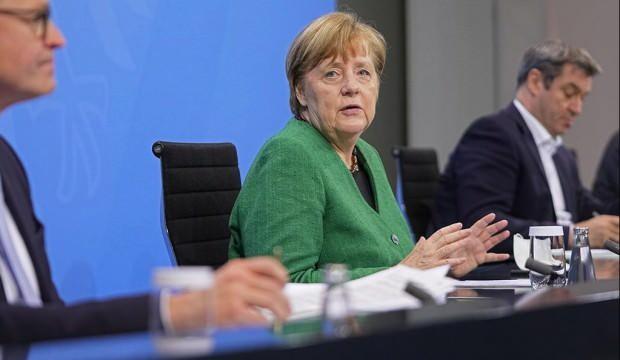 Almanya
'da yeni tip 
koronavirüs
 (Kovid-19) salgınıyla mücadele kapsamında 28 Mart'ta kadar geçerli olan tedbirler sertleştirilerek 18 Nisan'da kadar uzatıldı.
Almanya Başbakanı Angela Merkel, eyalet başbakanlarıyla video konferans yoluyla yaptığı toplantıda, salgındaki son durumu değerlendirdi.
"HENÜZ VİRÜSÜ YENEMEDİK"
Almanya Başbakanı Angela Merkel, toplantının ardından düzenlediği basın toplantısında alınan tedbirleri savunarak, "Henüz virüsü yenemedik, peşimizi bırakmıyor." dedi.
Merkel, Almanya'da salgındaki durumun çok ciddi olduğunu vurgulayarak, İngiltere'de ilk kez görülen Kovid-19'un mutasyona uğramış tehlikeli türünün Almanya'da yayıldığını, yeni vaka sayılarının hızla arttığını ve yoğun bakımdaki yatakların yeniden dolmaya başladığını belirtti.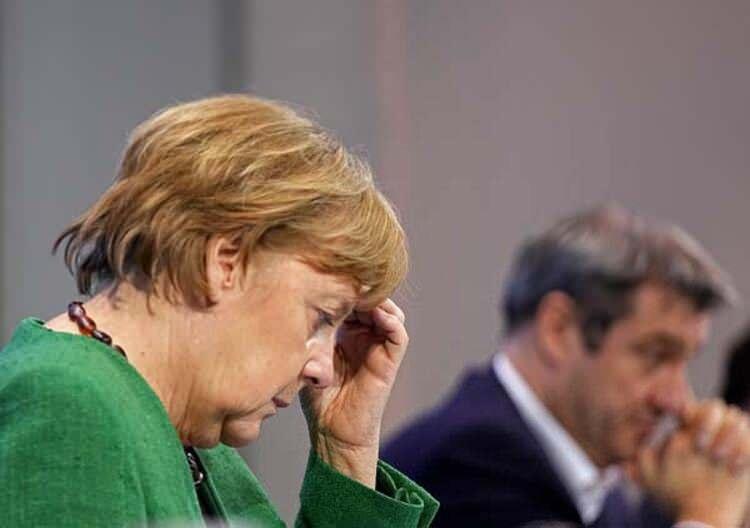 Sağlık sisteminin kapasitesinin sonuna gelmesini önlemek istediklerini anlatan Merkel, bu dönemde Kovid-19'a yakalanan birçok orta yaşlı ve gencin hastalığının ağır geçmeye başladığını kaydetti.
Başbakan Merkel, Kovid-19 aşılarına genel bir ihracat yasağı getirilmesine karşı olduğunu belirterek, aşı üretiminde çeşitli uluslararası bağımlılıkların bulunduğunu, bu konuda tedarik zincirlerine bakılması gerektiğini ifade etti.
Şu anda en fazla Avrupa Birliği'nden aşının ihraç edildiğine işaret eden Merkel, bundan dolayı aşı üreticilerinin yükümlülüklerini yerine getirmelerini isteyen Avrupa Birliği (AB) Komisyonu Başkanı Ursula von der Leyen'i desteklediğini kaydetti.
11 saat süren toplantının ardından yapılan açıklamada, mevcut tedbirlerin 18 Nisan'a kadar uzatılması kararının alındığı belirtilerek, yeni vaka sayılarının arttığı yerlerde ek önlemlerin alınacağı ifade edildi.
Buna göre son 7 günde 100 bin kişide yeni vaka sayısının 100'ü aştığı bölgelerde, özel araçlarda sürücüyle aynı haneden olmayan diğer yolculara tıbbi maske takma zorunluğu getirilmesi, maske ve mesafe kurallarına riayet edilmesinin zor olduğu yerlerde hızlı testlerin yapılması, sokağa çıkma kısıtlamalarının uygulanması ve insanlar arasındaki temasların kısıtlanması gibi ek önlemler alınabileceği aktarıldı.
Son 7 günde 100 bin kişide yeni vaka sayısının 3 gün üst üste 100'ün üzerinde çıkması durumunda "acil fren" uygulanmasının kararlılıkla tatbik edilmesi gerektiği vurgulanan açıklamada, bu durumda 7 Mart öncesindeki tedbirlerin yeniden uygulanmaya konulması istendi.
PASKALYA İÇİN ÖZEL ÖNLEMLER
Açıklamada nisan başında kutlanacak Paskalya Bayramı kapsamında temasların azaltılması amacıyla kısıtlamaların getirilmesinin kararlaştırıldığına işaret edilerek, 1 ve 3 Nisan'ın bir defaya mahsus "tatil günü" olarak tanımlanacağı ifade edildi. Paskalya Bayramı vesilesiyle 2 Nisan Cuma ve 5 Nisan Pazartesi daha önce tatil günü olarak belirlenmişti.
Böylelikle 1-5 Nisan'da evde kalma prensibinin geçerli olacağına işaret edilen açıklamada, bu dönemde en fazla iki hane halkının bir araya gelmesine izin verileceği ancak toplanan kişilerin sayısının 5 ile sınırlandırılacağı, 14 yaş altındaki çocukların bu sınırlama kapsamına alınmayacağı aktarıldı.
Bu tarihlerde kamusal alanda toplanmaların yasaklanacağı, gıda maddeleri satan marketlerin sınırlı bir şekilde sadece 3 Nisan'da açılmasına izin verileceği belirtilen açıklamada, dini cemaatlerden de etkinliklerini çevrim içi gerçekleştirmelerinin rica edileceği kaydedildi.
Nisandan itibaren salgınla mücadele kapsamında testlerin yapılmasının önemli rol oynayacağı ifade edilen açıklamada, hükümetin Enfeksiyon Yasası'nda yapacağı değişiklikle ülke dışından Almanya'ya girişlerde yolculara test olma yükümlüğünün getirileceği belirtildi.
Açıklamada ayrıca işverenlere, çalışanlarına evden çalışma imkanı vermeleri çağırısında bulunulurken halktan da mümkün olduğunca seyahat etmemeleri istendi.
36.
Καθελκύστηκε το πρώτο

τουρκικό υποβρύχιο Type 214 "TCG Pirireis"

: Θα ακολουθήσουν ακόμη πέντε.
Με μία νέο-οθωμανική φιέστα, καθελκύστηκε την Τρίτη το πρώτο τουρκικό υποβρύχιο 214, αποτέλεσμα σύμπραξης τουρκικών εταιριών με τη γερμανική Thyssen Krupp Marine Systems (TKMS).
Το υποβρύχιο φέρει την ονομασία TCG Pirireis, προς τιμήν του διάσημου Οθωμανού ναυάρχου και χαρτογράφου Πιρι Ρέις και θα τεθεί επίσημα σε επιχειρησιακή ετοιμότητα έως τις αρχές 2022. Έως το 2027 θα παραδοθούν ακόμη πέντε υποβρύχια ίδιου τύπου, για τις ανάγκες του τουρκικού Ναυτικού.
Συγκεκριμένα τα TCG Hızır Reis (S-331) το 2023, TCG Murat Reis (S-332) το 2024, TCG Aydın Reis (S-333) το 2025, TCG Seydi Ali Reis (S-334) το 2026 και το TCG Selman Reis (S-335) το 2027.
Τα υποβρύχια τύπου 214, θεωρούνται τα καλύτερα παγκοσμίως μετά τα πυρηνικά, που διαθέτουν λίγες χώρες.
Με την απόκτηση των συγκεκριμένων υποβρυχίων, η Τουρκία επιδιώκει να δώσει απάντηση στην κυριαρχία των ελληνικών υποβρυχίων κλάσης 214 «Παπανικολής» , τα οποία αποτελούν «κόκκινο» πανί για τις προκλητικές της φιλοδοξίες σε Αιγαίο Πέλαγος και Ανατολική Μεσόγειο.
Τα υποβρύχια συναρμολογούνται στην Τουρκία με την «καθοριστική συμμετοχή» του γερμανικού Ομίλου Thyssen Krupp Marine Systems, γεγονός για το οποίο έχει ασκηθεί έντονη κριτική στην κυβέρνηση Μέρκελ από κόμματα της γερμανικής αντιπολίτευσης.
Στην τελετή στα ναυπηγεία Gölcük, παραβρέθηκε ο Τούρκος πρόεδρος ο Ταγίπ Ερντογάν, ο οποίος χαιρέτισε την καθέλκυση του πρώτου υποβρυχίου κλάσης 214.
Τα τουρκικά ΜΜΕ φιλοξενούν ρεπορτάζ με πηχυαίους τίτλους για την καθέλκυση του TCG Pirireis, όπως: «Ρίξαμε το πρώτο τούρκικο Y/B στο νερό», «Ερχόμαστε Γαλάζια Πατρίδα», σε μια προσπάθεια να συνδέσουν τη λειτουργία του υποβρυχίου με τις προκλητικές μεθοδεύσεις της Άγκυρας σε Αιγαίο Πέλαγος και Ανατολική Μεσόγειο, στο πλαίσιο του δόγματος της «Γαλάζιας Πατρίδας».
"ΕΛΛΗΝΑΣ"
-/-
ΥΓ. 
1. #$34!Χ090#$%
2. 
ΓΕΙΑ ΣΟΥ ΧΙΕ!
ΩΡΑΙΑ "ΣΥΡΙΖΟ" – ΦΟΥΣΤΙΤΣΑ ΣΟΥ ΦΟΡΕΣΕ Ο "ΤΙΓΡΗΣ", ΡΕ ΒΑΖΕΛΑΚΟ! ΤΩΡΑ ΕΙΣΑΙ ΣΙΓΟΥΡΑ… ΠΡΟΣΤΑΤΕΥΜΕΝΟΣ ΑΠΟ ΤΟΝ ΚΑΚΟ… ΓΡΗΓΟΡΗ ΔΗΜΗΤΡΙΑΔΗ, (ΚΑΤ' ΑΥΤΑ ΠΟΥ ΕΓΡΑΦΕΣ ΛΕΩ), ΝΕΑ… "ΧΟΥΝΤΟ-ΣΥΡΙΖΟΥΛΑ" !..
ΧΟΝΤΡΟ ΒΡΙΣΙΔΙ ΛΟΙΠΟΝ ΤΩΡΑ ΣΤΟΝ ΜΗΤΣΟΤΑΚΗ, Ο,ΤΙ ΕΜΜΕΤΟ ΚΑΙ ΡΟΥΦΙΑΝΙΕΣ ΕΧΕΙΣ, ΒΓΑΛΤΕΣ ΟΛΕΣ, ΡΕ… "ΚΙΤΡΙΝΟ-ΦΟΥΣΤΙΤΣΑ", ΟΠΩΣ ΑΚΡΙΒΩΣ ΔΙΕΤΑΧΘΗΣ ΚΑΙ ΟΠΩΣΔΗΠΟΤΕ, ΚΑΘΕ ΜΕΡΑ, ΜΗΝ ΞΕΧΝΑΣ ΝΑ ΓΡΑΦΕΙΣ ΚΑΙ ΚΑΜΙΑ ΡΟΥΦΙΑΝΙΑ, ΠΡΩΤΟΣΕΛΙΔΑ, ΣΤΗΝ ΦΥΛΛΑΔΑ ΣΟΥ, ΓΙΑ ΤΟΝ ΒΑΓΓΕΛΗ ΜΑΡΙΝΑΚΗ, ΠΟΥ ΕΧΕΙ  ΜΟΙΡΑΣΕΙ ΠΟΛΥ ΠΟΝΟ ΣΤΟ ΝΕΟ ΑΦΕΝΤΙΚΟ ΣΟΥ, ΟΠΩΣ ΚΑΙ ΣΤΟΝ ΠΡΟΕΔΡΟ ΤΟΥ ΣΩΜΑΤΕΙΟΥ ΣΟΥ, ΝΑΙ, ΑΥΤΟΥ ΤΟΥ ΓΕΝΙΤΣΑΡΟΥ ΚΑΙ ΤΣΑΤΣΟΥ ΤΗΣ ΠΑΓΚΟΣΜΙΟΠΟΙΗΣΗΣ, ΠΟΥ ΣΑΣ ΕΒΑΖΕ ΚΑΙ ΒΑΦΑΤΕ ΤΑ ΚΑΓΚΕΛΑ ΤΗΣ ΛΕΩΦΟΡΟΥ, ΑΛΛΑ  ΚΑΙ ΣΤΟΝ ΑΛΛΟ, ΣΤΟΝ ΣΥΜΜΑΧΟ ΤΟΥ ΝΕΟΥ ΑΦΕΝΤΙΚΟΥ ΣΟΥ, ΝΑΙ ΣΤΟΝ ΡΩΣΟ… ΕΞΑΦΑΝΙΣΜΕΝΟ ΠΡΑΚΤΟΡΑ ΤΟΥ ΠΟΥΤΙΝ, ΙΒΑΝ ΣΑΜΠΙΝΤΙΣ!.. ΜΙΛΑΜΕ ΓΙΑ ΠΟΛΥ ΠΟΝΟ "ΣΤΕΦΑΝΟ-ΚΙΤΙΡΝΟΦΟΥΣΤΙΤΣΑ"! (ΤΡΙΜΠΑΛΑ, ΔΙΜΠΑΛΑ, ΤΕΤΡΑΜΠΑΛΑ, ΚΛΠ)!..
ΠΑΡΑΚΑΤΩ, ΘΥΜΙΣΟΥ ΤΙ ΕΓΡΑΦΕΣ, (ΣΟΥ ΕΒΑΛΑ 2, 3 ΠΡΩΤΟΣΕΛΙΔΑ ΣΟΥ), ΠΟΥΛΗΜΕΝΗ ΚΙΤΡΙΝΟ–ΠΡΑΣΙΝΗ "ΧΟΥΝΤΟ-ΣΥΡΙΖΟΥΛΑ", ΓΙ' ΑΥΤΟΥΣ ΠΟΥ ΤΩΡΑ, ΣΤΗΝ ΑΡΧΗ, ΜΕ ΤΡΟΠΟ ΚΑΙ ΠΙΟ ΜΕΤΑ "ΑΝΟΙΧΤΑ" ΚΑΙ "ΣΤΑ ΙΣΑ" ΘΑ ΥΠΟΣΤΗΡΙΖΕΙΣ, ΦΥΣΙΚΑ ΜΕ ΕΝΤΟΛΗ, … "ΚΙΤΡΙΝΟ-ΦΟΥΣΤΙΤΣΑ"!..
ΑΛΗΘΕΙΑ! ΠΟΙΟΣ ΣΕ "ΠΗΓΕ" ΣΤΟ ΝΕΟ ΣΟΥ ΑΦΕΝΤΙΚΟ; Ο ΚΑΛΛΙΝΤΕΡΙΔΗΣ;
ΓΕΙΑ ΣΟΥ ΧΙΕ… ΠΑΤΡΙΩΤΗ! ΞΕΦΤΙΛΙΣΤΙΚΕΣ, ΑΛΛΑ ΑΚΟΜΑ ΔΕΝ ΤΟ ΕΧΕΙΣ ΚΑΤΑΛΑΒΕΙ!..
Α! ΓΡΑΦΕΙΣ, ΣΕ ΕΝΑ ΑΠΟ ΤΑ ΠΑΡΑΚΑΤΩ ΠΡΩΤΟΣΕΛΙΔΑ ΣΟΥ, ΓΙΑ ΤΟΥΣ Π. ΚΑΝΕΛΛΟΠΟΥΛΟ ΚΑΙ ΓΕΩΡΓΙΟ ΠΑΠΑΝΔΡΕΟΥ! ΞΑΝΑΛΕΩ ΟΤΙ, ΘΑ ΠΡΕΠΕΙ ΝΑ ΠΛΕΝΕΙΣ ΤΟ ΣΤΟΜΑ ΣΟΥ, ΟΤΑΝ ΑΝΑΦΕΡΕΣΑΙ Σ' ΑΥΤΟΥΣ ΤΟΥΣ 2 "ΚΙΤΡΙΝΟ-ΒΡΩΜΙΛΕ"!
Ο Γ. ΠΑΠΑΝΔΡΕΟΥ ΔΕΝ ΗΤΑΝ "ΔΕΞΙΟΣ", ΗΤΑΝ "ΕΛΛΗΝΑΣ" ΠΑΛΙΟΠΑΠΑΡΑ, ΚΑΙ ΓΙΑ ΝΑ ΜΑΘΑΙΝΕΙΣ, ΔΙΟΤΙ ΔΕΝ ΣΕ "ΚΟΒΩ" ΓΙΑ ΜΑΘΗΤΗ ΟΥΤΕ ΤΟΥ 15, (ΜΕ 12, 13, ΜΕ ΚΑΠΟΥ ΤΟΣΟ, ΘΑ ΠΡΕΠΕΙ ΝΑ ΕΧΕΙΣ ΠΑΡΕΙ ΤΟ ΑΠΟΛΥΤΗΡΙΟ ΣΟΥ), Ο ΓΕΩΡΓΙΟΣ ΠΑΠΑΝΔΡΕΟΥ ΗΤΑΝ Ο ΜΕΓΑΛΥΤΕΡΟΣ ΠΟΛΕΜΙΟΣ ΤΟΥ ΚΟΜΜΟΥΝΙΣΜΟΥ ή "ΚΟΚΚΙΝΟΥ ΦΑΣΙΣΜΟΥ", ΠΟΥ ΤΩΡΑ ΤΗΝ ΡΟΖ ΠΑΡΑΦΥΑΔΑ ΤΟΥ ΘΑ ΣΕ ΒΑΖΕΙ -ΣΕ ΛΙΓΟ- Ο "ΤΙΓΡΗΣ" ΝΑ ΓΛΕΙΦΕΙΣ "ΑΝΟΙΧΤΑ"!..
ΟΤΑΝ ΑΝΑΦΕΡΕΙΣ ΤΟΝ "ΓΕΡΟ" ΩΣ… ΒΑΔΙΖΟΝΤΑ "ΧΕΡΙ-ΧΕΡΙ ΜΕ ΤΟΥΣ ΣΦΑΧΤΕΣ ΤΟΥ ΣΥΜΜΟΡΙΤΙΣΜΟΥ", ΟΠΩΣ ΟΡΘΩΣ ΤΟΥΣ ΑΝΑΦΕΡΕΙΣ, ΕΙΝΑΙ ΣΑΝ ΝΑ ΜΗΝ ΞΕΡΕΙΣ ΟΤΙ ΣΕ ΛΕΝΕ ΧΙΟ, "ΕΝΑ ΠΡΑΓΜΑ"!..
"ΜΑΣ ΕΒΑΛΕ ΜΠΟΥΝΤΑΛΑΔΙΚΑ Σ' ΕΝΑ ΤΣΟΥΒΑΛΙ ΣΑΚΚΙ ΚΑΙ ΜΑΣ ΠΕΤΑΞΕ", ΕΙΠΕ ΓΙΑ ΤΟΝ ΠΑΠΑΝΔΡΕΟΥ, Ο ΙΣΤΟΡΙΚΟΣ ΓΓ/ΚΚΕ, Ν. ΖΑΧΑΡΙΑΔΗΣ.
ΕΓΚΛΗΜΑΤΙΕΣ ΚΑΙ ΠΡΟΔΟΤΕΣ ΤΑ ΑΠΟΚΑΛΟΥΣΕ ΤΑ ΚΟΜΜΟΥΝΙΑ Ο ΠΑΠΑΝΔΡΕΟΥ, ΑΣΧΕΤΕ ΧΙΕ, ΑΥΤΟ ΔΗΛΑΔΗ ΠΟΥ ΑΚΡΙΒΩΣ ΗΤΑΝ ΚΑΙ ΕΙΝΑΙ!
Ο "ΓΕΡΟΣ ΤΗΣ ΔΗΜΟΚΡΑΤΙΑΣ", ΑΥΤΟΣ Ο ΤΕΡΑΣΤΙΟΣ ΕΛΛΗΝΑΣ ΧΟΥΝΤΟ-ΣΥΡΙΖΟ-ΣΙΧΑΜΑ ΗΤΑΝ Ο ΜΕΓΑΛΥΤΕΡΟΣ ΑΝΤΙ-ΚΟΜΜΟΥΝΙΣΤΗΣ, ΜΕΤΑ ΤΟΝ "ΕΘΝΑΡΧΗ" ΕΛΕΥΘΕΡΙΟ ΒΕΝΙΖΕΛΟ!
ΤΟ "ΚΕΝΤΡΟ" ΚΡΑΤΗΣΕ ΤΗΝ ΕΛΛΑΔΑ ΣΤΟΝ "ΕΛΕΥΘΕΡΟ ΚΟΣΜΟ" ΚΑΙ ΔΕΝ ΓΙΝΑΜΕ ΣΟΒΙΕΤΙΑ, ΠΑΛΙΟ-ΠΑΠΑΡΑ! ΑΝ ΠΟΤΕ ΒΡΕΘΟΥΜΕ, ΘΑ ΣΟΥ ΠΩ "ΔΙΑ ΖΩΣΗΣ" ΚΑΙ ΓΙΑ ΤΗΝ ΜΕΓΑΛΗ… ΑΓΑΠΗ ΠΟΥ ΕΤΡΕΦΕ, ΟΠΩΣ ΚΑΙ Ο… ΠΑΤΕΡΑΣ ΤΟΥ, Ο ΑΝΔΡΕΑΣ Γ.ΠΑΠΑΝΔΡΕΟΥ, ΠΟΥ ΕΙΧΑΜΕ ΤΗΝ ΤΙΜΗ ΝΑ ΖΟΥΜΕ ΣΤΗΝ… ΣΚΙΑ ΤΟΥ!..
ΕΧΑΣΕΣ ΤΗΝ… ΠΥΞΙΔΑ ΣΟΥ ΚΑΙ ΚΑΤΑΣΤΡΑΦΗΚΕΣ, ΒΑΖΕΛΑΚΟ!
ΜΠΡΟΣΤΑ ΑΠΟ ΟΛΑ ΤΑ ΟΥΣΙΑΣΤΙΚΑ, ΠΟΥ ΕΓΡΑΨΑ ΚΑΙ ΑΦΟΡΟΥΝ ΧΑΡΑΚΤΗΡΙΣΜΟΥΣ ΣΟΥ, ΑΦΟΡΟΥΝ ΑΥΣΤΗΡΑ ΤΗΝ ΔΗΜΟΣΙΟΓΡΑΦΙΚΗ ΣΟΥ (Ο ΘΕΟΣ ΝΑ ΤΗΝ ΚΑΝΕΙ), ΙΔΙΟΤΗΤΑ!..
ΥΓ. ΜΠΗΚΕΣ ΣΤΗΝ ΙΔΙΑ ΟΜΑΔΑ ΜΕ ΤΟΥΣ ΤΡΑΓΚΑ – ΚΟΤΤΑΚΗ, ΑΛΛΑ ΕΣΥ ΕΓΙΝΕΣ ΗΔΗ ΧΕΙΡΟΤΕΡΟΣ ΑΠ' ΑΥΤΟΥΣ!..
ΖΟΥΜΕ ΓΙΑ ΝΑ ΣΕ ΔΟΥΜΕ ΝΑ ΥΠΟΣΤΗΡΙΖΕΙΣ ΜΕ ΠΑΘΟΣ ΤΟΝ "ΣΟΡΟΣ-ΤΣΙΠΡΑ"!.. ΑΧΑΧΑΧΑΧΑΧΑΧΑΧΑΧΑ!..
ΚΡΙΜΑ, ΡΕ ΣΤΕΦΑΝΕ!..
Ο "ΝΕΟ-ΧΟΥΝΤΟ-ΣΥΡΙΖΟΥΛΗΣ" ΧΙΟΣ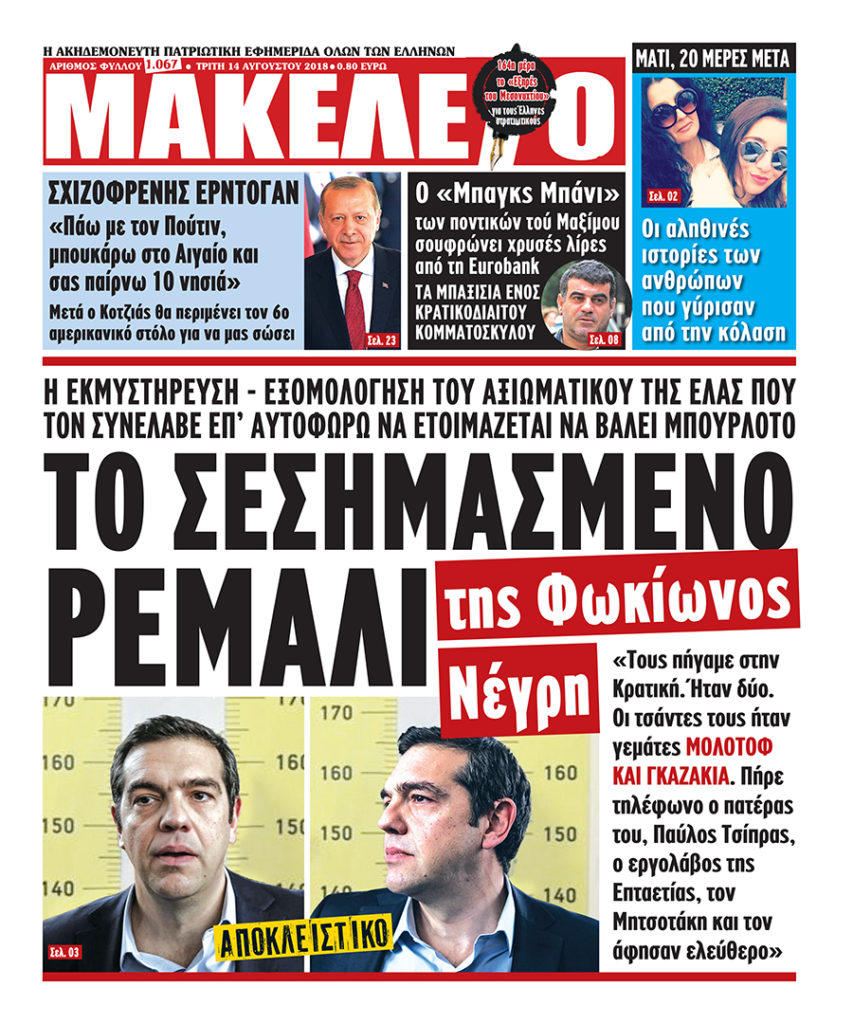 3. ΔΕΣ ΤΩΡΑ ΧΙΕ, "ΚΙΤΡΙΝΟ-ΦΟΥΣΤΙΤΣΑ" ΚΑΙ "ΧΟΥΝΤΟ-ΣΥΡΙΖΟΥΛΑ", ΚΑΙ ΠΑΛΙ, ΠΟΙΟΣ ΕΙΝΑΙ Ο ΕΛΛΗΝΑΣ(!) ΕΥΑΓΓΕΛΟΣ ΜΑΡΙΝΑΚΗΣ, ΕΚΤΟΣ ΑΠΟ ΠΡΟΕΔΡΟΣ ΤΟΥ ΟΛΥΜΠΙΑΚΟΥ ΜΑΣ, ΑΥΤΗΣ ΤΗΣ ΤΕΡΑΣΤΙΑΣ "ΑΚΡΟΠΟΛΗΣ" ΤΟΥ ΕΛΛΗΝΙΚΟΥ ΑΘΛΗΤΙΣΜΟΥ!
Δύναμη του

Ολυμπιακού

οι πράξεις με πρωτοβουλία Βαγγέλη Μαρινάκη (video)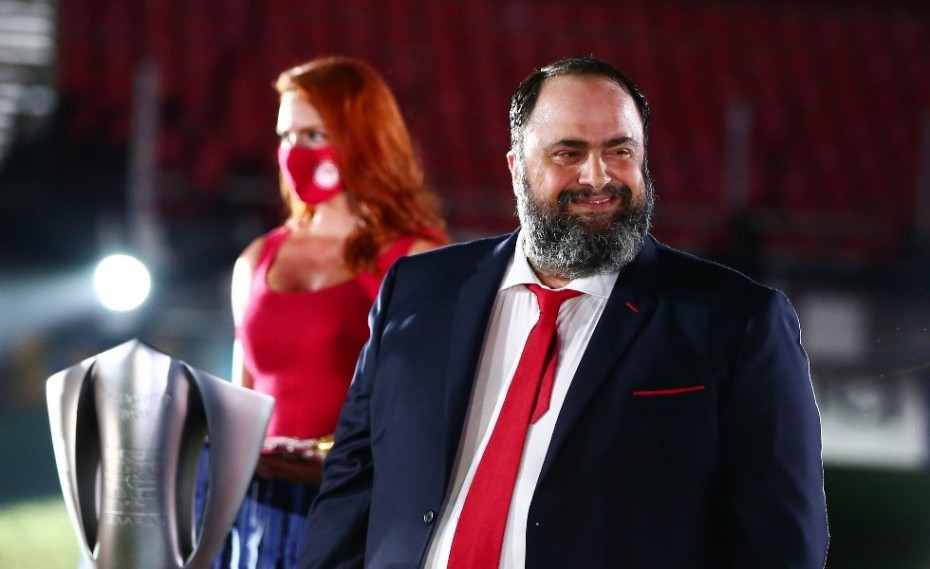 Έφτασαν και οι υπόλοιποι τέσσερις οικίσκοι που είναι δωρεά από τον Ηγέτη Θρύλου, ο οποίος για ακόμα μία φορά θέλησε να βοηθήσει τους ανθρώπους που έχουν ανάγκη και έμειναν χωρίς στέγη μετά τη μεγάλη καταστροφή από το σεισμό.
Δείτε το βίντεο:
-/-