Ρωτάτε – Απαντάμε Και… Άλλα!
Φίλοι μου!
1. Ο Μακρόν, το αγαπημένο παιδί του Νο "1" των "Διεθνών Εβραίων", Ρότσιλντ, ο κάποτε… "Μεγαλο-Ταμίας" τους, απέδειξε ότι δεν είναι μόνον "λίγος" για Πρόεδρος της Γαλλίας, αλλά και πολιτικά λίαν επικίνδυνος, για την παγκόσμιο ειρήνη και ασφάλεια!.. Γιατί;
Διότι… κατόρθωσε (sic): (Με τις αναρτήσεις στα δημόσια κτίρια της χώρας του, της γελοιογραφίας του "Σαρλί Εντό", για τον Προφήτη Μωάμεθ)!
α. Να βάλλει ανοήτως και(!) θρησκευτικά την σημερινή Ισλαμική Τουρκία απέναντί του, καθώς το αυτό και με Ισλαμικές χώρες που, σήμερα ιδίως, παρουσιάζονται ως "αδέλφια" της, όπως πχ το Πακιστάν, το Α. Πακιστάν (Μπαγκλαντές) και το Κατάρ!
β. Να δώσει την ευκαιρία στον Δικτάτορα ΡΤΕ να το "παίξει" Προστάτης, … προαλειφόμενος Ηγέτης του Ισλαμικού Κόσμου, καθώς και συνεκτικός του ιστός ή κρίκος (διαλέξτε), ενός Ισλαμικού Κόσμου, ο οποίος σήμερα σπαράσσεται στο εσωτερικό του, (και μεταξύ των Δογμάτων του, αλλά και μεταξύ σεκτών – αιρέσεων, μέσα στα ίδια τα Δόγματα) παρουσιάζοντας ιστορικά και μετά από πολλούς αιώνες μεγάλες ρήξεις και χάσματα, ενώ ταυτόχρονα εμφανίζει και σημαντικότατη… έλλειψη ηγετικών προσωπικοτήτων!
γ. Να "ξεσηκώσει" εναντίον της Δύσεως (και κυρίως της Ευρώπης) και εκείνους ακόμα τους λαούς των αραβικών χωρών, που προσφάτως αναγνώρισαν το Ισραήλ (πχ Σ. Αραβία, Η.Α.Ε., κλπ) ή έχουν κάνει διάφορες συμφωνίες μαζί του (πχ Αίγυπτος), όπως ενεργειακές, στρατιωτικές και άλλες!..
δ.  Να "ξεσηκώσει" εναντίον της Γαλλίας και της Δύσεως (και κυρίως της Ευρώπης) και όλους τους Μουσουλμάνους της Αφρικής, πλην βεβαίως αυτών που οι χώρες τους ήσαν κάποτε αποικίες της Γαλλίας!
ε. Να πολλαπλασιάσει, με την άκριτη πολιτικά στάση του, τις αντιδράσεις των Μουσουλμάνων μέσα στην ίδια του την χώρα, όπως βεβαίως και των Τούρκων που ζουν στην Γαλλία, οι οποίοι, όπως άλλωστε συμβαίνει παντού στην Ευρώπη, αλλά και στις Η.Π.Α., είναι οργανωμένοι και καθοδηγούμενοι κεντρικά από την ΜΙΤ, η οποία μάλιστα θυμίζω ότι έχει σοβαρότατες προσβάσεις στις ΜΥ της Γαλλίας, με αποτέλεσμα το τραγικό συμβάν "ΠΑΤΙ" να… "απλώσει" και πιθανώς να… "απλώσει" και περισσότερο! Έτσι ο Μακρόν ενεργοποίησε τις Γαλλικές ΕΔ!..
ΠΑΡΑΤΗΡΗΣΕΙΣ
(Συνωμοσιολογικές, όπως τις αποκαλούν τα έμμισθα Όργανα της κυβερνώσας την ΕΕ "Παγκοσμιοποίησης" Και Μη)!
α. Ο Μακρόν, ο οποίος είναι και Γάλλος (καταλαβαίνετε το γιατί γράφω την εθνικότητά του νομίζω):
Δεν γνωρίζει ότι ΣΕΒΟΜΑΣΤΕ το θρησκευτικό ΠΙΣΤΕΥΩ των όποιων άλλων;
Δεν ξέρει ότι στις ελεύθερες δυτικές Δημοκρατίες, "η ελευθερία μας σταματά ή φτάνει μέχρι εκεί όπου δεν ενοχλεί τον διπλανό μας";
Δεν ξέρει ότι στις ελεύθερες Δημοκρατίες της Δύσεως, "ελευθερία λόγου, εκφράσεως, κλπ, δεν σημαίνει ότι μπορούμε να υβρίζουμε με τις ενέργειές μας (με πράξεις ή λεκτικά), τους όποιους άλλους, με τους οποίους τυχαίνει να μην συμφωνούμε;
Αν "ναι" (100% "ναι"), πώς μπορεί να συμφωνεί λοιπόν με την προσβολή τους και να δίνει εντολή να αναρτώνται στα δημόσια κτίρια της Γαλλίας, προσβλητικές, "εν προκειμένω" για τον Μωάμεθ, αφίσες, σαν αυτήν του "Σαρλί Εντό";
Δεν καταλαβαίνει ότι έτσι χάνει το δίκιο του, αλλά και πως παράλληλα προσβάλλει και την ίδια την κουλτούρα της Γαλλίας, ο λαός της οποίας, με την Επανάστασή του, κατά τον 19ο αι., έδωσε το αίμα του, κλπ, και(!) για τις θρησκευτικές ανθρώπινες ελευθερίες, πλην των άλλων, γεγονός που απετέλεσε την θρυαλλίδα για μια σειρά άλλων και μάλιστα αλυσιδωτών Επαναστάσεων στην ε/Ήπειρο, που άλλαξαν και τους λαούς της, αλλά σχεδόν και όλο τον Κόσμο;
Δεν καταλαβαίνει ότι έτσι θα απομονώσει τελείως την χώρα του από την τεράστια ισλαμική αγορά, προκαλώντας τεράστια ζημία στην Οικονομία της χώρας του;
Δεν καταλαβαίνει ότι έτσι απομονώνει περαιτέρω πολιτικά την χώρα του, απ' τον λεγόμενο "Ισλαμικό Κόσμο";
Είναι επομένως δυνατόν, επειδή ένας, δύο ή και περισσότεροι ανεγκέφαλοι και πιθανώς και "πληρωμένοι" ή ακόμα και φανατικοί της Θρησκείας, ό,τι θέλετε τέλος πάντων, ουσιαστικά όμως τρομοκράτες, οι οποίοι, επικαλούμενοι την Θρησκεία, δικαιολογούν εντός τους, ήτοι στο αρρωστημένο μυαλό τους, τις όποιες ανόσιες κτηνώδεις πράξεις τους, όπως είναι οι αποκεφαλισμοί και γενικώς οι δολοφονίες των ετερόδοξων, να αντιδρά κανείς και μάλιστα ένας Πρόεδρος μιας χώρας και μάλιστα μιας Γαλλίας, με τον τρόπο που αντέδρασε ο Κος Μακρόν, βάζοντάς τα ουσιαστικά με το ίδιο το Ισλάμ, πυροδοτώντας ο… ανόητος και νέους φόνους στην χώρα του, από άλλους, της αυτής… υφής με τον άρρωστο ψυχο-πνευματικά δολοφόνο – δήμιο του συμπατριώτη του Γ/Καθηγητού, Μουσουλμάνους, που είτε φέρουν πια την γαλλική υπηκοότητα, είτε απλώς ζουν στην Γαλλία, νομίμως ή παρανόμως, αλλά και πυροδοτώντας -λίαν πιθανώς- και έναν παγκόσμιο θρησκευτικό πόλεμο, (με ό,τι αυτός θα συνεπάγεται), όπως τον είχε περιγράψει ο πιθανώς ομόδοξός του Αμερικανός ("Διεθνής Εβραίος") Σάμιουελ ΧΑΝΤΙΓΚΤΟΝ, στο περίφημο βιβλίο του "Η ΣΥΓΚΡΟΥΣΗ ΤΩΝ ΠΟΛΙΤΙΣΜΩΝ";    
β. Γεννάται λοιπόν το ερώτημα "ΓΙΑΤΙ Ο ΜΑΚΡΟΝ ΕΝΗΡΓΗΣΕ ΕΤΣΙ"(;), (αναρτώντας στα δημόσια κτίρια την προσβλητική αφίσα για τον Μωάμεθ, κλπ), ΑΝ ΔΕΧΘΟΥΜΕ ΒΕΒΑΙΩΣ ΟΤΙ ΔΕΝ(!) ΕΙΝΑΙ ΗΛΙΘΙΟΣ, ΟΠΟΤΕ Η ΑΠΑΝΤΗΣΗ ΤΟΤΕ ΘΑ ΗΤΑΝ ΚΑΙ ΕΥΚΟΛΗ ΚΑΙ ΧΡΟΝΙΚΑ ΓΡΗΓΟΡΗ!
"Πάμε" λοιπόν να… αναζητήσουμε μερικές πιθανές απαντήσεις!
(1) Πήρε εντολή από τα "Διεθνή Αφεντικά" του, τα οποία θέλουν πιθανώς έναν Παγκόσμιο Θρησκευτικό Πόλεμο, για λόγο ή λόγους που το μέλλον θα δείξει!..
(2) Πήρε εντολή να προσβάλλει έμμεσα και "εκ συμπαθείας" το Ισραήλ, με την βαθιά πατριωτική ηγεσία του οποίου είναι σήμερα εξοργισμένη η παγκόσμιος εξουσία των "Διεθνών Εβραίων"! Καταλαβαίνετε! (Έχουμε πει ότι δεν έχουν στόχο μόνον τον Τραμπ, απ' τον οποίον έχασαν, 4 χρόνια τώρα, εκατοντάδες δις $ Η.Π.Α., μαζί με τους συνςεργάτες τους Κινέζους, αλλά και ο Ι/Π-Θ, Κος Β. Νετανιάχου)!
(3) Δεν γνωρίζει από ΙΣΛΑΜ "γρι" και κοινώς είναι από Ισλάμ… "Ινδιάνος"!..
(4) Οι σύμβουλοί του ομοίως δεν γνωρίζουν από Ισλάμ τίποτε ή είναι "εγκάθετοι" ή είναι "απρόσωποι", ήτοι… "Μαλιστάκηδες"! Καταλάβατε!..
(5) Λόγω της τεράστιας αντιδράσεως που υπάρχει στην Γαλλία, από τους γνήσιους Γάλλους, για την στάση και συμπεριφορά των από κάθε γωνιά της Γης Μουσουλμάνων που ζουν στην Γαλλία, με αποτέλεσμα η Κα ΛΕΠΕΝ να παρουσιάζει υψηλότατα ποσοστά δημοφιλίας, λόγω των θέσεών της (καταλαβαίνετε), ο Μακρόν σκέφτηκε ή βρήκε την ευκαιρία να "κτυπήσει προσόντα" στον Γ/Λαό, δείχνοντας μια εικόνα του δήθεν… Πατριώτη, του δήθεν ανθρώπου που ίσως κατανόησε επιτέλους το πρόβλημα και που τελικά όμως στοχεύει και σε μια ακόμα Προεδρία, μην χάνοντας ψήφους από την στροφή των Γάλλων πολιτών στην… Λεπέν! Έτσι φέρθηκε, όπως φέρθηκε, και τελικά… "βγάζει" και τις ΕΔ στους δρόμους!
Γιατί άραγε;
Κινδυνεύει η Γαλλική Δημοκρατία και αν "ναι" από ποιούς;
Από την άλλη όμως, όπως λέμε, ο Μακρόν δεν αντιλαμβάνεται πως ο ίδιος, όταν "κατεβάζει" το Στρατό και αποφασίζει και ταυτόχρονο γενικό "ΛΟΚ ΝΤΑΟΥΝ", για… λόγους υγείας του λαού του, "σκοτώνει" την "ΔΗΜΟΚΡΑΤΙΑ" στην Γαλλία, δίνοντας παράλληλα και αρνητικά παραδείγματα στις άλλες χώρες και όχι απαραίτητα μόνον σ' αυτές της Ευρώπης;
Έχει πχ πληροφόρηση για ξεσηκωμό των Μουσουλμάνων  στην χώρα του;
Έχει πληροφόρηση πχ για ξεσηκωμό άλλων, όπως πχ ακραίων δεξιών, κλπ, την ίδια στιγμή που ο δολοφόνος της Αβινιόν παρουσιάζεται να είναι μέλος τέτοιας Οργανώσεως;
Φοβήθηκε τους… "Γκρίζους Λύκους" της ΜΙΤ, που ζουν στην Γαλλία και βγήκαν να κυνηγήσουν Αρμένηδες; (Δεν θέλω να συνδυάσω την απόφαση για τον Στρατό, με την άλλη, χρονικά σχεδόν ταυτόχρονη, απόφασή του για 1 μήνα γενικό "ΛΟΚ ΝΤΑΟΥΝ" στην χώρα του, "ΛΟΚ ΝΤΑΟΥΝ", που ξεκάθαρα στοχεύει τον ΤΡΑΜΠ και σας το είχαμε αναφέρει εμείς εδώ ότι θα γίνει από το 1ο ακόμα "ΛΟΚ ΝΤΑΟΥΝ", θα το θυμάστε! "Πάτε" βρείτε τί γράφαμε και διαβάστε μας ξανά).
Θέλει μήπως έμμεσα ο Γ/Πρόεδρος να εκδικηθεί τα κίτρινα, και δεν ξέρω και εγώ τίνος χρώματα, … γιλέκα, που του… αναστάτωσαν την ζωή, εδώ και 2+ χρόνια;
(6) Νόμισε ότι πράττοντας έτσι θα μπορούσε να φανεί ο(!!!) Ευρωπαίος ηγέτης, γνωρίζοντας ότι προβλήματα με τους Μουσουλμάνους αντιμετωπίζουν, άλλη λίγο, άλλη πολύ ή… πιο πολύ, όλες οι χώρες της ΕΕ, την ίδια στιγμή που η άτυπη… αντίπαλός του, ορισμένη Π-Θ της Ευρώπης Μέρκελ, κάνει μέχρι και βρώμικες συμφωνίες με Κράτη – Μέλη, για το τί είδους* Μουσουλμάνους θα δέχεται η Γερμανία, αλλά και που πάλι δεν αποφεύγει, ούτε αυτή ισλαμικές / τζιχαντιστικές επιθέσεις στην χώρα της;
* Είναι πχ αλήθεια Κα Μέρκελ και Κε Τσίπρα, ότι διαλεγμένοι απ' τους Γερμανούς Πακιστανοί πάνε, ως… Έλληνες (sic), απ' ευθείας απ' το Πακιστάν στα ε/Προξενεία της Γερμανίας και απ' εκεί προωθούνται στην γ/αγορά εργασίας;
(7) Μήπως ο Μακρόν φοβήθηκε για την υγεία της συζύγου του, η οποία μας είπαν πως προσεβλήθη από "ΚΟΡΩΝΟΪΟ-19" και από την μεγάλη αγάπη του στην γυναίκα του – μαμά και δασκάλα του, "έχασε την μπάλα" πνευματικά, λειτουργώντας παρορμητικά και "εν θερμώ"; (Ξεπεράστε το παρόν ως… άνοστο αστείο)!..
(8) Κάτι άλλο, το οποίο δεν είναι δυνατόν να εκτιμηθεί από τώρα, όπως πχ μια λίαν πιθανώς υπερβολική ΟΙΗΣΗ του Μακρόν, ΟΙΗΣΗ που δημιουργεί σε "μη καλλιεργημένα άτομα" η… ΣΕΙΡΗΝΑ ΕΞΟΥΣΙΑ, όπως έλεγε και ο Πλούταρχος, με την περίφημη ρήση του: "Δεν υπάρχει αγριότερο θηρίο από τον άνθρωπο, όταν κατέχει δύναμη ίση με το πάθος του"; (Αυτό "πιάνει" και εσένα Κε… "Σόρος-Τσίπρα")!..
ΣΥΜΠΕΡΑΣΜΑTA: 
1. Τέτοιοι "με το ζόρι" πολιτικοί (ο άνθρωπος… "Ταμίας Τραπέζης" ήταν) και ουσιαστικά τέτοια "Όργανα – Πιόνια" της "Παγκοσμιοποιήσεως", σαν τον Μακρόν, είναι ΕΠΙΚΙΝΔΥΝΟΙ και για τις χώρες τους, αλλά και ομοίως ΕΠΙΚΙΝΔΥΝΟΙ ευρύτερα για την ΠΑΓΚΟΣΜΙΟ ΕΙΡΗΝΗ και ΑΣΦΑΛΕΙΑ, επικινδυνότητα που αυξάνει / μεγαλώνει τόσο, όσο μεγαλύτερο είναι το ειδικό βάρος των χωρών που έχουν στην εξουσία τους τέτοια άτομα!..
2. Βιάστηκε πολύ ο Ε/Π-Θ να ταυτιστεί με τον Γ/Πρόεδρο, (ίσως παρασυρθείς από μερίδα λοιπών Ευρωπαίων Π-Θ), μη σκεπτόμενος την έκφραση μιας μέσης και συνεπώς ισόρρροπης τοποθετήσεώς του, (όπως μέχρι τώρα μας έχει… συνηθίσει), σε όσα εσχάτως έλαβαν χώρα στην Γαλλία! (Κε Ντόκε τί έγινε, πού ήσουν); Με την στάση της η Κα Μπακογιάννη παρουσίασε μια άλλη εικόνα, προφανώς την ορθή, αλλ' όμως η Κα Μπακογιάννη δεν είναι… Π-Θ!..
3. Από πουθενά δεν προκύπτει ότι η ΕΛΛΑΔΑ κερδίζει με την κόντρα Γαλλίας – Τουρκίας (ΠΡΟΣΟΧΗ, ΣΤΗΝ ΘΡΗΣΚΕΥΤΙΚΗ ΤΗΣ ΠΡΟΒΟΛΗ) και κυρίως με την προϊούσα κόντρα Γαλλίας – … ΙΣΛΑΜ! Θα υπεστήριζα, "ΑΝΤΙΘΕΤΩΣ", αφού η ΕΛΛΑΣ είναι Κράτος ΧΡΙΣΤΙΑΝΙΚΟ, με ό,τι αυτό συνεπάγεται, αλλά και διότι στο έδαφός του έχουν, από το 1990 και μέχρι σήμερα, εισρεύσει εκατομμύρια Μουσουλμάνων, η μεγάλη πλειοψηφία των οποίων είναι ΜΙΣΕΛΛΗΝΕΣ, όπως Μουσουλμάνοι Αλβανοί, Τούρκοι, Σκοπιανοί, Αφγανοί, Ιρακινοί, Ιρανοί, Σύροι, Πακιστανοί, Σομαλοί, Αιγύπτιοι, κλπ, ικανός αριθμός Τζιχαντιστών, κλπ!
4. Σίγουρα η Γαλλία αύξησε γενικώς(!) το υπάρχον πρόβλημά της με τους Μουσουλμάνους, με αποτέλεσμα να αυξηθεί και το υφιστάμενο πρόβλημα ασφαλείας για τους Γάλλους πολίτες! Τονίζεται και πάλι ότι το Παρίσι είναι Νο "1" στόχος του ΙΣΛΑΜΙΚΟΥ ΡΙΖΟΣΠΑΣΤΙΣΜΟΥ, ήτοι του παγκόσμιου "Τζιχάντ"!.. (Όπως και η ΝΥ/Η.Π.Α.)!..
5. Ο μη πολιτικός Μακρόν χρήζει λοιπόν, αν όχι μιας ψυχιατρικής εξετάσεως, όπως είπε ο αποδεδειγμένα Ψυχασθενής ΡΤΕ, σίγουρα ενός ελέγχου από έναν Ψυχολόγο, ώστε να γίνει έτσι τουλάχιστον μια προσπάθεια να εξηγηθεί το ανεξήγητον της στάσεώς του, μετά την εκτέλεση του Καθηγητή ΠΑΤΙ (Η εξομοίωσή του δηλαδή με τους Ισλαμιστές και ακόμα χειρότερα, με ενέργειές του σαν αυτήν της αναρτήσεως στα δημόσια κτίρια της Γαλλίας, της προσβλητικής για τον άνθρωπο – σύμβολο μιας ολόκληρης Θρησκείας, τον Μωάμεθ)!..
ΤΟ "ΣΑΪΤ" μας είχε τοποθετηθεί σχετικά με τον Πρόεδρο Μακρόν, από της εκλογής του ακόμα! Μπορείτε να ανατρέξετε και να βρείτε την άποψή μας γι΄αυτόν!..
6. Αν συνεχιστούν συμπεριφορές σαν αυτή του Μακρόν, τότε ανατέλλει ένα μείζον ευρύτερο πρόβλημα μεταξύ της Χριστιανικής Δύσεως και του Ισλαμικού Κόσμου, πρόβλημα σε θρησκευτική βάση, που θα πρέπει να "σβηστεί" άμεσα ΤΩΡΑ(!), ώστε να μην μετατραπεί, εκ των πραγμάτων, σε πολιτικό και κυρίως σε στρατιωτικό, με 1ο αποδέκτη το ΝΑΤΟ, το οποίο φιλοδοξεί -και ορθώς- να "απλωθεί" και πέραν των σημερινών του  επιχειρησιακών ορίων!
ΓΕΝΙΚΟ ΣΥΜΠΕΡΑΣΜΑ (Σε μια… Φαντασιακή Σφαίρα)!..
ΑΠΑΙΤΕΙΤΑΙ ΑΜΕΣΑ ΠΡΟΣΕΥΧΗ, ΑΠΟ ΧΡΙΣΤΙΑΝΟΥΣ, ΜΟΥΣΟΥΛΜΑΝΟΥΣ, ΙΟΥΔΑΙΟΥΣ, ΒΟΥΔΙΣΤΕΣ, ΙΝΔΟΪΣΤΕΣ, ΚΑΙ ΔΕΝ ΞΕΡΩ ΚΑΙ ΕΓΩ ΑΠΟ ΠΟΙΟΥΣ  ΑΛΛΟΥΣ ΛΑΤΡΕΙΣ ΛΟΙΠΩΝ ΘΡΗΣΚΕΙΩΝ, ΩΣΤΕ ΟΙ ΚΥΒΕΡΝΩΝΤΕΣ ΤΟΝ ΠΛΑΝΗΤΗ ΑΠΑΤΡΗΔΕΣ ΠΑΓΚΟΣΜΙΟΙ ΚΕΦΑΛΑΙΟΚΡΑΤΕΣ… ΑΡΙΣΤΕΡΟΙ "ΔΙΕΘΝΕΙΣ ΕΒΡΑΙΟΙ" ΝΑ ΑΛΛΑΞΟΥΝ ΜΥΑΛΑ ΚΑΙ ΝΑ ΑΦΗΣΟΥΝ ΤΟΥΣ ΛΑΟΥΣ ΝΑ ΖΗΣΟΥΝ "ΕΝ ΕΙΡΗΝΗ" ΚΑΙ ΜΕ ΕΥΗΜΕΡΙΑ, ΝΑ ΣΤΑΜΑΤΗΣΟΥΝ ΤΟΥΣ ΠΟΛΕΜΟΥΣ ΚΑΙ ΝΑ ΚΤΗΣΟΥΝ ΕΝΑΝ ΝΕΟ, ΚΑΙ ΜΕ ΑΝΘΡΩΠΙΣΤΙΚΗ ΚΥΡΙΩΣ ΠΑΙΔΕΙΑ, ΚΟΣΜΟ, ΩΣΤΕ Ο ΠΛΑΝΗΤΗΣ ΜΑΣ ΝΑ ΕΧΕΙ ΜΕΛΛΟΝ!
ΣΕ ΑΝΤΙΘΕΤΗ ΠΕΡΙΠΤΩΣΗ, ΕΙΝΑΙ ΑΠΛΩΣ ΘΕΜΑ ΧΡΟΝΟΥ Η Κ/Φ ΤΗΣ ΓΗΣ, Η Κ/Φ ΜΑΣ!..
2.
Εγκλήματα / Τερατουργήματα

Κομμουνιστών (Κόκκινων Φασιστών)

: Ιδού ένας από τους μεγαλύτερους

σφαγείς

του

ΚΚΕ

, ένα από τα μεγαλύτερα

καθάρματά

του!
"ΕΓΚΛΗΜΑΤΑ ΚΟΜΜΟΥΝΙΣΤΩΝ…..
Φωτογραφία η οποία εμφανίζει έναν από τους μεγαλύτερους σφαγείς του ΚΚΕ και κατά επάγγελμα "ορισθέντα" δήμιο του ΕΛΑΣ, (ήσαν 100άδες αυτοί), κατά την περίοδο των ''Δεκεμβριανών 1944-1945'' στην Αθήνα, τον Στέφανο Λιόλιο, να οδηγείται πλέον σιδηροδέσμιος, το 1945, με αυστηρά μέτρα φύλαξης, για να μην λιντσαριστεί από τους συγγενείς των θυμάτων που δολοφόνησε, στην περιοχή όπου βρίσκονταν τα τότε διϋλιστήρια της "ΟΥΛΕΝ", για αναπαράσταση του τρόπου εκτελέσεως των θυμάτων, τόσο από τον ίδιο, όσο και από τους συνεργούς του, κατόπιν της εντολής που είχαν πάρει από την ηγεσία του ΚΚΕ και του ΕΛΑΣ.
Ο ίδιος, στην αναπαράσταση, διευκρίνισε πως εκτέλεσε τουλάχιστον 150 άτομα, καθώς μετά από κάποιο σημείο έπαψε να μετράει, ενώ στην αναπαράσταση είπε πως τα υποψήφια θύματα τα έβαζε σε μία ευθεία και τα διέταζε να γδυθούν, είτε ήσαν άντρες, είτε γυναίκες, ενώ στην συνέχεια τους έβαζε να γονατίζουν και τους διέταζε να τοποθετούν τα κεφάλια τους πάνω σε πέτρες.
Στην συνέχεια περνούσε πάνω από το κάθε θύμα και το εκτελούσε με τσεκούρι, καθώς είχε δοθεί εντολή από τον ΕΛΑΣ, για λόγους οικονομίας πυρομαχικών, οι εκτελέσεις να γίνονται δια ροπάλου, μαχαιριών και αιχμηρών αντικειμένων.
Ο συγκεκριμένος Φονιάς επέλεγε το τσεκούρι, και έτσι κτυπούσε τα θύματά του στο κεφάλι, όταν επρόκειτο όμως να εκτελέσει στέλεχος των Σωμάτων Ασφαλείας και των Ενόπλων Δυνάμεων το κτύπημα δεν ήταν ακαριαίο προκειμένου το θύμα να υποφέρει. Όταν ο ίδιος κουραζόταν συνέχιζαν το έργο του οι δύο συνεργάτες του Φονιάδες Τζογανάκος και Μακαρόνας, οι οποίοι αυτοί χρησιμοποιούσαν αιχμηρά αντικείμενα."
3. Ο ρε και να γίνει κανένα… θαύμα (αφού οι "ΔΗΜΟΚΡΑΤΙΚΟΙ" με τα φερέφωνά τους μας λένε συνεχώς ότι προηγείται στις προτιμήσεις των Αμερικανών, ο έχων προχωρημένο "ΑΛΤΣΧΑΪΜΕΡ" "Κοιμήσης Τζο"), και να βγει και πάλι ο ΤΡΑΜΠ! Θα ήθελα να δω τότε κάτι ξεφτίλες… "Αμερικανούς" εδώ στην Ελλάδα, άτομα, Κόμματα και Κανάλια, πουλημένα τομάρια των σχεδόν… "ΣΥΡΙΖΑΙΩΝ" των Η.Π.Α.,… "ΔΗΜΟΚΡΑΤΙΚΩΝ", το πώς θα αντιδράσουν και τί θα λένε, όπως πχ ο Πορτοσάλτε, ο Οικονόμου, η Αναστασοπούλου, ο Καιρίδης, ο Φίλης, ο Βαρουφάκης, όλος ο "ΣΟΡΟΣ-ΣΥΡΙΖΑ", κλπ!
ΑΝ ΣΥΜΒΕΙ ΚΑΤΙ ΤΕΤΟΙΟ ΘΑ ΕΧΕΙ ΝΑ ΠΕΣΕΙ ΠΟΛΥ ΓΕΛΙΟ!
Trump arayı kapatıyor
ABD'deki seçimlerin kaderini, her dönem Demokratlar ve Cumhuriyetçiler arasında gidip gelen ve "salıncak eyalet" olarak nitelendirilen eyaletler belirleyecek. Bu eyaletlerde yakın zamana kadar Donald Trump ile Joe Biden arasında, Biden lehine olan fark hızla kapanıyor. Trump'ın seçim çalışmalarını yoğunlaştırmasının ardından Florida gibi kritik eyaletlerde fark Trump lehine değişti ya da azalmaya başladı.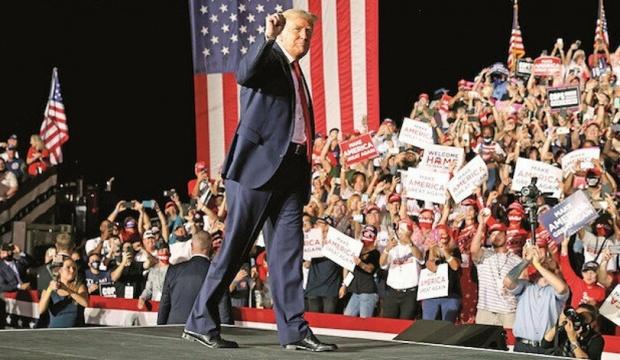 FLORİDA'DA ÖNE GEÇTİ
En kritik eyaletlerin başında gelen 29 delegeli Florida'da, Biden 26 Ekim Pazartesi günü Trump'ın 1,5 puan önündeyken, bugün bakıldığında Trump'ın rakibine karşı 0,4 puan avantaj elde ettiği görülüyor. Florida, ABD Başkanlık seçimlerinde delege sayısı nedeniyle dengeleri değiştirme özelliğine sahip. Pennsylvania'da pazartesi günkü anketlerde, Trump'ın 5,3 puan önünde olan Biden'ın şu anda 3,8 puan üstünlüğü bulunuyor.
FARK AZALIYOR
Ayrıca pazartesi günü Biden'ın 1,2 puan önde olduğu Kuzey Carolina'da fark 0,7'ye gerilerken, Arizona'da Biden 2,4 puan üstünlüğünü korudu. Anketlere göre Biden, Michigan ve Wisconsin'de arayı açmayı sürdürüyor. Biden, pazartesi günü 8,1 puan önde olduğu Michigan'da şu anda 8,7, 5,4 puan önde olduğu Wisconsin'de ise şu anda 7,8 puan önde.
TEKNOLOJİ ŞİRKETLERİNE YÜKLENDİ
Öte yandan Trump, Facebook, Twitter ve Google gibi büyük teknoloji firmalarını, Demokrat başkan adayı Joe Biden'ın yolsuzluklarını saklamakla suçladı. Trump, Twitter hesabından yayımladığı video mesajda, uzun zamandır Facebook, Twitter ve Google gibi büyük teknoloji firmalarının ne kadar güçlü olduğuna dair duyumlar aldığını söyledi. Trump, bu şirketlerin her zaman kendisinin karşısında olduğunu iddia etti. Trump bir noktada belki de teknoloji şirketlerinin durdurulması gerektiğini savunarak "Bu şirketler, elinizden haklarınızı alıyor" ifadesini kullandı.
Biden oyunu kullandı
ABD'de Başkanlık için yarışan Demokrat aday Joe Biden, Deleware eyaletinde oyunu kullandı. ABD'de Başkanlık seçimlerinde Demokrat Parti'nin Başkan Adayı Joe Biden, rakibi Donald Trump gibi erken oy kullandı. Biden, eşi Jill Biden ile birlikte ikamet adresinin bulunduğu Deleware eyaletinde sandık başına gitti. Mevcut Başkan Trump ise oyunu 24 Ekim'de Florida eyaletine bağlı West Palm Beach şehrinde bulunan bir kütüphanede kullanmıştı.
Köstebek ortaya çıktı
Öte yandan ABD Başkanı Donald Trump aleyhine 2018'de New York Times (NYT) gazetesinde bir makale yazan ve ardından "Uyarı" isimli bir kitap çıkaran Beyaz Saray'daki köstebek, eski İç Güvenlik Bakanlığı Özel Kalem Müdürü Miles Taylor çıktı. Taylor, yayımladığı "Neden artık anonim değilim?" başlıklı yazıyla, Amerikan kamuoyunda "Anonim" lakabıyla bilinen yazarın kendisi olduğunu duyurdu. Taylor'ın açıklamasına Beyaz Saray Sözcüsü Kayleigh McEnany, "Bilgi sızdırmayı tercih eden bir yalancı ve korkak" değerlendirmesinde bulundu.
Sosyal medyaya yaylım ateşi
ABD'de Cumhuriyetçi senatörler, sosyal medya ve teknoloji platformları Facebook, Twitter ve Google'ı siyasi içerikleri Demokrat Parti lehine sansürlemekle suçlayarak, tepe yönetcileri adeta yaylım ateşine tuttu. Facebook'un kurucusu Mark Zuckerberg, Twitter'ın kurucusu Jack Dorsey ve Google'ın CEO'su Sundar Pichai, Senato Ticaret, Bilim ve Ulaşım Komitesi tarafından düzenlenen oturumda senatörlerin sorularını yanıtladı. Özellikle Google ve Twitter'a tepki gösteren Cumhuriyetçi senatörler, Pichai ve Dorsey'i seçim sürecini Demokrat Parti ve başkan adayı Joe Biden lehine kararlar alarak manipüle etmekle suçladı.
Yeni Şafak
4. Ο ΘΕΟΣ ΝΑ ΑΝΑΠΑΥΣΕΙ ΤΗΝ ΨΥΧΗ ΤΟΥ ΣΥΓΧΩΡΕΜΕΝΟΥ ΠΙΑ ΠΑΛΙΟΥ ΒΟΥΛΕΥΤΗ ΤΟΥ "ΣΥΝΑΣΠΙΣΜΟΥ" Π. ΚΟΥΝΑΛΑΚΗ, ΟΠΩΣ ΚΑΙ ΤΗΝ ΨΥΧΗ ΤΟΥ ΤΟΥΡΚΟΥ ΤΕΩΣ Π-Θ ΜΕΣΟΥΤ ΓΙΛΜΑΖ, Ο ΟΠΟΙΟΣ, ΟΠΩΣ ΣΑΣ ΕΙΧΑΜΕ ΠΕΙ, ΕΙΧΕ ΟΥΣΙΑΣΤΙΚΑ ΠΕΘΑΝΕΙ ΑΠΟ ΤΟΤΕ ΠΟΥ ΣΑΣ ΕΙΧΑΜΕ ΕΝΗΜΕΡΩΣΕΙ ΓΙΑ ΤΗΝ ΚΑΤΑΣΤΑΣΗ ΤΟΥ, ΚΑΝΟΝΤΑΣ ΤΟΥ ΑΠΟ ΤΟΤΕ… ΜΝΗΜΟΣΥΝΟ!.. 
Ο ΓΙΛΜΑΖ "ΕΦΥΓΕ" ΑΠΟ ΤΟ ΜΑΡΑΖΙ ΓΙΑ ΤΟΝ ΓΙΟ ΤΟΥ ΠΟΥ ΑΥΤΟΚΤΟΝΗΣΕ, ΓΕΓΟΝΟΣ ΠΟΥ ΔΕΙΧΝΕΙ ΟΤΙ ΕΙΧΕ ΕΥΑΙΣΘΗΣΙΕΣ, ΩΣ ΑΤΟΜΟ!.. 
ΤΕΛΟΣ, ΕΥΧΟΜΑΣΤΕ ΠΕΡΑΣΤΙΚΑ ΚΑΙ ΣΤΟΝ "ΝΤΡΑΓΚΙ" (ΔΗΜ. ΓΙΑΝΝΑΚΟΠΟΥΛΟ), Ο ΟΠΟΙΟΣ ΝΟΣΗΛΕΥΕΤΑΙ, ΑΠΟ ΣΗΜΕΡΑ, ΜΕ ΕΜΦΡΑΓΜΑ, ΣΕ ΑΘΗΝΑΪΚΟ ΝΟΣΟΚΟΜΕΙΟ ("ΥΓΕΙΑ")!
5.
PM Netanyahu (R)and U.S. Ambassador David Friedman sign agreements to further binational scientific and technological cooperation in a special ceremony held at Ariel University on October 28, 2020. (US Embassy)
Israel-US Sign Agreement Extending Cooperation to Judea, Samaria and Golan
Change in U.S. foreign policy will see millions invested in new areas.
By Yakir Benzion, United With Israel
Prime Minister Benjamin Netanyahu and U.S. Ambassador to Israel David Friedman signed an extension of the Israel-U.S. scientific cooperation agreement Wednesday that allows U.S. funding to apply to research being undertaken in Judea, Samaria and the Golan Heights.
Signed at special ceremony held at Ariel University in Samaria, the two agreements will further bi-national scientific and technological cooperation in the fields of medicine, renewable energy, water, communications, agriculture, homeland security, and many other technology sectors.
"The fact that we are signing agreements here today is of huge significance," Netanyahu said. "It's a demonstration first of your commitment, Ambassador Friedman, and the commitment of President Trump."
Netanyahu said Israel could not have reached the successful stage it was now at without solid American support.
"President Trump's successful approach to bringing peace to our region has helped Israel achieve three new peace agreements: with the Emirates, with Bahrain and with Sudan," Netanyahu said. "President Trump and his team deserve praise for helping to facilitate these agreements. We've worked on them for many years in silent, covert contacts, and some open, but it would not have happened without the full engagement of the president and his team," .
The prime minister pointed out that Trump's moves went in the face of old thinking that progress with Israel would "destroy the chances of peace," yet the moving of the U.S. embassy to Jerusalem and American recognition of Israeli sovereignty over the Golan Heights have proven the naysayers wrong.
"When the president declared that our Jewish communities in Judea and Samaria are not illegal under international law, a theme advanced by, an observation and a decision advanced by Secretary Pompeo, once again the naysayers claimed that this would destroy the chances of peace," Netanyahu said.
"By rejecting the failed mantras of the past … I think the Trump vision also put forward something else that we see today. It opens Judea and Samaria to academic, commercial and scientific engagement with the United States. This is an important victory against all those who seek to delegitimize everything Israeli beyond the 1967 lines," Netanyahu pointed out, calling the signing "a victory against all of the organizations and countries that boycott Judea and Samaria."
"We will not stop taking action so that the entire area will prosper and flourish. The scientific cooperation agreement is especially important at this time, when we are dealing with the coronavirus," he said, referring to the economic damage resulting from the pandemic.
6.
Neo-Nazis celebrate 2nd anniversary of Pittsburgh synagogue massacre
A Telegram channel's post showing the perpetrator of the anti-Semitic attack in Pittsburgh. (MEMRI Domestic Terrorism Threat Monitor)
By JNS
Neo-Nazis are using the platform Telegram to celebrate the second anniversary of the 2018 attack on the Tree of Life Synagogue in Pittsburgh, Pennsylvania—in which 11 worshippers were killed and seven wounded—the Middle East Media Research Institute (MEMRI) reported on Tuesday.
Among the celebratory posts is a rap video titled "[redacted] ft. Robert Bowers—Spinning Dreidels," referring to the accused perpetrator of the attack. The video includes a threat to Migration Policy Institute cofounder and Board of Trustees member Kathleen Newland.
"Kathleen Newland head of Migration Policy Institute, a Washington D.C.-based think tank, she'll be drawing a blank without half her brain. … I'm shooting at these p****y kikes 'til I'm shooting blanks, I found your address in the white pages bitch," it says.
According to MEMRI's Domestic Terrorism Threat Monitor, one neo-Nazi Telegram channel posted: "Happy screw your optics day! Heil Saint Bowers."
"Screw your optics, I'm going in" was Bower's last post on Gab prior to the attack.
Another channel posted an image of Bowers behind bars, with the text "POW KIA my head is bloody, but unbowed" and a swastika.
7. Γιατί είναι… "provokasyon", ρε Τούρκοι; Εσείς που "βγάζετε" συνεχώς όπλα, κλπ, δεν είναι… "provokasyon";
Yunanistan'dan yeni provokasyon:

115 milyon euroluk askeri harcama
Doğu Akdeniz'de gerilimi tırmandıran

Yunanistan'ın Milli Güvenlik Hükümet Konseyi (KYSEA) "115 milyon euro değerinde denizaltılarına karşı geliştirilen 32 torpido tedariki için onay verdiği belirtildi
.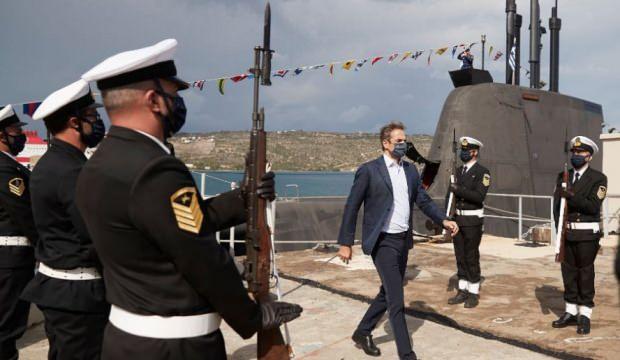 Doğu Akdeniz'deki gerilimin mimarı olan Yunanistan, içinde bulunduğu ekonomik zorluğa karşılık askeri yatırımlarını artırmaya devam ediyor. Özellikle Adalar ve Doğu Akdeniz'de Türkiye'nin haklarını gasbetmek için her türlü provokasyona başvuran Yunanistan, bölgedeki gerilimin artmasına neden olabilecek yeni bir hamleye imza atıyor.
115 MİLYON EUROLUK ASKERİ ALIŞVERİŞ
Doğu Akdeniz'de Fransa'nın da desteğini alarak Türkiye'nin bölgedeki meşru varlığını görmezden gelen ve her fırsatta gerilimi tırmandırmanın peşinde koşan Yunanistan'ın  Milli Güvenlik Hükümet Konseyi (KYSEA) "115 milyon euro değerinde denizaltılarına karşı geliştirilen ​ 32 torpido tedariki için onay verdi. Yunanistan Başbakanı Kiriakos Miçotakis'in açıklamayı, dünkü SUDA Üssü'nde "Kaçonis" denizaltısını ziyareti sırasında personel ile yapılan sohbet sırasında yaptığı kaydedildi.
TORPİDOLAR ALMANYA'DAN SATIN ALINACAK
Miçotakis Almanya'dan satın alınacak olan torpidolarla ilgili şunları söyledi: "Silahlı Kuvvetleri uygulamada güçlendirmeye karar verdik. Bu, özellikle denizaltılar olarak, karşı önlem altyapısını güçlendirmek anlamına geliyor. Tabii ki bu da operasyonel yeteneklerden tam olarak yararlanabilmeniz için ihtiyacınız olan ağır tip torpidolarını da en kısa sürede elde etmek anlamına geliyor. Almanya'da üretilen 36 DM-2A4 ağır tip torpidolardan bahsediyoruz. Ayrıca 1988'den beri Denizaltı Komutanlığı'na ait eski SUT torpidoların modernizasyonu da gerçekleştirilecek."Öte yandan, Alman firması ile sözleşmenin 2020 sonu veya 2021 başında tamamlanması beklendiği kaydedildi.
8. 
MİT tırları davasında karar
MİT tırlarının durdurulması davasında yargılanan 27 sanık 1 yıl 10 ay 15 gün ile ağırlaştırılmış müebbet arasında değişen hapis cezasına çarptırıldı.
ADANA VE HATAY'DA MİT TIRLARININ DURDURULMASI
MİT tırları, 1 Ocak 2014'te Hatay'ın Kırıkhan ilçesinde, 19 Ocak 2014'te ise Adana'nın Ceyhan ilçesinde durdurulmuştu.
Tırların durdurulması ve arama işlemlerini organize ettikleri gerekçesiyle FETÖ/PDY'nin 11 "sivil imamı" ile eski bir tuğgeneralin de aralarında bulunduğu 55 sanık hakkında açılan ve duruşmaları kapalı görülen davayla ilgili İstanbul 14. Ağır Ceza Mahkemesince yetkisizlik kararı verilerek dosya, Adana'ya gönderilmişti.
Adana 13. Ağır Ceza Mahkemesi, ara kararıyla bazı sanıkların tahliyesine, bazı sanıkların da dosyasının ayrılmasına hükmetmişti.