ΧΡΗΣΙΜΑ; ΙΣΩΣ ΚΑΠΟΙΑ 1,2 ΣΧΟΛΙΑΚΙΑ!..
1.
The Enemy Alliance
How to remove the keystone of the global alliance of our enemies – Iran.
The Enemy Alliance extends around the world, from Pyongyang to Caracas, and from Moscow to Cuba. It's an extensive alliance spread out across the globe in order to take revenge on its enemies. It runs across Asia (North Korea, China, Russia), through the Stans, across the borders of Eastern Europe, and into Iran and Iraq, thence into immigrants flooding into Western Europe, and into our hemisphere (Cuba, Bolivia, Venezuela, and Nicaragua).
The keystone of this global alliance is Iran, at once the world's largest sponsor of terror, and a constant promoter of terrorism against American targets, from downtown restaurants to special forces on the battlefield.
The 1979 assault on the Grand Mosque in Mecca had a significant family footnote: the first appearance of the name bin Laden in conjunction with a terrorist attack. Osama bin Laden's brother Mahrous was evidently involved in the operation, and was miraculously spared the executioner's scimitar. He even gained early release from prison, abandoned political activism, and subsequently devoted all his energies to the family business.[1]
Ever since, Iran has sponsored terrorism all over the world, and has ceaselessly attacked the United States in word and deed. For many years, the Department of State has declared the Islamic Republic the leading supporter of international terrorism, and for good reason.
The Iranians created the Islamic Jihad Organization, and Hezbollah, the big terrorist army based in Lebanon and Syria. Moreover, Iran has long supported Al Qaeda, which baffles a lot of people because it is a Sunni organization, while Iran proclaims that a descendant of the 12th Imam—one of their own—will one day rule the world.
The explanation is quite simple: like Mafia families who fight and sometimes kill one another, when faced with a common enemy, the family heads sit down around the table and make a common war plan. And the descendants of the Prophet share a common destiny, whether it be Shi'ite or Sunni, or even Wahabi.
The mullahs have already established strategic alliances in our own hemisphere once we bailed out of Iraq, with Cuba, Bolivia, Nicaragua and Venezuela, and are working closely with Russia and China. In their own neighborhood, the retreat of the "Great Satan" from Iraq, Syria and Afghanistan compels the smaller Middle Eastern countries to either come to terms with Tehran—thereby making the region much more inhospitable to us—or tackling Iran by themselves.
The increase in Iranian power and influence has been accomplished without atomic bombs—the issue that dominates the policy debate over Iran throughout the West. To be sure, an Iranian nuke would be an existential threat to Israel, but so is a non-nuclear Iran, which is the mainstay of the anti-Israel terrorist groups, above all, Hamas, Hezbollah and Islamic Jihad. To focus solely on the nuclear question is a serious failure of strategic vision; the issue is the regime in Tehran, whatever its progress toward atomic bombs.
If the United States is to make serious progress toward winning the war, it will have to find a way to threaten the stability of the Tehran regime. Unfortunately, for 37 years every American administration has permitted the Islamic Republic to build up its strength, and even organize assassinations in our capital. Carter, Clinton, and Reagan either directly sold weapons to Iran, or enabled others to do it, as in the case of the secret Gore-Chernomyrdin deal (in violation of Gore's own legislation). In all those years, no American president has initiated a serious challenge to post-Revolutionary Iran (a pattern that now extends to our inconclusive response to the Islamic State).
Indeed, the only time Iran paid a price for attacking American targets was when an American naval vessel hit an Iranian mine in the Persian Gulf during the Reagan presidency. When we responded by attacking Iranian targets in the area, the Iranian Navy escalated the confrontation, and ended with the loss of about one-third of their ships. But no American president has called for regime change in Tehran; no American administration has supported the many millions of Iranian dissidents, including workers, teachers, students and others who have demonstrated a desire for democracy and the courage to fight for it. Indeed, our Persian-language radio and television broadcasting to Iran more often than not has been critical of the United States than of the clerical fascists who threaten us.
---
For the story of Osama's brother, cf. The Sunday Herald (Glasgow), October 7th, 2001; Ha'aretz, December 18th, 2002; and The New Yorker, November 5th, 2001.
2.
Ukraine Was Investigating Hunter Biden Before Trump's Phone Call
A revelation alters the timeline in the Dems' surreal 'impeachment inquiry'.
Officials in Ukraine reportedly opened an investigation into an energy company that employed former Vice President Joe Biden's son long before President Donald Trump's July 25 nothing-burger of a telephone call with Ukrainian President Volodymyr Zelensky that spurred the Democrats' haphazard, increasingly Kafkaesque impeachment inquiry.
The time element of the revelation, devastating as it is to the 2016-election-nullification push disguised as an impeachment process, has been largely ignored by the mainstream media which is overly preoccupied –as usual— attacking President Trump.
The information came last week from investigative reporter John Solomon, who recently was hired as a Fox News contributor, after Ukraine's new prosecutor general, Ruslan Ryaboshapka, said Oct. 4 he plans to review previous corruption investigations into Hunter Biden and his former employer, Ukraine-based Burisma Holdings. Hunter got the job in 2014 while his father was the Obama administration's point man on Ukraine.
Solomon's growing prominence in the media ecosystem means that leftist journalists –when they're not busy making excuses for the secretive un-American Star Chamber-like impeachment process initiated by House Speaker Nancy Pelosi– now feel obligated to engage in character-assassination efforts against him.
For example, Casey Michel, who boasts about being a former Peace Corps volunteer in Kazakhstan and supposedly a former "investigative reporter" at failed George Soros-funded media outlet ThinkProgress, launched a venomous, lie-packed Media Matters-style hit piece against Solomon as he moved to Fox.
In the sleazy, tabloid-like Daily Beast, Michel mocked the respected veteran newsman from the Washington Times and The Hill as "the self-proclaimed journalist at the heart of the unfolding scandal involving Ukraine, Rudy Giuliani, and the impending impeachment of Donald Trump."
Solomon's work "has underpinned the entire cascade of lies the White House and Trump in particular have pushed over the past few weeks," and is "drenched in innuendo and mischaracterizations, all in service of attacking Trump's political opponents," he wrote.
Meanwhile, more information is beginning to emerge about the charmed life of ne'er-do-well Hunter Biden who throughout his adult life has kept blundering into highly lucrative job opportunities because his father was famous and politically powerful.
A handful of media outlets reminded readers of the August 2008 news story –when Joe Biden was still a U.S. senator representing Delaware— about Hunter Biden being paid "an undisclosed amount of money as a consultant by MBNA, the largest employer in Delaware, during the years the senator supported legislation that was promoted by the credit card industry and opposed by consumer groups."
That law, opposed by left-wing activists, made it more difficult for consumers to obtain bankruptcy protection in the federal courts. Then-Sen. Barack Obama (D-Ill.) opposed the 2005 bankruptcy legislation at the time.
The Bidens' obvious intergenerational corruption is beginning to worry some left-wing journalists like Ryan Grim at The Intercept who argues in a paywalled article that Democrats need to come clean about the Bidens if they are to salvage the 2020 presidential election.
"The problem for Democrats is that a review of Hunter Biden's career shows clearly that he, along with Joe Biden's brother James, has been trading on their family name for decades, cashing in on the implication — and sometimes the explicit argument — that giving money to a member of Joe Biden's family wins the favor of Joe Biden."
Grim cannot resist being childish and petty, referring to presidential son Eric Trump by the awkward neologism "failson," whatever that means.
But leftists are going to find it hard to ignore the mountain of evidence accumulating about the Bidens.
On Sean Hannity's television show Solomon said the U.S. government knew the government of Ukraine intended to examine the activities of Burisma Holdings, which employed Hunter Biden and paid him a spectacularly generous salary even though the younger Biden lacked expertise in the energy field.
The report is important because it mothballs Trump-hating Democrats' false talking point that the president threatened during the storied phone call to withhold foreign aid to Ukraine if its new president failed to launch a probe into Burisma and Hunter Biden's role there.
"The U.S. government had open-source intelligence and was aware as early as February of 2019 that the Ukrainian government was planning to reopen the Burisma investigation," Solomon said. "This is long before the president ever imagined having a call with President Zelensky," he added, noting Petro Poroshenko was still the president of Ukraine at that time.
Solomon said that earlier this year NABU, the Anti-Corruption Bureau of Ukraine, asked to reopen an investigation into Burisma and owner Mykola Zlochevsky, and the probe began. It led to a 15-page "Notice of Suspicion" being lodged that alleged that "illicit funds" were moving through Burisma, he said.
This information was left out of the U.S. intelligence community whistleblower's complaint, itself a bungled report on the July 25 phone call, against President Trump that was filed in September, Solomon said.
Solomon noted this allegation of "illicit funds" partly coincides with Hunter Biden's service on Burisma's board, which reportedly brought him up to $1 million a year. He added that Ukrainian investigators filed the Notice of Suspicion stating they were "looking at the possibility that the $3.4 million paid to Hunter Biden's firm may have been part of the illicit funds that were moving through the company."
"A month later, in April, the prosecutor's office — open-source intelligence, again — the U.S. government officials confirming they were aware of this — made a request of another investigative agency in Ukraine for assistance in going through these bank records," Solomon said.
"That is a significant change in the timeline — it was omitted from the whistleblower's complaint, and the question is did he not know it or did he exclude it because it didn't fit the narrative he was trying to write," he said.
"That's a question for Congress to answer."
Indeed it is.
3.
Three U.S. Diplomats Taken Off Train, Briefly Detained Near Sensitive Russian Site RFE/RL 16 Oct 2019 — Three U.S. diplomats have been removed from a train and briefly questioned by Russian authorities in the sensitive Arctic shipyard city of Severodvinsk, near the site of a mysterious explosion in August that killed five nuclear workers.
US Embassy Says Diplomats Accused of Violating Rules of Stay in Russia Filled Out Required Papers Sputnik 16 Oct 2019 — Earlier, three employees of the US Embassy in Russia were removed from a train at the Severodvinsk station in Russia's Arkhangelsk region after allegedly attempting to enter a restricted area without permission.
State Dept: US Will Require Chinese Diplomats to Report Contacts With American Officials, EducatorsSputnik 16 Oct 2019 — US State Department officials stated on Wednesday that moving forward, Chinese diplomats will have to give advance notice of any meetings with state, local and municipal officials, including those with research and educational institutions.
US Drops Turkey From Anti-Daesh Intel Sharing Programme Amid Ankara's Syria Op – ReportSputnik 16 Oct 2019 — Testy US-Turkish relations sunk to a new low last week after Ankara launched a military operation in northern Syria, with Washington and its European partners criticising the attack on their erstwhile Syrian Kurdish allies, with Ankara vowing that nothing would stop its operations to shore up the security of its southern borders.
4th Man Arrested in Probe of Giuliani Associates VOA 16 Oct 2019 — A fourth person has been arrested in connection with federal campaign finance cases involving associates of President Donald Trump's personal attorney, Rudy Giuliani.
Russian Court Cuts Prison Term Of Ukrainian Jailed For Spying RFE/RL 15 Oct 2019 — The Russian Supreme Court has cut the prison term of a Ukrainian man who had been sentenced in Russian-occupied Crimea on espionage charges.
Mossad chief admits to having 'prestigious' assassination list Press TV 14 Oct 2019 — Yossi Cohen, who is the director of the Israeli spy agency Mossad, has acknowledged having a "prestigious" assassination list at his disposal, claiming that targeting foreign influential figures, including Iran's Major General Qassem Soleimani, is "not impossible."
Security Researchers Find Android Backdoor in Xi Jinping Thought Study AppRadio Free Asia 14 Oct 2019 — A patriotic app promoted by the Chinese Communist Party as a tool for ideological education contains a security backdoor enabling remote access to Android smartphones, security researchers have found.
Russian Wedding Photos Highlight Novichok Suspect's Security Ties RFE/RL 14 Oct 2019
Air Force integrates missions, strengthens information warfare capabilities US Air Force 11 Oct 2019 — In March 2019, Air Force leaders decided to create a new information warfare numbered air force with enhanced missions and capabilities.
US Federal Judge Releases Giuliani Associates Parnas, Fruman on Bond, Hearing Set For 17 October Sputnik 10 Oct 2019 — Lev Parnas and Igor Fruman – who reportedly helped US President Donald Trump's lawyer Rudy Giuliani investigate former Vice President Joe Biden's alleged involvement in Ukraine – were arrested at Dulles airport on charges of violating US campaign funding laws as the two tried to board a flight out of the US using one-way tickets.
Lev Parnas And Igor Fruman Charged With Conspiring To Violate Straw And Foreign Donor Bans DoJ – US Attorney – Southern District of New York 10 Oct 2019 — Geoffrey S. Berman, the United States Attorney for the Southern District of New York, and William F. Sweeney Jr., the Assistant Director in Charge of the New York Field Office of the Federal Bureau of Investigation ("FBI"), announced that LEV PARNAS, IGOR FRUMAN, DAVID CORREIA and ANDREY KUKUSHKIN were charged in a four-count indictment alleging that each of the defendants conspired to violate the ban on foreign donations and contributions in connection with federal and state elections. In addition, PARNAS and FRUMAN were charged with conspiring to make contributions in connection with federal elections in the names of others, and with making false statements to and falsifying records to obstruct the administration of a matter within the jurisdiction of the Federal Election Commission ("FEC").
Two Soviet-Born Men Linked To Giuliani Arrested For Campaign-Finance Violations RFE/RL 10 Oct 2019 — Two businessmen from the former Soviet Union have been arrested for allegedly breaking U.S. campaign finance laws.
2 Giuliani Associates Arrested for Campaign Finance Fraud VOA 10 Oct 2019 — Two associates of President Donald Trump's personal attorney, Rudy Giuliani, have been arrested on federal charges of making hundreds of thousands of dollars in illegal contributions to Republican campaigns, including a pro-Trump super political action committee (PAC).
Russian Court Jails 72-Year-Old For 12 Years In Treason Case RFE/RL 10 Oct 2019 — A court in southwestern Russia has sentenced a 72-year-old pensioner to 12 years in a high-security penal colony for high treason.
US counter-terror analyst arrested for leaking classified information Press TV 10 Oct 2019 — A counter-terrorism analyst at the US Defense Intelligence Agency (DIA) has been arrested for allegedly leaking top secret information to two journalists, according to the US Justice Department.
Defense Intelligence Agency Employee Arrested for Leaking Classified Information to JournalistsUS Dept. of Justice 09 Oct 2019 — An employee of the Defense Intelligence Agency (DIA) was arrested today on charges related to his alleged disclosure of classified national defense information (NDI) to two journalists in 2018 and 2019.
NY Times Reports Western Security Officials Believe Secret Russian Unit Responsible For Attacks In Europe RFE/RL 09 Oct 2019 — Western security officials have identified a secret Russian intelligence unit that has tried to carry out assassinations and destabilization operations in foreign countries, according to The New York Times.
Ukraine Spy Agency Says Extracted 'Witness' Of Russian Army Presence In Donbas RFE/RL 08 Oct 2019 — Ukraine's State Security Service (SBU) says it extracted a witness of Russia's military presence in the separatist-controlled parts of eastern Ukraine from the city of Sorokyne (formerly Krasnodon) in the Luhansk region into government-controlled territory.
Senate Intel Committee Releases Bipartisan Report on Russia's Use of Social Media Senator Mark Warner 08 Oct 2019 — "Today, Senate Select Committee on Intelligence Chairman Richard Burr (R-NC) and Vice Chairman Mark Warner (D-VA) released a new report titled, "Russia's Use of Social Media." It is the second volume released in the Committee's bipartisan investigation into Russia's attempts to interfere with the 2016 U.S. election."
U.S. Senate Panel Blasts Russian Election Meddling, Efforts To 'Sow Discord'RFE/RL 08 Oct 2019 — A bipartisan U.S. Senate report on Russia's use of social media has determined that a Kremlin-backed "troll farm" sought to boost the campaign of Donald Trump and hurt rival Hilary Clinton, largely backing up the conclusions of the U.S. intelligence community.
US Senate Panel Report Calls for Plan to Prevent Meddling in 2020 Presidential ElectionVOA 08 Oct 2019 — The U.S. Senate Intelligence Committee has issued a bipartisan report that calls on the U.S. government and private industry to prevent social media sites from being used to interfere in the 2020 presidential election, as they were in 2016.
FISA Court Secretly Ruled That FBI Violated Rights of Thousands of Americans – Reports Sputnik 09 Oct 2019 — The FBI violated the constitutional rights of tens of thousands of US citizens, the Foreign Intelligence Surveillance Court (FISA) ruled in 2018 but its finding was kept in secret, US media reported.
Second Whistleblower Comes Forward in Trump-Ukraine Scandal VOA 06 Oct 2019 — A second U.S. intelligence whistleblower has come forward with concerns about U.S. President Donald Trump's July telephone call with Ukrainian President Volodymyr Zelenskiy.
Trump told May he doubted Russia was involved in Skripal case Press TV 06 Oct 2019 — US President Donald Trump reportedly told former British Prime Minister Theresa May he was doubtful whether Russia was behind the nerve agent attack on a former Russian spy in England.
Trump orders significant NSC staff cut Press TV 05 Oct 2019 — US President Donald Trump has ordered a significant staff cut in the National Security Council (NSC) as an imminent impeachment looms on the horizon.
Second Defendant Arrested in Case Alleging Theft of Trade Secrets from American Aviation Company US Dept. of Justice 04 Oct 2019 — Indictment unsealed today charges Russian and Italian nationals
Second Suspect Arrested In U.S. Probe Into Russian-Led Theft Of Aviation Secrets RFE/RL 04 Oct 2019 — A second suspect has been arrested as part of a U.S. criminal case alleging that a Russian defense executive attempted to steal trade secrets from the aviation unit of General Electric.
Belarus Pardons Ukrainian Man After Kyiv Releases Belarusian 'Spy' RFE/RL 04 Oct 2019 — Belarus has pardoned a Ukrainian man sentenced to 8 years in prison on espionage charges a day after Ukrainian authorities released on his own recognizance a Belarusian citizen also charged with spying.
U.S. And UK Sign Landmark Cross-Border Data Access Agreement to Combat Criminals and Terrorists OnlineUS Dept. of Justice 03 Oct 2019 — The United States and the United Kingdom entered into the world's first ever CLOUD Act Agreement that will allow American and British law enforcement agencies, with appropriate authorization, to demand electronic data regarding serious crime, including terrorism, child sexual abuse, and cybercrime, directly from tech companies based in the other country, without legal barriers.
Attorney General Barr Signs Letter to Facebook From US, UK, and Australian Leaders Regarding Use of End-To-End Encryption US Dept. of Justice 03 Oct 2019 — The Department of Justice today published an open letter to Facebook from international law enforcement partners from the United States, United Kingdom, and Australia in response to the company's publicly announced plans to implement end-to-end-encryption across its messaging services.
Legislative committee clears bill to allow life sentence for espionage CNA 03 Oct 2019 — An amendment bill that would increase the maximum penalty for espionage to a life sentence cleared the committee stage in the Legislature on Wednesday.
US, UK Sign Electronic Data-Sharing Pact Under Controversial Law VOA 03 Oct 2019 — The United States and the U.K. on Thursday signed an agreement, under a controversial new U.S. law, that will allow law enforcement agencies in the two countries to demand electronic data from tech companies for use in criminal and counterterrorism investigations.
Iran Convicts Four Individuals of Spying for US, UK, Sentences One to Death Sputnik 02 Oct 2019 — An Islamic Revolutionary Court in Iran has sentenced three individuals to prison and another to death after finding them guilty of spying for or aiding federal intelligence groups of the US and UK.
National Background Investigations Bureau Transferred to Department of Defense DoD 01 Oct 2019 — Today, the Department of Defense (DoD) and the Office of Personnel Management (OPM) successfully completed the transfer of the National Background Investigations Bureau (NBIB) from OPM to the DoD's Defense Counterintelligence and Security Agency (DCSA).
New Agency Provides Personnel Vetting, Technology Protection DoD News 01 Oct 2019 — Officials unfurled the flag of the new Defense Counterintelligence and Security Agency yesterday during a ceremony at the National Museum of the Marine Corps in Triangle, Virginia, one day before the agency officially opened for business.
Iran hands death sentence, jail terms to US, UK spies: Judiciary spokesman Press TV 01 Oct 2019 — Iran's Judiciary says a person has been handed a death sentence after being convicted of spying for the United States, while two others have been given jail terms on the same conviction.
Iran Sentences Man to Death for Spying for the CIA VOA 01 Oct 2019 — Iran's judiciary says it has sentenced a man to death for spying for the CIA, amid rising tensions between Tehran and the U.S.
Chinese-American accused by US of spying for Beijing Press TV 01 Oct 2019 — A naturalized US citizen of Chinese descent working as a tour guide near San Francisco, California, has been charged by US officials of being an agent of the Chinese government and providing China with classified US national security information.
4.
Navy Satellite Communications System Successfully Completes Key Test and Evaluation Phase
The Navy's next-generation narrowband satellite communications system completed a critical test and evaluation phase and was assessed as operationally effective, operational suitable and cyber survivable. The successful completion of this testing demonstrates the system's full operational capability and its readiness for forces to transition it into unrestricted operations. …
Govt. forces enter Kurdish-inhabited Kobani in northern Syria
Units of Syrian government troops have entered a strategic Kurdish-populated city in the country's northern province of Aleppo, amid an ongoing military offensive by Turkish soldiers and allied militants against Kurdish forces in the northern part of the war-battered Arab country. …
China warns of countermeasures to US bill on HK
China warned of effective countermeasures after the US House of Representatives approved legislation that authorizes the US government to launch diplomatic action and economic sanctions against officials and law-enforcement personnel from China's Hong Kong Special Administrative Region (HKSAR)…
5.
TURKEY USING ISRAELI-UPGRADED TANKS IN ANTI-KURD OFFENSIVE IN SYRIA
Official sources say that discussions are continuing, but in the meantime the lease in Tzofar has been extended for an additional agricultural season, meaning about half a year.
| | | | | | |
| --- | --- | --- | --- | --- | --- |
| | TRUMP OFFICIALS RUSH TO TURKEY AS MOSCOW ADVANCES | | | FROM IRAN TO TURKEY, U.S. BROWBEATEN BY 'WAR' NARRATIVE | |
GRAHAM ON SYRIA: 'COULD CREATE BIGGER DISASTER THAN OBAMA LEAVING IRAQ'
Sen. Graham responded to Trump's earlier statement that claimed "the conflict was between Turkey and Syria and that it was "fine" for Russia to help Damascus"
| | | | | | |
| --- | --- | --- | --- | --- | --- |
| | U.N. SECURITY COUNCIL CONCERNED BY SITUATION IN SYRIA | | | FRANCE WORRIED BY NEW PHASE IN IRAN'S BREACHING OF NUCLEAR PACT | |
U.S. ARMY DOESN'T WANT ANY MORE IRON DOME SYSTEMS

American defense media reports that system isn't a long-term solution for US Army.
BENNY GANTZ MET WITH IDF CHIEF OF STAFF AMID 'SECURITY CHALLENGES'

Gantz requested the meeting, and Prime Minister Benjamin Netanyahu, who is also defense minister, authorized it.
ASHER HAZUT, 14, WHO WAS STRUCK BY LIGHTNING ON ZIKIM BEACH PASSED AWAY
Efrat Hazut, is still in serious condition at Barzilai, where her her husband Elazar, his other brother Elhanan, and their 13-year-old sister Pedut, who were also struck from lightning, are staying.
| | | | | | |
| --- | --- | --- | --- | --- | --- |
| | EFFORTS UNDERWAY TO ENABLE ETHIOPIAN KEISIM TO PERFORM MARRIAGES | | | MKS TO GET A RAISE FOR A YEAR OF DOING NOTHING | |
FACEBOOK CHIEF DONATES $2.5M. TO ADL TO FIGHT HATE AFTER HALLE SHOOTING
Sheryl Sandberg mentioned a visit in Yad Vashem as one reason she supports the fight against hate.
HEZBOLLAH SEEKS 'TO ATTACK AND STORM BANKS' IN LEBANON – REPORT
The bank source said "any street protest would create concern and confusion among the people," adding "Banks play no role in the sanctions."
6.
ΚΑΙ ΓΙΑ ΤΟ ΘΕΜΑ ΑΥΤΟ ΘΑ ΣΑΣ ΓΡΑΨΩ ΣΥΝΤΟΜΑ! ΣΥΝΤΟΝΙΣΤΕΙΤΕ!
17-10-2019
Bakan Akar: Terör örgütünün kimyasal silah kullanıp suçu Silahlı Kuvvetlerimize atmaya, bununla ilgili algı oluşturmaya çalışacağına dair bilgiler geliyor. TSK'nın envanterinde kimyasal silah olmadığı herkes tarafından bilinen bir gerçek.
Milli Savunma Bakanı Akar: Terör örgütünün kimyasal silah kullanıp suçu Silahlı Kuvvetlerimize atmaya, bununla ilgili algı oluşturmaya çalışacağına dair bilgiler geliyor. TSK'nın envanterinde kimyasal silah olmadığı herkes tarafından bilinen bir gerçek.
7. 
KKTC'den 'Barış Pınarı Harekatı'na destek açıklaması!
KKTC Başbakanı Ersin Tatar'dan KKTC Cumhurbaşkanı Mustafa Akıncı'nın harekat ile ilgili skandal sözlerine cevap geldi. Tatar "Türkiye kamuoyu bilsin ki hükümetin başındaki Ersin Tatar ve arkadaşları, Ulusal Birlik Partisi ve diğer milliyetçiler kesinlikle böyle düşünmüyorlar. Ben zaten geçenlerde de söyledim. Onlar bana saldırdı. Akıncı ve arkadaşları marjinal grupları temsil ediyor" değerlendirmesinde bulundu

.
14 Ekim 2019
Alınan bilgiye göre, İletişim Başkanı Fahrettin Altun'la bir telefon görüşmesi gerçekleştiren Kuzey Kıbrıs Türk Cumhuriyeti (KKTC) Başbakanı Ersin Tatar, Akıncı'nın Barış Pınarı Harekatı'na yönelik açıklamalarından üzüntü duyduklarını, bu rahatsızlığı Türkiye halkı ve Cumhurbaşkanı Recep Tayyip Erdoğan ile paylaşmak istediklerini ifade etti.
KKTC halkının Barış Pınarı Harekatı'nda Türkiye'nin yanında olduğunu ifade eden Tatar, "Biz her zaman beraberiz. Ama maalesef böyle düşünmeyenler de var. Bunlarla mücadelemiz demokrasi içerisinde devam edecek. Yapacağımız çalışmalarla halkımızı doğru yönlendirerek bunların üstesinden geleceğiz" diye konuştu.
"Tek doğru yol,

türkiye ile omuz omuza

bu davayı yürütmektir"
Kıbrıs Türkü'nün bekasının, bu yolu Türkiye ile birlikte yürümekten geçtiğini vurgulayan KKTC Başbakanı Tatar, "Dr. Fazıl Küçük de Rauf Denktaş da Derviş Eroğlu da bunu söyledi. Şimdi bizler de aynısını söylüyoruz. Bizim için tek doğru yol, Türkiye ile birlikte hareket etmek, Türkiye ile omuz omuza ve müşterek olarak bu davayı yürütmektir. Bunu zaten halkımızın çoğu da biliyor. Biz buradayız ve mücahitlik ruhuyla devam ediyoruz. Barış Pınarı Harekatı'nda Türk askerine başarılar diliyorum" ifadelerini kullandı.
Ersin Tatar, KKTC Cumhurbaşkanı Mustafa Akıncı'nın Barış Pınarı Harekatı'na yönelik yorumlarına ilişkin, "Türkiye kamuoyu bilsin ki hükümetin başındaki Ersin Tatar ve arkadaşları, Ulusal Birlik Partisi ve diğer milliyetçiler kesinlikle böyle düşünmüyorlar. Ben zaten geçenlerde de söyledim. Onlar bana saldırdı. Akıncı ve arkadaşları marjinal grupları temsil ediyor" değerlendirmesinde bulundu
İletişim Başkanı Fahrettin Altun ise bu meselenin hem Türkiye kamuoyu hem de Cumhurbaşkanı Recep Tayyip Erdoğan nezdinde gerçekten ciddi bir üzüntü yarattığını ifade etti.
Bu konuda gösterdiği duruş ve verdiği mesajlar dolayısıyla Tatar'a teşekkür eden Altun, "Kaderimiz bir. Bize zarar verdiklerinde ilk gözlerini dikecekleri toplumun kim olduğunu gayet iyi biliyoruz" ifadelerini kullandı.
8.
ABD ile Türkiye'nin 13 maddelik anlaşmasının şifreleri
ABD ve Türkiye, Suriye konusunda 13 maddeden oluşan bir anlaşma yaptı. Anlaşmaya göre, Türkiye operasyonu durduracak ve terör örgütü YPG 120 saat içerisinde bölgeden çekilecek.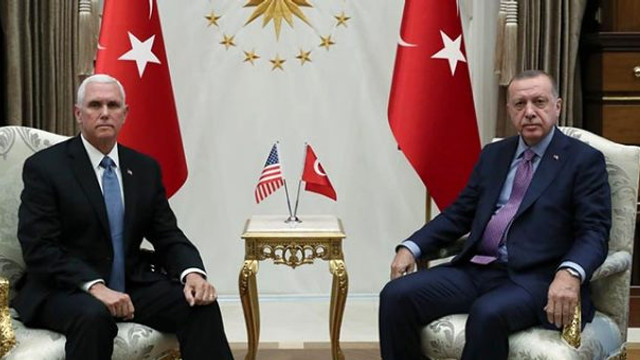 Buna karşın anlaşma, ABD askerleri ve YPG'nin boşalttığı yerlere Rusya ve Suriye ordusunun girmesiyle değişen saha dengelerine nasıl yanıt verileceği gibi kilit soruları yanıtsız bırakıyor.

HANGİ KONULAR ÜZERİNDE UZLAŞI SAĞLANDI?
ABD'li ve Türk heyetler arasındaki görüşmeler, dört saatten uzun sürdü.

Görüşmenin sonunda açıklanan 13 maddelik anlaşmanın ilk üç maddesi NATO müttefiki iki ülke arasındaki ilişkilerin önemini teyit ederken, ABD'nin Türkiye'nin Suriye sınırından kaynaklanan "meşru güvenlik çıkarlarını" anladığını ve daha yakın eşgüdüm içinde olunması gerekliliğinin altını çiziyor.

Analistlere göre, bu kapsamda NATO anlaşmasının 5'inci maddesini oluşturan "kolektif savunma" anlayışına da atıfta bulunarak son dönemde Türkiye-NATO ilişkileriyle ilgili ortaya atılan sorular karşısında bir gönderme yapılmak istendi.

İki ülkenin eşgüdüm yapacağı bir başka alan da Irak Şam İslam Devleti (IŞİD) ile mücadele olarak yeniden kayda geçirilirken Türkiye, varılan uzlaşıyla kontrolü altında bulunduğu bölgede sivillerin zarar görmemesi için ABD'ye güvence verdi.
GÜVENLİ BÖLGE KURULACAK MI?
Anlaşmanın en önemli bölümleri arasında son beş madde yer alıyor.

Analistler ve uzmanlar, 9'uncu maddenin, Türkiye'nin ABD'den çok uzun bir süredir talep ettiği unsurları karşılaması açısından önemli olduğuna dikkat çekiyor.

Yapılan yorumlara göre, YPG'nin ağır silahlarının toplanması, tahkimatlarının ortadan kaldırılması ve sonuç olarak "güvenli bölge" kurulmasının yeniden kayda geçirilmesi Ankara açısından "ufak da olsa bir kazanım" olarak görülüyor.

ABD ile Türkiye arasında güvenli bölge konusundaki ilk uzlaşma Ağustos 2019'da sağlanmıştı. Bu anlaşma kapsamında çoğunluğunu terör örgütü YPG'lilerin oluşturduğu Suriye Demokratik Güçleri (SDG) sınıra yakın bölgelerden çekilirken, ABD ve Türkiye ortak devriyeye başlamıştı.

Ancak daha sonra Türkiye, taleplerinin yeterince karşılanmadığını belirterek, Barış Pınarı Harekatı'nı başlatmıştı.

Dün varılan anlaşmanın 10'uncu maddesinde, güvenli bölgenin öncelikle Türk Silahlı Kuvvetleri'nin denetiminde olacağı belirtilirken, uygulama süreçlerinin Türk ve Amerikan eşgüdümünde gerçekleştirileceği belirtiliyor.

Analistler, bu durumun, Ağustos'taki uzlaşma kapsamında Akçakale'de kurulan Ortak Koordinasyon Merkezi'nin faaliyetine devam edeceği, kara ve hava ortak devriyelerinin sürdürülebileceği yorumunu yapıyor.

Analistler ve uzmanlar ayrıca, güvenli bölgeye bir kez daha ve daha kuvvetli bir atıf yapılmasına karşın, gelinen noktada uygulama aşamasına geçilip geçilmeyeceğinin belirsizliğini koruyan noktalardan biri olduğuna dikkat çekiyor.

TARAFLAR HANGİ GERİ ADIMLARI ATIYOR?
Anlaşmanın kilit unsuru olarak gösterilen 11'inci maddede karşılıklı atılacak geri adımlar yer alıyor.

Terör örgütü YPG'nin güvenli bölgeden çekilmesini sağlamak için operasyona 120 saatlik bir ara vermeyi kabul eden Türkiye, çekilme işleminin tamamlanmasının ardından operasyonunu tamamen durdurmayı kabul ediyor.

Dışişleri Bakanı Mevlüt Çavuşoğlu, 13 maddelik anlaşmada yer almasa bile geri çekilmenin Trump'ın 2019 başında ifade ettiği gibi 20 mil, yani 32 kilometrelik bir alanı kapsadığını kaydetti. Pence de görüşmenin ardından düzenlediği basın toplantısında 20 millik bir alandan bahsetti.

Bununla birlikte, anlaşmada operasyonun durdurulmasının ardından Türk askerinin bölgeden çekilmesine yönelik herhangi bir ifade bulunmadığına da dikkat çekiliyor.

ABD ise Türkiye'nin bu adımının karşısında Trump'ın bu hafta içinde açıkladığı yaptırımları geri çekeceğini iletti.

Aynı zamanda Türkiye'ye daha sert ve kapsamlı yaptırımların gündeme alınmayacağı konusunda da güvence verildiği belirtiliyor.

SAHADAKİ DENGELER NASIL DEĞİŞTİ?
Son bir haftada yaşanan gelişmeler, Türkiye ile ABD arasındaki ilişkilerde en sıkıntılı dönemlerden birinin yaşanmasına neden olurken, Suriye iç savaşında sahadaki dengeleri de ciddi şekilde değiştirdi.

ABD ve SDG'nin çekildiği Münbic ve Kobani'ye Rusya ve Suriye ordularının girmesi, çok dar bir bölge içinde Türk, Rus, Suriyeli ve ABD'li askerlerin bir arada bulunmalarına yol açıyor.

Çavuşoğlu, bu iki kentle ilgili durumun Türkiye-Rusya arasındaki mevcut kanallarla ele alınacağını, Pence'in de zaten bu bölgelerle ilgili olarak "Ruslarla konuşursunuz" yanıtını verdiğini söyledi.

Analistler, bu durumun, 9 Ekim öncesine kadar Fırat Nehri'ndeki doğusunda kalan bölgeyle ilgili konuları sadece ABD ile görüşen Türkiye'nin bundan sonraki süreçte Rusya'nın da görüşlerine dikkat vermesi gerektiğini göstermesi açısından önemli olduğunun altını çiziyor.

Analistlere göre, sahada gelişen yeni durum ve Suriye ordusunun Türkiye sınırına yakın bir noktaya ulaşması, Ankara'nın Moskova ile yeni bir anlaşma sağlaması gerekliliğini ortaya çıkarabilir.

Uzmanlar, Erdoğan'ın Rusya Devlet Başkanı Vladimir Putin ile 22 Ekim'de, yani 120 saatlik sürenin dolduğu bir günde görüşecek olması bu görüşmenin önemini şimdiden artırmış durumda olduğuna dikkat çekerek, gelinen noktada, Türkiye'nin bundan sonraki süreçte Rusya ve ABD arasında çok daha dengeli bir politika izlemek durumunda kalacağını ifade ediyor.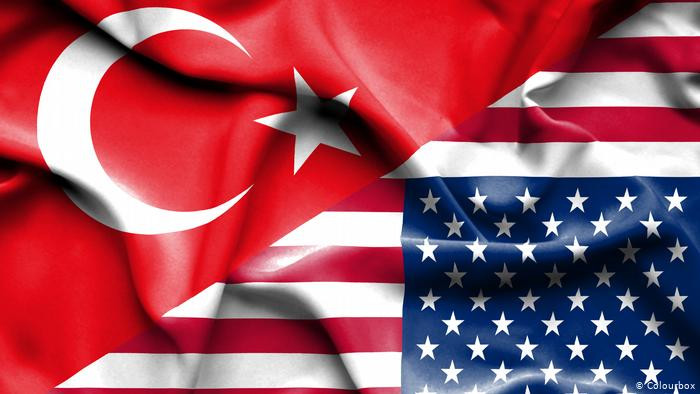 9.
Pompeo will meet Netanyahu in effort to calm Israeli nerves over Kurdish crisis / DONE
Secretary of State Mike Pompeo (l) shakes hands with Prime Minister Benjamin Netanyahu at the PM's official residence in Jerusalem, March 21, 2019. (AP/Jim Young)

The State Department says Pompeo will discuss the "need to counter the Iranian regime's destabilizing behavior in the region."By World Israel News Staff 

Secretary of State Mike Pompeo is to visit Israel on Friday as part of a regional tour aimed at ending the crisis over Turkey's military campaign against the Kurds in Syria after President Donald Trump decided to pull U.S. troops from Syria last week.

Vice President Mike Pence and Pompeo arrived in Turkey on Thursday.

"They are tasked with securing a cease-fire agreement from Turkish President Recep Tayyip Erdogan, whose forces have invaded northeastern Syria to attack the Kurds," reports USA Today.

Israel has been included in the itinerary to assuage Israeli fears over the fate of the Kurds.

Prime Minister Benjamin Netanyahu said last Thursday that he "strongly condemns the Turkish invasion of the Kurdish areas in Syria and warns against the ethnic cleansing of the Kurds by Turkey and its proxies."

However, the Israeli concerns are also centered around the potential for Iranian exploitation of the situation in Syria to reinforce the Islamic Republic's presence near the Jewish State's northern border.

Back in January, the U.S. had announced "the process of our deliberate withdrawal from Syria," after Trump had made the same argument that ISIS had been defeated.

Netanyahu launched a campaign to slow and reduce the extent of the withdrawal.

The president dispatched then-national security adviser John Bolton to calm Israel's concerns that Washington was abandoning the Syrian front.

Even without the latest development, Syria has been a quagmire that has prompted the Israeli premier to nurture a relationship with Russian President Vladimir Putin, who has navigated among different sides fighting within Syria even as Trump has looked for a way out of what he says is not America's fight.

Netanyahu has repeatedly vowed that "Israel will not allow Iran, which calls for our destruction, to entrench on our border."

Pompeo will "travel to Jerusalem on October 18 where he will meet with Prime Minister Benjamin Netanyahu to discuss developments in Syria and the continued need to counter the Iranian regime's destabilizing behavior in the region," said a U.S. State Department announcement.

"Later that day, the Secretary will travel to Brussels, Belgium, where he will meet with NATO Secretary General Jens Stoltenberg to discuss Transatlantic security issues and U.S. goals for the upcoming NATO Foreign Ministerial and Leaders Meeting," said the U.S. statement.

Trump has imposed economic sanctions on Turkey for its bombardment of the Kurds. Ankara is a member of NATO.
10. Pompeo meets Netanyahu, calls for renewal of arms embargo on Iran
U.S. Secretary of State Mike Pompeo, left, shakes hands with Israeli Prime Minister Benjamin Netanyahu, during a meeting at the Prime Minister's Residence in Jerusalem, Friday, Oct. 18, 2019. (AP/Sebastian Scheiner, Pool)

"Netanyahu and I had a productive meeting on efforts to counter the Iranian regime's malign influence," said Pompeo.By World Israel News Staff

Arriving in Israel from talks in Ankara on stopping Turkish military strikes against Kurds in Syria, U.S. Secretary of State Mike Pompeo met Friday in Israel with Prime Minister Benjamin Netanyahu.

In addition to Israeli concerns over the well-being of the Kurdish population, Netanyahu is worried that a U.S. pullout from Syria will mean a further Iranian entrenchment near Israel's northern border.

"Netanyahu and I had a productive meeting on efforts to counter the Iranian regime's malign influence as well as regional developments and other issues related to Israel's security," the U.S. secretary tweeted after the meeting.

Netanyahu thanked the U.S. administration for its support.

Before his talks with the Israeli premier, Pompeo called on the United Nations to renew the arms embargo on Iran.

"Because of the flawed Iran deal, the U.N. arms embargo on Iran will expire in one year," said the secretary, referring to the nuclear deal reached between Tehran and six world powers in 2015, from which President Donald Trump withdrew in 2018.

"Countries like Russia and China will be able to sell Iran sophisticated weapons," Pompeo warned. "The Iranian regime will be free to sell weapons to anyone. This will trigger a new arms race in the Middle East."

In June, amid hostilities in the region, Iran shot down a U.S. drone which the Revolutionary Guard claimed had entered Iranian airspace. The U.S. military called the downing an "unprovoked attack," saying that it occurred over international airspace in the Strait of Hormuz.

"If you're worried about Iran's behavior now, imagine what Iran will do with advanced missiles, drones, tanks, and jets," Pompeo tweeted Friday.

In August, Netanyahu said that Israel had foiled a drone attack on the Jewish State from Syria by firing missiles in a pre-emptive strike on Damascus International Airport before the drones could be launched. The prime minister said that the "Iranian Quds force and Shiite militias" were behind the planned attack.

Fighting continued Friday morning in a northeast Syrian border town at the center of the fight between Turkey and Kurdish forces, despite a U.S.-brokered cease-fire that went into effect overnight. However, calm seemed to prevail elsewhere along the border.

The agreement — reached after hours of negotiations in Ankara on Thursday between Turkish President Recep Tayyip Erdogan and U.S. Vice President Mike Pence together with Secretary Pompeo— requires the Kurdish fighters to vacate a swath of territory in Syria along the Turkish border.

The Associated Press contributed to this report.

11.

Record-high number of civilian casualties in Afghanistan: UN Report

Afghanistan has seen record-high levels of civilian casualties in the third quarter of 2019, stemming mainly from the violence between rival political party supporters, the UN Assistance Mission in the country (UNAMA) revealed in a report published Thursday, which concluded that more must be done to protect the country's people. …
Korea – AIM-120C Advanced Medium Range Air-to-Air Missile (AMRAAM)

The State Department has made a determination approving a possible Foreign Military Sale to Korea of (120) AIM-120C-7/C-8 Advanced Medium Range Air-to-Air Missiles (AMRAAM) with support for an estimated cost of $253 million. The Defense Security Cooperation Agency delivered the required certification notifying Congress of this possible sale. …

Australian Spying Agency Demands More Money, Canberra Quickly Promises 'Unprecedented Funding'

His promise comes a mere day after ASIO revealed in an annual report an "increasing gap between demand for our counter-espionage and foreign interference advice and our ability to furnish this assistance". …

12.
Trump says 'tough love' got Turkey to agree to 5-day ceasefire with Kurds
Turkish soldiers prepare to enter Syria aboard an armoured personnel carrier at the border with Syria in Karkamis, Gaziantep province, southeastern Turkey, Oct. 15, 2019. (AP/Emrah Gurel)

Trump is crediting his threat of sanctions on Turkey as 'tough love' that led the country to agree to a five-day ceasefire in its battle with Kurds in northern Syria.By Associated Press

The U.S. and Turkey agreed Thursday to a five-day ceasefire in the Turks' attacks on Kurdish fighters in northern Syria to allow the Kurds to withdraw to roughly 20 miles away from the Turkish border. The arrangement appeared to be a significant embrace of Turkey's position in the weeklong conflict.

After more than four hours of negotiations with Turkish President Recep Tayyip Erdogan, U.S. Vice President Mike Pence said the purpose of his high-level mission was to end the bloodshed caused by Turkey's invasion of Syria. He remained silent on whether the agreement amounted to a second abandonment of America's former Kurdish allies in the fight against the Islamic State.

Turkish troops and Turkish-backed Syrian fighters launched their offensive against Kurdish forces in northern Syria a week ago, two days after Trump suddenly announced he was withdrawing the U.S. from the area.

Pence and Secretary of State Mike Pompeo lauded the deal as a significant achievement, and Trump declared it "a great day for civilization."

Kurdish forces were not party to the agreement, and it was not immediately clear whether they would comply. Before the talks, the Kurds indicated they would object to any agreement along the lines of what was announced by Pence. But Pence maintained that the U.S. had obtained "repeated assurances from them that they'll be moving out."

Ankara has long argued the Kurdish fighters are nothing more than an extension of the Kurdistan Workers Party, or PKK, which has waged a guerrilla campaign inside Turkey since the 1980s and which Turkey, as well as the U.S. and European Union, designate as a terrorist organization.

Trump's withdrawal of U.S. troops has been widely condemned, including by Republican officials not directly associated with his administration. Republicans and Democrats in the House, bitterly divided over the Trump impeachment inquiry, banded together Wednesday for an overwhelming 354-60 denunciation of the U.S. troop withdrawal.

Trump has denied that his action provided a "green light" for Turkey to move against the longtime U.S. battlefield partners or that he was opening the way for a revival of the Islamic State group and raising worldwide doubts about U.S. faithfulness to its allies.

President Donald Trump is crediting his threat of sanctions on Turkey as "tough love" that led the country to agree to a five-day ceasefire in its battle with Kurds in northern Syria.

Talking to reporters in Fort Worth, Texas, on Thursday, Trump said the Kurds are happy with the deal.

 13.

The NATO Military Committee's meeting on 14 October 2019 was dedicated to space with a briefing by General John Raymond, Commander of the newly re-established US Space Command.

14.
Secretary General discusses preparations for London Leaders' Meeting with Prime Minister Johnson
14 Oct. 2019 – 15 Oct. 2019
NATO Secretary General Jens Stoltenberg had talks in Downing Street on Tuesday (15 October 2019) with Prime Minister Boris Johnson ahead of the next meeting of NATO leaders in London. It will take place on 3-4 December 2019 to mark NATO's 70th anniversary.
In 1949, the United Kingdom was one of NATO's twelve founding members and London was the home of NATO's first headquarters. The meeting in London will be an opportunity for leaders to address current and emerging security challenges and to ensure that the Alliance continues to adapt to keep its population of nearly one billion people safe.

The Secretary General and the Prime Minister also discussed the current security environment, including the situation in Northern Syria. Mr. Stoltenberg thanked the United Kingdom for its important contributions to NATO, including leading a multinational battlegroup in Estonia, contributing to NATO Air Policing and naval forces, and for its commitment to NATO training missions in Afghanistan and Iraq. Mr. Stoltenberg also praised the UK for leading by example by spending 2 % of GDP on defence and investing in new military capabilities.

On Monday the Secretary General addressed the NATO Parliamentary Assembly and had meetings with the Foreign Secretary Dominic Raab, and Defence Secretary Ben Wallace.

15.
POMPEO TO 'POST': ISRAEL HAS RIGHT TO ACT IN SYRIA, U.S. WILL STOP IRAN
Secretary of State defends ceasefire deal with Turkey. Says it will save lives. US will work to stop Iranian arm transfers.
OCTOBER 18, 2019
Secretary Mike Pompeo in Jerusalem . (photo credit: MARC ISRAEL SELLEM)

"Our administration's been very clear," he said. "Israel has the fundamental right to engage in activity that ensures the security of its people. It's at the very core of what nation states not only have the right to do but an obligation to do."

Regarding the Iraqi-Syrian border, which Israeli intelligence believes is used by Iran to smuggle weapons into Syria and Hezbollah, Pompeo said that American forces would continue to watch the area closely.

"The president has committed to continuing that activity that the US has been engaged in now for a couple of years and is aimed at countering ISIS and providing us situational awareness in the region," he said. "We know this is a corner where Iran has attempted to move weapon systems across into Syria, into Lebanon, that threatens Israel and we are going to do everything we can to make sure we have the capacity to identify those so that we can collectively respond appropriately."

Pompeo spoke to the Post in Jerusalem shortly after completing a two-hour meeting Friday morning with Prime Minister Benjamin Netanyahu and Mossad chief Yossi Cohen. He was accompanied to the meeting by US Ambassador to Israel David Friedman and James Jeffrey, the US special envoy on Syria. Pompeo arrived in Israel a day after meeting Turkish President Recep Tayyip Erdogan, who agreed to a five-day ceasefire to allow Kurdish forces to evacuate the border region.

Israeli politicians and defense officials have raised concerns that the US pullout from Syria will strengthen Iran. Pompeo dismissed that possibility and said that the administration remained committed – like it has been – to stopping Iran and preventing it from obtaining nuclear weapons. He said that all options were on the table in the event that Iran broke out toward a bomb.

"I think the Israeli people should stare at the probably starkest change this administration has made in foreign policy vis-a-vis what the previous administration has done – the toughest sanctions we've ever put. Sanctions that will be sufficient to decrease the scope and size of the Iranian economy by over 12% this next year. That's serious stuff," he said. "We do this because this denies resources from Iran to do assassination campaigns in Europe, missile systems and infrastructure technology advancement, underwriting Hezbollah, Shia militias around the word. We have materially reduced their capacity to engage in those behavior.

No one, he said, should interpret the withdrawal of US troops from Syria as a sign that America is no longer committed to its strategy to stop Iranian aggression and efforts to obtain a nuclear capability.
"If you look at our strategy, America is committed to countering the threat from Iran," he said. "We view it as the fundamental destabilizing force inside the Middle East and we are determined to push back against that."

He dismissed criticism of the deal with Turkey – which he said would "save lives" – and said that Israel has nothing to worry about, that America would stand by the Jewish state in the event of future conflicts.

"There is no risk of that," Pompeo said. "There are decades of history that would support my statement and I know that there are two-and-a-half and almost three years of this administration that would support that statement as well… This relationship is strong, deep and growing and in a position that reflects the historically important ties between our two countries for all the reasons we know – the value sets we share and the common security interests and burden that we both jointly share."

He pointed to Trump's decision two weeks ago to send additional America troops to Saudi Arabia in wake of the recent Iranian drone and missile attack against a Saudi oil refinery.

"We will flow additional forces and resources into the Kingdom of Saudi Arabia in a very significant way in the next handful of weeks aimed at deterring Iranian aggression," he said. "We have made significant commitments to counter the threat, not only the threat to Israel but to the Middle East and the world that emanates from the Ayatollah and his fellow clerics and kleptocrats that are running that revolutionary regime."

Pompeo said that he takes Iranian threats seriously and that there is a chance that the Islamic regime will try to attack Israel in a similar way to the recent attack against the Saudis.

"I always take the Iranians at their word," he said. "They have said that they would like to wipe Israel off the face of the earth and I think it is reasonable to think that the Iranians would contemplate an attack on Israel…We should not suggest that this is mere bluster or threat but they are engaged in activity that creates risk certainly for Israel but we have seen what they did in Saudi Arabia and we've seen what they are doing today in Yemen and we watch the activities they are engaged in Syria and the Shia militias in Iraq. This is a serious threat."

16.

18-10-2019

London, UK – 3-4 December 2019

GENERAL
The United Kingdom will host NATO Heads of State and Government in London, on 3-4 December 2019.
The NATO Leaders Meeting, chaired by the NATO Secretary General, will take place at the Grove Hotel, Hertfordshire on 4 December 2019.  An evening event at Buckingham Palace will take place on 3 December 2019, for which there will be a separate process for media access.
An International Media Centre, with print, broadcast and online facilities, will be established within the security perimeter of the meeting venue.  Accredited media representatives and official delegates will have access to the media centre from 3 December at 12:00 until 4 December 2010 at 23:00.  Access for media will be granted exclusively via the Accreditation Office, details of which will be provided in a second advisory in November 2019.
All updates will be posted on the NATO website: www.nato.int. You can also follow us on twitter @NATOPress and @NATO. The UK Government will also be posting relevant information about the meeting on @foreignoffice and @defenceHQ.
MEDIA ACCREDITATION

17.
Berlusconi'den Erdoğan açıkalaması! "Bu bizim için iyi değil!"
Eski İtalya Başbakanı Silvio Berlusconi, Cumhurbaşkanı Erdoğan'ın, Türkiye AB'ye alınmadıktan sonra Türkiye'nin git gide İslami bir ülke inşa ettiğini ve bunun kendileri için kötü bir durum olduğunu söyledi.
19 Ekim 2019
Eski İtalya Başbakanı Silvio Berlusconi, Cumhurbaşkanı Recep Tayyip Erdoğan ve Türkiye'ye dair konuştu.Berlusconi, 2003'te Avrupa Birliği'ne (AB)'ye başvurması için Erdoğan'ı kendisinin ikna ettiğini söyledi. Berlusconi, "Ama sonra bazı Avrupalı liderler ve ülkeler 'Hayır' dedi. Bu bir hataydı" dedi.

"Erdoğan bir anket yaptırmıştı, Türklerin yüzde 63'ü Avrupa'ya katılmak istiyordu" diye konuşan Berlusconi, sözlerini şöyle sürdürdü:

"Ama bu olmadı ve Erdoğan başka yöne döndü. Bir nevi Osmanlı İmparatorluğu'nu hatırlatan bir şey inşa etme niyetini kafasına koydu."

Berlusconi bu açıklamaları, Perugia kentinde katıldığı bir etkinlik sırasında gazetecilerin Suriye ve Barış Pınarı Harekâtı'yla ilgili sorularını cevaplarken yaptı:
"Bu bizim açımızdan iyi değil"
Mepa News'teki habere göre, iktidardayken Türkiye'nin AB üyeliğine destek veren liderlerden olan Berlusoni, Türkiye'nin bugünkü konumundan da, üyeliğe karşı çıkan "Avrupalı sözde liderleri" sorumlu tuttu:

"NATO'nun önemli bir askeri gücü olan, Asya ile Avrupa arasında, Batı ile Doğu arasında yer alan Türkiye bugün Batılılaşmak yerine gittikçe İslami bir ülkeye dönüşüyor, bu bizim açımızdan yakınında bulunmak için iyi bir şey değil. Yine alışıldığı gibi Avrupalı sözde liderler hata etti. Avrupa'da ve dünyada lider sayısı gerçekten az."

Berlusconi geçen hafta sonu da Suriye konusunda yine benzer bir değerlendirme yapmış ve "Eğer Türkiye'nin AB'ye katılımı konusunda işler benim yönlendirdiğim gibi gitseydi, bu gerçekleşseydi bugün bunlar yaşanmazdı" demişti.

18. NA KAI O… ΡΟΤΣΙΛΝΤ! ΚΑΙ ΟΛΑ ΤΑ ΜΙΣΘΑΡΝΑ ΛΙΜΑ ΟΡΓΑΝΑ ΤΟΥ ΣΤΗΝ ΕΕ… ΣΥΝΤΟΝΙΣΤΗΚΑΝ ΣΤΗΝ ΑΠΟΨΗ ΤΟΥ!.. 
David Rothschild'den dikkat çeken 'Erdoğan' tweeti
ABD ve Türkiye dün alınan kararla 'güvenli bölge' konusunda ortak mutabakata vardı. Alınan kararlar Erdoğan ve Türkiye'nin zaferi olarak yorumlanırken, David Rothschild'den dikkat çeken bir açıklama geldi.
18 Ekim 2019 
Cumhurbaşkanı Recep Tayyip Erdoğan, ABD Başkan Yardımcısı Mike Pence'i kabul etti. Erdoğan ile Pence'in başbaşa ve heyetler arası görüşmeleri 4 saat 20 dakika sürdü.Tüm dünyanın kilitlendiği zirve sonrası iki taraftan da alınan kararlara ilişkin açıklamalar yapıldı.
'Türkiye istediğini aldı'
Bakan Çavuşoğlu, zirve sonrası alınan kararları "Bugünkü müzakerelerde Sayın Cumhurbaşkanımızın dirayetli liderliği sonucunda istediklerimizi aldık. YPG'nin ağır silahlarının toplanması, mevzilerinin ve tahkimatlarının imha edilmesi hususlarında mutabakat sağladık. PKK/YPG'nin 120 saat içinde çıkması için Barış Pınarı Operasyonuna ara vereceğiz, bu bir ateşkes değildir. Ancak terör unsurlarının çıkmasından sonra operasyonu durdurmamız söz konusu olacaktır." sözleriyle tüm dünyaya duyurdu.
Dünya, Türkiye'nin zaferi olarak gördü
Başkentteki zirve dünya medyasında büyük yankı uyandırırken, sosyal medyada da en çok konuşulan konular arasına girdi. Alınan kararlar Erdoğan ve Türkiye'nin zafer olarak yorumlandı.
Dikkat çeken tweet
Küresel finans anlamında dünyadaki pastanın büyük dilimini elinde tuttuğu belirtilen Rothschild ailesinin fertlerinden David Rothschild, Türkiye ve ABD'nin anlaşmasının ardından sosyal medya hesabından yaptığı açıklamada, "Erdoğan Trump'ı yıktı'' ifadelerini kullandı.
Ο,ΤΙ ΑΚΡΙΒΩΣ ΣΑΣ ΓΡΑΦΑΜΕ ΦΙΛΟΙ!

ΔΕΝ ΚΡΥΒΟΝΤΑΙ ΠΙΑ ΟΙ ΠΑΓΚΟΣΜΙΟΙ ΚΥΒΕΡΝΗΤΕΣ!

"ΠΑΓΚΟΣΜΙΟΠΟΙΗΣΗ" ΕΝΑΝΤΙΟΝ ΤΡΑΜΠ!..

Ο ΕΓΓΟΝΟΣ ΔΑΒΙΔ ΔΕΝ ΚΡΥΒΕΙ ΠΙΑ, ΟΥΤΕ ΤΗΝ ΑΓΑΠΗ ΤΟΥ ΓΙΑ ΤΟΥΣ ΤΟΥΡΚΟΥΣ ΚΑΙ ΤΟΝ ΡΤΕ, ΟΥΤΕ ΚΑΙ ΤΟ ΜΙΣΟΣ ΤΟΥ ΓΙΑ ΤΟΝ ΤΡΑΜΠ, ΠΟΥ ΔΕΝ ΠΡΟΣΚΥΝΗΣΕ ΙΑΙ ΔΕΝ ΠΡΟΣΚΥΝΑ ΤΗΝ ΟΙΚΟΓΕΝΕΙΑ ΤΟΥ, ΠΙΘΑΝΩΣ ΤΗΝ ΙΣΧΥΡΟΤΕΡΗ ΚΥΒΕΡΝΩΣΑ – ΟΙΚΟΓΕΝΕΙΑ ΤΟΥ ΚΟΣΜΟΥ, ΜΕΤΑ ΦΥΣΙΚΑ ΑΠ' ΕΚΕΙΝΗΝ ΤΗΣ ΒΑΣΙΛΙΣΣΑΣ ΤΗΣ ΑΓΓΛΙΑΣ ΚΑΙ ΙΣΩΣ ΚΑΙ ΤΩΝ ΡΟΚΦΕΛΕΡΣ!..

19.
Clinton Calls Gabbard a Russian Manchurian Candidate as Tulsi Slams DNC, Media Over Debate 'Rigging'
18.10.2019

Earlier, the Hawaii congresswoman accused CNN and the New York Times of "despicable" attempts to "smear" her over her opposition to what she described as the US's "regime-change war" in Syria.

Former Democratic presidential candidate Hillary Clinton has accused 2020 Democratic contender Tulsi Gabbard of being "the favourite of the Russians," appearing to suggest that both Gabbard and former Green Party candidate Jill Stein were 'Russian assets'.

Speaking to Campaign HQ, a 2020 election podcast, Clinton claimed that the Russians have "got their eye on somebody who's currently in the Democratic primary and are grooming her to be the third-party candidate," apparently referring to Gabbard.

"They have a bunch of sites and bots and other ways of supporting her, so far," the former secretary of state said.

"And that's assuming Jill Stein will give it up, which she might not because she's also a Russian asset," Clinton, who has blamed Stein, Bernie Sanders, the media, Vladimir Putin, male chauvinists, and others for her dramatic loss against Donald Trump in 2016, added.

Gabbard did not immediately respond to Clinton's claims. However, she did continue her attacks against the 'corporate media' and the DNC on Friday, pointing to alleged unfair treatment of her at the recent debates.

Online, reporters and Gabbard supporters voiced their disbelief over Clinton's latest claims, suggesting that Gabbard should sue Clinton, and accusing the former secretary of state of giving in to "insane conspiracy theories."

Clinton's remarks echoed recent talking points expressed by multiple US media outlets, including CNN and the New York Times, who attacked Gabbard over her alleged status as a "Russian asset" and an "Assad apologist." Gabbard addressed the media's "smears" at the latest Democratic debate, calling the claims against herself, an Iraq War veteran, "completely despicable," and threatening to boycott the next debate.

Gabbard has faced flak over her 2017 trip to Syria on a 'fact-finding' mission, where she met with Syrian President Bashar Assad, and for multiple comments she has made about needing to end a "dangerous" and expensive "nuclear arms race" with Russia.

Clinton's remarks about Gabbard are the latest in a barrage of US media attacks against the candidate which began in February, when NBC News pointed to alleged overly favourable coverage of the candidate in Russian foreign language media. Gabbard called the media's attacks an attempt to smear her as a "Kremlin stooge" and to "discredit" her campaign.

According to a recent Economist/YouGov survey, Gabbard is currently polling at 3 percent support for the Democratic nomination, behind former Vice President Joe Biden, Senator Elizabeth Warren, Senator Bernie Sanders, South Bend, Indiana Mayor Pete Buttigieg and Senator Kamala Harris.

© Sputnik

20.

21.
Video: How the Deep State Chokes Out Dissenting Voices
The Gulag Archipelago is here.

 
Subscribe to the Glazov Gang's YouTube Channel and follow us on Twitter: @JamieGlazov.

This new episode of The Glazov Gang features Robert Spencer, the director of Jihad Watch and a Shillman Fellow at the David Horowitz Freedom Center. His new book is The History of Jihad From Muhammad to ISIS.

Robert explains How the Deep State Chokes Out Dissenting Voices, unveiling how The Gulag Archipelago is here.

Don't miss it!

24.    12 ΑΠΡΙΛΙΟΥ 2020 ΕΚΛΟΓΕΣ ΣΤΑ ΣΚΟΠΙΑ

25.
Elizabeth Warren Proves She Can't Be Trusted on Big Tech
It's all about censoring President Trump and conservatives.

 

 
Daniel Greenfield, a Shillman Journalism Fellow at the Freedom Center, is an investigative journalist and writer focusing on the radical Left and Islamic terrorism.

Facebook boasts 2.37 billion active users and controls 85% of social traffic. There's every reason to fear it and a growing bipartisan consensus about the need to tackle it and Google with anti-trust laws.

But lefties and conservatives want very different things from Facebook.

Nothing shows that better than Senator Elizabeth Warren's pressure campaign to get Facebook to censor President Trump's campaign ads. Warren's latest stunt is an ad accusing Facebook of helping "elect Donald Trump once" and CEO Mark Zuckerberg of giving Trump "free rein to lie on his platform."

Warren claims to fear Facebook and yet she also wants to put it in charge of presidential campaign ads.

Anti-trust actions are pursued against companies that have too much power. But Warren is really arguing that Facebook doesn't have enough power and isn't exercising the power that it has.

Does Warren really want to break up Facebook or to use the threat of a breakup to turn it into an even bigger monster? The socialist senator's accusation that the dot com giant helped elect Trump goes to the heart of the lefty grievance against Facebook. Their problem with Facebook is that it's too open. It didn't censor Trump in 2016 and now it's failing to censor him in the 2020 election campaign.

Conservatives however believe that Facebook is too closed, that it censors too much already.

Let's take Senator Warren at her word. The radical socialist politician isn't out to empower Facebook. And she isn't hectoring Zuckerberg because she wants him to be the arbiter of our national politics. Instead she's going after her true goal of putting the government in charge of politics on Facebook.

Warren's big tech breakup proposal would cost Facebook plenty of money by breaking off Instagram and WhatsApp into separate companies, but seemingly have little impact on its core platform. But by transforming the company into what she describes as one of a handful of "platform utilities", it could be regulated on levels having nothing to do with the business or privacy issues that are the official pretext.

And Warren has made it clear what her regulatory priorities on Facebook really are: banning conservatives. In her big tech breakup plan, she insists that, "we must ensure that Russia — or any other foreign power — can't use Facebook or any other form of social media to influence our elections."

The Russia Facebook hoax has been disproven countless times, but its central claim, that conservative messaging on social media was really a Russian conspiracy, is an argument for treating the political opposition as a foreign intelligence threat. Warren's insistence that Facebook censor Trump sheds the foreign policy conspiracy layer to directly demand that even conservative presidential candidates should be silenced. Disinformation, a term once used to demand action against foreign state actors on social media, has been retooled to impose a new kind of 'Fairness Doctrine' on American political ads.

Facebook doesn't want to be in that position. And Warren isn't about to leave it to Facebook.

Senator Warren fails to explain how her plan for Facebook would achieve anything useful. Her post claims, bizarrely, that, "Facebook would face real pressure from Instagram and WhatsApp to improve the user experience and protect our privacy." That sentence suggests she doesn't understand anything about how the internet works. But Warren isn't really that stupid. The sentence is meaningless boilerplate nonsense because her real agenda for Facebook can't actually be spelled out just yet.

To spot it, follow her grievances with Facebook over the Russian conspiracy and Trump's ads.

And that's why Senator Warren can't be trusted. While some conservatives are eager to find allies anywhere they can, radical socialist totalitarians make extremely unstable and dangerous allies.

Conservatives have been pursuing anti-trust action against big tech monopolies because of the growing risk that their censorship of conservatives could eliminate conservatives from the internet. But there's no quicker way to achieve that than to put Facebook under the umbrella of a regulatory organization with a broad enough mission that it can encompass setting standards for political discourse on social media. That's always been the inherent risk with regulating big tech, instead of breaking it up.

The push to regulate big internet companies as utilities, instead of just breaking them up, risks turning them over to Warren and her political allies who would be happy to eliminate conservatives entirely.

Senator Warren's ad blasts proves that the socialist politician can't be trusted on breaking up big tech.

Warren has tried to copy the tone of some of President Trump's signature policies, from trade policies to big tech breakups, but even when the tools are similar, her desired outcome is drastically different.

The fundamental difference between leftists and conservatives is that the former believe in eliminating that which usurps the rights of individuals while the latter fight to destroy that which usurps the power of government. This same duality also holds up in the debate over breaking up big tech monopolies.

Conservatives turned against big tech companies because they usurp the rights of individuals to express their views while leftists are going after big tech because they believe that companies like Facebook are holding powers that rightly belong to government. That's what Warren's ad censorship call is all about.

Senator Warren doesn't think that Facebook has too much power. She just thinks that all that power is in the wrong hands.

And that is the fundamental problem with an internet environment in which one company can control 80% or more of search or social traffic. The very existence of this much centralized power in one place is an irresistible temptation to the ultimate source of centralized political power: the government.

It's also why Google and Facebook need to be broken up. Not just because they're too big. But because they're so big and powerful that they can't be allowed to fall into President Elizabeth Warren's hands.

The People's Republic of China has shown us the terrifying reality of government control over the internet. In the last four years, that totalitarian system appears to have become a model for lefties seeking to consolidate control over the internet in order to fight "disinformation" and foreign conspiracies. The implementation of that model has triggered a power struggle over social media.

Facebook is at the heart of that struggle.

Social media is democracy in its purest form. It's meant to be driven by the interests of its users, not the dictates of politicians. That's why Senator Warren and other lefties have blamed social media for Trump's victory. It's why they can't be allowed to destroy it.

26. "ΚΡΑΤΕΙΣΤΕ" ΤΟ! ΑΝ ΥΠΑΡΞΟΥΝ ΕΚΛΟΓΕΣ ΣΤΙΣ Η.Π.Α. ΤΟ 2020, Ο ΤΡΑΜΠ ΘΑ ΞΑΝΑΒΓΕΙ ΠΡΟΕΔΡΟΣ, ΕΧΟΝΤΑΣ ΑΠΕΝΑΝΤΙ ΤΟΥ ΤΑ ΛΙΜΑ ΤΩΝ ΔΗΜΟΚΡΑΤΙΚΩΝ, ΔΙΟΤΙ ΠΕΡΙ ΑΥΤΟΥ ΠΡΟΚΕΙΤΑΙ, ΑΝ ΒΛΕΠΑΤΕ ΤΟ "DEBATE" ΤΟΥΣ ΜΕΣΑ ΣΤΗΝ ΕΒΔΟΜΑΔΑ ΠΟΥ ΜΑΣ ΠΕΡΑΣΕ!.. ΥΠΟΨΗΦΙΟΣ ΕΙΝΑΙ ΞΑΝΑ ΜΕΧΡΙ ΚΑΙ Ο ΠΡΩΗΝ "ΛΑΜΟΓΙΟ-ΛΑΓΟΣ" ΤΗΣ "ΧΙΛΑΡΥ" ΣΤΙΣ ΠΡΟΗΓΟΥΜΕΝΕΣ ΕΚΛΟΓΕΣ ΓΙΑ ΤΟ ΧΡΙΣΜΑ ΤΩΝ "ΔΗΜΟΚΡΑΤΙΚΩΝ", ΕΚΕΙΝΟΣ Ο ΘΛΙΒΕΡΟΣ ΑΜΕΡΙΚΑΝΟ-ΕΒΡΑΙΟΣ, ΜΠΕΝΥ ΣΑΝΤΕΡΣ, Ο ΟΠΟΙΟΣ ΜΙΣΕΙ ΤΟ ΙΣΡΑΗΛ ΚΑΙ ΤΟΝ ΝΕΤΑΝΙΑΧΟΥ!..

Ο ΑΛΛΟΣ ΚΥΡΙΟΣ ΥΠΟΨΗΦΙΟΣ, Ο ΒΛΑΚΑΣ ΜΠΑΪΝΤΕΝ, (ΔΙΟΤΙ ΠΕΡΙ ΑΥΤΟΥ ΠΡΟΚΕΙΤΑΙ), ΠΗΓΕ ΜΕ… ΠΟΥΣΤΙΑ ΝΑ ΣΩΣΕΙ ΤΗΝ ΠΑΡΤΙΔΑ, ΛΟΓΩ ΤΩΝ ΔΙΣ ΠΟΥ "ΤΣΙΜΠΗΣΕ" Ο ΓΙΟΣ ΤΟΥ ΧΑΝΤΕΡ ΣΤΗΝ ΟΥΚΡΑΝΙΑ, ΚΑΙ ΠΕΦΤΟΝΤΑΣ ΣΤΗΝ ΠΑΓΙΔΑ ΤΗΣ… ΠΕΛΟΣΙ, (ΤΟ "ALTER EGO" ΠΛΕΟΝ ΤΗΣ ΧΙΛΑΡΥ, ΑΠΟ ΠΡΩΗΝ ΥΠΟΧΕΙΡΙΟ ΤΗΣ ΣΤΟ ΚΟΜΜΑ), ΑΝΕΔΕΙΞΕ ΤΟ ΘΕΜΑ ΚΑΤΑ ΤΟΥ… ΤΡΑΜΠ ΚΑΙ ΤΩΡΑ, ΠΕΙΤΕ ΜΟΥ ΕΣΕΙΣ, ΑΝ ΔΕΝ ΕΧΕΙ ΣΠΑΡΕΙ, ΜΕ ΤΟΝ ΑΝΤΙΛΟΓΟ ΤΩΝ ΡΕΠΟΥΜΠΛΙΚΑΝΩΝ ΕΠΙ ΤΟΥ ΘΕΜΑΤΟΣ, ΣΤΙΣ ΨΥΧΕΣ ΤΩΝ ΔΗΜΟΚΡΑΤΙΚΩΝ, Η ΥΠΟΨΙΑ ΕΣΤΩ, ΓΙΑ ΤΟΝ ΙΔΙΟ ΤΟΝ ΜΠΑΪΝΤΕΝ ΚΑΙ ΓΙΑ ΤΟΝ ΓΙΟ ΤΟΥ ΧΑΝΤΕΡ, ΩΣ ΠΡΟΣ ΤΗΝ… ΑΘΩΟΤΗΤΑ ΤΗΣ ΟΙΚΟΓΕΝΕΙΑΣ "ΜΠΑΪΝΤΕΝ"!..

ΓΙΑ ΤΗΝ ΕΛΙΖΑΜΠΕΘ ΓΟΥΟΡΕΝ ΔΙΑΒΑΣΑΤΕ ΠΙΟ ΠΑΝΩ!..

ΓΕΝΙΚΩΣ ΟΙ ΥΠΟΨΗΦΙΟΙ ΤΩΝ ΔΗΜΟΚΡΑΤΙΚΩΝ ΕΙΝΑΙ ΦΙΛΟΙ ΜΟΥ, "ΠΑΡΕ ΤΟΝ ΕΝΑ ΚΑΙ ΚΤΥΠΑ ΤΟΝ ΑΛΛΟΝ"!

Ο ΤΡΑΜΠ ΘΑ ΒΓΕΙ ΠΡΟΕΔΡΟΣ… "ΑΕΡΑ" ΑΥΤΗΝ ΤΗΝ ΦΟΡΑ, ΜΕ ΜΕΓΑΛΥΤΕΡΗ ΤΗΣ ΠΡΟΗΓΟΥΜΕΝΗΣ ΔΙΑΦΟΡΑ! ΒΛΕΠΟΝΤΑΣ ΤΟ "DEBATE" ΤΩΝ ΔΗΜΟΚΡΑΤΙΚΩΝ ΚΑΙ ΤΟΥΣ ΥΠΟΨΗΦΙΟΥΣ ΓΙΑ ΤΟ ΧΡΙΣΜΑ ΤΩΝ "ΔΗΜΟΚΡΑΤΙΚΩΝ", ΚΑΤΑΛΑΒΑ ΓΙΑΤΙ ΦΑΓΩΘΗΚΑΝ ΟΙ ΔΗΜΟΚΡΑΤΙΚΟΙ ΜΕ ΤΟΝ ΤΡΑΜΠ ΤΕΛΕΥΤΑΙΑ ΚΑΙ ΜΑΛΙΣΤΑ ΕΠΙΚΕΙΜΕΝΩΝ ΤΩΝ ΕΚΛΟΓΩΝ, ΤΟΥ 2020!

Ο ΤΡΑΜΠ ΜΟΝΟΝ ΕΤΣΙ ΘΑ ΜΠΟΡΟΥΣΕ ΝΑ ΚΤΥΠΗΘΕΙ, ΗΤΟΙ ΜΕ… ΒΡΩΜΙΕΣ, ΜΕ ΕΝΑ ΟΥΣΙΑΣΤΙΚΑ ΠΟΛΙΤΙΚΟ… ΠΡΑΞΙΚΟΠΗΜΑ ΕΝΑΝΤΙΟΝ ΤΟΥ ΚΑΙ ΜΕ ΜΕΓΑΛΟΣΤΟΜΙΕΣ ΤΟΥ ΣΤΥΛ "ΠΡΟΔΟΤΗΣ", "ΣΕ ΔΙΚΗ Ο ΤΡΑΜΠ ΓΙΑ ΝΑ ΕΚΠΕΣΕΙ ΤΟΥ ΑΞΙΩΜΑΤΟΣ ΤΟΥ", ΚΛΠ, ΓΕΓΟΝΟΤΑ ΠΟΥ ΦΑΝΕΡΩΝΟΥΝ ΕΠΙΣΗΣ ΤΗΝ ΒΑΘΙΑ ΚΡΙΣΗ ΠΟΥ ΔΙΕΡΧΕΤΑΙ ΤΟ "ΔΗΜΟΚΡΑΤΙΚΟ ΚΟΜΜΑ", ΠΟΥ ΑΠΟΤΕΛΕΙ ΠΛΕΟΝ ΟΡΓΑΝΟ ΤΩΝ ΜΕΓΑΛΩΝ – ΠΑΓΚΟΣΜΙΩΝ ΟΙΚΟΓΕΝΕΙΩΝ, ΠΟΥ ΚΥΒΕΡΝΟΥΝ ΤΟΝ ΚΟΣΜΟ ΚΑΙ ΔΕΝ ΑΠΟΤΕΛΕΙ ΠΙΑ ΕΝΑ ΓΝΗΣΙΟ ΑΜΕΡΙΚΑΝΙΚΟ ΚΟΜΜΑ!.. 

ΟΣΟ ΘΑ ΕΓΓΙΖΟΥΝ ΟΙ ΑΜΕΡΙΚΑΝΙΚΕΣ ΕΚΛΟΓΕΣ Ο ΒΡΩΜΙΚΟΣ ΠΟΛΕΜΟΣ ΚΑΤΑ ΤΟΥ ΤΡΑΜΠ ΘΑ ΣΥΝΕΧΙΣΤΕΙ ΚΑΙ ΕΝΤΟΣ ΚΑΙ ΕΚΤΟΣ Η.Π.Α., ΚΑΙ ΚΥΡΙΩΣ ΣΤΗΝ ΕΕ, ΑΡΑ ΚΑΙ ΣΤΗΝ ΧΩΡΑ ΜΑΣ, ΟΠΟΥ ΤΑ ΠΛΗΡΩΜΕΝΑ ΠΟΛΙΤΙΚΑ "ΣΚΥΛΙΑ" ΤΩΝ ΣΟΡΟΣ, ΡΟΤΣΙΛΝΤ, ΚΛΠ, ΘΑ… ΑΦΗΝΙΑΣΟΥΝ ΚΑΤΑ ΤΟΥ Α/ΠΡΟΕΔΡΟΥ, ΜΕ ΕΝΤΟΛΗ ΤΩΝ ΑΦΕΝΤΙΚΩΝ ΤΟΥΣ!

27. ΑΘΛΗΤΙΚΗ ΕΝΗΜΕΡΩΣΗ: 

– Στο διεξαχθέν φιλικό παιχνίδι Πρωταθλήματος, μεταξύ των παλαιών παικτών του Βάζελου Αναστασίου και Δώνη, έληξε με νίκη του Βάζελου και του μεγάλου προπονητή Δώνη, με 1 – 0. Ο Ρισβάνης δεν…  μπόρεσε να "κρατήσει" τον παικταρά Χ"Γιοβάνη στην φάση του γκολ. Ο Ρισβάνης λειτουργούσε και λειτουργεί σαν Ταύρος, (από τότε ακόμα που ήταν στον Πανιώνιο), μόνον όταν βλέπει… κόκκινο!..

Δεν θα μπορούσε ο Βάζελος να μείνει και σήμερα στους 5 πόντους, 4 περισσότερους από τον τελευταίο και 6, από τον -2 "Ιστορικό" Πανιώνιο!..

Επίσης, ο Βελίδης ήταν άριστος την Τούμπα και δεν είχε "πιαστεί" από… κανέναν!.. Και ο διαιτητής Φωτιάδης, φανατικός Παοκτζής, "πήγε" πολύ καλά, όπως και ο ΑΕΚτζής Ζαχαριάδης στο ματς της Κούλας, με τον Βόλο, που προηγήθηκε και έμεινε με 10 παίκτες, για να ανασάνει ο "Κυρ… Δκτης" και ο "Δέσποτας" στον πάγκο!.. "Δόξα τω Θεώ" και "ΖΗΤΩ Η… ΕΞΥΓΙΑΝΣΗ"!..

ΦΤΟΥΣ ΣΑΣ ΡΥΠΑΡΟΙ, ΜΙΑΡΟΙ ΚΑΙ ΤΡΙΣΑΘΛΙΟΙ!

ΚΑΙ ΤΩΡΑ ΑΠΑΤΕΩΝΕΣ, ΠΑΡΑΚΑΛΑΤΕ ΝΑ ΧΑΣΕΙ Ο ΟΛΥΜΠΙΑΚΟΣ ΤΗΝ ΤΡΙΤΗ ΣΤΟ "C.L." ΑΠΟ ΤΗΝ ΜΠΑΓΙΕΡΝ ΚΑΙ ΜΑΛΙΣΤΑ ΝΑ ΣΥΝΤΡΙΒΕΙ, ΩΣΤΕ ΝΑ… ΧΑΡΕΙΤΕ ΚΑΙ ΟΙ ΒΑΖΕΛΟΚΟΥΛΗΔΕΣ, ΑΛΛΑ ΚΑΙ ΟΙ ΟΥΓΚ ΟΥΓΚ ΟΠΑΔΟΙ ΤΗΣ  ΜΕΓΑΛΗΣ ΟΜΑΔΑΣ ΤΩΝ ΠΡΕΣΠΩΝ, ΣΤΗΝ ΘΕΣΣΑΛΟΝΙΚΗ!

"ΧΑΙΡΕΤΕ"!

"ΕΛΛΗΝΑΣ"

-/-