1.
Şırnak'ta PKK'ya yeni operasyon başlatıldı
Son dakika haberi: Şırnak'ta Eren Kış-1 Operasyonu başlatıldı. Operasyona bin 550 personel katılıyor. İçişleri Bakanlığı, harekat kapsamında şu ana kadar 2 teröristin etkisiz hale getirildiğini açıkladı.
PKK terör örgütünü ülke gündeminden çıkarmak ve bölgede barındığı değerlendirilen teröristleri etkisiz hale getirmek amacıyla Şırnak'ta "Eren Kış-1 (Bestler-Dereler)" operasyonu başlatıldı.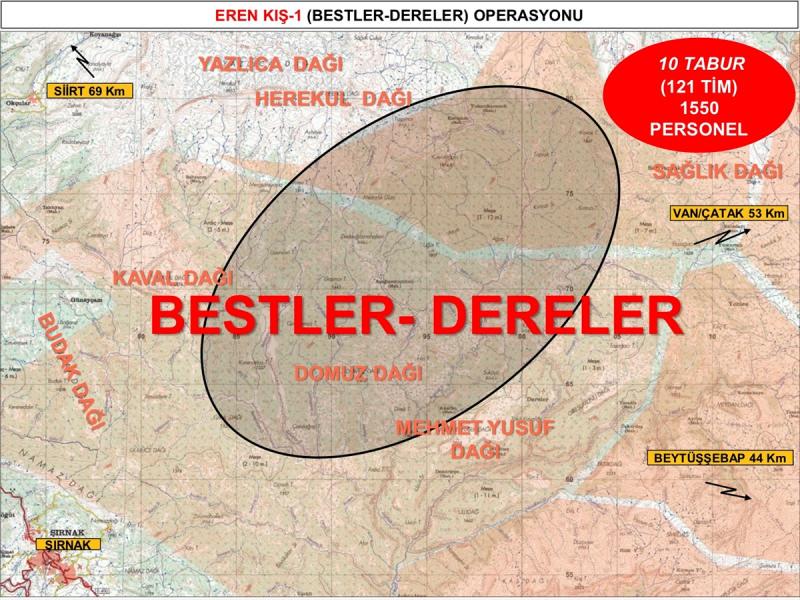 Şırnak'ta Eren Kış-1 Operasyonu başlatıldı
Operasyonda, Şırnak Jandarma Bölge Komutanlığı sevk ve idaresinde; Jandarma Komando, Jandarma Özel Harekat (JÖH), PÖH ve Güvenlik Korucu timlerinden oluşan 1550 personel 121 operasyonel tim görev alıyor.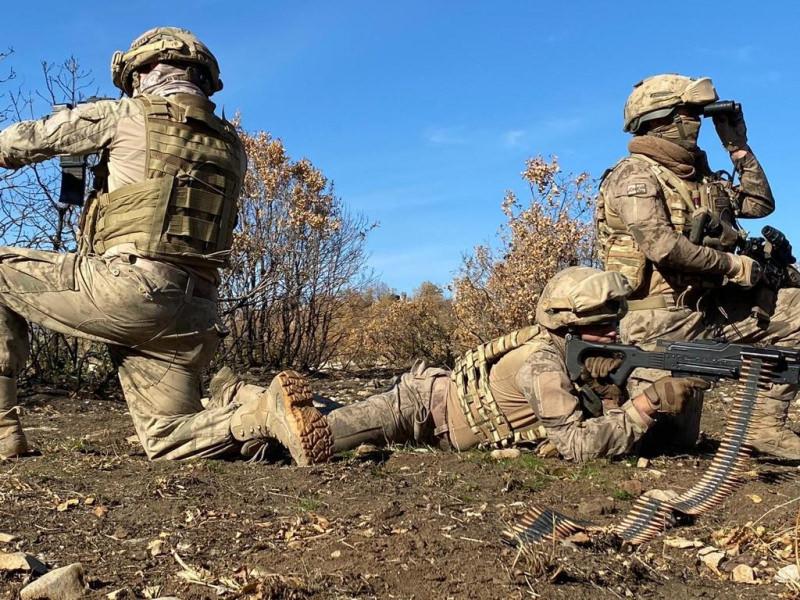 Şırnak'ta Eren Kış-1 Operasyonu başlatıldı
Yurt içinde terörün tamamen ortadan kaldırılması için yürütülen Eren Kış operasyonları, kararlı bir şekilde başarıyla devam ediyor.
İÇİŞLERİ: 2 TERÖRİST ÖLDÜRÜLDÜ
İçişleri Bakanlığı: "İç Güvenlik Eren Kış-1 Bestler Dereler Operasyonu kapsamında; Şırnak Bestler -Dereler kırsalında, Şırnak Jandarma Bölge Komutanlığı koordinesinde, Çakırsöğüt Jandarma Komando Tugay Komutanlığınca icra edilen operasyonda çıkan çatışmada, 2 bölücü örgüt mensubu silahlarıyla birlikte etkisiz hale getirilmiştir. Bölgede operasyonlara devam edilmektedir."
İçişleri Bakanı Süleyman Soylu: "Eren'e verdiğimiz sözü tutuyoruz. Eren Kış-1 Bestler-Dereler Operasyonu'nda 2 terörist ölü olarak ele geçirildi. Kahraman Jandarmamızı tebrik ediyorum."
KAYNAK: İHA
ΤΩΡΑ ΕΙΜΑΣΤΕ ΣΤΗΝ EREN KIŞ 3 Şehit Jandarma Binbaşı Ercan Kurt
OI TOYΡΚΟΙ ΑΝΕΦΕΡΑΝ (16-11-2021) ΠΩΣ ΑΠΟ ΤΙΣ 24-07-2015, ΜΕΧΡΙ ΣΗΜΕΡΑ, ΕΧΟΥΝ "ΚΑΘΑΡΙΣΕΙ" 32.901 ΚΟΥΡΔΟΥΣ "ΤΡΟΜΟΚΡΑΤΕΣ" ΚΑΙ ΠΩΣ ΜΕΣΑ ΣΤΟ 2021 (ΜΕΧΡΙ ΤΩΡΑ) ΕΧΟΥΝ "ΚΑΘΑΡΙΣΕΙ" 2426 ΚΟΥΡΔΟΥΣ.
2. 
Devlet erkanı Anıtkabir'de: Türkiye'de hayat durdu
Cumhurbaşkanı Recep Tayyip Erdoğan başkanlığındaki devlet erkanı, 10 Kasım münasebetiyle Anıtkabir'e ziyaret gerçekleştirdi.
Türkiye Cumhuriyeti'nin kurucusu Mustafa Kemal Atatürk, ebediyete intikalinin 83'üncü yılında, Anıtkabir'de resmi törenle anıldı.
Cumhurbaşkanı Recep Tayyip Erdoğan başkanlığındaki devlet erkanı, Anıtkabir'e ziyaret gerçekleştirildi.
Erdoğan ve beraberindeki heyet Atatürk'ün mozolesine çelenk bıraktı, ardından saygı duruşunda bulunuldu ve İstiklal Marşı okundu.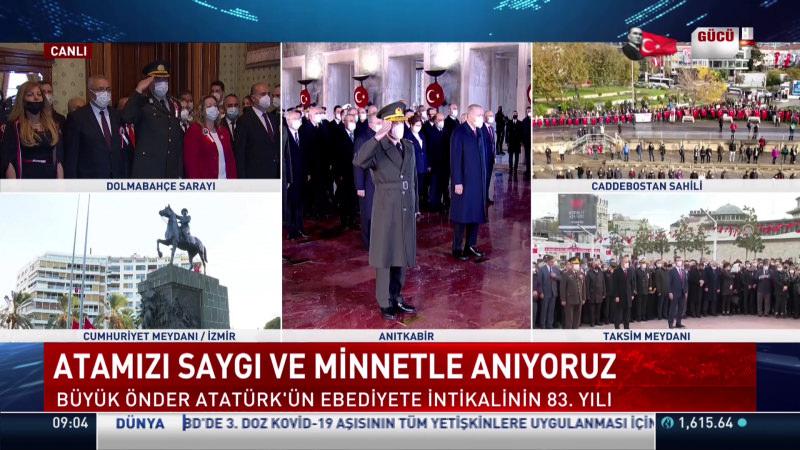 Törene, TBMM Başkanı Mustafa Şentop, MHP lideri Devlet Bahçeli, CHP Genel Başkanı Kemal Kılıçdaroğlu ve İYİ Parti lideri Meral Akşener de katıldı.
Saatin 9'u 5 geçmesiyle de Türkiye'de hayat durdu. Sokakta, evinde, iş yerinde olan herkes, Ata'ya saygısını gösterdi.
ERDOĞAN'DAN AÇIKLAMA: EMANET ETTİĞİN CUMHURİYETİ KALKINDIRMAYA DEVAM EDİYORUZ
Mozoleye çelenk bıraktıktan sonra Misak-ı Milli kulesine geçen Cumhurbaşkanı Erdoğan, burada Anıtkabir Özel Defteri'ni imzaladı ve şu açıklamaları yaptı:
"Bizlere emanet ettiğiniz cumhuriyetimizi büyütmeye, kalkındırmaya devam ediyoruz. Eğitim, sağlık, sanayi başta olmak üzere elde ettiğimiz başarılarla 2023 hedeflerimize kararlılıkla devam ediyoruz. Ruhun şad olsun."
KAYNAK: HABER7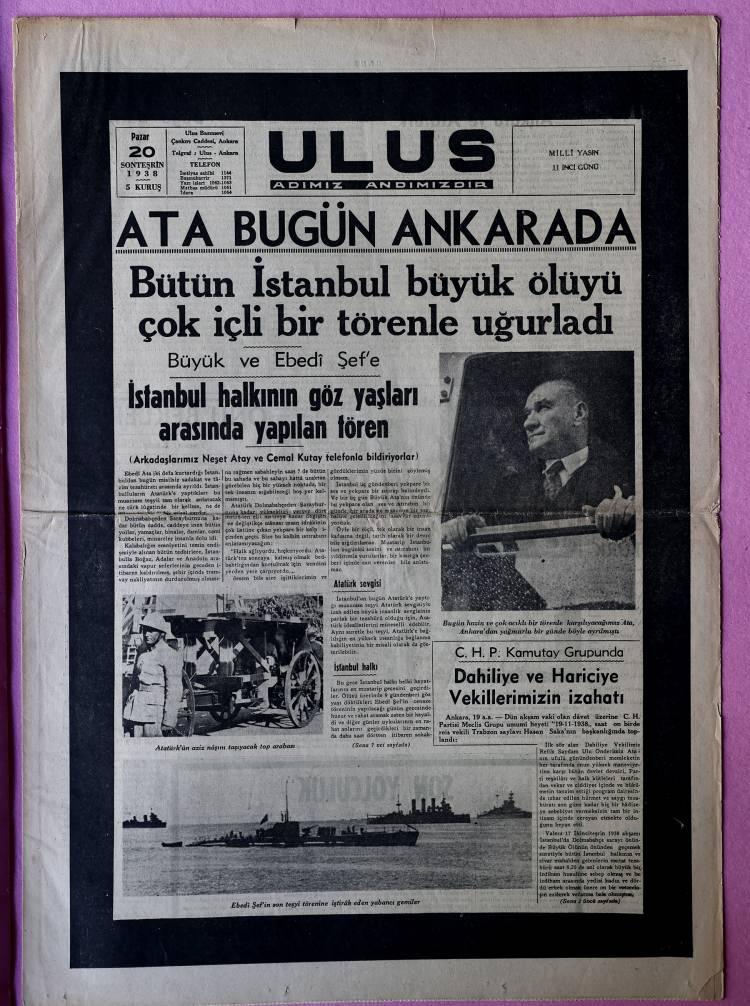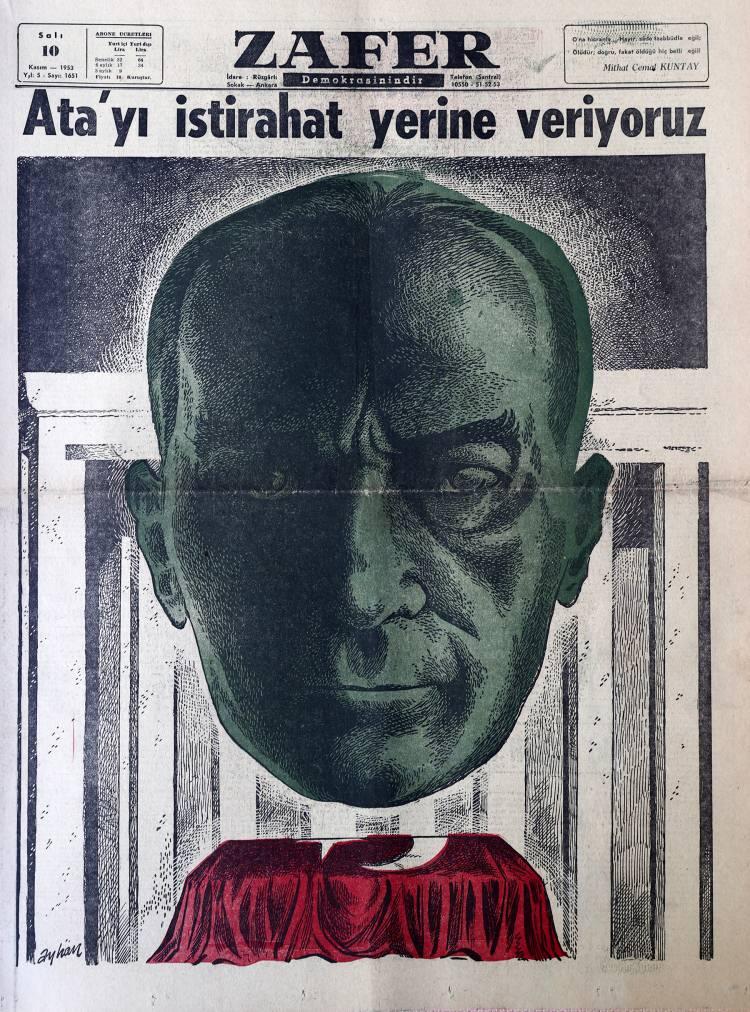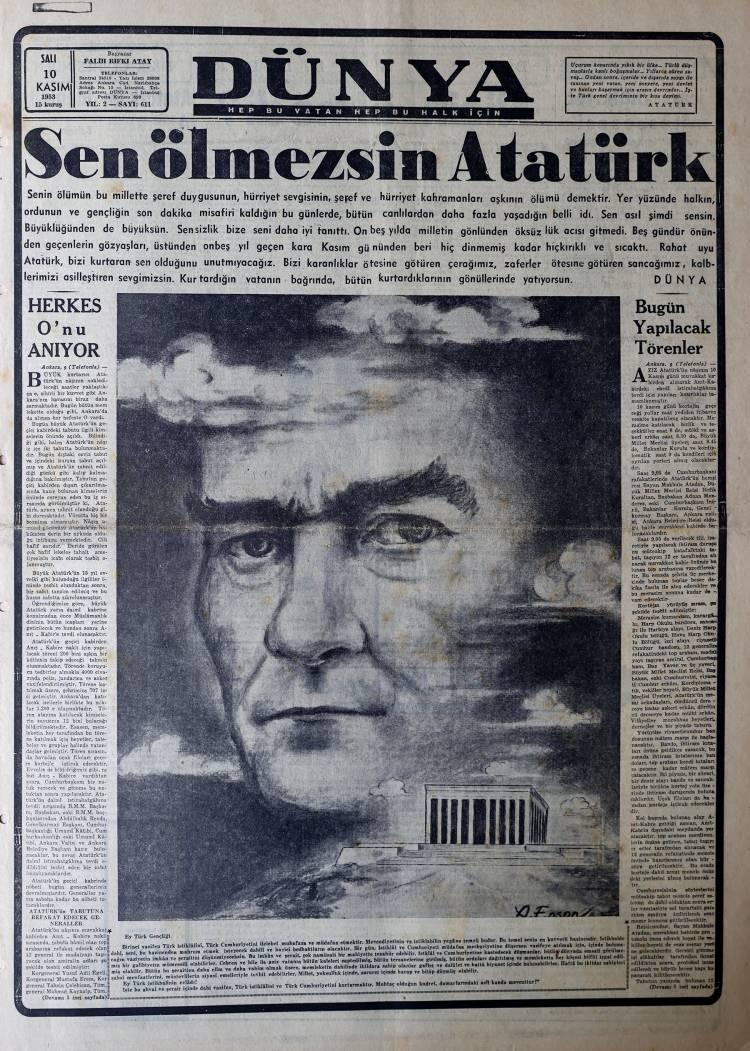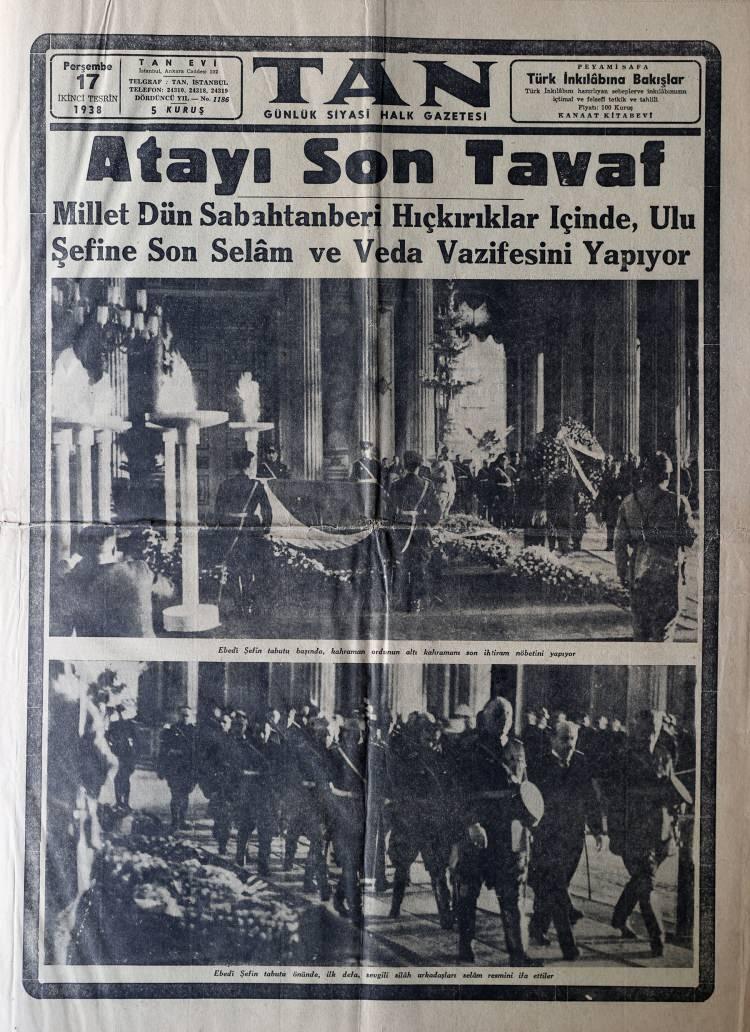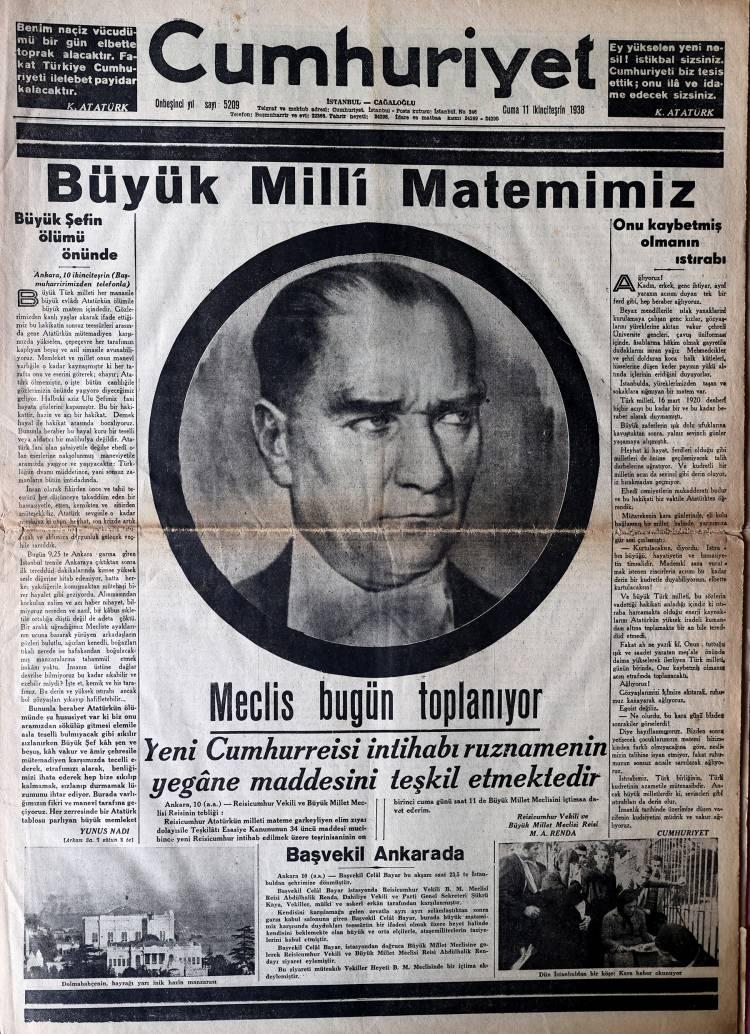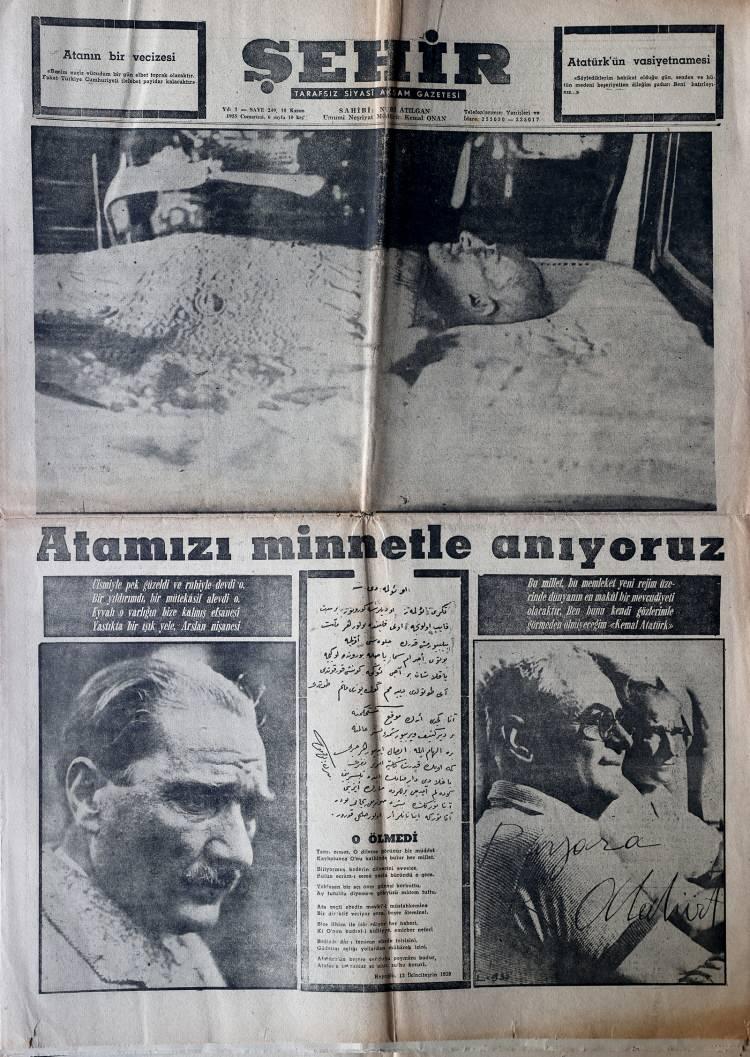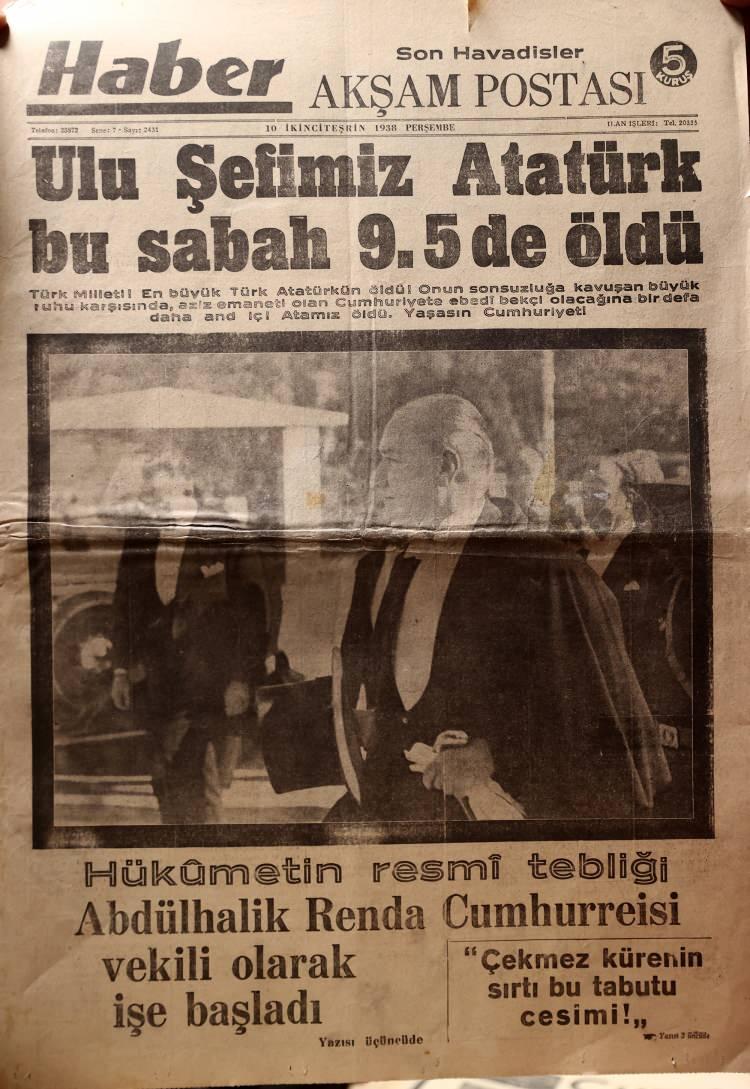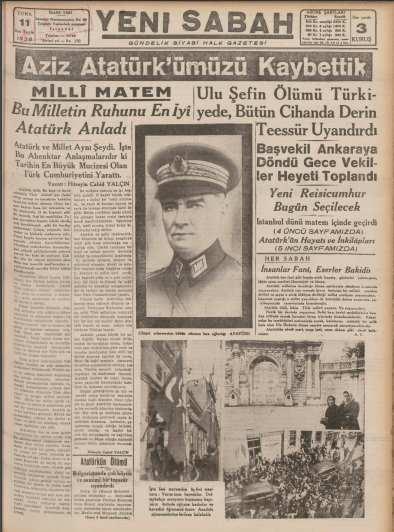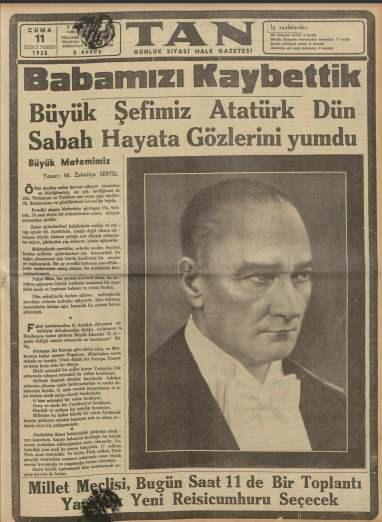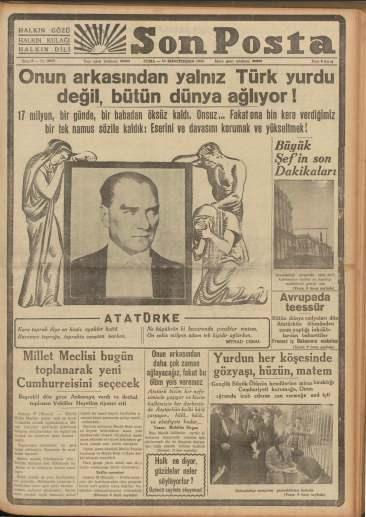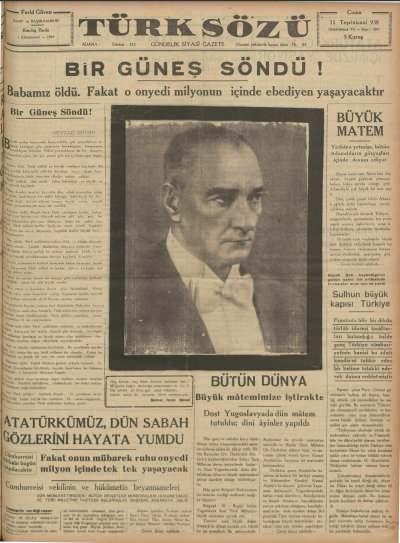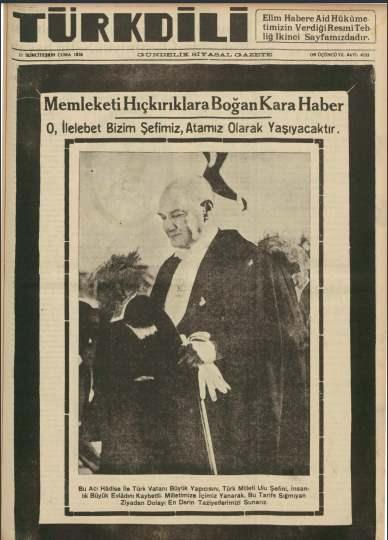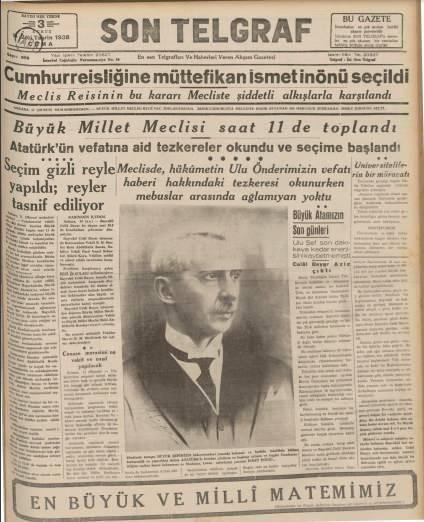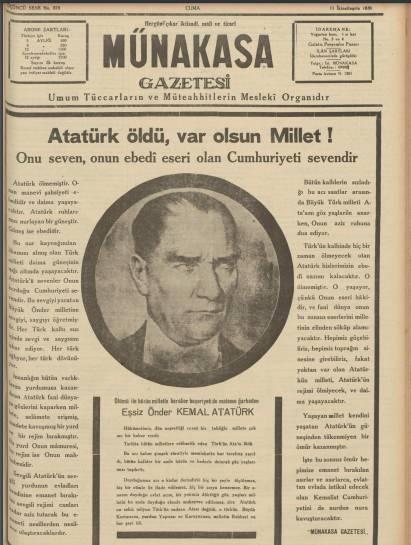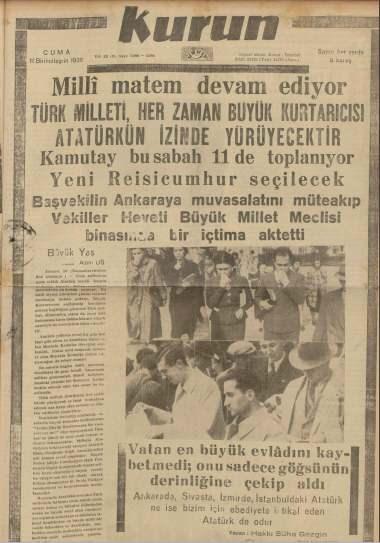 3.
Cumhur İttifakı'nda çatlak mı var? Devlet Bahçeli, "Muhalefetiz" çıkışına açıklık getirdi
MHP lideri Devlet Bahçeli'nin geçtiğimiz haftaki "MHP, Cumhur İttifakı'nın bir ortağı olsa da işlevi ve demokratik sorumluluğu muhalefettir" sözleri gündem yaratmıştı. Bugün partisinin grup toplantısında konuşan Bahçeli, "Cumhur İttifakı'nda çatlak var" iddialarını kesin bir dille yalanlayarak, "MHP ittifak ortağı olsa da sorumluluğu muhalefettir. Bunun neresi yanlış? Hükümet bellidir. Cumhur İttifakı'nın günahına da sevabına da sonuna kadar ortağız." ifadelerini kullandı.
MHP Genel Başkanı
Devlet Bahçeli
'nin "Milliyetçi Hareket Partisi Cumhur İttifakı'nın bir ortağı olsa da işlevi ve üstlendiği demokratik sorumluluğu muhalefettir, bunun yanı sıra TBMM'de denge ve denetleme göreviyle mesuldür" şeklindeki sözleri "Cumhur İttifakı'nda çatlak mı var?" sorusunu gündeme getirmişti.
Parti grubunda yaptığı konuşmada bu iddiaları kesin bir dille yalanlayan Bahçeli, "Bir kez daha söyleyeyim; Cumhur ittifakında çatlak patlak olmaz. Bizim ittifakımız proje, plan ve pazarlık etrafında şekillenmemiştir. Cumhur İttifakı geçmiş ile gelecek arasında köprüdür. Siparişle çalışan anket firmaları ne söylerse söylesin, 2023 Cumhur İttifakı'nın zafer yılı olacaktır. Türk milletinin bağımsızlığına, dev yatırım hamlelerine nasıl sahip çıktığını eninde sonunda göreceksiniz. Cumhur İttifakı olarak hep bir adım ileride olacağız. MHP kulislerin partisi değildir, çıkar gruplarının partisi değildir. Bugüne kadar olmamıştır, bundan sonra da olmayacaktır." ifadelerine yer verdi.
MHP lideri açıklamalarına şöyle devam etti: "MHP ittifak ortağı olsa da sorumluluğu muhalefettir. Bunun neresi yanlış? Hükümet bellidir, çok şükür görevinin başındadır. Cumhurbaşkanlığı Hükümet Sistemi tedavüle gireli yaklaşık 3 buçuk yılı bulmuştur. MHP minderden kaçmaz, biz siyaseti mertçe yaparız, adam gibi yaparız. Şunu herkes bilmelidir ki; hükümet değilsek de hükümete bakan vermemiş olsak da Cumhur İttifakı'nın sevabına da günahına da ortağız, anca beraberiz kanca beraber olacağız.
Fala bakacaklarına, onu bunu bırakıp faziletli olmayı tercih etmelidirler. Hele bir köşe yazarının 'Erdoğan ile Bahçeli arasında sistem gerilimi var' başlıklı yazısı A'dan Z'ye yalandır. Bu şahıs canı öyle istediği için kalemini de zillet mürekkebine batırmıştır. Bir yalan bin yalanın kuluçkasıdır. Gerçek tıpkı güneş gibidir, Cumhur İttifakı, Türkiye'nin gücüdür. Sayın Cumhurbaşkanı'yla aramızda gerginlik değil, güven vardır. Cumhurbaşkanlığı Hükümet Sistemi milli bekanın güvencesi, milli birlik ve dayanışmanın sırrıdır. Bu sistemin meşruiyet sistemi yüzde 50+1'dir. Bu itibarla yüzde 50+1 oyla Cumhurbaşkanı seçilmesi çoğulcu demokrasinin dünyaya model olacak bir şeklidir.
10 Kasım sabahı Senem Kafalı kardeşimiz, 11 Kasım sabahı Hanife Demirci kardeşimiz, 11 Kasım akşamı Selime Pişkin kardeşimiz, 12 Kasım'da da Gülsüm Yarış kardeşimiz şiddet kurbanı olmuştur. Başak Cengiz kızımız sokakta yürürken hiç tanımadığı bir manyak, bir sadist, bir canavar tarafından maalesef hayattan koparılmıştır. Bu cani hedef olarak seçtiği Başak kızımızın hiç acımadan kanını dökmüştür. Artık zaman konuşma zamanı değil, tedbirleri sırasıyla alma zamanıdır. Biz geciktikçe bir yerlerde kadınlarımıza saldırı yapılmaktadır. İnsanlık değerlerini ayaklar altına alan hiçbir caniye tahammül edemeyiz, sabır gösteremeyiz. Kadın cinayetleri iç barış ve huzur ortamımızı tahrip edecek boyuttadır. Artık klişe sözler geçersizdir, vakit şiddetin kökünü kurtarma vaktidir."
4.
Türklerin yüzyıllık rüyası ve Yassıada'daki bayramları
16.11.21
Mustafa Kemal Paşa, Osmanlı, Avusturya-Macaristan ve Rus İmparatorluklarının yıkılışını yaşamış biriydi. Sovyet Rusya'nın da yıkılacağını öngörmüştü. Bu kadar çok farklı alanın sosyalizm gibi bir ideolojiyle bir arada tutulamayacağını o dönemde gördü. Sovyet Sosyalist Cumhuriyetler Birliği (SSCB)'nin yıkılması halinde Kafkasya ve Orta Asya'da tarih sahnesine çıkacak olan, bugün Türk cumhuriyeti dediğimiz toplulukların, Türkiye Cumhuriyeti ile entegrasyonunun, ortak değer üretmesinin yollarını aramıştı:
"Düşün bir kere, Osmanlı İmparatorluğu ne oldu? Avusturya-Macaristan İmparatorluğu ne oldu? Dünyayı ürküten Almanya'dan bugün ne kaldı: Demek hiçbir şey sürekli değildir. Bugün ölümsüz gibi görünen nice güçlerden, ileride belki pek az şey kalacaktır. Devletler ve Milletler, bu idrakin içinde olmalıdırlar.
Bugün Sovyet Rusya, dostumuzdur, komşumuzdur, müttefikimizdir. Bu dostluğa ihtiyacımız vardır. Fakat yarın ne olacağını kimse kestiremez. Tıpkı Osmanlı İmparatorluğu gibi, tıpkı Avusturya-Macaristan İmparatorluğu gibi parçalanabilir. Bugün elinde tuttuğu milletler, avuçlarından kaçabilirler. Dünya yeni bir dengeye ulaşır. O zaman Türkiye ne yapacağını bilmelidir. Bizim, bu dostumuzun idaresinde dili bir, inancı bir, öz kardeşlerimiz vardır. Onlara sahip çıkmaya hazır olmalıyız.
Hazır olmak, yalnız o günü susup beklemek değildir, hazırlanmak lâzımdır. Milletler buna nasıl hazırlanır? Manevî köprülerini sağlam tutarak! Dil, bir köprüdür; inanç, bir köprüdür; tarih, bir köprüdür. Bugün biz bu kitlelerden dil bakımından, gelenek, görenek, tarih bakımından ayrılmış, çok uzağa düşmüşüz. Bizim bulunduğumuz yer mi doğru, onlarınki mi? Bunun hesabını yapmakta fayda yoktur. Onların bize yaklaşmasını bekleyemeyiz. Bizim onlara yaklaşmamız gerekli… Köklerimize inmeli ve olayların böldüğü tarihimizin içinde bütünleşmeliyiz. Tarih bağı kurmamız lazım, folklor bağı kurmamız lâzım… Bunları kim yapacak? Elbette biz! Nasıl yapacağız?
İşte görüyorsunuz, dil encümenleri, tarih encümenleri kuruluyor… Dilimizi, onun diline yaklaştırmaya ve böylece birbirimizi daha kolay anlar hale gelmeye çalışıyoruz… Tarihimizi ona yaklaştırmaya çalışıyoruz, ortak bir mazi yaratmak peşindeyiz. Bunlar açıktan yapılmaz, adı konarak yapılmaz, bunlar devletlerin ve milletlerin derin düşünceleridir. "
Milli Şef İsmet İnönü de, İkinci Dünya Savaşı yıllarının başlarında Ankara'daki Alman büyükelçisi Von Papen'in çizdiği Turan tablolarıyla coşmuştu. Ankara'nın Berlin'le ittifakı sadece Kafkasya'da topraklarını genişletme imkânı vermeyecek Misak-ı Milli'ye dahil olup Ankara'nın vazgeçmeye zorlandığı Kerkük ve Musul'u da kazandıracaktı.
Türkçe Konuşan Ülkeler İşbirliği Konseyi zirve toplantısı cuma günü İstanbul'da, Cumhurbaşkanı Recep Tayyip Erdoğan'ın ev sahipliğinde yapıldı. Sekizincisi düzenlenen zirvede, üye ülkeler arasında daha çok daha fazla iş birliği yapılmasına yönelik önemli kararlara imza atılırken, Konsey'in adı Türk Devletleri Teşkilatı olarak değiştirildi.
CHP lideri Kemal Kılıçdaroğlu da yaptığı konuşmada "Altı büyük Türk devleti bir araya gelip, gücünü ortaklaştırdığı zaman, emin olun dünya tarihine yeni ve görkemli imzayı hep beraber atmış oluruz" dedi.
Türk Konseyi 8. Zirvesi'nin ardından basın toplantısı düzenleyen Cumhurbaşkanı Recep Tayyip Erdoğan, "Konseyimizin adı artık Türk Devletleri Teşkilatı'dır" diyerek konseyin yeni ismini açıkladığında Türkiye'nin yüz yıllık düşü gerçek oldu. Demokrasi ve Özgürlükler adasında yapılan bu zirvenin dosta güven, düşmana korku verdiğini söylemeliyim..
Toplantının, 30 yıl Ermenistan işgali altında kalan Karabağ'ın kurtuluşunun birinci yıl dönümüne rastlaması liderlerin konuşmalarında bu hususa da yer ayırmalarını sağladı.. Zirveyi anlamlı kılan konulardan biri de Sovyet Sosyalist Cumhuriyetler Birliği'nin (SSCB) dağılmasının 30. yıl dönümüne rastlamasıydı. SSCB'nin 25 Aralık 1991'de resmen sona ermesinin ardından Türk Cumhuriyetleri de bir bir bağımsızlıklarına kavuştular. Bu bağımsızlık süreci sonrasında ortaya çıkan Türk Cumhuriyetleri; Azerbaycan, Özbekistan, Kazakistan, Kırgızistan ve Türkmenistan'dır. Bu cumhuriyetlerin yanında Türkiye'nin güneyinde, Akdeniz'de yer alan Kuzey Kıbrıs Türk Cumhuriyeti (KKTC) bir başka Türk cumhuriyetidir. Türk dünyasının bu dost ve kardeş ülkeleri, bağımsızlıklarının 30. yılını İstanbul'da kutlamanın mutluluğuna tanıklık ettik.
Türklerin yüz yıllık rüyasının gerçek olduğu Demokrasi ve Özgürlükler Adası'nda, eski adıyla Yassıada'da düzenlenen Türk Konseyi Devlet Başkanları 8. Zirvesi'nin basın toplantısında yaptığı konuşmada Cumhurbaşkanı Erdoğan, Aile Meclisinin 8'inci zirvesinin başarıyla tamamlandığını söyledi. Teşrifleri için devlet ve hükümet başkanlarına teşekkür etti.
Zirvenin bence en büyük eksiği hiç şüphesiz Nur Sultan Nazarbayev'in zirveye gelmemiş olmasıydı. Nur Sultan Nazarbayev, gelmese de yine fikir babası olduğu "Türk Dünyası 2040 Vizyonu" bir yol haritası olarak kabul edildi. Bu büyük yürüyüşte lokomotif ülke hiç şüphesiz Kazakistan ve lideri Nur Sultan Nazarbayev. Çok boyutlu liderliği ve bilgeliğiyle büyük Türk milletinin hiç şüphesiz en büyük lideri ve Ak Saçlı'sıdır.
Cumhurbaşkanı Erdoğan, zirveye video mesajla katkı sunan Kazakistan'ın Birinci Cumhurbaşkanı, Türk Konseyi'nin Onursal Başkanı Elbaşı Nursultan Nazarbayev'e de selam gönderdi. Erdoğan, İstanbul Zirvesi'nin Türkmenistan'ın da gözlemci olarak katılımıyla tarihi bir anlam kazandığını dile getirdi.
Cumhurbaşkanı Erdoğan, zirvenin düzenlendiği yerin anlam ve önemine de vurgu yaptı: "Bugünkü zirvemizi, ülkemiz tarihinde önemli bir yer olan Demokrasi ve Özgürlükler Adası'nda, eski adıyla Yassıada'da gerçekleştirdik. Merhum Adnan Menderes ve arkadaşlarının hayatları pahasına verdikleri mücadelenin boşa gitmediğini, bugün bir kez daha göstermiş olduk. Bir dönem acıyla yasla milletimizin hafızasına kazınmış, hukuksuzluklarla anılan Yassıada ki milletimiz burayı yaslı ada olarak da andı, hamdolsun bugün, Türk Dünyası'nın birliğini, beraberliğini ve dayanışmasını temsil eden bir zirveye ev sahipliği yapıyor. Başlı başına bu tablonun bile, Türkiye'nin demokrasi ve kalkınma yolunda kat ettiği mesafeyi ortaya koyması bakımından, son derece mühim olduğuna inanıyorum. Bu vesileyle bir kez daha merhum Başbakan Adnan Menderes'i ve arkadaşlarını rahmetle, şükranla yad ediyorum. Rabb'im kendilerini arkadaşlarıyla beraber inşallah şehitler safında muameleye tabi kılsın." dedi.
Kazakistan Cumhurbaşkanı Kasım Cömert Tokayev'in, zirvenin çerçevesini genel anlamda çizen etkili konuşmasının en çarpıcı cümleleri de zirvenin yapıldığı Yassıada ve Merhum Adnan Menderes ile ilgili olanıydı:
"Geçen yüzyılın ortalarında kaderin cilvesi ile dağı taşı aşarak, büyük zorluklar atlatarak Anadolu topraklarına gelen binlerce Kazak ailesine kucağını açarak "öz kardeşlerim" diye sımsıcak karşılayan Adnan Menderes'ten bahsetmek istiyorum.
O geçen yüzyılın ellili ve altmışlı yıllarında, on yıl boyunca Türkiye Cumhuriyeti Başbakanı olarak görev yapmış seçkin bir devlet adamı ve kanaat önderiydi. Kazakların buraya yerleşmeleri, çalışmaları ve kök salmaları için birçok fırsat sunan çok önemli bir şahsiyet olduğu onu hiçbir zaman unutmuyoruz! Bu önemli buluşmanın gerçekleştiği "Demokrasi ve Özgürlük Adası" da Adnan Menderes'in kaderiyle doğrudan bağlantılıdır.
Ben Kazakistan Cumhuriyeti Cumhurbaşkanı olarak, Kazakistan halkı adına Adnan Menderes'in ruhunu saygıyla anıyor ve tüm Türk halkına en içten şükranlarımı sunuyorum. Kardeş ülkelerimizin dostluğu ebedi olsun!"
Zirve sona erdi lakin tarihteki yeri, önemi ve etkileri uzunca süre konuşulmaya devam edecek. Türk Devletleri Teşkilatının kuruluş felsefesi ışığında İslam birliği yolunda devam etmesi en büyük temennimiz.
5.
İsrail'de büyük panik var
16.11.2021
İstanbul'da iki İsrailli tutuklandı. Bazı gazeteciler İsrail'den önce avukatlığa soyundu.
"Karı koca otobüs şoförüymüş, turistlermiş, İstanbul'u çok seviyorlarmış, Türk kahvesine hayranlarmış, çocukları otistikmiş, onları ihbar eden görevli İbranice'yi nereden biliyormuş" diye savunmalar düzüldü.
Bu tezviratlar, en hafif tabirle, meseleyi örtülemek.
Asıl dikkat etmek gereken yer İsrail.
Orada neler oluyor?
MOSSAD'DAN PEŞ PEŞE FİYASKOLAR
Önce Türkiye'de Mossad'a çalışan 15 Filistinli enselendi.
Ardından İsrailli bir çift tutuklandı.
Tam bu süreçte Mossad, Etiyopya'da da bir skandala imza atıp, yanlış kişileri, alıp İsrail'e getirdi.
MOSSAD BÜNYESİNDE BELİRGİN BİR KRİZ VAR
Gerçekte ne olduğunu bilemeyiz. Neticede bunlar istihbarat örgütü.
Ama basına yansıyan kısmında şunu gördük, Mossad peş peşe faka bastı.
Tüm bu haberler İsrail kamuoyunda çok geniş yankı uyandırdı.
MOSSAD'DA 3 ÜST DÜZEY İSTİHBARATÇI İSTİFA ETTİ
Mossad'a güven sorgulanmaya başlandı.
Eski ve yeni direktör arasındaki sürtüşmeler gün yüzüne çıktı.
Dahası bunlar yaşanırken Mossad'ın 3 tepe yöneticisi görevlerinden ayrıldı.
Teknoloji Daire Başkanı, Operasyonlar Daire Başkanı ve Kontr-Terör Daire Başkanı istifa etti.
Biraz da İsrail gazetelerine bakalım.
Bu en son Çamlıca'da tutuklanan çift konusunda neler yazılıp, çizilmiş?
İSRAİL GAZETELERİ: "TÜRKİYE'YE GİTMEYİN"
Mesela Jerusalem Post çılgına dönmüş durumda?
Neredeyse Türkiye'ye savaş ilan edecekler, o derece öfkeliler.
Herb Keinon imzalı haberde, "İsrailliler Türkiye'ye gitmesin" yazıyor. Hatta Almanya ve Amerika'dan bu konuda destek isteniyor.
Türkiye'den kimse İsrail'e alınmasın, uçuşlar iptal edilsin, deniyor.
Türkiye'nin Kudüs'te Mescid-i Aksa'da faaliyetleri var, bunlar yasaklansın, yazıyor.
"Türkler Ekim'de 15 Arap'ı, Kasım'da karı-koca çifti Mossad ajanı diye tutukladı, bakalım Aralık ayında ne yapacaklar" diye soruyor.
Ahronot gazetesinde Alex Fishman imzalı haberde, Türkiye'ye ve Cumhurbaşkanı Erdoğan'a ağza gelen söyleniyor, "Türkiye İsrail için güvenli bir yer değil, kimse Türkiye'ye gitmesin" çağrıları yapılıyor.
Başka gazete ve televizyonlarda da benzer yorumlar var.
Hepsi öfkeli, hepsi tepkili.
Ama daha önemlisi hepsinde bir panik var.
SATIR ARALARINDA ÇOK İLGİNÇ DETAYLAR SAKLI
Mesela Jerusalem Post ve Ahronot gazetelerindeki haberlerin satır aralarında çok enteresan şeyler yazıyor.
Naama Issachar adlı İsrailli kadın 2019 yılında Moskova havalimanında çantasında 10 gram marihuanna ile yakalanmış ve 7,5 yıl hapse mahkum edilmişti.
2020 Ocak ayında İsrail Başbakanı Netanyahu o kadının serbest bırakılmasını istedi. Bu talebini Rusya Devlet Başkanı Putin'e iletti.
Putin ne yaptı dersiniz?
O kadını serbest bıraktı.
Karşılığında ise Kudüs'ün merkezinde Rusya adına arazi kopardı, İsrail'den.
Netanyahu, bir meydanı mülkiyetiyle birlikte Rusya'ya verdi. Her iki İsrail gazetesi de haberlerinin satır aralarında bu takası gündeme getirmiş.
İSRAİL BAŞBAKANI İSTANBUL'A HEYET YOLLADI, KİMSEYİ DE KARIŞTIRMIYOR
İsrail hükümeti şu ana kadar İstanbul'da tutuklanan çift hakkında açıklama yapmıyor. Hatta başbakan Bennett, hükümet üyelerine Türkiye ile ilgili konuşmayın, bu konuda geri çekilin, talimatı vermiş.
İsrail başbakanı ciddiyetin farkında ve meseleye özen gösteriyor.
Dışişleri Bakanlığından bir heyeti de bu konu için görevlendirip, İstanbul'a yolladı.
Ateş olmayan yerden duman çıkmaz dedirtircesine bir taraf panikle yaygara koparıyor diğeri soğukkanlılıkla derin bir diplomasi yürütüyor.
PUTİN ÖRNEĞİNDE OLDUĞU GİBİ TÜRKİYE'YE DE MESCİD-İ AKSA'DAN İMTİYAZ VERİLEBİLİR
İsrail gazeteleri bu detaylar ışığında "Erdoğan bu işin sonunda Kudüs'te Mescid-i Aksa'da Türkiye adına imtiyaz koparacak, tıpkı Putin'in yaptığı gibi" diyor.
Bizdeki İstihbarat uzmanı, ajan avukatı sözüm ona gazetecilerin, o çifti ısrarla savunmasını bir kenara bırakın. İsrail medyası peşinen bazı şeyleri kabulleniyor, bile.
Olur da o çift casus falan değilse zaten ortaya çıkar.
O da ayrı mesele.
Ama ortada bir suç var, fotoğrafı çekilmemesi gereken yerleri görüntüleyip, o görselleri paylaşmışlar.
İşgal altındaki Kudüs'te İsrail başbakanının konutunun önünden peş peşe iki kez arabayla geçin, bakalım, başınıza neler geliyor?
Ya da Ben Gurion Havalimanının içinde aynı dükkan veya kafeteryaya arka arkaya girip-çıkın bakalım, uçağınıza binerken, peşinize kimler takılıyor?
Bir Filistinli ile hatıra fotoğrafı çektirip, sosyal medyada yayınlamışsanız, İsrail'de polis-asker, o fotoğraftan ne gibi casusluk, terörizm senaryoları üretiyor, bir deneyin, bakalım.
6.
Israeli couple accused of spying in Turkey will remain until trial begins
Mordy and Natali Oknin of Modi'in who were accused of spying remain in custody, insist they only took tourist photos.
By David Hellerman, World Israel News
A Turkish court ruled on Saturday that an Israeli couple arrested last week for illegally photographing an Istanbul palace will remain in custody until their trial begins.
Turkish police had recommended that Mordy and Natalie Oknin, of Modi'in, be deported. The two said they didn't know that it was illegal to take photographs of the Dolmabahçe Palace.
The palace served as the residence of several Ottoman sultans and Turkey's first president until the Turkish capital was moved to Ankara in 1923. The Oknins sent several photos to a family WhatsApp group.
Media reports said a Turkish citizen who was apparently their tour guide is also in custody.
Israeli diplomats in Turkey and Jerusalem have been working to secure the Oknin's release. Israeli President Isaac Herzog and Foreign Minister Yair Lapid have contacted Turkish officials to reassure them that the Oknins do not work for any intelligence agencies. Mordy and Natalie Okinin are both employed as Egged bus drivers.
Prosecutors claim the Oknins also photographed security checkpoints. Initial reports said Oknins photographed the palace from a ferry. But Turkish reports said the photographs were taken from the Camlica Tower, a telecommunications tower with an observation deck that is highest point in Istanbul.
Hebrew media reports said Israeli lawyer Nir Yaslovizh has already arrived in Istanbul to represent the couple.
Israel's Channel 12 quoted an anonymous source familiar with Turkey's legal system who said the couple's unexpected remand smacked of politics. "It is clear that this was a political, rather than a legal, decision… It is clear that elements in Erdogan's circle exerted pressure and briefed him as if these were Mossad agents on an Israeli mission."
In October, Sabah, a Turkish daily, published photos of 15 people it alleged were part of a Mossad spy ring gathering information on Palestinians.
7.
The Left's Big Lie About Critical Race Theory
How Democrats bury the truth about CRT in public schools.
In the recent governor's race in Virginia, won handily by Republican candidate Glenn Youngkin, the debate over teaching Critical Race Theory in public schools played a crucial role. Parents concerned by the racially charged lessons being taught in their children's classrooms rallied around Youngkin and his pledge to remove CRT from Virginia schools. Through it all, Democrats illogically maintained a bald-faced lie, claiming that CRT in public schools is a non-issue, that it simply doesn't exist.
"It's not taught in Virginia, it's never been taught in Virginia," Democrat candidate Terry McAuliffe said in an interview, adding that Republican's claims about CRT were "racist" and a "dog whistle."
So what is the reality? Have conservatives across the nation really colluded fight a straw man?
The answer is obviously, no. Critical Race Theory is a real threat and it has increasingly been taught in public schools.
Critical Race Theory (CRT) is a radical revision of the Rev. Dr. Martin Luther King, Jr.'s dream that each American be judged "not by the color of their skin but by the content of their character." While Dr. King and the leaders of the Civil Rights Movement of the 1960's promoted "colorblindness," CRT insists on the exact opposite view, teaching that our character, our beliefs, and our place in society is predetermined by our skin color. By this reckoning, Whites are deemed to be inherently racist, born into a framework of "white supremacy" which infiltrates all American institutions. By contrast, racial minorities, and especially Blacks are regarded as perpetual victims of the "white supremacist" society into which they were born.
Over the past several decades, this racist ideology has spread from the halls of academia to K-12 classrooms across our nation. The examples of CRT in our public schools are so numerous as to be overwhelming. Not My Idea: A Book About Whiteness (Ordinary Terrible Things) by author Anastasia Higginbotham, is a picture book for young children that depicts "whiteness" as a "bad deal" with a pointy-tailed devil in which those who possess it are rewarded with "stolen land," "stolen riches" and "special favors" in exchange for their souls.  Not My Idea is currently on reading lists in more than 30 school districts in 15 states across America.
Students in a Michigan high school English class were forced to read a lengthy essay on "white privilege" and then describe in writing how this concept applies to their own lives.
A New York City public school sent a letter home to parents urging them to become "white traitors" and promote "white abolition."
Middle school students in Ohio were asked to consider the race, profession, gender, religion and sexuality of various individuals and decide who is most deserving to survive an apocalypse on Earth.
And in Loudoun County, Virginia, where the movement to expose and halt CRT in public schools got its start, the local public school district chose to partner with the disreputable, far-left Southern Poverty Law Center (SPLC) to develop a new history curriculum which puts slavery and race at the center of American history. Loudoun County also paid $314,000 to the Equity Collaborative to coach teachers on how racism is "an inherent part of American civilization" and how "ideas of colorblindness, the neutrality of the law, incremental change, and equal opportunity for all" are facades for maintaining "whites' power and strongholds within society."
When pundits and politicians on the left claim that CRT is not being taught in public schools, they are playing word games. It is true that CRT began as an academic movement inspired by the work of legal scholars including Derrick Bell, Alan Freeman, Kimberlé Crenshaw, and others. But as with many other academic ideas including the concept of "microaggressions" or the demand for "safe spaces," CRT did not stay confined to the ivory tower.
What Democracts like Terry McAuliffe mean when they say CRT is not taught in public schools is that kindergartners are not being forced to listen to lectures on legal theory. But they are being forced to learn the destructive and racist precepts which stem from that theory.
Claiming that CRT is not taught in public schools is like claiming that the theory of gravity isn't taught in public schools, because grade schoolers aren't sitting through lectures on the finer points of Einstein's Theory of Relativity. The CRT that schoolchildren are exposed to is a dumbed-down version of the legal theory–and is all the more insidious for that reason because it is taught as absolute fact to children too young to offer resistance or debate.
By deliberately defining CRT so narrowly as to exclude any instruction outside of law schools, Democrats continue to maintain the 'big lie' that CRT indoctrination in public schools is a myth. As the recent Republican victories in Virginia and across the nation have proved, Americans are too smart to buy it.
8.
Biden's Dirty Deal With the Taliban
Biden abandoned Americans to protect his deal with the Taliban. The deal isn't over yet.
Daniel Greenfield is a Shillman Journalism Fellow at the David Horowitz Freedom Center whose work focuses on the Left and Islamic terrorism.
Every week new revelations arrive about the scale of Biden's betrayal in Afghanistan. After months of claiming that only a few hundred Americans had been abandoned behind enemy lines, the real numbers are still growing. Shocking reports continue to come to light including a military memo which claims that over a hundred family members of servicemen may still be trapped under Taliban rule.
Biden and his brass promised an accounting, but have offered only lies and excuses. Congressional hearings have produced nothing except cable news theater. While the Taliban throw parades showing off captured American military equipment, the Biden administration is dispatching $144 million in aid.
With more to come.
The humiliating collapse in Afghanistan is not a mystery. It was the product of a deliberate strategy to maintain relations with the Taliban at any cost. Every step of the disaster was really a betrayal.
Why did the Biden administration abandon Bagram Air Base and the nearby prison facility holding thousands of Taliban, Al Qaeda, and ISIS-K prisoners without notifying the Afghans?
When the Taliban repeatedly violated their agreement to stop the violence, why did the Biden administration still insist on keeping our side of the agreement, withdrawing by the deadline even if it meant leaving Americans behind?
As the Taliban approached Kabul, why was the Biden administration trying to cut a deal to provide a sizable cash delivery if the Taliban included the existing government in its administration?
When the Taliban offered to let the United States hold on to Kabul for the duration of the evacuation, why did the Biden administration refuse and allow the Jihadis and their Al Qaeda allies to take over the city and maintain the checkpoints through which Americans and Afghans had to pass to the airport?
Why is there still no official determination about the role that the Haqqani Network, Taliban allies of Al Qaeda, played in enabling Islamic terrorists to make it through their checkpoints with heavy weaponry and bomb vests to carry out attacks, resulting in the murder of 13 American military personnel?
Why did the Biden administration hand over lists of allies to the Taliban and delay going out into Kabul to rescue Americans? Why, even now, does it continue to repeat the same lies that only a handful of Americans were left behind and that the Taliban were helpful and cooperative during the evacuation?
The common denominator for all of them is that the Biden administration prioritized diplomatic relations with the Taliban over the lives of Americans and our national security. It's why the Biden administration continues to engage diplomatically with the Taliban, directing aid to Afghanistan, and negotiating the release of the Americans whom they had previously claimed didn't want to leave.
The Biden administration withdrew our military presence to win the trust of the Taliban. It only brought back enough troops when the Taliban made it clear that the terrorist network had no interest in any kind of diplomatic solution. Even then, Biden and his people went to great lengths to avoid offending the Taliban, not to protect Americans, whom they abandoned anyway, but to protect the larger diplomatic relationship with the Taliban which had always been their true priority.
The Biden administration labored during the evacuation to avoid offending the Taliban, describing them as partners, lying about Taliban assaults on Americans, and continuing to lie even now about the actual number of Americans trapped in Afghanistan. It's also lying about the "humanitarian aid" it's dispatching to Afghanistan, claiming that it will not benefit the Taliban, when it knows that it will.
All of this has significant implications for more than just the Americans still trapped in Afghanistan.
Afghanistan is once again becoming a terror hub. The revival of Al Qaeda is inevitable, and the fighting between ISIS-K and the Taliban (actually a battle between factions of the Taliban's Haqqani Network and their foreign backers in Pakistan and the Middle East) is underway. The actual stakes are whether the Taliban will side with or against Iran and the tactics are suicide bombings aimed at Shiites.
Can the Biden administration be trusted to tell the truth about its old Taliban allies?
The Biden administration was more invested in a deal with the Taliban than in protecting Americans in Afghanistan. Is there any reason to think that it would put our national security ahead of its deal now?
The Democrat diplomatic outreach to the Taliban has a long history dating back to the Clintons. Secretary of State Blinken was serving in the National Security Council of the Clinton administration the last time diplomatic outreach to the Taliban collapsed. Before it all fell apart, Democrat diplomats were loudly denying that there was any reason to be concerned about the Taliban.
The Islamic terrorist attacks of September 11 were the result.
Two decades later there is no reason to think that the Democrats have learned the folly of trusting the Taliban. Not when they left a massive embassy in Kabul behind after the military withdrawal on the assumption that the Taliban would keep the deal that they had spent the past months breaking.
The more the Taliban violated their agreements, the more determined the Biden administration became to keep its side of the bargain. This is the same phenomenon that we have seen before with Obama and the Iran nuclear deal, and with the PLO and Hamas terrorists waging war on the Jewish State.
Even after the evacuation, the Biden administration is back to cutting secret deals with the Taliban and providing them with secret payoffs. Whatever dirty deals have been made, the Taliban will not keep. And it's vital that the details of all such arrangements be revealed and made public as soon as possible.
The large amounts of weapons and intelligence materials left behind by Biden, combined with the growing number of terrorists in Afghanistan pose an urgent threat. An it's a threat that we can expect the Biden administration to continue lying about in order to protect its arrangements with the Taliban.
The Biden administration could not be trusted to keep Americans safe in Afghanistan. Why should it be trusted to keep Americans safe from Islamic terrorists in this country?
9.
A Turkish hostage crisis in the making?
Turkish President Recep Tayyip Erdoğan in Sochi, Russia, Sept. 29, 2021. (Vladimir Smirnov, Sputnik, Kremlin Pool Photo via AP)
Natalie and Mordy Oknin would already be on a plane back to Israel if Erdoğan were to give the go-ahead.
By Ruthie Blum, JNS.org
The arrest in Turkey last week of an innocent Israeli couple on holiday illustrates the utter uselessness of diplomacy when dealing with evil regimes. And that of President Recep Tayyip Erdoğan, an openly antisemitic Islamist autocrat, is as bad as they come.
There are a few lessons to be learned from this ongoing incident, which Israel's government and citizens would do well to internalize. Hopefully, President Isaac Herzog is rethinking his chummy July 12 phone conversation with the Turkish tyrant, with whom he "emphasized that Israeli-Turkish relations are of great importance for security and stability in the Middle East [and] agreed on the continuation of a dialogue in order to improve relations between our countries."
Sadly, not one of the morals of the story is new. On the contrary, Erdoğan's stranglehold on his country and destruction of relations with the Jewish state have been on a steady incline for decades.
But Israelis have a short memory and a long history of flocking to nearby Turkey at every opportunity. This has to do with its proximity and relatively low cost, both of which make it a favored destination for tourists from the Holy Land in search of good deals on all-inclusive packages for families and individuals alike.
The current case of Natalie and Mordy Oknin, whose jaunt to Istanbul for a little rest, relaxation and respite from COVID-19 landed them in a Turkish prison, should serve as a cautionary tale. The Oknins, Egged bus drivers from Modi'in, were detained on Thursday night after they were seen taking pictures of the Turkish president's palace. The Oknins were nowhere near the compound, however. They were snapping cell-phone photos from the observation deck of the Küçük Çamlıca TV Radio Tower, which provides a panoramic view of the city.
Seeing the Israelis engaged in the mundane tourist activity, a waiter at the site's restaurant alerted police. Officers then arrived and hauled off the Oknins, accusing them of "political and military espionage."
Since that fateful evening, the two have been in jail, awaiting indictment. So far, they haven't been allowed contact with their family or with Israeli authorities.
After days of back-channel requests from Jerusalem, the Turks finally authorized a consular visit to the couple but have been vague about when this meeting is going to take place. Thankfully, the Oknins' Israeli attorney, Nir Yaslovitzh, was granted a meeting with Mordy, who is in solitary confinement and begging to know how long he will be forced to languish there.
Meanwhile, Israeli Prime Minister Naftali Bennett and Foreign Minister Yair Lapid have assured the public that everything is being done to secure the couple's release.
Israel's leaders are making a point of treading delicately. Their hope is to have the Oknins home as quickly and quietly as possible, without provoking Ankara into holding them indefinitely, perhaps for years to come. It is this reasoning that apparently led to the decision not to make waves by, say, imposing a ban on or even warning against travel to Turkey.
There is also speculation that the lack of serious coverage on the couple in the Turkish press indicates that there was no political impetus for their arrest.
Another question being raised is whether Erdoğan, who thus far has been mum on the matter, was involved in the decision to nab some Israelis in an effort to exert some sort of leverage, or if the whole thing was undertaken independently by Turkish law enforcement.
Talk about grasping at straws.
Bennett and Lapid surely know that the Oknins would already be on a plane back to Israel if Erdoğan were to give the go-ahead. He rules Turkey's roost, and all attempts to gloss over that fact are counterproductive.
Let's not forget that following the failed coup in 2016, he conducted a massive purge of suspected dissidents, incarcerating thousands of politicians, judges, police, professors and members of the media. Anyone who thinks that he can't simply give an order to free the Oknins and have it obeyed is living in an alternate universe.
His deafening silence, then, bodes ill. It means that he's mulling his next move—considering how to capitalize on the hostages in his captivity, the way that he took advantage of the 2010 Mavi Marmara affair.
Due to maneuvering by then-U.S. President Barack Obama, Erdoğan not only received an apology from then-Israeli Prime Minister Benjamin Netanyahu but oodles of cash to boot. One shudders to contemplate what demands he has up his sleeve this time.
Bennett has been stressing for Turkish ears that the man and woman in custody are not Mossad agents. It's almost silly for him to have to give such a guarantee when it's clear to all concerned, including Erdoğan himself.
In a chilling twist, shortly before their abduction—and that's exactly what it was—the Oknins taped a video message in which they laud Turkey as a great destination for Israelis. They made the film at the request of another traveler who heard them speaking Hebrew and asked them to reassure his friend back home that Turkey was safe.
"You have nothing to be afraid of," they say, smiling. "Turkey is fun. It's safe. You can speak Hebrew freely here … they love us. Come on over."
Ruthie Blum is an Israel-based journalist and author of "To Hell in a Handbasket: Carter, Obama, and the 'Arab Spring.' "
"EΛΛΗΝΑΣ"
-/-