Αγαπημένοι μου φίλοι!
Πέρασαν 5 χρόνια, παρά 3 και κάτι μήνες, που το "σάϊτ" αυτό συστάθηκε και κέρδισε την αγάπη σας!
Προ 6 μηνών και κάτι, σας είχαμε πει πως "κλείνουμε", αφού από μια Ομάδα 35 ανθρώπων, είχαμε μείνει τελικά ένας, αλλά… λέων και μάλιστα… "ΘΡΥΛΕΩΝ", όπως γράφαμε τότε!
Πιέσατε πολύ κάποιοι, μα πάρα πολύ θα έλεγα, με αποτέλεσμα, παρ' ότι δεν μπορεί να λειτουργήσει έτσι ένα "σάϊτ", όταν άλλα, που χρηματοδοτούνται κιόλας, έχουν πολλούς, μα πάρα πολλούς… "υπηρέτες" και μάλιστα μισθοδοτούμενους (!), να παραμείνει ένας, ο τελευταίος "επί των επάλξεων", η… αφεντιά μου και να συνεχίζει να σας… ενημερώνει και κυρίως να σας… προβληματίζει, όπως πιστεύει!..
Όμως πλέον ήλθε η ώρα της οριστικής αποχωρήσεως και(!) του… "ΘΡΥΛΕΟΝΤΟΣ", αφού και αυτού ήλθε η ώρα να γυρίσει στο Πεδίο, σε μια από τις πιο κρίσιμες στιγμές, παγκοσμίως, για την επιβίωση της Δημοκρατίας, η οποία παλεύει άνισα με την ολέθρια, όπως δυστυχώς μας… συστήθηκε, "Παγκοσμιοποίηση", τον σύγχρονο αυτόν "Πύργο της Βαβέλ", για την επιβίωση της Ειρήνης, η οποία παλεύει με την αλαζονεία και την ατέρμονη πλεονεξία των παγκοσμίως, αλλά και τοπικώς κρατούντων(!) και τελικώς για την επιβίωση της ίδιας της Ανθρωπότητος, η οποία φαίνεται να απώλεσε τον Θεό, τον Δημιουργό της, με αποτέλεσμα να κινδυνεύει να αφανιστεί και αυτήν την φορά, ίσως, οριστικά!.. (Είθε όχι)!
Στο Πεδίο -πλην ενός- είναι, εδώ και καιρό τώρα, όλα τα εμπειρότατα στελέχη μας, δυστυχώς χωρίς τον "θανόντα" "Αρχάγγελό" μας!..
Ευχαριστούμε και πάλι όλους σας!
Τους Έλληνες, αλλά και τους απλούς Ελληνόφωνους (και μη), Ανθέλληνες, που μας διάβαζαν!..
Τις Ε/Υπηρεσίες Ασφαλείας, με πρώτη την "Υπηρεσία Προστασίας Πολιτεύματος", η οποία, στερουμένων ανθρώπων με "IQ", αλλά έμπλεη, προφανώς, στελεχών φανατικών κομματόσκυλων και συνεπώς μη ελευθέρων και άρα μη Δημοκρατών(!), (σημειώστε την αντίφαση να υπηρετούν στην υπόψη Υπηρεσία μη Δημοκράτες, αφού φίλοι μου, προσθέστε, πως η πραγματική Δημοκρατία ΔΕΝ ΘΕΛΕΙ ΦΥΛΑΚΕΣ, ΦΡΟΥΡΟΥΣ και ΝΤΑΒΑΔΕΣ, τους οποίους χρειάζονται για να επιβιώσουν μόνον τα αυταρχικά καθεστώτα, όπως τα Φασιστικά και τα Κομμουνιστικά),  νόμισε ότι κινδύνευε από εμάς η… "Δημοκρατία"!..
Ευχαριστούμε επίσης, όσους μας ακροώντο, με ή χωρίς… εισαγγελική άδεια, στην οικία μας και στα τηλέφωνά μας!..
Ευχαριστούμε και πάλι την ΕΥΠ και τονίζουμε στον νέο Διοικητή της, πως ΧΡΗΖΕΙ -ΕΠΕΙΓΟΝΤΩΣ- ΓΕΝΙΚΗΣ ΚΑΘΑΡΣΕΩΣ η Υπηρεσία της οποίας προϊσταται!..
Ευχαριστούμε τις εδώ Πρεσβείες με τα στελέχη τους, τις Υπηρεσίες Ασφαλείας των ξένων Κρατών, που σχεδόν όλα μας παρακολουθούσαν διαδικτυακά καθημερινά!..
Ευχαριστούμε τους… αναλυτές Έλληνες και ελληνόφωνους απλώς "μασκωτούς" Καθηγητές Παν-μίων, τους πρώην -κυρίως αυτούς- πράκτορες ("ήρωες" και μη), που ματσώθηκαν γερά και… πατριωτικά(!) τα τελευταία 30 χρόνια, τους δημοσιογράφους "σφραγίδα", στρατολογημένους και μη, οι οποίοι μας διάβαζαν και μας "έκλεβαν" χωρίς το κλέψιμό τους να έχει "σειρά", τους… , τους… , τους… !..
ΓΙΑ ΝΑ ΜΗΝ ΣΑΣ ΚΟΥΡΑΖΩ, ΕΥΧΑΡΙΣΤΟΥΜΕ ΑΠΑΝΤΕΣ!..
Πιστεύω ότι ΟΛΟΙ ΣΑΣ τύχατε βοηθείας από τον "ΕΛΛΗΝΙΚΟ ΘΡΥΛΟ" και λογικά εκτιμούμε, ότι όσοι έχετε, ως θεσμοί (ντόπιοι και ξένοι), αναπτυγμένο… "IQ"… , θα πρέπει να… αυτοβαθμολογηθήκατε, (και μάλλον αυστηρά), αφού μια μικρή σχετικά Ομάδα στελεχών των ΕΕΔ και του ε/ΥΠΕΞ κατόρθωσε να σας "ανακινήσει" πνευματικά, να σας "αναστατώσει", αλλά κυρίως να σας προβληματίσει, αλλά και να σας πληροφορήσει – διαφωτίσει για θέματα, των οποίων η ορθή γνώση πιθανώς να σας έλλειπε,  χωρίς αυτή η Ομάδα να έχει προσβάσεις, "κονέ", ειδική πληροφόρηση, αλλά και χωρίς να έχει χρήμα, τεχνικές δυνατότητες, κλπ, και ΔΥΣΤΥΧΩΣ ΟΥΤΕ ΚΑΙ ΠΡΟΣΤΑΣΙΑ, πλην της δικής της!..
Απευθυνόμαστε ξανά απ' εδώ [και τώρα(!)] στους άφρονες και άπληστους κλειδοκράτορες της Γης "Διεθνείς Εβραίους" και στα Όργανά τους (από Π-Θγούς, μέχρι τον τελευταίο πρακτοράκο τους) και τους καλούμε να συνετιστούν και να γράψουν μια… έκθεση, για την διαφορά της ηλιόλουστης ημέρας, από την βροχερή ή -κατ' επιλογήν- να κρατήσουν για 1′ τα μάτια τους κλειστά και ακολούθως, αφού τα ανοίξουν, να γράψουν σε μια κόλλα χαρτί και μέχρι 100 λέξεις, την διαφορά του φωτός, από το σκότος, καθώς και για το πώς ένιωσαν στο σκοτάδι! Αυτήν την φορά φίλοι Κοσμοκράτορες, δεν θα είναι μόνον οι λαοί, οι οποίοι θα κληθούν να πληρώσουν τις όποιες σατανικές αποφάσεις σας, όπως πχ έγινε στον Β' Π.Π. όπου την "νύφη" πλήρωσαν μόνον οι λαοί και κυρίως αυτοί της Ευρώπης, μαζί βεβαίως με τα 6 εκ-ρια αθώους, Εβραϊκής καταγωγής, Ευρωπαίους πολίτες, οι οποίοι μαζικά, με σύντονο σχεδιασμό και με εντολή ΚΑΤΑΚΡΕΟΥΡΓΗΘΗΚΑΝ!..
Παρ' όλα αυτά, αν κρίνουμε ότι θα απαιτείται κάποιες στιγμές, θα παρεμβαίνουμε εδώ στον "Ε.Θ." και θα τοποθετούμεθα!..
Σε κάθε περίπτωση, όλοι σας, "ξεφυλλίστε" το "σάϊτ" μας απ' την αρχή και με την χρονολογική σειρά που υπάρχει, ώστε πλην του προσωπικού σας κέρδους, να μας αξιολογήσετε κιόλας!..
ΟΠΩΣ ΟΛΑ ΔΕΙΧΝΟΥΝ, ΕΡΧΟΝΤΑΙ ΜΑΥΡΕΣ ΗΜΕΡΕΣ, ΑΙΜΑ, ΔΑΚΡΥ ΚΑΙ ΠΟΛΥΣ ΠΟΝΟΣ!..
ΑΣ ΠΡΟΣΕΥΧΗΘΟΥΜΕ ΛΟΙΠΟΝ ΟΛΟΙ, ΩΣΤΕ ΑΝ ΕΠΙΚΡΑΤΗΣΟΥΝ ΟΙ ΑΦΡΟΝΕΣ ΚΑΙ ΔΟΛΙΟΙ ΠΑΓΚΟΣΜΙΟΙ "ΔΟΥΛΟΙ ΤΟΥ ΚΑΚΟΥ" ΚΑΙ ΦΤΑΣΟΥΜΕ ΣΤΗΝ ΜΑΛΛΟΝ ΤΕΛΕΥΤΑΙΑ ΤΡΑΓΩΔΙΑ ΤΗΣ ΑΝΘΡΩΠΟΤΗΤΟΣ, ΣΤΗΝ ΜΕΓΑΛΗ ΣΦΑΓΗ ΠΕΡΙ ΤΗΝ ΠΡΩΤΕΥΟΥΣΑ ΤΟΥ ΚΟΣΜΟΥ ΚΑΙ ΑΛΥΤΡΩΤΗ ΕΛΛΗΝΙΚΗ ΠΡΩΤΕΥΟΥΣΑ ΜΑΣ ΚΩΝΣΤΑΝΤΙΝΟΥΠΟΛΗ, ΑΥΤΟΣ Ο ΠΟΝΟΣ ΝΑ ΔΙΑΡΚΕΣΕΙ ΟΣΟ ΤΟ ΔΥΝΑΤΟΝ ΠΙΟ ΛΙΓΟ ΚΑΙ ΤΟ "ΚΑΛΟ", ΠΟΥ ΤΕΛΙΚΩΣ ΠΑΝΤΑ ΝΙΚΑΕΙ ΤΟ "ΚΑΚΟ", ΝΑ ΕΠΙΚΡΑΤΗΣΕΙ ΓΡΗΓΟΡΑ ΚΑΙ ΜΕΤΑ ΝΑ ΘΡΟΝΙΑΣΤΕΙ ΠΛΕΟΝ ΓΙΑ ΠΑΝΤΑ ΣΤΟΝ ΠΛΑΝΗΤΗ ΜΑΣ, ΓΙΑ ΟΣΟ ΘΑ ΕΧΕΙ ΑΚΟΜΑ ΑΠΟΦΑΣΙΣΕΙ Ο ΠΛΑΣΤΗΣ ΜΑΣ ΚΑΙ ΔΗΜΙΟΥΡΓΟΣ ΤΟΥ ΣΥΜΠΑΝΤΟΣ "ΤΡΙΑΔΙΚΟΣ ΘΕΟΣ"!..
"ΓΕΙΑ ΣΑΣ"!
"ΕΛΛΗΝΑΣ"
-/-
ΥΓ. ΚΑΙ ΠΑΡΑΚΑΤΩ ΤΑ ΤΕΛΕΥΤAΙΑ ΜΑΣ ΥΓ!..
1. ΑΝΕΒΛΗΘΗ Ο ΤΕΛΙΚΟΣ ΚΥΠΕΛΛΟΥ ΑΠΟ ΤΗΝ ΕΠΟ, ΔΙΟΤΙ ΔΕΝ "ΠΕΡΑΣΕ" Η ΡΙΖΟΥΠΟΛΗ!.. ΝΤΡΟΠΗ ΣΟΥ ΡΕ ΜΕΛΙΣΣΑΝΙΔΗ! ΕΤΣΙ ΕΙΝΑΙ ΟΙ ΑΝΤΡΕΣ ΡΕ; ΕΦΑΓΕΣ 8 ΓΚΟΛ ΦΕΤΟΣ ΑΠΟ ΤΟΝ "ΘΡΥΛΟ" ΚΑΙ ΕΒΑΛΕΣ 2, ΜΕ ΣΥΝΟΛΙΚΑ 3 ΗΤΤΕΣ ΣΟΥ ΣΤΟ ΠΡΩΤΑΘΛΗΜΑ (2-0 / 3-0 / 1-2) ΚΑΙ ΜΙΑ ΙΣΟΠΑΛΙΑ (1-1), ΑΝ ΔΕΝ ΣΦΑΛΛΩ!
ΦΟΒΑΣΑΙ ΚΑΙ ΔΙΕΤΑΞΕΣ ΤΗΝ ΡΙΖΟΥΠΟΛΗ, ΤΗΝ 2Η ΕΔΡΑ ΣΟΥ, ΠΟΥ ΠΑΙΖΟΥΝ ΓΙΔΙΑ ΚΑΙ ΓΕΛΑΔΙΑ, ΜΠΑΣ ΚΑΙ ΣΤΟ ΜΙΚΡΟ ΓΗΠΕΔΟ ΚΕΡΔΙΣΕΙΣ ΤΟΝ ΟΛΥΜΠΙΑΚΟ ΚΑΙ ΣΩΣΕΙΣ ΤΗΝ ΧΡΟΝΙΑ ΚΑΙ ΜΟΛΙΣ ΑΠΟΦΑΣΙΣΤΗΚΕ "ΟΧΙ Η ΡΙΖΟΥΠΟΛΗ", ΑΜΕΣΩΣ ΕΝΗΡΓΗΣΕΣ… "ΤΑ ΔΕΟΝΤΑ", ΟΠΩΣ ΤΟΤΕ ΜΕ ΤΟΝ ΚΟΝΤΟΝΗ ΚΑΙ ΤΟΝ "ΣΟΡΟΣ-ΣΥΡΙΖΑ", ΠΟΥ ΥΠΟΣΤΗΡΙΖΕΣ ΚΑΙ ΑΚΟΜΑ ΥΠΟΣΤΗΡΙΖΕΙΣ, ΜΕΣΩ ΤΗΣ Ε/Φ "ΔΗΜΟΚΡΑΤΙΑΣ", ΚΛΠ, ΠΑΡ' ΌΤΙ Ο ΟΛΥΜΠΙΑΚΟΣ ΔΕΧΕΤΑΙ ΝΑ ΠΑΙΞΕΙ ΤΟΝ ΤΕΛΙΚΟ ΣΤΟ "ΟΑΚΑ", ΟΠΟΥ ΚΑΙ Η 1Η ΕΔΡΑ ΣΟΥ, ΕΔΩ ΚΑΙ ΧΡΟΝΙΑ!!!..
Η ΑΝΑΚΟΙΝΩΣΗ ΧΘΕΣ ΤΩΝ "ΚΥΚΛΩΝ ΤΟΥ ΟΛΥΜΠΙΑΚΟΥ" (SIC), ΕΙΝΑΙ ΑΠΟΛΥΤΩΣ ΔΙΑΦΩΤΙΣΤΙΚΗ ΤΟΥ ΠΟΙΟΥ ΣΟΥ!..
ΟΧΙ, ΡΕ ΦΙΛΕ, ΔΕΝ ΕΙΝΑΙ ΑΥΤΟΙ ΟΙ ΕΛΛΗΝΕΣ ΠΟΝΤΙΟΙ, ΔΕΝ ΕΙΝΑΙ ΑΥΤΟΙ ΟΙ ΑΝΤΡΕΣ, ΠΟΥ Η ΙΣΧΥΣ ΤΟΥΣ ΕΠΑΦΙΕΤΑΙ ΣΤΟ… ΑΦΘΟΝΟ ΧΡΗΜΑ ΚΑΙ ΣΤΑ… ΜΠΡΑΤΣΑ ΤΩΝ ΑΛΛΩΝ!.. ΛΥΠΑΜΑΙ ΕΙΛΙΚΡΙΝΑ ΠΟΥ Ο ΦΕΡΟΜΕΝΟΣ ΩΣ ΥΠΑΛΛΗΛΟΣ ΣΟΥ ΣΑΒΒΑΣ ΚΑΛΛΙΝΤΕΡΙΔΗΣ ΔΕΝ ΣΟΥ ΛΕΕΙ ΤΙΠΟΤΑ, ΩΣΤΕ ΝΑ ΣΥΝΕΤΙΣΤΕΙΣ!.. ΤΟ "ΤΡΙΟ ΜΑΦΙΟΖΟ" ΚΑΜΜΕΝΟΣ – ΠΑΠΑΓΓΕΛΟΠΟΥΛΟΣ-ΠΑΠΠΑΣ "ΤΕΛΕΙΩΣΕ" ΟΡΙΣΤΙΚΑ ΚΕ ΜΕΛΙΣΣΑΝΙΔΗ!..
ΤΕΛΟΣ, ΚΑΙ ΞΕΡΩ ΠΩΣ ΔΕΝ ΘΑ ΤΟ ΠΙΣΤΕΨΕΙΣ, ΓΝΩΡΙΖΕ ΠΩΣ ΣΟΥ ΓΡΑΦΩ ΜΕ ΕΙΛΙΚΡΙΝΗ ΠΟΝΟ ΨΥΧΗΣ, ΟΧΙ ΣΑΝ ΑΥΤΟΝ ΤΟΥ ΠΑΠΑ, ΓΙΑ ΤΗΝ "ΑΓΙΑ ΤΟΥ ΘΕΟΥ ΣΟΦΙΑ", ΚΑΙ ΣΕ ΚΑΛΩ, ΤΟΥΛΑΧΙΣΤΟΝ ΓΙΑ ΤΟ ΟΝΟΜΑ ΤΟΥ ΓΗΠΕΔΟΥ ΤΗΣ ΟΜΑΔΟΣ ΣΟΥ "ΝΑ ΕΛΘΕΙΣ ΕΙΣ ΕΥΑΤΟΝ" ΚΑΙ ΝΑ ΜΗΝ ΠΕΤΑΞΕΙΣ "ΤΑ ΑΓΙΑ ΤΟΙΣ ΚΥΣΙ", ΑΦΟΥ ΔΕΝ ΕΙΝΑΙ ΔΥΝΑΤΟΝ ΝΑ ΓΙΝΕΤΑΙ… ΜΠΑΛΑ, "Η ΑΓΙΑ ΤΟΥ ΘΕΟΥ ΣΟΦΙΑ"!..
ΔΕΝ ΦΟΒΑΣΑΙ ΤΟ ΘΕΙΟΝ ΠΡΟΕΔΡΕ; ΕΧΕΙΣ ΚΑΙ ΕΝΑ ΓΙΟ, ΓΙΑ ΤΟΝ ΟΠΟΙΟΝ ΛΕΝΕ ΟΤΙ ΕΙΝΑΙ ΧΡΥΣΟΣ ΑΝΘΡΩΠΟΣ! Ο ΘΕΟΣ ΑΡΓΕΙ, ΑΛΛΑ ΔΕΝ ΛΗΣΜΟΝΕΙ, ΛΕΕΙ Ο ΛΑΟΣ! ΜΗΝ ΠΡΟΣΒΑΛΛΕΙΣ ΛΟΙΠΟΝ ΤΟΝ ΔΗΜΙΟΥΡΓΟ ΜΑΣ, ΔΙΟΤΙ ΑΥΤΟΣ ΠΟΥ ΥΒΡΙΣΕ ΤΟΝ ΘΕΟ, ΔΕΝ ΘΑ ΣΥΓΧΩΡΕΘΕΙ ΚΑΙ ΑΥΤΟ ΠΟΥ ΣΚΕΦΤΕΣΑΙ ΝΑ ΚΑΝΕΙΣ ΕΙΝΑΙ ΥΒΡΙΣ, ΠΡΟΣ ΤΟ ΘΕΙΟΝ! ΜΗΝ ΓΙΝΕΙΣ 2ος ΡΤΕ!.. ΜΠΟΡΕΙΣ ΝΑ ΤΟ ΟΝΟΜΑΣΕΙΣ ΠΧ "ΑΥΤΟΚΡΑΤΩΡ ΚΩΝ-ΝΟΣ ΠΑΛΑΙΟΛΟΓΟΣ"!
ΤΟΝΙΖΩ ΠΩΣ Η ΜΗ ΑΚΟΜΑ ΥΛΟΠΟΙΗΘΕΙΣΑ ΑΠΟΦΑΣΗ ΣΟΥ, ΓΙΑ "ΑΓΙΑ ΣΟΦΙΑ", ΑΠΟΔΕΧΟΜΑΙ ΟΤΙ ΠΡΟΕΡΧΕΤΑΙ ΑΠΟ ΤΗΝ ΑΓΑΠΗ ΣΟΥ ΚΑΙ ΜΟΝΟΝ ΓΙΑ ΤΙΣ ΑΛΥΤΡΩΤΕΣ ΠΑΤΡΙΔΕΣ ΜΑΣ ΚΑΙ ΚΥΡΙΩΣ ΓΙΑ ΤΟ ΣΥΜΒΟΛΟ ΤΗΣ ΕΛΛΗΝΙΚΗΣ ΚΑΙ ΠΑΓΚΟΣΜΙΟΥ ΟΡΘΟΔΟΞΙΑΣ, ΤΟΝ ΙΕΡΟ ΝΑΟ ΤΗΣ ΤΟΥ ΘΕΟΥ ΣΟΦΙΑΣ, ΤΗΣ ΣΚΛΑΒΑΣ ΑΚΟΜΑ ΠΡΩΤΕΥΟΥΣΑΣ ΜΑΣ!..
ΞΑΝΑΣΚΕΨΟΥ ΤΟ ΛΟΙΠΟΝ ΚΕ ΜΕΛΙΣΣΑΝΙΔΗ ΚΑΙ ΑΥΤΟ, ΟΠΩΣ ΚΑΙ ΤΟ ΝΑ ΠΑΨΕΙΣ ΝΑ ΜΙΚΡΑΙΝΕΙΣ ΤΗΝ ΑΕΚ, ΜΕ ΤΗΝ ΣΥΜΠΕΡΙΦΟΡΑ ΣΟΥ!.. ΒΑΡΥ ΤΟ 3-0 ΧΘΕΣ (19-07-2020), ΤΟ ΞΕΡΩ, ΑΚΟΜΑ ΛΕΙΤΟΥΡΓΕΙΣ "ΕΝ ΘΕΡΜΩ", ΑΛΛΑ ΠΕΣ ΚΑΙ ΕΝΑ "ΔΟΞΑ ΤΩ ΘΕΩ", ΔΙΟΤΙ ΤΟ ΠΡΑΓΜΑΤΙΚΟ ΣΚΟΡ ΘΑ ΕΠΡΕΠΕ ΝΑ ΗΤΑΝ 7-0 Ή ΑΝΤΕ 7-1!..
2. ΔΙΚΑΙΩΘΗΚΕ ΚΑΙ ΕΠΙΣΗΜΩΣ ΠΛΕΟΝ Ο "ΘΑΝΩΝ" "ΑΡΧΑΓΓΕΛΟΣ", ΓΙΑ ΟΣΑ ΕΛΕΓΕ ΚΑΙ ΕΓΡΑΦΕ ΑΠΟ ΤΟ 2010
Στραγγαλισμός της Τουρκίας στην Μεσόγειο…!!! Η

Ισραηλινή

κυβέρνηση επικύρωσε τη συμφωνία για τον

"

EastMed"

με την

Ελλάδα

…
!!!
 ΣΤΟΧΟΣ – 19 Ιουλίου
Δρομολογούνται θετικές εξελίξεις από το Τελ Αβίβ, καθώς η κυβέρνηση του Ισραήλ επικύρωσε την τριμερή συμφωνία που υπεγράφη στην Αθήνα τον Ιανουάριο από τον Ισραηλινό Πρωθυπουργό Μπέντζαμιν Νετανιάχου, τον Έλληνα πρωθυπουργό Κυριάκο Μητσοτάκη και τον Πρόεδρο της Κύπρου Νίκο Αναστασιάδη.
Ο Έλληνας Πρέσβης στο Ισραήλ Παναγιώτης Σαρρής χαιρέτισε την κίνηση της ισραηλινής κυβέρνησης για το έργο του αγωγού φυσικού αερίου EastMed την Κυριακή, ενώ προειδοποίησε για τις ενέργειες της Τουρκίας κατά του έργου και τις επεκτατικές της κινήσεις στη Μεσόγειο που θέτουν ανησυχίες για την περιφερειακή ασφάλεια.
Ο αγωγός EastMed «μετατρέπει την ενέργεια σε καταλύτη για περιφερειακή συνεργασία και σταθερότητα, προς όφελος όλων. Θέλουμε την Τουρκία ως ισότιμο εταίρο και όχι ως εκφοβιστή της γειτονιάς, αλλά αυτή τη στιγμή αποδεικνύεται δύσκολο», δήλωσε ο Σαρρής στο "The Jerusalem Post".
Η κυβέρνηση του Ισραήλ επικύρωσε την Κυριακή μια τριμερή συμφωνία που υπεγράφη στην Αθήνα τον Ιανουάριο από τον Πρωθυπουργό του Ισραήλ Μπέντζαμιν Νετανιάχου, τον Έλληνα πρωθυπουργό Κυριάκο Μητσοτάκη και τον Πρόεδρο της Κύπρου Νίκο Αναστασιάδη.
Η συμφωνία προχώρησε στην κατασκευή αγωγού 1.900 χιλιομέτρων, έργο το οποίο θα βρίσκεται κυρίως κάτω από τη θάλασσα και θα αποτελεί τον μεγαλύτερο αγωγό στον κόσμο.
Θα μετατρέψει τόσο το Ισραήλ, όσο και την Κύπρο, σε ενεργειακά κέντρα τροφοδοσίας φυσικού αερίου, μέσω της Ελλάδας και μετά στη Δυτική και Ανατολική Ευρώπη, μέσω της Ιταλίας, η οποία έχει συμφωνήσει για το έργο, αλλά δεν έχει ακόμη υπογράψει τη συμφωνία. Το κυπριακό κοινοβούλιο επικύρωσε τη συμφωνία την Παρασκευή (17-07-2020). Οι ΗΠΑ και η ΕΕ εγκρίνουν και οι δύο το έργο.
«Η ΕΕ βοήθησε τα μέρη στην εκπόνηση της διακυβερνητικής συμφωνίας», δήλωσε η Πρεσβεία της ΕΕ στο Τελ Αβίβ, προσθέτοντας ότι «ο αγωγός πρέπει να θεωρηθεί ως μια επιλογή αξιοποίησης του εφοδιασμού φυσικού αερίου στην ΕΕ».
Σοβαρή απειλή για το έργο αποτελούν οι διεκδικήσεις της Τουρκία, καθώς έχει υπογράψει παράνομο σύμφωνο με τη Λιβύη, διεκδικώντας αποκλειστικές οικονομικές ζώνες στη Μεσόγειο Θάλασσα, σε περιοχές όπου θα κατασκευαστεί ο αγωγός.
Η Σύμβαση των Ηνωμένων Εθνών για το Δίκαιο της Θάλασσας του 1982 (UNCLOS) επικυρώθηκε από 168 χώρες, εκτός από την Τουρκία, η οποία διεκδικεί μεγάλα τμήματα της Μεσογείου, δήλωσε ο Σαρρής.
«Η Τουρκία έχει απειλήσει να τρυπήσει επτά μίλια από την ακτή της Κρήτης, ένα ελληνικό νησί που φιλοξενεί πάνω από ένα εκατομμύριο ανθρώπους», είπε. «Αυτά τα ύδατα βρίσκονται στην Αποκλειστική Οικονομική Ζώνη της Ελλάδας και η γεώτρηση θα αποτελούσε προκλητική παραβίαση του διεθνούς δικαίου».
«Η Ελλάδα θα ήταν υποχρεωμένη να αντιδράσει και να υπερασπιστεί την κυριαρχία των υδάτων και της επικράτειάς της», δήλωσε ο Σαρρής, προσθέτοντας ότι η Τουρκία έχει χρησιμοποιήσει τη συμφωνία της με τη Λιβύη για να δικαιολογήσει την επιθετική ρητορική της.
Κάποιος πρέπει μόνο να «εξετάσει έναν χάρτη» για να καταλάβει ότι «αυτό είναι ανοησία» και ότι το τουρκολιβυκό μνημόνιο είναι «άκυρο», είπε.
«

Τέτοιες επεκτατικές κινήσεις από την Τουρκία αποτελούν σημαντικό κοινό πρόβλημα ασφάλειας για την Ελλάδα, το Ισραήλ και την Κύπρο

»
, δήλωσε ο Σαρρής.
Η πρέσβειρα της Κύπρου στο Ισραήλ Θεσσαλία-Σαλίνα Σιάμπου χαρακτήρισε την επικύρωση της τριμερούς συμφωνίας του Ιανουαρίου από το Ισραήλ «εξαιρετική είδηση».
Η επικύρωση της συμφωνίας «επιβεβαιώνει την κοινή μας δέσμευση για την εφαρμογή του αγωγού EastMed», είπε. Είναι «ένα τεχνικά εφικτό και οικονομικά βιώσιμο έργο που αντιπροσωπεύει μια στρατηγική επιλογή κοινών συμφερόντων για τις χώρες μας και για την ΕΕ». Έχει «σαφή γεωπολιτική αξία για την ευρύτερη περιοχή», είπε η Κα Σιάμπου.
Ο κ. Σαρρής συμπλήρωσε ότι η εν λόγω εξέλιξη αποτελεί ένα σημάδι της ισχυρής τριμερούς συνεργασίας μεταξύ του Ισραήλ, της Ελλάδας και της Κύπρου, που συνεχίζει να ενισχύεται μέσω αυτού του έργου.
3. Τ/Κ ΕΦΗΜΕΡΙΔΑ "ΕΥΡΩΠΗ", ΣΗΜΕΡΑ, 20-07-2020!
46 ΧΡΟΝΙΑ ΜΕΤΑ:
"ΗΛΘΑΝ, ΕΧΥΣΑΝ / ΣΚΟΡΠΙΣΑΝ ΑΙΜΑ (ΗΤΟΙ ΣΚΟΤΩΣΑΝ), ΠΗΡΑΝ, ΔΙΑΙΡΕΣΑΝ, ΕΜΕΙΝΑΝ"!
4. "ΑΔΕΛΦΙΑ" ΕΛΛΗΝΕΣ ΕΞΙΣΛΑΜΙΣΜΕΝΟΙ ΑΛΒΑΝΟΙ, ΞΥΠΝΑΤΕ!..
ΟΧΙ ΑΛΛΟ ΠΙΑ ΔΟΥΛΟΙ ΣΤΟΝ ΒΑΡΒΑΡΟ ΑΣΙΑΤΗ ΤΟΥΡΚΟ ΦΑΣΙΣΤΑ!
ΑΡΚΕΤΑ ΕΚΑΝΑΝ ΟΙ ΟΘΩΜΑΝΟΙ ΣΤΑ ΒΑΛΚΑΝΙΑ, ΣΕ ΒΑΡΟΣ ΟΛΩΝ ΜΑΣ, ΓΙΑ ΑΙΩΝΕΣ!..
ΞΥΠΝΕΙΣΤΕ ΚΑΙ ΤΟΥΣ ΑΛΒΑΝΟ-ΚΟΣΣΟΒΑΡΟΥΣ, ΠΟΥ "ΤΟΥΣ ΠΗΡΕ ΤΟ ΜΥΑΛΟ" ΤΟ ΠΟΛΥ ΧΡΗΜΑ!
ΜΠΟΡΕΙ ΝΑ ΕΙΣΤΕ ΜΟΥΣΟΥΛΜΑΝΟΙ, ΧΩΡΙΣ ΝΑ ΕΙΣΤΕ ΤΟΥΡΚΟ-ΠΡΟΣΚΥΝΗΜΕΝΟΙ!
"ΣΕ ΜΙΑ ΤΕΛΙΚΗ", ΑΝ ΔΕΧΤΟΥΜΕ ΟΤΙ ΙΣΤΟΡΙΚΑ ΕΙΝΑΙ ΕΤΣΙ ΟΠΩΣ ΕΣΕΙΣ ΤΑ ΛΕΤΕ, ΠΟΥ ΓΙΑ ΕΜΑΣ ΔΕΝ ΕΙΝΑΙ, ΣΑΣ ΡΩΤΑΩ! ΠΟΤΕ ΗΡΘΑΝ ΟΙ ΜΟΓΓΟΛΟΙ ΣΤΑ ΒΑΛΚΑΝΙΑ ΚΑΙ ΕΥΡΥΤΕΡΑ ΣΤΗΝ ΠΕΡΙΟΧΗ ΜΑΣ, ΚΑΙ ΠΟΣΑ ΧΙΛΙΑΔΕΣ ΧΡΟΝΙΑ ΙΣΤΟΡΙΑΣ ΕΧΕΤΕ ΕΣΕΙΣ ΕΔΩ; (ΜΕΤΑΞΥ ΜΑΣ ΤΟ "ΑΥΤΟΧΘΟΝΕΣ", ΕΣΤΩ ΚΑΙ ΛΑΤΙΝΟΠΟΙΗΜΕΝΟ ("ΑΥΤΟΧΘΟΝΟΥΣ", αχαχαχαχαχαχα), "ΑΛΑ ΑΣΤΕΡΙΞ", ΕΙΝΑΙ ΑΡΧΑΙΟ-ΕΛΛΗΝΙΚΗ ΛΕΞΗ!..
ΝΤΡΟΠΗ ΣΑΣ (!) ΠΙΑ ΝΑ ΘΥΣΙΑΖΕΤΕ ΤΑ ΠΑΝΤΑ ΣΤΟΝ ΒΩΜΟ ΤΟΥ ΜΑΜΩΝΑ, ΛΕΓΕ ΜΕ ΤΟΥ ΧΡΗΜΑΤΟΣ!.. 
Κοσοβάρα

(ΠΑΡΘΕΝΑ)

τραγουδίστρια θέλει Θεσπρωτία και Κέρκυρα εντός… Αλβανίας!
Έτσι, καταρρίπτοντας το ρητό πως η μουσική ενώνει, προέβη σε μια άκρως προκλητική δημοσίευση όπου προβάλει το λάβαρο που είχε πρωτοεμφανιστεί στον ποδοσφαιρικό αγώνα της Σερβίας με την Αλβανία τον Οκτώβριο του 2014 συνοδεύοντας το με την λεζάντα «Αυτόχθων, επίθετο (του κατοίκου ενός τόπου) ιθαγενής και όχι απόγονος μεταναστών ή αποίκων».
Τα δύο πρόσωπα που βλέπουμε λάβαρο των Αλβανών είναι αυτό του ιδρυτή του αλβανικού κράτους Ισμαήλ Κεμάλι και του Αλβανού πολεμιστή Ίσα Μπολετίνι, εθνικού ήρωα των Κοσοβάρων, που πρωτοστάτησε στον ανταρτοπόλεμο κατά της Σερβίας το 1910.
Ο χάρτης ανάμεσα στα δύο πρόσωπα, είναι αυτός της μεγάλης Αλβανίας, που εκτός των άλλων περιλαμβάνει ελληνικά εδάφη μέχρι και την Θεσπρωτία, καθώς και την Κέρκυρα. Στο κάτω μέρος βλέπουμε γραμμένη την λέξη Autochthonous δηλαδή Αυτόχθονες, δηλώνοντας πως οι περιοχές αυτές τους ανήκουν διότι ζουν χρόνια σε αυτές και δεν μετοίκησαν.
Πηγή: Himara.gr
5. ΤΟ ΑΚΟΛΟΥΘΟ ΓΙΑ "ΞΕΛΑΜΠΙΚΑΖ"!.. "ΑΡΚΑΣ" ΓΙΑ ΤΟΝ "ΚΟΡΩΝΟΪΟ – 19"! "RESPECT" ΜΕΓΑΛΕ "ΑΡΚΑΣ"!..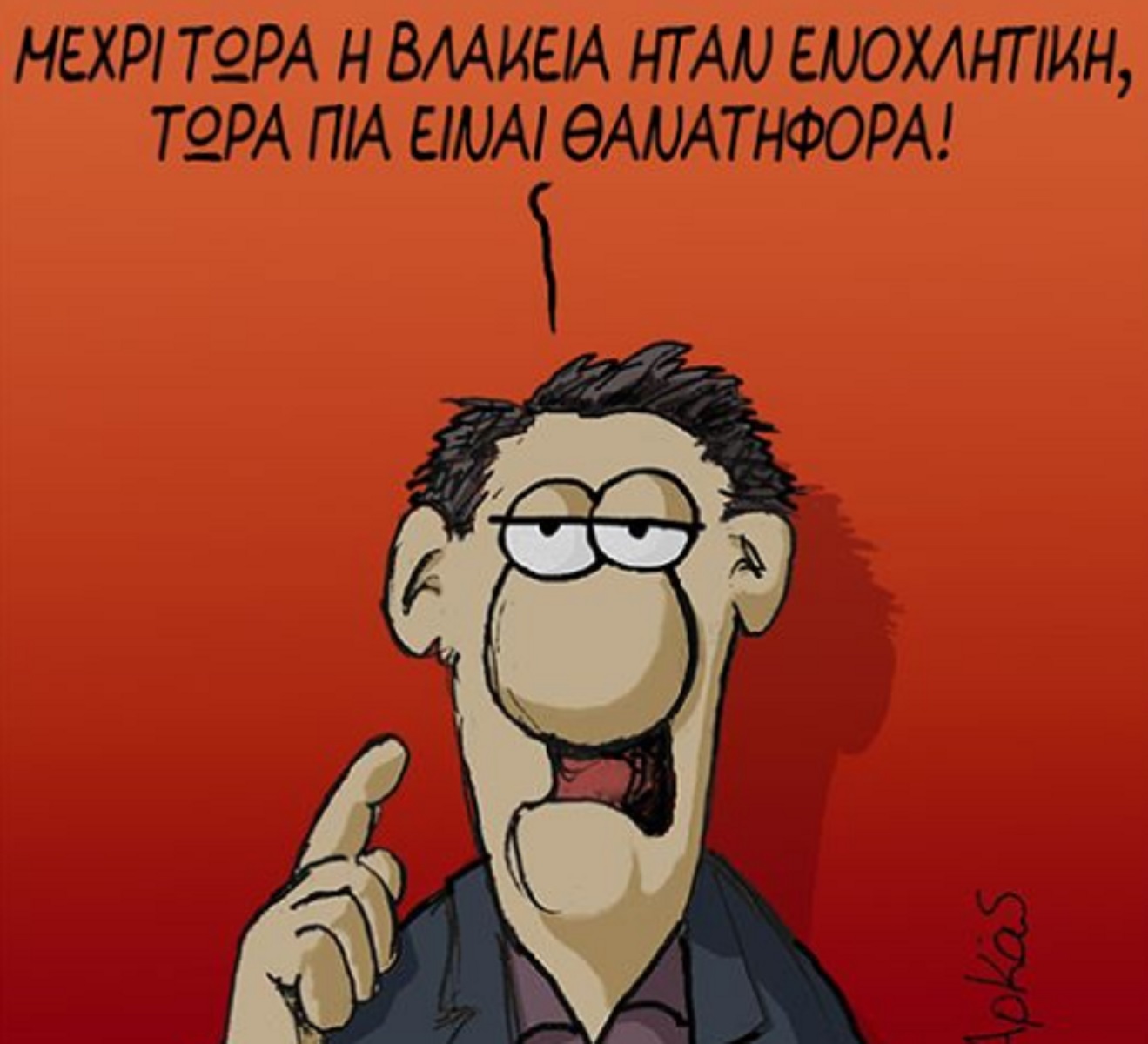 ΑΛΛΑ
ΚΑΙ
ΕΞΩ ΑΠΟ ΤΗΝ ΠΛΑΚΑ,
ΜΑΚΑΡΙ ΝΑ ΗΣΑΝ ΠΟΛΛΟΙ ΚΡΑΤΙΚΟΙ ΕΠΑΓΓΕΛΜΑΤΙΕΣ ΣΑΝ ΤΟΝ ΥΦΥΠΟΥΡΓΟ ΧΑΡΔΑΛΙΑ,
ΣΤΗΝ ΠΑΤΡΙΔΑ ΜΑΣ!.. 
6.
7.
Trump Book
TOO CONTROVERSIAL
for the Media…





INSIDE… Why He Will Win in 2020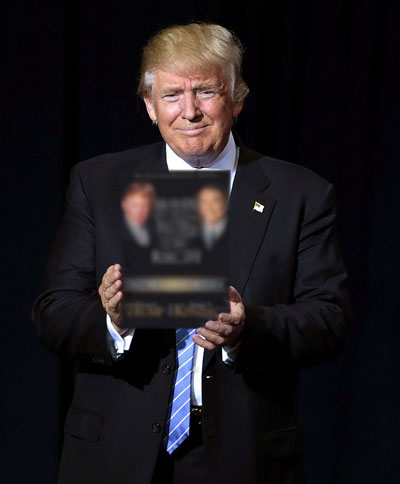 Dear Friend,
You read that right… Trump will win again…
And it's all inside this Trump book…
A book that might be too controversial for the biased media…
Because page 20 PROVES without a doubt that Democrats have no chance of winning the next presidential election.
Of course they will never talk about this on CNN, MSNBC, ABC or any other mainstream media.
They're too busy fabricating fake news.
But every American deserves to see what's inside this book because it's not just relevant to upcoming election…
It's also about YOUR financial future.
In fact, a few everyday Americans
got their hands on this book
and they're raving about it…
Peter K.


 A Life-Changing Book
This book is an OUTSTANDING dissertation on what is going in the world financially & otherwise. It not only addresses the issues of financial stability & prosperity, but it teaches you how to get there. This is not just for management executives, investors, or stockbrokers….it's for everbody. It thoroughly explains that if we (especially "Baby Boomers") don't move out of the Industrial Age & into the Information Age, we could find ourselves standing in a soup line. Very insightful & revelatory reading.
Mariusz S.


 It cost 30 bucks to make a million!!
Donald Trump came from a family that had money, but his success surpassed that of his father. He was even bankrupt once and came out of it stronger than ever. There must be something that he does right because his name is a household name. I found this book very useful because it teaches you not only the real estate business, but business in general. It talks about the proper mental attitude, how to deal with people, and how not to be afraid to fail. The author says that many people are afraid to fail, so they never try, and this is a formula for failure.
Kim S.


 REQUIRED EDUCATION
This book should only be in the library of anyone SERIOUS about becoming financially independent (read that RICH) or who thinks they might be interested in building a life-style as opposed to just making a living.
This book is an education all by itself, when teamed with any of the other works by these two authors you can't go wrong.
WARNING: You MUST take action or this education will be wasted.
Fabrizio P.


 Very Interesting!
It's great to see these two sharp business minds get together and write a book. I found it a pleasant read and very insightful regarding the future of world economy and explains what each one of us can do to become rich.
Since reading this book I have come up with a great business idea and it's taking me on the road to great success.
Alfred J.


Wealth Building 101
Excellent opportunity to take control of my future. I would recommend this to anybody who is serious about a real thing and lasting change and a future where the only limit is your ability to dream.





If you follow the information inside this book, I bet you could set yourself on the road to financial freedom for the next 4 years of Trump's presidency – and beyond…
Because this book holds the secrets to retiring rich in America…
The kind of secrets that the rich use to build wealth… but the poor and middle class know nothing about!
Just a few of the secrets inside this book could help you build a retirement nest egg beyond your wildest dreams…
Especially if you haven't saved enough for retirement.
That's why, for the first time ever…
I'm Going Public with Details on this Controversial Book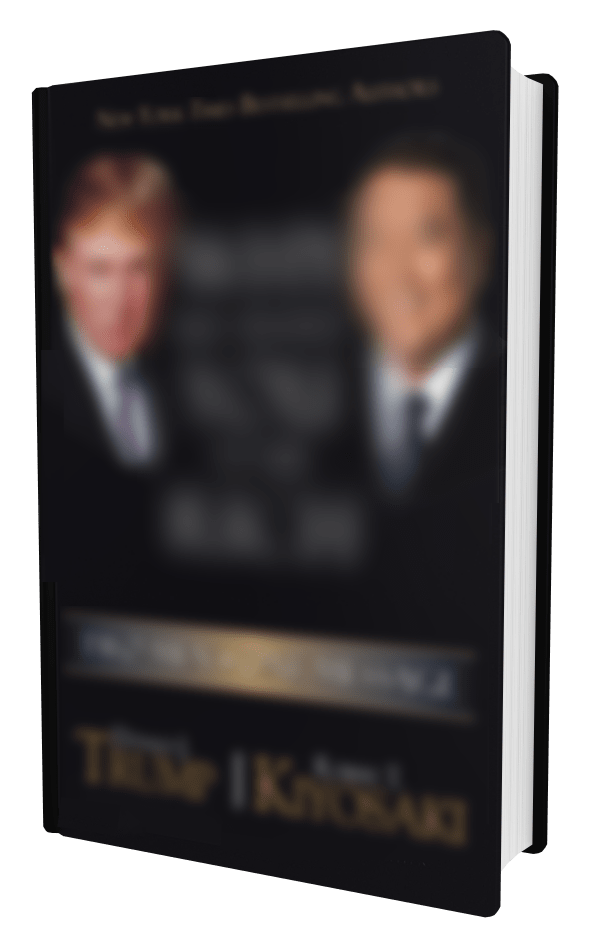 That's part of my mission to help everyday folks like you retire rich and young like I did.
Hi, my name is Robert Kiyosaki…
You might already know me as the author of Rich Dad Poor Dad, the #1 best-selling personal finance book of all time.
What you might not know is that I also co-wrote this book with Donald Trump.
A few years Before Trump's election, I went to visit Donald at his offices at Trump Tower in New York City to discuss this book.
And that's when he first told me this…
"I believe our country is in trouble and so are millions of people. I think America is in financial trouble. I believe our government has been mismanaged. I'm afraid many of today's middle class will become the new poor, or worse, slip into poverty, even after years of hard work." – Donald Trump
And that's when I realized that if Donald Trump should ever decide to run for President…
He would win!
And that's exactly what happened.
He's done some good work in his first term… addressing problems like the demise of the middle class and the poor…
Illegal immigration, terrorism and national security…. Our high paying jobs being exported to China… and the state of retirement in America.
But he's not done yet.
And it's why he will win in 2020.
And once you read this book, you'll agree with me.
It's called, Why We Want You To Be Rich and it is designed to help you retire wealthy and have financial freedom.
If you grew up in a middle-class family and you believe that the American Dream is alive and well…
This book is for YOU.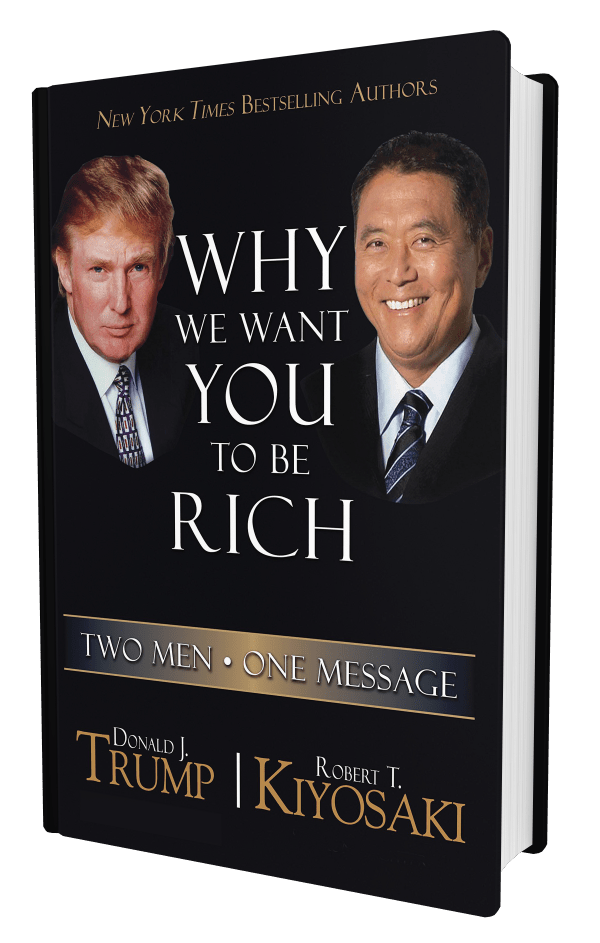 Inside, you'll discover secrets like:
How "bad times" create an opportunity for you to build wealth. Find this tip on page 58
Are you saving money? STOP! The diagram on page 96 explains why saving is actually making you poor.
Are you making this CRITICAL mistake? 90% of investors are… and it's the reason why they don't make any money. See details on page 113 .
Could the secret to riches be buried in the story of an apple farmer? YES! In fact, you'll find this story on page 152 of this book.
Haven't saved enough for retirement? No worries… Once you read page 243 you'll be on your way to financial freedom, even if you're starting with little to no money.
The 1974 law that everyone says will guarantee millions of baby boomers will retire… But they're WRONG! Relying on this law could cause you to run out of money in retirement. See page 8
And so much more!
This book was designed to help everyday Americans like you discover how to grow and keep your wealth.
And I know it works…
Because I have built my wealth by doing the things Donald Trump and I show you inside this book…
A road that led me to become one of the wealthiest men in Hawaii…
And Donald Trump to become a billionaire and eventually the President of The United States of America.
And when you claim your copy of this book, you'll discover that you can get rich too!
And that's not all. When you claim your book…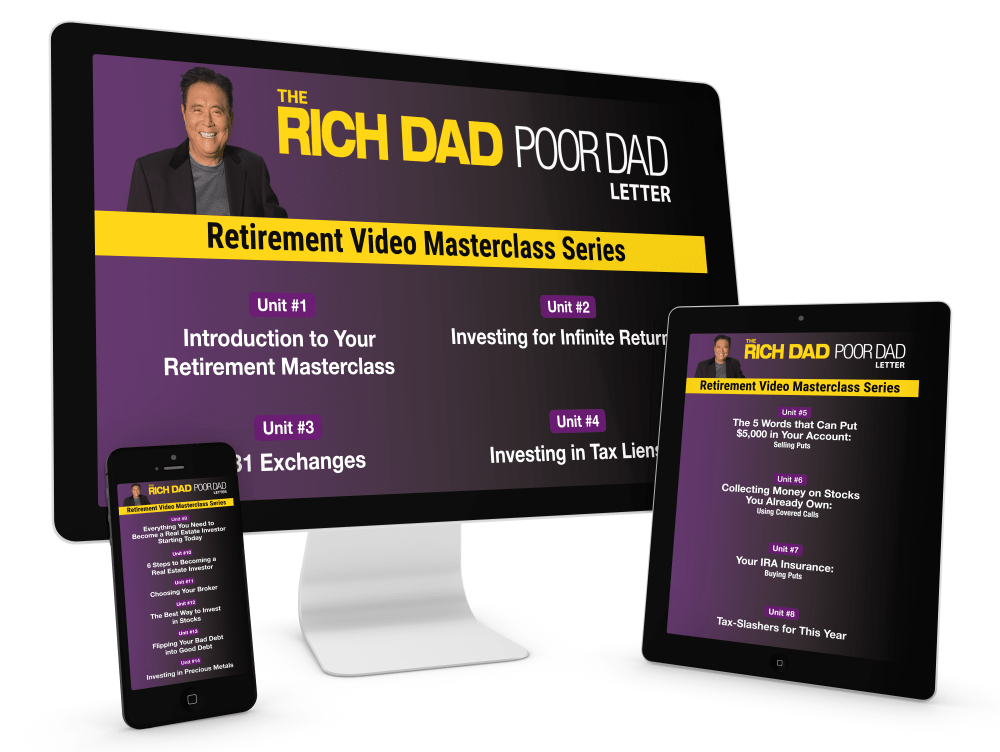 You'll Also Get Immediate Access To The Rich Dad Retirement Video Masterclass
A $1,299 Value!
You will discover 49 different secrets you can use to start growing your retirement nest egg starting today.
Things like:
The 5 words that can put as much as $5,000 into your retirement account starting as early as tomorrow.
How to collect $1,000s on stocks that you already own… instantly. No reason to wait for dividends. (And it's easier than you might think)
A single investment strategy that can build your real estate portfolio for pennies on the dollar and in some cases in just a matter of months.
Collecting up to $5,400 or more… and it's all thanks to government certificates that are 100% protected from a stock market crash.
How to more than DOUBLE your dividends… All you need to do is hit this extra key before buying a stock.
And so much more!
Plus, you'll learn the financial secrets I use to help protect the money I invest…
Keep all the money you make…
And continually create personal streams of cash flow that you can put to work for yourself and your family's future.
You'll get ALL of the above, plus 44 more secrets when you claim your book.
Now let me ask you…
Are you ready to retire wealthy?
Then you are going to love (and need) this special report: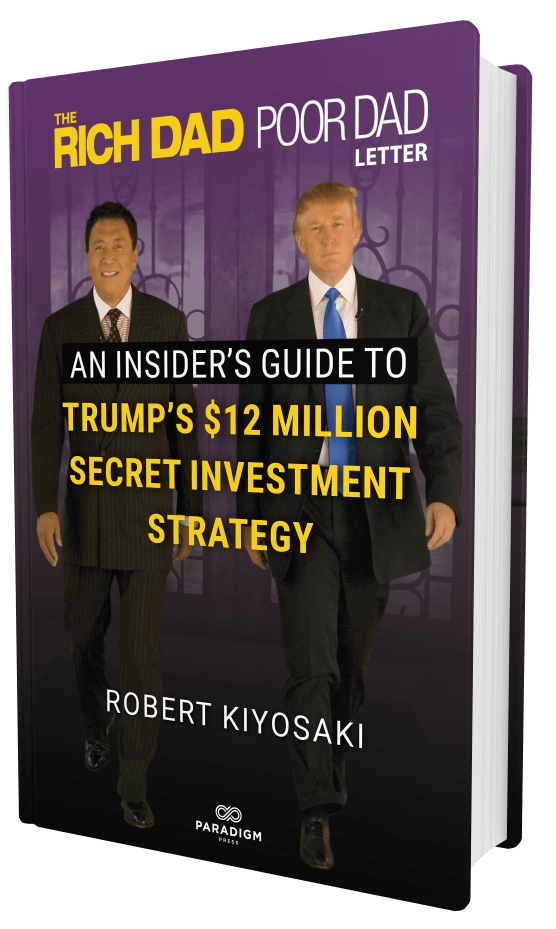 An Insider's Guide into Trump's
$12 Million Dollar Secret Income Strategy
(NOT Real Estate)
You see, most people know Donald Trump as a real estate mogul…
And that he collects millions from rental income.
But very few people know he has another source of income he's tried to keep quiet…
One that's available to you right now.
You see, I recently found Trump's Executive Branch Personnel Public Financial Disclosure Report…
A report released to the public when Trump was running for office…
And buried on page 37 I found this…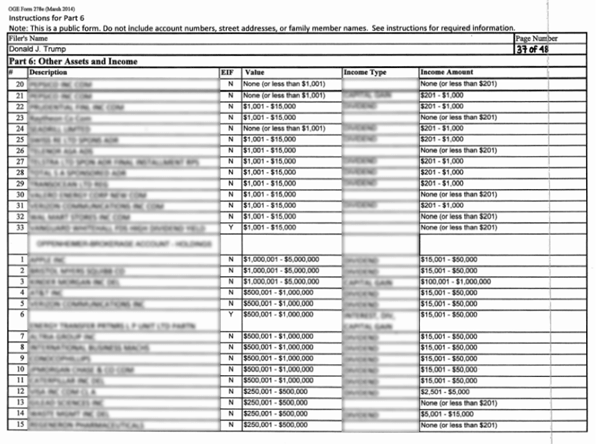 And the way Trump plays these secretive investments is the same way you can use right now to collect $1,000s…
It's true. Even though Trump has already collected $12 million from this….
It's not exclusive to the US President.
In fact, some savvy investors have already discovered this secret. Here's what just a few of them are saying about this investment strategy:
"My total gain is $12,316.91 (43.85%). I plan to keep my investment as long as it is appreciating in value in my retirement portfolio." – Lydia P.
"I like [this strategy] because it produces income and is generally stable. I use this to supplement my social security, home improvements, and an annual fishing trip to Canada." – Robert N.
"I use [this strategy] to enjoy early retirement and travel" – Adam P.
You could be next…
Because inside this bonus report you'll discover the secret behind Trump's income strategy…
And how you can get started.
You might not have the same investment funds that Trump has available to see his massive paycheck, but that doesn't mean you can't use this same strategy to make some money too!
Look, there are millions of Americans who will NEVER get to retire — because they don't know how to invest their money…
And because of that, they'll likely have to continue working until the day they drop dead.
But when you're done reading this bonus report, don't be surprised if you feel like taking all your money from your 401k fund…
And instead investing in all the secrets I share with you inside these special reports.
And that's what you'll get when you take a risk-free trial to…
8.
9.
10.
11.
12.
George Soros's Multi-Front War Against Israel
How the globalist financier's desire to escape his Jewish identity fuels his Jew-hate.
George Soros, in his political pronouncements and in his characterization of the goals of his Open Society Foundations (OSF), the primary financial vehicle for his political advocacy and activism, acknowledges his support of a globalist agenda. He also acknowledges his embrace of that position as an alternative to identification with the Jewish people or the Jewish state.
For example, in a 1995 New Yorker interview, Soros remarked, "my mother was quite anti-Semitic and ashamed of being Jewish. Given the culture in which one lived [he grew up in Hungary before and during World War II], being Jewish was a clear-cut stigma, a disadvantage, a handicap – therefore there was always a desire to transcend it, to escape it."
Elsewhere in the interview, he remarks, "Of course, this whole interest in universal ideas is a typical means to escape from the particular… I am escaping the particular. I think I am doing exactly that by espousing this universal concept… In other words, I don't think you can ever overcome anti-Semitism if you behave as a tribe… The only way you can overcome it is if you give up the tribalness."
When asked in the interview about Israel, he answered – "testily," according to the interviewer – "I don't deny the Jews their right to national existence – but I don't want to be a part of it."                             
While the cited remarks – the gist of which he has repeated on many occasions – reflect some candid self-observation, there are also elements that are disingenuous and self-serving. It is not true that among Jews targeted for abuse by surrounding societies, there was "always a desire to transcend it, to escape it." There was, of course, a desire to escape abuse, but most Jews were not inclined to jettison their Jewish identity to appease the haters. Similarly, in his reference to the need to escape tribalism, it is not entirely clear if he is talking about the tribalism of the anti-Semites, or of the Jews, or of both; but the context suggests he is talking at least partly of Jewish "tribalism," and the sentiment reflects Soros seeking to justify the rightness of abandoning Jewish identity by casting his doing so as his choosing to take a higher, more virtuous path.
Jews who have chosen over the centuries to jettison their Jewish identity in the face of anti-Semitism have typically sought to characterize their course as somehow reflecting a morally superior one. Most who have fled a Jewish identity have embraced instead, and chosen as their exclusive self-definition, the majority identity of the nations in which they lived, and they have chosen to perceive the latter as a more wholesome alternative. But in the last almost two centuries, claims of abandoning the parochial and narrow for the universal have been a particularly popular tack for those seeking to escape identification with other Jews and a particularly popular form of virtue signaling and self-promoting among such people. Soros fits neatly into that tradition.
(Noteworthy in this regard is that Soros's idol and model, the late Austrian/British philosopher Karl Popper, author of The Open Society and Its Enemies, was another plyer of this path. Popper's parents had converted to Lutheranism to escape their Jewish identity and the anti-Semitism rife in their native Vienna and had had their son baptized in their new faith. With the rise of the Nazis, Popper anticipated Hitler seizing control of Austria, knew his formal Lutheranism would not protect him, and arranged to flee Austria in 1937. But he continued to pursue distancing himself from his Jewish roots, and he cast his doing so as a morally superior course. He embraced a supranational cosmopolitanism as adjunct to his Open Society concepts and as his alternative self-definition, declaring his opposition to all nationalisms and "tribalism." But he voiced particular hostility towards what he characterized as Jewish tribalism and to Jewish national self-determination, Zionism. In the wake of Israel's founding, he turned that same hostility towards the Jewish state. For Popper, too, a supposedly parochialism-transcending supranationalism was the virtue-signaling alternative to the liabilities of a recurrently besieged Jewish identity.)
Soros's Open Society Foundations declares it works to "strengthen freedom of expression" and "access to information." One would think this would, of course, be an essential element of the "openness" Soros claims to support. Yet he has consistently backed efforts to prevent the open exchange of ideas and to close down public access to views he opposes, such as those of conservative voices in America. He has been a heavy supporter of Media Matters, which is largely devoted to silencing conservative media and conservative writers and commentators. (Media Matters has also at times engaged in crude anti-Semitic tropes to attack Jewish supporters of Israel.) Soros has financed as well other attempts to block such views, including campaigns to  constrain and eliminate conservatives' access to social media.
And support for Israel, like that provided by the American Israel Public Affairs Committee (AIPAC), has been an explicit target of his seeking to silence voices with which he disagrees, in this case not least by accusing AIPAC's Israel advocacy of being too influential, somehow suppressing opposing views (a projection of Soros's own modus operandi) and exerting a supposedly nefarious impact that requires demolishing. As he spells out in a 2007 New York Review of Books article entitled "On Israel, America and AIPAC," it is nefarious, in his view, because Israel's refusal to recognize Hamas as a negotiating partner and AIPAC's backing of that stance stymies what would otherwise be advancement towards peace. That Hamas remains dedicated to Israel's destruction and, as its charter makes explicit, the murder of all the world's Jews, is no reason, in Soros's world view, to refuse to recognize the organization as a legitimate interlocutor in his imagined march towards "peace."
Soros clearly nurtures a hostility towards Israel that outweighs any devotion he has to the asserted principles of his Open Society. As indicated in his promotion of Hamas as a legitimate negotiating partner, Soros's discussions of the Palestinian-Israeli conflict virtually never includes any criticism of the Palestinian leadership – whether the Palestinian Authority or Hamas – for its campaigns against any opening of their societies; their abuse of journalists and proscription of a free press. He is similarly silent on the absence of a free press and of openness in the societies of the nations surrounding Israel.
Compare also Soros and his beneficiaries' attacking AIPAC for its influence, characterizing it as somehow illegitimate and in need of dismantling, to their remaining essentially silent regarding groups that advance not only anti-Israel but anti-Semitic agendas. For example, Qatari and Saudi-financed groups do so through influential Washington lobbying and through payments to universities to shape curricula against Israel and its Jewish supporters. Those efforts and agendas do not arouse Soros's ire. On the contrary, he has at times joined forces with, for instance, pro-Iranian voices in America, obviously not put off by the Iranian regime's genocidal anti-Semitism.
Also noteworthy is Soros's support for the United Nations and the European Union as projects commensurate with his transnational, globalist agenda. He is apparently indifferent to the anti-democratic biases of both institutions and the support given by both to censorship in various forms, even though both predilections stand, again, in obvious violation of the principles touted by him and his Open Society. He is likewise indifferent to the bias against Israel and outright anti-Semitism that is a pervasive feature of many UN bodies, including the General Assembly, and to the burgeoning anti-Semitism and anti-Israel bias that are a staple of the machinations of the EU.
Support for far Left positions in the U.S. that would seem to undermine America, such as open borders, is related to Soros seeing U.S. power – economic, military and diplomatic – as the biggest obstacle to his apotheosis of globalism. The U.S. is unique in the role it plays as a counter to the globalist agenda. Hostility to Israel, as voiced in statements like those noted in the opening paragraphs, is allegedly related to the fact that it is a nation state that does not want to lose its independence to international entities; but it is hardly unique in that regard. Many of the world's nations would likewise resist doing so. Why is it particularly the one Jewish state vis-a-vis which he devotes so many resources to aid those who seek its dissolution? The answer is, again, that his globalism derives largely from his eagerness to escape the handicaps of a Jewish identity, and so it is particularly from the Jews and the Jewish state that he seeks to distance himself, even to the point of supporting those who wish to obliterate it.
In the 2007 New York Review of Books article, Soros declared that, "I am not a Zionist, nor am I a practicing Jew, but I have a great deal of sympathy for my fellow Jews and a deep concern for the survival of Israel." Yet his actions – his failure to offer any actual support for the one Jewish state (as the interviewer in the 1995 New Yorker piece, Connie Bruck, noted, "Soros has chosen to exclude Israel and Jewish causes, by and large, from his massive philanthropy…") even as he devotes huge amounts to support many other nations and provides substantial resources to groups that oppose Israel's existence – give the lie to his assertions of sympathy and concern.
Let us consider the myriad forms that his anti-Israel actions take:
1) Soros's Open Society Foundation has provided funding to Palestinian groups linked to terror organizations and dedicated to Israel's destruction, including Al-Haq and the Palestinian Center for Human Rights (PCHR).
2) OSF has supported Israeli organizations that promote policies inimical to Israel's survival and well-being including support for the Boycott, Divestment and Sanction (BDS) movement against Israel, whose founders' stated goal is Israel's dissolution. Among Israeli groups that have received OSF funds and that have voiced backing for BDS are B'Tselem, Breaking the Silence, Adalah, Gisha and Yesh Din.
3) OSF has funded American organizations, such as the American Friends Service Committee and the Center for Constitutional Rights, that promote anti-Israel boycotts and other measures aimed at undermining Israel. It has also supported various branches of the Council on American-Islamic Relations, named as an unindicted co-conspirator in the federal government's case against the Holyland Foundation for being a front group raising funds in America for Hamas. Soros has supported MoveOn (formerly MoveOn.org), which describes itself as a "progressive public policy advocacy group" and which aggressively backs anti-Israel political figures, including advocates of the BDS movement against Israel. In 2019, the group campaigned effectively to stop Democrat presidential candidates from attending the year's annual AIPAC conference. Recently, Soros joined with conservative financier Charles Koch in funding the Quincy Institute for Responsible Statecraft, whose associates have included a number of people notorious for blaming American Jews and Israel for what is supposedly wrong with American statecraft. Soros is not given to making common cause with conservatives, but is apparently more than willing to do so when the cause entails attacks on fellow Jews and the Jewish state.
4) OSF funding is also given to American Jewish organizations of the far Left which likewise promote anti-Israel agendas:
OSF has helped finance the New Israel Fund, which in turn provides financial resources to some of the same Israeli organizations named above as supporting BDS and as receiving grants directly from OSF.
Soros has also contributed substantial funds to J Street, which characterizes itself as pro-Israel and pro-peace but continually takes stances hostile to Israel and its well-being. (J Street long denied being a recipient of Soros money, as Soros is known for his hostility to Israel and the organization did not want revelation of his support to undercut its presenting itself as "pro-Israel." But Soros's financial backing of J Street – with his seemingly perceiving it as a tool for undermining genuine pro-Israel sentiment in the American Jewish community, in the halls of Congress and with the public at large – was ultimately revealed.)
J Street's stances inimical to Israel closely align with those espoused by Soros. It has positioned itself as an alternative to AIPAC, priding itself on being opposed to AIPAC's general backing of Israeli policies. It has drawn moral equivalences between Israel and Hamas, often lent greater support to the latter in Israel-Hamas confrontations, and largely ignored the group's genocidal anti-Jewish agenda. It has urged U.S. sanctions against Israel for the presence of Israeli communities beyond the pre-1967 armistice lines and has essentially rejected the claim by the authors of UN Security Council Resolution 242 (the key, unanimously passed, UN document relating to the territorial issue) that those lines left Israel too vulnerable, invited further aggression against the country and should be replaced by new, "secure and recognized" boundaries. It has endorsed elements of the BDS movement. It has received support from and, like Soros, cooperated with backers of the Iranian theocracy, including in promoting the passage of the 2015 agreement with Iran that legitimized that nation's nuclear program and released to the mullahs over $100 billion in embargoed funds in exchange for limited curtailment of its pursuit of operable nuclear weapons. It has done so even as Iran has consistently reasserted its goal of annihilating Israel and consistently used its resources to arm and finance terrorist proxies, such as Hezbollah, that target Israel.
5) Soros and organizations he finances have funded vehemently anti-Israel and anti-Semitic members of Congress, such as Ilhan Omar and Rashid Tlaib. Soros's son Alexander founded, and Soros money has supported, the "progressive" Jewish group Bend the Arc: Jewish Action, which has defended Omar and Tlaib against criticism for their statements attacking Jews and calling for Israel's dismantling. The two Congresswomen have in turn repeatedly cited Bend the Arc's backing to counter criticism of their anti-Israel and anti-Jewish rhetoric. Bend the Arc and other Soros-funded groups have also supported the Jew-baiting Farrakhan acolyte Linda Sarsour. Recipients of Soros funding created "Jews for Linda" to promote and defend Sarsour. Sarsour was one of three women who left the leadership of the Women's March after being exposed for their links to Farrakhan and their anti-Semitic sentiments. But concomitant additions to the Women's March board included anti-Semites and defenders of anti-Semites as well, among them people likewise financially supported by Soros. One new member was Ginna Green, "chief strategy officer" for Bend the Arc. Another, Zahra Billoo, notorious for her anti-Semitic and anti-Israel tweets, has been executive director of the Council on American-Islamic Relations San Francisco Bay office (CAIR-SFBA), one of the regional CAIR offices that were Soros beneficiaries.
6) Soros money has funded Black Lives Matter  and its anti-police and anti-Israel campaigns, the latter parroting Palestinian, Islamist, and the anti-Semitic Left's invoking of "genocidal" and "apartheid" smears against the Jewish state. Black Lives Matter has also interwoven its animus against police with that against Israel. Since the terror attacks on the World Trade Center and the Pentagon, American law enforcement groups at all levels – federal, state and local – as well as front-line medical personnel have traveled to Israel, or have invited Israeli experts to lead seminars in the U.S., to learn from Israel's long, painful experience in dealing with terrorism. Participants in such exchanges have talked virtually unanimously of their great value in helping address terror threats here. But Black Lives Matter has lobbied for an end to these programs. According to the group, such programs are actually designed to teach American police alleged Israeli techniques for targeting Palestinians so that American police can apply the same techniques to targeting Blacks. There seems to be no canard against Israel whose purveyors Soros is unwilling to finance.
7) Soros and his OSF have supported anti-Israel groups in Europe. These include the European Council on Foreign Relations (ECFR), EuroMed Rights, European Middle East Project (EuMEP), and the Ligue des droits de l'Hommes (LDH).
8) Not content to disseminate their anti-Israel and anti-Jewish messages through the myriad means of domestic and international NGO's, other organizations, media outlets, politicians and other public figures, Soros and OSF are also taking those messages into the schools. An episode that garnered some media coverage this past winter involved Open Society Foundations employee Kayum Ahmed going to the Fieldston School, an elite private school in New York City, to present a talk on apartheid to some 500 high school students. While there, Ahmed found an opportunity to draw a parallel between the Holocaust and Israeli treatment of Palestinians.
The examples cited above are an attempt to illustrate something of the breadth of Soros's anti-Israel efforts. But the examples hardly capture the manifold instances of those efforts: the list of Palestinian, Israeli, American and European NGO's, other organizations and individuals – politicians and others – funded to advance the anti-Israel, and anti-Jewish, agenda; and the virtually endless list of undertakings through which they do so.
Given Soros's animus towards Israel and most of his fellow Jews, perhaps most cynical of all is his and his beneficiaries and allies,' including his son's, efforts to delegitimize and shut down criticism of Soros's political agenda and tactics by tarring those efforts as anti-Semitic (which is, of course, additionally cynical in its violation of the free exchange of ideas which is supposedly a key principle of his Open Society). There have no doubt been attempts by some on the far Right and in the Muslim world to attack Soros for his Jewish origins. But more notable, especially in America, have been campaigns to silence those who criticize Soros's use of his wealth in support of far Left causes by accusing such critics of enlisting anti-Semitic tropes simply because they note his wealth and the wide net of his political agenda and the resources dedicated to it, and the secretive, behind the scenes nature of many of his projects. (A very good discussion of this topic and of several of the related issues considered below, including citation of key illustrative material some of which is drawn upon in the present work, is Dan Feinreich, "Criticizing George Soros is not anti-Semitic.")
Adding to the cynicism is that Soros himself employs the same language that, when directed against him, he and his associates characterize as anti-Semitic. Consider, for example, his demonization of AIPAC as having and using the power to silence dissent in America.  The claim can be seen as no less an anti-Semitic trope about Jewish power and control as anything said or written, and subsequently attacked as anti-Semitic, by mainstream figures criticizing Soros's political activities.
In a similar vein, groups generally supportive of Soros and his activities employ anti-Semitic tropes to attack Jews who are prominent financiers of right-of-center candidates and causes; people such as Sheldon Adelson. And, of course, it would be difficult to find anyone associated with Soros criticizing the invoking of anti-Semitic tropes and memes when they are directed at people with whom he disagrees.
The comparison with coverage of Adelson, likewise discussed by Feinreich in the article noted above,  also illustrates how much the media enable Soros in his cynical use of accusations of anti-Semitism to silence criticism. They parrot his complaints in this vein even as they themselves use anti-Semitic tropes to attack Adelson.
Among the many examples of such attacks, a number of which are cited by Feinreich, are The Huffington Post's 2015 headline, "Tonight's GOP Debate: Sheldon Adelson's Malignant Tentacles," and the op-ed under the headline. Author Richard North Patterson asserts in the piece that "…Adelson means not only to pick the party's nominee, but to dictate his thoughts." And: "More than anyone else, it is Adelson – not voters, candidates, or experts on the Middle East – who dictates what Republicans dare to think and say about our relationship to Israel, the Palestinians on the West Bank, and the complex government of Iran." And, "To Adelson's God, Israel's solution to the Palestinians is biblically ordained: annexation of the West Bank and subjugation of its peoples." And, "…he's 'the richest Jew in the world' and, as such, determined to bend the world to his views." It is not hard to imagine the charges of anti-Semitism that comparable statements about Soros would elicit from him and his circle and the media outlets that support his activities. But such attacks on Adelson apparently fail to merit such a response.
One can cite similar statements about Adelson from, for example, The New York Times. Times columnist Thomas Friedman, for whom attacking Adelson, and Israel, is something of a personal obsession, wrote in 2015, under the title "Is it Sheldon Adelson's World?"  "…it is troubling that one man, with a willingness and ability to give away great sums, can now tilt Israeli and American politics his way at the same time." And in a 2014 column: "Adelson personifies everything that is poisoning our democracy…" In a more generic invoking of an anti-Semitic trope, Friedman in a 2011 column explained that the standing ovation Benjamin Netanyahu had recently received in Congress was not a reflection of agreement with his views but rather "was bought and paid for by the Israel lobby."
While apparently having no problem with the use in its pages of anti-Semitic tropes directed against Adelson or "the Israel lobby," the Times has run a number of news articles and op-eds on Soros as a victim of anti-Semitism. A Times op-ed by Soros's son Alexander in October, 2018, asserts that his father's liberal philanthropic exertions have exposed him to "the poison of anti-Semitism." He characterizes anti-Semitism in America as coming exclusively from the Right, "white supremacists and nationalists," regurgitates the absurd but often heard association of the anti-Semitic Right with President Trump, and says nothing of the much more mainstreamed anti-Semitism emanating from the Left, including from groups and individuals supported by him and his father.
The Times has for much of the last century ignored anti-Semitism and has written of it recently only in the service of some political objective, as in its promotion of politics of Soros's variety. And Soros, again, is no less cynical in his invoking of anti-Semitism, doing so to silence critics even as he deploys it to advance his own agenda.
And, once more, central to that agenda is his hostility to Israel. His jaundiced attitude towards other Jews is not as monochromatic as his anti-Zionism. As indicated in the list of anti-Israel organizations and individuals he supports, there are Jews and Jewish groups among them, the major test being that they share, and act upon, his anti-Israel animus. There is little such nuance, however, in that animus.
It is not hard to comprehend why some Jews would be eager to distance themselves from an identity that has been and continues to be so vilified and that not long ago marked its holders for slaughter on an unprecedented scale. Each individual is free to choose his or her communal affiliations, or at least such freedom ought to be an element of any truly open society. But to move from disassociating oneself from the Jewish quest for national self-determination and its realization in Israel to supporting those who would undermine and ultimately annihilate the Jewish state, and to do so while claiming a higher purpose, to take the path that Soros has forged for himself, is not a course that would be chosen by any truly moral human being but rather the mark of a moral cripple.
Kenneth Levin is a psychiatrist and historian and author of The Oslo Syndrome: Delusions of a People under Siege.
13. 
Hagia Sophia: Muslim Forgery vs Documented History
No, the ancient church was not "purchased" by Muslims, nor were its congregants "assured" of fair treatment.
Raymond Ibrahim is a Shillman Fellow at the David Horowitz Freedom Center.
Millions of Orthodox and other Christians around the world were either shocked, angered, and/or saddened to learn recently that Turkey has just approved the transformation of the Hagia Sophia museum—which was originally built, and for a millennium functioned, as an Orthodox cathedral—into a mosque.
In a long speech rationalizing this decision, which he personally spearheaded, Turkish president Erdogan said the following:
The conquest of Istanbul [Constantinople] and the conversion of the Hagia Sophia [Greek for "Holy Wisdom"] into a mosque are among the most glorious chapters of Turkish history. On May 29, 1453, [Ottoman] Sultan Muhammad II entered the city after a long siege and headed directly to the Hagia Sophia. As the Byzantines awaited their fate, fearful and curious, inside the Hagia Sophia, Muhammad entered the Hagia Sophia, giving assurances to the people regarding their lives and freedoms…  [He then] recited the first adhan [call to prayer].  Thus he registered his conquest.  Then, in a corner of the Hagia Sophia, he performed two prostrations out of gratitude.  With this move he demonstrated that he had transformed the Hagia Sophia into a mosque….  The domes and walls of this great place of worship have resonated with prayers and takbirs [shouts of "Allahu Akbar"] for 481 years since then [until becoming a museum in 1934].
Such a pious recounting is only slightly less hagiographical than the position of leading Turkish historians, such as Professor Selim Akdogan.  Recently on Al Jazeera he insisted that Sultan Muhammad had actually "purchased" the Hagia Sophia from its conquered Christian worshippers.
Are these rosy renderings accurate? Fortunately, we need not rely on Turkic propaganda; we have primary source documents describing exactly what the Turks and Sultan Muhammad did after conquering Constantinople and its Hagia Sophia in 1453.  (All quotes in the following narrative were derived from contemporary sources, mostly eyewitnesses, as documented in chapter 7 of Sword and Scimitar.)
Once inside the city on May 29, 1453, the "enraged Turkish soldiers . . . gave no quarter":
When they had massacred and there was no longer any resistance, they were intent on pillage and roamed through the town stealing, disrobing, pillaging, killing, raping, taking captive men, women, children, old men, young men, monks, priests, people of all sorts and conditions…  There were virgins who awoke from troubled sleep to find those brigands standing over them with bloody hands and faces full of abject fury…  [The Turks] dragged them, tore them, forced them, dishonored them, raped them at the cross-roads and made them submit to the most terrible outrages… Tender children were brutally snatched from their mothers' breasts and girls were pitilessly given up to strange and horrible unions, and a thousand other terrible things happened. . .
Because thousands of citizens had fled to and were holed up in Hagia Sophia, the ancient basilica offered an excellent harvest of slaves, once its doors were axed down.  "One Turk would look for the captive who seemed the wealthiest, a second would prefer a pretty face among the nuns. . . . Each rapacious Turk was eager to lead his captive to a safe place, and then return to secure a second and a third prize. . . . Then long chains of captives could be seen leaving the church and its shrines, being herded along like cattle or flocks of sheep."
The slavers sometimes fought each other to the death over "any well-formed girl," even as many of the latter "preferred to cast themselves into the wells and drown rather than fall into the hands of the Turks."
Having taken possession of the Hagia Sophia, one of Christendom's greatest and oldest churches—nearly a thousand years old at the time of its capture—the invaders "engaged in every kind of vileness within it, making of it a public brothel." On "its holy altars" they enacted "perversions with our women, virgins, and children," including "the Grand Duke's daughter who was quite beautiful." She was forced to "lie on the great altar of Hagia Sophia with a crucifix under her head and then raped."
Next "they paraded the [Hagia Sophia's main] Crucifix in mocking procession through their camp, beating drums before it, crucifying the Christ again with spitting and blasphemies and curses. They placed a Turkish cap . . . upon His head, and jeeringly cried, 'Behold the god of the Christians!'"
Practically all other churches in the ancient city suffered the same fate. "The crosses which had been placed on the roofs or the walls of churches were torn down and trampled." The Eucharist was hurled to the ground; holy icons were stripped of gold, "thrown to the ground and kicked." Bibles were stripped of their gold or silver illuminations before being burned. "Icons were without exception given to the flames." Patriarchal vestments were placed on the haunches of dogs; priestly garments were placed on horses.
"Everywhere there was misfortune, everyone was touched by pain" when Sultan Muhammad finally made his grand entry into the city. "There were lamentations and weeping in every house, screaming in the crossroads, and sorrow in all churches; the groaning of grown men and the shrieking of women accompanied looting, enslavement, separation, and rape."
The sultan rode to Hagia Sophia, dismounted, and went in, "marveling at the sight" of the grand basilica. After having it cleansed of its crosses, statues, and icons—Muhammad himself knocked over and trampled on its main altar—he ordered a muezzin to ascend the pulpit and sound "their detestable prayers. Then this son of iniquity, this forerunner of Antichrist, mounted upon the Holy Table to utter forth his own prayers," thereby "turning the Great Church into a heathen shrine for his god and his Mahomet."
To cap off his triumph, Muhammad had the "wretched citizens of Constantinople" dragged before his men during evening festivities and "ordered many of them to be hacked to pieces, for the sake of entertainment." The rest of the city's population—as many as forty-five thousand—were hauled off in chains to be sold as slaves.
So much for Erdogan's claim that Sultan Muhammad had given "assurances to the people regarding their lives and freedoms," or that the Hagia Sophia was fairly "purchased."
At any rate, this is the history that millions of Turks extol.  In the aforementioned words of Erdogan, their president: "The conquest of Istanbul and the conversion of the Hagia Sophia into a mosque are among the most glorious chapters of Turkish history."
If conquest, mindboggling atrocities and rapes, and the desecration of churches—all committed in the name of jihad—are "the most glorious chapters of Turkish history," one wonders what Turkey's future plans for glory look like?
Note: The quotes in the above narrative were taken from and are sourced in the author's book, Sword and Scimitar: Fourteen Centuries of War between Islam and the West.
* * *
14.
Open Borders Biden
President Trump calls out Biden's betrayal of American workers.
Daniel Greenfield is a Shillman Journalism Fellow exploring the influence of the radical Left on America.
"There's probably never been a time when candidates are so different. We want law and order. They don't want law and order. We want strong, closed borders with people able to come in through merit, through a legal process. They don't want to have any borders at all. They're going to rip down the wall," President Trump declared.
Trump called out Biden's immigration extremism in the Rose Garden. Earlier, task forces from the Biden and Sanders campaign had released the Biden-Sanders unity policy recommendations.
The co-chair of the immigration task force, Marielena Hincapie, is the executive director of the National Immigration Law Center which is funded, by among others, George Soros. Other members of the task force included Marisa Franco, who had called for "dismantling ICE", and Javier Valdes, the executive director of Make the Road which supports abolishing ICE and letting illegal aliens vote in state elections.
Make the Road was part of an anti-Trump coalition funded by Soros.
The Biden campaign had outsourced its policymaking to a radical Hungarian billionaire with a passion for open borders. The attack on our immigration system that President Trump called out was the result.
"And these are actual key elements of the Biden Sanders unity platform," President Trump said.
Open Borders
"Well, basically, as you know, what they're going to do is they're going to rip down the wall. They're taking it down. They want to take down the wall," President Trump warned in the Rose Garden.
The Biden-Sanders task force proposal actually goes beyond that, promising that Democrats will "rescind President Trump's fabricated 'National Emergency'" and end the wall. The proposal claims that the wall, which was meant to stop the huge influx of migrants, is "unnecessary". It's unnecessary because Biden and most Democrats don't believe that America should have borders or immigration restrictions.
 The Democrats want to go back to the days when Biden last held office and the function of the border patrol was to hand out snacks to illegal migrants and help them enter America.
Catch and Release
The Biden-Sanders plan calls for "community-based alternatives to detention."
As President Trump succinctly put it, "abolish immigration detention, no more detention. You come in here illegally, no more detention."
There's no border enforcement without detention. Just as there's no criminal justice system without detaining criminals. Once illegal migrants are released, few of them ever show up for a hearing. Why would they? Their whole goal is to enter the country and work here illegally. Few of their claims of persecution would stand up at a hearing and they know it.
"Catch and release is gone. So many different things have taken place. We used to catch them, take their name, and release them into our country. We don't do that anymore. We now release them back where they came from. Sometimes we'll bring them back to their country," President Trump said.
Catch and release has been tried for decades. And it's failed.
America's huge illegal alien population is partly due to catch and release policies. Catch and release policies are why massive illegal alien caravans have headed for our border, knowing that they will be released, instead of detained. Biden would like to bring back the worst catch and release days of the Obama administration and his call for community detention is just catch and release by another name.
Mass Illegal Alien Amnesty
"Grant mass amnesty. Everybody gets amnesty, mass amnesty. Think of that. And this has created a roadmap to citizenship for massive, massive numbers," President Trump warned.
"Democrats believe it is long past time to provide a roadmap to citizenship for the millions of undocumented workers," the Biden-Sanders proposal demands.
How many millions is that? The Biden-Sanders task force carefully doesn't clarify.
But, as the country staggers under the weight of mass unemployment, mass amnesty is a monumental betrayal of American workers, cutting off their dreams, and denying them any hope of a job.
But Biden doesn't care because what the Democrats really want are illegal alien votes. And if millions of Americans lose their jobs and their homes, that's a small price to pay for millions of illegal alien votes.
Jihadis Welcome
"We will immediately terminate the Trump Administration's discriminatory travel and immigration bans that disproportionately impact Muslim and African people," the Biden-Sanders task force vows.
"End all travel bans including from Jihadist regions," President Trump warned against such a foolish and destructive policy. "We have a very strong travel ban, and we don't want people that are going to come in and blow up our cities."
The Democrats not only want them, but the Biden-Sanders task force promises to invite any potential terrorists whose visas were denied because of the travel ban to "re-apply to come to the United States."
The Islamic terrorist attacks of tomorrow will be brought to you by Biden's terror amnesty.
If Your Country Has a Crime Problem, Apply for Refugee Status
The refugee system was created for people fleeing oppression, not bad neighborhoods. But the Biden-Sanders task force promises to go back to the broken policy of allowing asylum requests by people complaining about gang violence. The so-called "victims" of gang violence are often involved in it and allowing them to apply for asylum has helped boost the gang violence problem in America.
And gang violence is the main cause of gun violence in America.
Mass immigration from gang countries, like El Salvador, just like mass migration from Jihadist countries, like Syria and Iraq, brings gang violence to America. The Democrats claim that they want to end gun violence by banning guns. That didn't work in Europe and it won't work here. The best way to stop gun violence is to cut off the flow of new gang members to America by ending open borders asylum.
Instead, Biden is telling Americans that if they like their MS-13 beheadings, they can keep them.
Free Health Care for Illegal Aliens
"They want government healthcare for all illegal aliens. This is part of their plan. I'm not making this up. This is all down in their plan from last week," President Trump said.
And, indeed, the Biden-Sanders plan calls for expanding ObamaCare to DACA illegal aliens and rushing new immigrants into Medicaid without a waiting period.
"Sign new immigrants up for welfare immediately. This is Joe Biden. So they walk off and they come in and they put a foot into our land, and we sign up new immigrants up for welfare. We sign them up immediately. They get welfare benefits. United States citizens. Don't get what they're looking to give illegal immigrants. Think of that," President Trump expressed his frustration. "Sign up. It's hard to believe I'm even reading that, new immigrants for welfare immediately. Not to mention the cost of this which is incalculable. The cost of this is so crazy."
The Biden-Sanders plan claims that illegal aliens need free health care because of the Wuhan Virus.
But, as President Trump points out, Democrat support for open borders is what really spread the virus.
"The wall was so timely because it stopped people coming in from heavily infected areas of Mexico. If we had that, we would be in trouble like you wouldn't believe," President Trump said.
Come to America, Get on Welfare
"End requirement for immigrant self-sufficiency and maximize their welfare. Now, this is us writing this. Who's not coming to the United States? Every person from South America is going to pour in," President Trump fumed.
The Biden-Sanders plan not only wants quick Medicaid for immigrants, but promises to "immediately halt enforcement of and rescind the Trump Administration's un-American immigrant wealth test."
Determining whether new immigrants can support themselves, or whether they will become a burden on taxpayers, is not a wealth test and it's not un-American.
It's how America's immigration system was always meant to work.
The Biden-Sanders plan will force the citizens of a country already struggling with the economic havoc of the pandemic lockdowns and the Black Lives Matter riots to shoulder the burden of welfare migrants.
"Every person from other countries, they're going to be pouring in. End requirement, think of that, for immigrant self-sufficiency and remember to maximize welfare. So we give it a maximum. Then we have massively expand immigration during a global pandemic, taking jobs from unemployed Americans," President Trump pointed out.
Are You an Illegal Alien? Welcome Back to America.
The Biden-Sanders plan really rolls out the red carpet for illegal aliens who had been banned from returning to America.
"The task force calls for eliminating "immigration barriers, such as the 3- and 10-year bars, and remove the 10-year waiting period for waivers to the permanent bars."
The 3- and 10-year bans are for illegal aliens who were living in the United States.
The Biden-Sanders plan would make it very easy for those illegal aliens to emigrate to the United States if they have family members already living here.
Chain Migration Puts American Taxpayers in Chains
"Vastly expand low-skilled immigration to the United States. So they want a lot of people come in with low skills," President Trump said.
As the president had already pointed out, quite a lot of American low-skilled workers had lost their jobs because of the pandemic lockdowns. Bringing in large numbers of low-skilled workers would cripple the American workforce.
Especially the African-American workforce.
But the Biden-Sanders plan doubles down on the Democrat commitment to chain migration, declaring that it will build immigration policy around "family unity".
Chain migration means lots of low-skilled and welfare immigrants flooding America.
Protecting Illegal Aliens and Their Employers From the Law
The Biden-Sanders plan calls for making every place illegal aliens work into a "sanctuary" workplace.
The task force promises to "end workplace and community raids".
The proposal would effectively end domestic immigration enforcement. As President Trump said, "abolish immigration enforcement against illegal workers. Think of that."
The victims of this policy will be the American workers and unemployed Americans who won't even have a shot because their jobs will be taken by illegal aliens who will be protected from workplace raids.
The plan sends employers of illegal aliens the message that Joe Biden has their back.
A Radical Attack on American Workers
As President Trump said, "This is Biden. Biden's gone radical left."
The Biden-Sanders open borders, amnesty, and welfare plan goes beyond Obama. It incorporates proposals from Soros grantees and Sanders allies that would end America as an independent nation.
These proposals would break the back of American workers and reduce much of the population to welfare status. They represent the worst attack on the American working class in history.
President Trump is now under attack for condemning the Biden-Sanders plan in the Rose Garden. Meanwhile the Democrats, who claim to care about workers, refuse to condemn Biden's descent into a radical extremism that puts illegal aliens first and American workers last.
15.
Secret Weapon:

Israel

Honors Top Cyber Spy Shrouded in Mystery
Agent only identified as 'A' is the recipient of the highest lifetime achievement award for defending the country, but all the details are classified.
By Yakir Benzion, United With Israel
Israel's top defense award was given recently to a Mossad agent described as "genius" who chose to work in secret behind the scenes for Israel's defense rather than take a lucrative job in high tech, Channel 12 reported.
But who is the secret agent who can only be identified as "A"?
An acquaintance who knows A says that "he is recognized in our intelligence community and by the Americans as a real phenomenon in the cyber field" who is grooming a generation of students under him.
They also say the 40-year-old father is a real character and a unique figure at the Mossad, Israel's equivalent of the CIA, who chose to work for the secret intelligence organization over a career in the private sector.
The decision to award the lifetime achievement award reads, among other things: "Contribution to state security while demonstrating extraordinary talent."
The Channel 12 report talked about the recent "very intrusive operation into the heart of a major enemy of Israel" whose secrecy as a counter-terrorism operation means that the release of any detail could compromise the country's security.
However, the contribution of the operation to Israel's defense was deemed "extraordinary" and "a unique contribution to Israel's security."
Only 40, A is receiving the award "for a long-standing contribution to national security and for initiating many technological solutions, while demonstrating exceptional talent, creativity, curiosity and daring."
Along with A, three outstanding projects are being recognized for the Israel Security Award that are different joint efforts involving the Mossad, the IDF, the Ministry of Defense, private defense contractors and the Shabak General Security Service – Israel's equivalent of the FBI.
No details of the three projects could be revealed, other than who were the participating agencies that revealed that one of the project had something to do with the Israel Air Force.
Defense Minister Benny Gantz called the winners to tell them of their achievement, saying he was proud of Israel's human capital that spans the different organizations.
Those organizations "prove time and time again that we have and will have no borders in the war on Israel's security," Gantz said. " Thanks to their talent, dedication and dedication to the task, the security of the citizens of Israel is guaranteed, and we possess groundbreaking capabilities – in every dimension, and everywhere."
16.
ΤΟ ΑΝΤΙΤΙΜΟ ΤΗΣ ΠΩΛΗΣΕΩΣ ΤΗΣ ΜΑΚΕΔΟΝΙΑΣ ΜΑΣ ΣΤΟΥΣ ΣΚΟΠΙΑΝΟΥΣ;
ΟΧΙ!
Ο "ΣΟΡΟΣ- ΤΣΙΠΡΑΣ" ΔΕΝ ΕΙΝΑΙ ΚΑΘΟΛΟΥ ΤΟΣΟ ΦΤΗΝΟΣ!..
-/-
ΤΕΛΙΚΑ Ο… "ΧΟΛΜΠΡΟΥΚ(Ο)ΠΑΓΚΑΛΟΣ" ΕΙΧΕ ΔΙΚΙΟ ΓΙΑ ΤΗΝ ΓΕΡΟΒΑΣΙΛΗ ή αλλιώς και… "ΤΑΝΙΑ ΕΛΗΝΑΙΟΥ"!..
Ο,ΤΙ ΑΚΡΙΒΩΣ ΣΑΣ ΛΕΓΑΜΕ ΚΑΙ ΓΡΑΦΑΜΕ ΑΠΟ ΤΟ 2015: ΔΙΑΒΑΣΤΕ ΤΟ ΑΜΕΣΩΣ ΑΠΟ ΚΑΤΩ ΚΑΙ ΚΑΝΤΕ ΤΟ "ENTER" ΣΤΟΝ ΕΓΚΕΦΑΛΟ ΣΑΣ:
"

ΣΟΡΟΣ-ΣΥΡΙΖΑ"="ΣΟΡΟΣ-ΣΥΜΜΟΡΙΑ

"

!

 
THE END
-/-