1Η ΕΝΗΜΕΡΩΣΗ ΓΙΑ ΤΟ 2019! "ΚΑΛΗ ΑΡΧΗ"!..
 "ΚΑΛΗ ΧΡΟΝΙΑ"
και
"ΚΑΛΗ ΑΡΧΗ",
Φίλοι Αναγνώστες!
"Πάμε δυνατά", για λίγο ακόμα!..
1.
Netanyahu Calls on US to Recognize Israeli Sovereignty over Golan Heights
Israeli Prime Minister Benjamin Netanyahu on Sunday called on the U.S to recognize Israeli sovereignty over the Golan Heights.
By: Associated Press and United with Israel Staff
During a meeting on Sunday between Israeli Prime Minister Benjamin Netanyahu and U.S. national security adviser John Bolton, the Israeli leader raised the issue of the United States' recognition of Israeli sovereignty over the Golan Heights.
During a joint press conference on Sunday, Netanyahu addressed Bolton, "When you're there, you'll be able to understand perfectly why we'll never leave the Golan Heights, and why it's important that all countries recognize Israel's sovereignty over the Golan Heights."
Israel captured the area after Syria and three other Arab nations attacked the Jewish state in 1967's Six Day War. Israel defeated all of the Arab and gained control of the Golan, in addition to all of Jerusalem, Judea and Samaria, the Gaza Strip, and the Sinai Peninsula.
Israel annexed the Golan Heights in 1981, but the international community has been reticent to recognize Israeli sovereignty in the strategically crucial territory.
Bolton arrived in Israel to reassure the American ally about the planned withdrawal of U.S. troops from Syria, which raises questions for Israel due to Iran's military entrenchment in Syria.
Netanyahu's plea was well received by at least two Republican congressmen, Senators Ted Cruz of Texas and Tom Cotton of Arkansas, who issued a statement in favor of Israeli sovereignty.
"Responding to the threat posed by Iran and its proxies requires ensuring that Israel can defend its territory and its citizens from attacks," Cruz and Cotton announced on Sunday. "To support Israel's right to self-defense, Washington should take the long overdue step of affirming Israeli sovereignty over the Golan Heights."
2. ΔΕΙΤΕ ΟΙ… "ΕΙΔΙΚΟΙ" ΣΤΗΝ "ΦΩΤΟ" ΤΟΥΣ ΚΟΜΑΝΤΟΣ ΚΑΙ ΣΚΕΦΤΕΙΤΕ ΚΑΠΟΙΑ ΠΡΑΓΜΑΤΑ!..
Netanyahu and the IDF's Commando Brigade troops. (Kobi Gideon/GPO)
Netanyahu to Commandos: IDF a 'Great Answer' to Anti-Semitism
By: United with Israel Staff
Prime Minister Benjamin Netanyahu, who also serves as Israel's defense minister, on Tuesday visited an IDF Commando Brigade exercise together with IDF Chief-of-Staff Lt.-Gen. Gadi Eisenkot and other senior officers.
Netanyahu was briefed by the Chief-of-Staff, GOC Commando Brigade Col. Kobi Heller and other senior officers.
The IDF's Commando Brigade launched a large-scale 10-day exercise this week in various parts of the country to practice simultaneous fighting against the Hamas terror group in the Gaza Strip and the Hezbollah terrorist organization in Lebanon.
The IDF stated that the purpose of the drill is to improve the Commando Brigade's preparedness for war.
Addressing the Special Forces, Netanyahu said that the great answer to anti-Semitism is the state of Israel and the IDF."
"Once we were like a driven leaf in the wind and we could be slaughtered. Today we have the power to respond," he declared.
Noting that the Jewish people were about to celebrate the holiday of Chanukah, which symbolizes Jewish bravery and heroism, Netanyahu said that "the spirit of the Maccabees is here – you are the Maccabees."
"We overcome our enemies with extraordinary strength and the extraordinary spirit that I see here; I see this in the IDF and in all our fighters. I am proud of you and believe in you, and the people of Israel believe in you. Continue to succeed. Watch over the state. Watch over yourselves and each other," he concluded.
Prime Minister Netanyahu observed the forces during the exercise and viewed a presentation on advanced weaponry.
Commando Brigade Commander Heller said his unit is "ready and prepared for any scenario in which it is needed and will stand up to any enemy in any arena."
3.
ΟΤΑΝ Κε ΑΡΧΗΓΕ ΚΑΠΟΙΟΙ ΑΠΟ ΤΟΥΣ "ΑΓΓΕΛΟΥΣ" ("ΣΤΡ-ΚΗ ΠΤΕΡΥΓΑ") ΕΛΕΓΑΝ ΕΔΩ, ΣΕ ΕΜΑΣ, (ΧΩΡΙΣ ΝΑ ΕΙΜΑΣΤΕ ΚΑΜΜΙΑ "ΜΟΣΑΝΤ"… ), ΓΙΑ ΤΟ ΚΑΤΑΡ ΚΑΙ ΤΟΝ ΒΡΩΜΙΚΟ ΡΟΛΟ ΤΟΥ, ΣΤΟΝ ΟΠΟΙΟΝ ΚΑΙ ΕΣΕΙΣ -ΓΙΑ ΤΗΝ… ΠΕΡΙΠΤΩΣΗ ΣΑΣ ΑΣΦΑΛΩΣ- ΑΝΑΦΕΡΘΗΚΑΤΕ, Η ΗΓΕΣΙΑ ΗΤΑΝ ΤΟΣΟ ΗΛΙΘΙΑ, ΠΟΥ ΤΟΥΣ ΕΣΤΕΛΝΕ ΣΤΑ ΕΛΛΗΝΙΚΑ ΣΤΡ-ΔΑ ΝΑ ΣΥΝΕΚΠΑΙΔΕΥΟΝΤΑΙ, ΚΛΠ, ΜΕ ΕΛΛΗΝΙΚΕΣ ΜΟΝΑΔΕΣ ΚΑΙ ΣΤΕΛΕΧΗ!.. (ΤΟ ΚΑΤΑΡ ΑΠΟ ΑΣΙΑ ΚΑΙ ΤΗΝ… ΧΙΛΗ ΑΠΟ Ν. ΑΜΕΡΙΚΗ, ΕΚΕΙΝΗ ΤΗΝ ΠΕΡΙΟΔΟ)!
ΟΦΕΙΛΩ ΝΑ ΣΑΣ ΣΥΓΧΑΡΩ ΚΑΙ ΝΑ ΣΑΣ ΑΠΟΚΑΛΕΣΩ "ΓΑΤΟΥΣ"!..
01-08-19
'
Without Qatari money, the Gaza explosion will come sooner

'
INN
 – Outgoing IDF Chief of Staff Gadi Eizenkot warned that Israel's 
decision
 to halt transfers of money from Qatar to the Hamas-ruled Gaza Strip would hasten a violent confrontation with the Hamas terrorist organization.
Speaking at a farewell meeting with the heads of the local councils in the Gaza periphery, Eizenkot said that Qatar's money transfers served to relieve tension inside Gaza and without it, "the explosion will come sooner." Eizenkot explained that this is not a "breakthrough," but rather a realization of Israel's interest in strengthening the economy in Gaza.
However, Eizenkot also told the council leaders that the chances of a new outbreak of violence along the Gaza border in the coming weeks are slim. "I hope that by the end of 2019 there will be nothing to complete the barrier."
"I understand the frustration, but you have to remember what happened before me and take into account that there are more fronts to deal with," Eizenkot said, noting that the situation in the Gaza Strip is difficult for those living there, but Gazans are not starving.
The chief of staff revealed that Israel had thwarted the smuggling of tens of thousands of rockets. "We thwarted the smuggling of 15-20,000 rockets. Hamas sees a great victory in the political moves that are taking place in Israel as a result of terrorism."
Gadi Yarkoni, head of the Eshkol Regional Council, said after the meeting that "Eizenkot accompanied the IDF's defensive activity on the communities surrounding the Gaza Strip in one of the most challenging periods we have known and developed with us, the heads of the councils. Under his command and on his insistent recommendation, the Israeli government adopted one of the most significant and egalitarian decisions in terms of the Gaza envelope communities – the barrier project against infiltrations and the threat of terror tunnels. "
4. Επειδή κάποιοι φίλοι μας επετίμησαν (κακώς βεβαίως) ότι δεν παρουσιάζουμε και την άλλη -μη Νετανιαχου-ϊκή πλευρά- !..
Netanyahu's Drama
Prime Minister Benjamin Netanyahu promised a dramatic announcement on Monday night. Like many politicians, he did not feel the need to keep it. The good public was waiting, the media was speculating, rumors were spreading. At some point, he needed to cool it down. No — he is not going anywhere. No —he does not give up. What he wants is justice — his version of it. His dramatic demand was to confront the state witnesses involved in the legal cases against him, and debate them before the legal authorities, or the public, or whomever.
Netanyahu seems to know that his legal troubles are nearing a climax. He seems to understand that the Attorney General is about to call for indictment, pending a hearing. Netanyahu argues that informing the public about a possible indictment before the election — when the hearing can only take place after the election —  would be unfair to him. Netanyahu's supporters think he has a point. Netanyahu's opponents agree that this is no more than a delay tactic.
What Netanyahu did this evening was remarkable in one way only: It emphasized his ability to dominate the agenda without much effort. A tweet, a hint, a pause, and at eight o'clock the whole country must listen.
Does it help him? That's the wrong question. The right one is: How does it help him? To which the answer is: Netanyahu wants to rally his base of voters, and doesn't much care what other TV viewers think about his appearance. If they call his drama a disappointment, he will say all they want is to see him stand trial. If they say his rush to alarm the public was pathetic, he will say that they treat him unfairly.
This is about winning an election. It is about solidifying a base. Netanyahu believes that for him to win an election is also the best way for him to win his legal case.
5. 
6. ΑΞΙΖΕΙ! ΔΙΑΒΑΣΤΕ ΤΟ!
Bolton's Turkey Visit Ends in Acrimony Over Syria Withdrawal
By Dorian Jones January 08, 2019
U.S. National Security Advisor John Bolton ended a visit to Turkey in acrimony Tuesday with President Recep Tayyip Erdogan refusing to meet him. Erdogan dismissed Bolton's calls for the protection of the YPG Syrian Kurdish militia as a precondition to a U.S. troop withdrawal from Syria.
"Bolton has made a serious mistake and whoever thinks like this has also made a mistake. It is not possible for us to make compromises on this point," Erdogan said in an address in the Turkish parliament.
The YPG is a crucial ally in Washington's war against Islamic State, but Ankara considers it a terrorist group linked to an insurgency inside Turkey.
Erdogan also warned that preparations were complete for a military operation against the YPG.
"We will very soon mobilize to eliminate the terrorist organization in Syria," he said. "If there are other terrorists who would attempt to intervene in our intervention then it is our duty to eliminate them as well."
Turkish forces have been massing for weeks along the Syrian border. Observers said the threat of a Turkish operation against the YPG in northeastern Syria, where around 2,000 U.S. soldiers are deployed, was the reason for U.S. President Donald Trump's decision to withdraw from Syria.
Once Trump announced his intention, Erdogan said Turkey would delay any operation until all U.S. forces left.
Turkey's anger over preconditions announced by Bolton before a U.S. withdrawal, including security guarantees for the Kurdish militia, may have brought forward the timing of a strike against the YPG.
Erdogan sought to downplay his refusal to meet with Bolton, telling reporters it was not a deliberate snub. He maintained that Bolton's meeting with both the presidential spokesman and the defense minister was sufficient.
Turkish presidential spokesman Ibrahim Kalin, in speaking to reporters, tried to put a positive spin on his meeting with Bolton.
"A process of dialogue with U.S. military and officials would carry on," he said. "Syria should be cleansed from all terrorist organizations, no stepping back from the fight against Islamic State."
Dduring a two-hour meeting with Bolton, the U.S. Joint Chiefs of Staff Joseph Dunford and U.S. Syria envoy James Jeffrey, Kalin pressed for a commitment to recover all weapons handed to the YPG by American troops in its war against IS.
"They [Bolton, Kalin] had a productive discussion of the president's decision to withdraw at a proper pace from Northeast Syria," said a statement read by National Security Council spokesman Garrett Marquis. "The U.S. looks forward to the ongoing military-to-military consultations."
Containing the fallout
Despite apparent efforts by both sides to contain the diplomatic fallout, analysts suggest the U.S. position in the region has weakened since the withdrawal from Syria was announced.
"From a diplomatic point of view, it's a very difficult if not impossible position," said former senior Turkish diplomat Aydin Selcen. "To negotiate by starting to say 'yes, we are leaving and then putting some strings attached on your withdrawal' or try to impose some conditions to your counterparts, be they your adversaries or your allies."
Despite the heightened rhetoric and the threat of imminent military action, analysts suggest Ankara will try to avoid a full-blown crisis with Washington.
"Turkey cannot do anything against America," said international relations professor Huseyin Bagci. "We had a crisis in recent months and Turkey got her lesson from this conflict."
Economic cost
Last year, the Turkish currency collapsed after Trump imposed sanctions over the detention in Turkey of American pastor Andrew Brunson, who has since been released. Although the sanctions lasted only a few weeks, Turkey's economy is now facing a recession. The lira fell sharply Tuesday on fears of renewed U.S.-Turkish tensions.
Turkish media are also reporting divisions within Turkey's military over the launching of a military operation into Syria in winter and before the full withdrawal of U.S. forces.
Selcen predicts Erdogan will now look to Trump to resolve the current tensions.
"We have to wait to see what Mr. Erdogan has to say with Mr. Trump," he said, "because he [Erdogan] himself managed to persuade Mr. Trump that the United States will be leaving Syria."
Bolton under fire
Turkish media are already blaming Bolton for the latest tensions, accusing him of going "rogue." Washington is also facing criticism in Turkey for sending conflicting messages on its Syria policy.
Analysts, however, suggest Turkey is banking on shared regional interests and the personal chemistry of Trump and Erdogan to prevent a new crisis.
"There will be a lot of crisis and trouble, but both sides will try to solve this according to their national interest without violating the interests of the other," said Bagci. "And I see there is the political readiness and political will to do this between President Trump and President Erdogan."
7. Μας έχεις πολύ κουράσει Κα Νάνσυ!.. Δεν έχετε πάρει ακόμα χαμπάρι ότι έχετε ξεφτιλιστεί όλοι εσείς οι "ΔΗΜΟΚΡΑΤΙΚΟΙ"; Τέτοιον πόλεμο, σαν αυτόν που κάνετε στον Τραμπ, όντας πειθήνια Όργανα της "ΠΑΓΚΟΣΜΙΟΠΟΙΗΣΗΣ", δεν έχει δεχθεί ποτέ ξανά Αμερικανός Πρόεδρος! Στο τέλος, θα τον κάνετε… Ήρωα!.. Θυμήσου το Κα Πελόσι! Α! Και οι Αμερικανοί, όπως ακούω, αρχίζουν σιγά -σιγά να σας… φτύνουν, όλους εσάς τους περίφημους… "προοδευτικούς" της… δόξας και της… τσέπης! 
President Donald J. Trump's Address to the Nation on the Crisis at the Border
January 8, 2019
Oval Office
9:01 P.M. EST
THE PRESIDENT: My fellow Americans: Tonight, I am speaking to you because there is a growing humanitarian and security crisis at our southern border.
Every day, Customs and Border Patrol agents encounter thousands of illegal immigrants trying to enter our country. We are out of space to hold them, and we have no way to promptly return them back home to their country.
America proudly welcomes millions of lawful immigrants who enrich our society and contribute to our nation. But all Americans are hurt by uncontrolled, illegal migration. It strains public resources and drives down jobs and wages. Among those hardest hit are African Americans and Hispanic Americans.
Our southern border is a pipeline for vast quantities of illegal drugs, including meth, heroin, cocaine, and fentanyl. Every week, 300 of our citizens are killed by heroin alone, 90 percent of which floods across from our southern border. More Americans will die from drugs this year than were killed in the entire Vietnam War.
In the last two years, ICE officers made 266,000 arrests of aliens with criminal records, including those charged or convicted of 100,000 assaults, 30,000 sex crimes, and 4,000 violent killings. Over the years, thousands of Americans have been brutally killed by those who illegally entered our country, and thousands more lives will be lost if we don't act right now.
This is a humanitarian crisis — a crisis of the heart and a crisis of the soul.
Last month, 20,000 migrant children were illegally brought into the United States — a dramatic increase. These children are used as human pawns by vicious coyotes and ruthless gangs. One in three women are sexually assaulted on the dangerous trek up through Mexico. Women and children are the biggest victims, by far, of our broken system.
This is the tragic reality of illegal immigration on our southern border. This is the cycle of human suffering that I am determined to end.
My administration has presented Congress with a detailed proposal to secure the border and stop the criminal gangs, drug smugglers, and human traffickers. It's a tremendous problem. Our proposal was developed by law enforcement professionals and border agents at the Department of Homeland Security. These are the resources they have requested to properly perform their mission and keep America safe. In fact, safer than ever before.
The proposal from Homeland Security includes cutting-edge technology for detecting drugs, weapons, illegal contraband, and many other things. We have requested more agents, immigration judges, and bed space to process the sharp rise in unlawful migration fueled by our very strong economy. Our plan also contains an urgent request for humanitarian assistance and medical support.
Furthermore, we have asked Congress to close border security loopholes so that illegal immigrant children can be safely and humanely returned back home.
Finally, as part of an overall approach to border security, law enforcement professionals have requested $5.7 billion for a physical barrier. At the request of Democrats, it will be a steel barrier rather than a concrete wall. This barrier is absolutely critical to border security. It's also what our professionals at the border want and need. This is just common sense.
The border wall would very quickly pay for itself. The cost of illegal drugs exceeds $500 billion a year — vastly more than the $5.7 billion we have requested from Congress. The wall will also be paid for, indirectly, by the great new trade deal we have made with Mexico.
Senator Chuck Schumer — who you will be hearing from later tonight — has repeatedly supported a physical barrier in the past, along with many other Democrats. They changed their mind only after I was elected President.
Democrats in Congress have refused to acknowledge the crisis. And they have refused to provide our brave border agents with the tools they desperately need to protect our families and our nation.
The federal government remains shut down for one reason and one reason only: because Democrats will not fund border security.
My administration is doing everything in our power to help those impacted by the situation. But the only solution is for Democrats to pass a spending bill that defends our borders and re-opens the government.
This situation could be solved in a 45-minute meeting. I have invited Congressional leadership to the White House tomorrow to get this done. Hopefully, we can rise above partisan politics in order to support national security.
Some have suggested a barrier is immoral. Then why do wealthy politicians build walls, fences, and gates around their homes? They don't build walls because they hate the people on the outside, but because they love the people on the inside. The only thing that is immoral is the politicians to do nothing and continue to allow more innocent people to be so horribly victimized.
America's heart broke the day after Christmas when a young police officer in California was savagely murdered in cold blood by an illegal alien, who just came across the border. The life of an American hero was stolen by someone who had no right to be in our country.
Day after day, precious lives are cut short by those who have violated our borders. In California, an Air Force veteran was raped, murdered, and beaten to death with a hammer by an illegal alien with a long criminal history. In Georgia, an illegal alien was recently charged with murder for killing, beheading, and dismembering his neighbor. In Maryland, MS-13 gang members who arrived in the United States as unaccompanied minors were arrested and charged last year after viciously stabbing and beating a 16-year-old girl.
Over the last several years, I've met with dozens of families whose loved ones were stolen by illegal immigration. I've held the hands of the weeping mothers and embraced the grief-stricken fathers. So sad. So terrible. I will never forget the pain in their eyes, the tremble in their voices, and the sadness gripping their souls.
How much more American blood must we shed before Congress does its job?
To those who refuse to compromise in the name of border security, I would ask: Imagine if it was your child, your husband, or your wife whose life was so cruelly shattered and totally broken?
To every member of Congress: Pass a bill that ends this crisis.
To every citizen: Call Congress and tell them to finally, after all of these decades, secure our border.
This is a choice between right and wrong, justice and injustice. This is about whether we fulfill our sacred duty to the American citizens we serve.
When I took the Oath of Office, I swore to protect our country. And that is what I will always do, so help me God.
Thank you and goodnight.
END 9:11 P.M. EST
8. ΠΡΟΤΕΙΝΕΤΑΙ!..
Shin Bet head Nadav Argaman warned of the high probability of foreign intervention in the upcoming elections.
A foreign country is trying to use cyber abilities to interfere in Israel's upcoming elections, Shin Bet director Nadav Argaman has warned.
Hadashot News initially reported on Tuesday night that Argaman had delivered the warning at a conference in Tel Aviv on Monday, but that the censor was blocking the content of his warning.
Read More Related Articles
However, later Tuesday night, the censor removed its ban and it was reported that Argaman said that he does not yet know the political purpose of the foreign country which is trying to interfere with Israeli elections, but that "it is trying to intervene – and I know what I am talking about."
Zionist Union MK Revital Swid responded to the news by stating that she had been one of the early public officials warning of cyber interference in elections and was concerned that more still needed to be done.
Earlier Tuesday, State Comptroller Joseph Shapira issued a warning that he would be reviewing how well election authorities protect their systems and relevant political parties from hacking or social media manipulation.
Generally, there are two primary threats of cyber interference in an election. One is hacking the actual election infrastructure to alter the vote count, which is rare and difficult to do. The second, which has become more common and which Russia did in the US, is manipulative, sophisticated social media campaigns promoting fake news stories and themes designed to support a favored candidate.
In the US, Russia tried to support US President Donald Trump's election, though there is no clear evidence that its influence was decisive in his election win.
Last year, IDF Chief-of-Staff Lt.-Gen. Gadi Eisenkot warned the Knesset Foreign Affairs and Defense Committee of potential future cyberattack election threats.
In recent interviews with The Jerusalem Post, both ex-Israeli cyber chief Buky Carmeli, and former government agent and Chief Technology Officer Amit Meltzer said that even as Russia and China may be using cyber to collect intelligence in Israel, it is doubtful either would provoke a crisis.
In contrast, Prime Minister Benjamin Netanyahu has named Iran, Hezbollah and Hamas in the past as all trying to hack various aspects of the country.
The Central Elections Committee does not fall under the jurisdiction of the National Cybersecurity Authority.
Various Knesset committees have held meetings to discuss cyberattacks and attempts to spread false information in order to influence the elections, the most recent of which was six weeks ago.
Last year, Knesset Science and Technology Committee chairman Uri Maklev (UTJ) warned in one of them: "We think the [Central Elections Committee] cannot defend itself alone. As much as it will try, it cannot reach the level of the Cyber Authority. Something must be done."
Meretz chairwoman Tamar Zandberg said in response to Argaman's remarks that: "We demand security forces make sure [Russian President Vladimir] Putin is not stealing the election for his friend, Bibi the dictator."
Hatenuah Chairman Yoel Hasson, member of the Central Elections Committee, wrote to Justice Meltzer, who is the sole authority in the laws of election propriety, saying, "There must be an urgent discussion in light of the fear of foreign intervention in the elections. I request an urgent discussion in light of media reports about the clear and worrisome statement by Shin Bet Director Nadav Argaman that a foreign country is planning to interfere in the elections in the State of Israel."
The Israel Security Agency responded to the report on Tuesday evening and published a statement clarifying that the State of Israel and the intelligence community have the tools and capabilities to locate, monitor and thwart attempts of foreign influence in Israeli elections, if they do exist. They added that the Israeli defense establishment is fully capable of allowing democratic and free elections in the State of Israel.

Lahav Harkov contributed to this story.
9.
Γιατί τα στρατιωτικά αεροσκάφη των ΗΠΑ πέφτουν ολοένα και περισσότερο (ΕΝΔΙΑΦΕΡΟΝ ΑΡΘΡΟ)
9 Ιανουαρίου 2019, 13:22
Φωτογραφία: John Wark / Reuters
Κείμενο: Μιχαήλ Μπολσάκοφ
   •
Ένα από τα βασικά στρατιωτικά αποτελέσματα του περασμένου έτους ήταν η εκρηκτική αύξηση του ποσοστού ατυχημάτων των αμερικανικών στρατιωτικών αεροσκαφών. Οι ατελείωτες στατιστικές δείχνουν ότι τα αεροσκάφη της Πολεμικής Αεροπορίας και το Πολεμικό Ναυτικό των Η.Π.Α. είναι όλο και περισσότερο ευεπήφορα σε ατυχήματα πτήσης, αλλά και στα ατυχήματα με ανθρώπινα θύματα. Γιατί συμβαίνει αυτό και ποιά συμπεράσματα θα μπορούσε να αντλήσει το ρωσικό υπουργείο Άμυνας από αυτό;
Ο περασμένος χρόνος ήταν ένας από τους πιο ανεπιτυχείς για το αμερικανικά στρατιωτικά αεροσκάφη. Ο συνολικός αριθμός ατυχημάτων στα αμερικανικά στρατιωτικά αεροσκάφη (συμπεριλαμβανομένου του στρατού, του ναυτικού, της ακτοφυλακής, της εθνικής φρουράς και της ίδιας της Πολεμικής Αεροπορίας) έσπασε και πάλι το ετήσιο ρεκόρ. Έτσι, παρά το γενικά χαμηλό επίπεδο των ατυχημάτων στην αμερικανική πολεμική αεροπορία είναι εξίσου προφανής, η συνεχής αύξηση των στρατιωτικών αεροπορικών ατυχημάτων.
Το πιο ανησυχητικό είναι η αύξηση του αριθμού των ελάσσονος σημασίας συμβάντων (κατηγορία C στην αμερικανική ταξινόμηση, χωρίς απώλειες και ζημιές μικρότερες από 500.000 δολάρια), γεγονός που καταδεικνύει κοινά βαθιά προβλήματα της στρατιωτικής αεροπορίας, σε ολόκληρο τον κόσμο.
Στατιστικά στοιχεία
Τα δεδομένα σχετικά με τα ατυχήματα και τις καταστροφές των στρατιωτικών αεροσκαφών των ΗΠΑ συλλέγονται στην επίσημη έκδοση Flightfax, οι εκδόσεις των οποίων είναι αφιερωμένες σε ζητήματα αεροπορικής ασφάλειας. Επιπλέον, διατηρούνται χωριστά αρχεία από τους κύριους "ιδιοκτήτες" στρατιωτικών αεροσκαφών – τον αμερικανικό στρατό, το ναυτικό, το Ακτοφυλακή των ΗΠΑ, την Εθνική Φρουρά των ΗΠΑ και, στην πραγματικότητα, από την Πολεμική Αεροπορία των ΗΠΑ.
Κάθε οργανισμός εκδίδει ταυτόχρονα τα δικά του δελτία που δείχνουν στατιστικά στοιχεία για συμβάντα που έχουν συμβεί. Ταυτόχρονα, συχνά αποδεικνύεται ότι τα δεδομένα Flightfax και των τμημάτων δημοσιεύσεων διαφέρουν ελαφρώς, τόσο λόγω της αντικειμενικής υστέρησης στη συλλογή στατιστικών από την πραγματική ζωή, όσο και λόγω της επιθυμίας των επιμέρους τμημάτων να «βελτιώσουν» τα ποσοστά ατυχημάτων με κάθε τρόπο.
Στατιστικά, τα ατυχήματα στις Ηνωμένες Πολιτείες καταμετρούνται σε τρεις κατηγορίες: Κατηγορία Α, καταστροφική απώλεια ζωής και ζημιές άνω των 2 εκατομμυρίων δολαρίων, τάξη Β, σοβαρό ατύχημα χωρίς απώλειες ζωής και ζημιές από $ 500.000 έως $ 2 εκατομμύρια και κατηγορία C – ζημιές από 50.000 έως 500.000 δολάρια.
Η αυξητική τάση του αριθμού των ελάσσονος σημασίας συμβάντων σημειώνεται σε όλες τις δημοσιεύσεις: Το 2013 ο συνολικός αριθμός ατυχημάτων όλων των κατηγοριών ανήλθε λίγο πάνω από 1000 περιπτώσεις. Μέχρι το 2017, ο αριθμός των ατυχημάτων αυξήθηκε σχεδόν κατά 25%, υπερβαίνοντας τις 1250 περιπτώσεις. Ένας επιπλέον ανησυχητικός παράγοντας ήταν ότι αυτή η αύξηση του απόλυτου αριθμού ατυχημάτων σημειώθηκε σε σχέση με τη μείωση του αριθμού των ωρών πτήσης. Το 2013 η συνολική σε ώρες αεροπορική επιδρομή αμερικανικών αεροσκαφών και ελικοπτέρων ήταν μεγαλύτερη από 2,1 εκατομμύρια ώρες, το 2017-2018 έπεσε σε 1,9 εκατομμύρια ώρες.
Έτσι, στην αμερικανική αεροπορία δεν υπήρξε μόνο μια απόλυτη αύξηση του αριθμού των ατυχημάτων, αλλά και μια εκρηκτική αύξηση του ποσοστού των σχετικών ατυχημάτων.
Εάν το 2013 ο αριθμός των ατυχημάτων κατηγορίας Α ήταν 0,72 για κάθε 100.000 ώρες πτήσης, μέχρι το 2017 ο αριθμός αυτός είχε ανέλθει σε 1,52. Ορισμένες από τις δημοσιεύσεις του τμήματος δείχνουν μια ακόμη πιο θλιβερή εικόνα. Για παράδειγμα, το "Αμερικανικό Κέντρο Πυρός – Ασφάλειας" υποστηρίζει ότι το 2017-2018 ο αριθμός των ατυχημάτων κατηγορίας Α στη στρατιωτική αεροπορία ήταν σταθερά στο φάσμα των 3.2-3.4 περιπτώσεων, για κάθε 100.000 πτήσεις ώρες
Νέα τεχνολογία και ελάχιστη υποστήριξη
Σύμφωνα με τους ειδικούς, ο πρώτος λόγος για την αύξηση των ποσοστών ατυχημάτων ήταν η μαζική μετάβαση όλων των στρατιωτικών τμημάτων των ΗΠΑ σε νέο εξοπλισμό. ………….
Συγκεκριμένα, για τον αμερικανικό στρατό και την εθνική φρουρά, η αντικατάσταση του μαζικού ελικοπτέρου OH-58 "Kiowa", με ένα πιο σύγχρονο, το AN-64 "Apache" μετατράπηκε σε ομοιόμορφο εφιάλτη: Όλοι οι έμπειροι, πετούν χιλιάδες ώρες, ενώ οι πιλότοι του "Kiow" δεν κατάφεραν να μάθουν καλά / πλήρως τα νέα "Apaches".
Το γεγονός αυτό περιπλέκεται περαιτέρω, από το γεγονός ότι τα ανώτερα στρατιωτικά εκπαιδευτικά ιδρύματα των Ηνωμένων Πολιτειών σήμερα δεν παράγουν επίσης εκπαιδευτές για την εκπαίδευση στο Apache. Ακριβώς την ίδια στιγμή, η "Fort Rucker", η κύρια αεροπορική  "εταιρεία"του αμερικανικού στρατού, μείωσε τα μαθήματα των εκπαιδευτών, για την απελευθέρωση δεύτερων πιλότων, για το νέο στόλο "Apache". Αυτό επηρέασε άμεσα τα ατυχήματα στα "Apache"! Έτσι σημειώθηκε ένας αριθμός "ρεκόρ" ατυχημάτων κατά τα τελευταία επτά χρόνια, σε σύγκριση με άλλα είδη ελικοπτέρων.
Σε μια τέτοια κατάσταση, αποδείχθηκε ότι ο μέσος εργαζόμενος στο έδαφος μπορεί να αφιερώνει όχι περισσότερο από 200 μέρες το χρόνο στη συντήρηση και επισκευή ενός στρατιωτικού αεροσκάφους ή ελικοπτέρου – και οι υπόλοιπες μέρες ουσιαστικά "πέφτουν" από το πρόγραμμά του για αντικειμενικούς λόγους. Ωστόσο, τις ίδιες μέρες δεν πέφτουν καθόλου από το πρόγραμμα μάχης, με αποτέλεσμα η μονάδα πτήσης να βρίσκεται συχνά στον αέρα χωρίς σωστή συντήρηση.
Για τους λόγους αυτούς, ο αριθμός των μη θανατηφόρων περιστατικών κατηγορίας C έχει αυξηθεί πρόσφατα, αφού η τεχνολογία των αερομεταφορών λειτουργεί συχνά με ελάχιστη συντήρηση και φροντίδα, με την ελπίδα ότι απλά «δεν θα αποτύχει».
Παλιά αεροπλάνα και μέγιστος εκσυγχρονισμός
Ενδιαφέρουσα είναι η σύγκριση των στατιστικών στοιχείων ατυχημάτων της αμερικανικής στρατιωτικής αεροπορίας με τις τάσεις στο αστικό ατύχημα. Στις αρχές Ιανουαρίου, δημοσιεύθηκαν τα στατιστικά στοιχεία των αεροπορικών συμβάντων το 2018. Παρά τα πολλά υψηλού προφίλ ατυχήματα, το 2018 ήταν ένα από τα ασφαλέστερα έτη για την εμπορική αεροπορία.
Το 2018, εκτελέστηκαν περίπου 37.800.000 πτήσεις και το ποσοστό ατυχημάτων ήταν μόνο 1 αεροπορική συντριβή σε 2.520.000 πτήσεις. Συνολικά, το 2018, καταγράφηκαν 12 πτώσεις αεροσκαφών για επιβατικές πτήσεις και 3 συντριβές αεροσκαφών με πτήσεις φορτίου. Ταυτόχρονα, 3 από τις 15 αεροπορικές συγκρούσεις καταγράφηκαν με αεροπορικές εταιρείες από τη "μαύρη λίστα" της Ευρωπαϊκής Ένωσης, στην οποία εισάγονται αεροπορικές εταιρείες που εκμεταλλεύονται παλιά αεροσκάφη με συνεχείς παραβιάσεις των διαδικασιών ασφάλειας και συντήρησης.
Είναι εύκολο να υπολογίσετε ότι η τιμή ενός αεροπλάνου που "πέφτει" / συντρίβεται σε 2.520.000 πτήσεις αντιστοιχεί τυπικά στο επίπεδο των 0.000004 αεροπορικών συντριβών ανά πτήση. Αν αποδεχθούμε, υπό όρους, οποιαδήποτε πολιτική πτήση ως 1 ώρα πτήσης, τότε αποδεικνύεται ότι η σύγχρονη πολιτική αεροπορία έχει ποσοστό ατυχήματος 0,04 συντριβής ανά 100,000 ώρες πτήσης. Η αμερικανική στρατιωτική αεροπορία έδωσε το δικό της "αντίγραφο", φθάνοντας σε επίπεδα 1,52 αεροπορικών δυστυχημάτων (ατυχήματα κλάσης Α) για κάθε 100.000 ώρες πτήσης.
Εάν οι απαιτήσεις της πολιτικής αεροπορίας είχαν εφαρμοστεί στον αμερικανικό στρατό, θα είχε αποδειχθεί ότι στον «μαύρο κατάλογο» της αμερικανικής αεροπορίας, όπως τα B-52 (που κατασκεύαστηκαν από το 1952, έως το 1962), τα F-16 (η μέση ηλικία των αμερικανικών αεροσκαφών αυτού του μοντέλου έγινε 27 χρόνια το 2018) και το T-38 "Talon" (που παράχθηκε από το 1961, έως το 1972).
Κάθε ένα από αυτά τα αεροσκάφη έχει γίνει σίγουρα ένας μύθος. Αλλά, δυστυχώς θρύλος του παρελθόντος.
Συγκεκριμένα, μόνο στα "Τάλων" για το παρελθόν έτος σημειώθηκαν 6 ατυχήματα, με αποτέλεσμα να έχουν ταξινομηθεί στην κλάση Α και Β. Δύο καταστροφές Τ-38 είχαν ως αποτέλεσμα απώλειες. Ταυτόχρονα, είναι γνωστό ότι τα "Talons" θα παραμείνουν το κύριο αεροσκάφος εκπαίδευσης της Πολεμικής Αεροπορίας των ΗΠΑ μέχρι το 2026.
Τα ίδια προβλήματα υφίστανται και για τον… «γέρο», τα F-16: Παρά την μονότονη πτώση του αριθμού των ωρών πτήσης ετησίως ανά α/φ, το ποσοστό ατυχημάτων των F-16 αυξάνεται αναπόφευκτα.
Scylla και Charybdis
Όπως φαίνεται από την παραπάνω ανάλυση, η σύγχρονη στρατιωτική αεροπορία κυριαρχείται από μία σημαντική αντίφαση – αφενός, αφού πολλές υπηρεσίες εδάφους και πτήσης απλά δεν συμβαδίζουν με την τεχνολογία, αλλά, αντίθετα, δημιουργείται ένα νέο ζήτημα, με την μη εισαγωγή νέων μοντέλων αεροσκαφών και ελικοπτέρων. …………….. Τα αεροπλάνα, όπως και οι άνθρωποι, έχουν ένα όριο ηλικίας, όπως και τα οχήματα μάχης.
Μέχρι στιγμής, οι προσπάθειες μηχανικών και τεχνικών μας επιτρέπουν να διατηρήσουμε αυτές τις μηχανές ενεργές, αλλά αργά ή γρήγορα θα υπάρξει μια… ερώτηση σχετικά με την αντικατάστασή τους. Επιπλέον, όσο νωρίτερα γίνεται η προγραμματισμένη περιστροφή των εξοπλισμών, τόσο πιο εύκολη και πιο ανώδυνη θα είναι η διαδικασία μετάβασης.
Πιστεύω ότι η αμερικανική εμπειρία της πρόσφατης χρονικής περιόδου θα αναλυθεί λεπτομερώς από το ρωσικό Υπουργείο Άμυνας. Τα αυτά ερωτήματα πρέπει να απασχολήσουν και το Ρ/ΥΠΑΜ, το πώς δηλαδή να εκσυγχρονίσουμε τα ρωσικά αεροσκάφη και να αντικαταστήσουμε τα παρωχημένα, με νέα α/φ βασισμένα στις νέες τεχνολογίες και εξελίξεις……………….
10. Για το Κατάρ, την Τουρκία, το Ιράν, το ξέραμε ότι είναι "πίσω" από την τρομοκρατική Οργάνωση"ΧΑΜΑΣ"! Για την Ρωσία το…  υποπτευόμασταν!..
REPORT: HAMAS LEADER ISMAIL HANIYEH CANCELS TRIP TO MOSCOW
JANUARY 10, 2019 
A trip to Moscow next week by the leader of Palestinian Islamist group Hamas has been canceled, Interfax news agency quoted the ambassador for the Palestinian Authority to Russia as saying on Thursday.
The Hamas leader had been expected to hold talks with Russian Foreign Minister Sergei Lavrov on Jan. 15.
11. Ενδιαφέρον άρθρο!.. Αχαχαχαχαχαχαχαχαχα
Çekiliyorum diyen Trump'ın tuzağı: Erdoğan haklı
Times gazetesi son dönemlerde Suriye'de yaşanan olaylar hakkında çarpıcı bir makale yayımladı. Makalede, Ortadoğu'daki en tuhaf dostluğun ABD ile YPG arasında olduğunu, ABD'yi bu konuda eleştiren Erdoğan'ın haklı olduğunu ve Trump'ın Suriye'den çekilme kararı alarak Türkiye, Rusya, Esad ve YPG'yi test ettiğini yazdı.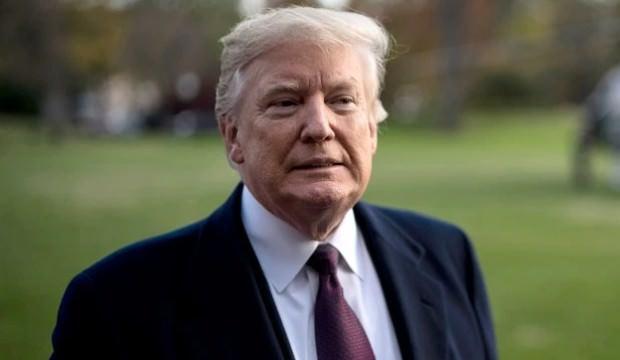 İngiliz Times gazetesinin internet sitesinde yer alan analiz, "Kürt savaşçıların kaderi, NATO müttefiklerini bölüyor"başlığıyla, gazetenin Ortadoğu muhabiri Richard Spencer tarafından kaleme alındı.
Richard Spencer'ın analizinden bazı satırlar şöyle:
"Bir yanda dünyanın önde gelen kapitalist gücü olan, NATO'nun ve Batı ittifakının lideri ABD var. Diğer yanda ise ideolojisi, modası gelmiş Marksizm ile Murray Bookchin adlı az tanınan bir anarşist felsefecinin inancı arasında gidip gelen bir grubu olan YPG var.
YPG'nin Suriye'nin önde gelen Kürt askeri gücü olmasının bir nedeni var. Zira Esad rejimi hiçbir zaman Kürtlerin özerklik arzularına müsamaha göstermedi. Bir dönem, Türkiye'nin güneydoğusunda savaşan Kürt gerilla grubu PKK'yı desteklemenin de çıkarına olduğunu düşündü.
Bu durum Suriye ile Türkiye arasında 1990'lı yıllardaki yakınlaşma ile değişse de PKK'ya Suriye'de destek vardı. PKK, iç savaşın kaosu içinde kendisini siyasi ve askeri olarak kabul ettirme imkanı buldu.
PKK daha sonra IŞİD karşısında geri çekildi. Tam bu noktada devreye giren ABD, 2014 sonunda Kürt kasabası Kobani'de IŞİD'i bombaladı.
Bu, düşmanımın – ki bu düşman IŞİD'di – düşmanı dostumdur durumuydu. Ancak ABD'nin bu yaklaşımı daha eski bir dost olan Türkiye'yi öfkelendirdi."
"TRUMP BÜYÜK BİR KUMAR OYNADI"
Times muhabiri tam da bu noktada, PKK ile YPG arasında fark olmadığını ve ABD'nin esasında kendisinin "terörist" olarak nitelendirdiği bir örgüte yardım ettiğini söyleyen Cumhurbaşkanı Recep Tayyip Erdoğan'ın haklı olduğunu yazdı.
Gazetenin internet sitesindeki analiz şöyle noktalanıyor:
"Sayın Trump'ın Suriye'den çekilme kararı, YPG'nin terki anlamına geliyor. Bu nedenle YPG liderleri, kendilerini bir Türk saldırısından koruyacak bir anlaşma için aniden Şam'a gittiler.
Trump 4 aktörü de (Cumhurbaşkanı Erdoğan, Putin, Esad ve YPG yönetimi) zor durumda bırakarak, onların anlaşmaya varmak için ne kadar istekli olduklarını test etmeyi düşünüyor olabilir. Ancak mevcut belirsizlikte bu çok büyük bir kumar."
KAYNAK: BBC TÜRKÇE
12.

ΥΠΟΜΟΝΗ ΤΟΥΡΚΟΙ! ΜΗΝ ΠΑΝΗΓΥΡΙΖΕΤΕ ΑΚΟΜΑ!..
ΝΑ ΔΟΥΜΕ ΟΜΩΣ ΕΣΑΣ ΜΕΤΑ ΤΟ "Β. ΜΑΚΕΔΟΝΙΑ"! ΘΑ ΤΟΥΣ ΑΝΑΓΝΩΡΙΣΕΤΕ ΜΕ ΤΟ… ΝΕΟ ΤΟΥΣ ΟΝΟΜΑ;
Çipras: Uluslararası çapta rezil oluruz
Yunanistan Başbakanı Aleksis Çipras, ortağı Bağımsız Yunanlar (ANEL) partisinin, Makedonya ile "isim anlaşması" nedeniyle hükümete desteğini çekmesi halinde güvenoyu talep edebileceğini ve destek görmezse erken seçime gidebileceklerini söyledi. Çipras, anlaşmanın 27 yıldır çözümlenemeyen bir meseleyi ortadan kaldırması ile "tarihi" bir öneme sahip olduğuna işaret ederek, muhalefet partilerinin iç meseleleri nedeniyle anlaşmanın onaylanmaması halinde ülkenin

"uluslararası çapta rezil" olacağını ifade etti.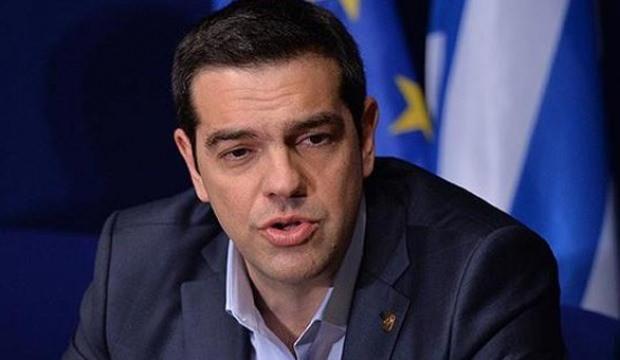 Çipras, 
Yunanistan
'ın Open TV kanalına verdiği röportajda, Makedonya  ile varılan isim anlaşması ve hükümetin geleceğini değerlendirdi.
Gelecek hafta sonuna kadar Makedonya meclisinde ülkenin ismini "Kuzey Makedonya" olarak değiştirecek anlaşmanın onaylanması ile gerekli anayasal değişikliklerin tamamlanmasını beklediklerini belirten Çipras, ocak ayı içinde anlaşmayı Yunan meclisine getirmeyi planladıklarını söyledi.
Çipras, anlaşmanın 27 yıldır çözümlenemeyen bir meseleyi ortadan  kaldırması ile "tarihi" bir öneme sahip olduğuna işaret ederek, muhalefet partilerinin iç meseleleri nedeniyle anlaşmanın onaylanmaması halinde ülkenin "uluslararası çapta rezil" olacağını ifade etti.
Anlaşmaya karşı çıkan hükümet ortağı ve Savunma Bakanı Panos  Kammenos'un tutumunu değerlendiren Çipras, "Onun hükümetin siyasi karşıtlarına su  taşıyacağını düşünmüyorum. Eğer yaparsa (hükümetten ayrılırsa), güvenoyu talep  edeceğim." dedi.
Çipras, Kammenos'tan hükümeti destek talebinde bulunacağını  belirterek, "Halk önümüzdeki 9 ay içinde kimin bakan olacağını değil, istikrarı  umursuyor. Bunu net bir şekilde söyleyecek, önümüze bakacağız. Olmazsa güvenoyu  alıp öyle ilerleyeceğiz." ifadelerini kullandı.
Anayasanın hükümlerinin bu konuda açık olduğunu ve güvenoyunu  alacağına inandığını vurgulayan Çipras, "(Güvenoyunda meclisin yarıdan fazlası)  151 milletvekilin olmasa da anayasal açıdan sorun olmadan göreve devam  edebilirsin. Avrupa'da bu şekilde 12 hükümet var. Anayasal bir sorunum olmaz ama  siyasi bir sorun olur. Böyle bir durumda ise zamanı gelince söz verdiğimiz kritik  girişimleri gerçekleştirdikten sonra erken seçime gideceğim." şeklinde konuştu.
Yunanistan'da anayasaya göre, bir hükümet 300 sandalyeli mecliste  güvenoyu oylamasına katılan vekillerin yarısının oyunu alması gerekiyor.
Makedonya ile "isim sorununun" çözümüne yönelik gerçekleştirilen  anlaşmaya ülkede ana muhalefetteki Yeni Demokrasi (ND) partisi başta olmak üzere  bazı kesimler tepki gösteriyor. Anlaşmanın onaylanması için meclisin yarısından  fazlasının oyu gerekiyor.
"ŞUBAT AYI BAŞINDA TÜRKİYE'YE GİDECEĞİM"
Öte yandan Çipras, Cumhurbaşkanı Recep Tayyip Erdoğan'ın daveti  üzerine planlanan Türkiye ziyaretine ilişkin ise "Şubat ayı başında Türkiye'ye  gideceğim. Ancak tarih henüz belirlenmedi." dedi.
İki ülke arasındaki iletişim kanallarının özellikle sorun olduğu  zamanlarda açık olması gerektiğine dikkati çeken Çipras, "Erdoğan ile bu kanalın  açık kalması önemli, hele ki sorun varsa. Zaten kendisiyle her 2-3 ayda bir  uluslararası toplantılarda bir araya geliyorum. Çünkü yakından temas özellikle en  üst düzeyde çok mühim." diye konuştu.
13.

Μόλις γράψαμε ότι από ΝΑΥΤΙΚΟ οι Τούρκοι είναι "δια το πέος", κλπ, αμέσως απεφάσισαν να κάνουν άσκηση, για να μας διαψεύσουν!..
Σας Ευχαριστούμε Τούρκοι και σας συγχαίρουμε που αντιδράτε γρήγορα!..
TSK

en büyüğüne hazırlanıyor! Titreyecekler… (Ήδη

Τούρκοι

… εχέσθημεν)
TSK, ilk kez Türkiye'nin tüm denizlerini kapsayan dev tatbikatla gövde gösterisine hazırlanıyor.

27 Şubat-3 Mart

tarihleri arasında 462 bin kilometrelik alanda yapılacak "Mavi Vatan" tatbikatına Deniz kuvvetleri'nin yanısıra Kara ve Hava birlikleri katılıyor. Atina'ya mesaj niteliğindeki tatbikat, Yunanistan ile Rum kesiminin hak iddia ettiği tartışmalı bölgeleri de kapsıyor.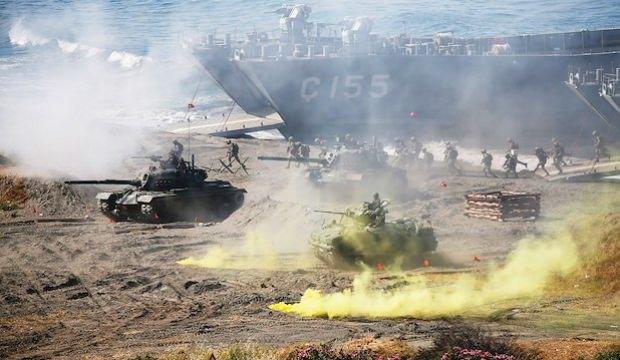 Türk Silahlı Kuvvetleri, denizlerde dev bir tatbikata hazırlanıyor. Donanmanın şimdiye kadarki en büyük savaş provası olması beklenen tatbikata 'Mavi Vatan' adı verildi.
Yunanistan ve Güney Kıbrıs Rum Yönetimi'nin işgal girişimlerine karşı Milli Savunma Bakanı Hulusi Akar, Türkiye'nin denizlerdeki egemenlik alanlarına '462 bin kilometrelik mavi vatan' sözleriyle işaret etmişti. 27 Şubat-3 Mart tarihleri arasında yapılacak Mavi Vatan Tatbikatı, Deniz Kuvvetleri Komutanlığı'nın tüm unsurlarının yanı sıra Hava ve Kara Kuvvetleri'nden bazı unsurların da katılımıyla icra edilecek.
Milli savaş sistemlerinin yoğun olarak kullanılacağı 'Mavi Vatan-2019' hava-deniz tatbikatında, Türk Donanması ile Kara ve Hava Kuvvetleri'nin olası harp senaryoları üzerinden caydırıcı gücü sergilenecek. Tatbikatın Ege ve Doğu Akdeniz'de, Yunanistan ve GKRY tarafından sözde tartışmalı gösterilen sahaları da içerecek şekilde Türk kıta sahanlığında yapılması bekleniyor.
EN NET UYARI
Mavi Vatan-2019, aynı zamanda Akdeniz'de bir süredir tatbikat icra eden Mısır, Yunanistan, İsrail ve Güney Kıbrıs'a karşı da gövde gösterisi anlamı taşıyor. Türkiye'nin hem sınır içinde hem de Suriye ve Irak'taki operasyonlarını fırsat bilerek Doğu Akdeniz'de oldu-bitti girişimlerine yönelen Yunanistan ve GKRY'nin Mavi Vatan'ı dikkatle izlemesi bekleniyor. Tatbikatla birlikte TSK, 462 bin kilometrekarelik deniz alanlarında egemenliğini pekiştirecek ve işgal haritaları hazırlayanlara net bir uyarıda bulunmuş olacak.
KAYNAK: YENİ ŞAFAK
14.
Milli askeri yazılım, ilk mesajını verdi! 'Merhaba tarihi an'
Askeri platformlar ve komuta merkezleri arasındaki taktik bilginin güvenli şekilde aktarılması amacıyla yerli ve milli imkanlarla geliştirilen taktik veri linki yazılımının ilk mesajı"Merhaba tarihi an" oldu.
10 Ocak 2019 
Askeri platformlar ve komuta merkezleri arasındaki taktik bilginin güvenli şekilde taşınması amacıyla yürütülen çalışmalarda önemli bir başarıya imza atıldı. MilSOFT tarafından yerli ve milli taktik veri linki yazılımı geliştirildi.
Sistem entegrasyonu ve yazılım geliştirme alanlarında faaliyet göstermek üzere kurulan MilSOFT, 20 yıldır özellikle savunma sanayisine özgün çözümler sunuyor.
Bugüne kadar 231 milyon dolarlık sözleşmeye imza atan şirket, yurt içinde ve dışında yazılım tabanlı çözümleriyle çok sayıda askeri platformda kritik görevler üstleniyor.
MilSOFT önemli çalışma alanlarından birini "taktik data linkler ve mesajlaşma" oluşturuyor. Bu kapsamda, askeri platformlar ve komuta merkezleri arasında taktik bilginin güvenli iletişimini sağlayan standart taktik veri linkleri şirket tarafından üretiliyor.
Yurt dışından tedarik edilen NATO standardı taktik veri linki sistemlerini (Link-11, Link-16 ve Link-22) yerlileştiren MilSOFT, ayrıca linkin erişim mesafesini uzatan bir işlemciyi de geliştirmeyi başardı. Şirketin 2009'dan itibaren ortaya koyduğu bu taktik veri linkleri gemi, denizaltı gibi platformlara entegre etmeye başlandı.
Söz konusu taktik veri linkleri ve erişim mesafesini artıran yazılım halen NATO tarafından kullanılıyor. Bunların diğer ülkelerde kullanımı ise izne tabi bulunuyor. Donanım ve yazılımlar her ülkeye verilmiyor, gönderilse de belli sistemlerin üzerinde hazır gidiyor. Bunlara müdahale edilemiyor ya da başka sistemlere bağlanamıyor.
MilSOFT, NATO standardı taktik veri linklerini geliştirme sürecinde elde ettiği birikimler ve Ar-Ge çalışmaları sonunda yerli ve milli yeni bir taktik veri linki ortaya koydu.
İlk mesajla tarihe not düşüldü
Link-M olarak adlandırılan ürün, sahip olduğu özelliklerle muadil ürünlerden üstünlükler barındırıyor. Türkiye'de üretilen milli telsiz, modem ve kripto sistemleriyle görev yapabilecek Link-M, askeri platformlar arasında milli linkle oluşturulan bir ağın kullanılmasına imkan verecek.
Yerli ve milli taktik veri linkinin NATO sistemlerindeki iznine bağlı yazılım/donanım kullanım zorunluluğunu ortadan kaldırması ihracat konusunda da önemli bir potansiyel sunuyor. Link-M, bu özelliği sayesinde istenilen dost ve müttefik ülkelere, üçüncü ülkelerin izni olmaksızın satılabilecek.
Değişken atmosferik şartlara rağmen azami teorik menzile yakın değerlere ulaşarak başarıyla test edilen Link-M'nin taşıdığı ilk mesaj ise "Merhaba tarihi an" oldu.
Muharebe sahasındaki başarının anahtarı
Askeri sistemlerde taktik resmin ilgili paydaşlarca görülmesi, anlık karar verilmesi için hayati önem taşıyor.
Süratli iletişim, sadece sesli telsiz muhaberesiyle değil, yazılı emirlerin iletilmesi, taktik bilgilerin paylaşılması, bir geminin, uçağın radarıyla gördüğü temasın diğer dost birlikler tarafından da anında kendisi görür gibi yayımlanmasıyla sağlanıyor.
Komuta kontrol sistemleri, silah sistemleri ve istihbarat sistemleri arasında taktik bilgilerin gerçek zamanlı olarak değişimi, birlikler arasında iş birliği muharebe sahasındaki başarı için çok önemli bir parametre oluşturuyor.
Sınırlı sayıda şirket arasında bir Türk
MilSOFT, aynı zamanda dünyada sınırlı sayıda şirketin yapabildiği, farklı link sistemleri arasında bilginin güvenli ve emniyetli şekilde transfer edilmesi kabiliyetini de milli olarak sağlayabiliyor.
Şirket, milli akıllı mühimmatlar, seyir füzeleri ve hava platformları için geliştirilen ve ağ destekli harekat için önemli bir altyapı sağlayanKementProjesi'nde de alt yüklenici olarak görev alıyor.
MilSOFT, projeye kattığı yazılım kabiliyetiyle SOM ve Atmaca füzelerininlink komutaları kullanılarak kumanda edilmesini sağlayan önemli paydaşlar arasında yer alıyor.
-/-