Kαι Πάλι… Ξεχασμένα! Τί Γίνεται τελικά;
1.
Arab spy chiefs found an inner circle in Cairo, embrace Syria with US nod
A group of Arab intelligence directors got together for a secret rendezvous in Cairo last week, DEBKAfile's sources reveal. The project was initiated by the US CIA and Egypt's president Abdel Fateh El-Sisi. Prominent as a special guest was Syria's Maj. Gen. Hussam Luka (see photo), who is currently President Bashar Assad's favorite intelligence persona.
The meeting kicked off the foundation of a club of Arab intelligence chiefs to be followed up in the coming months.
Although the Americans were involved, Israel was not given a look-in on the project. Its initial purpose, our sources reveal, was to bring together the head of Saudi General Intelligence Khaled Al-Humaiden and his Syrian counterpart, after a decade-long disconnect. It signaled a step towards mending the rift between the royal house in Riyadh headed by Crown Prince Muhammed bin Salman and the Bashar Assad regime over the atrocities committed by the latter in Syria's bloody civil war.
The Syrian dictator is clearly emerging from the role of pariah he held in the Arab world and his return to the fold. Last Saturday, the United Arab Emirates foreign minister Sheikh Abdullah bin Zayed visited Damascus. He was closeted for some hours with Assad, and then flew to Amman to meet with Jordan's King Abdullah. There is talk in Arab capitals of inviting the Syrian president to the next Arab summit taking place in Algiers in March 2022.
Clearly underway is an Arab-US move to restore the Syrian ruler to the role he held prior to the outbreak of the 2011 civil war. The Iranians are likely rubbing their hands in glee over their ally's return to Arab good books, without him being forced to abandon their alliance. The change of heart on the part of the Saudis and Emiratis is seen as signaling a shift away from the Abraham Accords which normalized their ties with Israel and aligned them against Tehran.
It is therefore worthy of note that Israel has been isolated from the ongoing inter-Arab process, advance word of which was first revealed on Oct. 11 by DEBKAfile's Washington sources. (US shifts towards accepting Assad regime. Israel caught unawares). Its potential repercussions are still not appreciated in Jerusalem.
 A State Department source put it this way: "Whereas the Biden administration is not prepared to open its arms [to restoring Assad to the Arab fold], it is definitely not averse to leaving the door open for other so do so."
The Bennett-Lapid government still appears to be deaf to the momentous shift of ground afoot around Israel. No fresh initiatives are in sight other than the routine bashing of Iran's military infrastructure in Syria.
2.
Libyan presidential contender offers Israel recognition for backing
A high-ranking Israeli security official paid a secret visit to Tripoli in the last week of August as guest of Col. Saddam Haftar, son of Libyan National Army chief, Maj. Gen, Khalif Haftar, US intelligence sources report.
Saddam Haftar is campaigning for president of Libya in the Dec. 2021 election against Seif al-Islam Qaddafi (see picture), the son of late Muammar Qaddafi, who was deposed in a NATO-led, US-backed military operation a decade ago. When the Israeli emissary sat down with Haftar's son, the latter's rival Qaddafi junior was being received in Moscow by President Vladimir Putin. He was asking for Russian support for his presidential run, although Russian Wagner Group mercenaries had backed the opposition's battle for control of Tripoli.
Israel was urged by Egyptian President Abdel-Fatteh El-Sisi and UAE ruler Sheikh Muhammed al Zayed to join their coalition in support of Gen, Haftar's fight to capture Tripoli as well as their backing for his son's bid for the presidency. Cairo supplies him with weapons and air force operations, while the UAE has provided special forces units and a small fighter squadron.
When Gen. Hafter visited Cairo on Aug. 11, he not only talked with president Sisi but also met US ambassador Richard Norland. Roping Israel into the pro-Haftar coalition was discussed in the first interview. In the second, the general tried to assess the chances of pulling the US away from its support of Abdelhamid Dabaiba's .transitional government in Tripoli. US air strikes in recent months aimed at stalling the Haftar army's long battle for breaking through to the seizure of Tripoli.
Col Saddam Hafter, according to his confidants, made his Israeli visitor an offer; If he made it to president, Libya would establish normal relations with Israel, in return meanwhile for the supply of weapons systems and intelligence. Nothing was clinched at that stage. If that deal does go through, Israel will have significantly expanded the ring of normal regional ties opened up dramatically in the past year with the UAE, Bahrain, Sudan and Morocco, in addition to its historic peace pacts with Egypt and Jordan.
DEBKAfile's intelligence sources report that Washington was not aware of the Israeli-Haftar contact. Former president Donald Trump favored Gen. Haftar's war to oust the UN-recognized government and seize Tripoli the capital. They were wont to talk by phone. His successor Joe Biden has yet to decide where he stands between the warring eastern and western factions of the Libyan conflict. Despite a ceasefire and progress earlier this year towards a political solution to Libya's crisis, armed clashes continue in and around Tripoli.
On top of a key diplomatic breakthrough, Israel has a further stake in the Haftar enterprise insofar as its success would put a major spoke in Turkey's intervention in the Libyan civil war. President Recep Erdogan has been supplying military backing as well as recruiting Syrian forces in support of the Tripoli government, with which he signed in 2019, a Turkey-Libya accord for the arbitrary partitioning of east Mediterranean waters and their energy deposits.
That deal is obviously opposed by Israel, Egypt, Greece and Cyprus as illicitly encroaching on their interests. If Saddam Haftar were to be elected president that deal, never having been internationally recognized, would become void.
3.
Israeli Tourist Couple Freed After 8 days of Illegal Detention by Turkey
Another example of Turkish hostage diplomacy?
 An Israeli couple, illegally detained for eight days by Turkish authorities on spurious charges of espionage and spying, was released yesterday and returned to Israel following intense back-channel diplomatic efforts to free them. Their detention highlights the extent to which Turkey, under the leadership of Recep Tayyip Erdogan, has descended into a moral abyss with arbitrary arrests and detention being the norm rather than an aberration.
The saga involving the couple – Mordy and Natalie Oknin – began late last week when they were arrested by Turkish police ostensibly for taking photos of Erdogan's Istanbul palace. Their guide was also arrested. The couple – both employees of the Israeli Egged bus company – claimed that they were unaware of the prohibition on taking photos but irrespective, the subject area, which is a common tourist attraction, had been photographed thousands of times in the past by thousands of tourists.
Cognizant of the minimal nature of the transgression, Turkish police were originally inclined to releasing the two and deporting them from the country. Even that action would have been draconian but what occurred next appeared to be taken from a chapter straight out of Orwell's 1984. Turkish prosecutors, almost certainly acting on orders from higher political echelons, elected to charge the pair with "political and military espionage," prompting the notoriously corrupt Turkish judiciary to extend their detention by at least 20 days.
At that stage, Israeli officials still hoped that the issue would be resolved swiftly because no high-level Turkish official publicly addressed the matter. Hopes were quickly dashed, however, when to Israel's dismay, Turkey's interior minister, Suleyman Soylu, called the Israelis spies.
At a news conference Soylu, deemed by some analysts to be second only to Erdogan, stated that, "The couple photographed Erdogan's home; they focused on the house and marked it."  He added that, "The prosecutor's office estimates that they committed a crime of military and political espionage, but the court will make the decision in the future." At that point, the prospects of a swift resolution to the problem appeared remote but in a surprise about-face, the Turks released the detained couple the following day. The couple expressed gratitude to the Israeli government for assistance in securing their release.
Israel had good reason to fear for the well-being of the couple during their Kafkaesque-like detention. They would have had to endure the painfully slow and infamously corrupt Turkish judiciary. Since his ascension, Erdogan has systematically purged Turkey's judiciary of those deemed too independent or otherwise unfriendly to the regime. This purging process accelerated since the army's failed coup attempt in 2016. Purged judges were replaced with ardent Erdogan loyalists and sycophants. Any insult to Erdogan or his cronies, for example, can result in years behind bars.
As noted by Foundation for Defense of Democracies analyst Aykan Erdemir, a Turkish man was sentenced to 10 months in prison (later commuted to a $700 fine) for calling Erdogan a "Jew" on social media. Apparently, in Turkey, calling someone a Jew is an insult. In another egregious case, a Turkish doctor was arrested for posting a picture of Erdogan alongside the Lord of the Rings character, Gollum. He was later acquitted but only after his lawyers produced expert testimony attesting to the fact that he was comparing Erdogan to Smeagol, Gollum's more benign, split personality.
Some Israeli analysts speculated that the abduction of the Israeli tourists by the state represents an effort by Erdogan to score some domestic political points. Alternatively, it may have been an effort by the Turks to use them as hostages to extort concessions from Israel. FDD analysts Aykan Erdemir and Eric S. Edelman refer to this insidious Turkish practice as "hostage diplomacy."
Ibrahim Kalin, who is a senior advisor to Erdogan said that the incident was essentially a local matter that got out of control. This is difficult to believe in light of the interior ministry's harsh comments on the incident and the manner in which Turkish prosecutors quickly intervened. In Turkey, nothing moves with alacrity and that is doubly true for the Turkish judiciary. It is more plausible that the Turks seized and detained the tourists with the hope of gaining some political leverage, either domestically or internationally.
Indeed, Turkey is notorious for seizing tourists, academics, religious figures and aid workers on contrived charges for the sole purpose of extortion and gaining leverage. In this regard, the Turkish regime is no different than other autocratic regimes like Iran and North Korea where due process is non-existent. The only difference, however, is that Turkey is a member of NATO. Some of the more notorious Erdogan-sanctioned abductions include the following:
In October 2016 Turkish authorities arrested and detained an American pastor named Andrew Brunson on contrived terrorism charges. The identities of the witnesses who testified against Brunson were obscured. The Turks were detaining Brunson to pressure the U.S. into extraditing Fethullah Gülen, a Pennsylvania-based political figure whom Erdogan holds responsible for the 2016 coup attempt. Brunson was eventually released but only after President Donald Trump's robust intervention.
In November 2016, Turkish police seized two Czech nationals it accused of aiding Kurdish guerillas. The Turks demanded that the Czechs extradite a Kurdish leader residing in Prague in exchange for the Czech nationals. They were held captive for three years until the Turks finally relented. The duo had no terrorist ties and were in transit to Syria to help build a field hospital for Kurds.
In March 2018 the Turks seized two Greek soldiers, who due to inclement weather, mistakenly strayed across the border at the Evros River. The Turks demanded that Greek authorities hand over eight Turkish soldiers who defected to Greece following the aborted 2016 coup attempt. The Greeks refused as they were cognizant of what waited in store for those suspected of involvement in the coup. The Greek soldiers were finally freed but endured nearly six months of detention.
Turkey under the leadership of the Islamist authoritarian, Erdogan, is a rogue state that holds in contempt the rule of law. It has clearly demonstrated little regard for traditional notions of transparency, fair play and due process. The takeaway for tourists and others who travel to Turkey is this; if you're foolish enough to go, you run the risk of being thrown in a Turkish dungeon on the whims of its mercurial leader.
4.
How Israel built the world's most accurate military machine
2014 was a turning point for the IDF in its battle against Hamas' tunnel systems. Here's how they managed to attack the Gaza Strip with such precision during Operation Guardian of the Walls.
Hamas missiles
(photo credit: REUTERS)
The tunnels were dug by hand and jackhammers, as heavy machinery was out of the question – it would have attracted too much attention from the drones constantly hovering in the skies above.
Every battalion had its assignment and was responsible for the burrowing in its area of operations. Budgets were allocated according to a detailed plan, and deadlines were set for each stage of the project.
Supervising it all was 
Mohammed Deif
, the elusive Hamas commander who became legendary for surviving numerous Israeli assassination attempts spanning more than two decades. According to some estimates, the entire project cost over NIS 1 billion.
Deif's tunnels were supposed to do the job.
(TOP) A fighter from the Izz el-Deen al-Qassam Brigades, Hamas' armed wing, is seen inside an underground tunnel, in Gaza, August 18, 2014. (credit: MOHAMMED SALEM/REUTERS)
The idea was grandiose but also simple. Spanning around 100 km. beneath almost the entire Gaza Strip, the tunnel network consisted of three different kinds of spaces: passageways to get from one point to the other; places to sleep, eat and even shower; and spaces for launching rockets. The entire network was designed to quickly and covertly move gunmen so they could surprise and attack invading Israeli infantry troops and armored forces.
The network was a far cry from the old makeshift tunnels Palestinians once used to smuggle weapons and contraband 
under the border with Egypt.
"It was an underground city," explained one senior IDF officer. "It was supposed to be their most protected weapon."
The first was on the intelligence level – hunting for tunnels and mapping them out to the smallest detail; the second was investing resources in developing a system that could detect the tunnels as they were being dug, something like an Iron Dome for tunnels; and the third effort was in developing attack capabilities that could then destroy the tunnels.
"When attacking a tunnel, you don't only need maximum precision," explained Air Force Brig.-Gen. Matan Adin, commander of the IAF's Air Support and Helicopter Division. "You also need munitions that will penetrate the ground, since if they detonate on the ground, then you essentially did nothing."
The Israeli Air Force prepares for Gaza (credit: IDF SPOKESMAN'S UNIT)
Adin knew what he was talking about. A veteran pilot, he climbed the IAF ranks through its helicopters, flying on all of the various platforms – Apaches, Black Hawks and Sea Stallions. His first combat flight as a pilot was in 2001 in Gaza. It was the beginning of the Second Intifada, and Adin was part of a trio of helicopters that entered Gaza from the sea in pursuit of a wanted terrorist. Since then, he has participated in countless combat operations.
The IDF and the Shin Bet (Israel Security Agency) invested unprecedented resources in gleaning as much information as they could about the tunnel network. After a few months it was named the "Metro" by one of the officers in Military Intelligence.
Aerial surveillance was helpful but could not provide information on the routes underground. Cellular reception was also not helpful, since once underground, all reception was lost and the people inside could not be tracked.
This left the Shin Bet to focus on old-school intelligence-gathering tactics, recruiting agents and spies within Gaza who could reveal details about the routes of the tunnels and what exactly they contained.
In an effort to prevent the plans from leaking out, the Hamas battalions in the beginning were allowed to enter only their regional sections, without knowing how to cross to other areas. Hamas commanders knew that Israel would be watching. If someone was going to leak something, it wanted as much as possible to contain the damage.
Gaza is one of the most carefully scrutinized pieces of land in the world, not only surrounded by cameras on the border fence but also constantly patrolled in the skies above. Every suspicious movement is carefully tracked. Unmanned aircraft are referred to as "zenana," local slang for the buzzing of a mosquito, due to the monotonous humming sound the drones' engines make when flying in the skies above.
The tunnels were not under empty fields, rather apartment buildings and homes. Pictured: Gaza City (credit: REUTERS)
The precise information Israel had gathered varied. In some cases, Israeli intelligence was able to draw an exact picture of a section of the network, learning from its sources what weapons were stored there, where they were, the type of communication network, and on which wall TV screens hung. For other sections, all it had was the route but nothing more.
The IDF plan was in place by 2018, a joint operation planned within the Southern Command – responsible for the Gaza Strip – and IAF headquarters in Tel Aviv. Due to the size of the network and the need to surprise the enemy, the initial operational requirement spoke of the need for more than 100 aircraft that would drop more than 500 bombs within the span of less than 30 minutes. It was the kind of operation not seen before in the Gaza Strip.
In November 2018, a covert IDF operation in the southern Gaza Strip went awry. Israeli commandos on an intelligence-gathering operation raised suspicion at a Hamas checkpoint. In the ensuing gunfight, Lt.-Col. M. – a decorated officer whose name is still banned from publication – was shot and killed. In response, Hamas fired dozens of rockets into Israel.
Prime minister Benjamin Netanyahu convened the security cabinet to discuss Israel's response. Avigdor Liberman, defense minister at the time, pushed to launch operation "Lightning Strike," the codename the IDF had given the campaign to destroy the tunnels, a simulation of which he had personally overseen a few months earlier.
The IDF brass resisted. It was in the final stages of preparing a maneuver to destroy a series of cross-border tunnels that Hezbollah had dug along Israel's border with Lebanon. Within Military Intelligence, there were concerns that launching "Lightning Strike" now could lead to a longer and larger conflict with Gaza, which would force the IDF to postpone the operation against Hezbollah's tunnels – and the longer it waited, the greater the chance that something would leak out.
The cabinet sided with the IDF, and "Lightning Strike" was put on ice. Upset over the government's weak response to the Gaza rocket fire, Liberman resigned from the cabinet, eventually leading to the disintegration of the government and the first of what would turn into four consecutive elections.
IN THE years since, the Southern Command did not sit back idly. It continued honing the operation with new intelligence constantly provided by the Shin Bet. When Operation Guardian of the Walls broke out in May, "Lightning Strike" was put back on the table. Some generals were still hesitant, feeling that such a bombing needed to be saved for an operation whose objective was to topple Hamas. That is not what Guardian of the Walls was planned for.
OC Southern Command Maj.-Gen. Eliezer Toledano believed it needed to be launched now. If not, he warned, it might not be relevant in a future operation. Chief of Staff Lt.-Gen. Aviv Kohavi agreed.
"Even if we don't kill hundreds of terrorists, it is still worth setting back Hamas by 10 years," Toledano was later quoted as saying.
That is how just after midnight on May 14, 160 IAF fighter jets took off and headed out to the Mediterranean Sea. The planes – F-15s and F-16s – were loaded with GPS-guided bombs, many of them GBU-39s, also known as the Small Diameter Bomb, a weapon made by Boeing that is small, accurate and has the ability to penetrate steel-reinforced concrete. Since they are relatively small, Israel's F-15Is – known by their Hebrew name "Ra'am" (Thunder) – can carry 20 SDBs on their wings and fuselage. In Hebrew, the SDBs are called "Lethal Hail."
It was the largest and most complicated IAF sortie since the Six Day War, when almost all of Israel's fleet took off to destroy Egypt and Syria's air forces in the opening salvo of that conflict.
But on this night Israel wasn't going after an enemy air force. It was looking to take out Hamas's prized possession – the secret weapon it had skillfully and secretly built up over a period of almost a decade.
What Hamas did not know was that someone in Israel had been following their work. The Shin Bet had worked closely with the IDF's Fire Center in the Southern Command to map out the route of the tunnel system.
The challenge was huge. Not only was it a painstaking effort to discover the exact route, but the IAF also had to figure out 
how to destroy the tunnels
 without toppling entire neighborhoods: the tunnels were not under empty fields but under apartment buildings and peoples' homes.
Israel needed to attack in a way that would on the one hand destroy the tunnels but also be so accurate that it would leave the least amount of collateral damage and not undermine the greater war effort of weakening and delegitimizing Hamas.
What made this specific aerial operation so complicated was not the attack itself. Unlike other potential battlefields, the IAF is not threatened in Gaza by surface-to-air missiles, something it cannot say about Syria or Lebanon. On the other hand, attacking such a small space in such a short period of time requires a level of precision and synchronization rarely seen on the modern battlefield, especially when considering that 160 fighter jets were involved.
In many of the cases, the idea was to hit parts of the tunnels that were not adjacent to buildings, and if there was no choice, then to try to hit it on an angle.
"It was very strict planning, and everyone knew their route," explained Lt. Ori, a 26-year-old F-16 pilot who flew that night. "We came in waves, group after group."
The planes, which took off from different bases across Israel, gathered over the Mediterranean and waited there for the green light. Once they got it, the attack began. Every group of planes had preinstalled the GPS coordinates of their targets. The planes didn't even have to fly over Gaza. They were able to drop their munition while still over the water.
The mission took just 23 minutes.
As Ori later explained, the challenge wasn't the attack but synchronizing the different sorties.
"The difficulty was the planning and ensuring that everyone took off on time and got to where they needed to be," he said.
Five hundred bombs were dropped that night over the so-called Metro. While the attacks were carried out by fighter jets, drones that flew high above Gaza transmitted images back to IAF headquarters in Tel Aviv so officers there could immediately assess the extent of the damage caused.
Palestinians reported that at least 42 people were killed, some inside the tunnels and others in a couple of buildings that collapsed because of the destruction. How many of the dead were affiliated with terrorist organizations – Hamas or Islamic Jihad – was not immediately clear.
Back at IAF headquarters, the top brass did not have time to celebrate the operation. They immediately went over the results of the strike together with officers from the Southern Command and Military Intelligence. It was the largest aerial operation in over 50 years, but there was no time to rest.
Weeks later, research conducted by the Terrorism and Information Center in Israel – a think tank closely affiliated with security agencies – showed that out of the 236 Palestinians killed during the operation in Israeli attacks, at least 114 of them belonged to terrorist organizations. The IDF put that number even higher, claiming that close to 200 of the dead were known terrorists.
BEFORE WE break this down, an important statement: every civilian life lost in war is a tragedy, but there is a question of responsibility that needs to be addressed.
Palestinians argue that Israel is the side attacking and dropping the weapons. As a result, they say, it is Israel that is responsible.
Israel argues that Hamas intentionally stores its weapons and builds its command centers inside civilian infrastructure; and while Israel goes to great lengths to minimize collateral damage, it cannot ensure that there will not be civilian casualties.
The Metro is a case in point. That 500 bombs were dropped on a small space in such a short amount of time and "only" 42 people were killed – at least half of them terrorists according to Israel – is unprecedented in the history of war.
This was not done easily. Though intelligence revealed the tunnel network's course, Israel could not just drop bombs along the route. That not only would have toppled dozens of buildings – it would have killed thousands of civilians.
Instead, what Israel did was astounding. It knew exactly how to hit the corner of a tunnel at a street intersection, having analyzed precisely how many bombs and pounds of explosives would be needed so the explosion would have a greater effect underground and not above. When buildings did fall, it was because the collapse of the tunnel led to a collapse of the building. The structures themselves were not attacked.
"Considering the number of bombs that were dropped, it could have been much worse," explained one senior IDF officer involved in planning the operation. "Had we done what Hamas wanted, we would have had thousands of dead civilians."
THE ISRAEL Air Force prepares for Operation Guardian of the Walls, in May. (credit: IDF SPOKESMAN'S UNIT)
When looking at the entire operation, that accomplishment is even more impressive. Israel attacked over 1,500 targets throughout 11 days of fighting. That is at least 1,500 bombs that were dropped on targets – and in many cases more than one bomb was used on a target – to ensure they were destroyed.
Considering that Gaza, with its mere 365 square kilometers, is one of the most densely populated places in the world, the operation was an impressive achievement – and a testament to the way Israel operates and the measures it has in place to minimize civilian casualties.
While the world tends to look at this conflict through the dry and simple numbers of a scorecard – how many are dead in Gaza (more) compared with how many are dead in Israel (less) – this is a distorted perspective.
It should instead evaluate what exactly happened during the operation – the most accurate and precise military operation of this scale in modern military history.
Think about it: more than 1,500 bombs dropped in Gaza, on 1,500 targets – and maybe 60 civilians killed. That is something that has never been done before.
This does not mean the IDF did not make mistakes. Just as all wars include collateral damage, all wars include mistakes. But when looking at dry numbers, as the international community likes to do, what the IDF did in May is an unprecedented military accomplishment.
And this is what needs to be explored. How did the IDF do this? What made this possible?
IN CONVERSATIONS with senior officers in the IDF and IAF and officials in the Shin Bet, there is no single answer but, rather, a combination of a number of factors, including quality intelligence, the exclusive use of satellite-guided munitions, innovative tactics and, finally, a set of values and military ethics to which IDF officers diligently adhere.
When it comes to munitions, for example, all the bombs dropped by the IDF on Gaza in Guardian of the Walls were smart weapons, either JDAMs or other precision-guided munitions that in most cases accurately hit their targets.
By comparison, during Operation Cast Lead in 2009, the IDF dropped over 5,000 bombs on the Gaza Strip. Around 80% were smart bombs, a number that at the time was considered unprecedented. During the beginning of the Iraq War in 2003, coalition forces used smart bombs 68% of the time. During the Kosovo War of 1999, 35%.
One-hundred percent is almost nonexistent.
"I know that I can count on and trust the people behind me," Lt. Ori said. "I drop the bomb and press a button and I know that there are people who are doing what they can to make sure that we attack when needed and don't when we don't need to."
Then there are the tactics employed, particularly by the IAF, which does the majority of the attacking during these kinds of operations.
On May 10, the day Hamas fired rockets at Jerusalem, sparking the fighting, Lt.-Col. I., commander of the Southern Command's Fire Center, was back at his F-16 squadron on a training flight as part of the regular regimen pilots go through of flying at least once a week even when no longer on active duty.
He landed at 5 p.m. and was ordered to immediately return to Southern Command headquarters in Beersheba. The Shin Bet had passed on a warning that missiles were about to be launched at Israel. I. needed to get ready.
The warning was not without politics. In the days prior, the Shin Bet had received a warning that an escalation was coming. After all, Hamas leader Yahya Sinwar had threatened to fire rockets on Jerusalem Day if Israel moved ahead with planned festivities near the Old City. Unlike the Shin Bet, Military Intelligence did not believe that anything was going to happen. War, analysts there claimed, was not coming.
The rooms at the Fire Center – named for produce mentioned in the Bible – were already bustling with activity. When Hamas fired a barrage of rockets at Jerusalem at 6:03 p.m., call-up orders went out. Within a few hours, there were already 400 people occupying the various rooms from where counterattacks would be directed.
There were intelligence officers from Military Intelligence's 8200 Unit responsible for collecting intelligence alongside Shin Bet agents who spoke regularly with sources on the ground in Gaza. Air force officers manned stations that gave them a direct link to headquarters in Tel Aviv, and even navy officers came in to oversee warships that were now being dispatched near the Gaza coast.
Everyone knew their job.
The teams worked in shifts, but in reality they barely slept. When someone's shift was over, it meant a bit of fresh air or shut-eye, often on a sleeping bag tucked under a desk. A few hours and then back to work.
I. flew twice during the operation. As head of the Fire Center, he was able to get himself slotted in for some of the top operations.
On one mission, with time so tight, I. barely made it to the airfield in time for takeoff. His copilot was already waiting for him in the cockpit. I. jumped out of the car and climbed straight into the cockpit.
When he landed and got back in his car, the engine was still running.
What makes these missions complicated is that intelligence is hard to come by in Gaza. Israel left the main population centers in 1994 under the Oslo Accords, and while it remained inside the Jewish settlements until 2005, it was no longer in the cities. Practically, without daily contact inside the Strip, recruiting agents was hard.
Unlike Tehran, Damascus or Beirut, Gaza does not receive any tourists. A person who looks a little out of place or has an Arabic accent that sounds foreign is immediately suspicious and questioned by Hamas, which in any case is constantly hunting for spies and double agents.
Due to the difficulty in gathering intelligence, the IDF and the Shin Bet have developed a system over the years for "incriminating a target." The idea is to be more stringent than usual, due to the difficulty in gathering intelligence, but also because of the common use of human shields by Gaza-based terrorist groups.
If, for example, a Palestinian informant provides details to Israel about a tunnel opening, that is not enough for the target to be considered incriminated and added to the IDF's target bank. It needs a second source, some sort of signal intelligence (SIGINT), for example, that can validate what the informant told.
These restrictions were put in place after the Gaza war of 2014, also known as Operation Protective Edge, which lasted for 50 days and ended without a decisive victory. In the aftermath of the war – during which the IDF, Shin Bet and members of the security cabinet members argued whether Hamas would use its cross-border terrorist tunnels (it did) – the government decided that the Shin Bet would be the primary security agency entrusted with providing the official intelligence assessment over Gaza.
Fifty percent of targets are provided by the Shin Bet. The other half come from the IDF. Ahead of the May operation, Israel already had several thousand targets in preapproved target banks. These included the Metro but also terrorist safe houses, arms caches, rocket launchers, tunnel openings and more.
What Israel also did was use its unique "roof knocking" tactic before attacking buildings where terrorist groups stored weapons or built operation centers alongside civilians. In 208 cases, the Shin Bet called up the owners of the homes and warned them to leave. That is 208 times that Israel purposely gave away the element of surprise so it could strike a legitimate target without harming civilians.
"Every operation like this includes hundreds of hours of planning until an order to act is given," explained Adin, the IAF general in charge of the Helicopter Division. "We plan the operation, we go over the munitions we will need to use, the pilots train, and we check everything – from the intelligence to the maintenance."
It is a painstaking effort that continues all the time. With the expectation that another war will one day come, Israel always needs to be ready.
5.
Israel's future combat vehicle uses artificial intelligence to locate enemy
Yoav Turgeman, CEO of Elta Systems: AI-powered ground vehicles will begin fulfilling missions much like drones began in air forces.By Yaakov Lappin, JNSThe arrival of artificial intelligence-powered ground vehicles is set to gradually transform Israel's ground combat capabilities in the face of adversaries deeply embedded in urban settings, which are difficult to detect and respond to in time.

In October, Israel's Ministry of Defense announced that Israel Aerospace Industries subsidiary Elta was chosen as the prime contractor for the Carmel future combat vehicle program after a two-year selections process.

In August 2019, the Defense Ministry held a demonstration in northern Israel of the three competing platforms for the Carmel program, created by IAI-Elta, Rafael and Elbit.

Yoav Turgeman, CEO of Elta, told JNS that the arrival of ground vehicles powered by artificial intelligence with autonomous capabilities will likely begin taking over land missions gradually just as unmanned aerial vehicles (UAVs) have been doing in past decades in air forces.

"IAI is going back to what it did 50 years ago when it demonstrated the UAV. Initially, it was ver difficult for air forces to accept this. Today, UAVs are active in every modern air force and conduct more flight time than manned aircraft," he stated.

After air forces recognized the technological and operational advantages of UAVs, they began incorporating them into growing numbers of missions. "I think this will be the same with future armored vehicles. This is a breakthrough concept that the IDF is leading, alongside very few states in the West," he added.'It does not require a human to drive it'

In its statement last month, the Defense Ministry said that the Directorate for Defense Research and Development selected IAI-Elta to lead the Carmel program, and that the development would be conducted in cooperation with the IDF's Ground Forces, and the Ministry of Defense's Tank and Armored Personnel Carrier Directorate.

The overall objective, it said, "is to significantly improve maneuvering capabilities. The Carmel concept will be applied to current and future armored fighting vehicles and will include crew members in closed hatches, operating a range of autonomous and AI-driven platforms."

Turgeman said the main approach taken by IAI-Elta is to create a "glass cockpit" vehicle in which two onboard personnel replace the traditional four-person tank crew, thanks to the ability of the onboard computer "brain" to take over many key missions. The onboard crew will be able to "see-through" thick steel, thereby eliminating the need to place their heads out of the hatchets in hazardous combat zones.

"This creates good situational awareness. Our solution is made up of a system and a process that makes decision-making easier. The tank can drive itself off-road as well and can recalculate its routes while dealing with obstacles. It does not require a human to drive it," said Turgeman.

he computer system that controls the vehicle, also onboard, is called Athena. It uses a range of sensors to locate the enemy, analyze its firearms, scan multiple lines of sights and then use that data to influence routes and operational decision-making.

All of that data also influences what kind of firepower the system advises is activated and whether to drive forward to take cover.

Athena presents all significant decision recommendations to a human operator for approval, said Turgeman.

Ultimately, this enables the human operator to deal with the battle picture and not be distracted with technical matters, he added. Instead of worrying about whether his tank will hit a wall, where he is on a map or how to recalculate a route, the human operator can focus on managing the battle.

"Athena is a system that also receives data from external sensors; it plans courses of action from a variety of information," said Turgeman. It relies on AI and deep reasoning capabilities, which IAI-Elta has been developing for years.

The Carmel model includes radars, advanced cameras and systems that can detect the source of enemy fire. These sensors continuously nourish Athena with data.
'Capabilities can go onto a number of platforms'
Asked if Carmel's technologies are currently being introduced into IDF systems, Turgeman said he would not "rule it out," but stressed that Carmel is more about capabilities than any individual single vehicle.
"These capabilities can go onto a number of platforms," he said.
Components of the Carmel future combat vehicle program will be integrated onto IDF's Eitan wheeled armored fighting vehicle, according to the Defense Ministry.
The Defense Ministry said in its statement on Oct. 10 that "many of the Carmel's capabilities will be autonomous, including travel, detection of threats, defense and acquisition of targets. With its innovative user interface, soldiers in the vehicle will be able to view the battlefield in several dimensions. They will receive intelligence, detect threats and acquire targets automatically, enabling them to effectively assess situations and make optimal decisions."
The ministry added that "the Carmel concept is groundbreaking on a global scale and has garnered the interest of many international industries and militaries."
"There are many interested parties, and we have received offers of cooperation from central companies in the world," s.aid Turgeman. "We are examining these in coordination with the defense establishment."
6.
7.
«
Δεν προέρχονται από λαθρεμπόριο πετρελαίου, ούτε από παράνομο στοίχημα»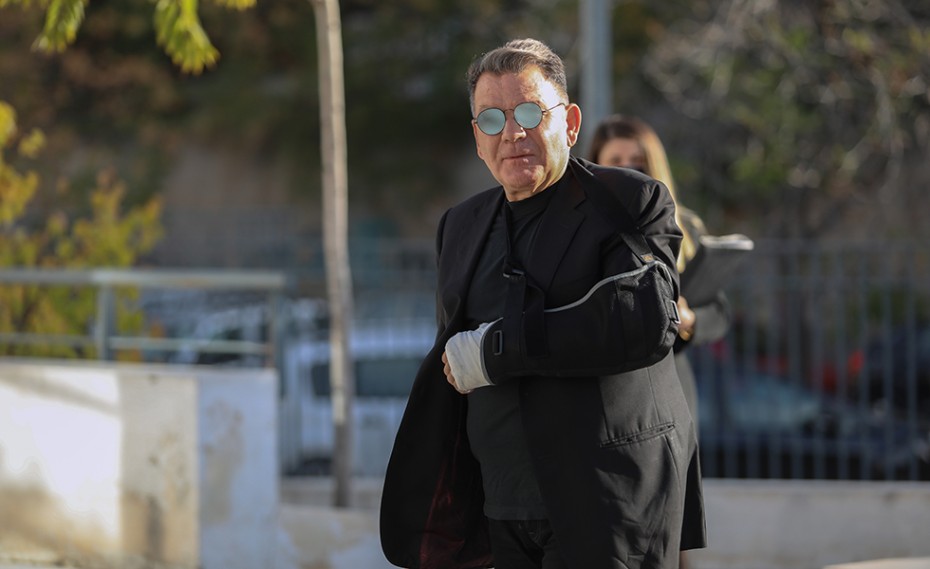 Δεν καταλαβαίνω γιατί η ΑΕΛ των δύο κυπέλλων παίζοντας με 20χρονα Ελληνόπουλα απέναντι σε αυτό το γερασμένο διεθνή θίασο του ΠΑΟΚ απαγορεύεται να προκριθεί.
Φέτος με ένα ανύπαρκτο και ανάποδο φάουλ στο 96 λεπτό μας ισοφάρισαν.
Σκέφτομαι αν πρέπει να συνεχίσω και με τα τίμια χρήματα μου που δεν προέρχονται από λαθρεμπόριο πετρελαίου, ούτε από παράνομο στοίχημα να χρηματοδοτώ την ομάδα μου και αυτή την δήθεν ποδοσφαιρική εκδήλωση που δεν είναι πλέον παρά μόνο μία κοινωνία αλητών με επικεφαλής την εγκληματική οργάνωση της Ηλιούπολης και τους προστάτες της.
Στο τέλος όμως πάλι εμείς θα νικήσουμε».
ΦΙΛΑΚΙΑ!
"ΕΛΛΗΝΑΣ"
-/-