Γειά και Χαρά σας!
1. Άγνοια ή και διαστρέβλωση της Ιστορίας προδίδει η καινοφανής άποψη που ακούσθηκε ότι δηλαδή μεγάλοι ήρωες του 1821 και των μετέπειτα εθνικών αγώνων υπήρξαν Αλβανοί.
Γίνεται σύγχυση με τους Αρβανίτες, τους αρβανιτόφωνους Έλληνες. Άλλο, όμως, Αλβανοί και άλλο Αρβανίτες. Υπάρχει μεγάλη διαφορά. Και εξηγούμεθα:
Ο Μάρκος Μπότσαρης, στην μνήμη του οποίου ασεβούν πολλοί, ήταν Έλλην αρβανιτόφωνος, όπως όλοι οι Σουλιώτες. Η ελληνική του συνείδηση φαίνεται και από την περίφημη φράση που είπε όταν πρωτοπάτησε στα Επτάνησα: «Ο Έλλην δεν μπορεί να αισθάνεται ελεύθερος εκεί όπου κυματίζει η Βρεττανική σημαία». Το δε Λεξικό που έγραψε ήταν της αρβανίτικης – όχι αλβανικής – και ρωμαίικης απλής (νεοελληνικής). Άλλωστε δεν θα μπορούσε να έχει αλβανική εθνική συνείδηση, διότι κάτι τέτοιο εμφανίζεται μόλις το 1878 με την Λίγκα της Πριζρένης – Κοσσυφοπεδίου και μάλιστα ως τεχνιτό κατασκεύασμα ξένων δυνάμεων και θρησκευτικών προπαγανδών.
Κατά την Τουρκοκρατία δεν υπήρχε έθνος Αλβανών. Οι κάτοικοι της σημερινής Αλβανίας διεκρίνοντο με κριτήριο την θρησκεία τους. Οι Ορθόδοξοι ήσαν Ρωμιοί, εντεταγμένοι στο ίδιο Γένος με τους υπόλοιπους Έλληνες. Οι Μουσουλμάνοι ένοιωθαν Τούρκοι, εξ ου και ο όρος Τουρκαλβανοί. Εάν μιλούμε για αλβανική συμμετοχή στην Ελληνική Επανάσταση δεν πρέπει να αναφερόμαστε στους Μποτσαραίους, την Μπουμπουλίνα και τους Κουντουριώτηδες, αλλά στους Τουρκαλβανούς που χρησιμοποιήθηκαν από την άλλη πλευρά ως σφαγείς των Ελλήνων.
Οι Βυζαντινοί πρόγονοί μας δεν ανέφεραν Αλβανούς στην Βαλκανική. Ο Κωνσταντίνος Πορφυρογέννητος ονομάζει Αλβανούς μία φυλή του Καυκάσου. Ο Γεώργιος Καστριώτης – Σκεντέρμπεης, που θεωρείται εθνικός ήρωας των σημερινών Αλβανών, ονόμαζε εαυτόν Ορθόδοξον Ηπειρώτη (15ο αιών). Σε έγγραφα της Γαληνοτάτης Δημοκρατίας της Βενετίας στα τέλη του 15ου αιώνος η λέξη «Αλβανός» ερμηνεύεται » Έλληνες από την Ήπειρο και την Πελοπόννησο» χωρίς να αμφισβητείται η ελληνική συνείδησή τους. Η αλβανική συνείδηση είναι οπωσδήποτε ξενόφερτο κατασκεύασμα όπως αποδεικνύουν και μαρτυρίες των ιδίων των ενδιαφερομένων , τις οποίες κατέγραψε ο σύγχρονός μας διαπρεπής Βαλκανιολόγος Αχιλλεύς Λαζάρου.
Όταν η Ιταλία και η Αυστροουγγαρία για δικούς τους λόγους προσπαθούσαν να κατασκευάσουν αλβανικό κράτος ώστε να ελέγχουν την είσοδο της Αδριατικής, οι Τουρκαλβανοί ύψωναν στο Δυρράχιο την οθωμανική σημαία !
Προτιμούσαν την τουρκική παρά την άγνωστη σ' αυτούς αλβανική εθνική συνείδηση. Άλλωστε και στους Βαλκανικούς πολέμους οι Μουσουλμάνοι της Αλβανίας πολέμησαν, και μάλιστα δυναμικά, στις τάξεις του Οθωμανικού στρατού.
Μετά το 1908 πολλά από τα μέλη του Νεοτουρκικού κομιτάτου, το οποίο σχεδίασε και ξεκίνησε τον διωγμό των Ελλήνων ήταν Τουρκαλβανοί.
Η λέξη Αλβανία, σημαίνει Λευκή Χώρα από το λατινικό ΑΛΜΠΑ : λευκή. Είναι όρος με γεωγραφική και όχι εθνολογική σημασία.
Ο όρος Αρβανίτης που αφορά τους Σουλιώτες, τους Υδραίους, τους Σπετσιώτες και πολλούς κατοίκους των Μεσογείων, προέρχεται από τελείως διαφορετική ρίζα. Συγκεκριμένα από τη λέξη «Άρβανον», τοπωνύμιο της Βορείου Ηπείρου, που το βρίσκουμε ήδη από τον 11ο αιώνα στα κείμενα της Άννας Κομνηνής.
Από το Άρβανον, δηλαδή από την Ελληνικοτάτη Βόρειο Ήπειρο, κατέβηκαν σε πόλεις και νησιά της Νοτίου Ελλάδος ελληνικοί πληθυσμοί που μιλούσαν αρβανίτικα. Δηλαδή μία διάλεκτο ανάμικτη με αρχαία ελληνικά, λατινικά, τουρκικά και εντόπια βαλκανικά γλωσσικά στοιχεία. Οι αρβανιτόφωνοι Έλληνες ουδέποτε είχαν διαφορετική συνείδηση από τους υπόλοιπους Έλληνες. Παρεμφερές παράδειγμα μας δίδουν οι σλαβόφωνοι Μακεδονομάχοι Κώττας, Κύρου, Νταλίπης και άλλοι, οι οποίοι πολέμησαν υπέρ της Ελλάδος κατά των Βουλγάρων κομιτατζήδων. Καθώς και οι τουρκόφωνοι Ορθόδοξοι της Καππαδοκίας που κράτησαν μέσω της Εκκλησίας την ελληνικότητά τους αν και έχασαν την ελληνική γλώσσα. Οι δίγλωσσοι Έλληνες αρβανιτόφωνοι, βλαχόφωνοι, σλαβόφωνοι, κ.λ.π. μας προσφέρουν χαρακτηριστικές αποδείξεις ότι στα Βαλκάνια κατά τους τελευταίους πέντε τουλάχιστον αιώνες η Ορθόδοξη πίστη – και γενικότερα η θρησκεία – διαμορφώνει την εθνική συνείδηση πολύ περισσότερο και από το γλωσσικό ιδίωμα.
Η σύγχυση μεταξύ των λέξεων Αλβανός και Αρβανίτης δημιουργείται μόνον στην ελληνική γλώσσα, διότι φαίνονται να μοιάζουν οι δύο όροι ηχητικά. Η ομοιότης είναι μόνο επιφανειακή. Στην ουσία διαφέρουν κατά πολύ. Άλλωστε οι ίδιοι οι Αλβανοί αποκαλούν εαυτούς Σκιπετάρ και την χώρα τους Σκιπερία : χώρα των Αετών. Τι κοινό μπορούν να έχουν ένας Σκιπετάρ και ένα Έλλην αρβανιτόφωνος ; Ίσως ο ένας να μπορεί να καταλαβαίνει κάποιες λέξεις από τον άλλο. Αλλά αυτό δεν σημαίνει ότι είχαν η έχουν την ίδια εθνική συνείδηση… Μην ξεχνούμε ότι Σέρβοι, Κροάτες και Βοσνιομουσουλμάνοι μιλούν ακριβώς την ίδια γλώσσα, παρά ταύτα συγκρούσθηκαν μεταξύ τους με οδυνηρές συνέπειες.
Σέβομαι και κατανοώ τις προσπάθειες πολιτικών και δημοσιογράφων να περιορίσουν τα ενδεχόμενα φαινόμενα ρατσισμού και ξενοφοβίας – αν και οι ρίζες των προβλημάτων δεν έχουν μελετηθεί σωστά – στην κοινωνία μας. Όμως κάτι τέτοιο δεν γίνεται με άγνοια η παραποίηση της ιστορικής αλήθειας. Ας μάθουμε καλά την Ιστορία μας ώστε και τους Έλληνες Αρβανίτες να τιμούμε για την εθνική τους προσφορά και με τον γείτονα αλβανικό λαό να διατηρούμε σχέσεις καλής γειτονίας, χωρίς βεβαίως να λησμονούμε την ελληνική κοινότητα της Βορείου Ηπείρου.
του Κων/νου Χολέβα, Πολιτικού Επιστήμονος
Πηγή: Χιμάρα
2.
Έτσι παραχωρήθηκε η Βόρεια Ήπειρος στην Αλβανία! Τα νησιά του Αιγαίου και οι Μεγάλες Δυνάμεις

…
Διαβάστε την ιστορία παραχώρησης της Βορείου Ηπείρου στην Αλβανία από τη χώρα μας με αντάλλαγμα τα νησιά του Ανατολικού Αιγαίου μετά από απόφαση των Μεγάλων Δυνάμεων.
Σαν σήμερα, στις 13 Φεβρουαρίου 1914, οι Μεγάλες Δυνάμεις αποφασίζουν ότι τα νησιά του Ανατολικού Αιγαίου θα κατακυρωθούν στην Ελλάδα, εάν αυτή αποχωρήσει από τη Βόρειο Ήπειρο.
Όλα ξεκίνησαν με το Πρωτόκολλο της Φλωρεντίας που υπογράφηκε στις 13 Φεβρουαρίου του 1914 στην ιταλική πόλη από τις Μεγάλες Δυνάμεις και με το οποίο χαράζονταν τα αλβανικά σύνορα. Η περιοχή της Βόρειας Ηπείρου παραχωρούνταν στην Αλβανία, η οποία είχε αναγνωριστεί επίσημα ως ανεξάρτητο κράτος με τη Συνθήκη του Λονδίνου.
Σύμφωνα με την απόφαση το Αργυρόκαστρο, το Βουθρωτό, το Δέλβινο, η Κορυτσά, η Χειμάρα, οι Άγιοι Σαράντα και η νήσος Σάσων ήταν πλέον αλβανικά εδάφη. Οι Μεγάλες Δυνάμεις, οι οποίες μετείχαν στη συνδιάσκεψη ήταν η Αγγλία , η Γαλλία, η Ιταλία, η Ρωσία, η Γερμανία, και η Αυστροουγγαρία. Η συμμαχία της Ιταλίας και της Αυστρίας, ήθελε ένα ανεξάρτητο κράτος στην περιοχή για να αποτελεί μία ζώνη ουδέτερη που να μπορεί να μετατραπεί εύκολα σε προγεφύρωμα σε πολεμική φάση.
Μέσα σε μια νύχτα οι ελληνικοί πληθυσμοί της περιοχή ανήκαν σε διαφορετικό έθνος. Αρχικά ο Ελευθέριος Βενιζέλος αρνήθηκε να παραχωρήσει την περιοχή. Ωστόσο, τον Φεβρουάριο του 1914 οι Μεγάλες Δυνάμεις έστειλαν υπόμνημα στο ελληνικό κράτος στο οποίο διαμήνυαν ότι αν δεν αποχωρούσαν οι ελληνικές δυνάμεις δεν θα γινόταν αναγνώριση των νησιών του Αιγαίου.
Τελικά, η Ελλάδα έκανε πίσω όμως σύντομα ξέσπασαν αναταραχές ανάμεσα στους Βορειοηπειρώτες και τους Αλβανούς. Ακολούθησε το πρωτόκολλο της Κέρκυρας, με το οποίο η Βόρεια Ήπειρος αναγνωρίστηκε ως αυτόνομη περιοχή υπό αλβανική κυριαρχία.
Η Αλβανία συγκροτήθηκε ως Κράτος με τη Συνθήκη του Λονδίνου τον Μάιο του 1913 και τα σύνορά της καθορίστηκαν με το Πρωτόκολλο της Φλωρεντίας στις 17 Δεκεμβρίου 1913. Οι τότε μεγάλες δυνάμεις συμπεριέλαβαν στο νεοσύστατο αλβανικό κράτος και το κομμάτι της Βορείου Ηπείρου. Στη φωτογραφία το αρχηγείο των Ηπειρωτών στους Αγίους Σαράντα τον Απρίλιο του 1914
Πόσες φορές απελευθερώθηκε η Β. Ήπειρος από τον ελληνικό στρατό
Πρώτη απελευθέρωση της Β. Ηπείρου (Α' Βαλκανικός Πόλεμος)
Κατά τον Α' Βαλκανικό πόλεμο, ο ελληνικός στρατός μετά την απελευθέρωση των Ιωαννίνων από τους Οθωμανούς (21 Φεβρουαρίου 1913) είχε απελευθερώσει και όλες πόλεις της Βορείου Ηπείρου.
Δεύτερη απελευθέρωση της Β. Ηπείρου (Α' Παγκόσμιος Πόλεμος)
Όμως η κατάσταση άλλαξε όταν ξεκίνησε ο Α' Παγκόσμιος Πόλεμος. Στις 14 Οκτωβρίου 1914 ο ελληνικός στρατός προέλασε για δεύτερη φορά στη Βόρεια Ήπειρο, όμως πάλι με τη λήξη του πολέμου οι Σύμμαχοι επιδίκασαν τα εδάφη στην Αλβανία, με αποτέλεσμα πολλά ελληνικά σχολεία να κλείσουν και η ελληνική μειονότητα να περιοριστεί από το αλβανικό κράτος.
Τρίτη απελευθέρωση της Β. Ηπείρου (Β' Παγκόσμιος Πόλεμος)
Οι Έλληνες κατάφεραν για τρίτη φορά να καταλάβουν ξανά τα εδάφη στον Β' Παγκόσμιο Πόλεμο όταν αντεπιτέθηκαν στον ιταλικό στρατό και μπήκαν θριαμβευτές στα ελληνικά χωριά της Β. Ηπείρου. Πρώτα απελευθερώθηκαν οι Άγιοι Σαράντα στις 6 Δεκεμβρίου 1940. Το ύψωμα 613 καταλήφθηκε μέσα σε χιονοθύελλα και πολύνεκρο αγώνα εκ του συστάδην, στις 17 Δεκεμβρίου. Στις 19 Δεκεμβρίου κατελήφθησαν, με βαριές απώλειες, από το 6ο Σώμα Πεζικού το στρατηγικής σημασίας ύψωμα Γκιάμι (βόρεια του Πανόρμου) και το ύψωμα Τσίπι (βόρεια του Πύλιουρι). Ανατολικότερα καταλήφθηκε από το απόσπασμα Τσακαλώτου το ισχυρά οργανωμένο ύψωμα Μάλι ε Τζόρετ και ο αυχένας Κούτσι μετά από τριήμερο σκληρό αγώνα που απέφερε στη σημαία του 4ου Σ.Π. χρυσό αριστείο ανδρείας. Στις 21 Δεκεμβρίου, οι Ιταλοί αναγκάστηκαν να εκκενώσουν την πόλη της Χειμάρρας. Πλήθος αιχμαλώτων, ανάμεσα τους και δύο αντισυνταγματάρχες, αλλά και μεγάλος οπλισμός περιέρχονταν στα ελληνικά χέρια. Τη νύχτα του Σαββάτου 22 Δεκεμβρίου 1940, ελληνικά τμήματα εισέρχονταν στην Χειμάρρα και η πόλη επανενώθηκε για λίγο με την Ελλάδα μέχρι τη Γερμανική εισβολή το 1941. Τον Απρίλιο του 1941 μετά την Γερμανική επίθεση που εκδηλώθηκε στα σύνορα με την Γιουγκοσλαβία και τη Βουλγαρία, ο ελληνικός στρατός αναγκάστηκε να εγκαταλείψει για μια ακόμη φορά την Β. Ήπειρο.
Κατοχή – μεταπολεμική περίοδος
Τα χρόνια της κατοχής η αγγλική κυβέρνηση προέβη σε ευνοϊκές δηλώσεις για το βορειοηπειρωτικό ζήτημα στη Βουλή των Κοινοτήτων, αλλά η κατάσταση παρέμεινε ίδια. Όταν ο πόλεμος τελείωσε, ο στρατηγός Ν. Ζέρβας εισηγήθηκε να ενσωματωθεί η Βόρειος Ήπειρος στην Ελλάδα.
Στις 19 Οκτωβρίου 1944 ο Γεώργιος Παπανδρέου ως πρωθυπουργός, διακήρυξε ότι η Βόρειος Ήπειρος είναι αναπόσπαστο τμήμα της Ελληνικής επικράτειας. Ωστόσο, το 1945 ο Ενβέρ Χότζα ανέλαβε την εξουσία και υπήρξαν αντιδράσεις από τους σοβιετικούς αξιωματούχους. Οι Βορειοηπειρώτες υπέστησαν καταπίεση και πολλοί αναγκάστηκαν να μεταναστεύσουν στα αστικά κέντρα. Σημειώνεται ότι σύμφωνα με τη νομοθεσία μόνο όσοι κατοικούσαν στη μειονοτική ζώνη θεωρούνταν Έλληνες. Εκείνο το διάστημα η ελληνική γλώσσα απαγορεύτηκε και ο πληθυσμός διδάσκονταν πλέον την αλβανική ιστορία.
Τον Ιούνιο του 1960, ο Γεώργιος Παπανδρέου σε ομιλία του στη Βουλή επανέφερε το ζήτημα της Βόρειας Ηπείρου: «Εκείνο πάντως το οποίο οφείλουν όλαι αι Ελληνικαί Κυβερνήσεις να γνωρίζουν, είναι ότι το θέμα της Βορείου Ηπείρου υφίσταται. Και εκείνον το οποίον απαγορεύεται εις τον αιώνα, είναι δι΄ οιονδήποτε λόγον η απάρνησις του ιερού αιτήματος…..Καθ΄ όσον αφορά την Βόρειο Ήπειρο… η διεκδίκησις είναι ιερά και απαράγραπτος». Στο τέλος της ομιλίας του ανέφερε: «Αλλ' εκτός της εθνικής διεκδικήσεως, υπάρχει και κάτι άλλο καθημεριvόν, επείγον θέμα: Η προστασία του πληθυσμού της Βορείου Ηπείρου. Η προστασία της ζωής, της τιμής και της περιουσίας του. Εις το σημείον αυτό, έχομεν χρέος να διεξαγάγωμεν συνεχώς αγώνας. Οι μάρτυρες αδελφοί μας, ζητούν από την Μητέρα πατρίδα μόνον συνεχή στοργικήν συμπαράστασιν. διότι ζουν, υπό το κράτος της αφορήτου τυραννίας. Και αυτήν την στοργήν, οφείλομεν να τους παράσχωμεν!»….
Τη δεκαετία του '60 η αλβανική κυβέρνηση ακολούθησε μια πολιτική αφελληνισμού της ελληνικής μειονότητας.
Το Μάρτιο του 1984 ο ΟΗΕ εξέδωσε απόφαση με την οποία καταδικαζόταν διεθνώς η καταπάτηση των ανθρωπίνων δικαιωμάτων από την Αλβανία, σε βάρος των Ελλήνων της Βορείου Ηπείρου. Τα επόμενα χρόνια οι σχέσεις των δύο χωρών άρχισαν να βελτιώνονται, αν και κατά καιρούς υπήρξαν επεισόδια που καλλιέργησαν εθνικιστικοί κύκλοι.
Σήμερα υπολογίζεται ότι υπάρχουν 99 χωριά όπου ζουν Έλληνες, εκ των οποίων οι περισσότεροι μιλούν την ελληνική γλώσσα και ζουν αρμονικά με τους Αλβανούς.
Φωτογραφία: Η επίσημη ανακήρυξη της βορειοηπειρωτικής αυτονομίας στο Αργυρόκαστρο, την 1η Μαρτίου 1914. Σε πρώτο πλάνο, ο Γεώργιος Χρηστάκης – Ζωγράφος, μέλη της κυβέρνησης, του κλήρου και του στρατού.
Πηγή: Εθνικό και Ιστορικό Μουσείο, Αθήνα
Πηγή: mixanitouxronou
3. 
Τί συμβαίνει; Χιλιάδες ΟΠΛΑ και ΧΕΙΡΟΒΟΜΒΙΔΕΣ βρίσκονται ΠΑΡΑΝΟΜΑ στα χέρια Αλβανών

…
Το λαθρεμπόριο όπλων στην Αλβανία ανθίζει όπως δείχνουν τα στοιχεία του Υπουργείου Εσωτερικών της χώρας.
Σύμφωνα με αλβανικό δημοσίευμα, τα στοιχεία που δημοσιοποιήθηκαν εν όψει της προσπάθειας για τον έλεγχο των φορητών όπλων, ελαφρύ οπλισμού, πυρομαχικών και εκρηκτικών για την περίοδο 2019-2024 και του σχεδίου δράσης 2019-2021, δείχνουν ότι η διακίνηση τοχερσαίων συνόρων από άτομα ηλικίας 16 έως 45 ετών.
«Σε γενικές γραμμές στις περιπτώσεις αυτές, τα πυροβόλα όπλα διακινούνται από τα χερσαία σύνορα κρυμμένα σε οχήματα, λεωφορεία, φορτηγά, Ι.Χ. ή μεταφέρονται από άτομα που διασχίζουν παράνομα τα σύνορα.
Από τις υποθέσεις που διερευνήθηκαν, συνάγεται το συμπέρασμα ότι η διακίνηση πυροβόλων όπλων γίνεται σε μικρές ποσότητες, από ένα έως δύο τεμάχια. Οι ηλικιακές ομάδες που εντοπίστηκαν είναι κυρίως άνδρες που κυμαίνονται από 16 έως 45 ετών», αναφέρει μεταξύ άλλων το έγγραφο.
Στη διακίνηση εμπλέκεται και η Ελλάδα, καθώς αναφέρει το έγγραφο πως υπάρχουν περιπτώσεις διακίνησης στα σύνορα Αλβανίας- Ελλάδος, Αλβανίας-Ιταλίας. Πρόκειται για πιστόλια και αυτόματα τα οποία έχουν κλαπεί από στρατιωτικές αποθήκες το 1997, καταλήγει.
Βαλκανικό Περισκόπιο
4.
«
Φιτίλι» έτοιμο να ανάψει στα Βαλκάνια: Υπουργός των Σκοπίων κάνει το σήμα της Μεγάλης Αλβανίας

.
Ενδεικτική των προθέσεων των Σκοπιανών, είναι η φωτογραφία, στην οποία εικονίζονται τρεις υπουργοί Αμυνας να σχηματίζουν με τα χέρια τους χαμογελαστοί τον Αλβανικό Αετό, δηλαδή, το σήμα της Μεγάλης Αλβανίας.
Ο ένας μάλιστα από τους τρεις, είναι ο υπουργός Άμυνας των Σκοπίων, ο οποίος είναι Αλβανός. Οι άλλοι δύο είναι ο ένας, του Κοσσυφοπεδίου και ο άλλος της Αλβανίας.
5. 
Feb. 12, 2019
News Release
Press Operations
Release No. NR-026-19
New Strategy Outlines Path Forward for Artificial Intelligence
The Department of Defense on Feb. 12 released the summary of its strategy on artificial intelligence. The strategy, Harnessing AI to Advance Our Security and Prosperity, outlines how DOD will leverage AI into the future.
Key tenets of the strategy are accelerating the delivery and adoption of AI; establishing a common foundation for scaling AI's impact across DOD and enabling decentralized development and experimentation; evolving partnerships with industry, academia, allies and partners; cultivating a leading AI workforce; and leading in military AI ethics and safety.
The department's strategic approach to AI emphasizes its rapid, iterative, and responsible delivery and then the use of lessons learned to create repeatable and scalable processes and systems that will improve functions and missions across the department.
AI is poised to change the character of the future battlefield and the pace of threats faced in today's security environment. The United States, together with its allies and partners, must adopt AI to maintain its strategic position and prevail on future battlefields.
AI will impact every corner of the department, spanning operations, training, sustainment, force protection, recruiting, healthcare and others.
The focal point of DOD AI is the Joint Artificial Intelligence Center, established last June under DOD Chief Information Officer Dana Deasy and led by Lt. Gen. John "Jack" Shanahan, to provide a common vision, mission and focus to drive department-wide AI capability delivery.
DOD's AI strategy supports the National Defense Strategy and is part of DOD's overall efforts to modernize information technology to support the warfighter, defend against cyber attacks and leverage emerging technologies.
https://dod.defense.gov/News/News-Releases/News-Release-View/Article/1755388/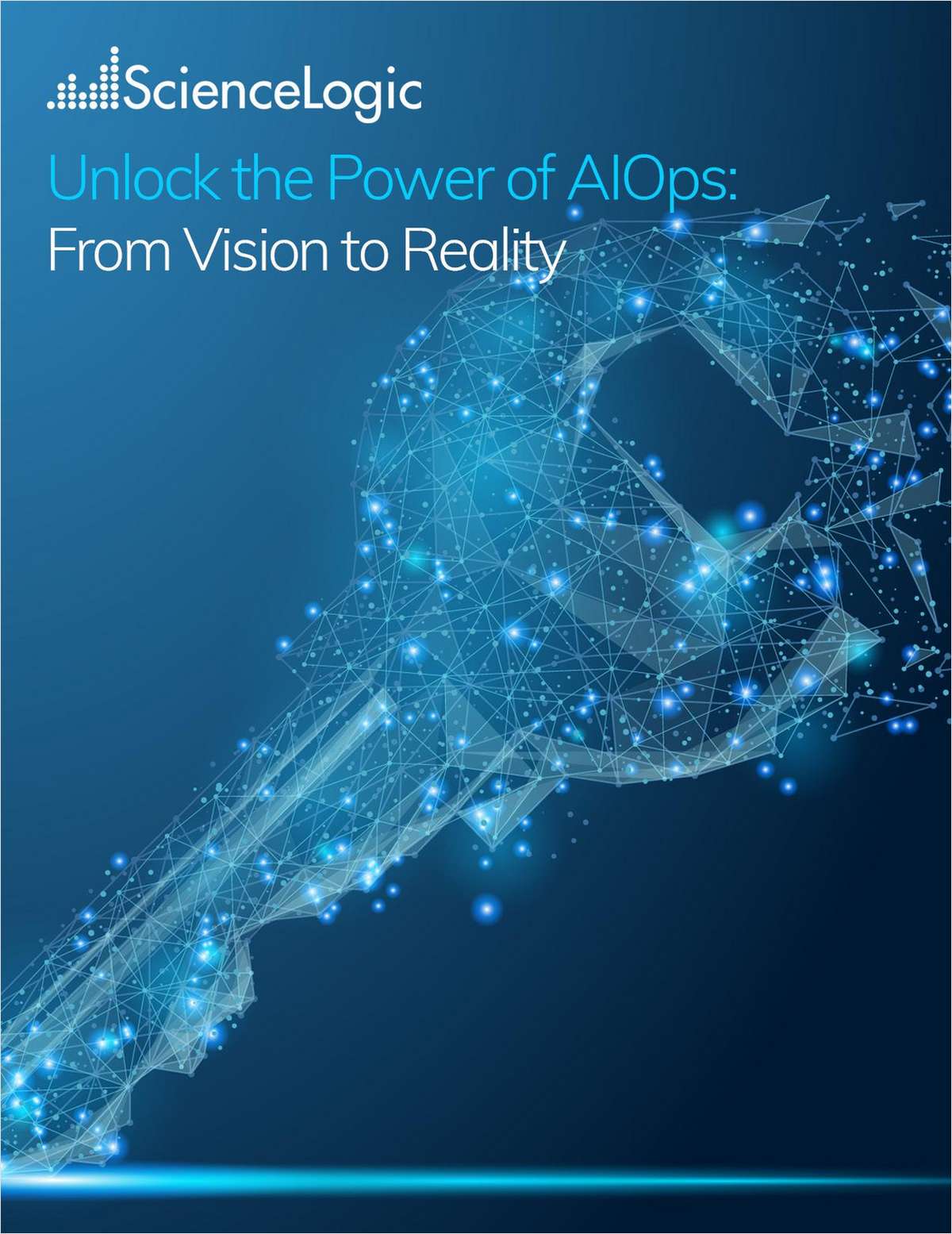 Free White Paper: "Unlock the Power of AIOps: From Vision to Reality

"

Artificial intelligence for IT Operations (AIOps) is widely defined as the result of big data and artificial intelligence/machine learning.

6.