1.
Jailed PKK Leader Calls for End to Mass Hunger Strike
Thousands of prisoners in Turkish jails have ended a 200-day-long hunger strike after jailed Kurdish rebel leader Abdullah Ocalan was allowed to see his lawyer for the first time in eight years. …
Experts: Combine US, S. Korean Missile Systems to Boost Defense vs. North
South Korea should integrate its missile defense system with that of the U.S. to maximize the combined capabilities to counter a potential incoming flight of North Korea's missiles across the border, experts said in the wake of Pyongyang's two missile launches in early May. …
Type 055 destroyer 'pillar' of North China Sea fleet: report
China's first 10,000-ton-class Type 055 destroyer Nanchang is reportedly joining the North China Sea Fleet of the People's Liberation Army Navy, a move that Chinese military experts hailed as crucial to the fleet's combat capability. …
Russia launches advanced nuclear-powered icebreaker to navigate in Arctic
Russia has launched a nuclear-powered icebreaker at the Baltic Shipyard in St. Petersburg in an apparent attempt to boost its ability to tap the Arctic's commercial potential. …
2. 
Mossad team that swiped Iranian nuclear archive to get defense prize
Prime Minister Benjamin Netanyahu reveals secret documents on Iran's nuclear weapons program obtained in a Mossad operation, April 30, 2018. (Flash90/Miriam Alster)
By Batya Jerenberg, World Israel News
The 2019 Israel Security Prize will be awarded to the Mossad for its success in breaking into a Tehran archive last year and spiriting out thousands of documents that proved Iran had worked on developing nuclear weapons long after the Islamic Republic said it had stopped.
The decision, announced Sunday, was made by a committee that took into consideration many factors, including the significance of the intelligence material found, the level of risk in the operation, and how much its success meant to the security of the country.
The group was headed by Prime Minister Benjamin Netanyahu, who also serves as defense minister.
Israel shared the archive's information with the U.S., giving the Trump administration additional ammunition to back out of the 2015 nuclear deal with Iran, which it did shortly after. The documentation was therefore of prime importance to Israel's security, as Netanyahu had stated for years that the deal was a strategic threat to the Jewish state.
The extreme riskiness of the operation is also unquestioned. A number of operatives had to sneak into the capital city of Israel's most powerful enemy, break into a warehouse, crack its safes, pack half a ton of binders and compact discs onto a few trucks, and drive them out of the country without being noticed or even pursued. According to reports, they did indeed have Iranian security forces "hot on their tails."
The fact that the Mossad even discovered the location of the archive is considered an intelligence coup. The archives were hidden in a nondescript building.
"But from the inside, it contained Iran's secret atomic archives locked in massive files," he added. ""Few Iranians knew where it was, very few, and also a few Israelis."
President Reuven Rivlin will present Israel's most prestigious defense prize to the Mossad and two other security bodies next month in a ceremony at the presidential residence.
The Mossad will be honored as an institution. Though it is safe to assume that the actual team which carried out the James-Bond-style heist will be invited to the closed-door event.
The prize is often given to anonymous undertakings that must remain shrouded in secrecy for decades if not in perpetuity. In this case, however, the prime minister announced the January 2018 operation to the world in a news conference and revealed the archive's most salient details.
After sharing the intelligence with Israel's allies, he then reiterated its highlights at the fall opening of the General Assembly at the United Nations.
3. 
INN – Monday, May 27th is Memorial Day, formerly called Decoration Day. Remember what it s all about.
Memorial Day is a holiday that means so much more than hot dogs, parades, and the start of the summer. Not that those things are bad, but it isn t Memorial Day unless we remember what the day is really about honoring the people who laid down their lives to save our lives, and to protect America, and our freedoms.
Please spend some time today to remember those who sacrificed, pray that God protects their souls, and comfort their bereaved loved ones.
A Memorial Day Prayer based on the traditional Jewish prayers for the government and armed forces:
Lord who grants salvation to kings and dominion to rulers, Whose kingdom is a kingdom spanning all eternities; Who places a road in the sea and a path in the mighty waters may you bless the President, the Vice President, and all the constituted officers of the government of this land. May they execute their responsibilities with intelligence, honor, and compassion. And may these United States continue to be the land of the free and the home of the brave.

May those of us who remain free never forget their sacrifice, and may their memories always be for a blessing.

May He bless the members of our armed forces, who protect us from harm, on the land, in the air, and on the sea. May the Almighty cause the enemies who rise up against us to be struck down before them. May the Holy One, Blessed is He, preserve and rescue our fighters and their families from every trouble and distress and from every plague and illness, and may He send blessing and success in their every endeavor.
May the God of overflowing compassion, who lives in the highest and all worlds, give limitless rest to those who are now under his Holy sheltering spiritual wings, making them rise ever more purely, through the light of your brilliance, and may he bless their souls forever and may he comfort the bereaved. May those of us who remain free never forget their sacrifice, and may their memories always be for a blessing.
The Original Order Creating the Memorial Day Holiday:
The 30th day of May, 1868, is designated for the purpose of strewing with flowers, or otherwise decorating the graves of comrades who died in defense of their country during the late rebellion, and whose bodies now lie in almost every city, village, and hamlet churchyard in the land. In this observance no form or ceremony is prescribed, but Posts and comrades will, in their own way, arrange such fitting services and testimonials of respect as circumstances may permit.
We are here to pray, Comrades, as our regulations tell us, for the purpose among other things, of preserving and strengthening those kind and fraternal feelings which have bound together the soldiers sailors and Marines, who united to suppress the late rebellion. What can aid more to assure this result than by cherishing tenderly the memory of our heroic dead? We should guard their graves with sacred vigilance. All that the consecrated wealth and taste of the nation can add to their adornment and security, is but a fitting tribute to the memory of her slain defenders. Let pleasant paths invite the coming and going of reverent visitors and fond mourners. Let no neglect, no ravages of time, testify to the present or to the coming generations that we have forgotten as a people the cost of a free and undivided republic.
trust, ours shall keep it well as long as the light and warmth of life remain in us.
Let us, then, at the time appointed, gather around their sacred remains, and garland the passionless mounds above them with choicest flowers of springtime; let us raise above them the dear old flag they saved; let us in this solemn presence renew our pledge to aid and assist those whom they have left among us a sacred charge upon the Nation s gratitude the soldiers and sailors widow and orphan.
It is the purpose of the Commander in Chief to inaugurate this observance with the hope that it will be kept up from year to year, while a survivor of the war remains to honor the memory of his departed comrades. He earnestly desires the public press to call attention to this Order, and lend its friendly aid in bringing it to the notice of comrades in all parts of the country in time for simultaneous compliance therewith.
On the first Decoration Day, General James Garfield made a speech at Arlington National Cemetery, and 5,000 participants decorated the graves of the 20,000 Union and Confederate soldiers buried there.
(Photo – Wiki Commons)
4.
"ΞΕΛΑΜΠΙΚΑΖ"
5.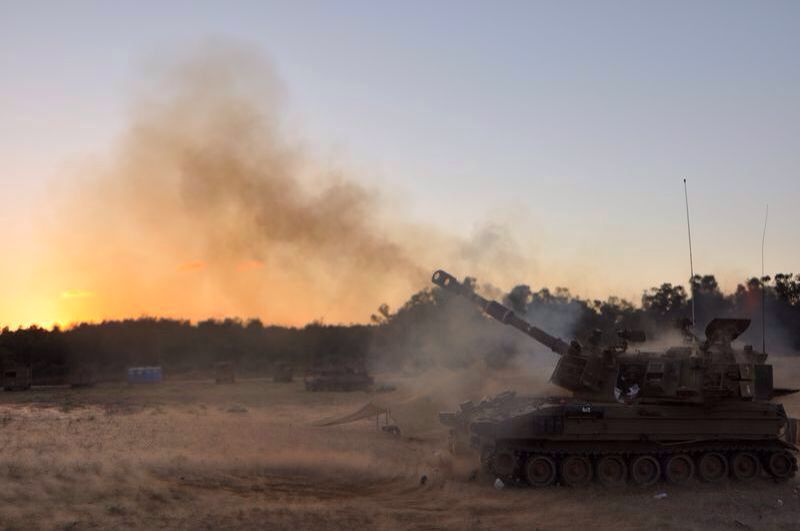 05-27-19
Arab Allies want Israel to crush Hamas
INN
 – Prime Minister Netanyahu takes pride in new cooperation and communication channels with Arab governments. Formal and informal ties with Egypt, Jordan, Saudi Arabia, Bahrain and Oman contribute to a growing Jewish confidence that Arab countries are finally accepting a sovereign Jewish state in their midst.
This delusion is embraced by Jews desirous to confuse a short-term tactical embrace with a fundamental shift in attitudes. The bitter truth is that none of the autocrats that Israeli diplomats or Jewish communal leaders meet has the best interests of Jews or Israelis at heart.
These leaders are simply reading the writing on the wall. They understand that under the Trump Administration, adequate relations with Israel are a prerequisite for support in confronting Iranian Shiite imperialism, which threatens their territories and their autocracies. It is therefore irresponsible to attribute Arab overtures towards Israel to anything save base political survival instincts.

Netanyahu s strategy is similar to that of European governments, which are afraid of challenging core Islamic tenets such as armed jihad in order not to alienate the moderate Islamist organizations.

Understanding this reality is crucial for Israeli leaders not to mistake diplomacy with appeasement. Despite a rightwing leadership, Israel has repeatedly ignored threats and attacks launched from Gaza, including hundreds of rockets and incendiary balloons, which have murdered Israeli civilians and burned thousands of acres in Southern Israel.
Common wisdom suggests that the bland Israeli response reflects the absence of positive post-Hamas scenarios in Gaza. However, the deeper truth is that Netanyahu restrains the IDF in order not to antagonize the Arab autocrats which his government courts.
In this regard Netanyahu s strategy is similar to that of European governments, which are afraid of challenging core Islamic tenets such as armed jihad in order not to alienate the moderate Islamist organizations co-opted to resist the growing influence of extremist Islamists in Europe.
These strategies will both fail. Supporting orthodox Islam in order to win over moderate Islamists will further embolden extremist Islamists. Likewise, appeasing Gazan terrorists in order not to alienate autocrats in Riyadh or Manama will earn Israel the collective scorn of the Arab world.
Israel needs to boost its credentials as a generous ally and as a formidable foe. Responding ruthlessly to Hamas aggressions, will earn Israel the respect of Middle Eastern leaders, who just like Hamas, read any Israeli indulgence as a sign of weakness and unreliability. Arab autocrats, who need Israel far more than Israel needs them, desire a confident Israel to crush its enemies, not a craven country that bends over to terrorists.
If Israel is too weak to deter Hamas, how can she be a trustworthy ally in thwarting Iranian expansionism in the Middle East?
(Photo – Wiki Commons)
6. 
DEMOCRATS' NATIONAL POPULAR VOTE SCHEME
Is a devious plan in gear for Hillary's 2020 presidential run?
May 27, 2019
Former First Lady Hillary Clinton lost the presidential election of 2016, and the Democrat's defeat at the hands of Donald Trump was the biggest story in the world. In September of 2017,  Clinton went on record that the electoral college helped Donald Trump win the presidency and told CNN, "I think it needs to be eliminated. I'd like to see us move beyond it." The proclamation did not get as much traction as her defeat, but the 2016 loser wasn't done.
"I win the coast, I win, you know, Illinois and Minnesota, places like that," proclaimed Clinton in a March, 2018 speech in Mumbai, India. "So I won the places that are optimistic, diverse, dynamic, moving forward." Clinton was on record that eliminating the electoral college was a move ahead, so by implication without that, "arcane election body," as CNN put it, the progressive Democrat would win in a landslide.
Establishment media have been slow to track Democrat efforts to eliminate or weaken the electoral college. Fortunately, Tara Ross has been keeping watch for the Daily Signal.
In Nevada last week, the state senate approved National Popular Vote legislation. The NPV would render the electoral college irrelevant by requiring electors to vote for the national vote-winner instead of the candidate capturing the most votes in their states. Ross finds the basic structure of the NPV to be dishonest.
The Constitution provides that America's state-by-state presidential election system cannot be changed without the consent of three-quarters (38) of the states. The NPV, Ross notes, "seeks an end run around this process. It wants states to sign a simple interstate compact instead."
In that deal, states agree to give their presidential electors to the winner of the national popular vote, regardless of the outcome within a state's borders. The compact kicks in when states holding 270 electors have signed on. As Ross notes, that would be enough to win the presidency, and Ross finds trickery afoot in the NPV ranks.
In Minnesota, legislators concealed the NPV compact in an elections omnibus bill, and when that failed they stuck it in an appropriations measure. Hearings on the NPV have been hastily scheduled, making it difficult for supporters of the electoral college to testify. Supporters of the electoral college have also been excluded from allegedly "educational" sessions on the NPV compact.
By Ross's count, a full 14 states plus the District of Columbia have signed on, and these states hold 189 electors. If Nevada's Democrat governor Steve Sisolak signs the state senate bill, that brings the total to 195, only 75 electors short of 270. If Maine and Oregon approve the compact, Ross notes, "National Popular Vote will be only 64 electors short of its goal." The NPV "relies on the state-based aspects of the system when convenient, but then switches to reliance on a national tally when that's convenient." So NPV wants to have it both ways.
Ross finds the NPV dishonest, deceptive, and infantile, like a kid who takes his football and goes home. "You don't change the rules of the game just because you lost," Ross explains. "Instead, you work on your weaknesses, improving so you can win next time." NPV is a flat rejection of that course by the Democrats who, instead of developing coherent policy, are determined to topple Trump any way they can. And as Ross finds California making noises about keeping Trump's name off the ballot in the Golden State.
NPV critics are right that the scheme would concentrate power in states like California and New York with the largest population centers. As Nevada assemblyman Jim Wheeler noted, with a national popular vote, why would candidates "even bother coming here." Wheeler voted no on NPV "because I don't want Nevada to be a flyover state." Mr. Wheeler thus restates the purpose of the electoral college, to prevent a candidate from becoming president of the entire country by winning only a few populous states.
As Tara Ross recognizes, if Hillary Clinton had won the electoral college in 2016, none of this would be happening. And if Hillary Clinton had won, nobody would know about Midyear Exam, Crossfire Hurricane, Peter Strzok, Lisa Page, and the rest of the Clinton coup clan.
Meanwhile, last Friday in Houston, Hillary Clinton delivered a fiery speech blasting President Trump as "running scared" and the "very real constitutional crisis that this president has put us in." As Dom Calicchio of Fox Newsexplained, that  "may have sounded like a campaign speech to some listeners."
And some political observers "have suggested that Clinton could make a third bid for the presidency in 2020 if none of the more than 20 Democrats currently in the running emerges as a clear threat to deny Trump a second term."
So the surging National Popular Vote may be gearing up for a new Hillary Clinton presidential campaign. As 2020 approaches, voters and legislators in all states have plenty to ponder.
7. 
And why they prefer to live in a Jewish democratic state.
May 27, 2019
British Labor party shadow Foreign Secretary Emily Thornberry, speaking at the British House of Commons (May 13, 2019), accused Israeli Prime Minister Benjamin Netanyahu of taking steps that pushed Israel "away from democracy, and away from the rule of law while also attacking the freedoms of Israeli Arabs…" It is apparent that Ms. Thornberry's accusations against Prime Minister Netanyahu have to do with the Jeremy Corbyn led Labor party policies rather than with reality on the ground. This reporter has just traveled throughout Israel and experienced a different reality insofar as Arab-Israeli citizens are concerned. Ms. Thornberry should do likewise and travel throughout Israel before making a judgement about Arab freedoms in Israel.
In the last Israeli parliamentary elections on April 9, 2019, the combined Arab parties, Hadash-Ta'al and Ra'am-Balad lost 3 seats (mandates) in the Knesset. Ahmed Tibi and Ayman Odeh decided to run on an independent list and garnered 6 seats while the more radical and Islamist Ra'am-Balad party, led by Mansour Abbas received 4 (it barely passed the threshold of 3.25% of the vote), down from 13 in the previous 2015 elections when the two parties ran on a combined list. These results reflect the disenchantment of younger Arab-Israelis with their Knesset representatives. The Arab Knesset members, in the words of many young Arab voters, care more about the welfare of Palestinian Arabs than about their own constituents, who seek to integrate into Israeli society and partake in Israel's prosperous economy.
The New York Times, with its anti-Netanyahu bias, reported (by David Halbfinger) on March 20, 2019 that according to a new poll from the University of Maryland suggested that Mr. Netanyahu's racial provocations may spur turnout among Arab voters motivated to usher him out of office. Exactly the opposite has happened. The Arab turnout dropped by 15% from 64% in 2015 to 49% in the recent election.  Netanyahu and his Likud party garnered the most votes, and he is more than likely to continue serving as Prime Minister. According to the same New York Times story, the number of Arabs identifying themselves as Israeli first, rather than Arab, Palestinian, or Muslim has been steadily ticking up to 17% up from 12% in 2011, but this does not account for those young Arabs who find it socially dangerous to identify themselves as Israeli first.
Whether at the Jaffa Port or at the Dead Sea Resorts, while traveling throughout the country, this reporter witnessed Arab families freely mixing with Israeli families and looking indistinguishable were it not for their speaking Arabic. At the Jaffa Port on a Friday night (the Muslim Shabbat), restaurants were packed with Arab dinners along with Israelis. At the long boardwalk, Arab women paraded their finest dresses, and fashionable jeans worn by younger Arab women. The ice cream parlor owned by Arabs was a mecca for Jewish Israeli customers as was the famed Abulafia restaurant. In the very Jewish northern Tel Aviv boardwalk, Arab-Israeli women with strollers sat at the outdoor tables of the expensive restaurants, exhibiting their middle-class status, and their independence.
Along the resort town of Eilat's long and attractive boardwalk, sandwiched between luxury hotels and the Red Sea, Arab families vacationing in town, walked along with Israelis during Israel's Independence Day celebration. Not even a single incident or a frown, nasty look, or an insult was levelled at the Arab vacationers. Some (women) who stood out by their head cover, proudly identifying themselves as Muslim, were treated with respect, and it was clear that the Arab families enjoyed their time as much as the Israelis. What struck this reporter most is the fact that many Arabs managed the catering at the hotels both in the Dead Sea and Eilat, as they were supervising Jewish-Israeli employees. I never heard a complaint from Israelis about that. It is now so common that nobody cares about the religious or ethnic identity of a person. Israeli Jews and Arabs young, urban, and educated, share the same westernized culture. They attend the same clubs and show up at the same concerts. Israeli universities give preference to Arab students in their admission policies. Like the U.S., Israel's Affirmative Action is designed to benefit the Arab minority. Arab professors teach in virtually all major Israeli universities.
Should you wander into a pharmacy, almost anywhere in Israel, you are likely to be serviced by an Arab pharmacist, in hospitals Arab physicians abound. Arab-Israelis have a head-start over Jewish-Israeli youth in that they are not obligated to serve in the Israel Defense Forces (IDF). They can however volunteer, and more and more Arab (Muslim) youth are doing so, realizing that it is a clear path into Israeli society and economy. This reporter encountered Arab-Israelis as well as Palestinian-Arabs as workers, managers, and employers throughout Israel, and no one I spoke to complained about discrimination.
As Tel Aviv is gripped by the Eurovision Song Contest it is hosting this year, viewed by over 300 million throughout Europe and beyond, cameras focus on Lucy Ayoub, an Israeli Arab born in Haifa, who proudly enlisted in the IDF, and served two years as a flight simulator instructor in the Air Force. Lucy graduated from Tel Aviv University and joined the Israel Broadcasting Corporation (IBC). She hosts a weekly cultural program on the radio, and the Culture Club on Kan 11 TV channel, an IBC station. The media however, would rather cover a Muslim-Arab agitator like former Knesset Member Hanin Zoabi, who leads Israeli-Arabs in demonstrations against recruitment of Arabs into the IDF, including Arabs from the Christian community.
Politically, Israeli Arabs are the only Arab community in the Middle East that can influence the make-up of the nation's government with their votes. By way of contrast, in neighboring Arab states, public opinion, not to mention their votes, holds little sway over government decisions. While Arab-Israelis may be quite unhappy with their current Knesset representatives, they are nevertheless aware of the fact that in the State of Israel they, and other minorities have a paradise of democracy, a delightful exception among Middle East and Palestinian dictatorships.
Ms. Thornberry's unsubstantiated allegation that PM Netanyahu is "attacking the freedoms of Israeli Arabs" is negated by the realities visible to everyone visiting Israel without a political agenda who cares to speak the truth. Arab-Israelis enjoy the same freedoms Israeli Jews have. Arab-Israelis relish their religious freedom, equality under the law, and human and civil rights Israeli democracy affords them.  While they may resent the fact that Israel enshrines Jewish symbols, they must be cognizant of the fact that Israel is the nation-state of the Jewish people. One such Jewish state compared to 22 Arab Muslim states. And yet, given a choice, every poll has shown that the most Arab-Israelis prefer to live in a Jewish democratic state rather than in the neighboring Arab-Muslim states, including being subjects of the Palestinian Authority.
8.
Bakan Akar, S-400'ler için tarih verdi…
Milli Savunma bakanı Hulusi Akar, S-400'lerle ilgili 'anlaşma imzalandı ve bitti, bunun böyle bilinmesi lazım. Haziran'a yetişmeyebilir, önümüzdeki aylarda Türkiye'ye gelecek' dedi

.
Bakan Hulusi Akar,

Habertürk TV

'de Didem Arslan Yılmaz'ın sorularını yanıtladı.
Akar, S-400 anlaşmasının tamamlandığını, bir sıkıntı olmadığını belirterek, sistemin Haziran ayına yetişmeyebileceğini ancak önümüzdeki aylarda Türkiye'ye geleceğini söyledi.
Akar şöyle konuştu:
"S-400 KONUSUNDA SIKINTI YOK, ANLAŞMA TAMAMLANDI"
"Çevremizde ülkeler var. Onların uçakları füzeleri var. 82 milyonun güvenliği bakımdan birtakım sistemler alıyoruz. Bunların biri de hava savunma sistemi. S-400 bir şekilde belirlendi. Birtakım sıralı çalışmalarla belirlendi,bir anda çıkmadı ortaya. Türkiye'de ilgili kurum ve kuruluşlar, bakanlıklar birtakım kriterler belirledi. Biz bu kriterlerle çıktık ortaya. Birlikte üretim var, ihracat var. Bu anlaşma imzalandı ve bitti. Bunu Cumhurbaşkanımız da birçok kez tekrarladı."
ABD'NİN TÜRKİYE'YE SÜRE VERDİĞİ İDDİASI
Yok öyle bir süre yok. Bende öyle bir bilgi yok.
"HAZİRAN'A YETİŞMEYEBİLİR AMA ÖNÜMÜZDEKİ AYLARDA GELECEK, SÜREÇ BAŞLADI"
Haziran'a belki yetişmeyebilir ama önümüzdeki aylarda gelecek. Süreç başladı. Oradaki idari, lojistik bazı teknik konular var. O teknik konular tartışılıyor. Onlar tamamlandıktan sonra, lojistik konular halledildikten sonra intikaller başlayacak."
ΣΧΟΛΙΟ: 
– Καλά ρε συ Χουλουσί, μόλις πρόσφατα ο ΡΤΕ είπε ότι οι S-400 θα ερχόντουσαν και πιο πριν από τον… Ιούνιο!.. Τώρα… έγινε "στους επόμενους μήνες";
– Σου ξαναγράφουμε: "ΜΗΝ ΦΑΣ ή ΜΗΝ ΦΑΤΕ" Χουλουσί!.. Τα είπαμε για τους S-400 και δεν τα… ξαναλέμε!..
– Πού πήγαν ρε Χουλουσί οι δικοί σας στην Ρωσία για εκπ-ση στους S-400; Βγάλτε καμία φωτογραφία, ώστε να δούμε ποιούς ακριβώς στείλατε, για να ξέρουμε ποιολί δικοί σας έχουν υψηλό "IQ"!.. Αχαχαχαχαχαχαχαχαχαχα! Τα leo-2 τα μάθατε βρε ή ακόμα ταλαιπωριέστε;
– Α! Χουλουσί και κάτι ακόμα! Στρ-κά ΜΟΕ με… MİT-çiler και άτομα από το…ΥΠΕΞ σας, δεν γίνεται ρε Χουλουσί!.. Χαίρε!.. 
8. 
Την άποψή μας συνολικά Κε Χίε για τις Ευρωεκλογές μας, Περιφερειακές, κλπ, και όχι μόνον για τον Νεο-Ναζιστή… ΣΤΑΛΙΝ, ΓΓ της "Χ. ΑΥΓΗΣ", Μιχαλολιάκο, θα την διαβάσεις σύντομα!
– Με την ευκαιρία, το CD σου με την ε/φ σου του τελευταίου Σ-Κ, για το κοινό των… προσωπικοτήτων ΣΤΑΛΙΝ και ΧΙΤΛΕΡ, ήταν Α-ΡΙ-ΣΤΟ !!! ΣΥΓΧΑΡΗΤΗΡΙΑ! Μακάρι να το πήραν οι Έλληνες!..
– Επιτέλους(!), κατάλαβες αρκετά πράγματα, διαβάζοντάς μας!..
9.
ΣΟΚ από Βαγγέλη Περρή για "Μπαγκς Μπάνι

"

, Ευαγγελάτο, Αντώναρο και Τσίπρα!

«

Καθάρματα

…»
Στα γκάλοπ του Documento, της ΕΡΤ και του Αντώναρου, ο ΣΥΡΙΖΑ έσκισε

!
Οι μεγάλες δημοσκοπικές επιτυχίες των μέσων και των προσώπων που στηρίζουν την απερχόμενη κυβέρνηση
Βαγγέλης Περρής
Ο Ηγέτης είχε καταδικάσει τις «δημοσκοπήσεις της συμφοράς», όπως τις αποκάλεσε, που έλεγαν ότι η διαφορά ΝΔ και ΣΥΡΙΖΑ θα κυμαινόταν στο 5%. Για ακόμη μία φορά ειχε δίκιο, γιατί η διαφορά πάει να γίνει διψήφια.
Εδώ και ένα μήνα δημοσιοποιούνται δημοσκοπήσεις. Σε αυτές που προέβλεπαν ότι διαφορά μεταξύ Νέας Δημοκρατίας και ΣΥΡΙΖΑ υπήρχε περίπτωση να ξεπεράσει το 5%, το σύστημα των αντισυστημικών μέσων απαντούσε με δικά του στοιχεία. Το τελευταίο, μάλιστα, διάστημα προετοίμαζε τους αναγνώστες του για νέα πανηγύρια στο Σύνταγμα.

Δημοσκόπηση Documento
Ο σύντροφος Βαξεβάνης ήταν σίγουρος ότι όλα τα γκάλοπ της ελίτ και των ολιγαρχών λένε ψέματα, οπότε ανέλαβε ο ίδιος να διορθώσει τα πράγματα παραγγέλνοντας δικά του νούμερα. Βρήκε ότι η διαφορά μεταξύ Νέας Δημοκρατίας και ΣΥΡΙΖΑ είναι 2,3%, ότι ο ΣΥΡΙΖΑ πλησιάζει το 30% (28,2%) και έδωσε το κατιτίς του στην "Χρυσή Αυγή" (7,8%), ώστε να γίνει φανερός ο «φασιστικός κίνδυνος» και να συσπειρωθούν οι ψηφοφόροι στο κόμμα που μαζί με τους φασίστες είχε ρίξει την προηγούμενη κυβέρνηση. Ενώ όμως το γκάλοπ του Documento ανέβαζε τους φασίστες, κατέβασε το ΚΙΝΑΛ στο 5,8% και το περιόριζε στη τέταρτη θέση.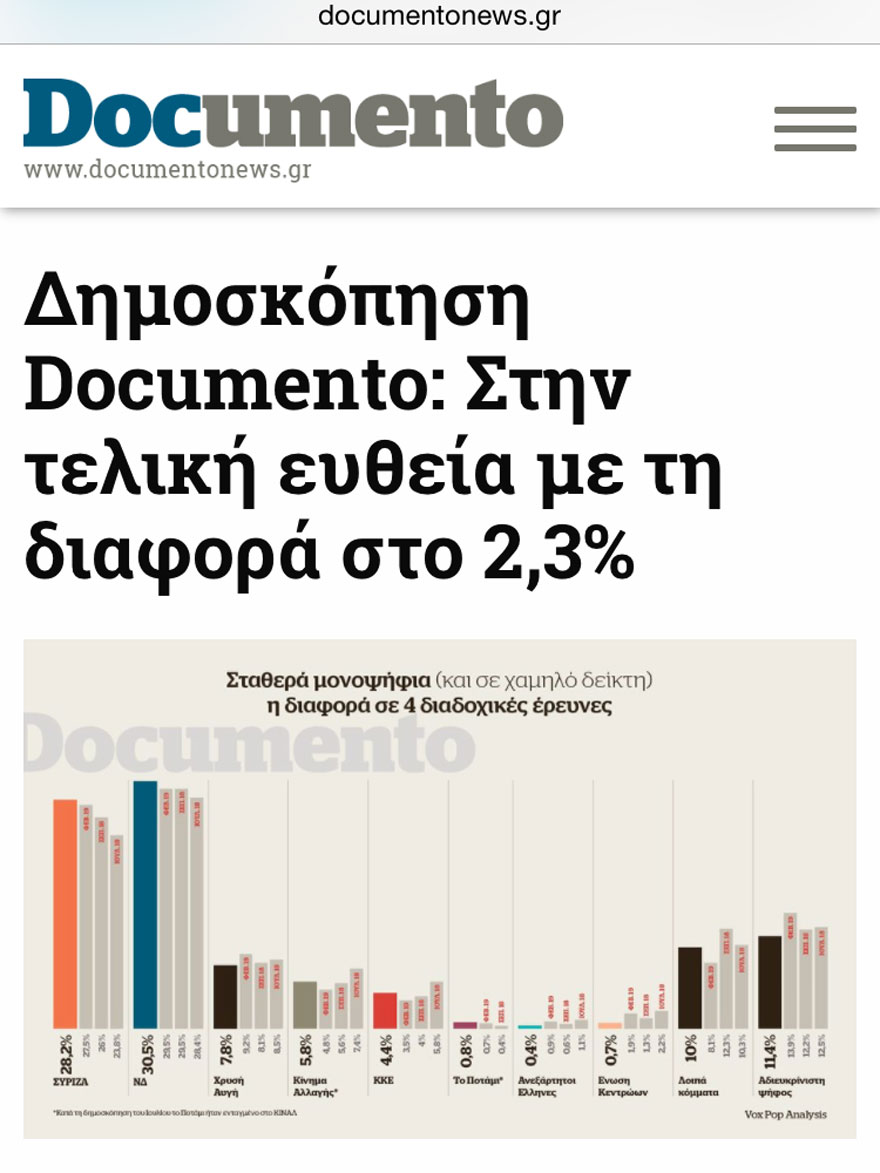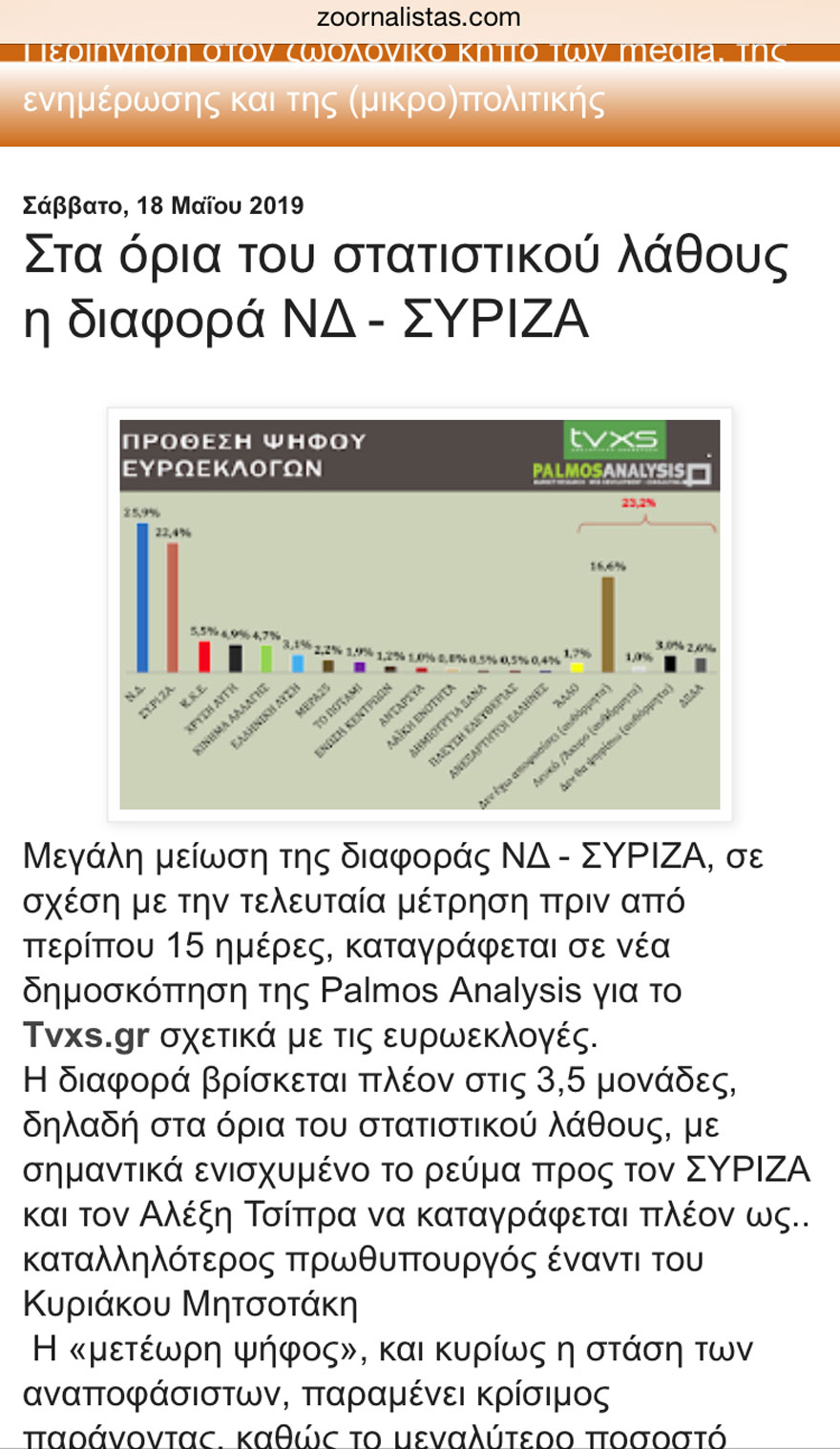 Δημοσκόπηση Guardian
Το Documento του σ.Βαξεβάνη διαβάζει και ξένες συστημικές εφημερίδες και υπό προϋποθέσεις τις θεωρεί αξιόπιστες οπότε αναπαράγει άρθρα τους. Σε ένα απόσπασμα του Guardian γράφτηκε ότι «ο Τσίπρας φαίνεται να έχει κλείσει την απόσταση από τη ΝΔ, παρά τις κριτικές από τους πιστωτές, παρά τις καταγγελίες για οπορτουνισμούς και πολυτελές λαϊφστάιλ. Δημοσκόπηση της Kapa research δείχνει τον ΣΥΡΙΖΑ να ανακτά το χαμένο έδαφος με την απόσταση από τη Νέα Δημοκρατία να είναι στο 3,4%». Η έκφραση «δημοσκόπηση έδειχνε τον ΣΥΡΙΖΑ να ανακτά το χαμένο έδαφος», μεταφράστηκε από το Documento ως εξής: «Guardian: Ο Τσίπρας κάλυψε τη διαφορά και η ψηφοφορία έγινε μάχη σώμα με σώμα».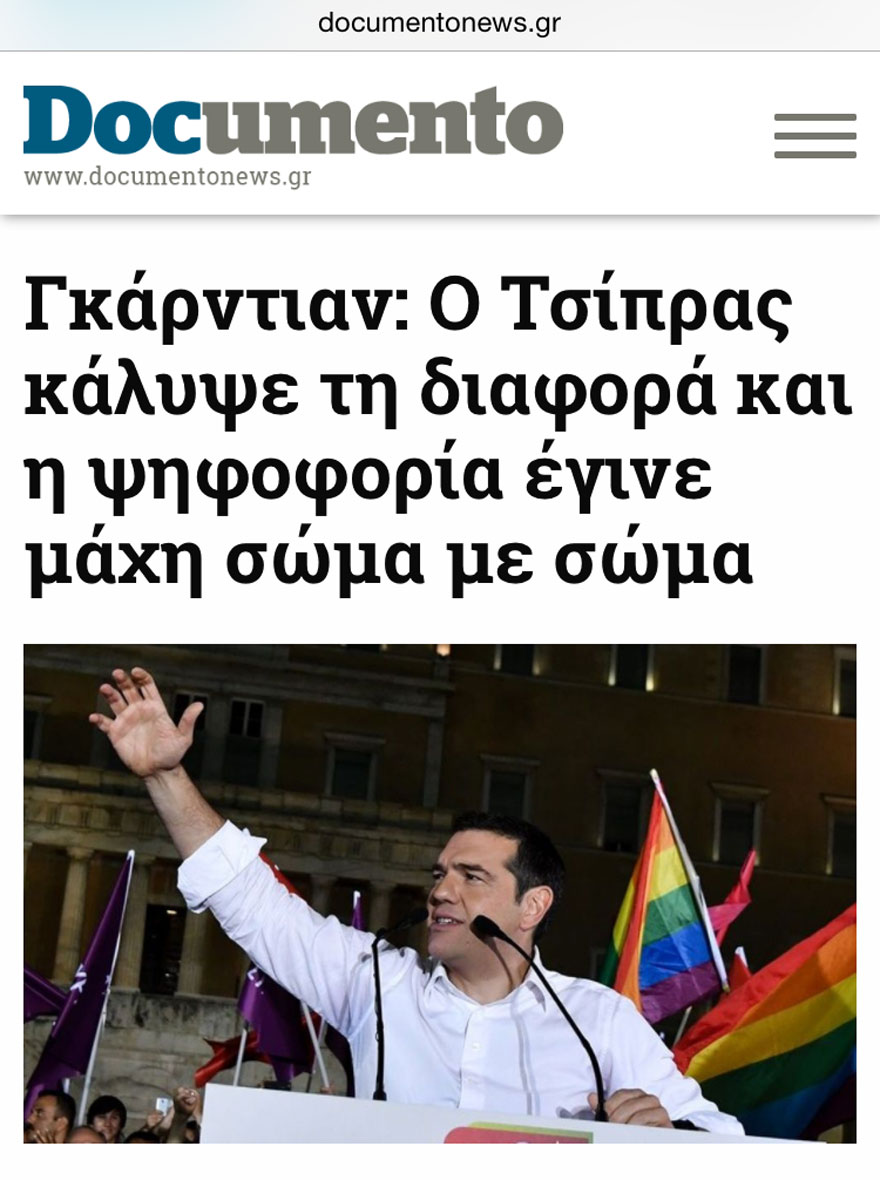 Δημοσκόπηση σ. Ευάγγελου Αντώναρου
Ο σ.Αντώναρος, πάντα σοβαρός και υπεύθυνος, έγινε πρωτοσέλιδο στις φίλα προσκείμενες κομμουνιστικές εκδόσεις με τη δημοσίευση των προσωπικών του δημοσκοπήσεων. Τη Δευτέρα υπολόγισε ότι «κάθε μέρα η ΝΔ χάνει μισή έως μία μονάδα», την Τρίτη ανήγγειλε από το χωνί του Facebook ότι «η διαφορά πλέον έχει πέσει κάτω από 5%» και με την εγκυρότητα του συνομιλητή του Τσίπρα ενημέρωσε ότι «στα χέρια των νεοδημοκρατών βρίσκεται δημοσκόπηση με ισχνό προβάδισμα 1,2%».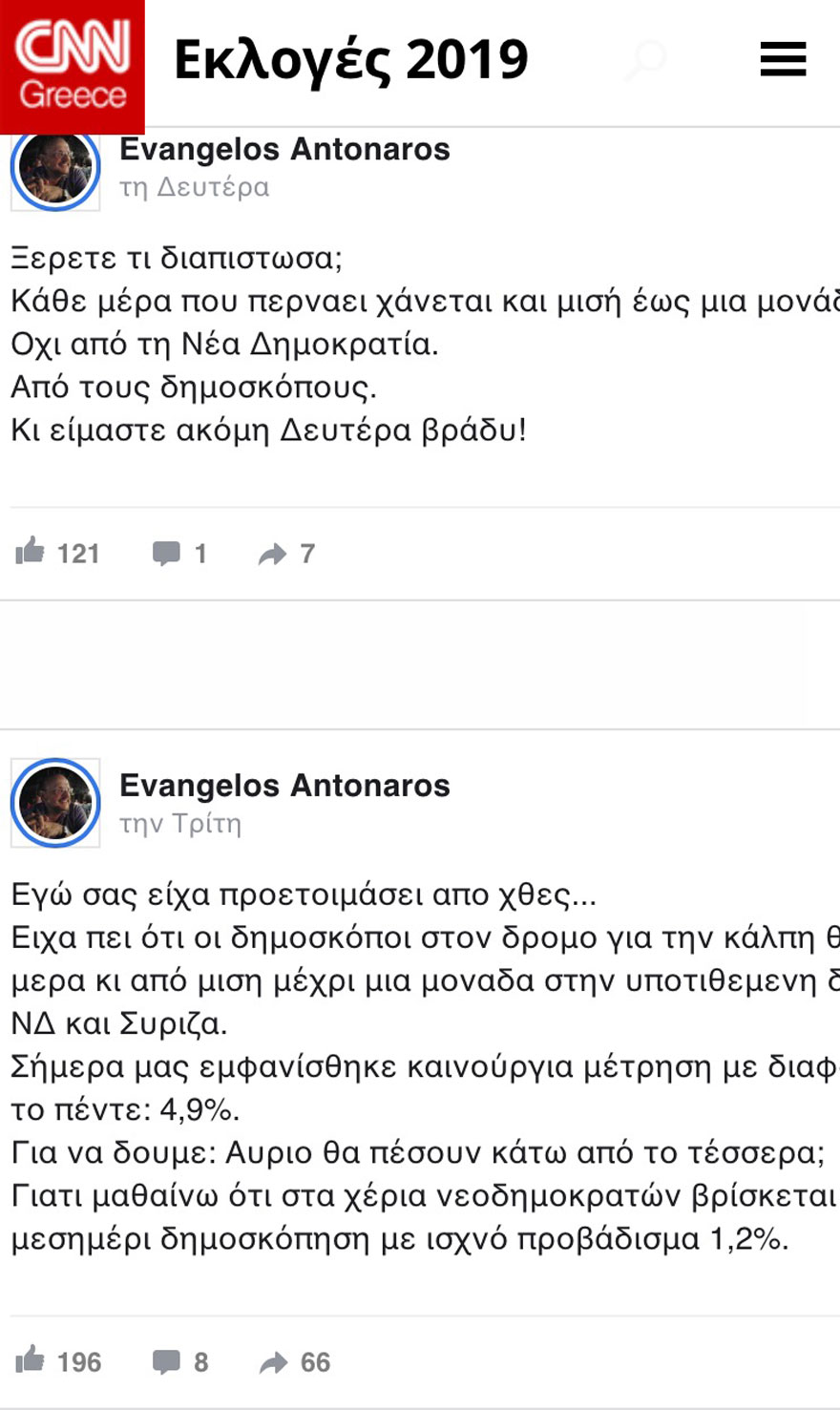 Exit Poll της ΕΡΤ
Την ώρα που τα συστημικά μέσα δημοσιοποιούσαν τα exit poll που έδιναν ένα προβάδισμα εφτά μονάδων στη Νέα Δημοκρατία, η ΕΡΤ επεφύλασσε για τους ακροατές για τους τηλεθεατές της τα δικά της ευρήματα. Σύμφωνα με αυτά η διαφορά είχε μέγιστη τιμή το 5%, αλλά θα μπορούσε υπό προϋποθέσεις να γίνει και 1,5%, ώστε να επιβεβαιωθεί και ο σ.Αντώναρος τον οποίο είχε φιλοξενήσει στο στούντιό της πριν από μία ημέρα. Ως είθισται το ποσοστό της Χρυσής Αυγής ήταν τσιμπημένο προς τα πάνω, γύρω στις οχτώ μονάδες και έτσι έφερνε ισοπαλία με το ΚΙΝΑΛ στην τρίτη θέση.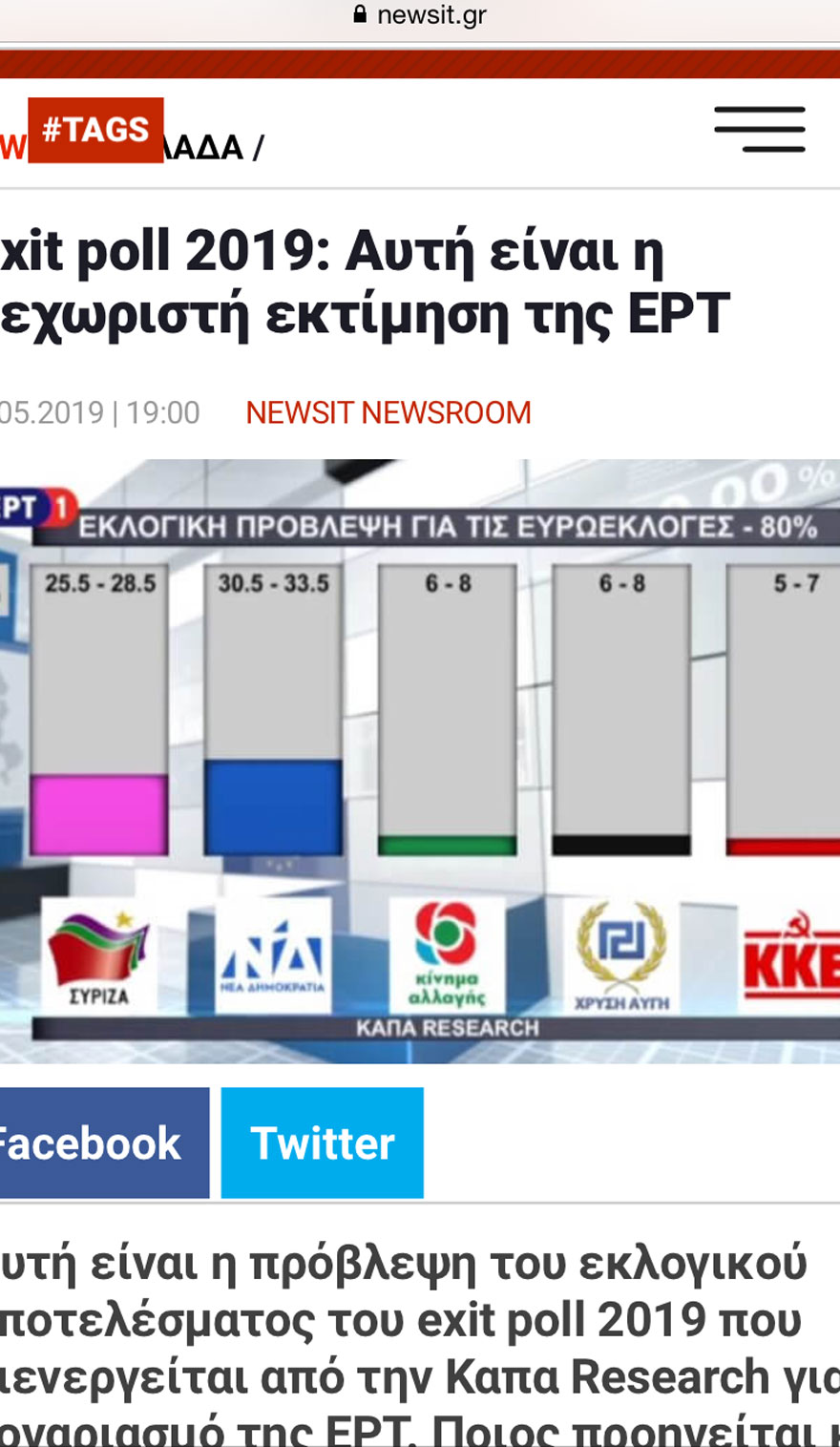 Δημοσκοπήσεις Τσίπρα
Ο Ηγέτης είχε καταδικάσει τις «δημοσκοπήσεις της συμφοράς», που υπολόγιζαν ότι η διαφορα μεταξύ ΝΔ και ΣΥΡΙΖΑ κυμαινόταν γύρω στο 5%. Για ακόμη μία φορά ειχε δίκιο.
από το Athnes Voice
KAI ΤΩΡΑ ΣΤΕΛΝΟΥΜΕ ΠΟΛΛΑ ΦΙΛΑΚΙΑ ΚΑΙ ΣΤΟΝ ΜΕΓΑΛΟ ΠΑΤΡΙΩΤΗ ΚΑΜΜΕΝΟ, ΠΟΥ ΟΠΩΣ ΕΙΔΑΜΕ ΣΤΗΝ TV ΑΠΟΨΕ, 27-05-2019, ΜΠΟΡΕΙ ΕΦΕΞΗΣ ΝΑ ΚΑΝΕΙ ΑΡΙΣΤΑ ΚΑΡΙΕΡΑ ΜΠΑΡΜΑΝ, ΑΦΟΥ ΚΑΙ ΓΛΥΚΟΥΛΗΣ ΕΙΝΑΙ ΚΑΙ ΤΑ ΧΑΒΑΝΕΖΙΚΑ ΠΟΥΚΑΜΙΣΑ "ΤΟΥ ΠΑΝΕ", ΑΛΛΑ ΚΑΙ ΤΟ ΣΕΪΚΕΡ ΤΟ ΒΑΡΑΕΙ ΕΠΙΣΗΣ ΑΡΙΣΤΑ!
ΑΦΙΕΡΩΜΕΝΟ ΕΞΑΙΡΕΤΙΚΑ! 
Το δικό τους μήνυμα στον Πάνο Καμμένο, μετά τις Ευρωεκλογές, έστειλαν οι οργανωμένοι οπαδοί του Ολυμπιακού (και όχι μόνο) μέσα από τα social media.
Με αφορμή το τραγικό ποσοστό που συγκέντρωσαν οι ΑΝΕΛ στις Ευρωεκλογές, το οποίο έδειξε περίτρανα ότι ο κόσμος τους… γύρισε την πλάτη, οι Misfits ανάρτησαν την παρακάτω φωτογραφία σε story στο "Instagram" και έγραψαν χαρακτηριστικά:
«Με τον Ολυμπιακό πολλοί τα έβαλαν, ακόμα περισσότεροι το μετάνιωσαν».
-/-
– / –